Just four ingredients make for the BEST and yummiest chili cheese dip! Melty cheese and hearty chili are so tasty together! It's the perfect appetizer for any party.
Hot dips are a great appetizers for dipping tortilla chips and fritos. You could always compliment your hot chili cheese dip with a cold one, like Dill Vegetable Dip or Taco Dip!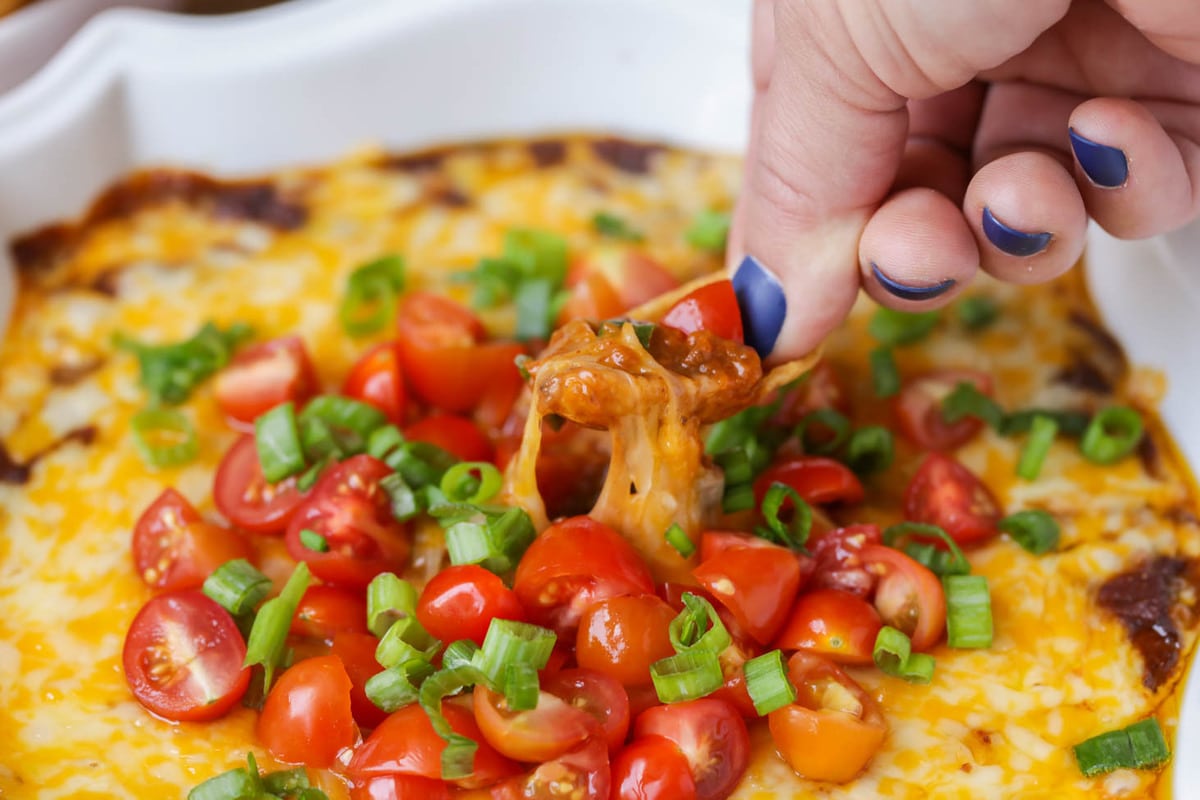 Easy Chili Dip
Chili cheese dip is our go-to party appetizer. When I can't think of what to bring, I ALWAYS fall back on easy chili dip.
This chili dip is hearty, it's cheesy, and it's just so delicious. You can never go wrong with this recipe. Everyone always loves it which means it will easily become a go-to appetizer for your parties too!
Along with this chili dip, we bring along a bag of tortilla chips or corn chips! We love them both and you really can't go wrong with either option. Just make sure to get every ingredient in one bite- you want all the chili dip flavors on that chip!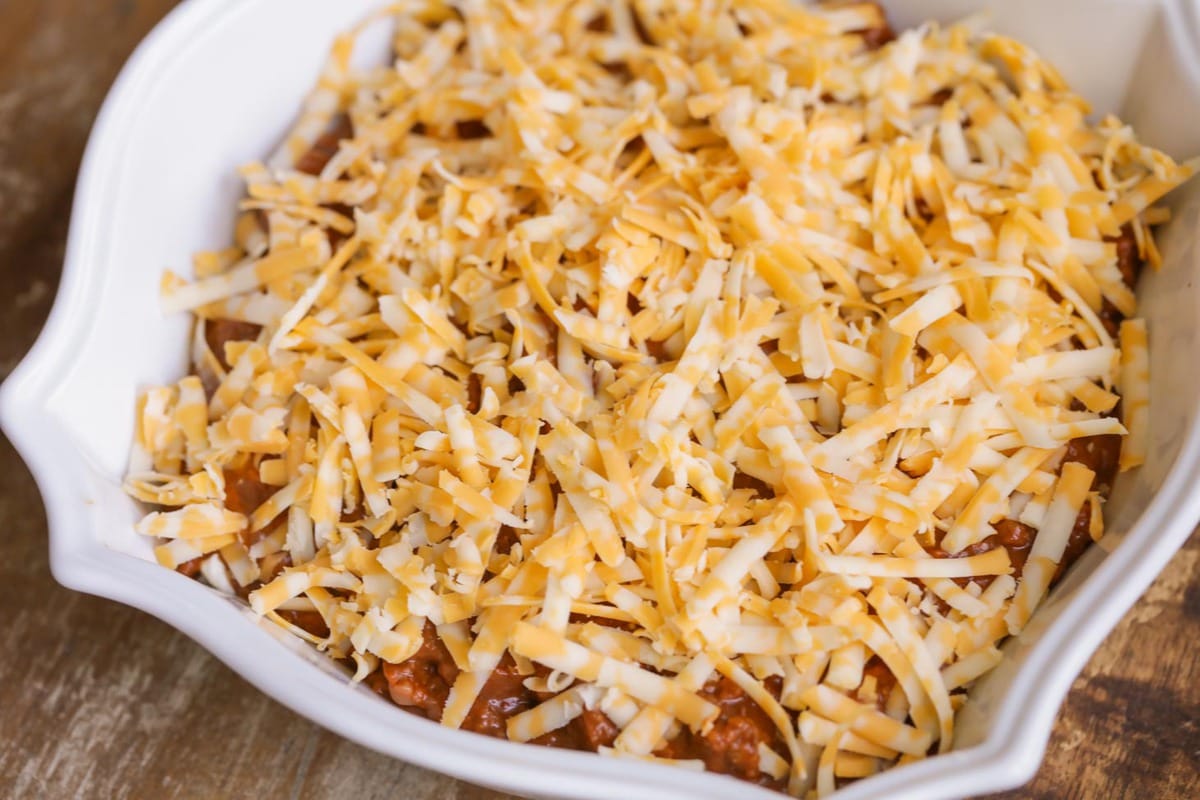 how to make chili cheese dip – 3 layers
The best part about this cheesy chili dip is that it can be made in under 10 minutes. Easiest appetizer ever!
CREAM CHEESE. Grab a microwave safe dish and spread the softened cream cheese over the bottom.
CHILI. Next, spread a layer of chili (without beans) over the cream cheese.
SHREDDED CHEESE. Top the layers with the shredded cheddar cheese!
Put it into the microwave and cook the chili dip for 5 minutes or until the cheese is completely melted. Cut up a few tomatoes and green onions to throw on top for more flavor and garnish.
hormel chili dip Tips + Variations
Feel free to change up the toppings however you like. You could try sliced olives, cut up avocados, or even some salsa and cilantro on top. Feel free to change the chili flavors as well. Try a chili with beans in it for a different and delicious texture!
Handling the Heat: I like to make my dip mild because that appeals more people. You can also provide things like red chili flakes, Cayenne pepper, or hot sauce to the side of the dip which allows those thrill seekers to add as much heat to their own plate as they can take.
Would you rather make this in a slow cooker? Start by spraying your slow cooker with non-stick cooking spray. Add all of the ingredients to the slow cooker and stir it together. Cook the chili cheese dip for 2 hours on high or 4 hours on low. The chili will be ready when it is melted and creamy.
Store any leftover chili cheese dip in an airtight container in the fridge. Re-heat it for couple minutes in the microwave and serve it with chips!
Whether you want to make it ahead of time, or store leftovers, this Chili Cheese Dip is also freezable! Place the dip in an airtight freezer safe container, label, and freeze for up to 2 months. Thaw in the fridge before reheating.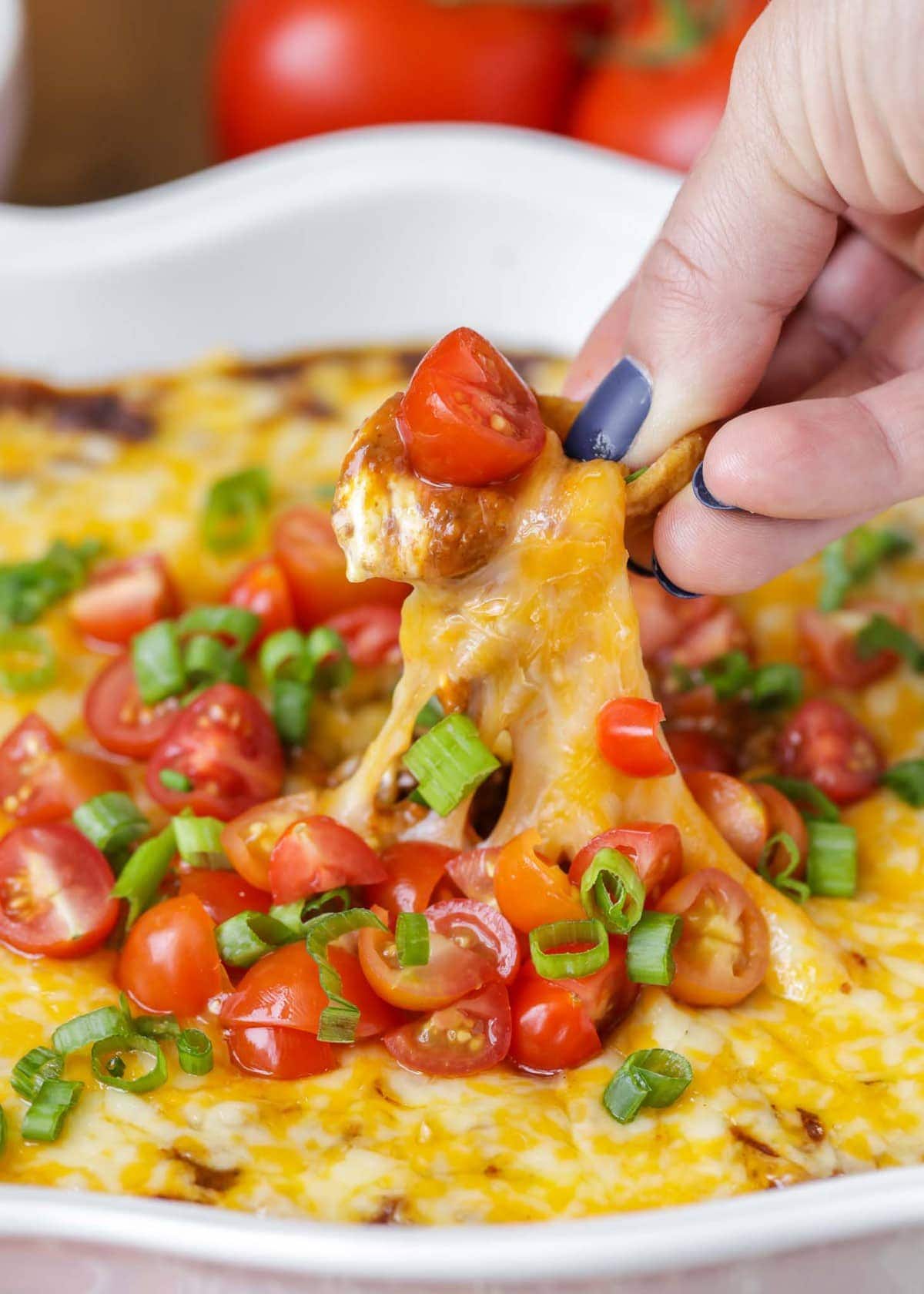 For more dips, check out:
Chili Cheese Dip Recipe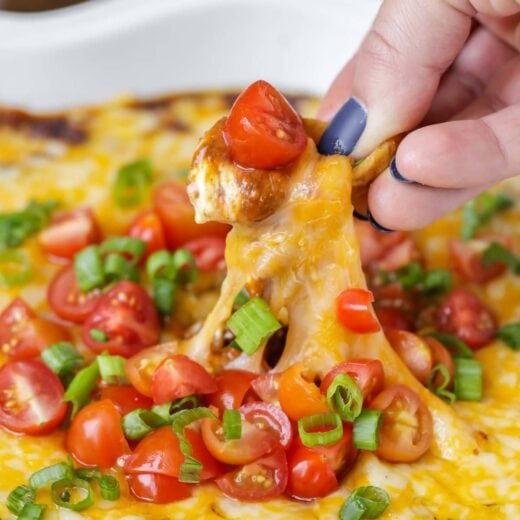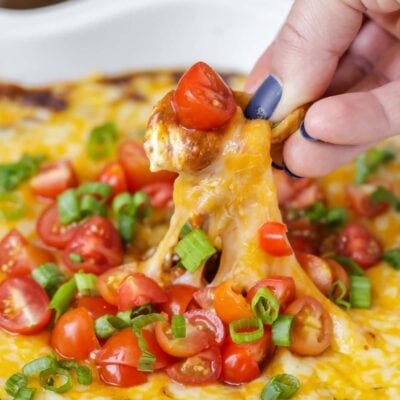 Make the BEST and yummiest Chili Cheese Dip in only 10 minutes and with a handful of ingredients. It's the perfect appetizer for any party.
Ingredients
8

oz

cream cheese

15

oz

canned chili

without beans

1 1/2

cup

Mexican Cheese Blend

shredded

tomatoes and green onions

garnish
Instructions
Use a microwave-safe dish and spread the cream cheese over the bottom.

Spread a layer of chili over the cream cheese.

Top with the shredded cheese.

Microwave for 5 minutes or until the cheese melts.

Garnish with tomatoes and green onions.