Cold Appetizers are a must for many reasons. My number one reason is they can most often be made ahead of time, saving so much time and stress when hosting an event!
More Collections: Mexican Appetizers, BBQ Appetizers, Party Appetizers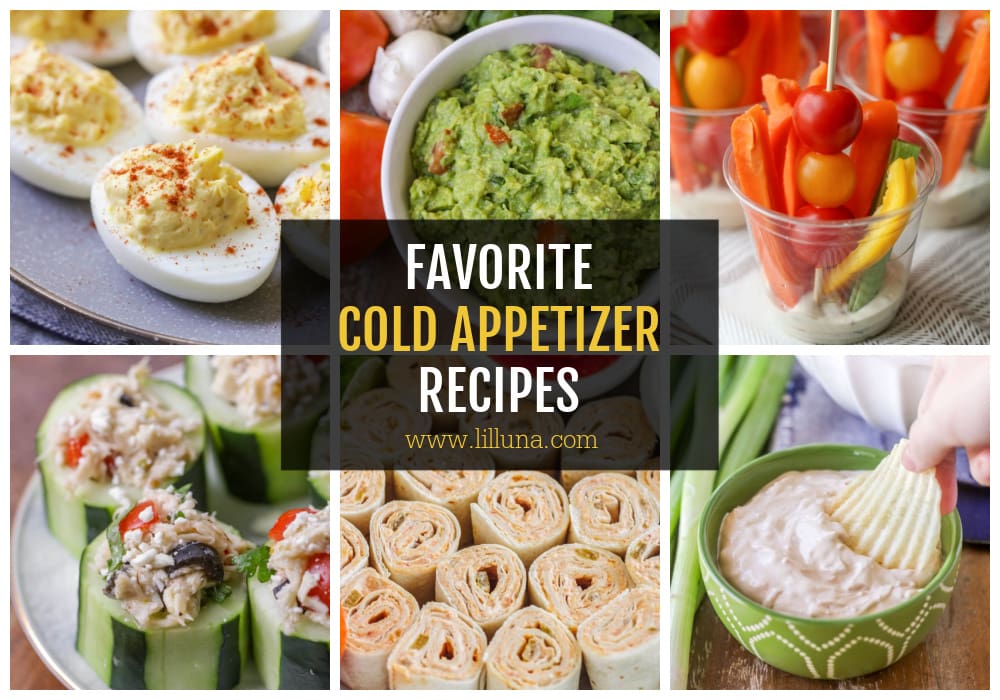 Hot or Cold?
When I think of my top favorite appetizers, they usually include hot ones such as Mozzarella Sticks, Spinach Dip, or Chicken Wings.
However, not every occasion is good for hot appetizers, and other times, you just need some variety to your appetizer spread!
The Cold Appetizer recipes we've included in this post fall into three categories: Easy Cold Appetizers (most of these involve fresh produce), Make Ahead Cold Appetizers (both sweet and savory dips), and Cold Vegetarian Appetizers!
Before we get into the recipes, here are some tips for planning and serving your cold appetizers!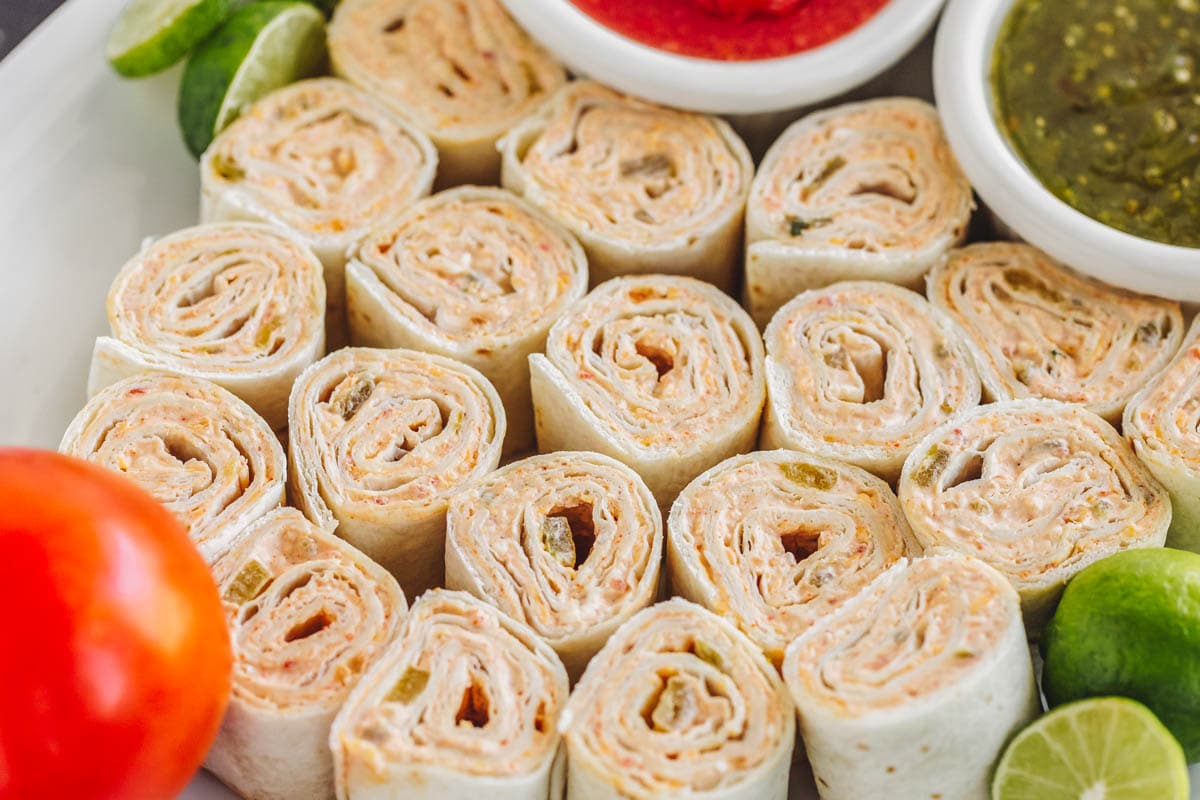 Planning your Appetizer Spread
Prepping Tips: Whether you're planning a picnic or cocktail party, prepping an easy Cold Appetizer recipe or two ahead of time can make the event run much more smoothly.
Plan your menu a week or two before, then watch ads to see what is on sale.
Add variety to the menu, using both sweet and savory dishes, and incorporating different colors and textures.
Include homemade and store bought dishes. If you are using any new recipes, make them a couple weeks before the event, to work out any kinks.
Decide which appetizers can be made ahead of time, and stored in the fridge.
Decide which appetizers can be set out at room temperature, and which ones need to be kept cold.
Be sure to provide the proper serving utensils, making it easier for guests to fill their plates.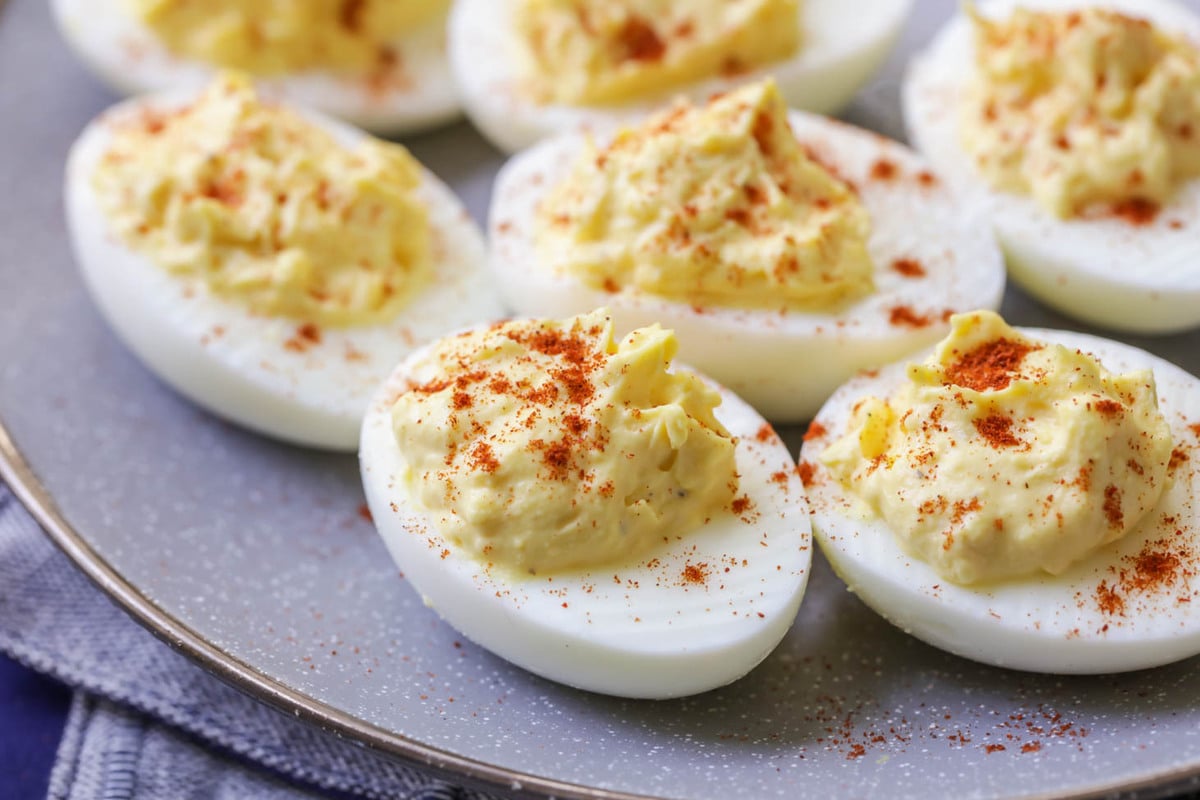 how much to serve
How many different dishes are needed:
For fewer than 10 guests: offer 2-3 different types of appetizers.
For more than 10 guests: add another dish for every 5-8 additional guests.
Balance out how many cold appetizers you serve, with how many hot appetizers you serve.
How much per person:
Main dish. When appetizers are the main food at an event, plan to serve about 10-12 pieces per person, for a two hour party. Add about 5 more pieces per person, for every hour after.
Side. If you will be serving dinner, fewer appetizers are needed. In this case, plan to serve a total of 3-5 appetizers per person.
For dips and salsa. Plan for guests to have about ⅓ cup each. Make sure to include dip-ables (see ideas below).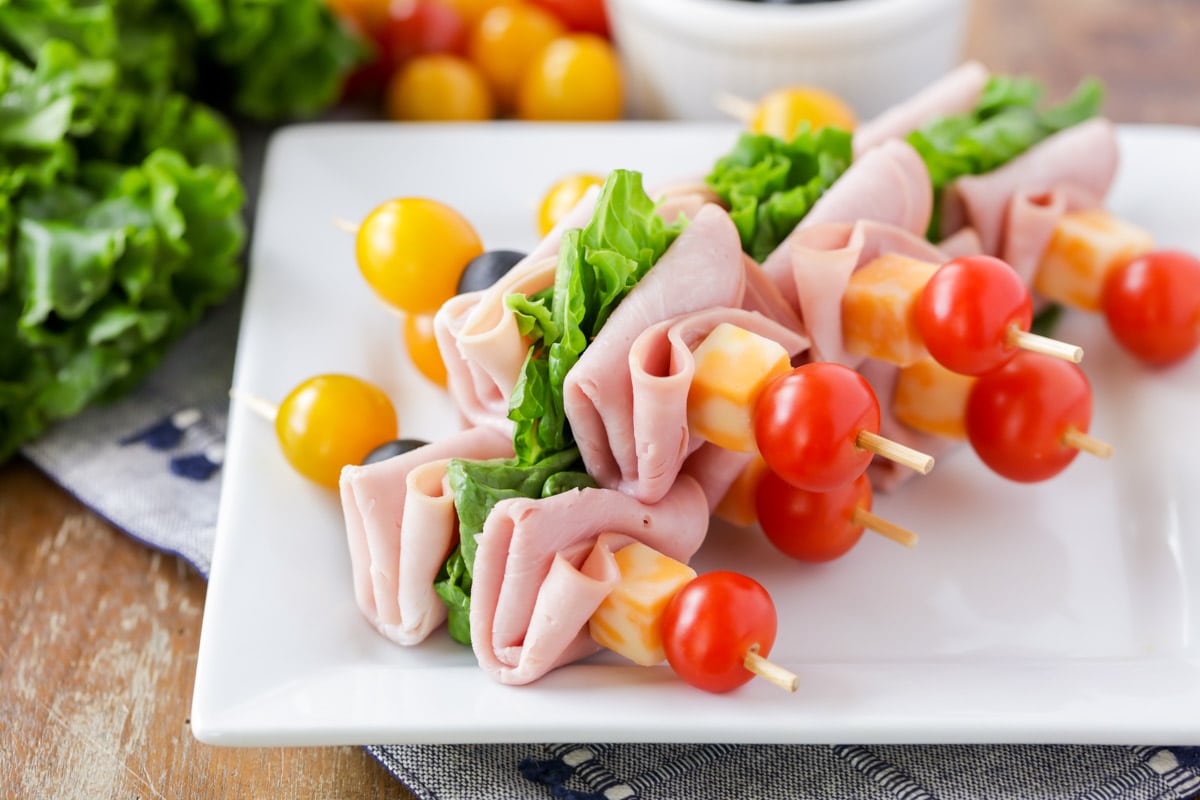 serving tips
Keeping Appetizers Cold.
Freeze the serving trays and bowls before filling them with the food.
Place ice in a bowl, then nestle the serving bowl with the food inside.
Purchase large thin ice packs that fit nicely under serving plates and platters.
Only set out a portion of the appetizers at a time. Refill platters and bowls with chilled food, when needed.
Dippers. If you are serving dips, you will also need to serve items to BE dipped. Some of my favorite sweet and savory dippers include:
Sweet – cookies, graham crackers, pretzels, sliced fruits: apples, strawberries, bananas
Savory – chips, tortilla chips, crackers, crostini or baguette slices, pretzels, cheese cubes, and cut vegetables: bell peppers, carrots, broccoli, celery, green onion, cherry tomato
---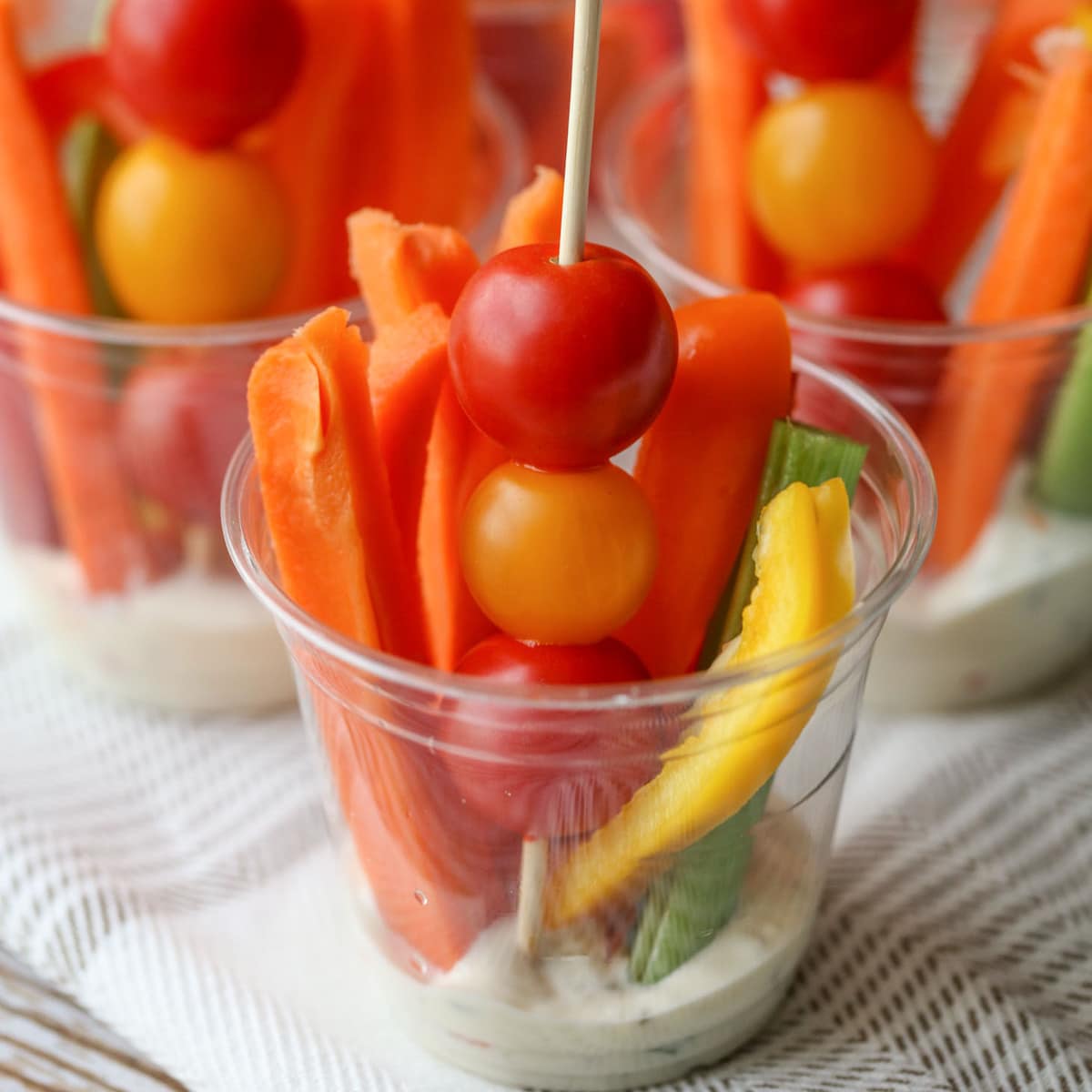 Easy Cold Appetizers
Not only are they delicious, but these Easy Cold Appetizer ideas are beyond simple too!
Veggie Cups – Veggie Cup Appetizers – Perfect For Parties And After School Snacks For The Kids! This Mess Free Concoction Is Great For So Many Occasions!
Deviled Eggs – Nothing Better Than A Smooth Deviled Egg Appetizer! You'll Be Surprised With How Easy These Are To Make. Tons Of Flavor, Super Delicious And Perfect For Parties And Holidays.
Bacon Ranch Cheese Ball – This Bacon Ranch Cheese ball is the perfect partner for your veggie tray! With cheese, bacon, and ranch flavors, you can do no wrong!
Fiesta Pinwheels – Fiesta pinwheels are bite-size tortilla rolls filled with a spiced cream cheese mixture. They are a party in your mouth!
Homemade Bruschetta – This Yummy Homemade Bruschetta Is Quick, Simple And Perfect For Any Party! It Takes Just 5 Ingredients And Is The Perfect Appetizer For Any Occasion.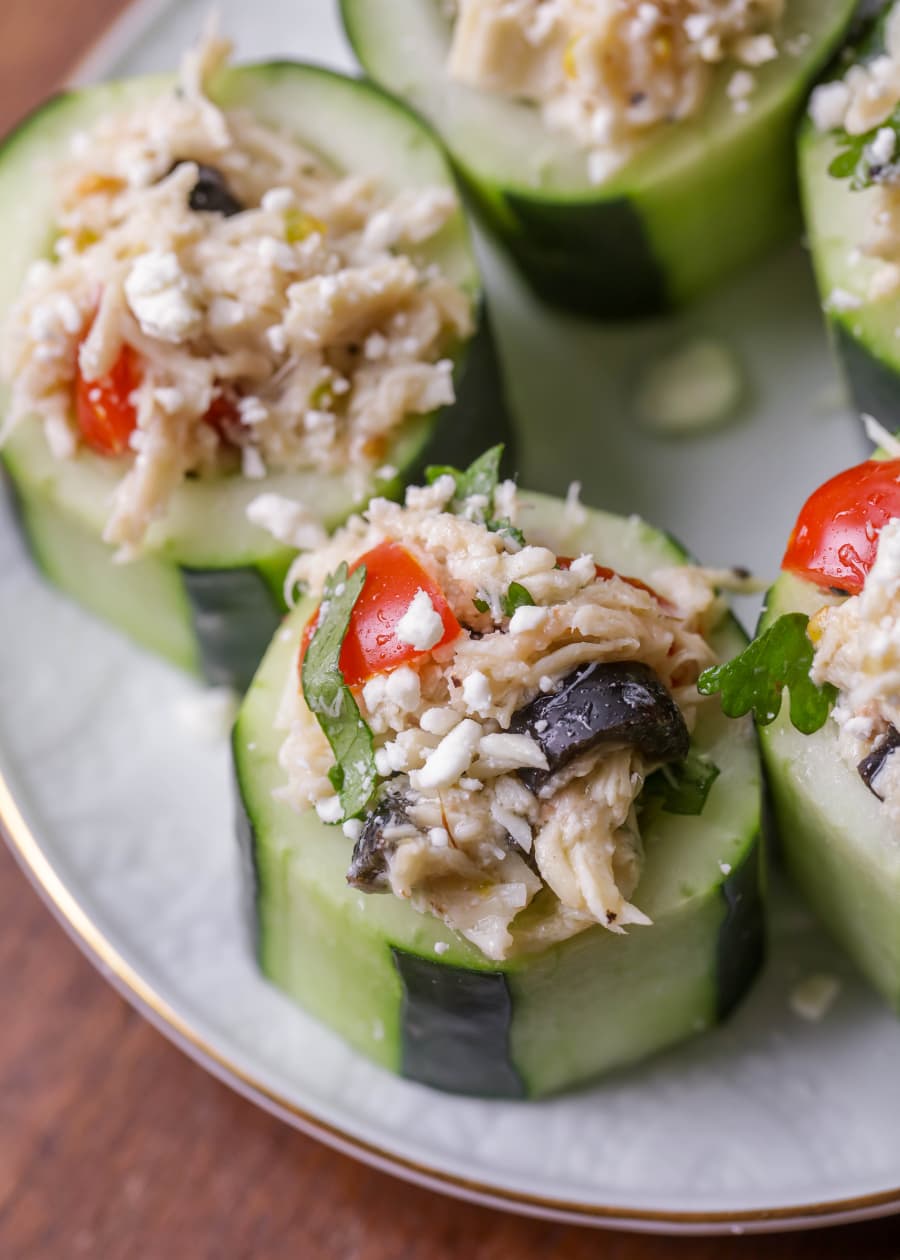 Greek Cucumber Cups – Simple Greek Cucumber Cups are a light and delicious appetizer that whips up in minutes. They are a perfect low calorie snack!
Caprese Stuffed Avocados – Simple and Fresh Caprese Stuffed Avocados are a twist on classic flavors. This is a perfect appetizer or side to any meal!
Ham Salad – Creamy ham salad with hints of dill and chunks of hard-boiled eggs is a tasty appetizer perfect for using up that leftover ham!!
Fruit Kabobs – Colorful Fruit Kabobs Are The Best Appetizer Or Side For Any Occasion! Load Up Your Favorite Fruits And Get Snacking.
Lunch Kabobs – Kid-friendly lunch kabobs are filled with savory meats and fresh veggies. They're perfect for parties, BBQs, Lunches and more!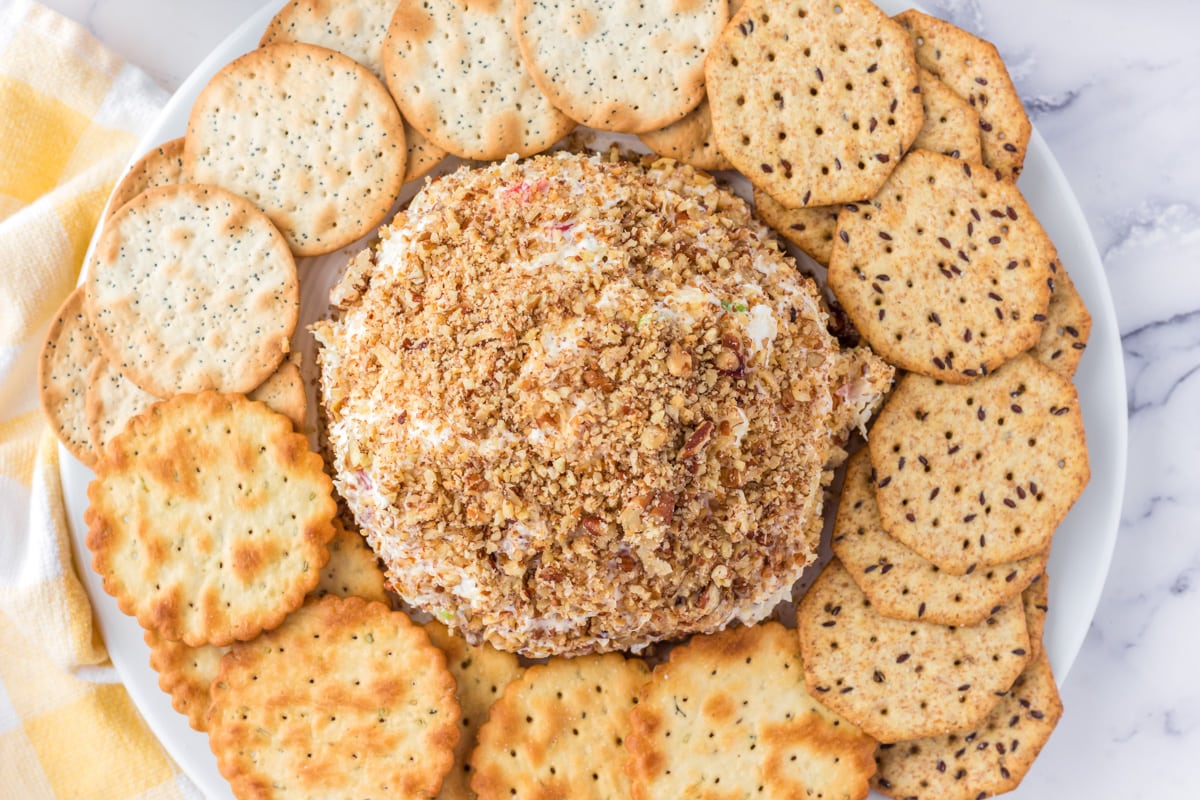 Pineapple Cheese Ball – Sweet + tangy Pineapple Cheese Ball is crusted with pecans for a perfect combination. The juicy pineapple pops are irresistible!
Taco Dip Recipe – Loaded with all of your favorite taco toppings, this creamy taco flavored dip is perfect for dipping with tortilla chips.
Cheese Ball Bites – Mini Cheese Ball Bites taste just like a loaded cheese ball, but mini! They are perfect grab and go appetizers.
Cinnamon Chips – The perfect baked snack to dip in sweet desserts, frosting, salsas and more! Super easy to make a bunch and serve with your favorite dessert dip!
Charcuterie Board – We all love to graze during holidays and parties, and what better way to do it than with a Charcuterie board?! Customize with all your favorite meats, cheeses, crackers, veggies, fruits and dips!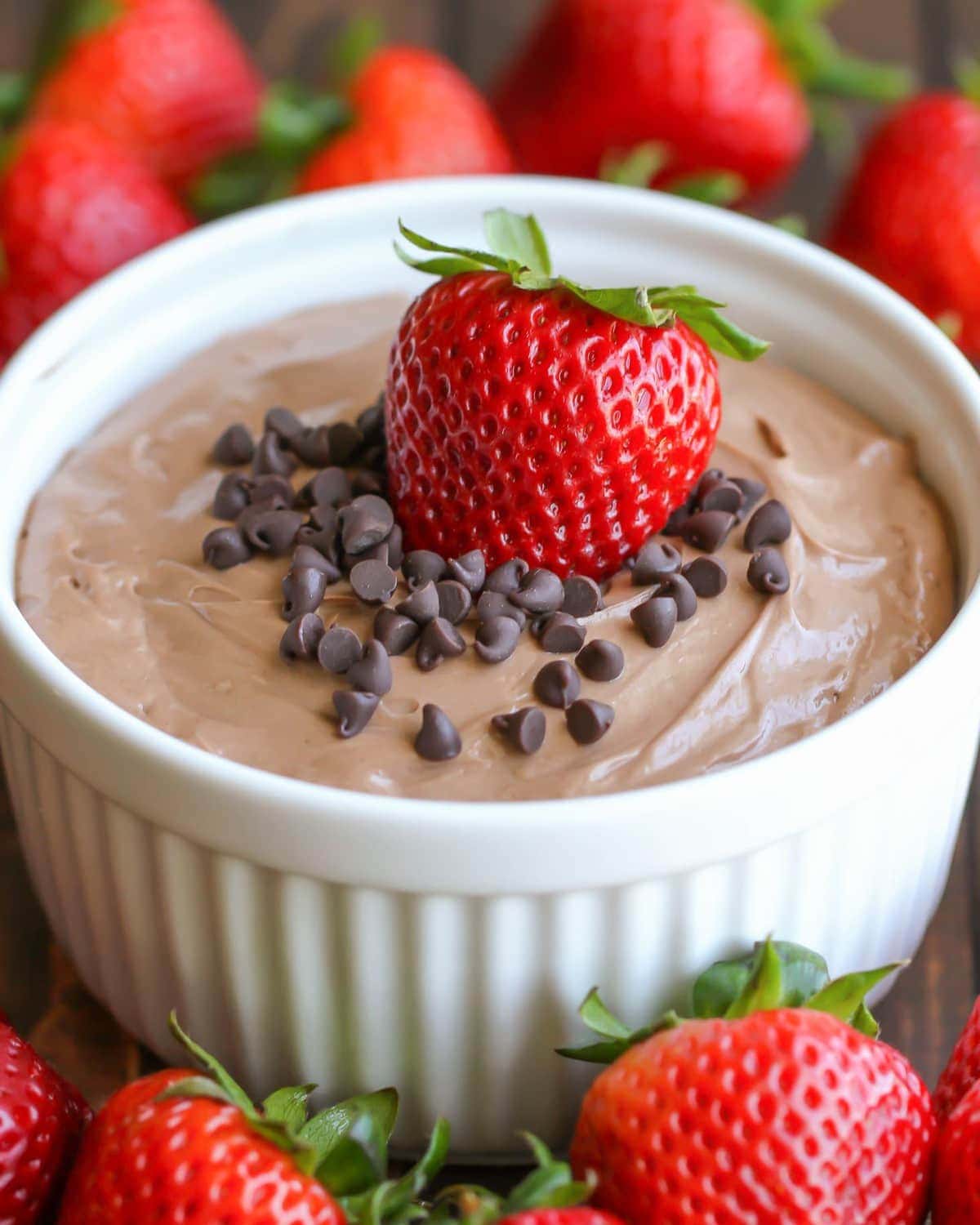 Make Ahead Cold Appetizers
One of the easiest things to make ahead are salsas and dips. They need to be stored in the fridge until they're ready to serve anyways!
Dipping tip: When my own little family is eating salsa, we dip out of the same bowl, but you don't necessarily want to have party guests do the same thing. I like to have small plastic cups available for guests to spoon their dip and salsa into.
Nutella Dip – Filled with hazelnut goodness and a helping of tangy cream cheese & whipped cream, this Nutella fruit dip is heavenly!
Yogurt Fruit Dip – Cream Cheese, Cool Whip, Vanilla Yogurt, And Vanilla Pudding Mix Blended Together To Make This Amazing Vanilla Yogurt Fruit Dip For Your Favorite Fruit!
Guacamole – Spicy, Chunky Simple Guacamole Is So Easy And Addicting, It's Sure To Be A Crowd Pleaser! You Won't Be Able To Stop Eating It.
Hummus – If You Need A Quick Healthy Snack Or Party Appetizer, You Can Whip Up This Homemade Hummus In 5 Minutes Or Less! With Just A Few Simple Ingredients, This Delicious Hummus Is Perfect For Dipping Pita Bread, Fresh Veggies, And Tortilla Chips.
Dill Vegetable Dip – The Perfect Go-To Veggie Dip For Parties And Snacking. Use It For Vegetables, Chips, Or Whatever You Feel Like! Even If You Don't Like Dill Pickles, You'll Love This Dill Vegetable Dip.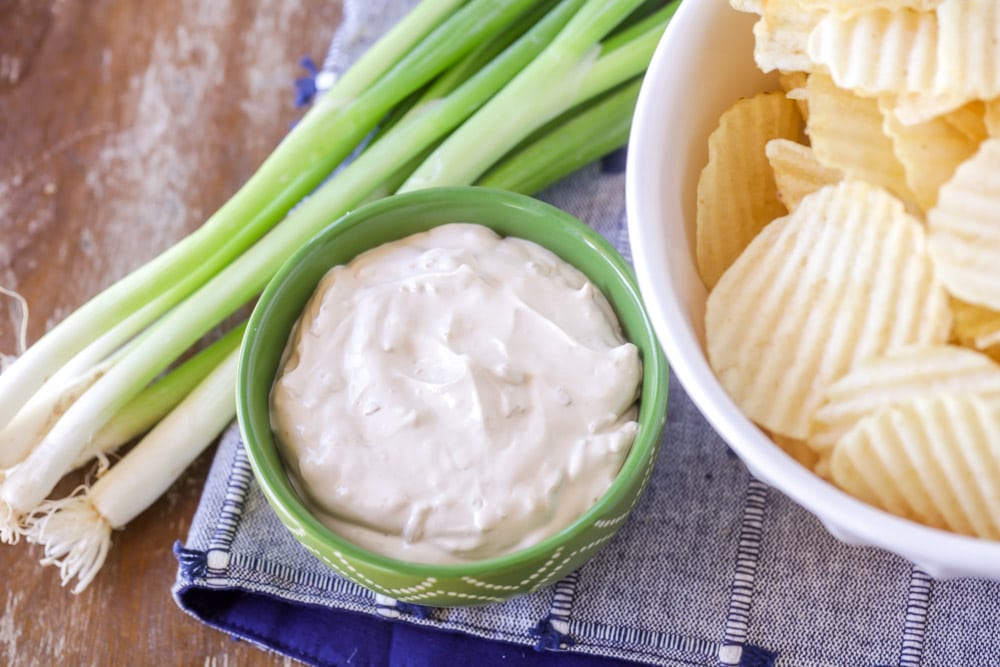 French Onion Dip – French Onion Dip Is Tangy And Savory. It Requires Only Two Ingredients And Is Made In Under A Minute Making It The Perfect Chip Dip!
Homemade Salsa – This Is Such An EASY Homemade Salsa Recipe! All You Have To Do Is Throw All The Ingredients Into Your Blender, And Blend! It Tastes Just Like Restaurant Salsa, And Goes Perfectly With Tortilla Chips, Tacos, Enchiladas, Or Any Other Mexican Food!
Salsa Verde – Sweet Salsa Verde – A Delicious Salsa Recipe That Is Sweet And Spicy And Takes Just Minutes To Make. Ingredients Include Tomatillos, Jalapeños, Sugar, & Cilantro.
Black Bean and Corn Salsa – This Black Bean And Corn Salsa Is One Of Our Favorite Dips And Appetizers. It's Great With Any Mexican Dish Or Served With Tortilla Chips And Is Filled With Tomatoes, Avocados, Corn And Black Beans!
Chili's Salsa – The restaurant salsa you know and love, made at home anytime you like! This Chili's Salsa copycat recipe is literally made in minutes with the help of a blender.
Mango Salsa -This Sweet And Savory Mango Salsa Is Perfect With Chips Or Any Mexican Meal. It's Filled With Sweet Pineapple, Cilantro, Mangoes, Onion, Cilantro And Jalapeños Making It Full Of Flavor And Simple To Make.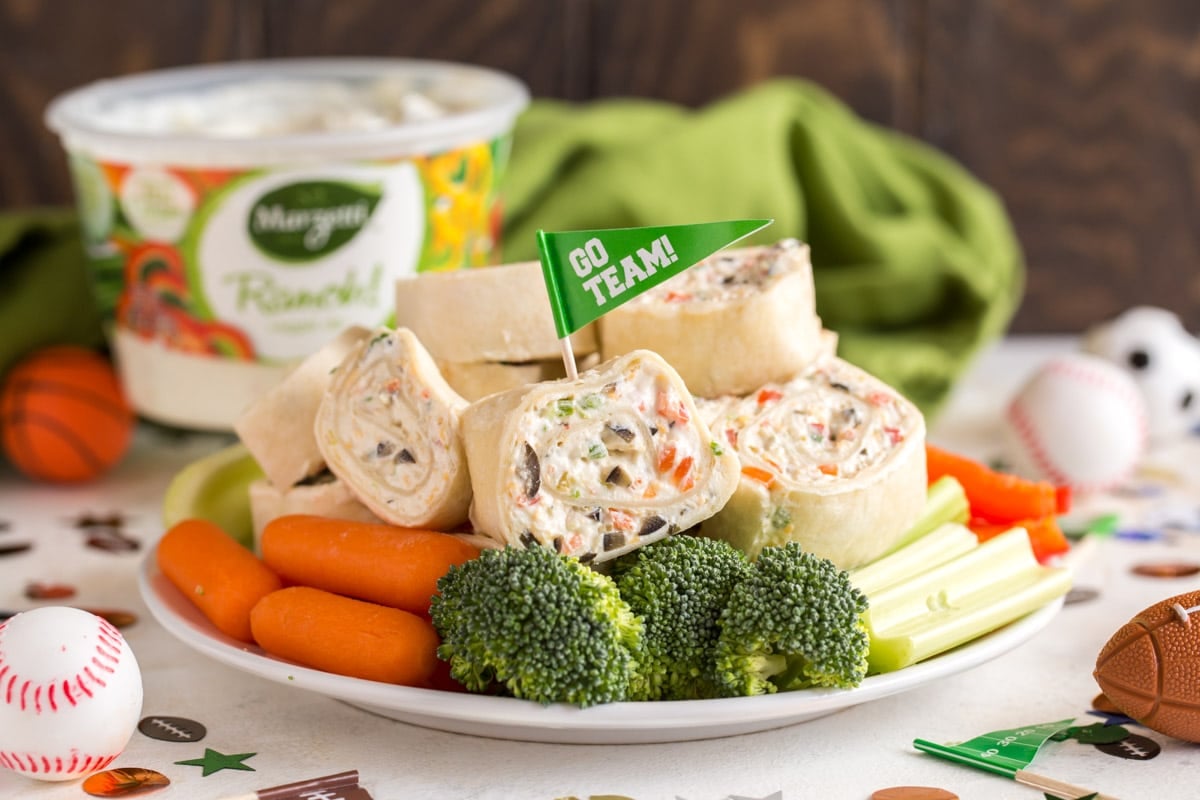 Cold Vegetarian Appetizers
Most of these Cold Appetizers are vegetarian already, since most meat appetizers are served warm. However, these are some of my FAVORITE meatless apps!
Veggie Tortilla Roll Ups – These delicious Veggie Tortilla Roll Ups are made from a rolled tortilla filled with Ranch Veggie dip, and chopped veggies, making them the perfect bite-sized party appetizer!
7 Layer Bean Dip – This Is Our Family's Favorite 7 Layer Bean Dip Recipe! It Has Loads Of Flavor And All Your Favorite Dip Ingredients Including Avocados, Olives, Tomatoes, Cheese, Guacamole And More! It's A Must-Have Appetizer At Every Family Function.
Caesar Salad Cups – Caesar Salad Cups are a quick, simple and tasty side dish or appetizer. They're mini salads in a cup and great for parties and get togethers!
Bruschetta Caprese – Toasted bread rounds are topped with a mixture of juicy tomatoes, ripe avocado, and fresh mozzarella to make this Bruschetta Caprese. Top it all off with a balsamic glaze!
Pina Colada Dip – Pina colada fruit dip is fresh, creamy and filled with pineapple and coconut bits. It is perfectly refreshing and great for any party.
Chocolate Chip Cheese Ball – Delish Chocolate Chip Cheese Ball is a cool, creamy treat filled with mini chocolate chips and covered in chopped pecans!
---
The Complete List
Here are the picture recipe cards for all the recipes in this collection! Keep it chilled with this tasty compilation of Cold Appetizers.
Be sure to check out all of our Appetizer Recipes.
For more collections, see: Easy Appetizers, Finger Food Appetizers, Healthy Appetizers