Italian appetizers often include breads, tomatoes, and cheeses! This collection has all of those things. There is sure to be one (or many) suggestions here that you are going to love!
More Collections: Italian Dinner, Italian Side Dishes, Italian Soups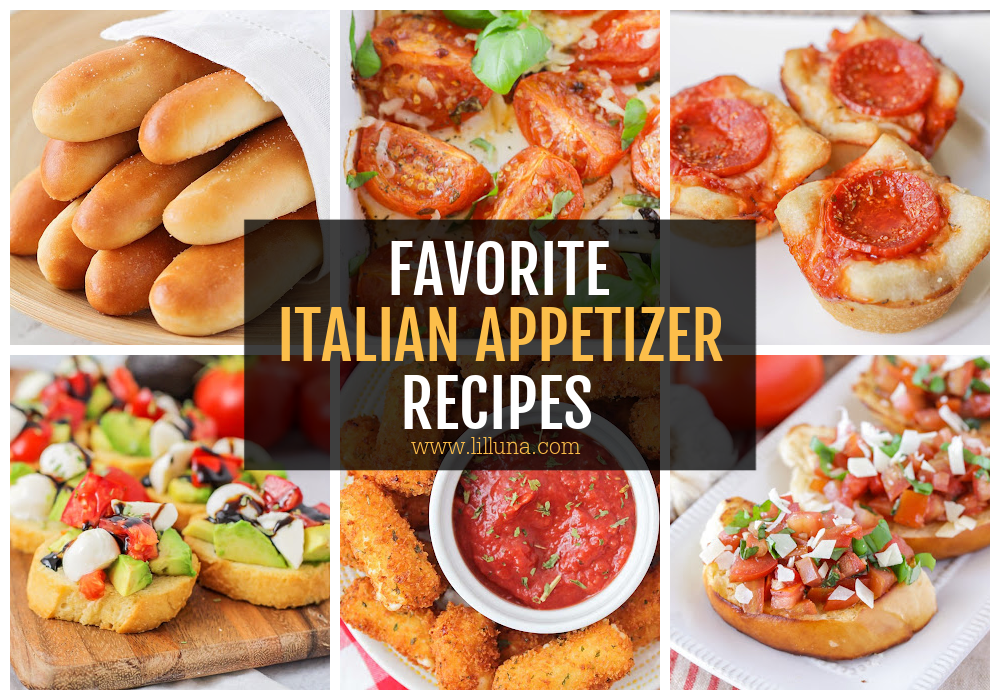 Antipasto or appetizer?
Italian appetizers are always hearty and tasty. Whether you are planning an entire Italian themed dinner or just need appetizers for a tasting spread, I've got you covered!
Antipasto is the Italian term for an appetizer or a dish that precedes the meal.
Serving antipasti (plural) is typically reserved for restaurants and when family comes together to celebrate religious ceremonies, holidays, and other special occasions.
The antipasti is designed to wet the appetite for the meal that will follow. They come in a variety of colors, textures, tastes as well as in hot and cold forms. A couple classic Italian antipasti include Charcuterie and Bruschetta.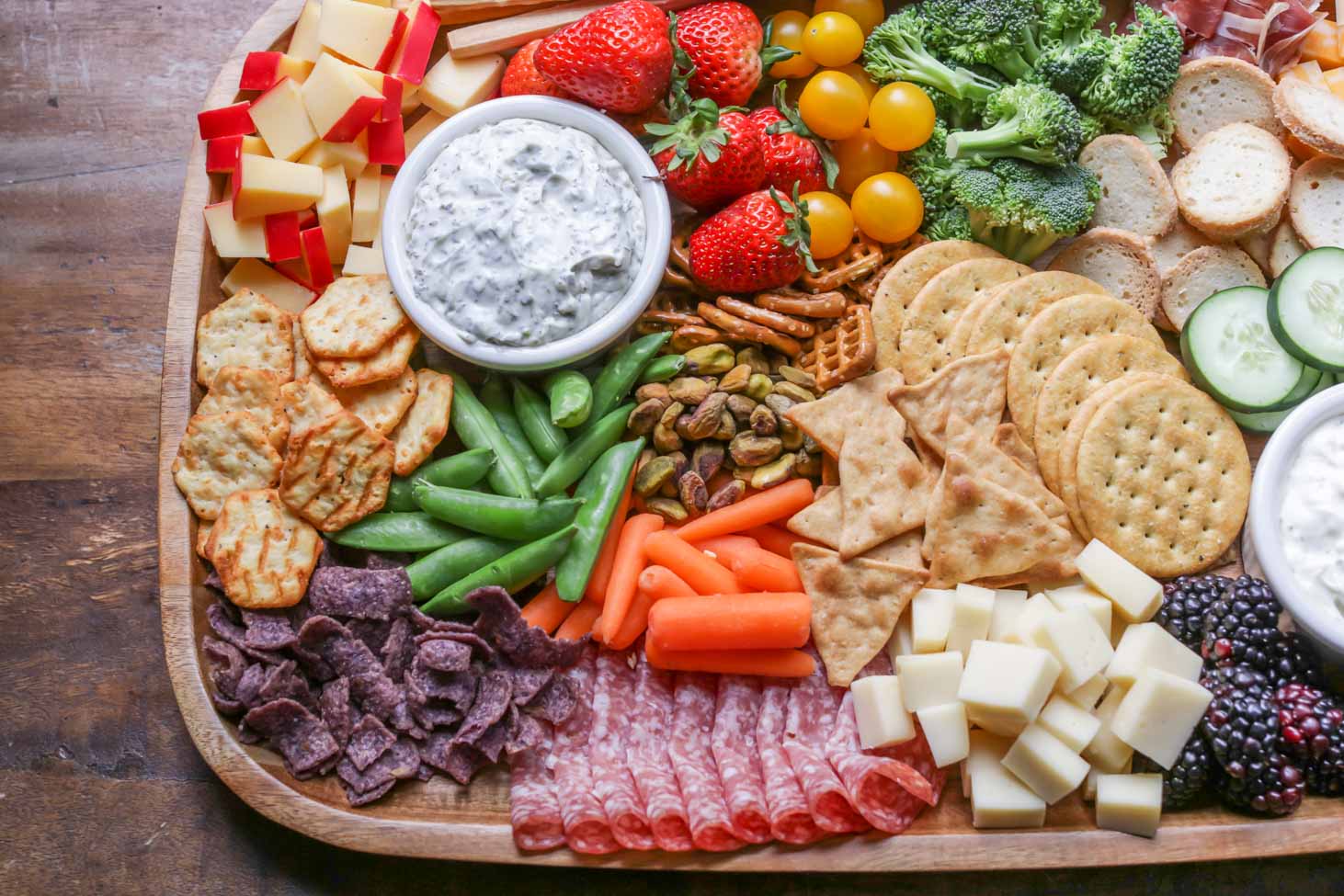 Elements of an Italian Charcuterie
You can arrange the board any way you wish. I like to make sure each section of the board has a little of each finger food.
Meats. Place slices of meat around the board keeping each type together. Be sure that you have already pulled apart the meats so that they are easy for guests to pick up. I like to include prosciutto, salami, pastrami, cured sausage, Italian bresaola and candied bacon.
Italian Cheese. Use both hard and soft cheese. Parmesan cheese, cheddar, brie, gruyere, goat cheese, Italian Piave, and mozzarella cheese.
Nuts. Place groups of nuts around the board. Any type will do but some favorites include almonds, pecans, walnuts and cashews. They can be raw, roasted, salted or candied.
Fruits. Both dried and fresh- be sure the fruit will not be leaking juices into the other ingredients. Any type of fresh uncut berry, grapes and cherries works. As so dried fruits like raisins, craisins, dried apricots.
Vegetables. Include favorite bite-sized vegetables like baby carrots, broccoli florets, bell pepper, snap peas.
Olives. Add 2-3 different varieties of olives.
Crackers and slices of bread. Pita, small tortillas, grissini breadstick, toasted crostini, baguette, Ritz, pretzels, wheat thins, Triscuts, and Parmesan crisps.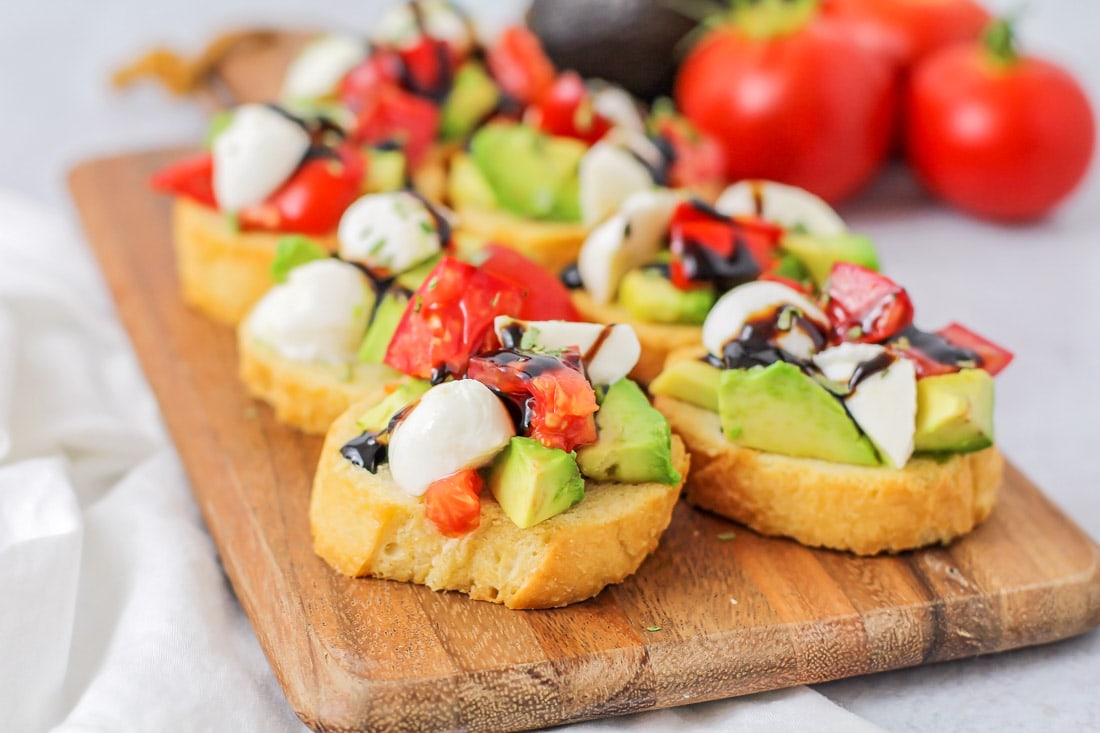 Caprese is a Classic Italian Flavor
The flavors are traditionally used to make Caprese Salad, but the different elements can be prepared in a variety of ways.
Mozzarella, tomato slices, fresh basil leaves, and olive oil can be used to make everything from Caprese Skewers to Caprese Flatbread.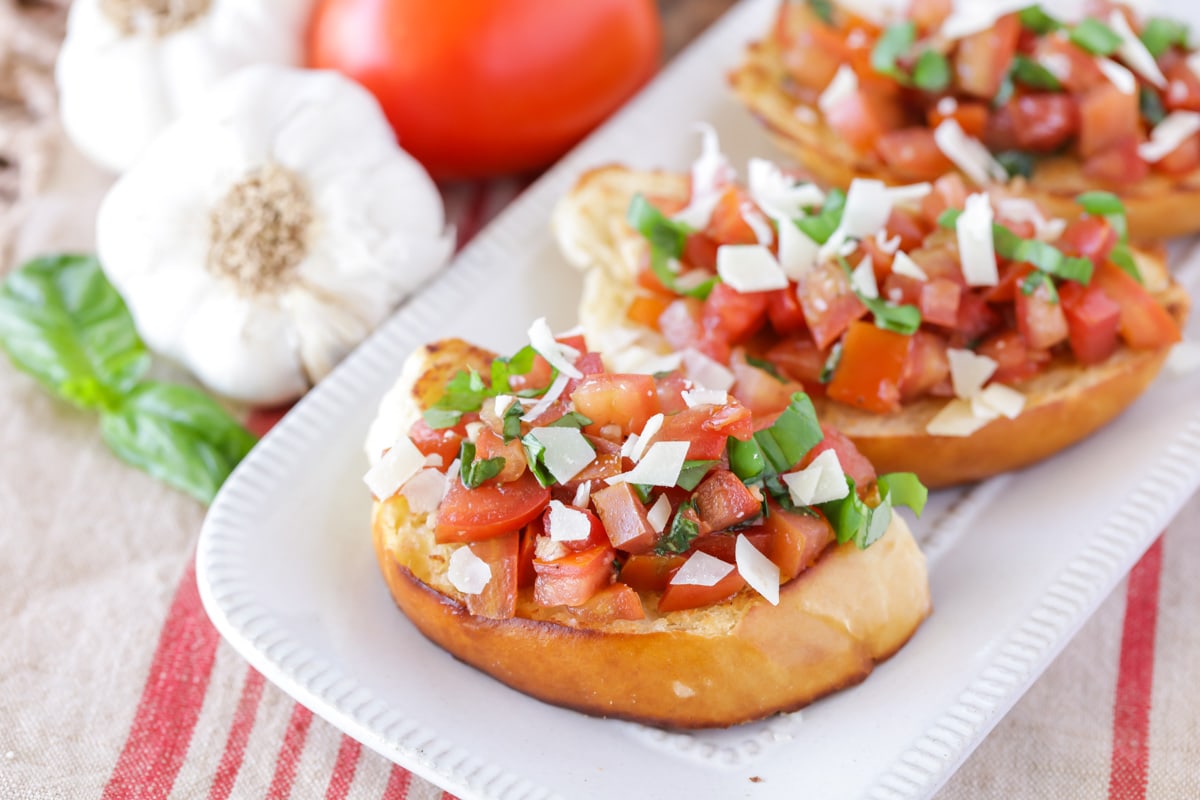 Planning suggestions
These Italian Appetizers are great for an appetizer only party or to serve before a dinner. The following information will help you figure out how many dishes and how much of each you'll need.
If you have fewer than 10 guests, offer 2-3 different types of appetizers.
If you are having more than 10 guests add another dish for every 5-8 more people.
When appetizers are the main food at an event you'll need to plan to serve about 10-12 pieces per person for a two hour party. Add about 5 more pieces per person for every hour after.
If you will be serving dinner, then you will not need as many appetizers. In this case you'll only need a total of 3-5 appetizers per person.
More planning Tips
Use a variety of appetizers and be sure that the flavors are complementary.
Be sure to mix and match the warm & cool and sweet & savory.
Do a practice run a couple weeks beforehand to work out any kinks for new recipes.
Offer both ready-made that you can pick up at the grocery store or your favorite bakery as well as homemade choices.
Appetizers are an easy way for guests to contribute.
Storing + Serving Info
Keeping appetizers the right temperature, especially if they are being served during a longer party, is important.
Warm: Chafing Dishes and Crock pots are my go to tools to keep food warm for an extended period of time.
Cold: First, only set out as many appetizers that will be eaten within an hour and refill as needed. Some appetizers need to be constantly chilled, in this case I like to place Ice in a bowl then nestle the serving bowl with the food inside. Another idea is to purchase large thin ice packs that fit nicely under serving plates and platters.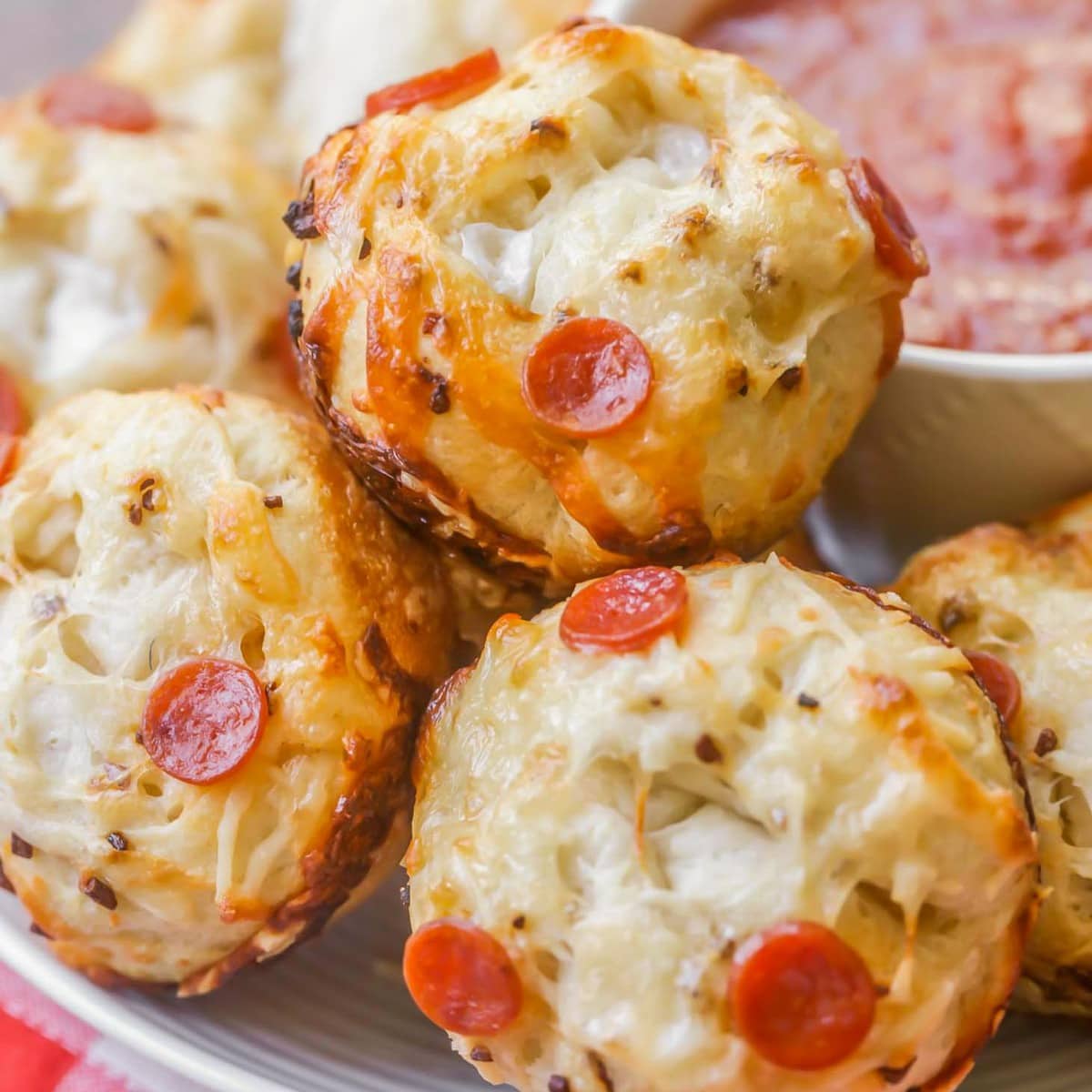 Best Italian Appetizers
It's always a good time for a tasty antipasto! Fried and crispy, or fresh, there are plenty of Italian appetizer recipes to choose from!
Have a few before dinner, or make it the entire meal. There will be no disappointed bellies.
Cheesy Pizza Muffins – These cheesy and delicious Pizza Muffins make for the perfect appetizer. They're filled with melty mozzarella, and topped with a yummy garlic butter, more cheese, and mini pepperonis.
Mozzarella Bites – Fried mozzarella bites are delicious, easy and the perfect party appetizer when served with marinara sauce and sprinkles with fresh herbs. Everyone loves this bite-sized snack!
Olive Garden Breadsticks – Just like the originals, these copycat Olive Garden breadsticks are light and airy on the inside, and flavored with butter and garlic salt on the outside. Try dipping in olive oil and balsamic vinegar. You can never eat just one!
Fried Ravioli – Fried Ravioli can be made as a side dish or appetizer, and is great with any Italian meal. Crispy on the outside and cheesy on the inside, we love serving it with warm Marinara.
Tortellini Skewers – Quick + simple pesto Tortellini Skewers whip up in minutes for a tasty appetizer perfect for any occasion. They are cheesy and delicious!
Mozzarella Sticks – Everyone is obsessed with these ooey gooey homemade mozzarella sticks, breaded with a flavorful coating and fried to a golden perfection.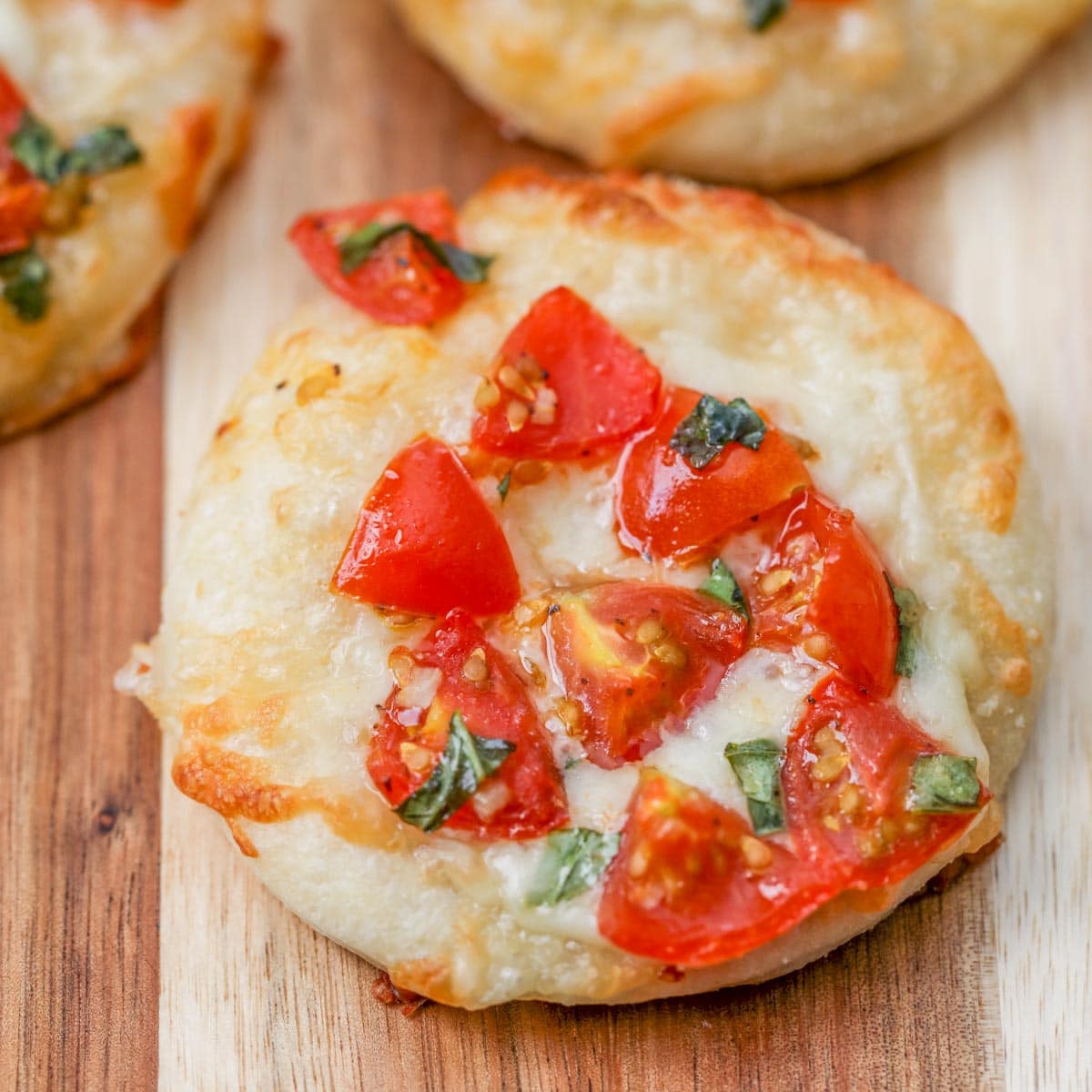 Mini Pizzas – These Mini Pizzas are bite-sized pizzas topped with cheese, tomatoes, fresh basil and more. They're perfect for lunch, dinner, or even as an appetizer at parties!
Italian Meatballs – These homemade Italian meatballs are sure to rival your favorite Italian restaurant. They are juicy, soft, and full of flavor!
Pizza Dip – Everyone's favorite food in dip form! This pizza dip is simple, delicious, and can be customized based on your favorite pizza toppings!
Roasted Tomatoes – Juicy roasted tomatoes are the yummiest and easiest appetizer or side dish. Roasting them (with a little olive oil, basil and parmesan) brings out every delicious flavor!
Bruschetta – This yummy Homemade Bruschetta is simple and perfect for any party! It includes fresh ingredients and is the perfect Italian appetizer!
Chicken Parmesan Sliders – Deliciously cheesy Chicken Parmesan Sliders make a perfect appetizer, but can hold their own as a main dish too!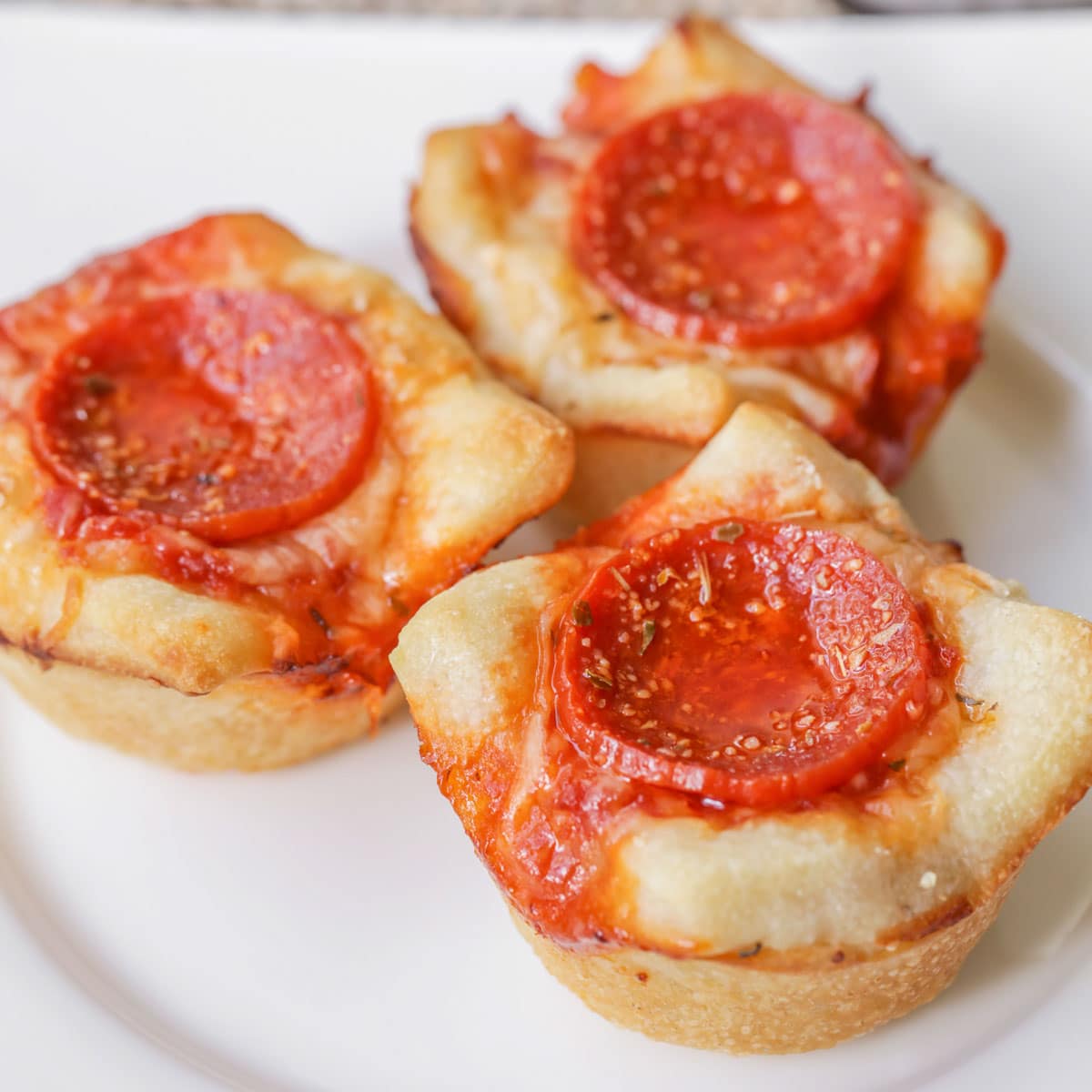 easy italian appetizers
Delicious appetizers don't have to be difficult. These simple bites are perfect for your antipasto platter and whip up in a flash, perfect for a last minute gathering or if you are just craving some Italian!
Mini Deep Dish Pizza – Mini Deep Dish Pizzas are our new favorite dinner recipe. They're easy, quick and can be made custom for each person with their favorite toppings!
Cheesy Garlic Bread – This is by far our favorite Garlic Bread recipe. It takes minutes to put together and is SO cheesy and delicious. It's the perfect side dish for any meal, but especially for pasta and Italian dishes!
Caprese Kabobs – Simple, quick and delicious Caprese Kabobs take minutes to throw together and are perfect for any party or get together. Perfect antipasto skewers!
Easy Bruschetta – This easy Bruschetta is quick, simple and perfect for any party! It takes just 5 ingredients and is the perfect appetizer for any occasion.
Pizza Roll Ups – Crazy fast and easy to make, these pizza roll ups are oozing with cheese and pepperoni. They are tiny pockets of big flavor!
Bruschetta Caprese – Toasted bread rounds are topped with a mixture of juicy tomatoes, ripe avocado, and fresh mozzarella to make this Bruschetta Caprese. Top it all off with a balsamic glaze!
---
the complete list
Here are the picture cards for all of the mouth watering Italian Appetizers listed above.
Nothing gets a meal started better than a delicious appetizer and with so many fantastic recipes to choose from you'll want to try them all!
---
More Collections: Healthy Appetizers, Summer Appetizers, Easy Pasta Recipes