This easy Bruschetta is quick, simple and perfect for any party! It takes just 5 ingredients and is the perfect appetizer for any occasion.
This Italian appetizer is made even easier using only 5 ingredients! It's one of our favorites along with Fried Zucchini and Caprese Kabobs.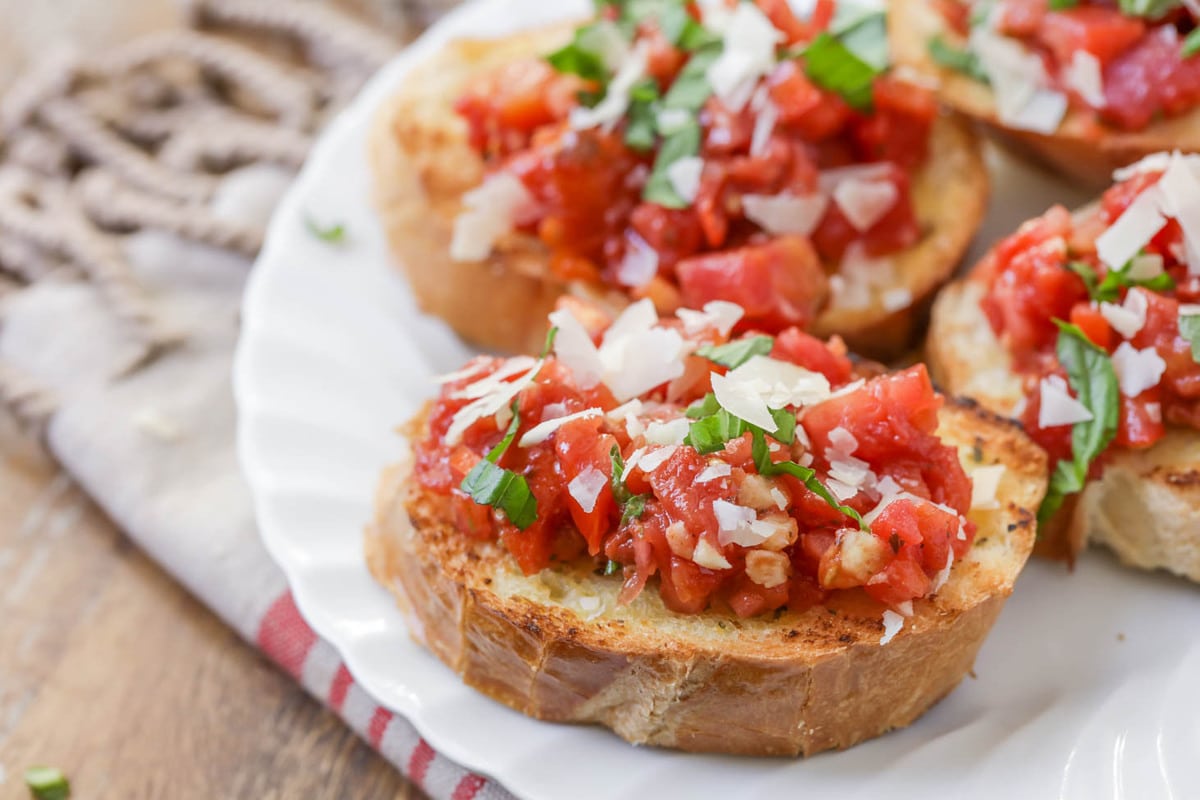 ONLY 5 Ingredients!
We love bruschetta, and we especially love when it's quick and easy.
Today's classic Italian appetizer comes from my Aunt Georgie who has been making this recipe for as long as I can remember.
We love to cut up some French bread to put this on, but no matter what you use, it's sure to be a hit.
It takes a few minutes to throw together and will be a great addition to any function or get together.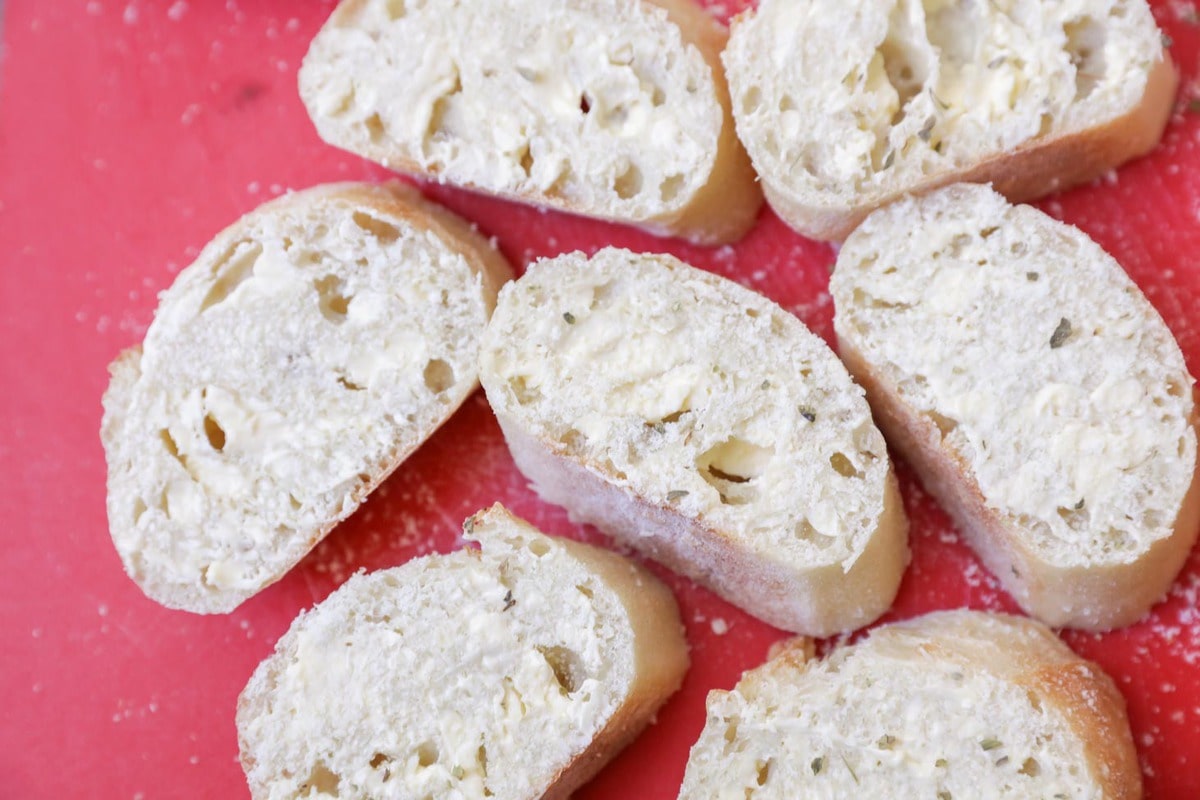 How to Make Bruschetta
All it takes is 5 ingredients!! Few ingredients and amazing flavor – what more could you ask for?!
Can of Italian Diced Tomatoes
Roma Tomatoes (chopped)
Garlic
Extra virgin Olive oil
Fresh Basil
MIX. Add all the ingredients to a bowl and mix well. Then, serve right away with toasted bread pieces. *You can add salt and pepper if needed.
**NOTE: SUB FOR ITALIAN DICED TOMATOES: 4 Roma tomatoes, ½ tsp basil and ½ tsp oregano
REFRIGERATE. If you're not serving right away, make sure you stick the Bruschetta mixture in the fridge until you're ready to serve. As I mentioned, we like to serve ours on toasted bread slices.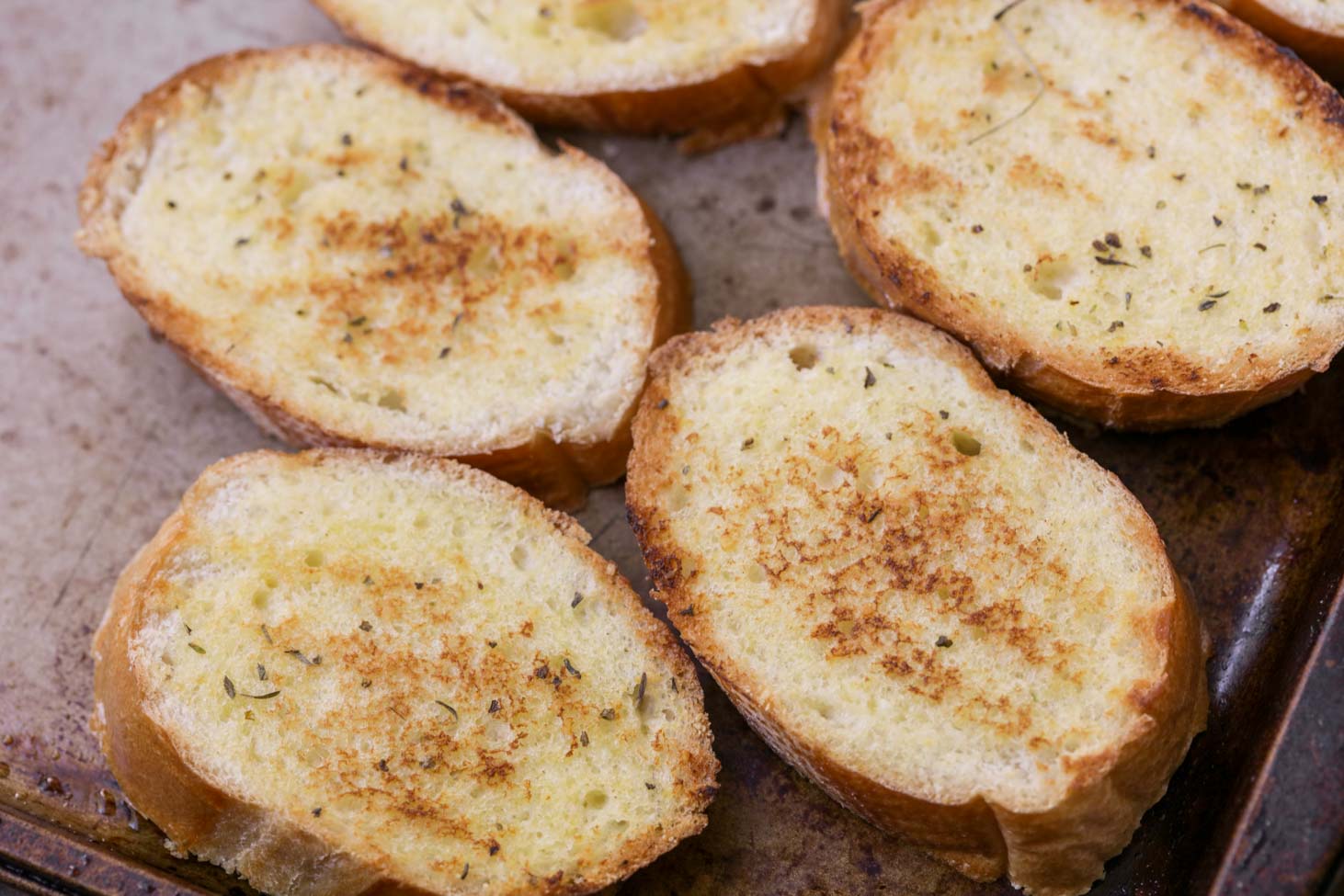 What kind of bread is used for Bruschetta?
Here are some of the most popular breads used for bruschetta:
Sourdough Bread
Baguettes or Hogi Roll
Rustic Bread
Whatever bread you use (baguettes are simple and inexpensive), cut the loaf into slices. Then, place them on a baking sheet, brushing them with butter, and sprinkle with grated parmesan cheese.
Broil on HIGH for 2-5 minutes (depending on how fast and hot your oven is).
We also like to cut the bread a little more thick, butter and sprinkle with Parmesan cheese and Italian spices and cook it on the skillet too.
Once the bread is toasted, spoon Bruschetta on top of baguette slices – and sprinkle with shaved Parmesan (you can even drizzle with balsamic glaze) and taste how amazing it is!!
RECIPE FAQ
How long does it keep? We only keep it out for up to 2 hours and store it in an airtight container until ready to serve.
How to store bruschetta? If making a head of time, we will add all the ingredients except for the canned tomatoes and basil and add those right before serving. Once it's made, this can be kept in an air-tight container in the fridge for 24-48 hours.
How to store bruschetta bread? We keep this in a Ziploc bag if it's already made. It's definitely best served warm, fresh from the oven.
And be sure to check our Bruschetta Chicken – which we love to make when we have leftover bruschetta mixture!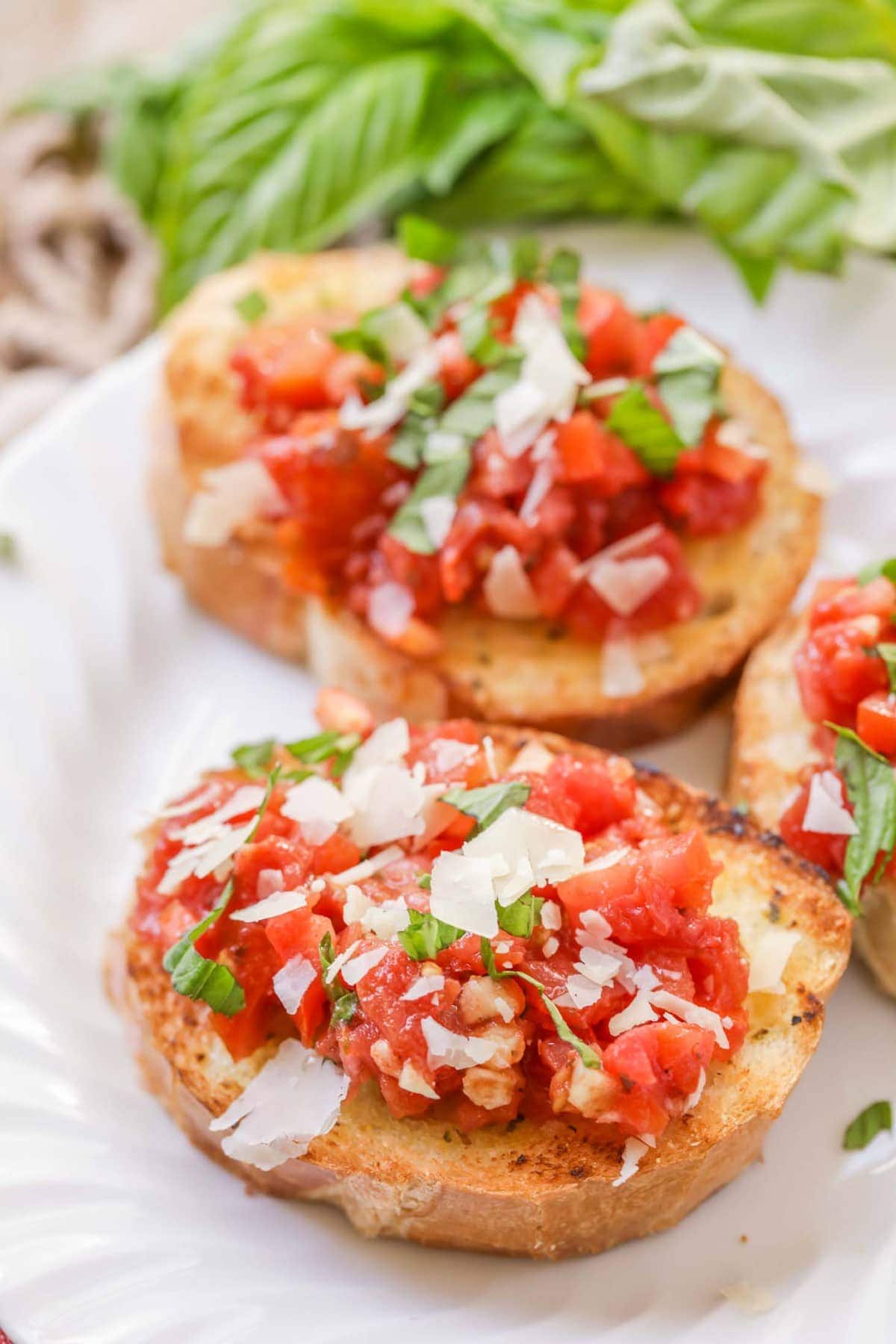 More Appetizers:
Easy Bruschetta Recipe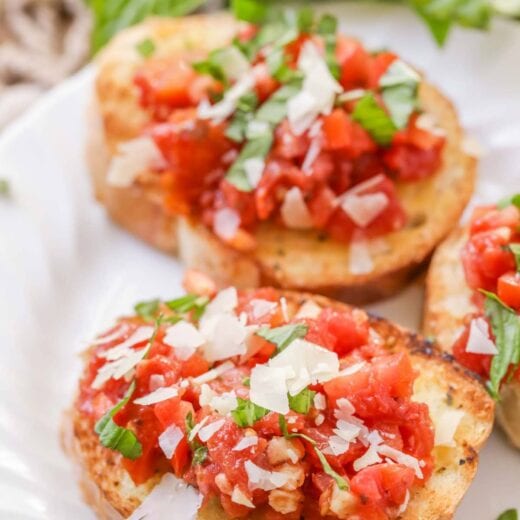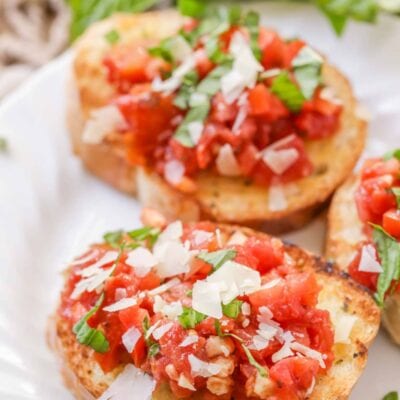 This easy Bruschetta is quick, simple and perfect for any party! It takes just 5 ingredients and is the perfect appetizer for any occasion.
Ingredients
1

16 oz. can

Italian diced tomatoes,

drained

3

Roma tomatoes,

chopped

2.5

tbsp

minced garlic

4

tbsp

olive oil

3/4

cup

basil

chopped

shaved Parmesan,

optional
Bread Slices
1

baguette

1/4

cup

butter,

softened

1/4

cup

grated Parmesan cheese

2

tsp

Italian seasoning
Instructions
Make bruschetta by putting Italian diced tomatoes, chopped Roma tomatoes, minced garlic, olive oil and basil in a medium bow. Mix slowly to combine.

Refrigerate bruschetta mix until ready to serve.

Make bread slices, by slicing baguette and adding butter and Parmesan cheese to each slice.

Broil on HIGH for 2-5 minutes or until toasted or toast on skillet on LOW-MEDIUM heat.

Scoop bruschetta onto slices right before serving.