Easy and flavorful bruschetta chicken pasta is perfect for BBQs and get togethers. It's flavored parmesan and packed with chicken!!
Pasta Salad is perfect for BBQs, and bruschetta chicken pasta is one of my favorites. Creamed Corn and Ambrosia Fruit Salad are also frequently requested dishes that round off a meal nicely!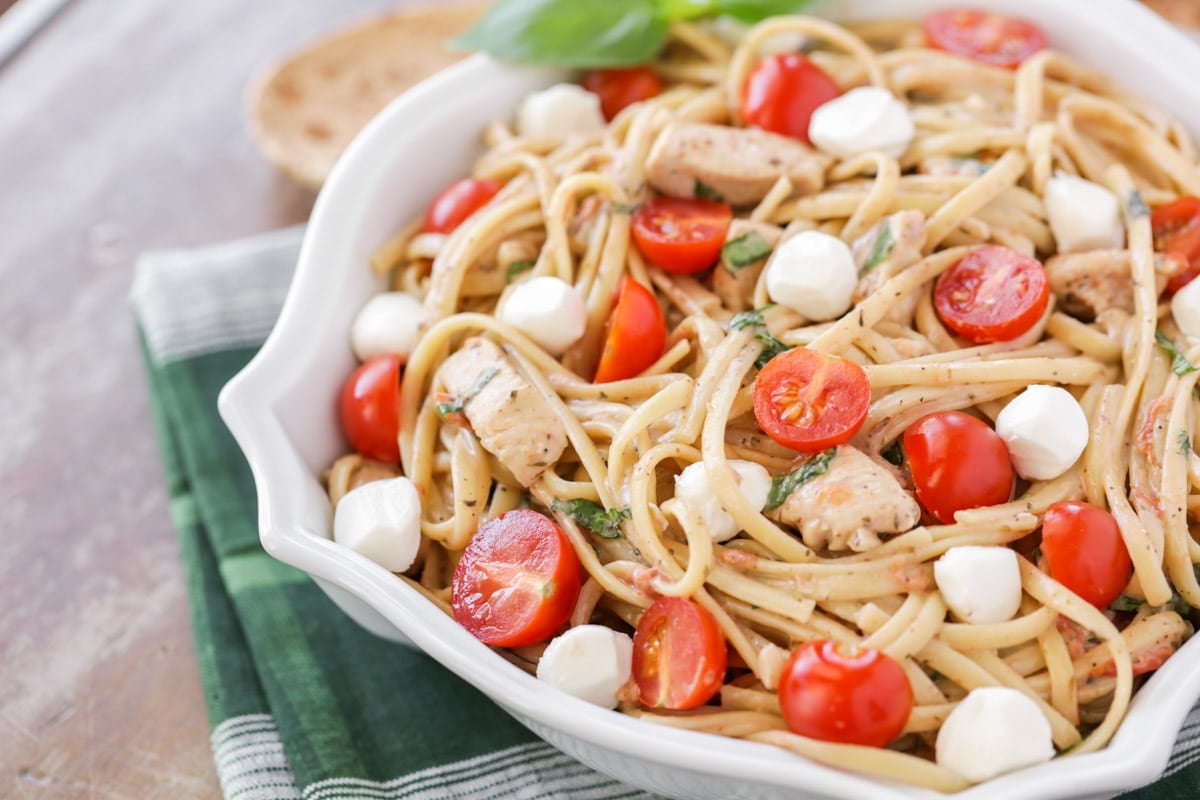 Addictive + Easy
Why is pasta sooo good?!
I mean, I just cant seem to stay away from any kind of pasta dish. They come in so many different shapes, colors, varieties and flavors – you just really can't go wrong. Bruschetta Chicken Pasta is simple and delicious and perfect for any upcoming get togethers, picnics or parties. It's full of flavor and filled with all your favorite ingredients including tomatoes, basil, chicken and Parmesan!
It has a very simple but yummy taste that is sure to please anyone in the family. I'm thinking it would be great for barbecues and family get togethers. The best part? It's a cinch to put together and tastes amazing! If you love all things bruschetta, then you'll definitely love this pasta salad.
Bruschetta is a simple Italian dish that consists of toasted bread rubbed with Olive oil that is typically topped with fresh garlic and salt. There are other variations of it as well that include topping it with fresh tomatoes, other vegetables, fresh basil and cheese. We have converted this into a Bruschetta Chicken Pasta dish that is also very simple to make and delicious.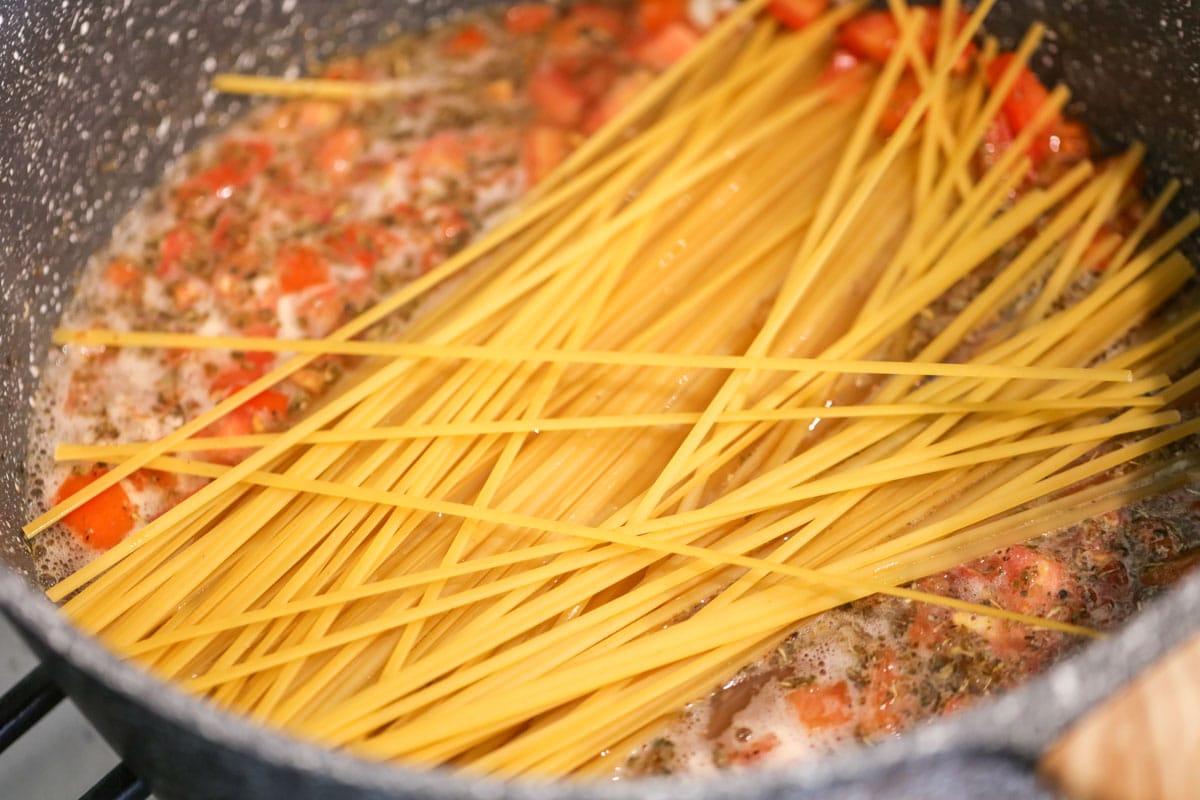 Making Easy pasta salad
VEGGIES. In a large saucepan, sauté garlic in hot oil. Add whole tomatoes. Salt and pepper to taste and sauté for 10 minutes or until tomatoes start to soften.
SAUCE. Add salad vinegar, let reduce for a few minutes, then add in the chicken broth and chicken cubes. Simmer on low for 5 minutes.
COMBINE. Add in cooked pasta and toss to coat. Top with shaved Parmesan. Serve warm.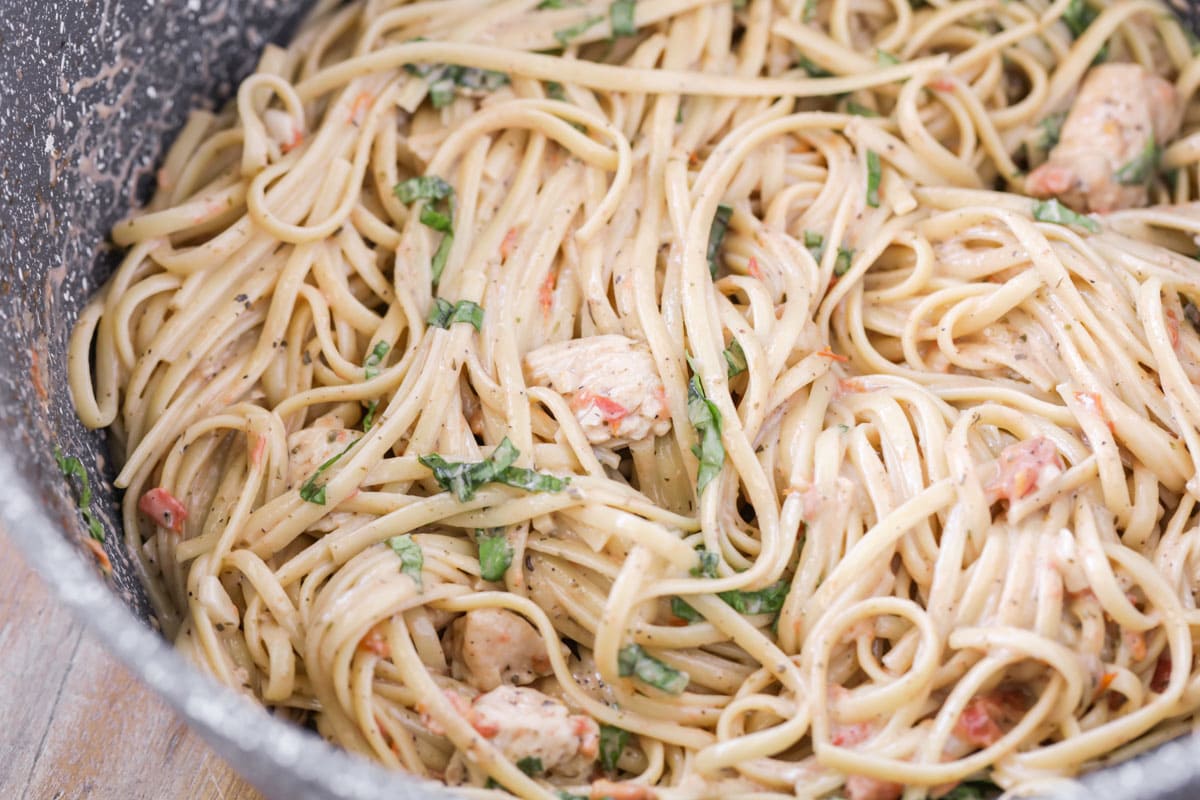 Tips, Variations + Storing Info
This meal is meant to be simple, light and fresh and because it is so simple the ingredients you use do make a difference in how it turns out. You can replace the fresh tomatoes with canned, diced tomatoes (drained) but I suggest sticking with fresh tomatoes for the best results. It will always taste much better if you do. My favorite ones to use are grape tomatoes.
Variations:
Switch the chicken out for shrimp or add chopped bacon on top.
This pasta salad can be served warm or cold, whichever you prefer. 
You can mix in some extra cheese while its warm to make it a little creamy. 
Drizzle a little balsamic glaze on top to add some sweetness. 
If you prefer a different cheese, Mozzarella or Romano cheese also work great in this dish.
STORE leftovers in an airtight container. It should last in the fridge for up to 3 days. Reheat in the microwave in 30 second increments until warm or if you prefer it can be eaten cold. If the leftover pasta seems dry then just add a little bit of Olive oil to it. 
To make this dish ahead, cook and cube the chicken breasts ahead of time. You can follow this recipe here or use a chopped rotisserie chicken.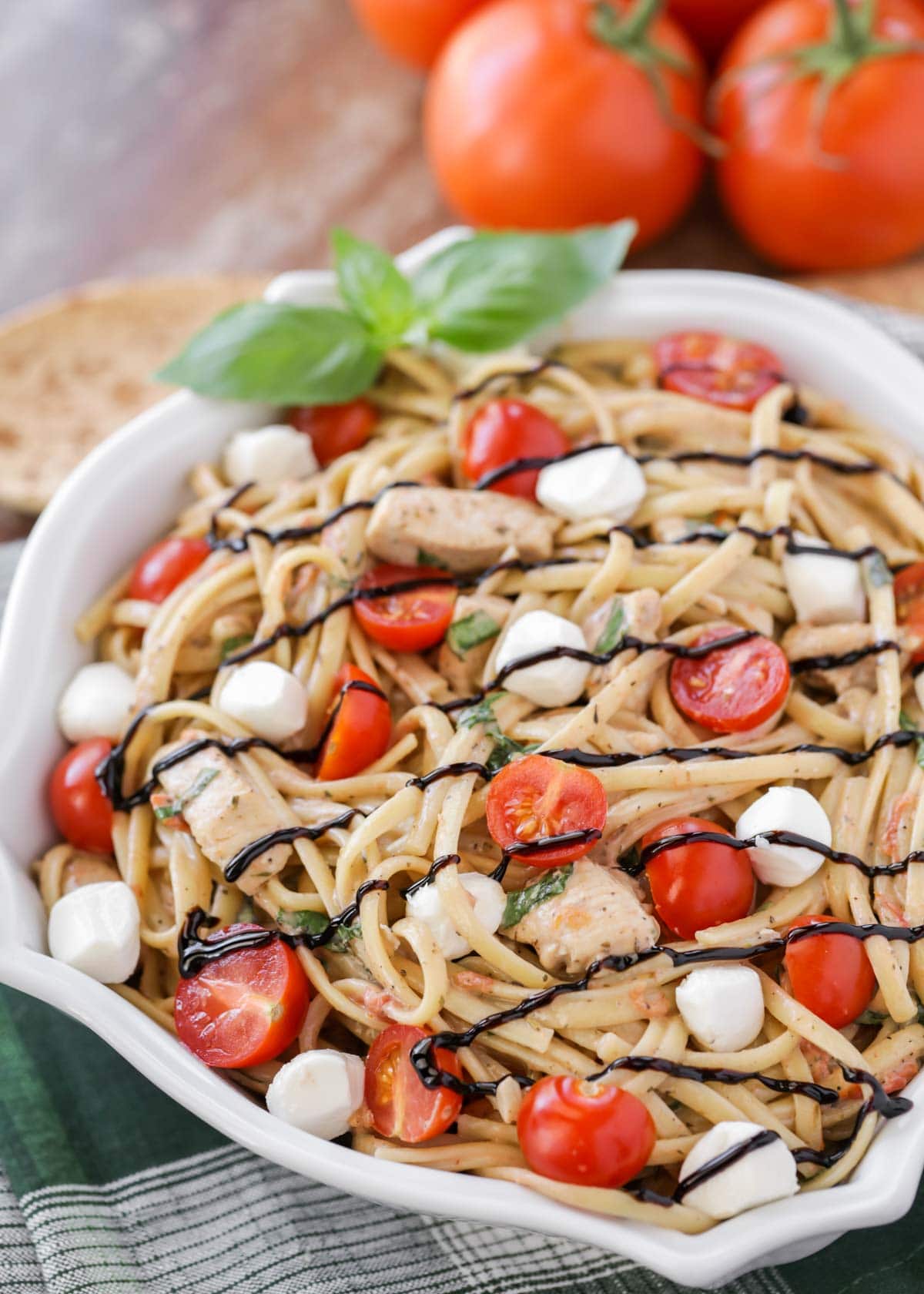 For more great pasta salad dishes, check out:
Bruschetta Chicken Pasta Recipe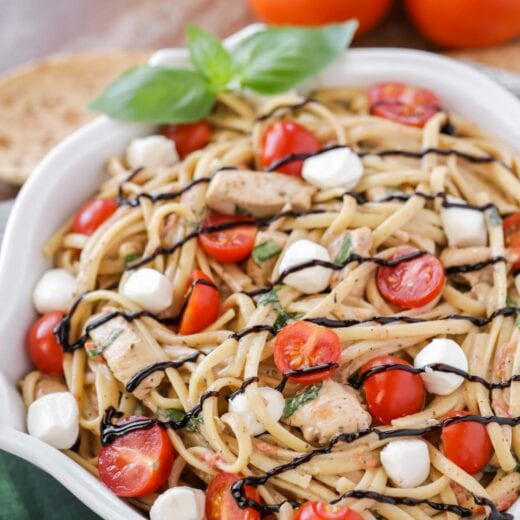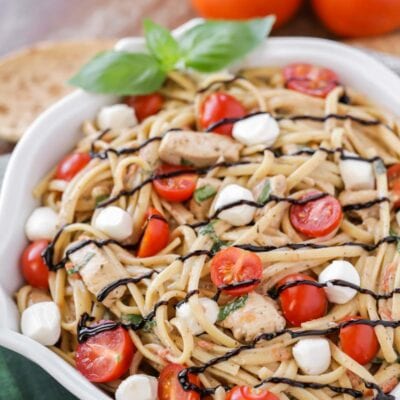 Easy and flavorful Bruschetta Chicken Pasta is a hot pasta dish filled with all the flavors of classic bruschetta—chicken, tomatoes, basil, and mozzarella.
Ingredients
2

chicken breasts

cut into 1 inch pieces

3

tbsp

olive oil

4

cups

chicken stock

2 1/2

cups

chopped tomatoes

6

cloves

minced garlic

minced

1

lb

linguine pasta

dry

1

tbsp

dried basil

2

tsp

garlic salt (with parsley flakes)

with parsley flakes

dash

pepper

1/2

cup

heavy whipping cream

2

cups

cherry tomatoes

sliced in halves

fresh basil

4

oz

fresh mozzarella balls

1/2

cup

shredded Mozzarella

for topping

balsamic glaze

topping
Instructions
Add oil to a large pot and heat on medium heat.

Add chicken and brown for a few minutes until cooked through. Remove from heat and set aside.

In the same spot, add the chicken stock, chopped tomatoes, minced garlic, linguine pasta, basil, garlic salt and pepper. Cover with the lid and bring to a boil.

Once there is a boil, add the chicken and lower the temperature. Simmer for 8 minutes.

Add the heavy cream, cherry tomatoes, basil, mozzarella balls, and Parmesan cheese and toss well to combine.

Serve and add any additional cheese on top and drizzle with balsamic glaze.