With a creamy homemade cheese sauce, this Triple Cheddar Chicken Pasta has become one of our favorite chicken and pasta dishes. Even my pickiest eaters love it! With pasta, chicken, seasonings, and LOTS of cheese, you definitely can't go wrong!
Whenever I'm in a dinner time bind, pasta tends to be the answer more often than not. This recipe is one of our common go-to's, but we also make Pasta Carbonara, Homemade Mac & Cheese, and Pesto Pasta fairly often as well.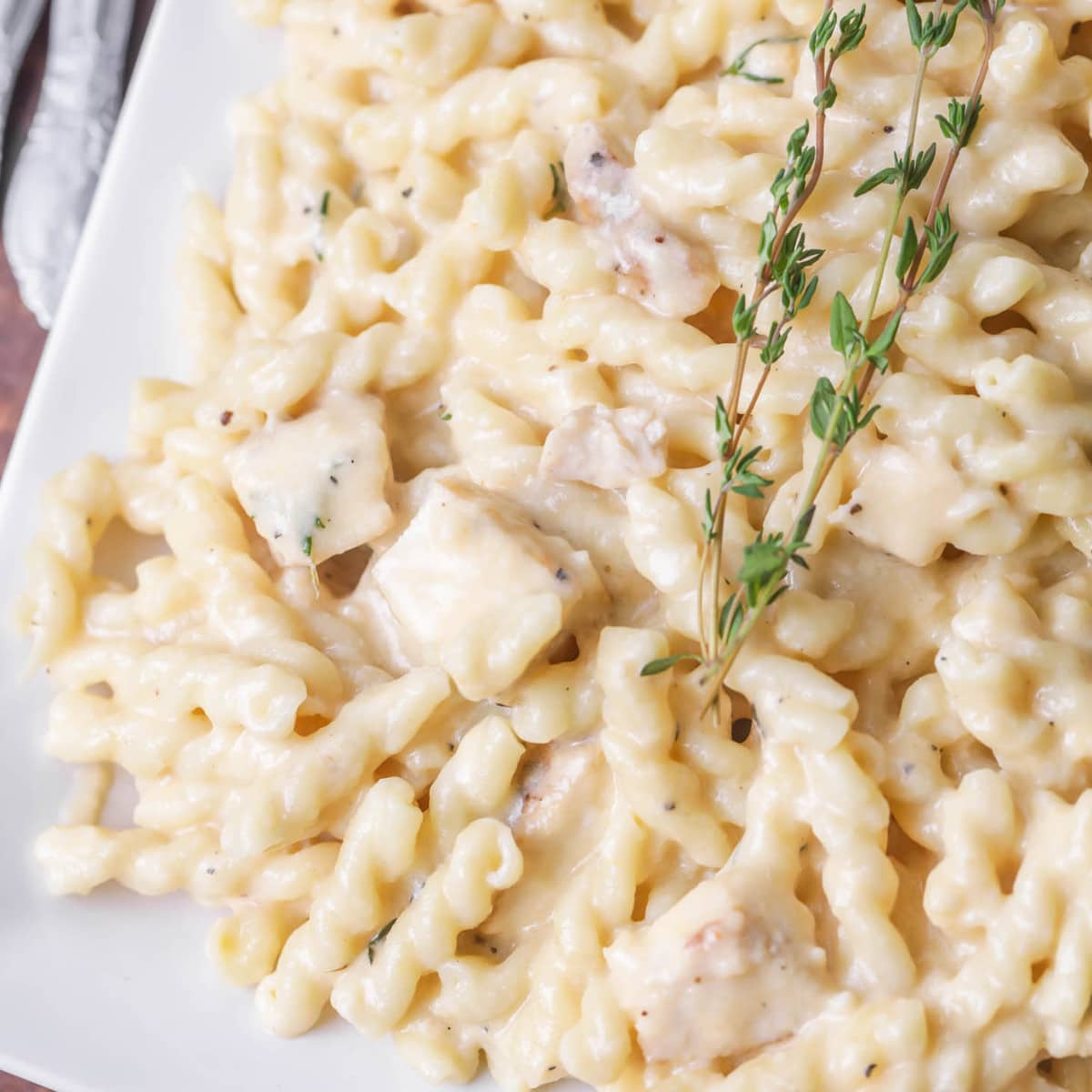 when in doubt, bust the pasta out
Dinner can be the hardest time of the day when everyone is tired and hungry. I can attest that the mom feels the same way and often is not excited about having to come up with a dinner everyone will enjoy. Having a weekly menu plan has helped me with that, but I don't always stick to it, which means I'm trying to think of a yummy dinner idea all the kids will eat.
That is usually when I bust out one of our favorite pasta dishes. We make Spaghetti, Fettuccine Alfredo, and Penne Pasta a lot, but we recently tried a recipe for Triple Cheddar Chicken Pasta (from Homemade by Holman) that was amazing and fairly simple.
We modified it a bit, but with cheese, chicken and pasta, it was a hit with the entire family. There are a few picky eaters in our fam (unfortunately), so it's always nice to find a recipe everyone will eat. This usually only happens with pastas and Mexican food for our crew, but I'll take it. 😉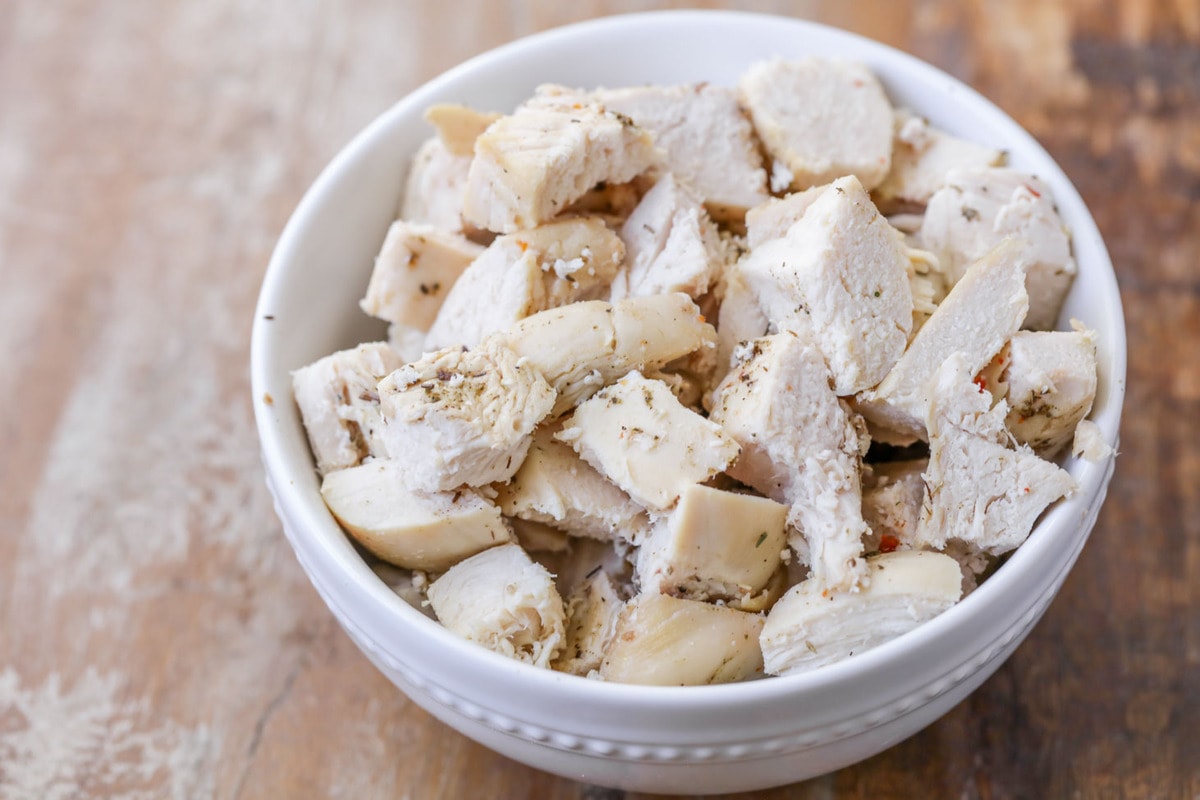 easier than it looks
For how fancy this pasta looks, it's actually really quick and easy to put together! Cutting the chicken into pieces before cooking makes it cook a lot faster – if you start it the same time as the pasta, they can be finished about the same time! And then the sauce is whipped up in just a few minutes. Easy peasy! Here are the specifics:
PASTA. Cook pasta as directed on the box.
CHICKEN. Meanwhile, cook chicken and seasonings in a saucepan with olive oil until the pieces are cooked through.
SAUCE. Make the sauce in a separate pan by melting butter, whisking in flour, adding garlic and then milk. Once the sauce thickens, add the cheese and stir until it is melted.
COMBINE. Add chicken and pasta to the sauce and mix well to combine. Sprinkle on the thyme and oregano and top with grated Parmesan to serve.
What cheeses are in triple cheddar cheese? I always choose the easy way and buy the prepackaged cheese mix. However, you can make you own mix. Use equal amounts of Vermont white cheddar, sharp cheddar and mild cheddar cheese. Finely shred each type of cheese, toss together in a bowl and add to the sauce.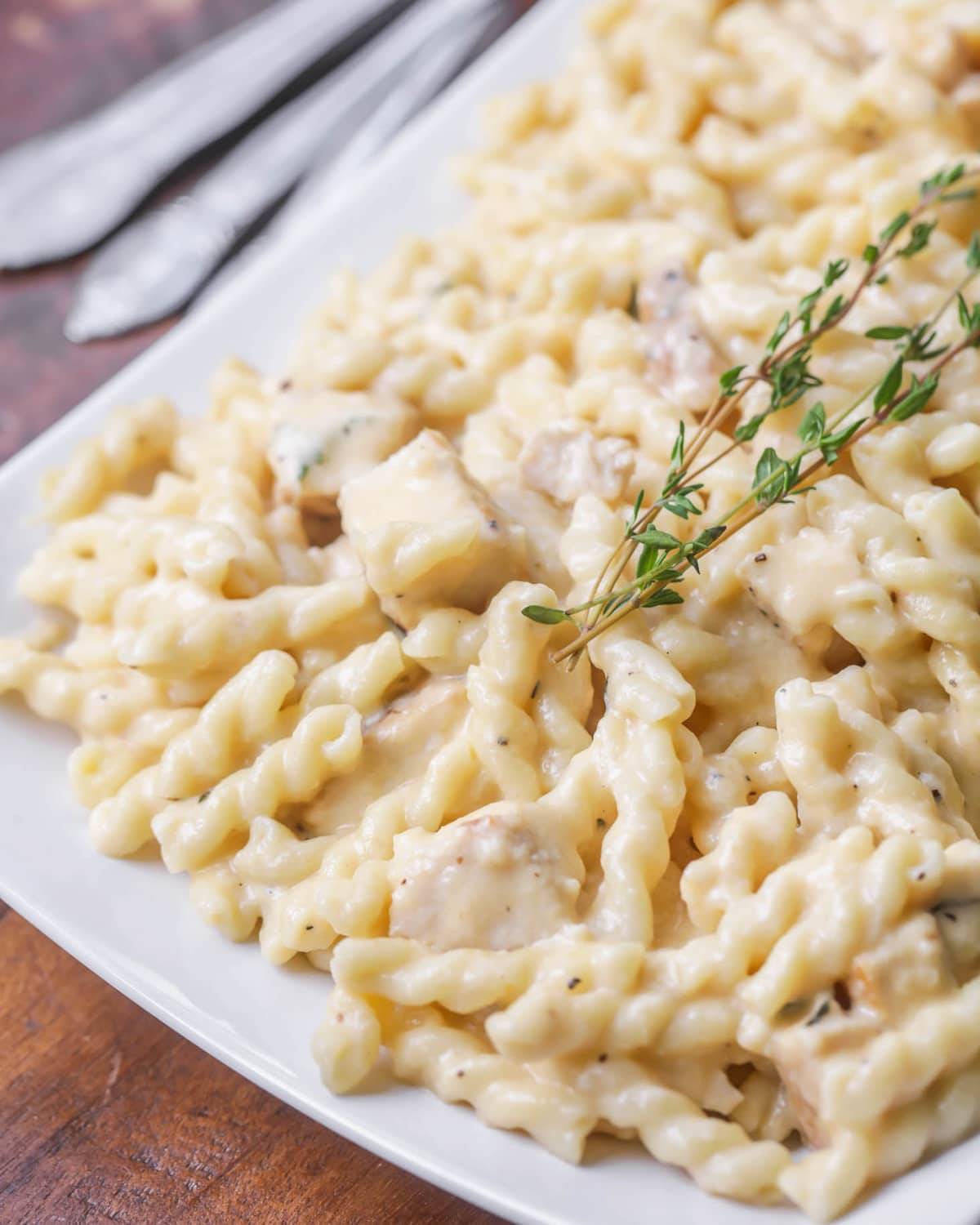 Tips for storing and serving
Store: If you happen end up with leftovers simply place them in an airtight container and keep in the fridge for 4-5 days. To reheat: Add a small amount of milk (about ½ tablespoon) to the portion. Microwave for 30 seconds and stir. Continue to heat in 10 second increments, stirring in between, until hot. You can also reheat in a saucepan over medium heat.
Freeze: This dish will taste best eaten right away. However, you can choose to freeze to eat later.
Freeze with noodles: Undercook the noodles to help keep them from getting soggy. Follow the remainder of the recipe instructions. Place in a freezer safe airtight container. Freeze for up to 6 months. To reheat: thaw in the fridge. Heat on the stove top over medium heat. Add 1-2 Tablespoons of milk. Stirring occasionally until hot.

Freeze without noodles: Cook the chicken and sauce according to the directions. Store in an airtight container or freezer bag. To Reheat: thaw sauce in the fridge. Heat the sauce on the stove top over medium heat. Meanwhile cook pasta according to directions, then add pasta to the heated sauce.
Additions: Spruce up the dish with some vegetables such as sauteed red peppers or cooked broccoli florets.
Serve with: To round out the meal, we usually have a bread of sorts (we love this cheesy garlic bread), a salad and some fruit. It's perfect for company or Sunday dinner, and can be mostly made with ingredients that are usually on hand.
For more pasta dishes, check out:
Triple Cheddar Chicken and Pasta Recipe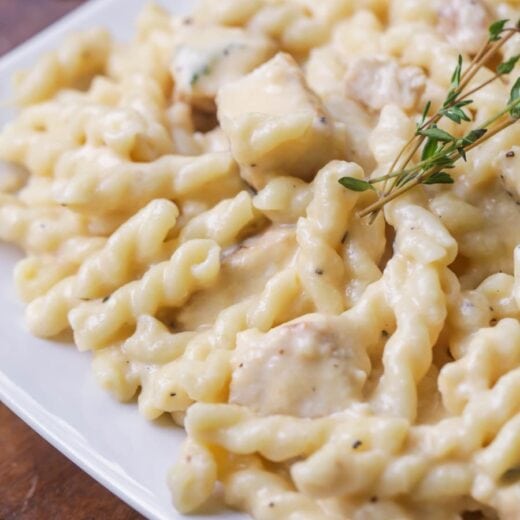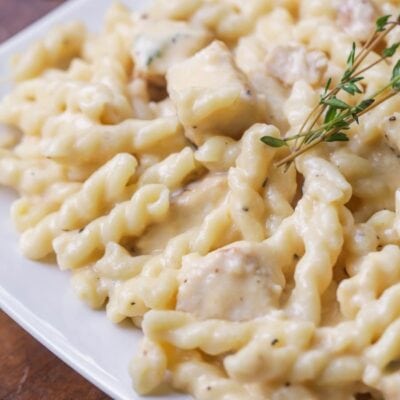 Even my pickiest eaters love this easy chicken pasta, which is why it's a go-to weeknight dinner in our family! With pasta, chicken, seasonings, and cream sauce full of cheese, you definitely can't go wrong!
Ingredients
For the chicken
2-3

boneless, skinless chicken breasts

cut into 1 in pieces

1

TB

fresh thyme

olive oil

salt and pepper to taste
For the pasta
1

lb

fusili pasta or rotini

2

TB

butter

2

TB

all-purpose flour

2

tsp

minced garlic

2

c

milk

1

c

shredded triple cheddar cheese

2

TB

fresh thyme

1

TB

oregano

1/4

c

grated Parmesan cheese
Instructions
Cook pasta as directed on box to al dente.

While pasta is cooking, add oil to a pan and add chicken pieces. Sprinkle on thyme, salt and pepper and cook until chicken is cooked through.


In a separate pan, add butter and melt on medium heat. Once melted, add flour and whisk together. Add garlic and cook for a few minutes, followed by the milk. Cook until the sauce thickens and then add cheese and stir to melt.


Then, add chicken pieces and pasta to the sauce and mix until well combined. Sprinkle on thyme and oregano. Top with grated Parmesan cheese and serve warm. ENJOY!

Recipe adapted from Homemade by Holman. 
ENJOY!