Italian entrees are a favorite in our home. I've rounded up some of our fav Italian side dishes to best compliment any dinner, but especially Italian!
More Collections: Italian Appetizers, Italian Dinner Recipes, Italian Soups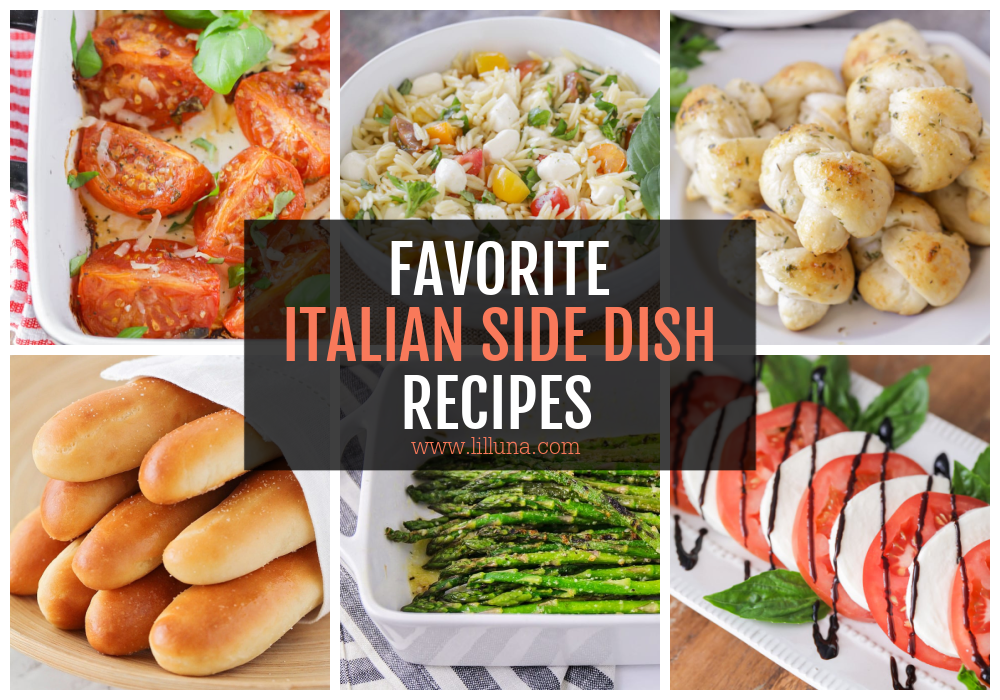 More Than Just Breadsticks!
If you've been to an Italian restaurant, you may have been fed complimentary bread or Breadsticks as a side dish to your Italian dinner.
That's the first thing I think of when I think of Italian sides, but there is SO much more than just bread!
Think green salads, roasted veggies, tomatoes, mozzarella cheese, and bold Italian flavors. There are more options than you realize!
And before we get into the list of recipes, I have some tips for making and serving your Italian side dishes.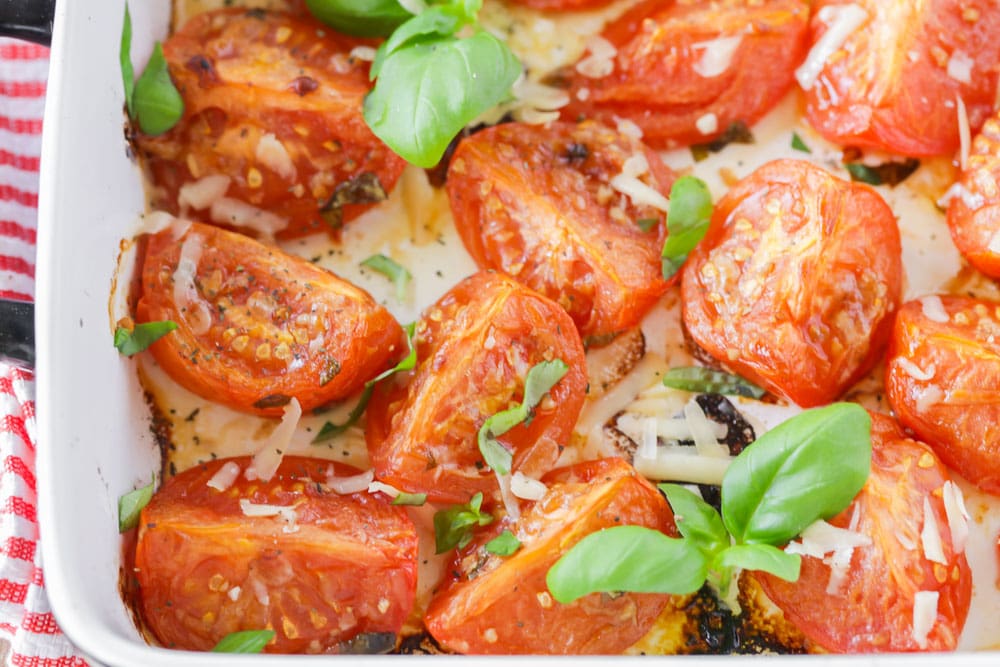 When to serve the sides
An Italian meal is an all-night event. Each course is served with plenty of time in between for stomachs to settle and to enjoy each other's company.
Often the Italian main dish is divided into 2 courses. When this is the case, then Italian side dishes are served during the second main course which typically includes meats and/or seafood. If the courses are not divided, then the side dishes are set out along with the main presentation. 
The Primo, or first main course, is most often a soup, risotto, casserole, Lasagna, or another pasta dish. Secondo, or second main course, is considered to be the main dish. It will be heartier and most likely a delicious protein such as beef, pork, chicken/turkey, or seafood. 
As stated, the Contorni (side dishes) are served in small portions, on their own plate, during Secondo. They are most often seasonal produce or bread and the flavors complement the main dish.
Be mindful that if a pasta dish is served during primo, then you may not want to plan a Contorni using pasta.
Prep ahead of time
Since Italian dinners are quite the affair, it's always nice to be able to prepare and even complete a dish ahead of time. Many of the sides can be prepped ahead of time so that all you have to do is heat them up or toss them together.
Is your mouth watering yet? I can't wait to try some of recipes. In the meantime, I have several delicious Italian sides right here that will be perfect to bring the taste of Italy to your kitchen.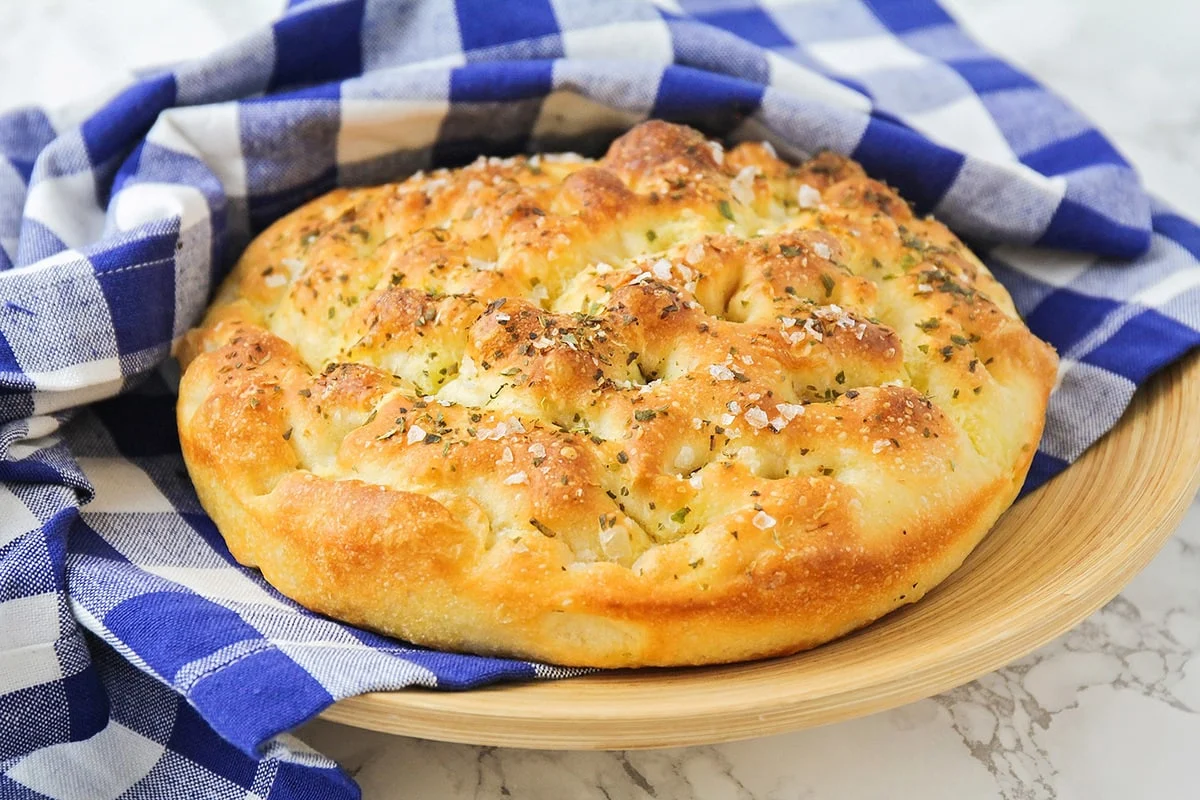 Perfect Side Dishes
I searched for some great side dishes, and here are a few:
Broccoli with Gremolata
Cooked Carrot Salad with Basil
Pan Fried Eggplant and Tomato Sauce
Various Italian Salads like Burrata salad
Italian Green Beans with Tomato and Garlic
Sautéed Escarole or Radicchio
Pasta like Cacio e Pepe
Crusty bread like Italian Bread and Focaccia Bread
---
best Italian Side Dishes
Italian side dish recipes are meant to complement the main dish and are kept light and served in small portions. Fresh produce is definitely utilized in dishes such as salads and is often deliciously roasted.
The side not-to-be-missed, bread, is often served and used to help soak up those tasty sauces, oil, balsamic vinegar, and even leftovers.
Cheesy Garlic Bread
This is by far our favorite garlic bread recipe. It takes minutes to put together and is SO cheesy and delicious. It's the perfect side dish for any meal, but especially for pasta and Italian dishes!
Oven Roasted Vegetables
Simple, flavorful, and healthy roasted vegetables that take less than 10 minutes of prep work! Nothing beats yummy veggies roasted in the oven!
Olive Garden Breadsticks
Just like the originals, these copycat Olive Garden breadsticks are light and airy on the inside, and flavored with butter and garlic salt on the outside. You can never eat just one!
Italian Bread
It is so easy to make Italian bread at home with just a few simple ingredients. Nothing beats a soft and crusty bread warm from the oven!
Roasted Tomatoes
Juicy roasted tomatoes are the yummiest and easiest appetizer or side dish. Roasting them (with a little olive oil, basil and parmesan) brings out every delicious flavor!
Quick Caprese Salad
Simple and quick caprese salad is easy and delicious with pops of mozzarella, tomatoes, avocados and drizzled with a balsamic glaze!
Grilled Asparagus
Grilled asparagus is the best side dish alongside almost any dinner recipe! Sprinkled with salt, pepper, and a little parmesan cheese—this recipe is incredible!
Pasta Primavera
A tried and true dinner recipe! Delicious pasta full of vegetables like zucchini, squash, bell peppers, and grape tomatoes.
Spinach Tortellini Salad
This cold tortellini salad is the ultimate side dish for BBQ and potlucks! With tortellini, spinach, tomatoes, olives, and parmesan tossed in Italian dressing, this tortellini spinach salad is packed with all the best flavors!
Focaccia Bread
Crisp yet fluffy bread topped with delicious herbs and seasonings. This flavorful focaccia bread is so easy to make, and is perfect for sandwiches, dipping in soups, or enjoying on its own!
Caprese Pesto Pasta Salad
Caprese pesto pasta salad is a light dish with a bold flavor, making it perfect for potlucks, parties, BBQ's, and get togethers!
Oven Roasted Red Potatoes
Oven roasted red potatoes are the perfect addition to any dinner! This crispy, seasoned side dish will add flavor and color to your meal.
Caprese Stuffed Avocados
Simple and fresh caprese stuffed avocados are a twist on classic flavors. This is a perfect appetizer or side to any meal!
Roasted Brussel Sprouts
Oven roasted brussel sprouts have a perfectly crispy outside, and a melt-in-your-mouth center. With only 5 minutes of prep time, you'll want to make this delicious and healthy side dish every night!
Roasted Chickpeas
Roasted chickpeas are full of flavor and perfectly crispy. Toss them in a salad or snack on them plain for a high protein and fiber snack.
Fresh Mozzarella Pasta Salad
Easy & fresh mozzarella pasta salad is light, delicious and flavorful. This simply dressed salad is a new favorite!!
Easy Garlic Knots
Buttery soft easy garlic knots whip up in under 20 minutes and make a perfect side for pizza, pasta, or salads!
Easy Tortellini Salad
Super YUMMY and easy tortellini salad filled with tortellini, salad, ranch, tomatoes and bacon bits – perfect for summer time!
Tomato Mozzarella Salad
Fresh, light, and healthy tomato mozzarella salad with basil and a balsamic glaze drizzle! Perfect for lunches with friends or a side salad to dinner!
Antipasto Salad
Antipasto salad Is the perfect summer salad! It's filled with tomatoes, cheeses, salami, red onion, veggies and more and can be topped with your favorite dressing.
Baked Zucchini Chips
If you're looking for a tasty side, these baked zucchini chips are your answer! Sliced zucchini baked to perfection with a parmesan and bread crumbs crust. These bite-sized veggies taste amazing and are a great alternate to the classic fried zucchini recipe.
Pizza Salad
Pizza salad is hearty & refreshing. All of the flavors of pizza are served on a bed of greens and topped with a homemade herb dressing!
Pasta Salad With Italian Dressing
This Italian pasta salad takes just minutes to make. It's a classic side dish, perfect for BBQs, picnics, or any night of the week!
Cheesy Spinach Artichoke Bread
Deliciously cheesy spinach artichoke bread makes a perfectly yummy appetizer or side!! It whips up in only 20 minutes!
Cucumber Tomato Salad
Fresh, vibrant cucumber tomato salad with basil leaves is a simple salad perfect for summer and your bounteous harvest. It's a quick side for any meal!
---
Perfect Italian Sides!
Look no further for the perfect sides to accompany your next Italian dinner – they're all sure to become new favorites! We'd love to know which ones you like the best!
More Collections: Easy Pasta Recipes, Vegetarian Pasta Recipes, Penne Pasta Recipes