Italian soups are named such because of the classic herb combinations. Serve any of these delicious soups with a side of bread or salad!
More Collections: Winter Soups, Chili Recipes, Summer Soups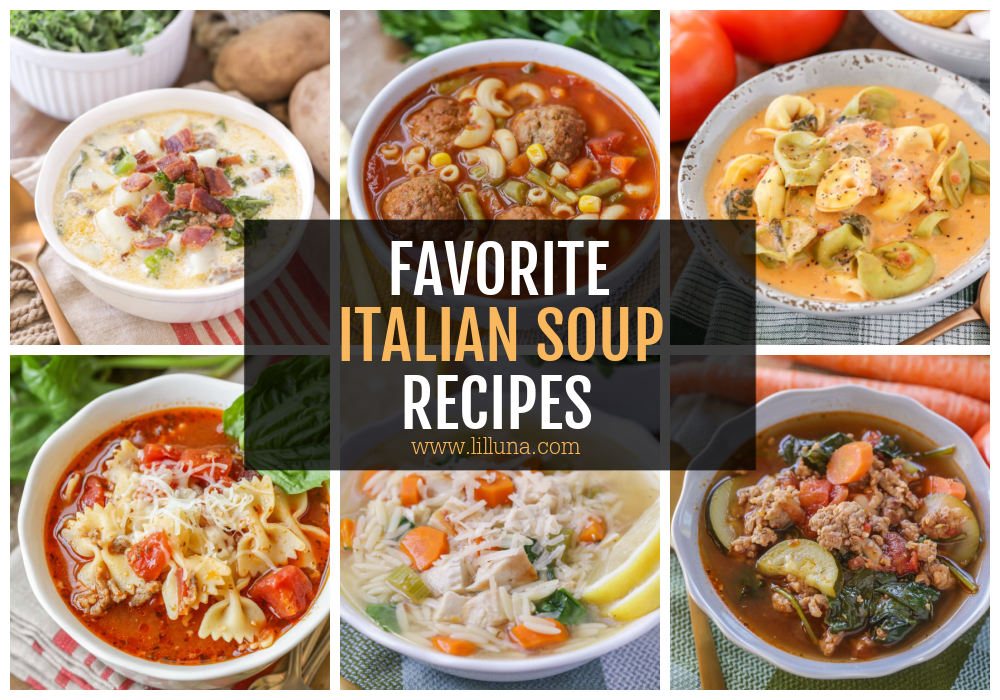 Traditional Italian Soups
When you think of Italian food, you may first think of pasta or Pizza. However, soup is also a part of traditional Italian cuisine!
These soup recipes include bold Italian flavors, veggies, and filling pasta.
Besides the collection of Italian soup recipes, I've included in this post lots of tips on making and serving them as well. Keep reading for all the info!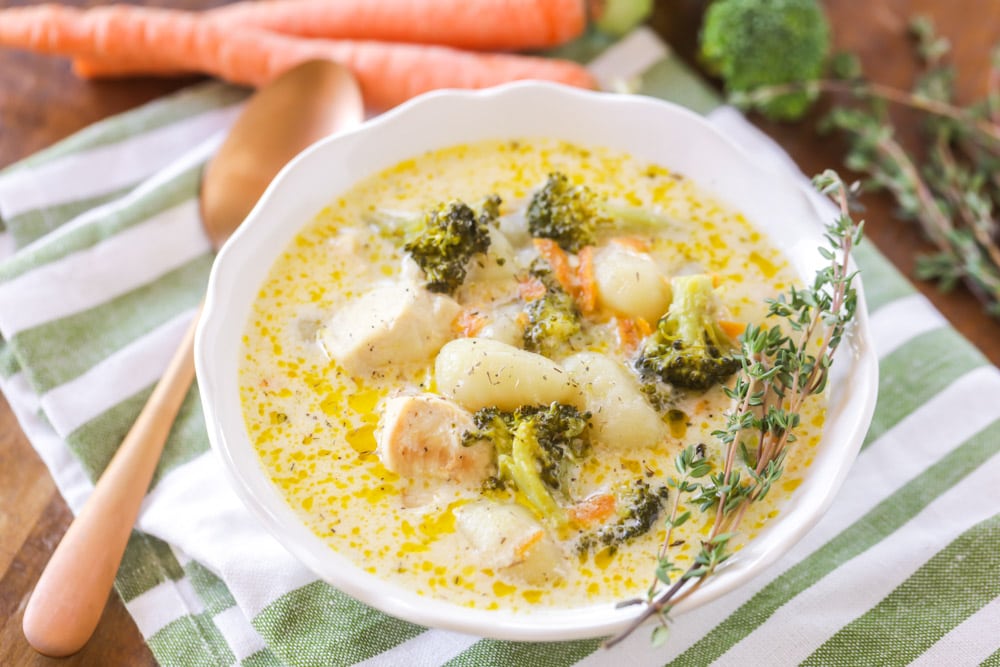 When to Serve Soup During an Italian Meal
An Italian meal is quite the event. It is designed to give enough time for the food and conversation to be thoroughly enjoyed, which means serving and eating the 5 courses will last a couple of hours or longer.
The first course is the appetizer or antipasto.
The second course is the first part of the main meal called primo piatto.
The third course is the second part of the main meal called secondo piatto.
The fourth course, or contorni, is the side dish served with secondo.
The final course is dessert or dolce.
When is soup served? Should you wish to serve soup, it is traditionally served during primo – after the appetizer, but before the main dish. Rice, pasta, and polenta are also dishes that are normally served during primo.
Some classic Italian soups include:
Minestrone. A classic Italian vegetable soup is considered to be a staple of Italian cuisine.
Italian lentil soup is full of beans and lentils.
Italian wedding soup is an Italian meatball soup that actually refers to a marriage between vegetables and meat instead of an actual wedding.
Of course, you may not want to go the traditional route and decide to serve soup as the main dish. Either way, I've put together a list of some delicious soup recipes that will bring the taste of Italy to you.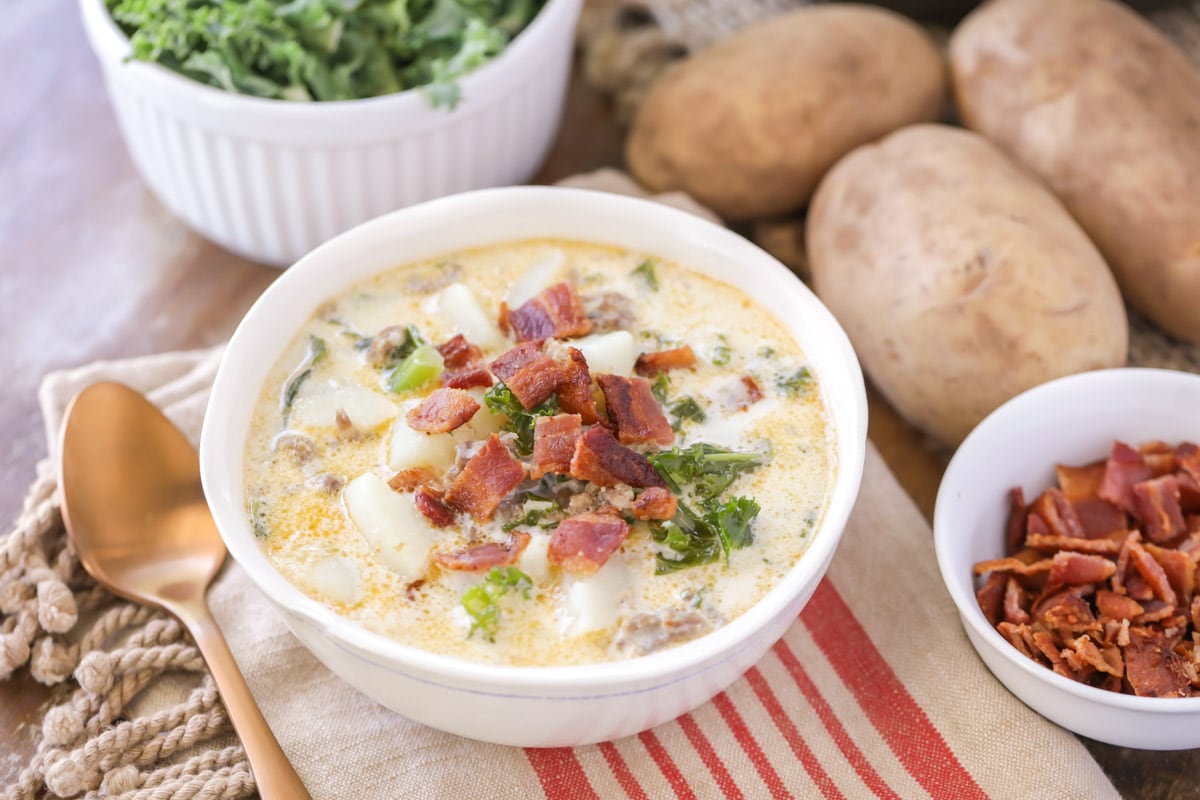 Seasoning Tips
Seasoning. These ingredients bring authentic Italian taste right to your home kitchen.
The seasoning brings the entire soup together. Some recipes call for a pre-blended spice called, "Italian Seasoning". You can also add individual herbs and spices so you can adjust the soup to your liking.
Here are a few of the most commonly used Italian ingredients:
Herbs such as basil, oregano, marjoram, thyme, parsley, sage, and bay leaves.
Spices like salt, black pepper, or red pepper flakes.
Veggies like celery, spinach, cabbage, kale, onion, and garlic cloves.
Top with Parmesan cheese.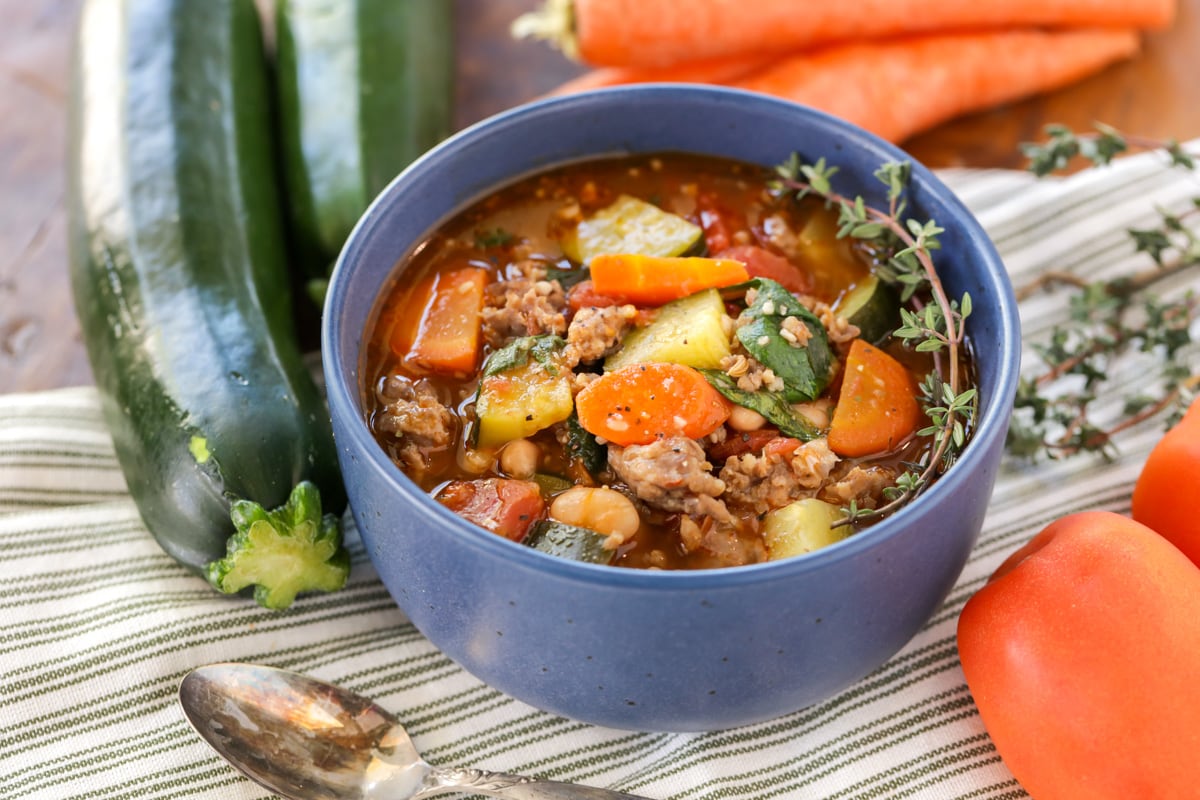 Dried or Fresh Herbs in Italian Soup
Since the herbs and spices make these Italian soups sing, you really want to utilize them in the best way possible. Here are some thoughts about using herbs in soups.
Dried herbs.
Dried herbs hold up well to long simmers or hours in a crock pot. Add them at the beginning so that they can infuse their flavors throughout the dish.
Dried herbs are more concentrated so you need less dried herbs than you would if you were using fresh herbs. For substitutions, 1 unit of fresh herbs is equivalent to ⅓ unit of dry herbs.
Fresh herbs.
Fresh herbs are great to use as a garnish and are easy to grow in a kitchen garden so you don't have to run to the grocery store or worry about storing them properly.
If you really want to use fresh herbs in soup you can do so in a couple of ways.

First, don't remove the leaves from the stem, but crinkle the leaves a bit to help release oils.
Place the whole herbs in the soup. After they have flavored the soup, use tongs to remove them. This method is used often for sturdier herbs like whole bay leaves, rosemary sprigs, and marjoram.
You can also mince the herbs into small pieces. Add the fresh herbs to the soup during the last part of the cook time.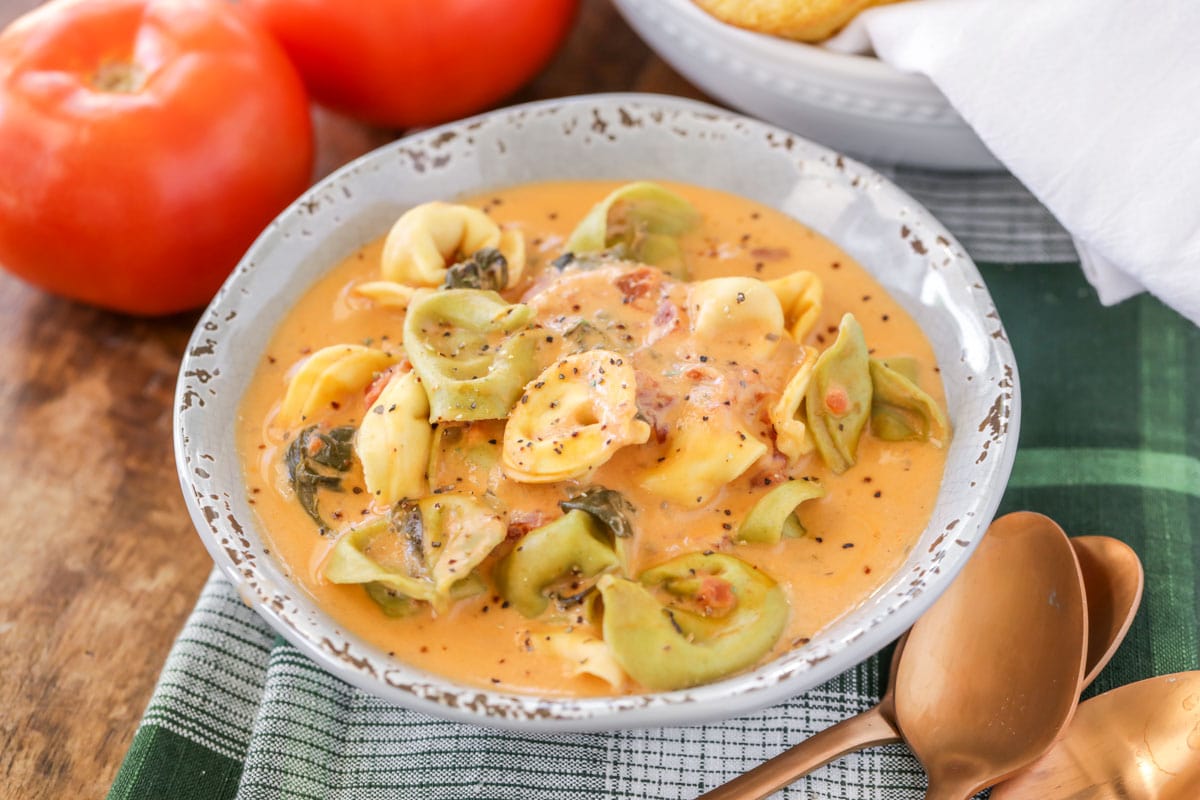 Soup Texture
Not only is the flavor of the soup important, but so is the texture. Thankfully, it is really easy to adjust the soup to your desired texture:
Cut vegetables the size you wish, just be sure that they are all the same size so that they cook at the same rate.
Make sure any meats are bite-sized. Meatballs should be between ¾-1 inch.
Thin it out using a liquid that the recipe already calls for – usually broth or water.
Thicken soups. You can thicken or make the soup creamier in several ways.

Add yogurt or heavy cream.
Cornstarch slurry: In a separate bowl, add 1 tablespoon cold water and 1 tablespoon cornstarch. Mix and then pour into the soup. Stir and repeat if needed.
Flour roux: Scoop 2 tablespoons of soup into a separate bowl and add an equal amount of flour. Stir and return to the soup. Mix the soup and repeat if necessary.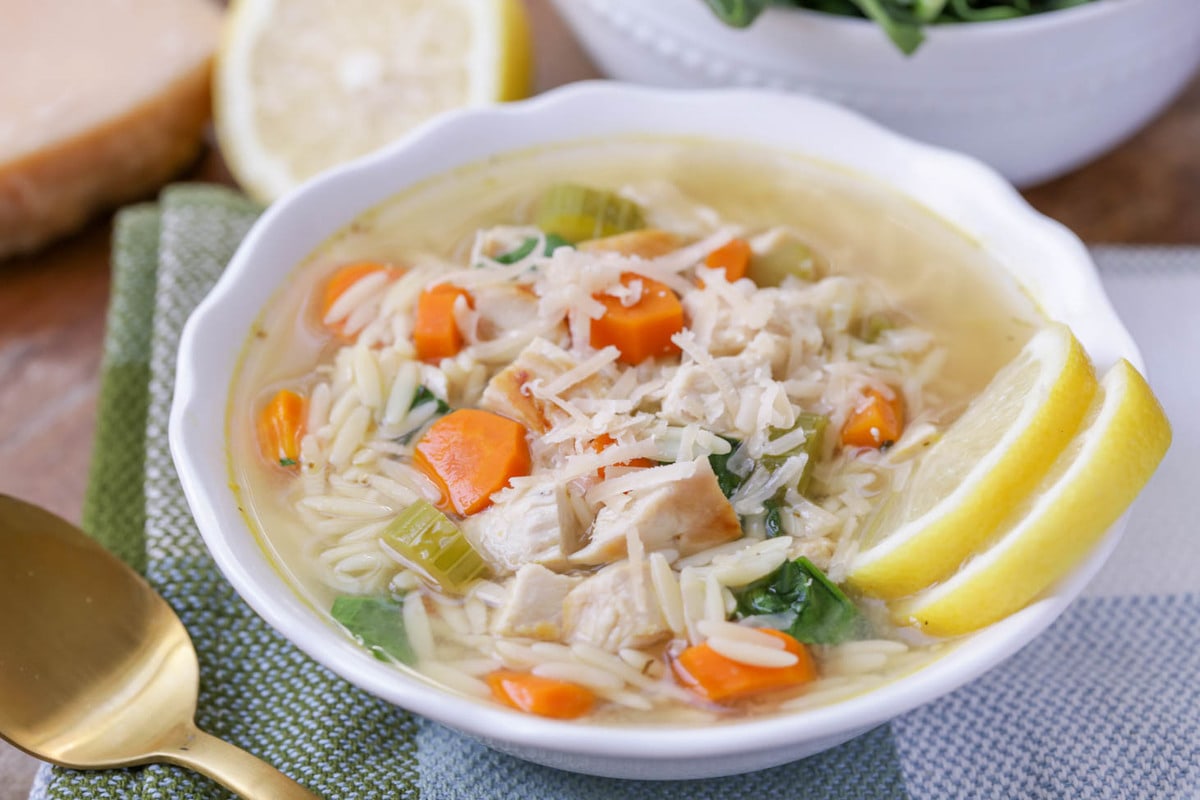 Pasta Alternatives
Whether you're allergic to wheat or staying away from the extra carbs there are a few ingredients you can use in place of traditional pasta in soup:
spiralized vegetables
cauliflower couscous
steamed rice or rice pasta
cooked chickpeas
quinoa
black bean pasta or beans
gluten-free pasta
---
Favorite Italian soup recipes
Italian soups can be creamy or more like a broth, and most often include pasta and meat. Our favorite classic Italian soup recipes are hearty and delicious and are all listed out for you to try!
Chicken Florentine Soup
With a combination of chicken, potato, white beans, carrots, spinach and more, this chicken Florentine soup is hearty and absolutely delicious. It tastes similar to Olive Garden's recipe, but it's made in the slow cooker!
Cheesy Chicken Parmesan Soup
One of your favorite Italian dishes turned into a delicious soup! This cheesy chicken parmesan soup is a creamy tomato-base soup filled with chicken, penne pasta, and of course cheese. The best part – it comes together in less than 30 minutes!
Sausage Soup
Hearty and delicious Italian sausage soup filled with tomatoes, carrots, zucchini, spinach and more. The recipe made on the stove is simple and great to enjoy all year long!
Italian Chicken Vegetable Soup
Hearty and delicious Italian sausage soup filled with tomatoes, carrots, zucchini, spinach and more. The recipe made on the stove is simple and great to enjoy all year long!
Chicken Gnocchi Soup
This chicken gnocchi soup is so hearty and so flavorful. It is filled with chicken, carrots, spinach, broccoli and gnocchi! It's perfect all year long and is bound to be a new favorite.
Creamy Tortellini Soup
Deliciously hearty tomato tortellini soup is cheesy, hearty and SO warm and delicious. Everyone loves this soup!
Minestrone Soup
Not only is this Minestrone soup delicious and comforting, but also really nutritious! Perfect for lunch or dinner on a cool autumn day.
Lasagna Soup
Everything you love about lasagna (noodles, meat, and cheese), minus all the things you don't (layering, and tons of time)! This lasagna soup is easy, filling, and beyond delicious!!
Italian Wedding Soup
This classic Italian Wedding soup is hearty and comes together quickly, and is filled with mini meatballs, carrots, Escarole, orzo and more. It is easy to put together for a perfect weeknight meal!
Zuppa Toscana
Bring the taste of Italy home with this creamy and delicious Copycat Olive Garden Zuppa Toscana soup. The whole family loves this soup!
Chicken Alfredo Soup
Chicken alfredo tortellini soup takes a best-loved pasta dish and turns it into a soup! It's still creamy and delicious!!
Meatball Soup
Veggie loaded meatball soup is filling and delicious. Your entire family will love and devour this kid-friendly dish!
Sausage Tortellini Soup
Italian sausage tortellini soup is hearty, delicious, and full of healthy, tasty ingredients. Best part, it's on the table in no time!!
Crock Pot Spinach Tortellini Soup
Easy crock pot tortellini and spinach soup is a hearty soup filled with cheese tortellini, spinach, tomatoes, and lots of spices!!
Lemon Chicken Orzo Soup
Bright and hearty homemade lemon chicken orzo soup is swimming in a flavorful broth. This lemon chicken orzo soup can't be beat.
Lentil Soup
Homemade lentil soup that is light, hearty and healthy. Loaded with chunks of carrots, celery, lentils and spices, you can also add your favorite protein to this already delicious recipe.
Cabbage Soup
Cabbage soup is an easy healthy soup loaded with fresh veggies. Warm up with a cup of this low calorie and low carb delicious soup!
---
The Best Italian Soups
We hope you enjoy trying some of the recipes listed above. These fantastic Italian soups are so full of flavor and would be perfect to serve with your next Italian dinner or even on their own as a hearty meal!
More Collections: Italian Appetizers, Italian Dinner Recipes, Italian Side Dishes