Hearty and savory beef & tomato macaroni soup is filling and full of flavor. It only requires a handful of pantry staples.
If you love quick and hearty soups, you will love this beef & tomato macaroni soup. It is delicious paired with a salad and some fresh warm Potato Rolls, or perfectly substantial on it's own!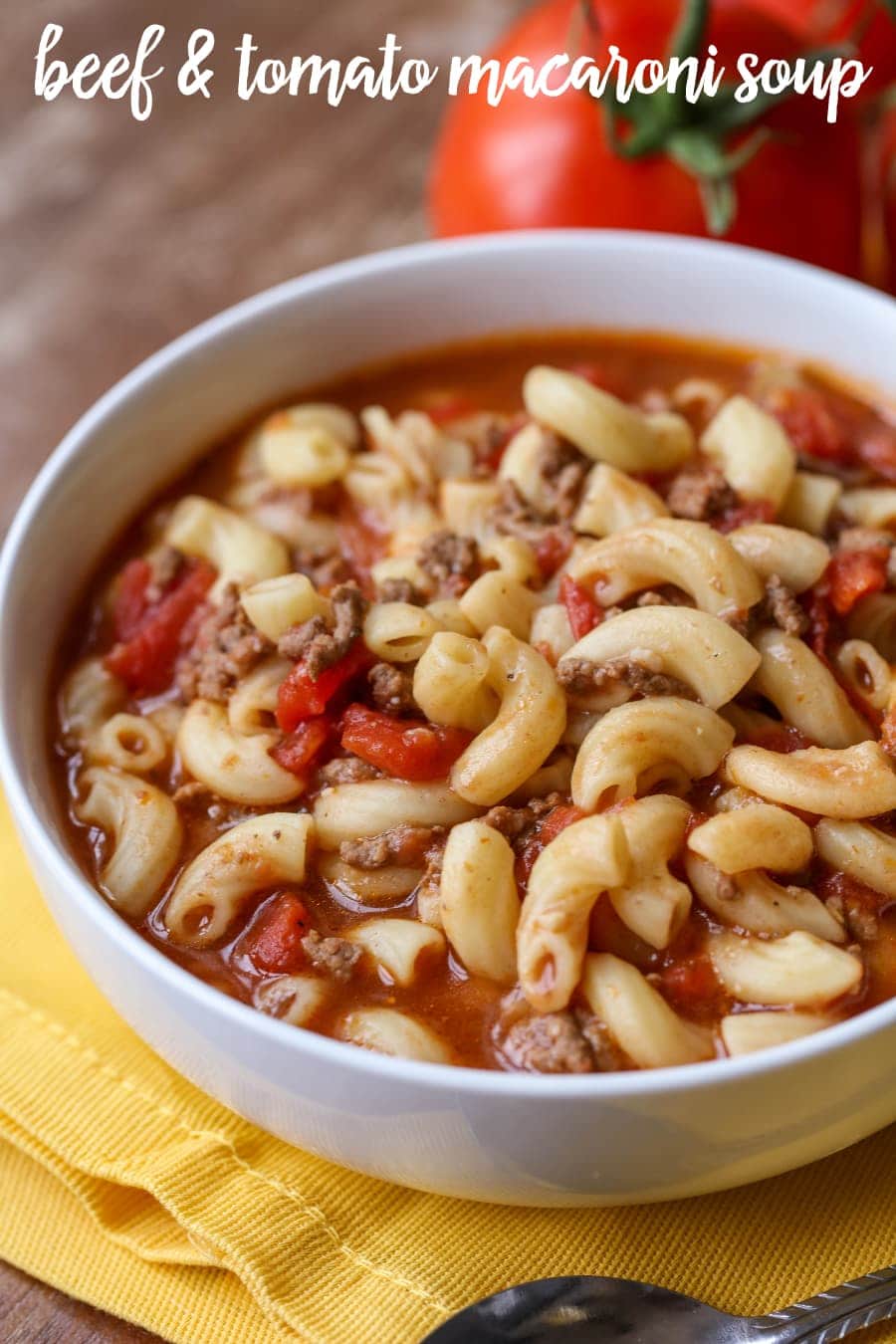 AKA Goulash
Good morning blog land! I cannot tell you how excited I was to wake up this morning to a crisp cool feeling in the air. Granted it was still in the high 70's (ok, lets be honest, low 80's). But even still, there is always a special feeling as the temperatures start to drop. Its my favorite time of year for so many reasons. One of which is SOUP.
Let me be clear, the Luna family is not afraid to make soup all year long, even on a 115 degree day. However, cooler temps are always a wonderful excuse to cook up something warm. Which brings me to today's wonderfully warm recipe… Beef & Tomato Macaroni Soup!
We tried this recipe a few weeks ago and instantly fell in love. The kids couldn't get enough of it, which makes it a new family favorite. The Worcestershire sauce combined with the brown sugar makes for a perfectly sweet and savory flavor that is irresistible. Best part is that the goulash soup is made from standard ingredients that we always have in the fridge and pantry, which means we can make it any time. Some may call this goulash, but we don't make our regular goulash so soup-y which is why this is more of a macaroni soup to us. 😉
Tips, Variations + Storing Info
To make this in the crockpot, make sure to cook the meat first and then add everything else, except the pasta. Cook on low for 4-6 hours and 30 minute before serving to make the pasta as normal. Stir in the pasta and let everything sit for about 10 minutes before serving.
To make this in an instant pot, sauté the beef and then add in all of the other ingredients. Turn the instant pot on high pressure for 4 minutes and then do a quick pressure release.
Variations:
Add in frozen or fresh vegetables (corn, green beans, peas, carrots etc) to increase nutritional value of the soup

Replace the minced garlic with 2 cloves of garlic
We like using ketchup because we usually have it on hand, as well as the fact that some tomato sauce cans don't come in 8oz cans.

T

o make this slightly healthier you can use ground turkey or ground chicken instead of ground beef because it is less fatty.
STORE it in an airtight container in the fridge for 3-5 days and rewarm individual servings in the microwave and larger servings on the stove.
Make this soup ahead, perhaps 30 minutes ahead of time and let it simmer on the stove. Or you can pour the soup in the crockpot and put it on warm until the party starts. Just beware that the pasta might get a bit mushier the long it sits in the pot.
To FREEZE, let the soup (without the pasta) cool completely and then scoop it into a freezer safe bag. It is best if you let it freeze while laying flat. Then after it's frozen you can store the bags vertically to save space. It should last about 3 months in the freezer before you thaw and warm it on the stove. At this point you can add in cooked pasta.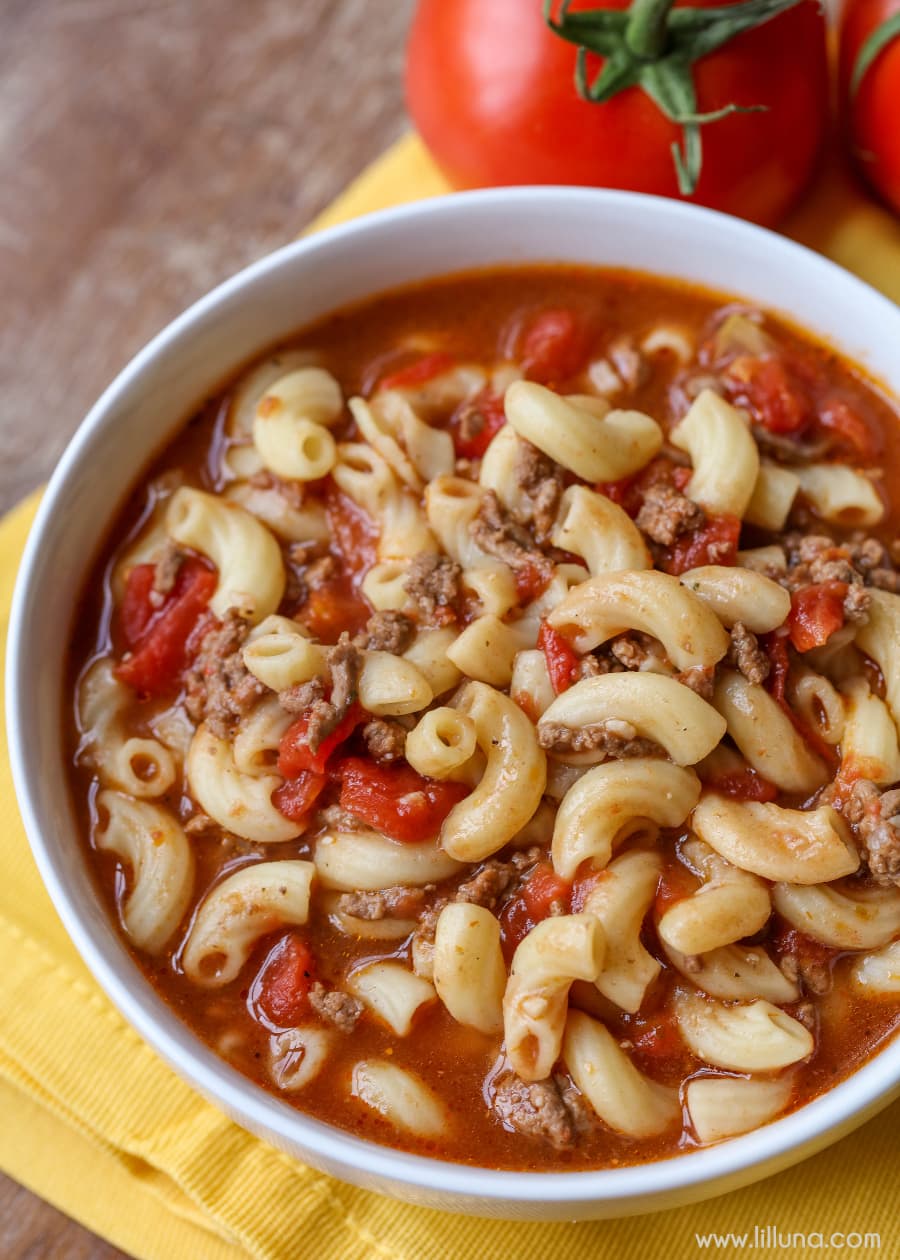 For more Soup Recipes, try:
Hamburger Macaroni Soup Recipe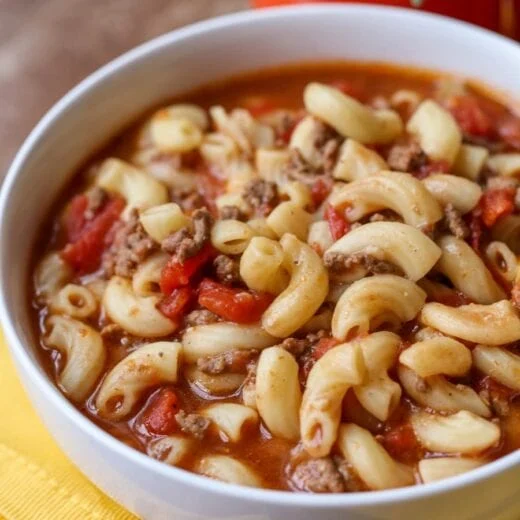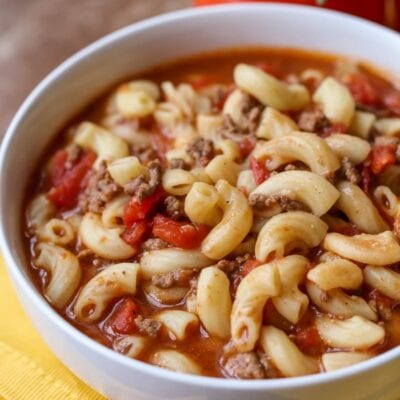 Hamburger Macaroni Soup is packed with flavor and it only requires a handful of pantry staples. It's hearty and delicious!
Ingredients
1

lb

ground beef

2

teaspoons

onion powder

3

teaspoons

minced garlic

58

oz

beef broth

56

oz

tomatoes

chopped (2 28 oz cans)

1/2

cup

ketchup

2

tablespoons

worcestershire sauce

2

tablespoons

brown sugar

1

teaspoon

Italian seasoning

2

cups

dry macaroni

garlic salt and pepper to taste

as desired

cheese

if desired
Instructions
In a large stock pot, add ground beef, garlic, and onion powder - cook until beef is no longer pink. Drain the grease.

Add broth, cans of chopped tomatoes, Worcestershire, brown sugar (optional), ketchup, and Italian seasoning. Bring to a boil and simmer for 8-10 minutes

Add the dry macaroni and let cook for 15 minutes. Top with cheddar cheese, if desired, and ENJOY!
Adapted from thekitchenmagpie.com