Fresh homemade Basil pesto is easy to make and better than any store bought version. It comes together in minutes and tastes delicious!!
Basil Pesto is one of my favorite sauces! I love that it tastes delicious with so many of my favorite foods. Slather it onto a piece of sourdough bread, or use it as the main sauce for a homemade pizza. So many possibilities!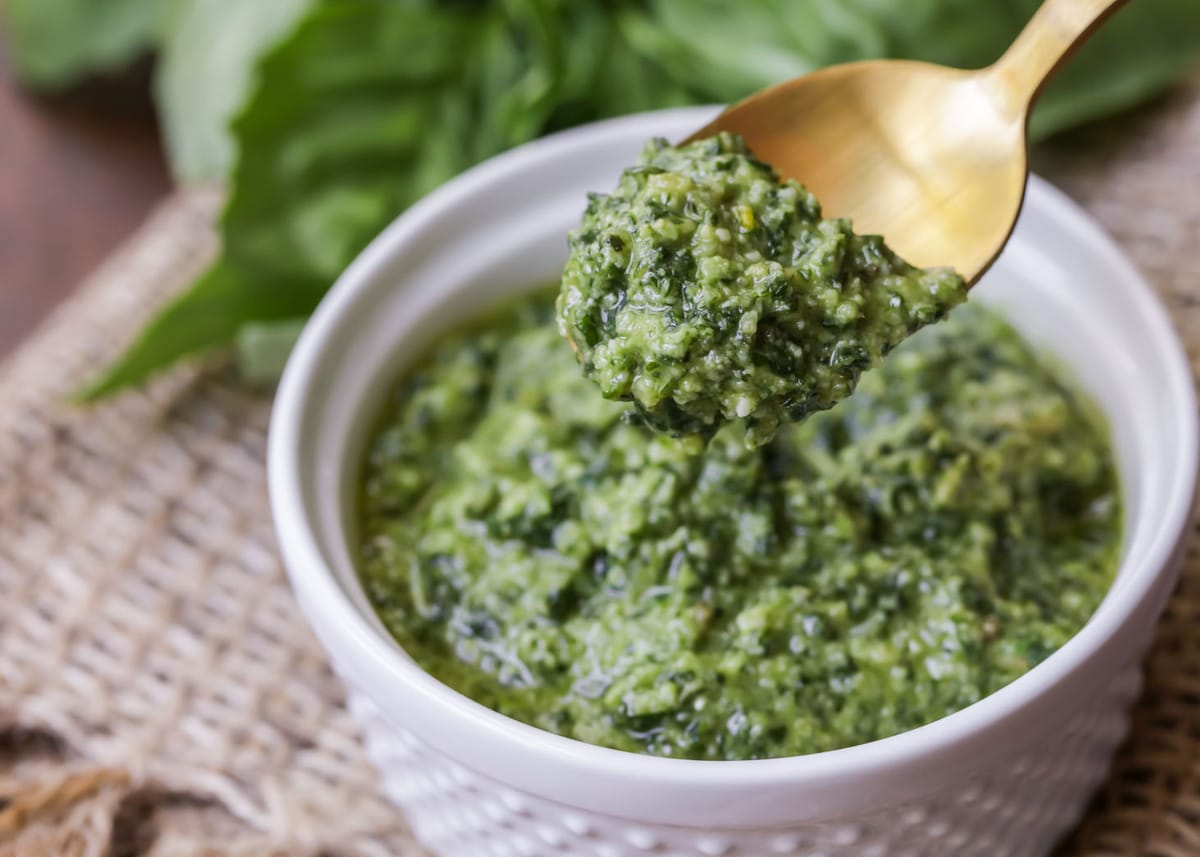 Favorite Pesto Sauce
Pesto is a sauce of crushed basil leaves, pine nuts, garlic, Parmesan cheese, and olive oil. There are so many different foods that you can put pesto on. Some of them include pasta, paninis, sandwiches, pizza, breakfast foods, etc.!
Pesto is fresh and full of flavor. I also love its bold green color—it's so beautiful! And did you know that it is SO easy to make at home? I like to make big batches of this yummy pesto and freeze most of it to use later when I need it. Having fresh pesto on hand is super convenient.
Homemade pesto makes a cute little gift idea too. Put it into a pretty container or mason jar, wrap it up, and gift it along with some pasta noodles or a loaf of bread. Adorable right?
You'll be making this pesto for years and years. One you go homemade, you never go back – at least I won't be! The recipe was so easy and tasty that I'm going to make sure to have the ingredients on hand at all times. We love how it turned out and can't wait to use it on some of our favorite dishes.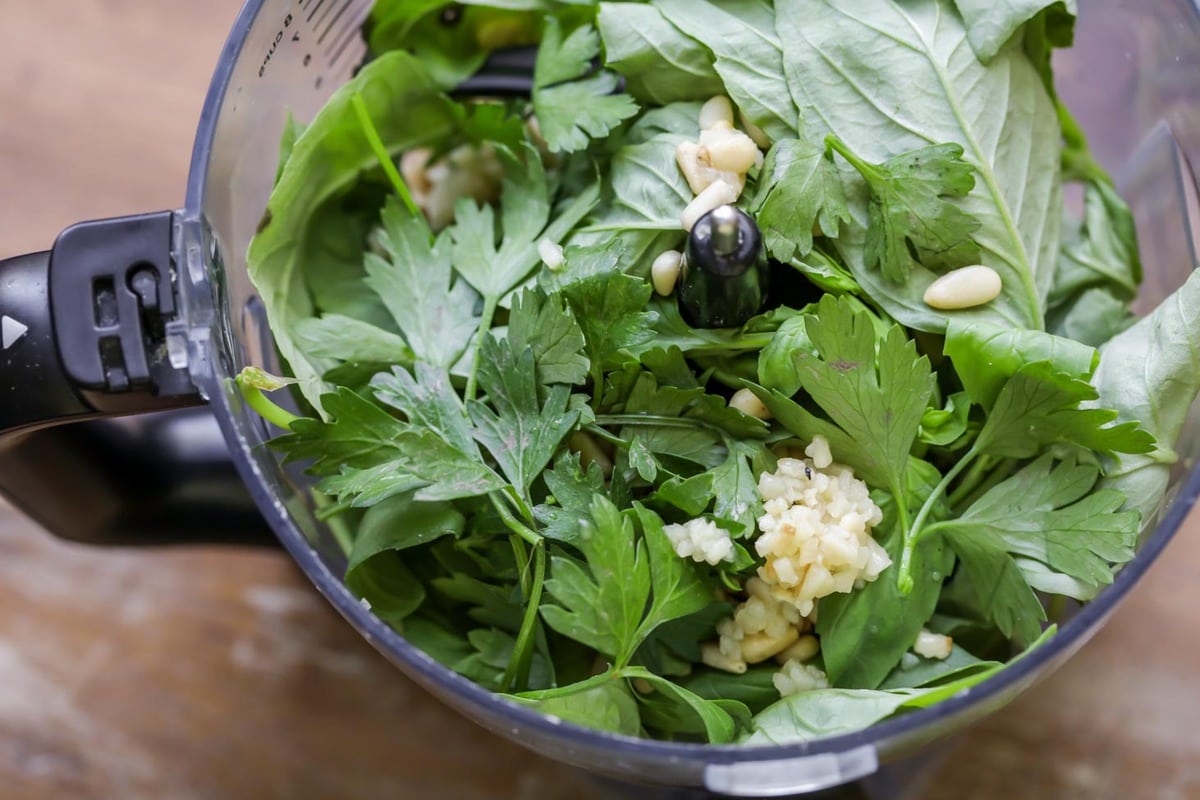 How to Make Pesto
I think that homemade pesto tastes better than the store bought kind. Not only is this pesto incredible tasting, but it's one of the simplest recipes ever! You basically throw everything into the food processor and you're pretty much done.
Make sure you have fresh herbs for this recipe. It will make all the difference!
HERBS. Pulse the basil, parsley, and garlic in a food processor until combined.
PINE NUTS. Add in the pine nuts and process until the mixture is fine. (This is about 1 minute all together).
CHEESE. Then grind in the cheese!
SEASON. Add in the lemon juice as the machine is running and then drizzle in the olive oil. Mix mix mix until all combined. Then pour the pesto into whatever container you'd like. Add a little salt and pepper and you're DONE!
SToring Tips
STORE leftovers in an airtight container in the fridge for up to a week.
FREEZE for up to 3 months in an airtight and freezer safe container. Let it thaw in the fridge overnight then you may need to add more cheese/olive oil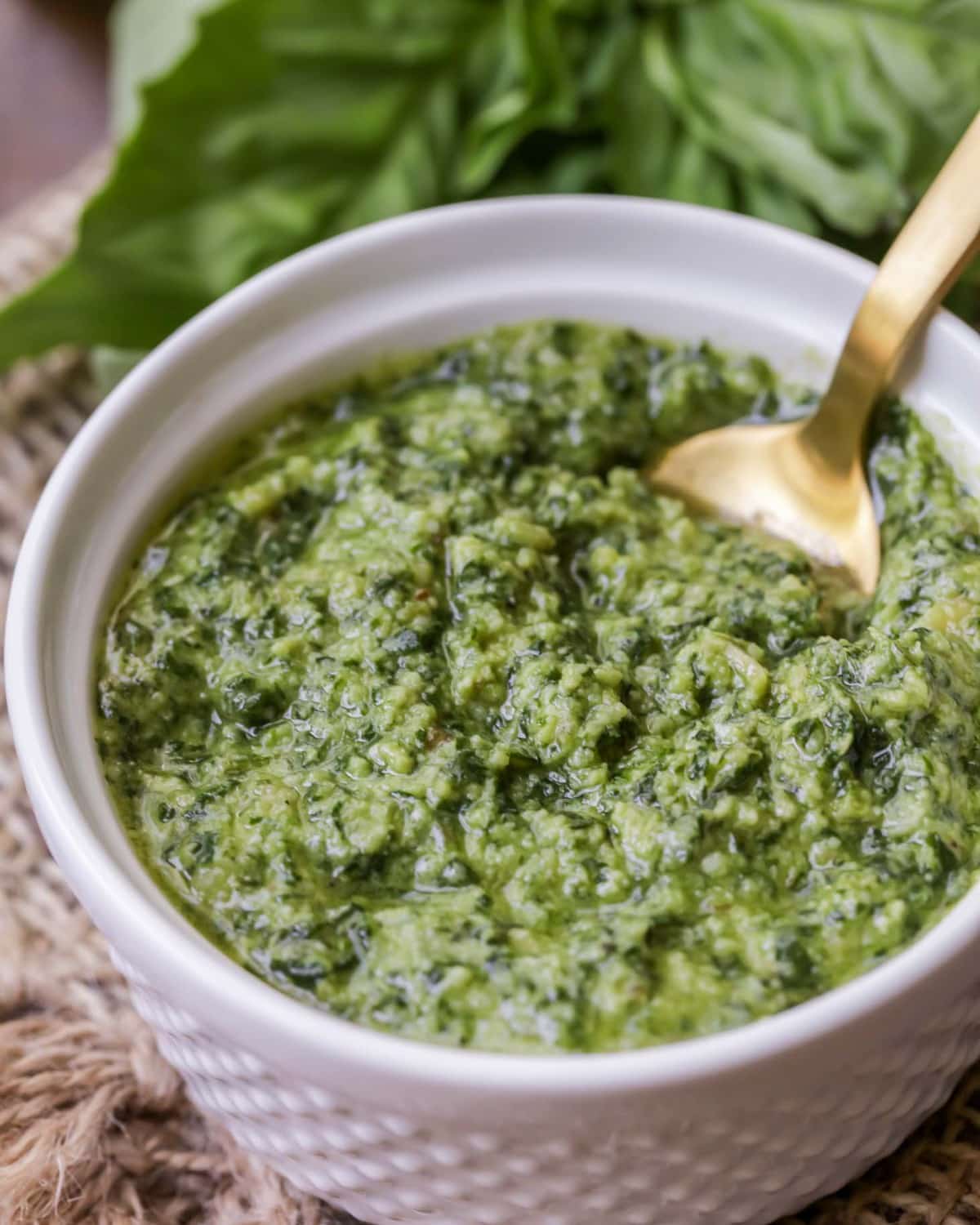 For some recipes using pesto, check out:
Pesto Sauce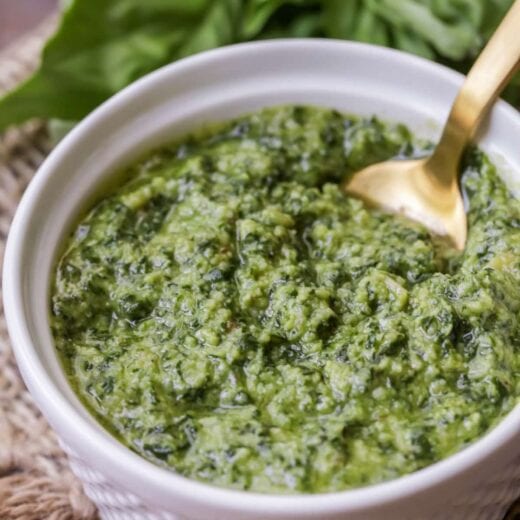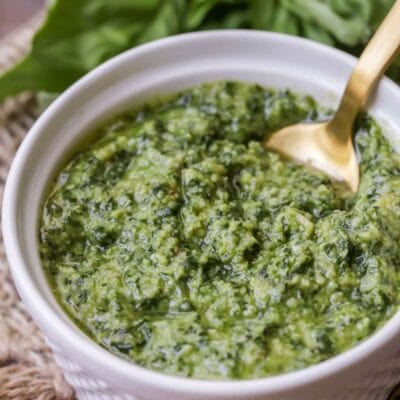 Fresh homemade Basil pesto is easy to make and better than any store bought version. It comes together in minutes and tastes delicious!! 
Ingredients
4

cups

fresh basil leaves

packed

1/4

cup

parsley

2

tsp

minced garlic

1

cup

pine nuts

1 1/2

cups

Parmigiano-Reggiano cheese

shredded

1

TB

lemon juice

2/3

cup

extra virgin olive oil

salt and pepper to taste
Instructions
Using a food processor, pulse basil, parsley, and garlic for about 30 seconds until combined and basil is finely chopped. Add pine nuts and process until fine, about 30 seconds more. Grind in cheese.

While machine is running, add lemon juice and slowly drizzle in olive oil. Mix until fully incorporated and pesto is thoroughly combined. Transfer to a bowl, and salt and pepper to taste.

Notes
TRIED & TRUE FINDINGS:
DIFFICULTY: easy
HOW MANY DOES IT FEED: 2 cups
ANY CHANGES MADE: added more olive oil, used minced garlic
ANY SUGGESTIONS FOR NEXT TIME: none
Adapted from Cooking Ny Times.