If you need a quick healthy snack or party appetizer, you can whip up this Homemade Hummus in 5 minutes or less! With just a few simple ingredients, this delicious hummus is perfect for dipping pita bread, fresh veggies, and tortilla chips.
Hummus is the perfect appetizer, snack, and dip. It's light, healthy, and goes perfectly with fresh veggies or pita bread!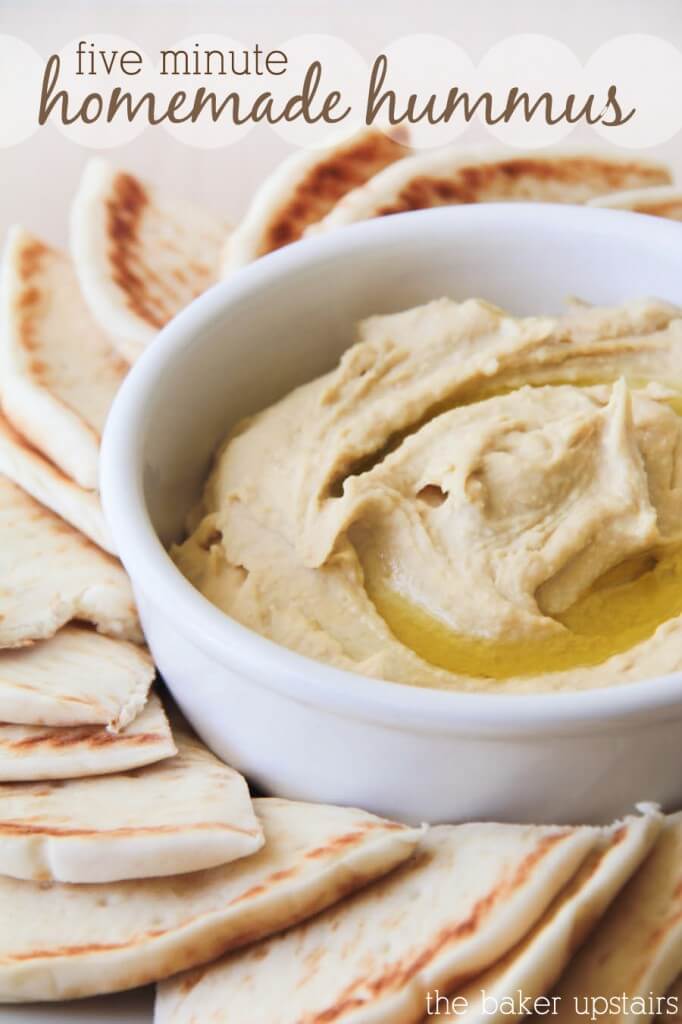 Easy Hummus Recipe
Hummus is one of my all time favorite appetizers/snacks. Everyone in my family loves it too, even my super picky six year old! I love that it's so easy to make and good for you too. Buying it from the store can be pricey, and you don't always know what's inside the store-bought stuff. This recipe for homemade hummus is quick, easy, and made of simple ingredients.
It's another one of those recipes that you make and think, "Wow! I can't believe I made that at home!" You'll never buy store-bought hummus again!
How to Make HUmmus
JUST BLEND! All you have to do is put all of the ingredients (besides the olive oil) into a food processor or blender. Pulse it until it's well blended, then drizzle in the olive oil until it gets to a consistency you like. I promise it takes no more than 5 minutes. It doesn't get much easier than that!
Add-ins: This basic hummus recipe can be adapted in so many ways to create unique flavors! I've tried adding various ingredients such as roasted red peppers, sun dried tomatoes, and/or increasing the lemon and garlic and it's delicious every time.
want to Ditch the canned beans?
Some readers have asked about cooking their own chickpeas rather than using canned. It will definitely add extra prep time, but the benefit is you can control the texture. For hummus, you'll want to cook them longer so they blend well.
You'll need 1 cup dried chickpeas,  2 cloves smashed garlic, 2 bay leaves, 1/2 to 1 tablespoon salt. 
In a bowl, cover the dried beans with 2 inches of water and soak overnight or for about 8 hours. They will expand  3 times their original size. Once soaked, drain them and use one of the following ways to cook:
Stovetop: Add the chickpeas to a small pot, pour in enough water to cover the chickpeas by 2 inches and add the remaining ingredients. Bring the water to a boil then reduce the heat and simmer for 20-25 minutes for al diente or 40-50 minutes for a softer bean.
Slow cooker: Add the chickpeas to the slow cooker along with 6 cups of water and the remaining ingredients. Cook on high for 4 hours or Low for 8 hours.
Instantpot: Add the chickpeas to the Instantpot along with 4 cups of water and the remaining ingredients. Set the Instant Pot to manual mode, and cook on high pressure for 12 minutes for al dente and 20 minutes for a softer bean. Allow the pressure to release naturally.
The chickpeas will keep covered in the refrigerator for 4 to 5 days. You can also freeze them in a freezer safe bag for a few months.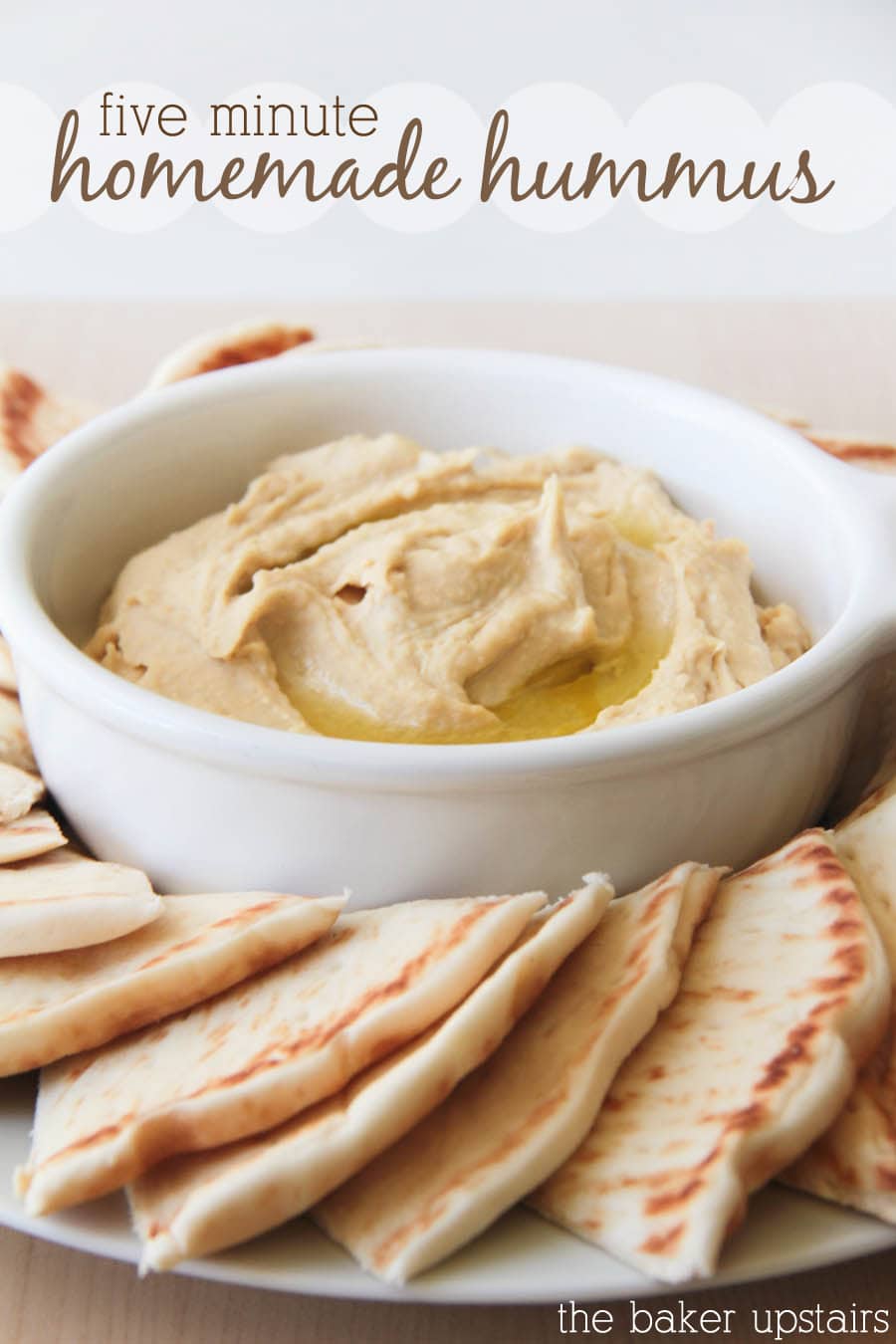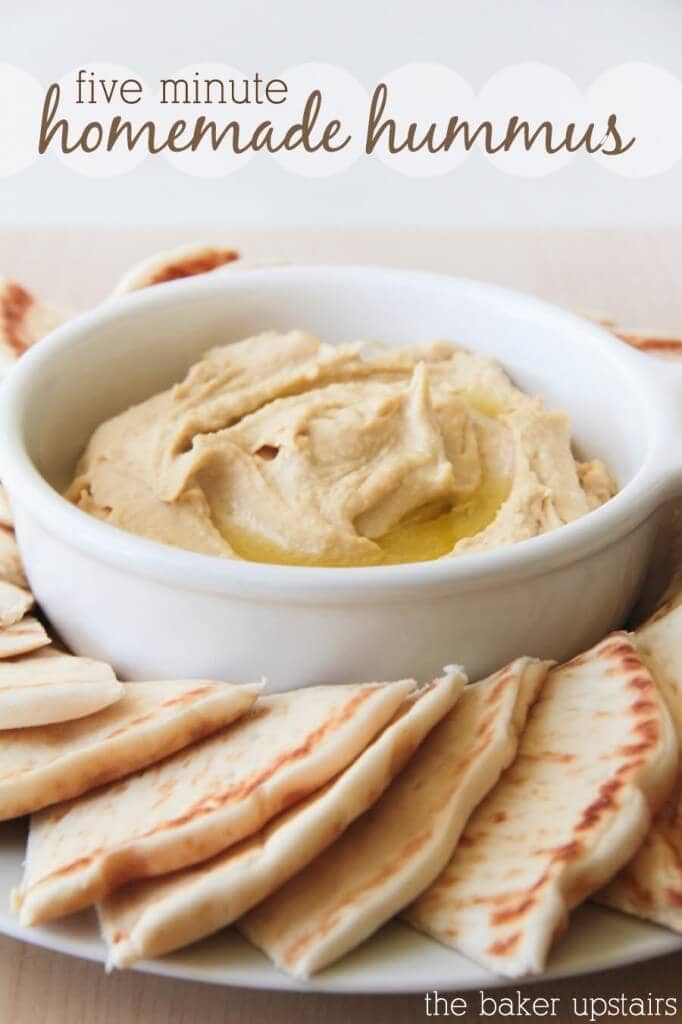 Frequently asked questions
Where can I find tahini? There are a few places you can try. My grocery store has a small mediterranean/middle eastern food section, and I've found it there. World Market also sells it, and if all else fails, there's always Amazon. It's a little expensive (I think I paid around $6.99 for a small jar) but it lasts a long time and makes a lot of batches of hummus.
Can I make hummus without tahini? Yes! You can either omit it entirely, or use a substitute like nut butter, sunflower seed butter, sesame oil (a lot stronger than tahini so use sparingly), or you can even grind up your own sesame seeds in a food processor to make super fresh tahini.
Do I need to peel the chickpeas? Canned chickpeas are pretty easy to peel. Since they're already cooked they pop right out of their skin. However, the extra minutes spent to peel the chickpeas don't really make much of a difference. So if you have the time go for it otherwise there's not really a need to peel them.
What do I do if the hummus is too dry? Remember the drained chickpea juice? You can easily add a little juice to help moisten up the hummus to your desired texture. You can also add a bit more olive oil.
How long does homemade hummus last? You can store it in the fridge for 3-5 days, or if you want it to last longer, it freezes really well for 6-8 months. If you freeze it, you can defrost it in the fridge for 24 hours.
Things to eat with hummus:
You can use just about anything you can think of for dippers! We've done:
pita bread
pita crackers
sliced baguette
fresh vegetables (I especially love snap peas and carrots)
tortilla chips
For even more dips, check out: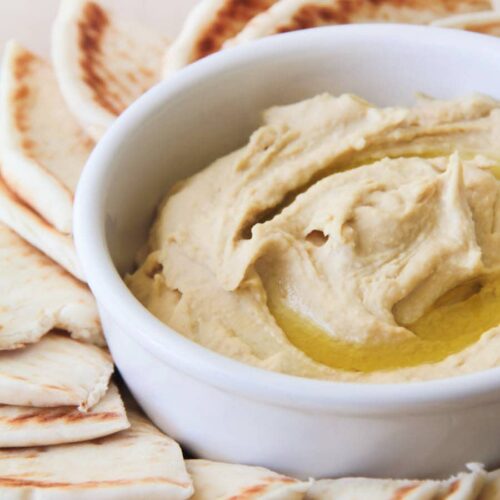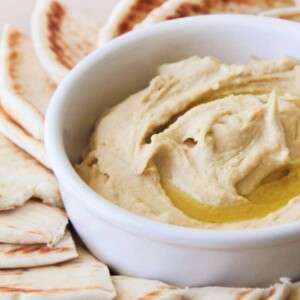 Homemade Hummus Recipe
You can whip up this Homemade Hummus in 5 minutes or less! With just a few simple ingredients, this delicious hummus is perfect for dipping pita bread, fresh veggies, and tortilla chips.
Ingredients
15

oz

can of chickpeas

drained

1/4

cup

tahini

2

tbsp

lemon juice

1

tbsp

garlic

minced

1-2

tbsp

olive oil

salt and pepper

to taste
Instructions
To a food processor or blender, add the chickpeas, tahini, lemon juice, garlic, and salt and pepper. Pulse until well blended. Drizzle in olive oil until desired consistency is reached (hummus will firm up a little after refrigeration). Store in the refrigerator in an airtight container.
————————————-
Thanks for sharing this super easy recipe, Alicia!!! Be sure to go to The Baker Upstairs for more fun projects from Alicia.
ENJOY!