This recipe for BLT Dip is the ultimate warm, cheesy, party dip! It's loaded with cream cheese, cheese, and sour cream, then baked and topped with bacon, lettuce and tomato!! With all that cheese and bacon, you definitely can't go wrong!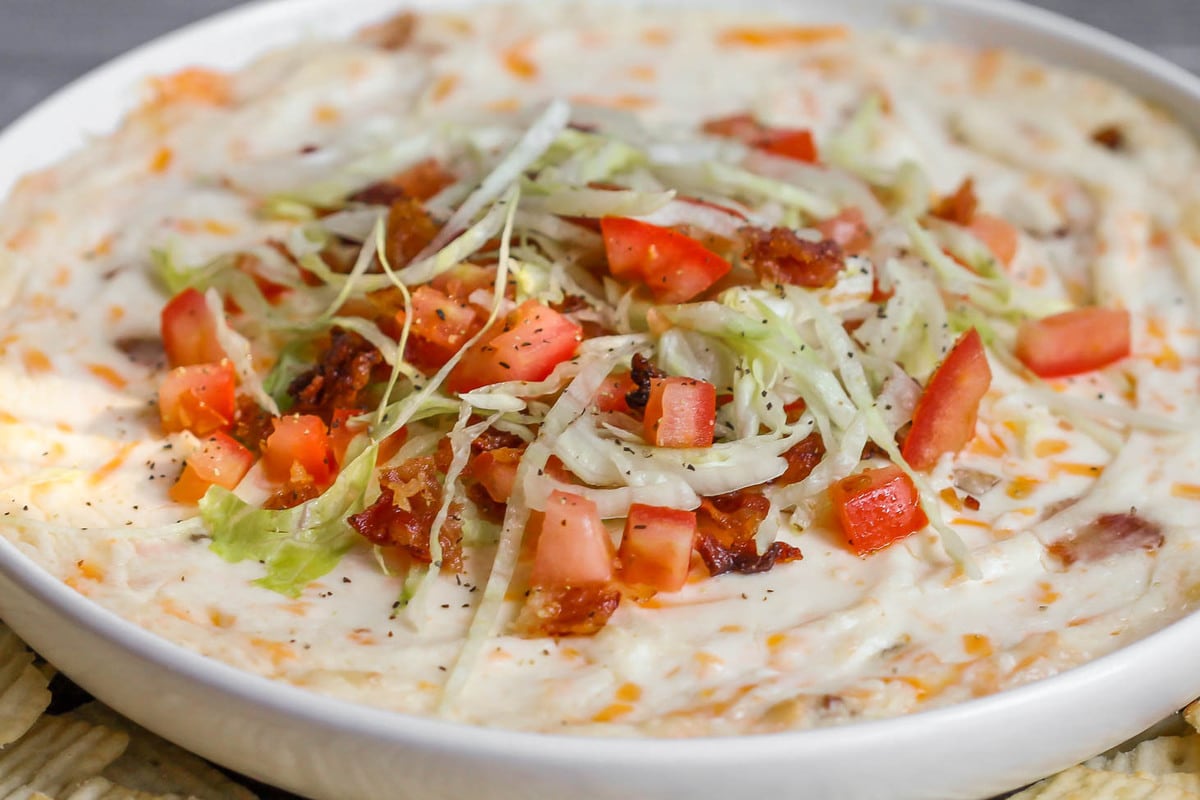 What is BLT Dip?
Hey guys! I'm excited to share this recipe for a yummy party dip – BLT Dip – inspired by a classic trio of ingredients. Usually when people refer to a BLT, they're talking about a sandwich that simply includes the following three ingredients:
Hence, the acronym "BLT". So simple, yet so delicious. I'm telling you, these three ingredients were destined to be combined. Which is why we decided to try out this BLT Dip Recipe! It's a cheesy, creamy dip that incorporates the ingredients of a BLT sandwich, like I just mentioned, and it turned out to be even tastier than we imagined.
MY OTHER RECIPES
My Mom thought we should turn this into a warm dip by baking it in the oven for 20 minutes, which was an excellent choice! Melting all the creams and cheeses together really made this recipe perfect for dipping! Top it all off with those three magic ingredients – Bacon, Lettuce and Tomato – and you got yourself a party dip that's sure to please!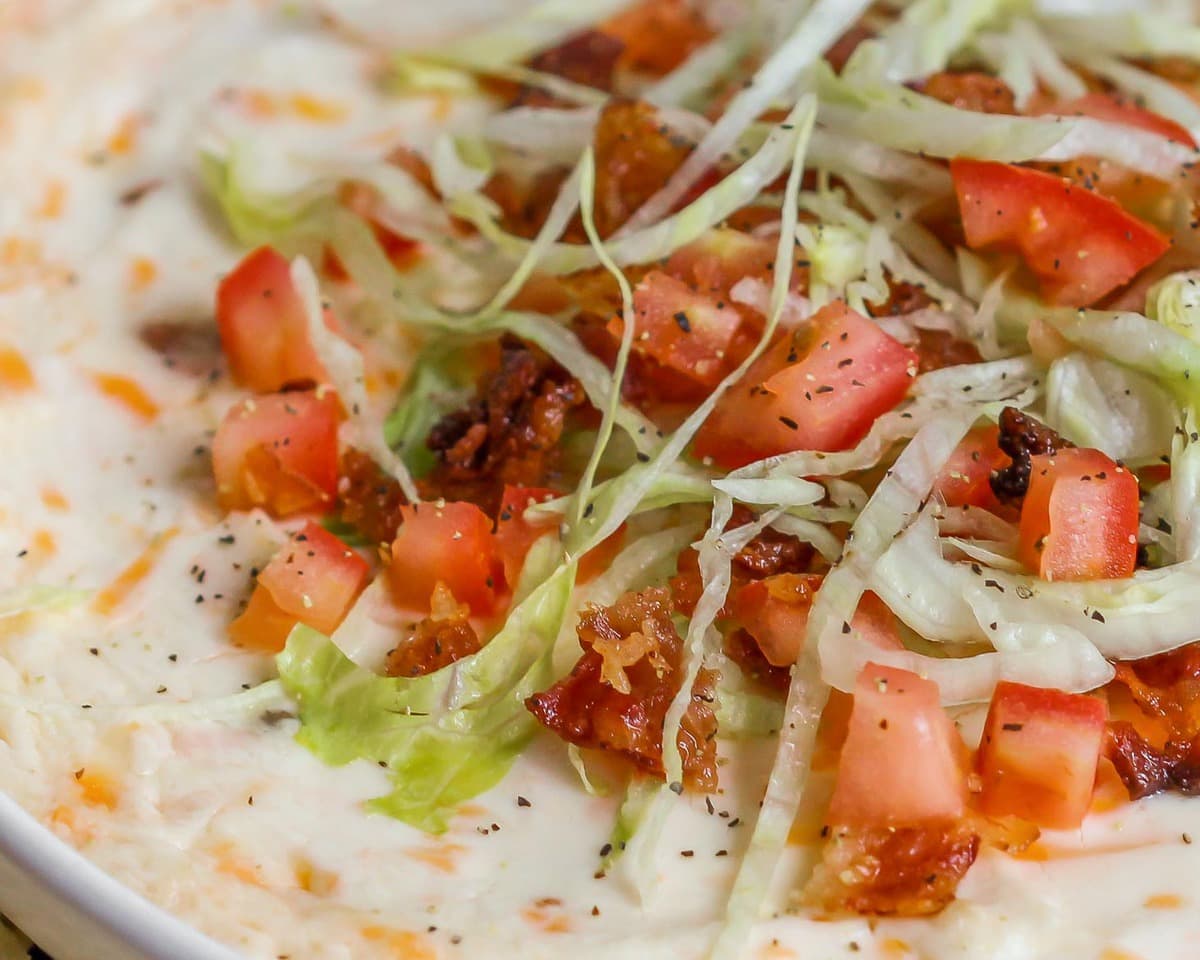 How to make BLT Dip:
This BLT Dip was crazy simple to throw together. Here are the steps to complete the recipe:
Cook the bacon in a large skillet and set on a paper towels to drain. Crumble bacon once it has cooled.
In a bowl, combine mayo, sour cream, cream cheese, shredded cheese, and bacon crumbles (if you want, you can reserve a portion of the bacon to add on the top after baking the dip).
Bake for 20 minutes at 350°.
Top with tomatoes and lettuce (and remaining bacon crumbles if you saved some) just before serving and ENJOY!
I'm telling you, this recipe is a huge hit! We've had several gatherings with family and friends over the last few weeks and every time we've made this dip, it has not disappointed! We've been dipping a few different types of crackers in our BLT dip, but I'm thinking chips, or even little bread slices would taste amazing as well! Maybe even veggie slices! You'll have to try it and let us know!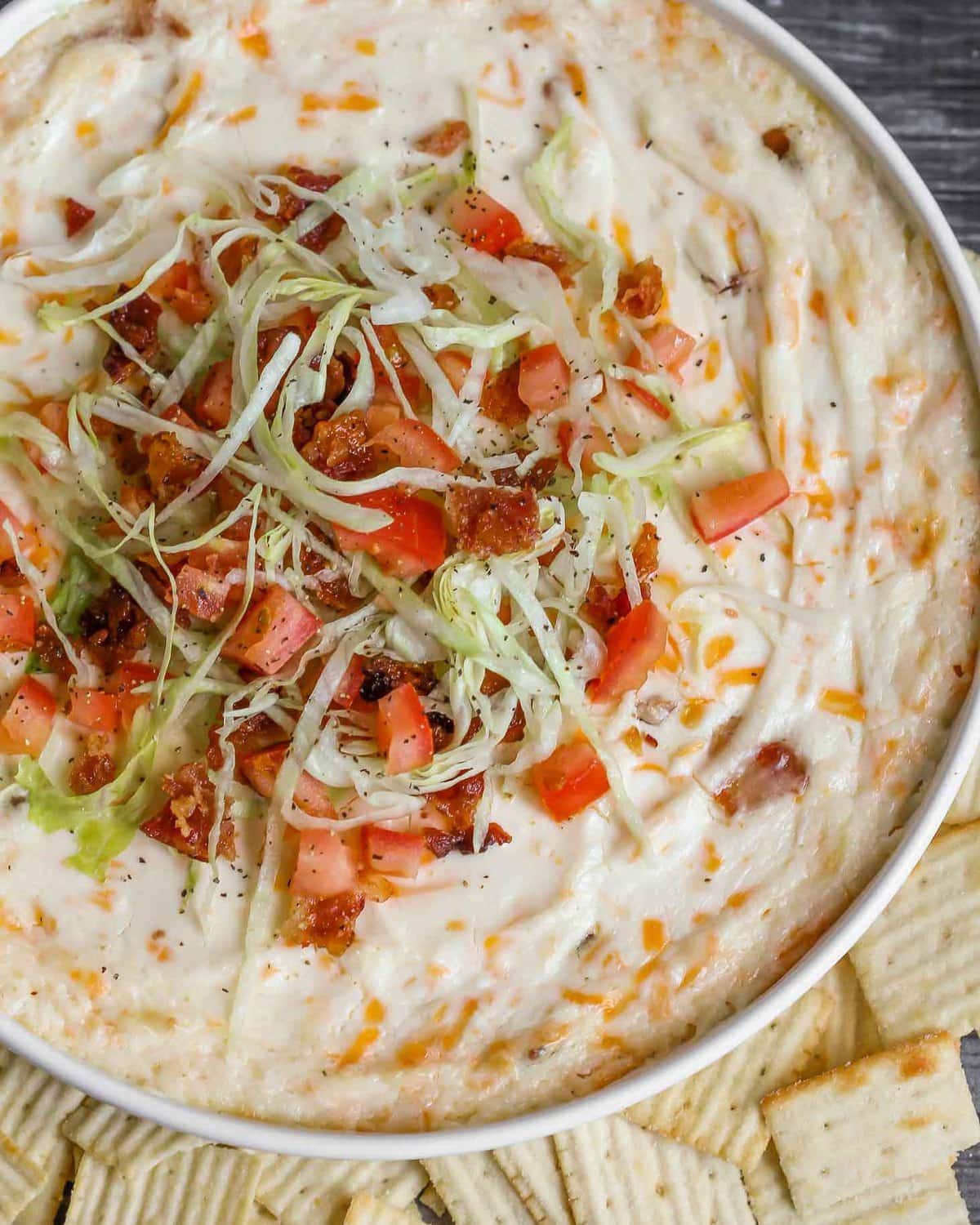 For more dip recipes, check out: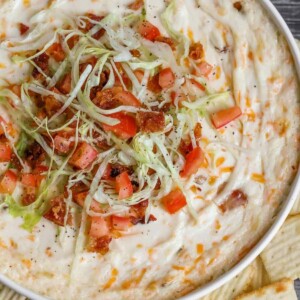 BLT Dip recipe
This Recipe For BLT Dip Is The Ultimate Warm, Cheesy, Party Dip! It's Loaded With Cream Cheese, Cheese, And Sour Cream, Then Baked And Topped With Bacon, Lettuce And Tomato!! With All That Cheese And Bacon, You Definitely Can't Go Wrong!
Ingredients
1

lb

bacon

1

cup

mayonnaise

1

cup

sour cream

1

cup

cream cheese, softened

1

cup

colby jack cheese

1

tomato

diced

shredded lettuce
Instructions
In a large skillet, cook bacon over medium high heat until evenly browned. Set on paper towels to drain.

In a bowl, combine mayonnaise, sour cream, cream cheese, and cheese. Crumble bacon into mixture.

Bake in the oven for 20 minutes. Top with tomatoes and lettuce just before serving.
Adapted from allrecipes.com.