Hey guys! I hope your Wednesday is already fabulous! I don't know about you, but I'm a little sad to say goodbye to summer. Although we didn't go anywhere exciting, we've had so many fun days and nights with friends and family. And I know that will all slow down as we get back into a school schedule. We've spent a lot of time together as a family over at my parents house. We also love to have friends over to our house. In both cases, of course, we're always eating! Sooooo many great recipes have been made and shared this summer and today I am sharing, with you, one of them – BLT DIP!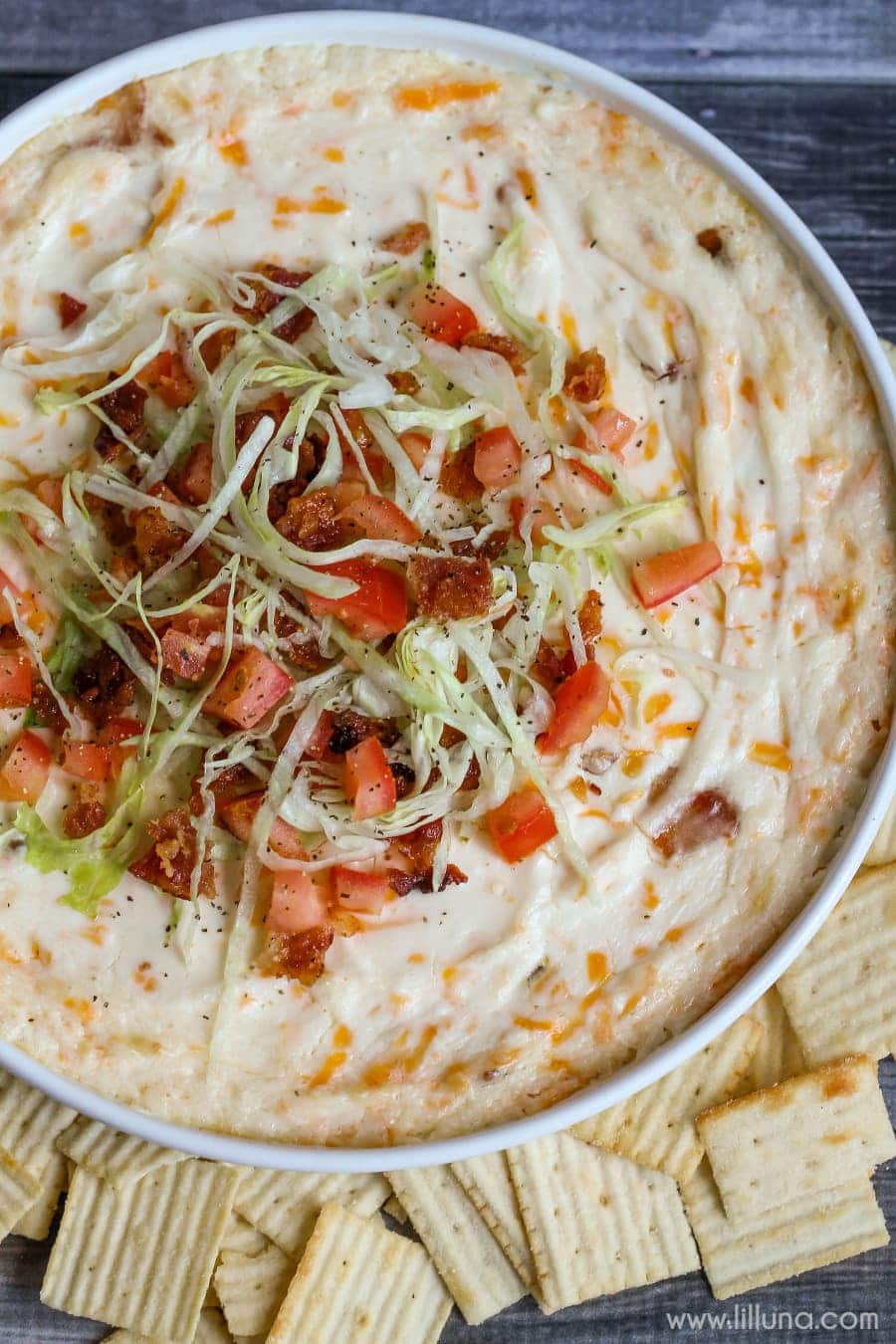 MY OTHER RECIPES
This BLT dip was a huge hit and crazy simple to throw together. My Mom thought we should turn this into a warm dip by baking it in the oven for 20 minutes. It was an excellent choice! Melting the creams and cheese together really made this recipe perfect for dipping! With the sour cream, cream cheese and cheese you know you can't go wrong. Top it all of with BLT – Bacon, Lettuce and Tomato and you DEFINITELY have another keeper recipe!
For more dip recipes, check out:
How to make BLT Dip:
BLT Dip
BLT Dip - one of our favorite appetizers! It's loaded with cream cheese, cheese and sour cream and topped with bacon, lettuce and tomato!!
Ingredients
1 lb bacon
1 cup mayonnaise
1 cup sour cream
1 cup cream cheese, softened
1 cup colby jack cheese
1 tomato - peeled, seeded and diced
lettuce
Instructions
In a large skillet, cook bacon over medium high heat until evenly browned. Set on paper towels to drain.
In a bowl, combine mayonnaise, sour cream, cream cheese, and cheese. Crumble bacon into mixture. Bake at 350 for 20 minutes. Top with tomatoes and lettuce just before serving.
Adapted from allrecipes.com.