We all love to graze during holidays and parties, and what better way to do it than with a Charcuterie board?! Customize with all your favorite meats, cheeses, crackers, veggies, fruits and dips!
This delicious board is filled with so many goodies! Be sure to include some homemade dips to go with it all like: homemade ranch, dill dip and homemade hummus!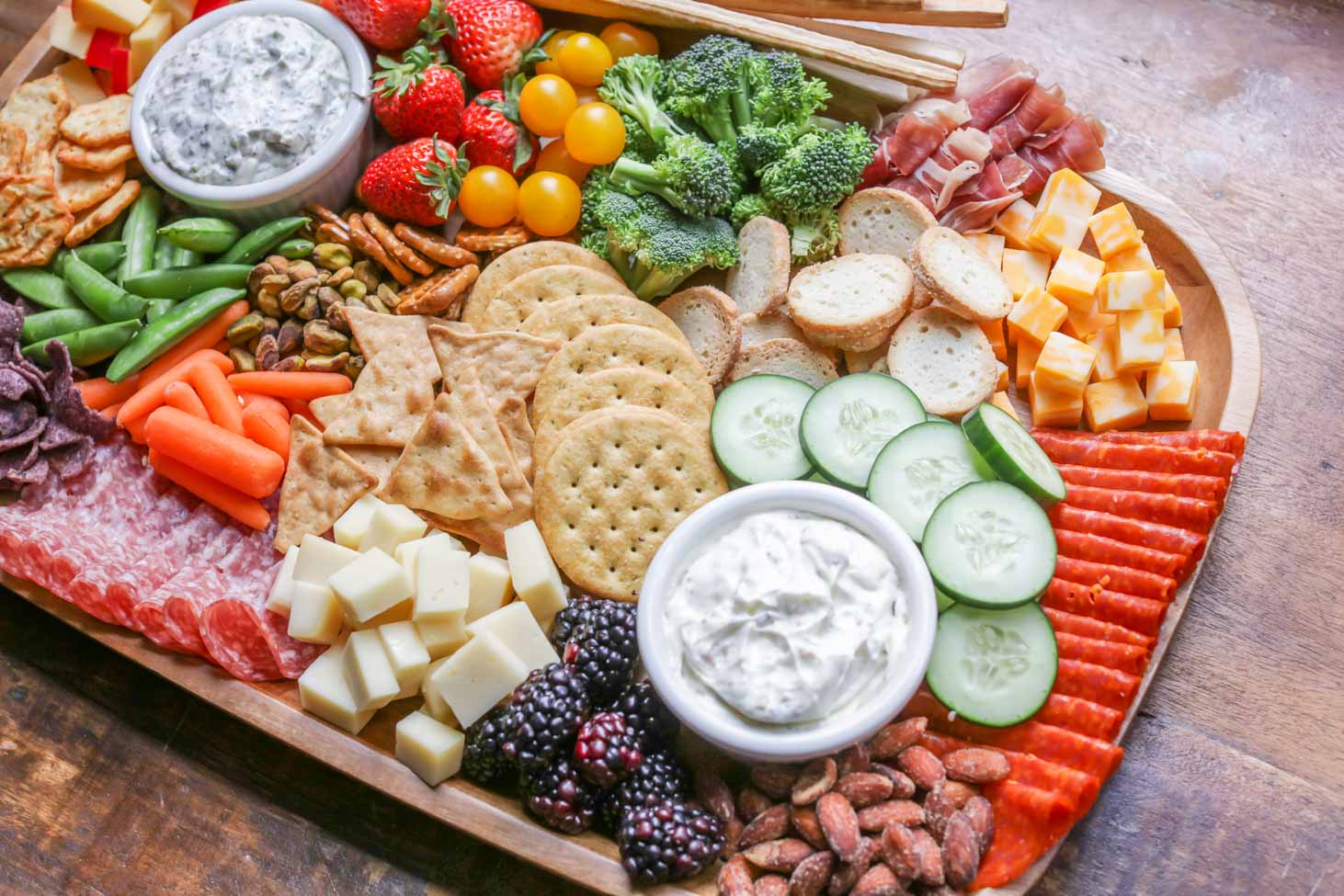 A Feast for the Eyes and Mouth!
Charcuterie boards, pronounced shahr-koo-tuh–ree, are essentially a fancy meat and cheese board. Charcuterie is a french term meaning cooked cold meats. Not only does it include different meats and cheeses, but often nuts, fruits, crackers and dips. It's a feast for the eyes as well as the mouth.
What to Put on A charcuterie board?
Honestly the options on what you can use are endless and there's no way I could possibly include everything. As you are choosing items be mindful of textures as well as colors. You want there to be beautiful pops of color throughout the board. Here are a few items you might consider:
Meats: You typically need about 3-4 slices of meat per person. Salami, Ham, Pepperoni, Pastrami, peppered beef, Spanish chorizo, cured sausage, pate, prosciutto, Italian bresaola, Spanish jamon (ham)
Cheese: provide about 2-3 oz per person. Try to mix a soft cheese with a harder cheese. Cheddar, brie, colby, mozzarella, pepper Jack, feta, Parmesan Swiss, Italian Piave, small cheese ball.
Bread/Crackers: Ritz, pita, grissini breadstick, Parmesan crisps, toasted crostini, Artisan crackers, baguette, pretzels, wheat thins, Triscuts.
Nuts: Nuts can be raw, roasted, salted or candied. Pistachio, almonds, macadamia, pecans.
Produce: provide a variety of colors and textures. Include both dried and fresh produce. Apples, snap peas, raisins, carrots, cherry tomatoes, snap peas, berries, grapes, olives, dried apricots, mini pickles, craisins.
Dips: hummus, dijon mustard, veggie dip, spinach artichoke dip, olive oil, pesto, jams, Green Chili Cream Cheese Dip.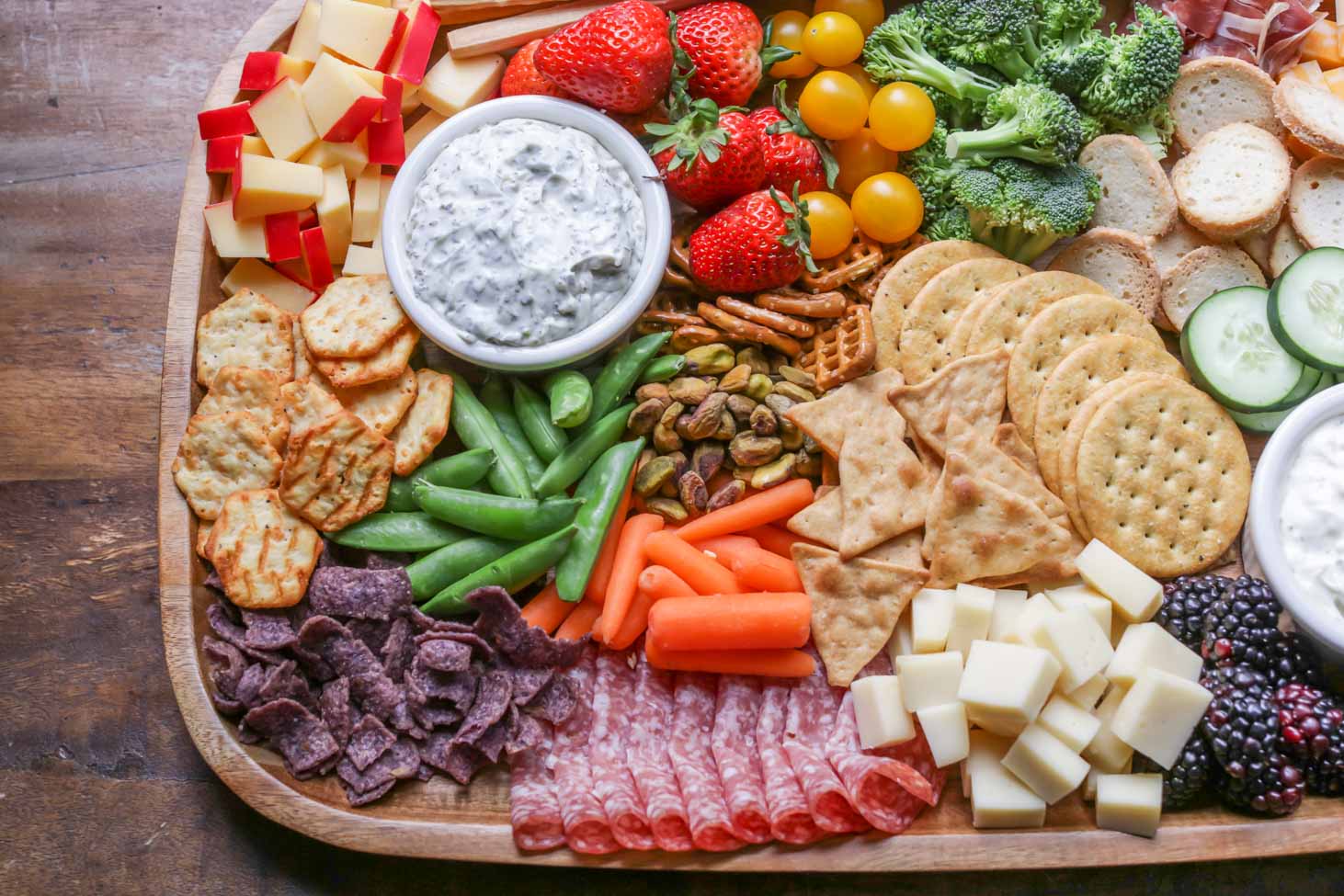 How to Make a Charcuterie Board
Most often a wooden cutting board is used. The rustic look of the wood really helps give a beautiful feel to the overall dish. A standard cutting board is about 9×13 but you can definitely use a smaller or larger one depending on the size of your party. If you don't have a wooden cutting board any flat surfaced serving tray can be used.
If you are using any sauces, or dips place them in a small bowl or cup. Use different sized dishes for different dips/sauces. If you have one bowl place it in the center of the board. If you have 2 or more, space them evenly on the board. Now you can arrange your other items around the bowls.
Next, place your meats and cheeses on the board. Be sure to have an equal amount on each side of the board.
The meats should be pre sliced and can be rolled, folded or stacked. To make it easier have the cheese pre-sliced, or cubed as well, but if you decide to place them in a block be sure to have a small cheese knife available.
Add crackers, nuts and produce in groups around the board. Again be sure to include an even amount of items on both sides of the board. The produce will be your pop of color so arrange them in a visually pleasing manner.
You can arrange the items so that there's a pattern or symmetry, or you can make it look random. Garnish with herbs or other leaves.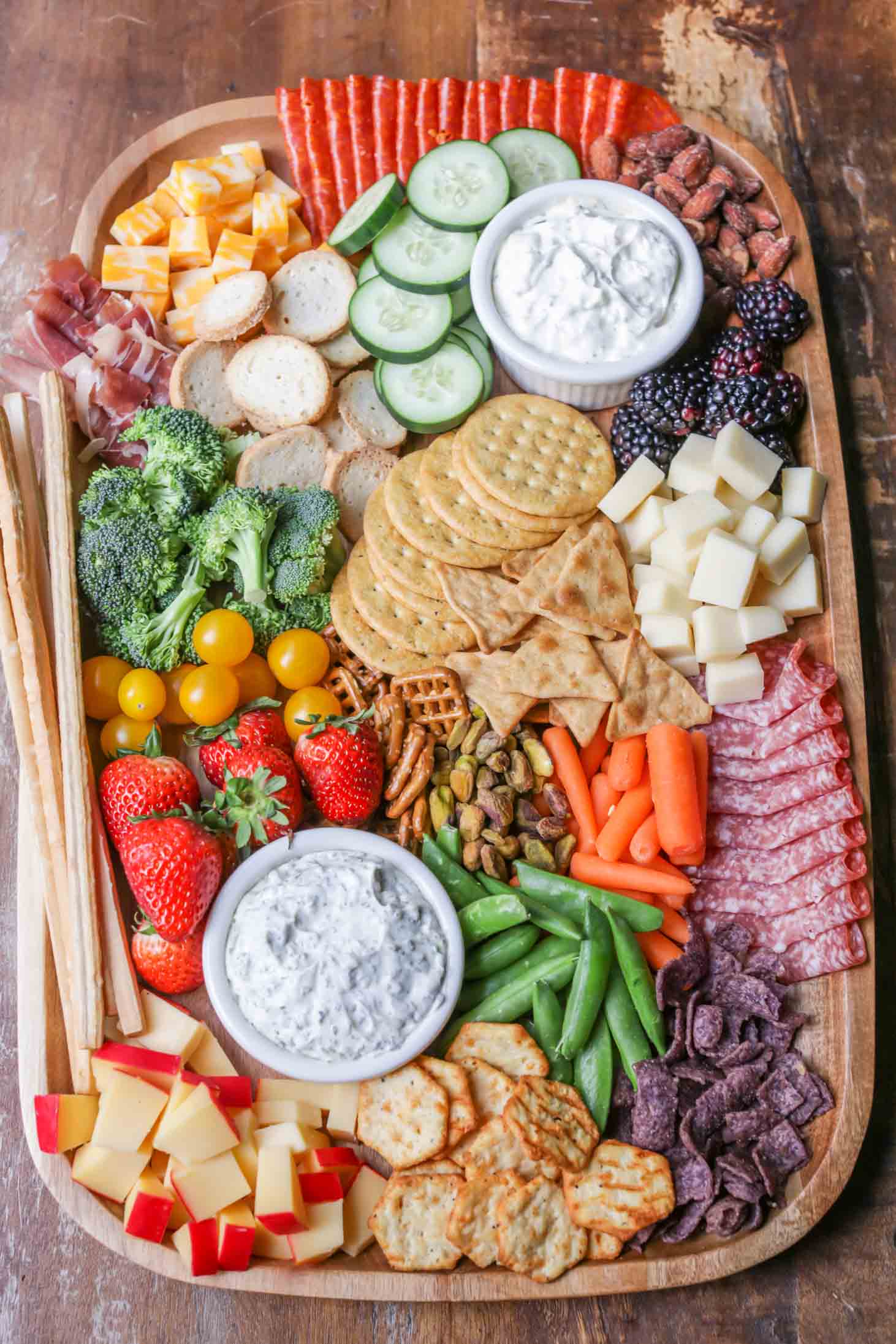 Making ahead of time + Leftovers
Depending on the size of your tray you may want to prepare the items ahead of time. Most items can be prepared and stored separately until you're ready to arrange your tray.
Have extra items stored so that you can replenish the tray as the evening progresses.
Leftovers can be stored in separate containers to be eaten later.
For more appetizers, check out:
Best Charcuterie Board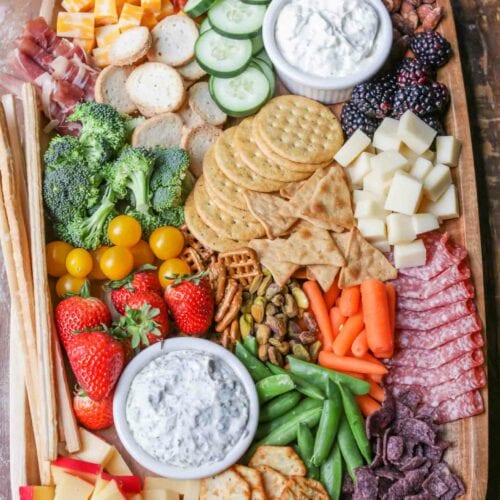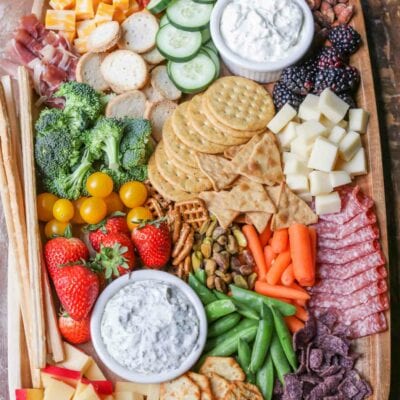 We all love to graze during holidays and parties, and what better way to do it than with a Charcuterie board?! Customize with all your favorite meats, cheeses, crackers, veggies, fruits and dips!
Equipment
Large Wooden Serving Board
Ingredients
2

small

cups dip

I like Ranch and Veggie Dip

15

slices

deli pepperoni

8

slices

Prosciutto

9

slices

deli salami

1/4

c

Colby jack cheese cubes

1/4

c

mozzarella cheese cubes

1

small

cucumber

sliced

handful

blackberries

1/3

c

broccoli florets

8-10

grape tomatoes

any color

1-2

apples

cubed

12-15

sugar snap peas

6

strawberries

12-15

baby carrots

¼

c

pistachios

1/4

c

candied almonds

handful

pita chips

8

round crackers

such as Ritz, Toasteds, Multigrain

4-5

grissini breadsticks

12-15

seasoned crisp crackers

1/4

c

mini blue corn chips

handful

bagel chips

any flavor

1/4

c

pretzel snaps

or sticks or twists

Have serving prongs or toothpicks near the tray
Instructions
There isn't really any set way you have to design this delicious board. The amount of ingredients can be adjusted according to the size of your board. Here are some rough directions on how I assembled this board.

Place the small bowls of dip on opposite sides of the board.

Fold, or roll the deli meats. Place the pepperoni along one side of the tray. Put the salami along a different side and the prosciutto on a third side.

Add the different cheese cubes on opposite sides of each other.

Place the different types of crackers and pretzels around the board.

Finally, fill in any empty spots with the nuts and produce.

Be sure to place out serving prongs or toothpicks near the tray. Enjoy!