French onion dip is tangy and savory. It requires only two ingredients and is made in under a minute making it the perfect chip dip!
These easy yet flavorful dip is party perfection. I like paring with a hearty potato chip such as ruffles or kettle chips. That salty, tangy, and savory combination hits the spot every time. Want a healthier dipping option? Try pairing with Veggie Cup Appetizers. You could also add EASY Hummus to the spread.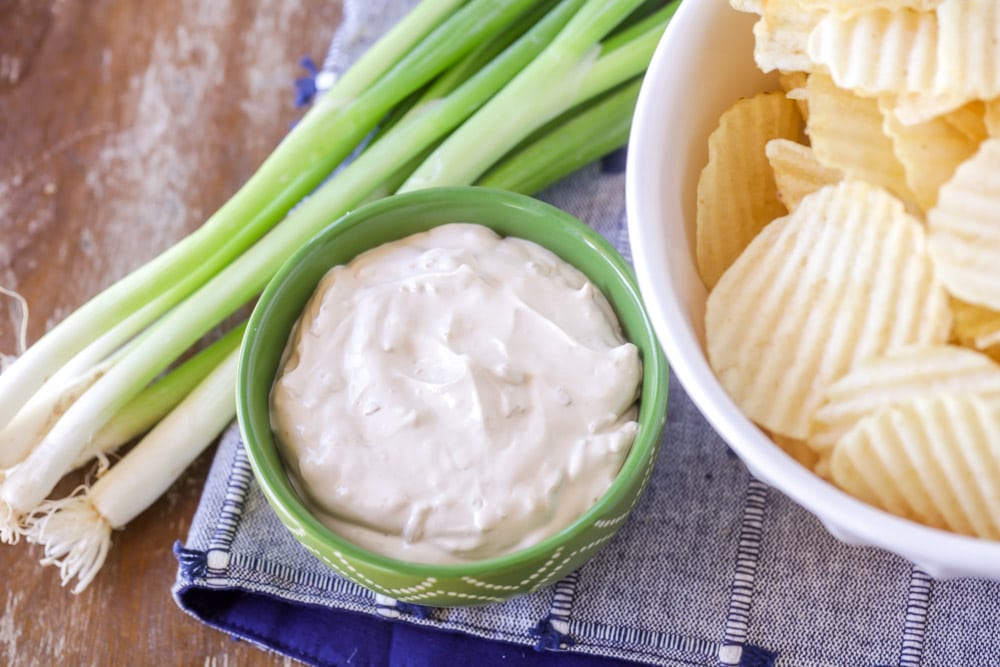 Our Favorite Chip Dip!
This savory/tangy dip is by far our favorite. It pairs perfectly with salty potato chips, and is highly addictive. I crave this tasty bowlful!
It is literally made in under a minute and only requires two ingredients. Lipton Onion Soup is filled with all of the spices and flavors you need to make this dip finger licking good. It is perfect for BBQs, game day, family gatherings…you name it.
This French Onion Dip made with French Onion Soup Mix has saved me many times. I always keep some of these packets on hand. It is the perfect snack to bring out for my kids' friends or surprise guests!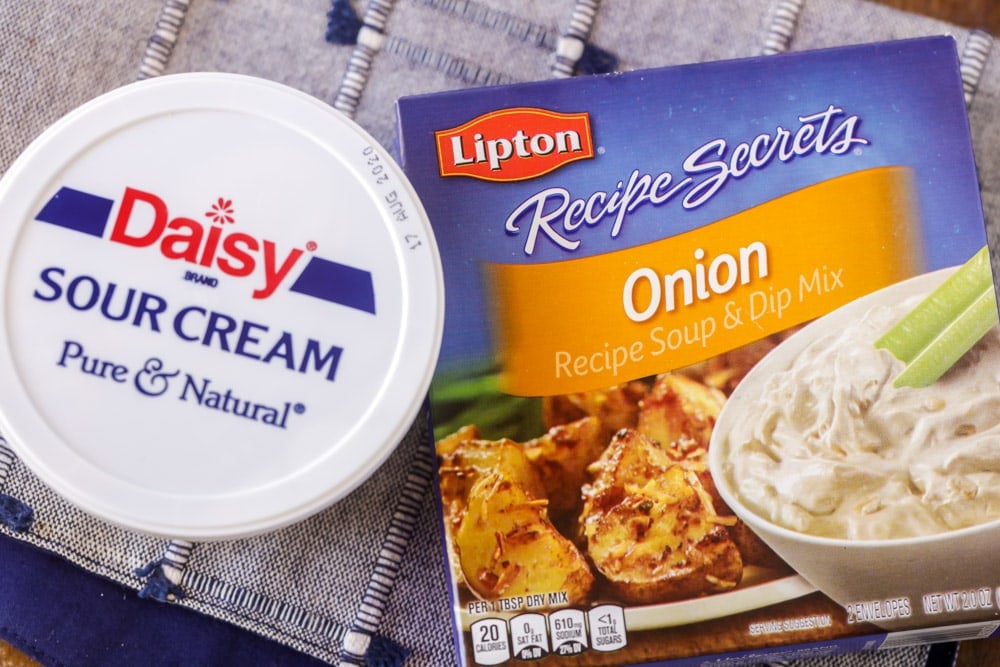 Made in Under a Minute + Variations
MIX. Mix together well and keep refrigerated until ready to serve.
Variations: 
Add some spice: you can easily kick the heat up a notch by adding red chili flakes or a splash of hot sauce.

If you're not a fan of sour cream you can easily use plain geek yogurts, mayo or softened cream cheese. You can even mix and match to make a combination you love. 
For Homemade Dried Onion Seasoning use:
2 ½ tablespoons dried onion flakes

¼ tsp onion powder

¼ tsp garlic powder

⅛ teaspoon celery powder

⅛ teaspoon pepper

¼ teaspoon dried parsley

½ teaspoon salt
We love to make this homemade too since we always have these ingredients in the pantry. 😉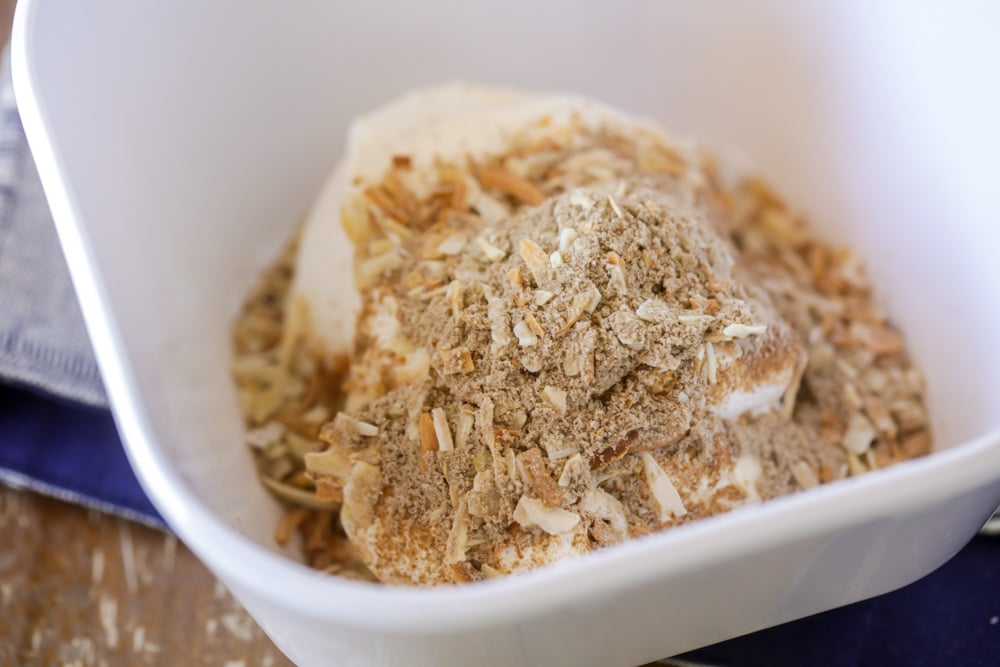 Storing + What to Dip
Chill for at least an hour to allow flavors to combine before serving. Dip can be STORED in an airtight container in the fridge for up to a week. Do not freeze.
Looking for some items to dip in the French Onion Dip? Traditionally plain potato chips are the chip of choice to use with this dip, but you can dip all sorts of things, including:
Other chips

Crackers: Ritz, Triscuits, Wheat Thins, Pretzels and more 

Veggies: carrots, celery, snap peas etc…

Breads: chunks of crusty bread,

 

mini-toasts, crostini, breadsticks

Spread on burgers or grilled chicken

Put a dollop on your baked potato or on your soup
You can also use the dip as a spread.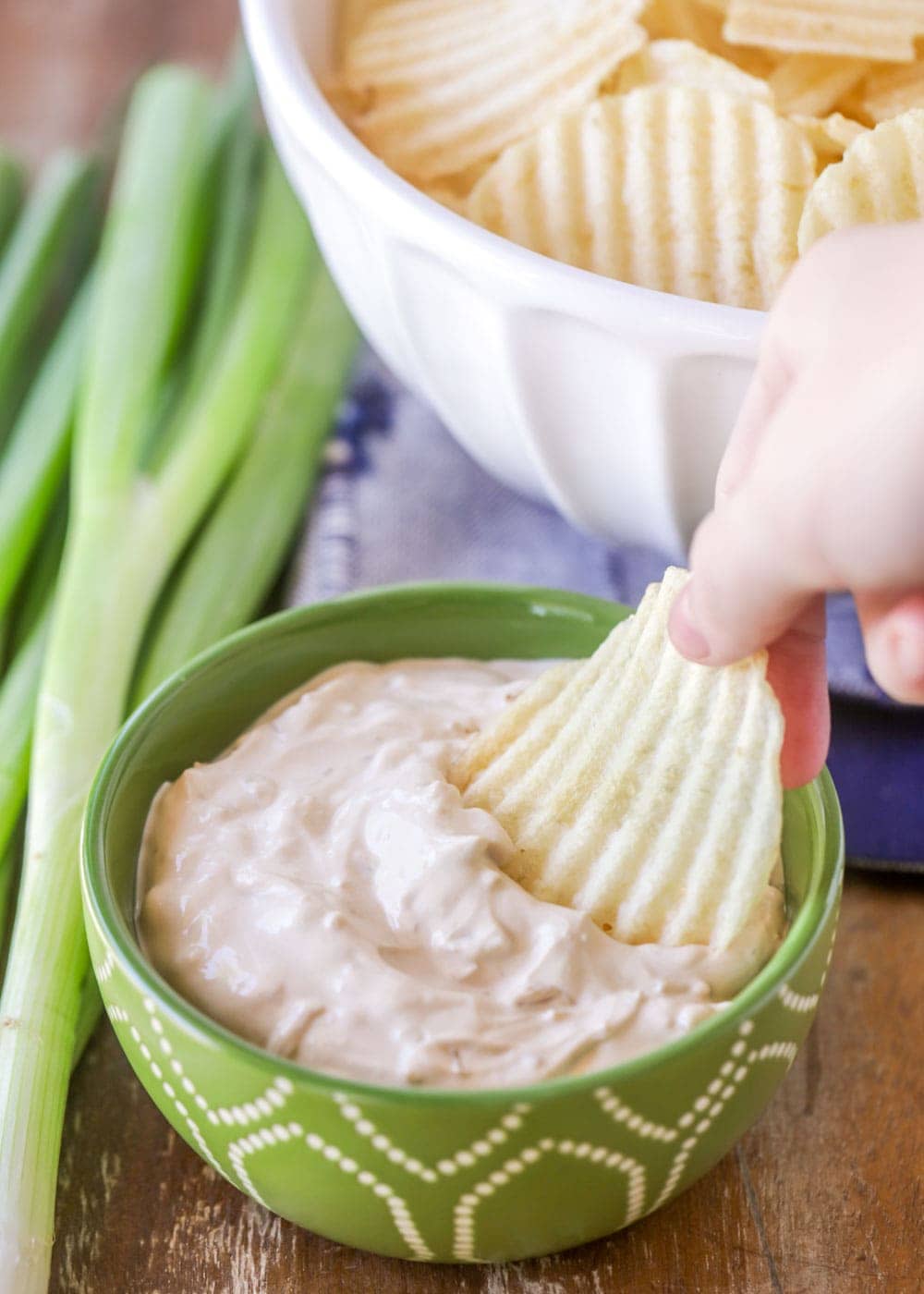 For more Sweet and Savory Dips, try
: