Nothing better than a smooth deviled egg appetizer! You'll be surprised with how easy these are to make. Tons of flavor, super delicious and perfect for parties and holidays.
It's the classic party appetizer! These quick and simple deviled eggs are great for any get together or holiday, along with some of our other favorites including bacon wrapped smokies and cucumber sandwiches!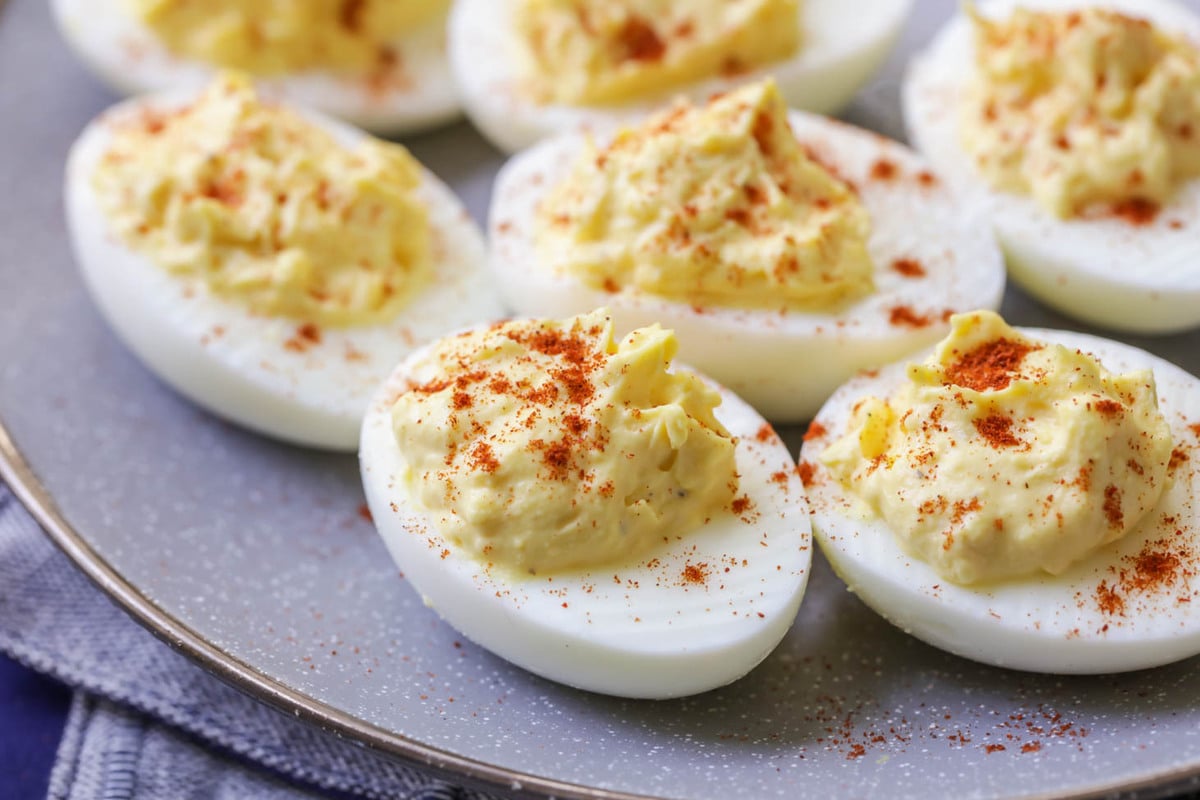 Best Deviled Eggs
I have a few go-to appetizer dishes and deviled eggs are at the top of that list (along with buffalo dip and brown sugar smokies).
They are a classic recipe that never goes out of style. Everyone loves them and they are eaten as fast as I can put them down on the table. The smooth texture and rich flavor of deviled eggs is what makes this recipe a crowd favorite.
These tangy bites of heaven are great for any occasion. Holiday parties, wedding/baby showers, birthday parties, or just small dinner parties.
My favorite part of a deviled egg is the creamy filling. I could eat that by the spoonful!
If you've never tried deviled eggs before, you will be in love with them after trying this recipe.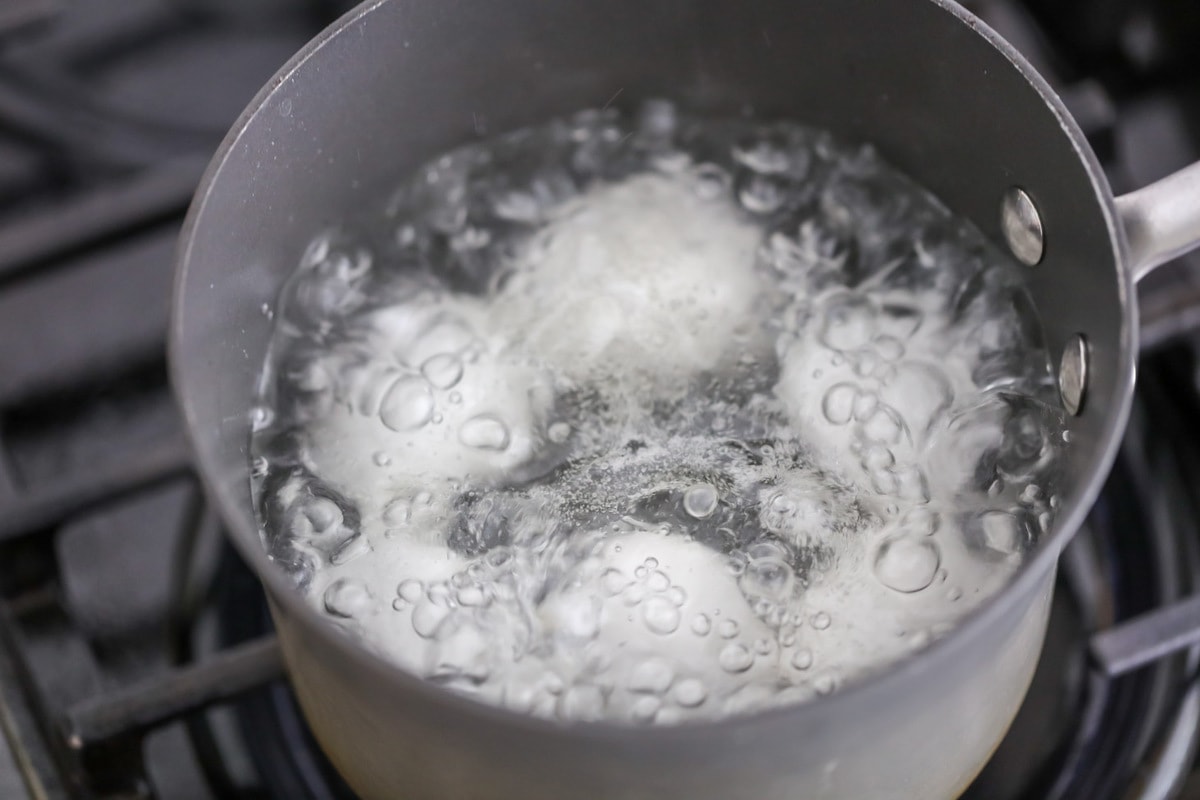 How to Make Deviled Eggs
The process of making deviled eggs is a lot easier than you would think. I know some people are intimidated by making deviled eggs, but you don't need to be with this simple recipe. And you just need a few ingredients to make these tasty eggs!
Ingredients:
eggs
mustard (we prefer regular, but dijon mustard works too)
mayonnaise (for a lighter method, you can use plain greek yogurt)
salt & pepper
paprika
BOIL. If you have never boiled eggs before or need more tips in that area, go to this post HERE. This post will help you boil the perfect egg. After you have boiled your eggs and they have been in the ice bath, peel and rinse each egg.
CUT. Take each egg and carefully cut them lengthwise. Take out the yolks and put them into a bowl and set the whites aside.
MIX. Add the mustard and mayo to the bowl with the egg yolks and mash or whip with a fork until smooth. Salt and pepper to taste. Spoon the yolk mixture into each egg white hole. Sprinkle with a little paprika amd/or chives.
CHILL. Put them on a platter and keep in the fridge until ready to serve!
NOTE: You're half way to Egg Salad, so be sure to check out our recipe for that too. 😉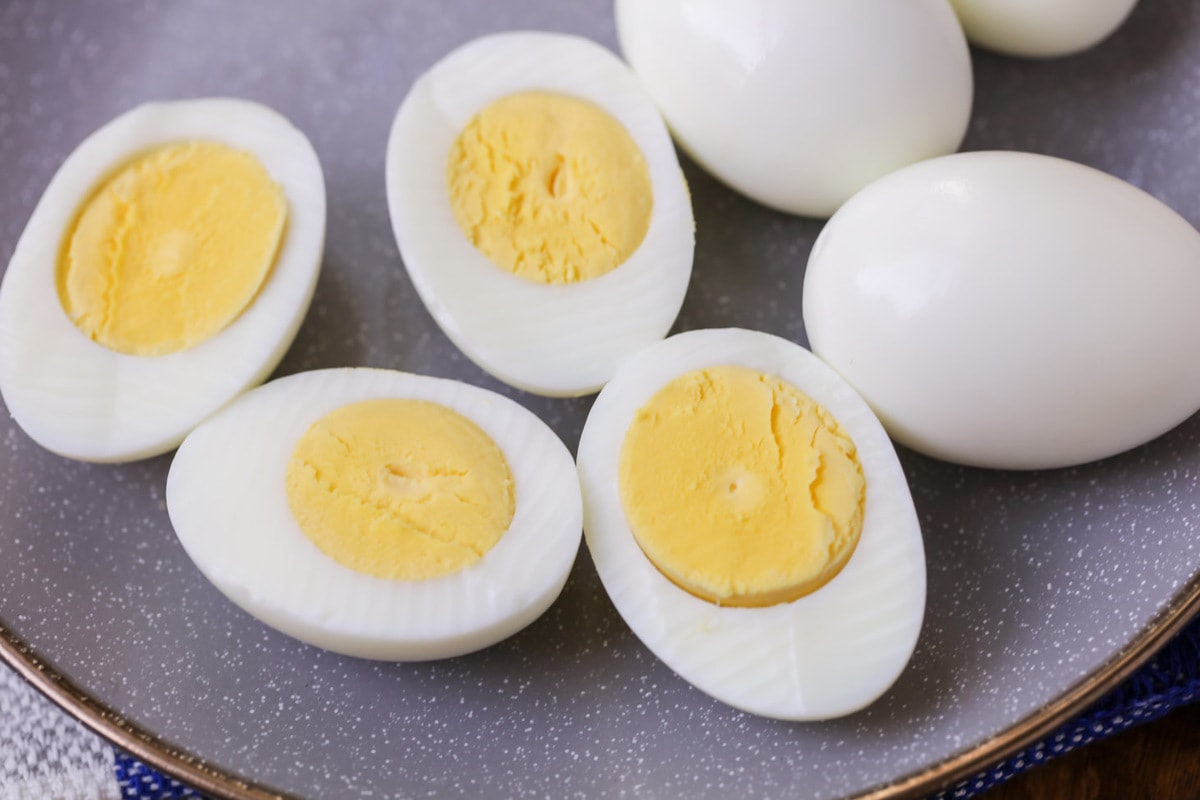 PIPING, MAKING AHEAD + STORING
How to pipe on egg mixture? To make your deviled eggs look a bit more fancy, use a large star tip and a resealable plastic pipe and pipe the yolk mixture into each egg before dusting with paprika.
You can also simple cut a hole at the corner of a Ziploc bag and pipe the yolk mixture for a smooth, whirled yolk topping.
Can you make deviled eggs ahead of time? If you need to make these ahead of time it's best to keep the egg fillings separate until you are ready to serve them. Wrap the egg whites tightly in plastic wrap. And put the yolk mixture into a bag and squeeze all the air out.
You can keep the egg yolk mixture and egg white separate and in the refrigerator for up to 2 days.
How to store deviled eggs? You can store the deviled eggs in the fridge for a couple days. They don't stay good for longer than about 3 days. Keep them in an airtight container or wrapped in plastic wrap.
How to Change it up? That's easy to do based on preference. Use dijon mustard instead of regular mustard or greek yogurt instead of mayo. You can also garnish with different herbs or spices like cayenne.
Making for a crowd. Depending on the person, I would plan for about 2-3 deviled eggs per person if you are bringing these to a party. Honestly, we feel like you can never have enough of these guys!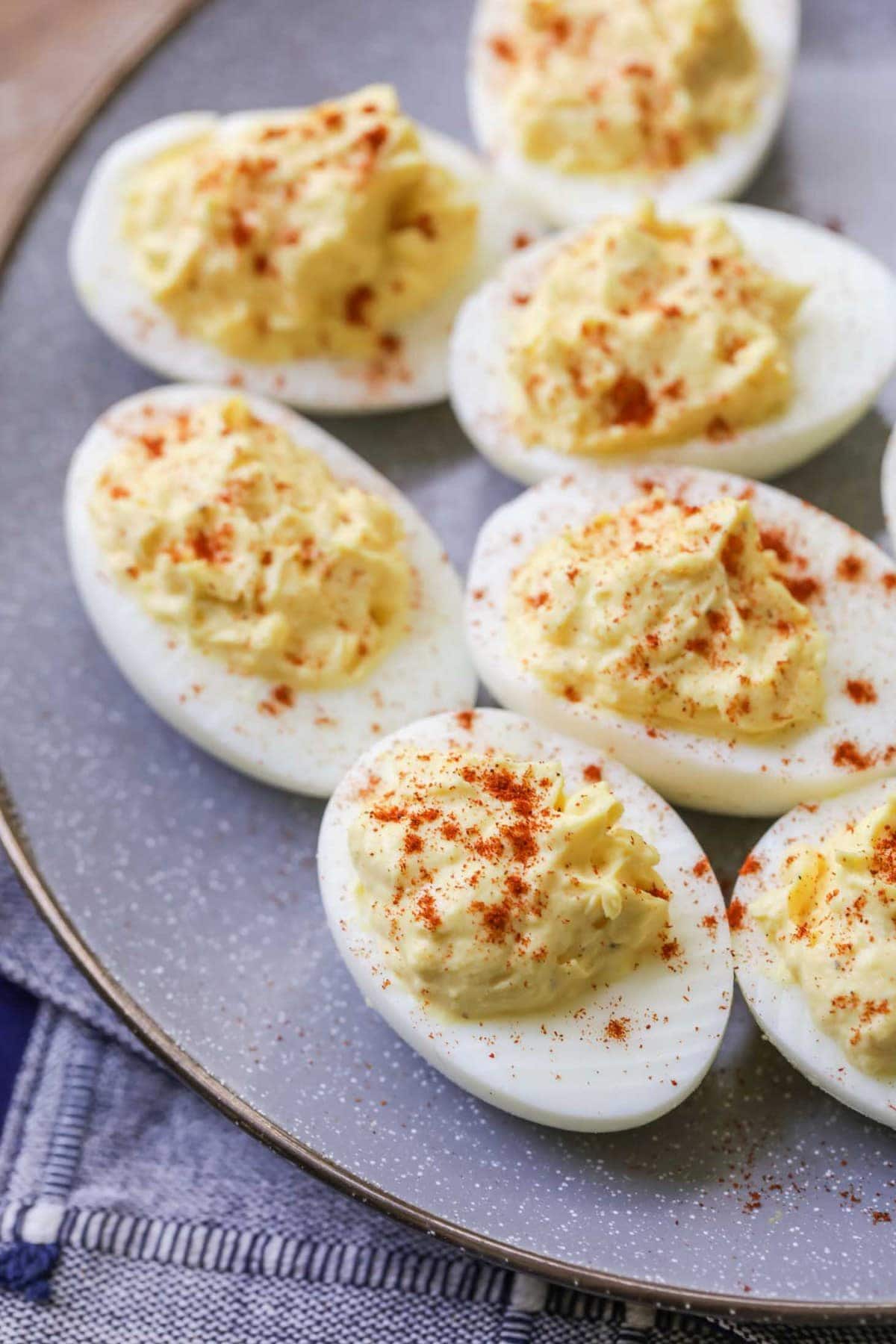 Enjoy these super delicious deviled eggs! You can't go wrong with them for any get together, or especially Easter!
For more finger foods, be sure to check out:
Deviled Egg Recipe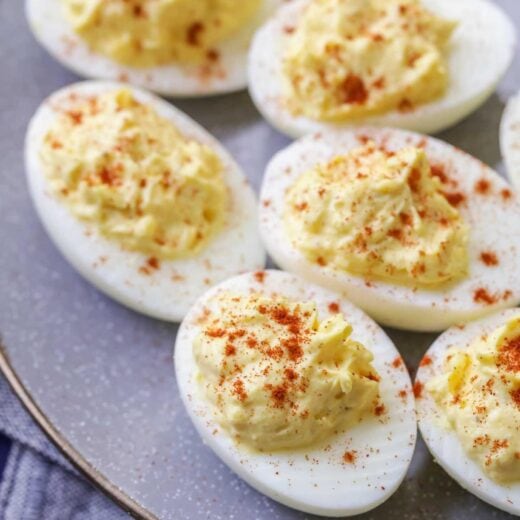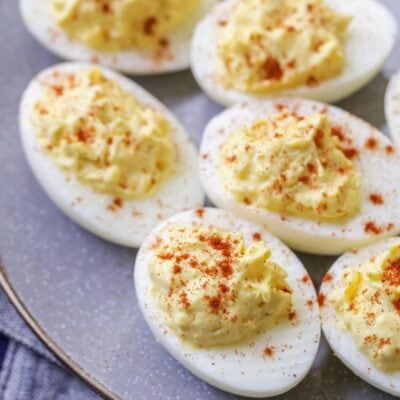 Nothing better than a smooth deviled egg appetizer! You'll be surprised with how easy these are to make. Tons of flavor, super delicious and perfect for parties and holidays.
Ingredients
6

eggs

water

ice bath

1

tsp

mustard

6

TB

mayonnaise

salt and pepper to taste

to taste

paprika
Instructions
To start, bring water to a boil in a medium pot. Once the water is boiling, gently lower the eggs using a strainer ladle, into the water. Turn heat down so it is a simmer, and simmer eggs for 15 minutes.

Once done, add the eggs to an ice bath for 5 minutes.

Carefully cut each egg, lengthwise, removing the yolk to a small bowl. Set the white of egg aside.

Add mustard and mayonnaise to bowl and whip with a fork. Salt and pepper to taste. Spoon mixture into the hole of each egg. Sprinkle with paprika. Place in fridge until ready to serve.
**This recipe was updated on 3/28/22 – we changed our way to make Hard Boiled Eggs to make it easier, quicker and even more no fial!