Crockpot Spinach Artichoke Dip is made easy in a slow cooker! With creamy cheese, shredded spinach, and chopped artichokes all melted together, it's the ultimate party dip.
I love how the gooey cheese just melts in your mouth with pops of bright spinach and artichoke flavors. It's really a bowl of comfort food! For more dippable delights try Homemade Hummus, Queso Blanco, and Buffalo Chicken Dip.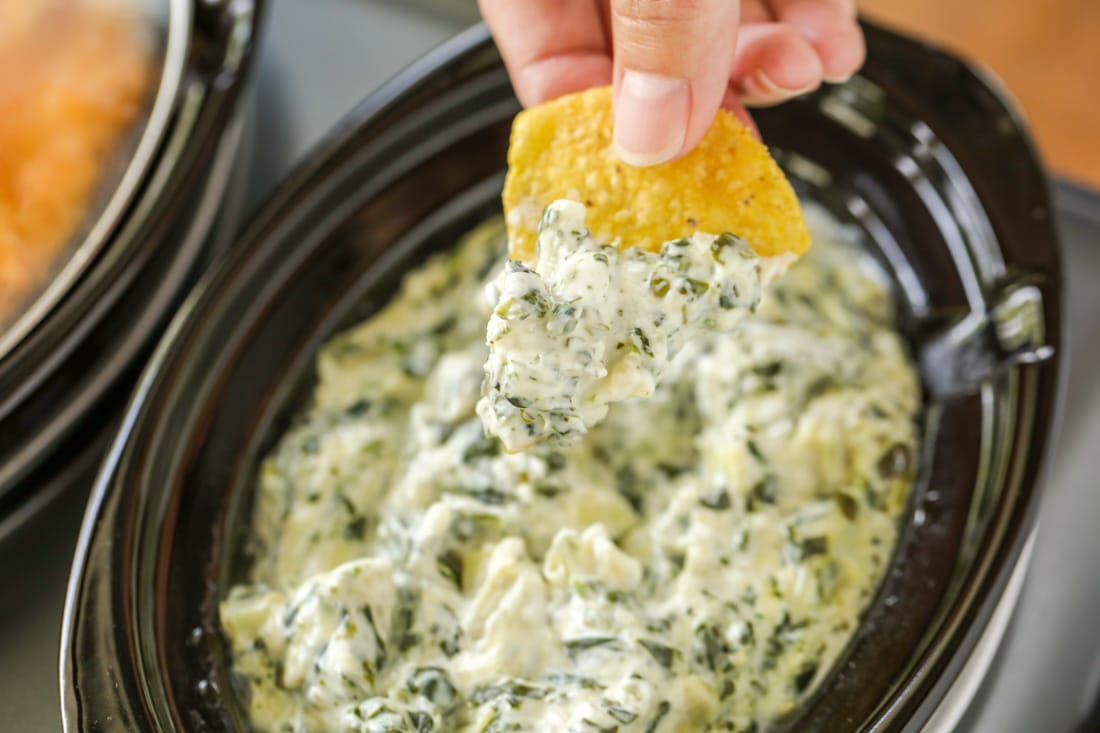 So easy, it practically makes itself!
I think it's safe to say how delicious and addicting spinach artichoke dip is. What makes it even better is that it's beyond simple to make!
Today's dip is even easier because you make it and throw it in the slow cooker to warm up before your party or get together. Boom, you're done.
It is so easy to make this in the morning and free up the afternoon for other preparations. It doesn't matter if you are serving this for a large gathering, or you just have a dip craving. But definitely make it—and prepare in advance to finish it all in one go.
Feel free to serve this dip with crackers or tortilla chips. My personal favorite, however, is slices of warm soft french bread! Mmmmm, covered in that melty cheesy dip is perfection in a bite…but don't take my word for it!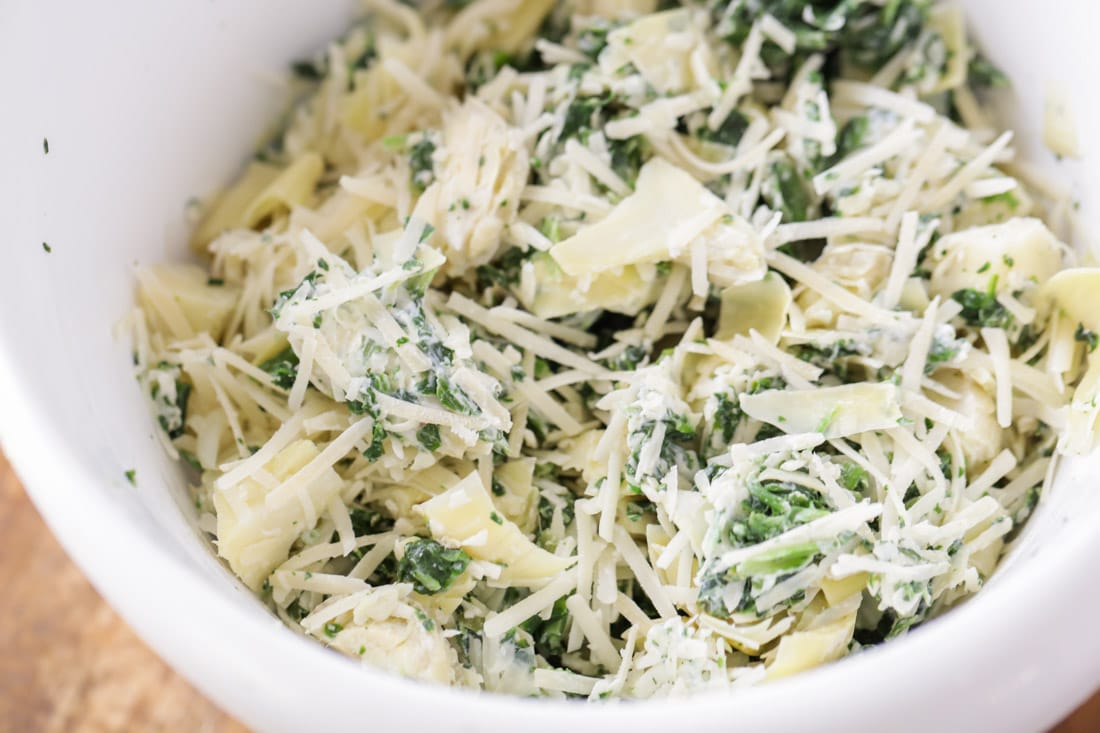 Making Spinach Artichoke Dip in the Crockpot
COMBINE. In a medium size bowl, add the Parmesan Cheese, spinach, and artichoke hearts and mix together. Add the minced garlic, sour cream, cream cheese and mayo. Stir together, then pour it into a medium sized saucepan.
HEAT. Heat the mixture over medium-low heat. Stir until cheese has melted.
TRANSFER. Pour into a slow cooker and cook on High for 1-2 hours or on Low for 3-4 hours. Use the warm setting to keep it warm while serving.
Delicious things to Dip: Honestly, I could eat this dip with a spoon, but here are a few delicious foods to use:
carrot sticks, celery, bell peppers

broccoli and cauliflower florets.

Crackers, Pretzels and Tortilla chips
Making Ahead + Storing Leftovers
MAKE AHEAD: Cooking this in the crock pot is nice because it can be started hours before you need to serve it and allows you to tend to other dishes that can be made ahead. If you want to begin the dip even further ahead you certainly can. Once you have removed the dip from the stove transfer it to an airtight container.
Keep it in the fridge for 1-2 days. Place the dip in the crock pot when you're ready to cook it.
STORE LEFTOVERS: In my experience this dip gets gobbles right up so if you're lucky you'll have leftovers. Store any extra dip in an airtight container. The length of storage will depend on how long in advance you whipped up the dip. You can store it for a total of 4 days.
REHEATING: Large amounts can be reheated in the crock pot or the oven set to 350°F. Mix the dip every so often until warm throughout. You can easily use the microwave for smaller amounts.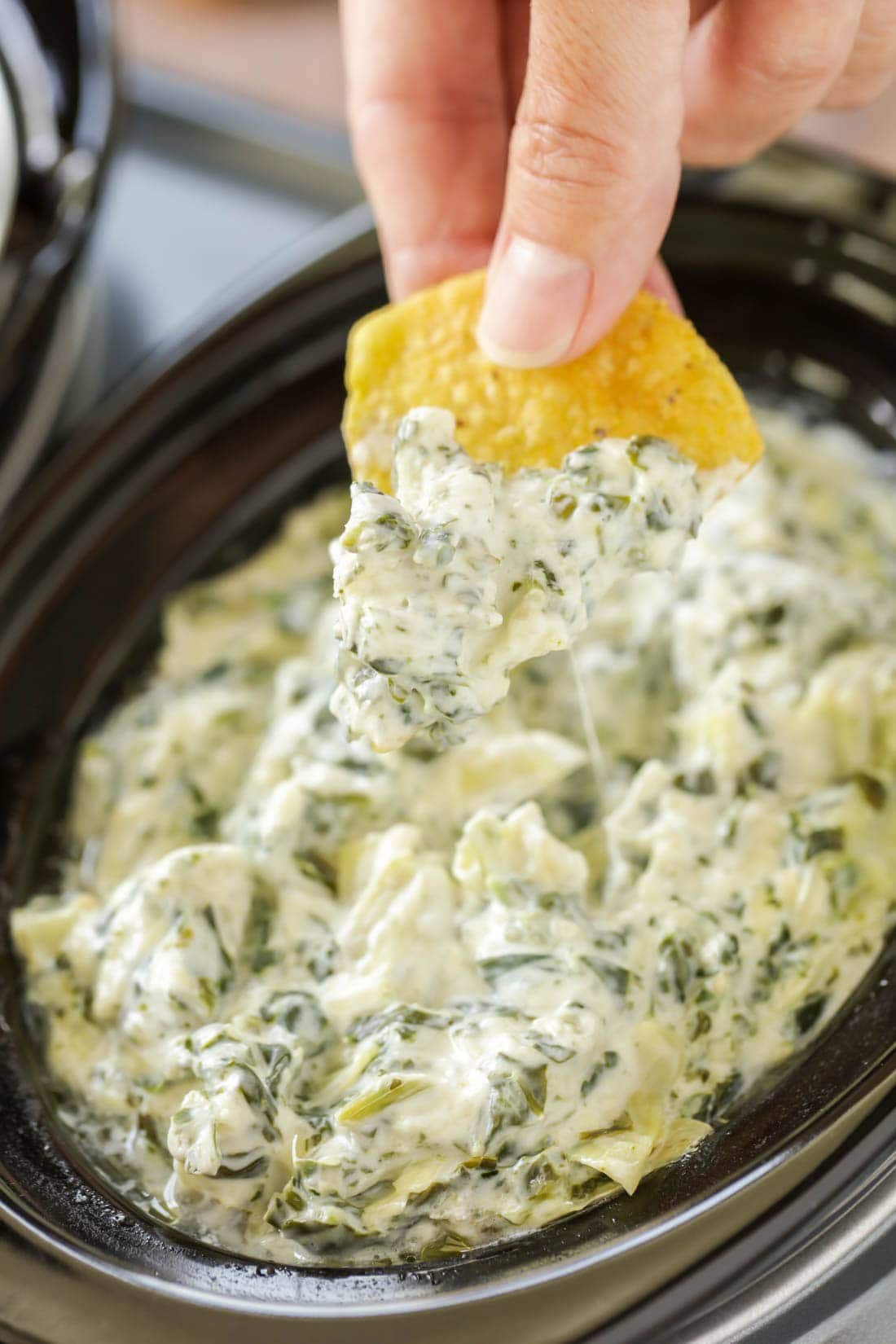 For more appetizers, try:
Ingredients
2

c

Parmesan Cheese

shredded

10

oz

frozen chopped spinach

thawed

14

oz

artichoke hearts

drained and chopped

2

tsp

minced garlic

2/3

c

sour cream

8

oz

cream cheese

softened

1/3

c

mayonnaise
Instructions
In a medium size bowl, add the Parmesan Cheese, spinach, and artichoke hearts and mix together.

Add the minced garlic, sour cream, cream cheese and mayo. Stir together, then pour it into a medium sized saucepan.

Heat the mixture over medium-low heat. Stir until cheese has melted.

Pour into a slow cooker and cook on High for 1-2 hours or on Low for 3-4 hours. Use the warm setting to keep it warm while serving