My Christmas Chocolate Chip Cookies are so simple (perfect for the kiddos to help with). They are a holiday favorite!!
These Christmas Chocolate Chip Cookies are beyond easy, made with a mix and dipped in white chocolate. If you love chocolate chip cookies and you love Christmas, then you have to add them to your holiday cookies!!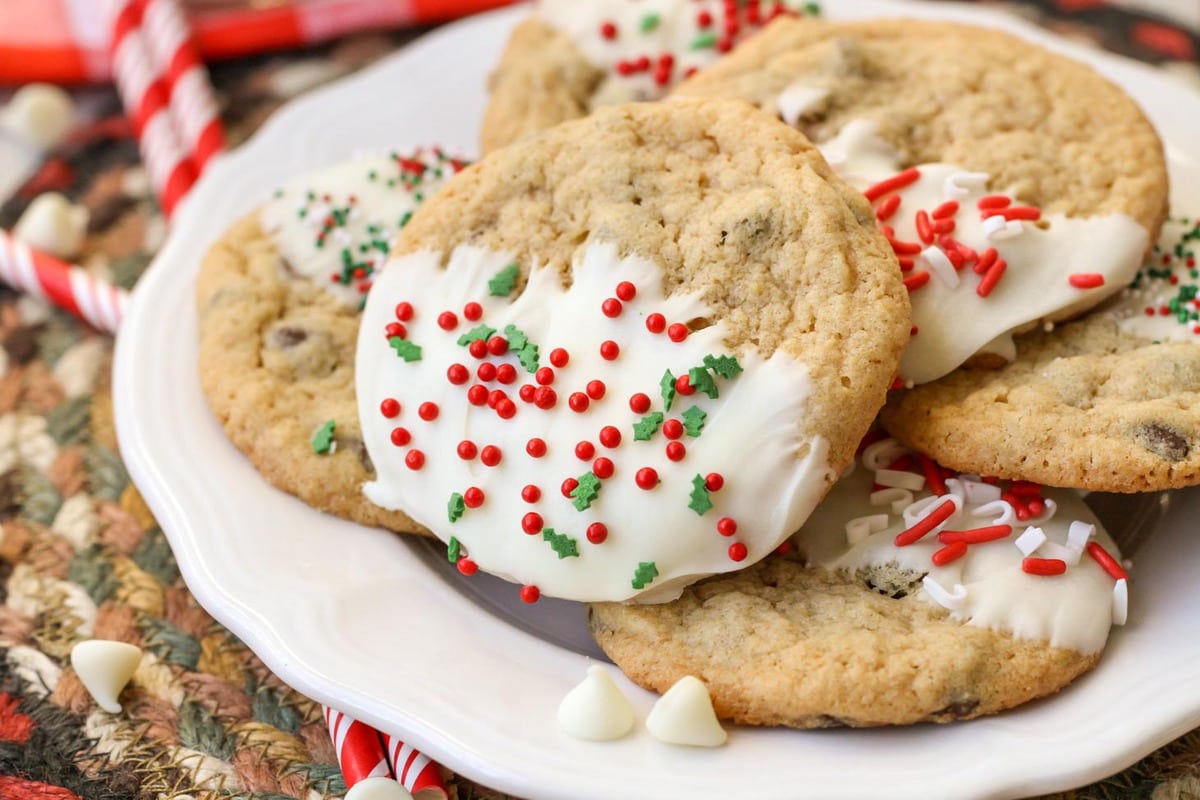 Holiday Cookies
I bake all year long, but I always associate it with the holidays. I'm sure everyone could admit that food brings families together, and they definitely do that for our family. One of our favorite things to bake around the holidays are cookies.
Today's holiday cookies are not only simple, but perfect for Christmas and even Santa's plate. They are made using one of Betty Crocker Cookie Mixes, which can be found in the baking section of your local grocery store. You can also make a classic Chocolate Chip Cookie recipe, but this version is especially easy for the busy holiday season.
What I love most about these cookies is the simplicity of the recipe! Using the Betty Crocker Cookie Mix made it fast and simple, one my kids couldn't mess up even if they tried. 😉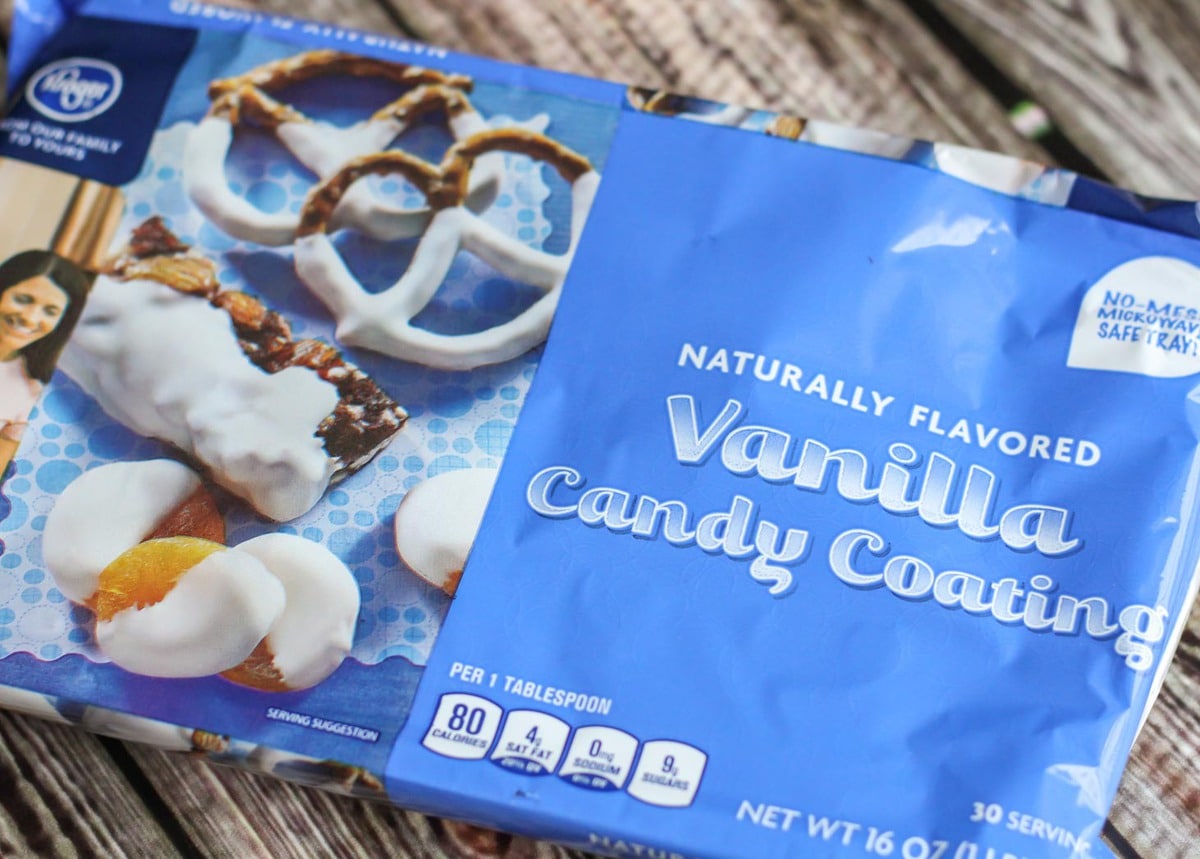 How to Make Chocolate Chip CHRISTMAS Cookies
As mentioned, the base of the cookies is made using a mix, which helps speed up the cookie baking process. Here are all the ingredients needed for this recipe:
1 Betty Crocker™ chocolate chip cookie mix (1 lb. 1.5 oz)
Butter and egg called for on pouch
1 package of vanilla candy coating or 1 bag White Chocolate Chips
Holiday Sprinkles
COOKIES. Make cookies using the package directions.
CANDY COATING. Melt your candy coating or chocolate chips in a small pot until smooth. Then, dip your cookies half way into the chocolate and let set on parchment paper.
SPRINKLE + SET. Sprinkle the cookies with holiday sprinkles and let set for 1-2 hours until hardened.
Tips, Variations + Storing Info
To make these even more Christmas-y add in red and green M&Ms or sprinkles into the actual mix. A super fun thing would be to add food coloring to the batter and dye it green or red for Christmas.
Variations:
Consider making the chocolate chip cookies from scratch, following our recipe here for our

best chocolate chip cookies

Add in Christmas M&Ms: crushed and whole, normal or mint

Dip the cookies in white chocolate instead of candy coating
Use white chocolate: If you can't find candy coating or just prefer to use melted white chocolate I would suggest melting it either in the microwave, or on a double-boiler. We explain the best way to use candy coating in this post here. These instructions can also be applied to white chocolate. 
To FREEZE the cookie dough: Once you make the cookie dough it should be fine to freeze. The easiest way to do it, in my opinion, is to do the slice and bake method. This means that when you are ready to bake it you slice pieces off of the "log" of cookie dough. The dough will last for up to 6 months in the freezer.
Make ahead of time: If you are making these for a party you can make them the day before. Just make sure that after the chocolate/candy coating is set and that you cover the cookies or put them in a bag so that they don't dry out.
STORE cookies in an airtight container at room temperature. Do not store uncovered unless you want the cookies to quickly dry out. You can keep them in the fridge too, just make sure they are in an airtight container. FREEZE baked cookies in an airtight and freezer safe bag in the freezer for 3-4 weeks. You can freeze cookie dough for up to 3 months in an airtight bag/container.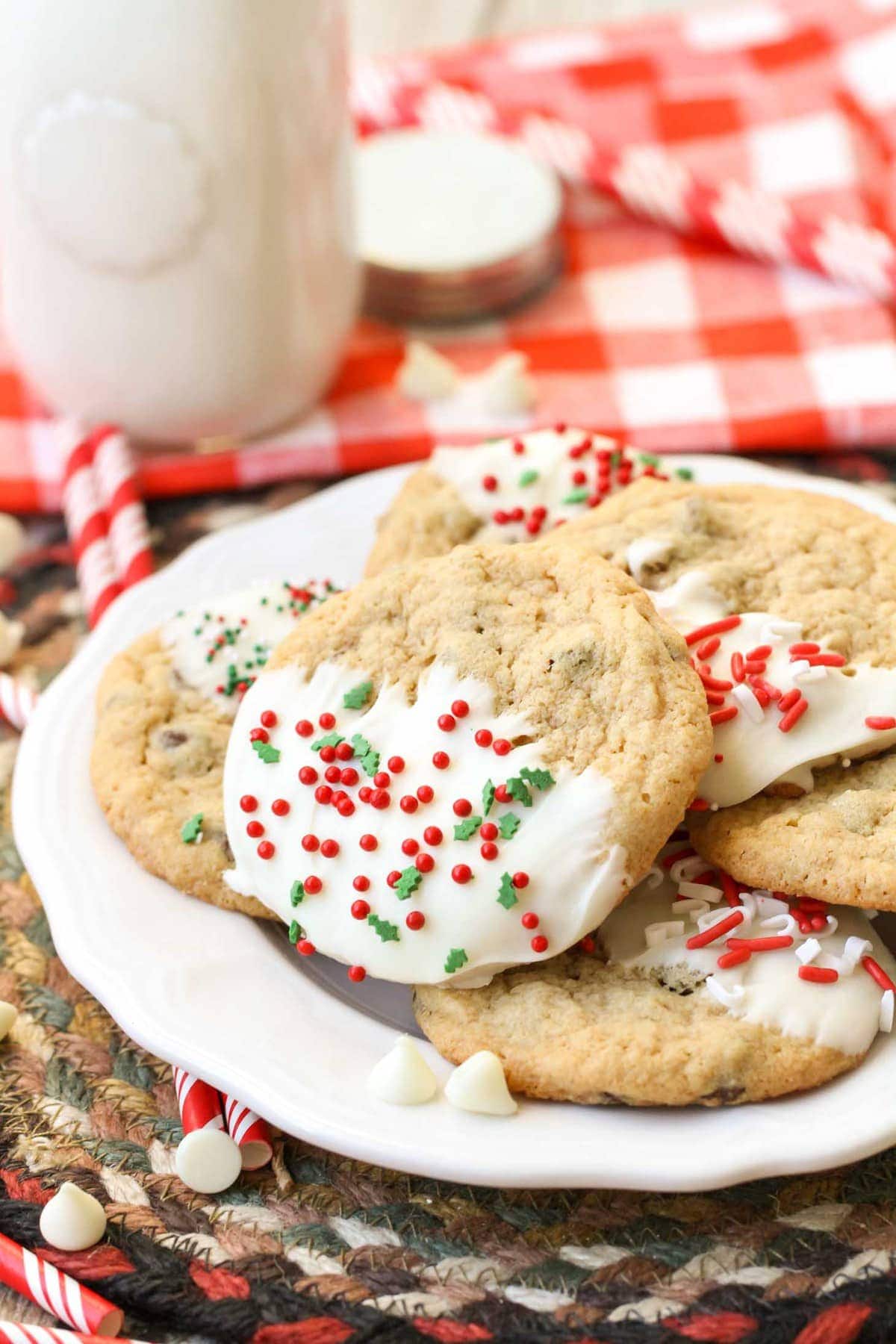 These cookies aren't only pretty but they're delicious – AND quick!!! For a quick recap of how to make these delicious treats, you can even watch this video:
For more holiday treats, check out:
Christmas Chocolate Chip Cookies Recipe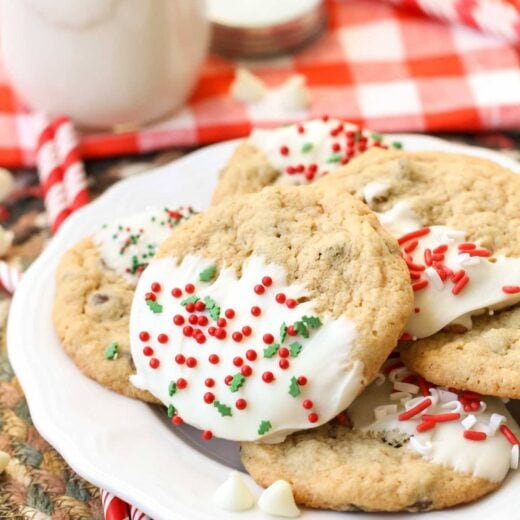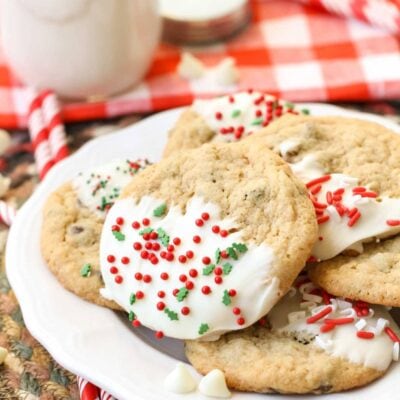 My Christmas Chocolate Chip Cookies are so simple (perfect for the kiddos to help with). They are a holiday favorite!!
Ingredients
Betty Crocker™ chocolate chip cookie mix (1 lb. 1.5 oz)

1/2

cup

butter

1

egg

1

package

vanilla candy coating

holiday sprinkles
Instructions
Make cookies as directed on pouch. Let cool completely.

Pour your vanilla candy coating (or white chocolate chips) into a small pot. Heat on LOW temp by stirring with a rubber spatula constantly until all melted and smooth.

Dip cookies halfway into melted white chocolate mixture and place on parchment paper. Sprinkle with holiday sprinkles. Let sit for 1-2 hours until firm.
If you are looking for even more great recipes to try out with your kids this holiday season be sure to check out BettyCrocker.com. It's the one-stop-shop for Holiday inspiration and guidance and has loads of holiday cookie decorating ideas. You can even go to the Christmas Cookies with Kids section, which is where I found the recipe above.
Again, for more great holiday recipes head to BettyCrocker.com and to the Christmas Cookies with Kids section. I know we'll be on there several more times in the coming month!!
ENJOY!
This is a sponsored conversation written by me on behalf of Betty Crocker. The opinions and text are all mine.