Whether you need a treat in a flash, or your cupboards are running bare, these Easy Cookie Recipes are perfect for you! Tasty, delicious, and easy…what more could you want?!
More Collections: Cookie Bar Recipes , No Bake Cookie Recipes, Sugar Cookie Ideas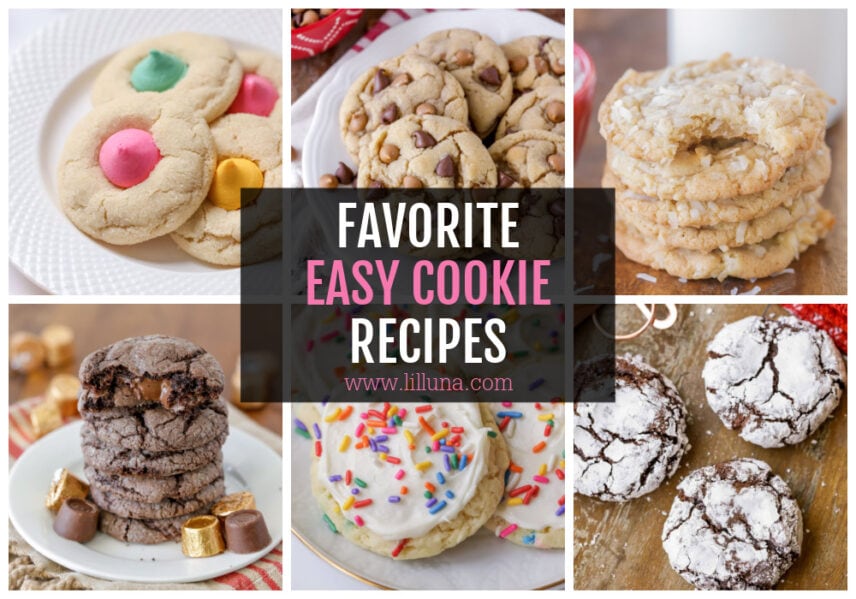 Easy is our fav!
Cookies are always a good idea, especially when they whip up in less than 20 minutes!
We absolutely LOVE having Easy Cookie Recipes handy, because they're a go-to treat in our home. Today, we are rounding up the best of the best Easy Cookies, and we hope you enjoy them.
There are so many flavor varieties and they taste great with cold milk, or Ice Cream smooshed in the middle (please tell me you've tried that).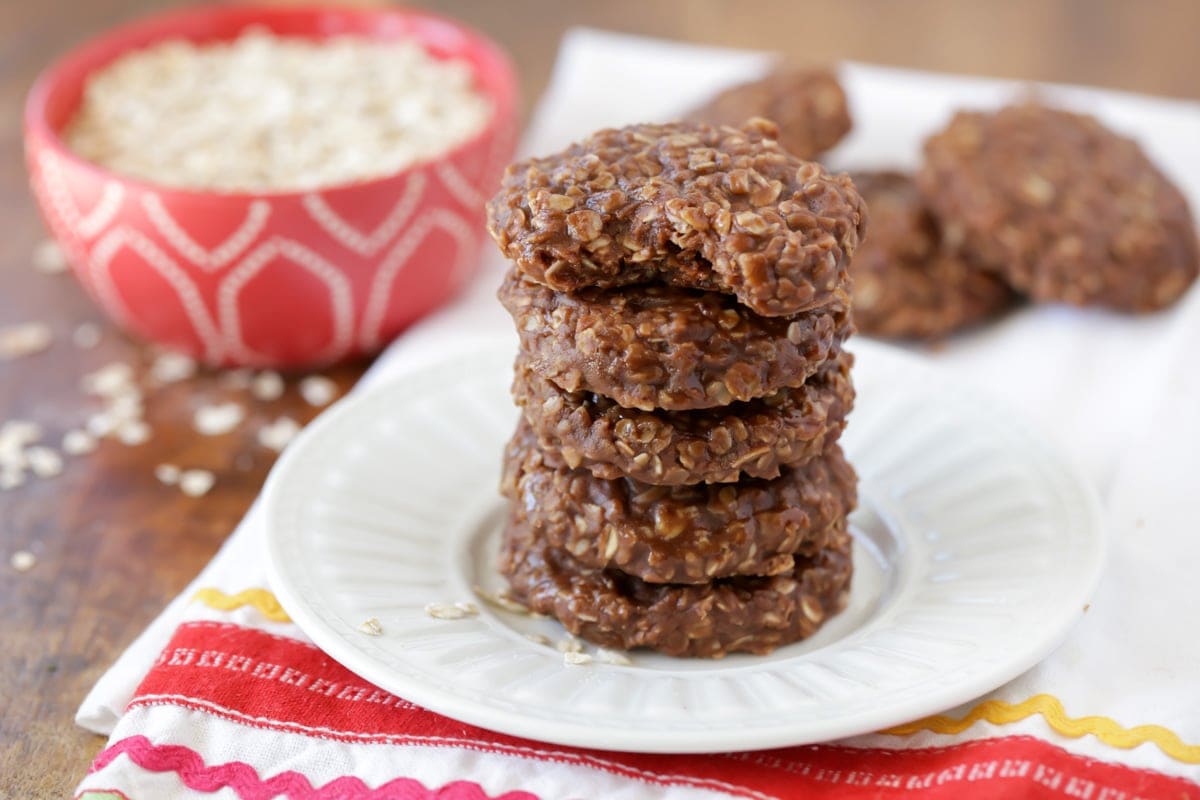 Main types of cookies
These six cookies are the base of pretty much every cookie:
Drop cookies use a cookie scoop to drop dough directly on the pan to bake. A great example is the traditional Chocolate Chip Cookie.
Molded cookies. The dough is rolled into a ball and then placed on the cookie pan. Sometimes they are coated like Snickerdoodles, other times you can flatten them as you do for Peanut Butter Cookies.
No bake cookies. A mixture is usually heated in the microwave or stovetop and then added to stable ingredients, often oats. You scoop and let them set, no baking required.
Rolled cookies. Roll out the dough and stamp out or cut it into shapes. Think classic Sugar Cookies.
Slice and bake. The dough for these cookies is rolled into a log, wrapped, and placed in the fridge. When you're ready, you slice the log into cookie dough rounds and then bake.
Pressed cookies. Squeeze the dough through a special cookie press, which creates both simple and intricate designs in the dough. Spritz cookies are a good example.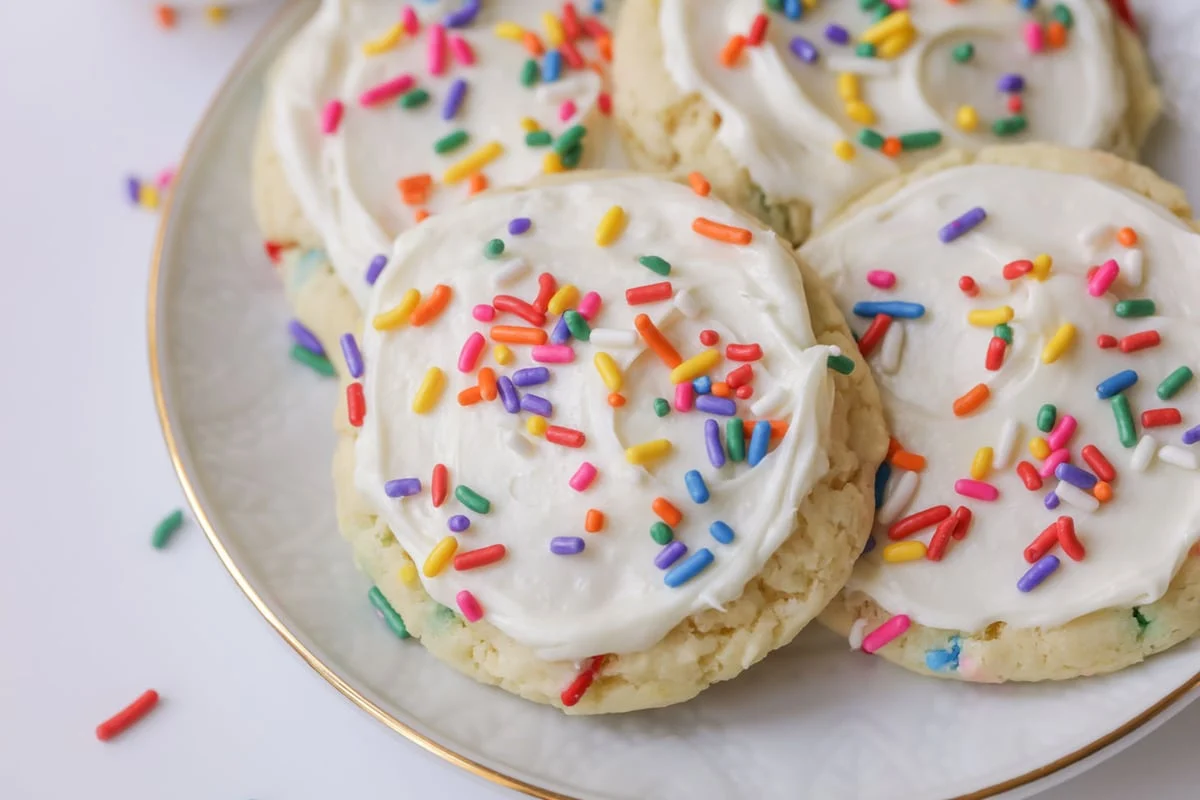 ingredient Substitutions
Common Ingredients: One thing I particularly like about most cookie recipes is that they use ingredients that I always have on hand. Some cookie recipes have a lot of ingredients, others only require a few.
Many times an ingredient I don't have on hand is one that is easily substituted with something else that I do have. Some common cookie substitutes include:
Mix-ins. Include things like chocolate chips, chipped candies, chopped nuts, and sprinkles. These can often be added/substituted without it affecting the dough.
Brown Sugar. Not often, but sometimes I find I don't have enough for a recipe that I've already started. Thankfully, I can quickly make some light brown sugar by thoroughly combining 1 cup of white sugar with 1 teaspoon of molasses. Use 2 teaspoons molasses for dark brown sugar.
Baking Powder is made by mixing ¼ teaspoon baking soda + ½ teaspoon cream of tartar + ¼ teaspoon cornstarch.
Baking Soda. ½ teaspoon baking soda = 2 teaspoon baking powder.
1 egg can be replaced with ¼ cup of applesauce.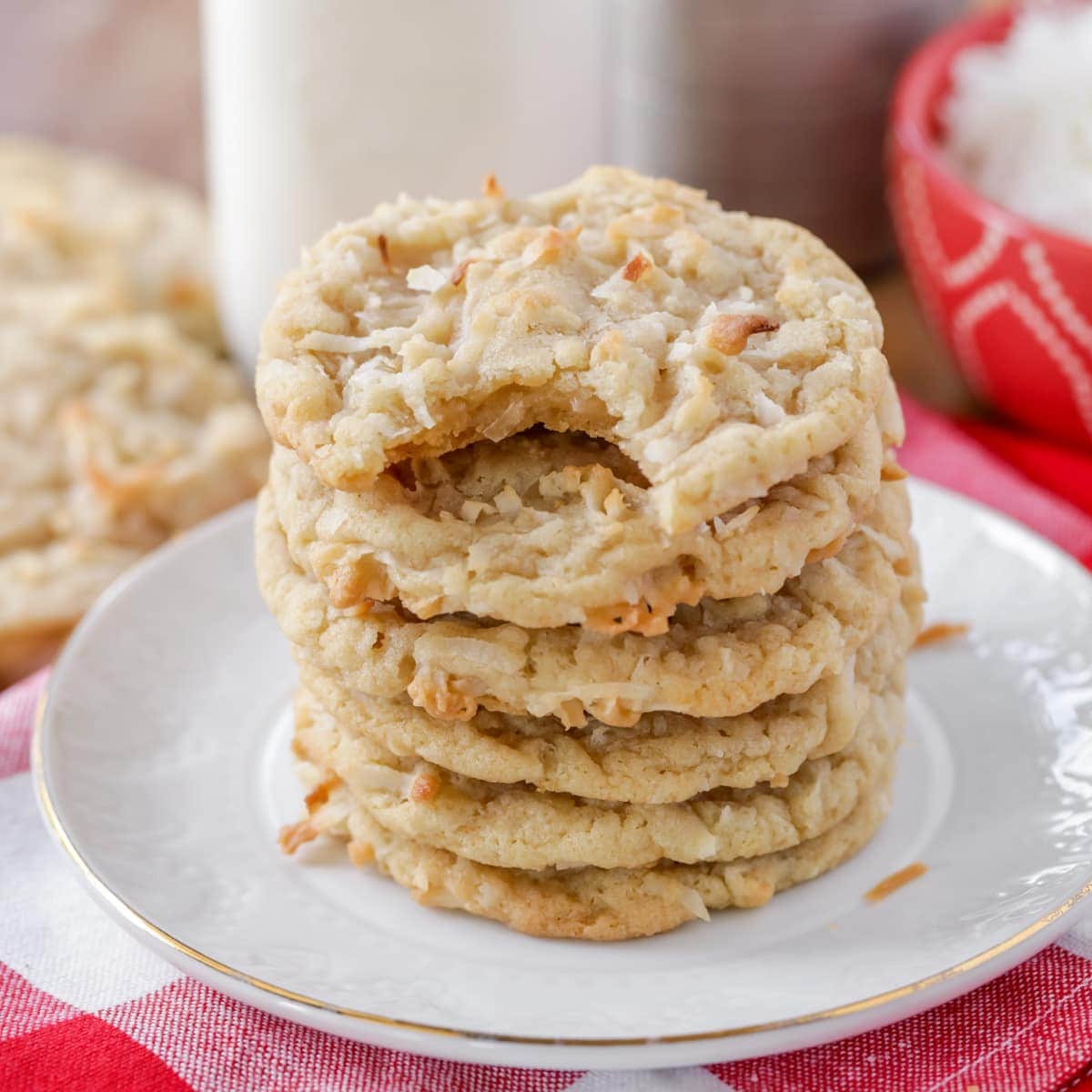 Cookie Tips
Sometimes a cookie recipe will have special instructions, so read through the recipe and take notes. For the most part, cookies will benefit from the following tips:
Do not overmix. Overmixing can cause a tough cookie. Mixing the wet ingredients and dry ingredients in separate bowls, then combining them together will produce the best texture.
Storing cookies. Placing a piece of white bread into the airtight container with the cookies can help keep cookies softer longer.
Cool on the pan. Take cookies out of the oven just as they look like they're done, even if the center may seem a bit underdone. Let the cookies cool on the baking sheet for 2-3 minutes so that they can cook a bit longer and reach the perfect cook before you transfer them to a wire rack.
Chewy or crunchy. Increasing the brown sugar will result in a chewier cookie. Increasing the white sugar will produce a crunchier cookie.
Picture perfect. When I am mixing anything into the dough, I will always add 4-5 candies, nuts, chocolate chips, etc. on top of the dough balls right before baking. As the dough cooks, the toppings will naturally spread out and sit beautifully on top of the cookie.
Flash freeze. This is a method that calls for you to shape the dough, typically into balls, place them on a baking sheet, and then into the freezer. Once the dough is solid, transfer them all to a freezer-safe storage container to be baked later.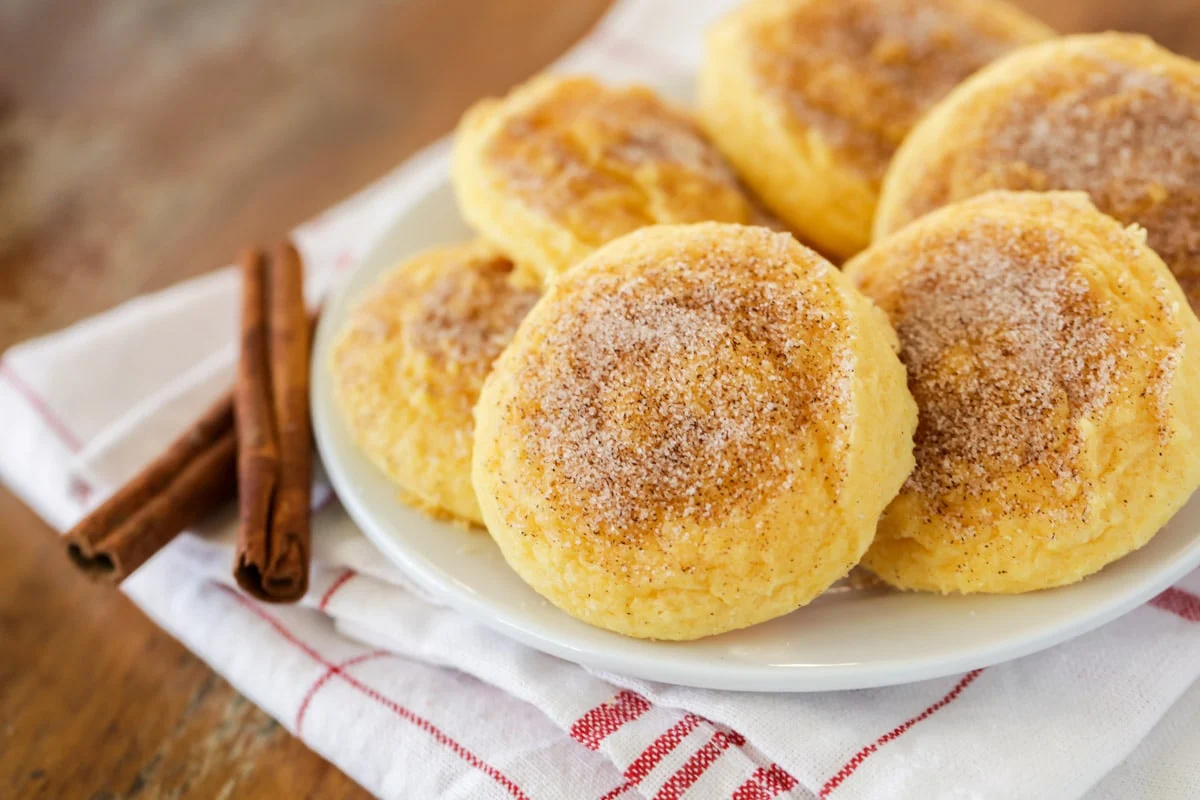 Cake Mix Cookies 101
When making these cookies, only use the dry cake mix that is in the box plus the ingredients listed in the recipe. DO NOT include the wet ingredients listed on the back of the cake mix box.
A couple of notes about cake mix cookies:
Cake mix size. The most common size of cake mix at my grocery store is 15.25 oz. However, I have used slightly larger mixes that have turned out just fine – 1 oz is only about 4 tablespoons of cake mix.
The dough will be sticky. Chilling the dough for 20-30 minutes before scooping it will help. Chilling also helps the cookies from spreading out too thin.
Don't overbake. In fact, take them out just as they are on the cusp of being underdone. They will finish baking as they cool on the hot baking sheet.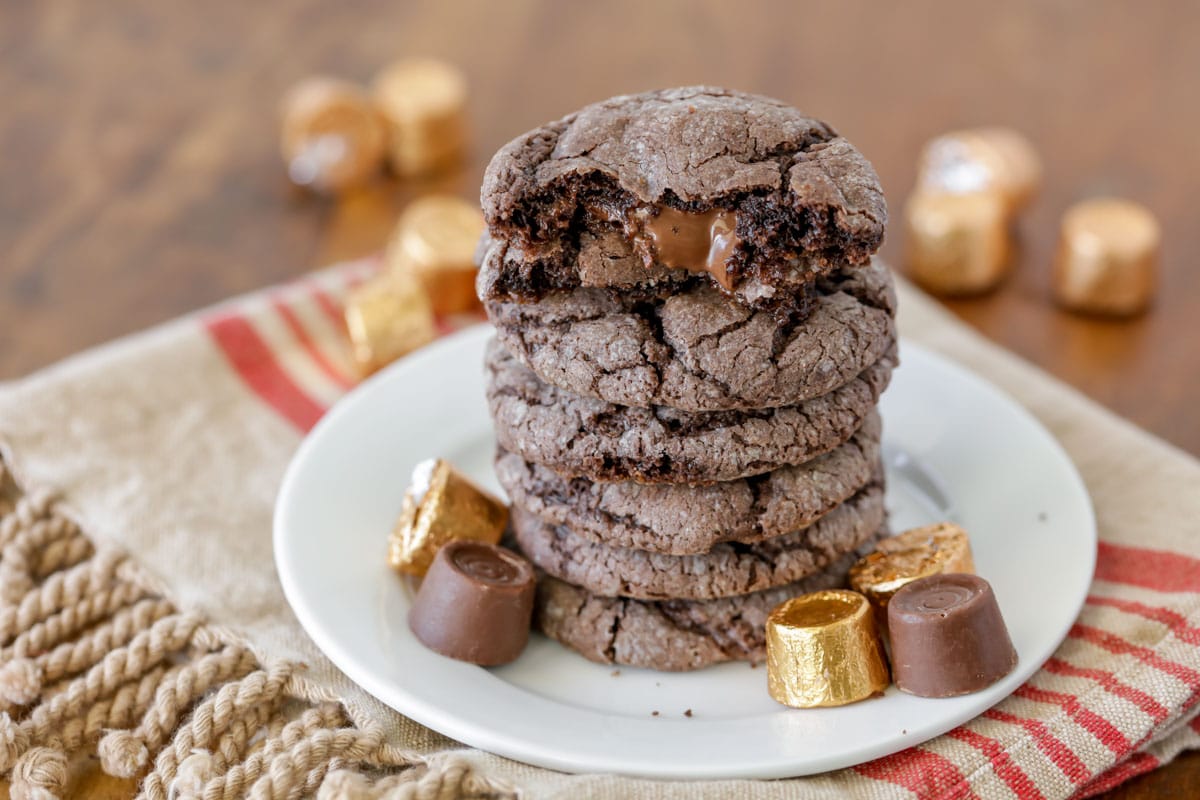 Quicker and Easier
Double up on cookie sheets! Though a few of the recipes listed call for a short chill time, most of them are make and bake. To make the process even quicker, have two cookie sheets. While one is baking fill up a second sheet.
Softening butter. One element that can hinder how long it takes to whip up a batch of cookies is softening the butter. Refer to our post How to Soften Butter Quickly for ideas.
Make ahead of time. Probably one of the best things I love about cookies is that, often, the dough can be made ahead of time and frozen for later. When you need a quick treat for unexpected guests or a late-night craving hits, all you have to do is pull out a few cookie dough balls and bake them.
Almost all of these easy cookie recipes can be formed into dough balls and frozen for later. See individual posts for more information.
---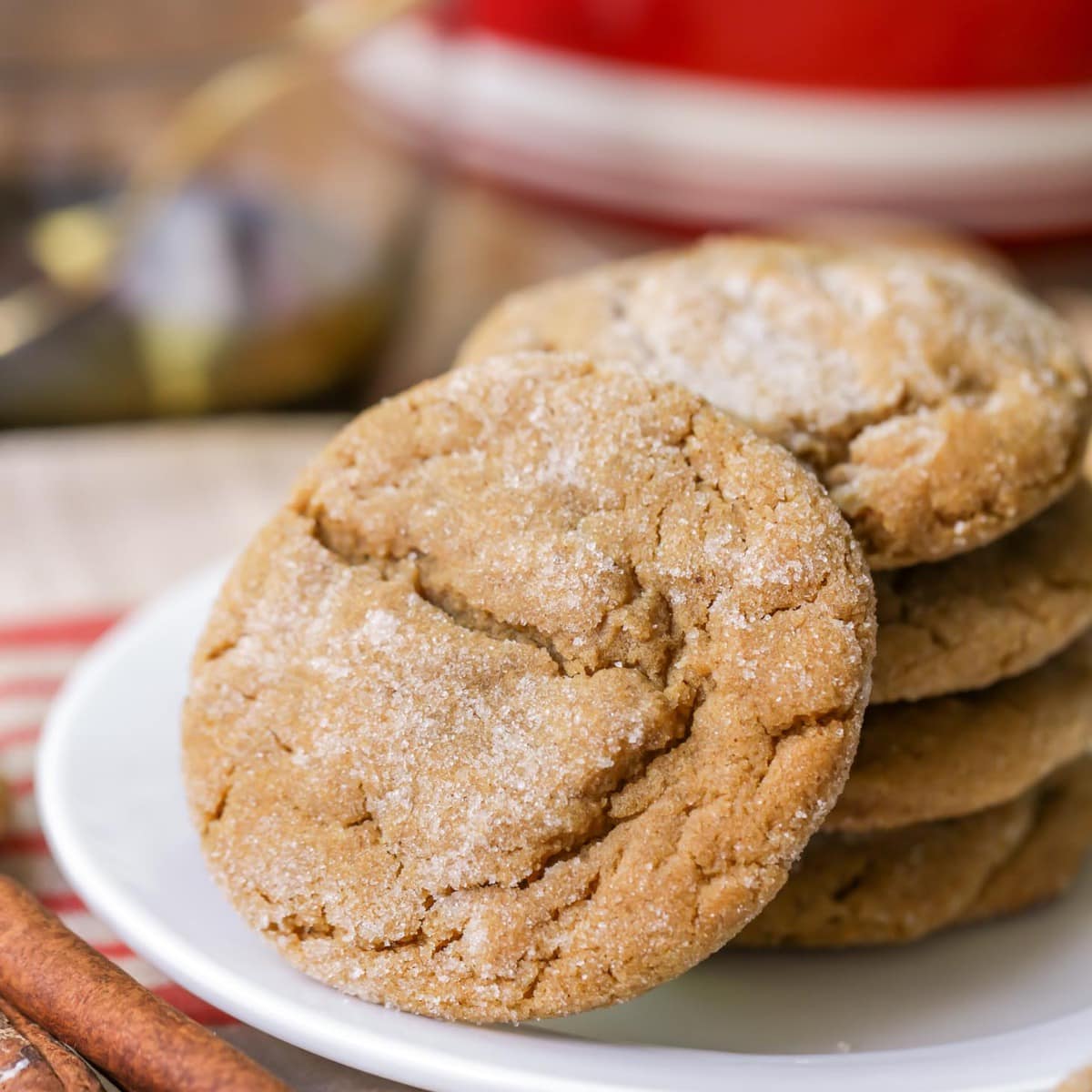 Easy Cookies
These cookies fall under "easy" because they're nice and quick! Most of them are ready in 15 minutes. SWEET!
Ginger Snap Cookies – Super soft and chewy Gingersnap Cookies – Nutmeg, molasses, ginger, cloves, cinnamon, and applesauce make these cookies so soft tasty!!
Avalanche Cookies – Crispy crunchy cookies filled with peanut butter, marshmallows, and chocolate chips! These are no-bake and such a fun recipe to try with kids.
Lemon Cake Mix Cookies – Soft and Simple Lemon Cookies are a favorite with everyone. The butter, cream cheese and powdered sugar in this Lemon Cake Mix Cookie make them totally melt in your mouth!
Butterscotch Cornflake Cookies – The kids LOVE making these No Bake Butterscotch Cookies – they're simple, quick and yummy! Cornflakes mixed with melted peanut butter, chocolate chips, and butterscotch chips.
Eggless Chocolate Chip Cookies – Your favorite chocolate chip cookies without eggs! This is a great cookie recipe for those with egg allergies! And yes – that means the cookie dough is egg-free. 😉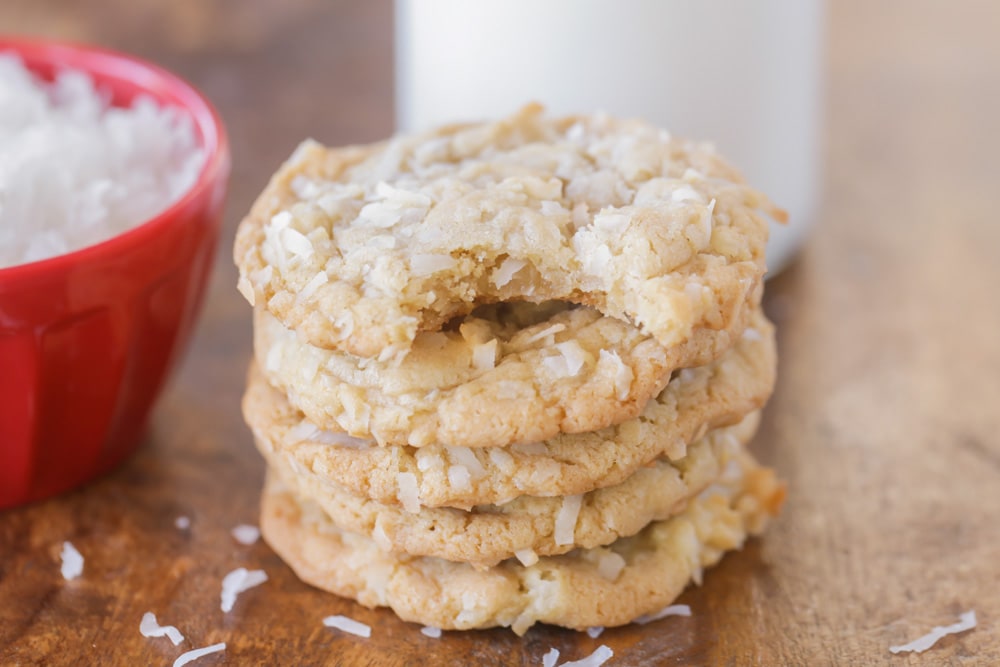 Coconut Cookies – Perfectly chewy coconut cookies make the perfect sweet treat when you want something light. With a tasty tropical twist, these delish bites are done in under 30 minutes!
Mini Peanut Butter Cookies – Easy mini peanut butter cookies are soft and delicious. They are bursting with the chocolate and PB combo everyone loves!
Soft Peanut Butter Cookies – EASY, delicious, and SOFT Peanut Butter Cookies – our family's all-time favorite version of this classic cookie that always gets rave reviews!
Crinkles Cookies – Deliciously fudgy, chocolate Crinkle Cookies are soft and chewy. They are dipped in powdered sugar and baked to perfection!
Best Chocolate Chip Cookies – Our all-time FAVORITE Chocolate Chip Cookies recipe! These soft, chewy and delicious chocolate chip cookies are perfect for any occasion and truly knock the socks off of anyone who tries them.
Chocolate Cake Mix Cookies – Chocolate Cake Mix Cookies take a shortcut on ingredients but not on flavor! They are packed with chocolate flavor.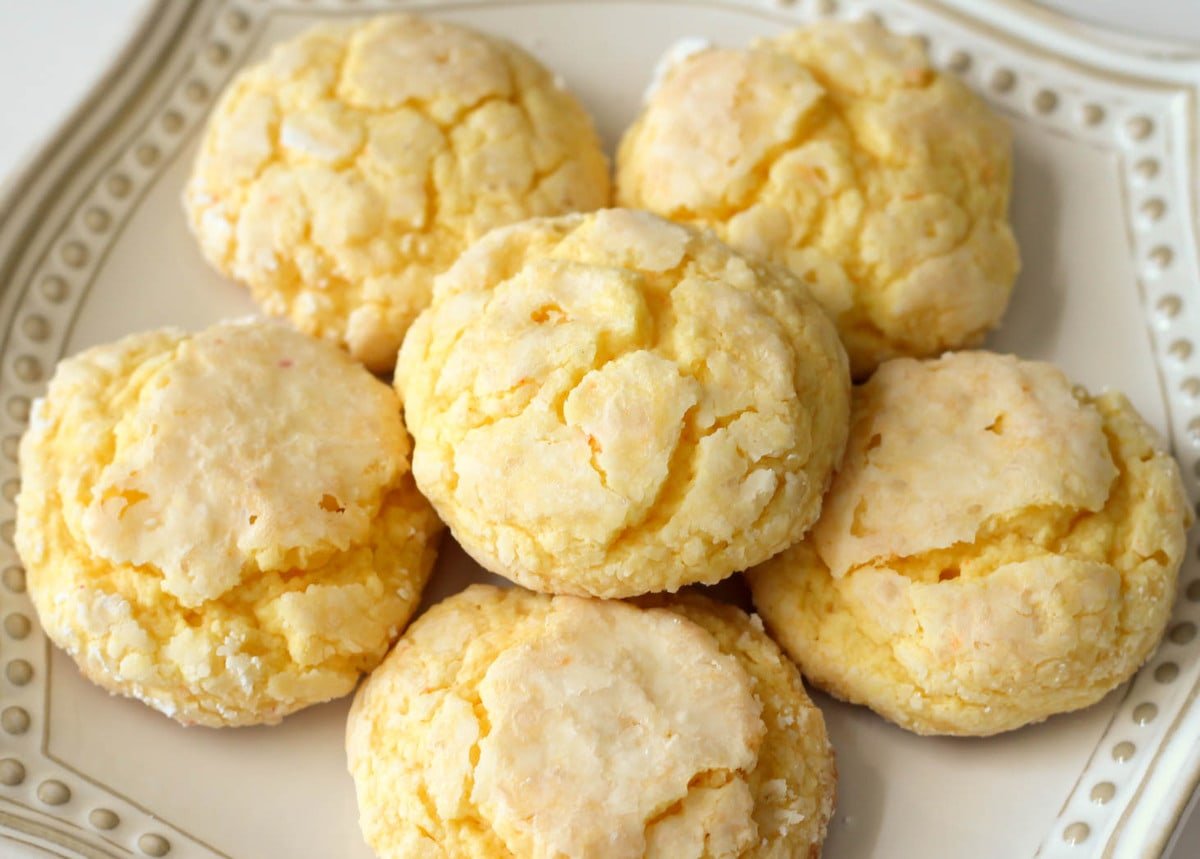 Gooey Butter Cookies – Whether you call them butter cookies or cake mix cookies, you know they are ultra yummy! These cookies are made with a yellow cake mix, butter, cream cheese, and a few additional ingredients. They are so gooey, chewy, and moist – it's impossible to resist them!
Black And White Chippers – Tiny black and white chippers taste just like the chippers from Paradise Bakery. They are FILLED with chocolate!!
Frosted Lemon Cookies – Easy frosted lemon cake mix cookies are topped with a delicious lemon frosting. They come together in minutes and taste delish!
Peanut Butter Chocolate Chip Cookies – Soft peanut butter chocolate chip cookies truly knock the socks off of anyone who tries them. They are out of this world!!
Chocolate Marshmallow Cookies – Chocolate Marshmallow Cookies are soft, chocolate cookies topped with a marshmallow and delicious chocolate frosting.
Pizookie – The original Pizookie cookie pie is utterly irresistible! Ooey, gooey and warm cookie topped with vanilla ice cream makes a perfect dessert.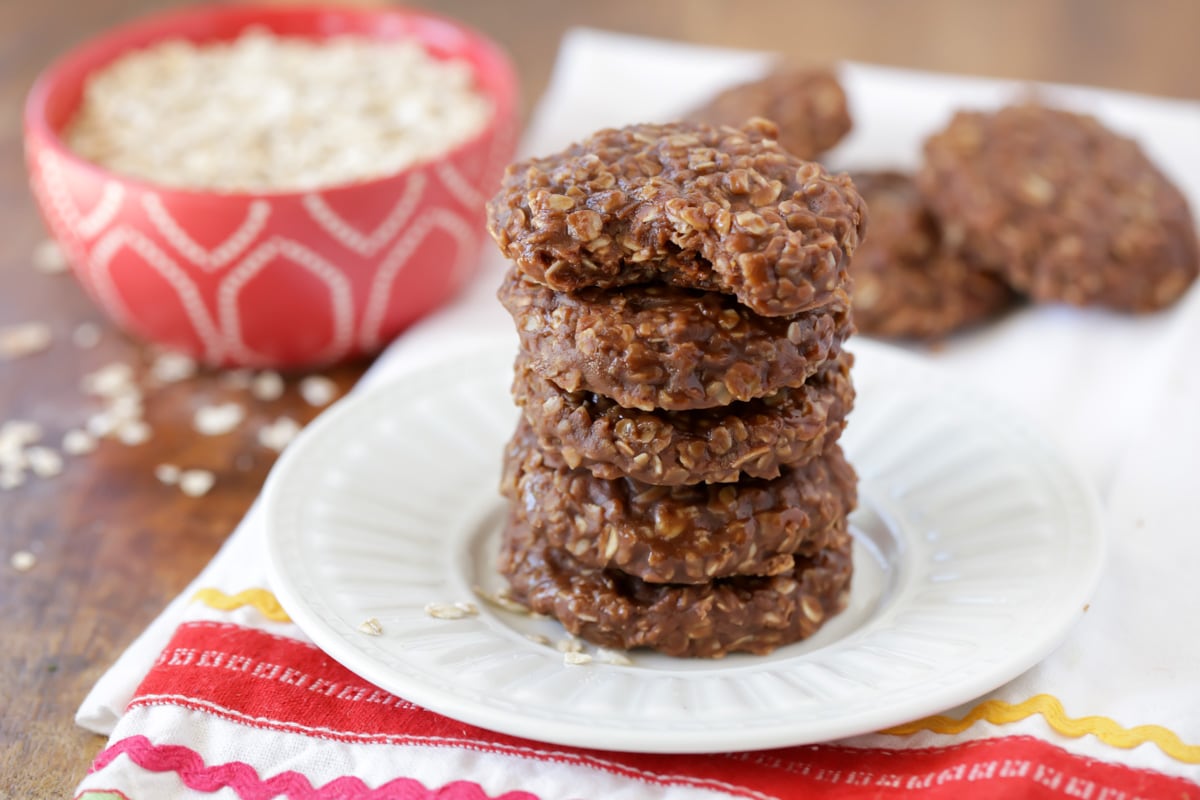 No Bake Cookies – Deliciously chewy No Bake Cookies are made in minutes! These simple, yummy cookies will become a go-to treat.
Gooey Monster Cookies – Fun, bright and festive cake mix cookies are all dressed up to look like monsters. Gooey monster cookies are great all year long!!
Cake Mix Snickerdoodles – Create your favorite cookie in a pinch using a cake mix! Chewy cake mix Snickerdoodles are quick, easy & delicious.
Funfetti Cookies – Soft and chewy Funfetti Cookies are quick, simple and a kid-favorite! They are the perfect little treat to satisfy your sweet tooth.
Andes Mint Cookies – Andes mint cookies are chocolate and mint perfection. The best part is they are crazy quick & easy to make!!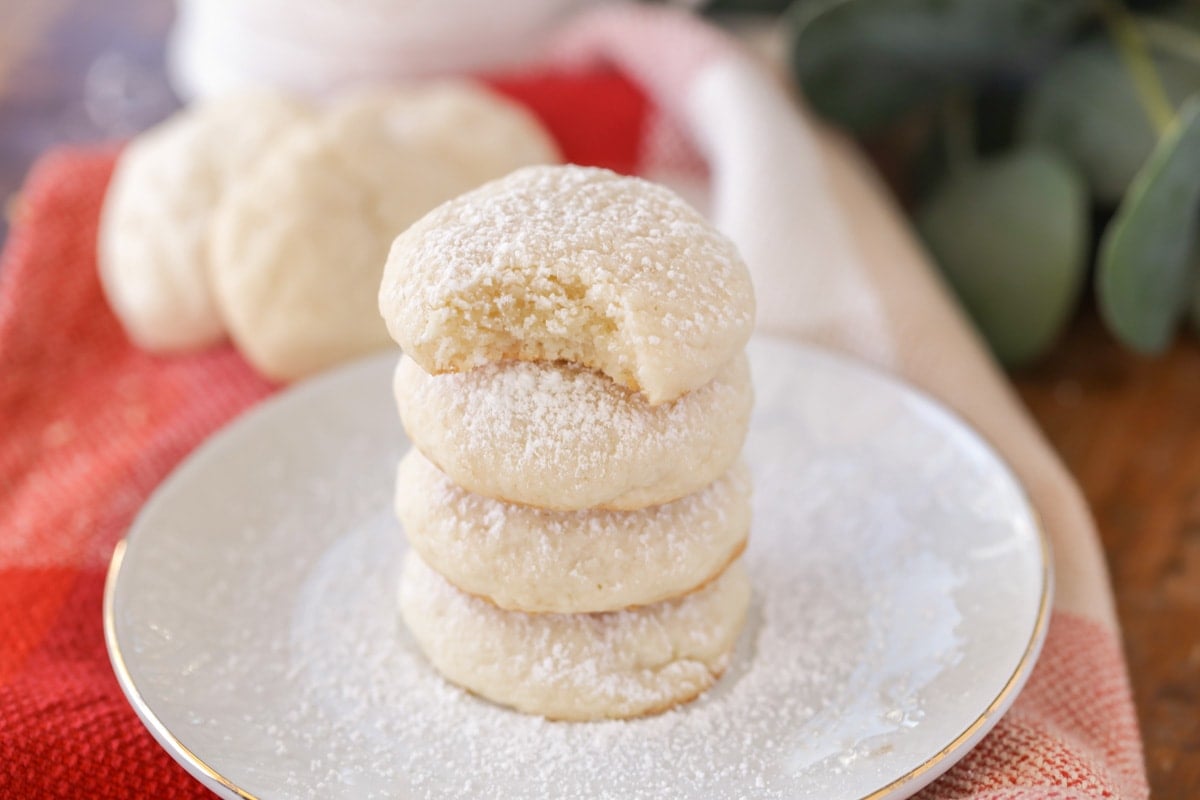 Easy CookieS with Few ingredients
All of these Cookie Recipes have fewer than 8 ingredients, but some have as little as 3. And most ingredients are pantry staples – doesn't get much easier than that!
Cream Cheese Cookies – Cream cheese cookies are soft and delicate. These sweet morsels will be ready for eating in just over 20 minutes!
Spritz Cookies – Spritz cookies are buttery and sweet pressed cookies. They are festive and so fun to make, with all kinds of shapes!
Pumpkin Cake Cookies – These are the easiest, softest, chewiest Pumpkin Cookies!! All it takes is a box of pumpkin cake mix, cream cheese, butter, eggs & powdered sugar.
Gooey Rolo Cookies – Ooey Gooey Chocolate Rolo Cookies are soft and indulgent, filled with a caramel Rolo center! They are quick, easy, & Chocolatey!
Sugar Cookie Blossoms – Sugar Cookie Blossoms are a chewy, soft sugar cookie rolled in sugar and topped with a Mint Meltaway candy. They're simple and delicious!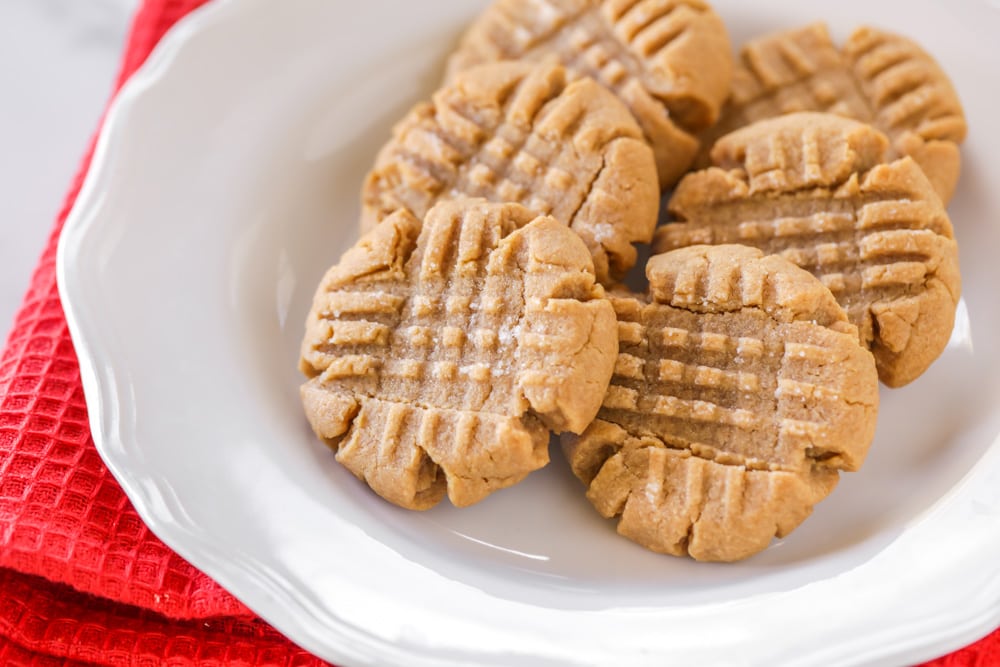 3 Ingredient Peanut Butter Cookies – Quick, easy and delicious 3 Ingredient Peanut Butter Cookies. They take just minutes to throw together and are so easy the kids can make them!
Shortbread Cookies – What's not to love about these delicious and buttery shortbread cookies that just melt in your mouth? It only takes a small handful of common ingredients!
Chocolate Chip Cookie Bites – Chewy chocolate chip cookies bites are mini, but pack a flavor punch! They are filled with creamy chocolate for the perfect bite.
Easy Shortbread Cookies – These easy Shortbread Cookies only have three ingredients, and require just a few minutes of prep time. You will love how they melt in your mouth!
3 Ingredient Sugar Cookies – Quick, easy and delicious sugar cookies made with just 3 ingredients – butter, sugar and flour.
Strawberry Cake Mix Cookies – Strawberry Cake Mix Cookies use 5 ingredients to make one chewy, delicious cookie! They are a favorite go-to cookie.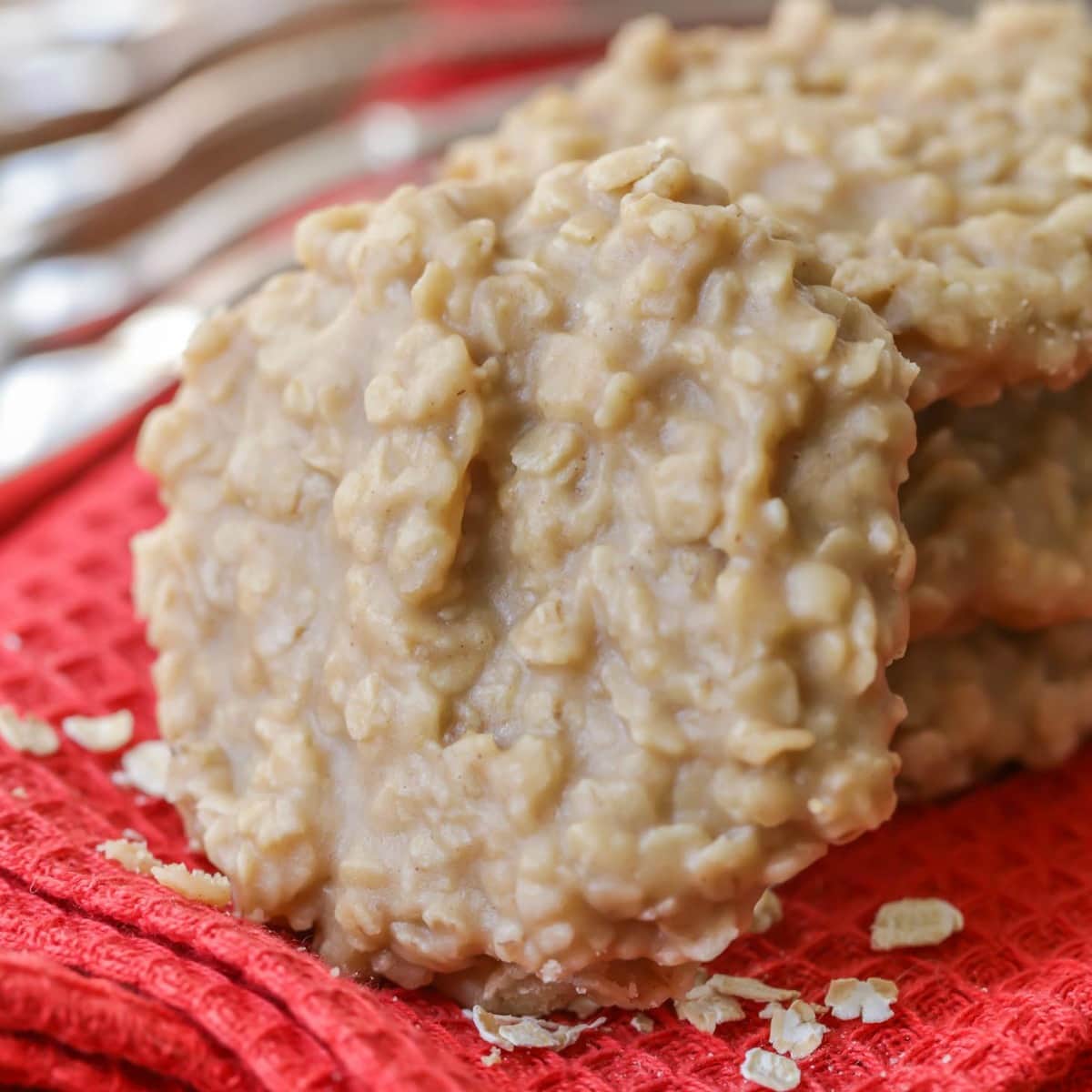 Peanut Butter No Bake Cookies – Peanut Butter No Bake Cookies combine two cookie classics – No Bake Cookies + Peanut Butter Cookies. The combo of the two make a delicious, simple cookie recipe that is perfect for anyone who loves peanut butter treats.
Snowball Cookies – Buttery soft snowball cookies loaded with crunchy pecans. Not only are they simple, but they're also the best holiday cookie in the world!
Flourless Chocolate Cookies – Flourless chocolate cookies are fudgy, chewy, and naturally gluten free. A mix between a cookie and brownie for chocolate lover perfection!!
Haystack Cookies – 4 ingredient Haystack Cookies whip up in minutes for a quick and easy peanut butter no bake treat that will be gone in minutes!!
Meringue Cookies – These easy 5-ingredient Meringue Cookies are lots of fun to make! Get your kids involved in making these sweet treats.
---
the complete list
Here are the picture cards for all of the fantastic Easy Cookie Recipes listed above.
With so many delicious recipes that are so easy to make you'll want to try them all!
Be sure to check out all of our Cookie Recipes!
For more collections: Brownie Recipes, Easy Cake Recipes, Cupcake Recipes