Deliciously fudgy, chocolate Crinkle Cookies are soft and chewy. They are dipped in powdered sugar and baked to perfection!
It's impossible for chocolate lovers to turn down these sweet, chewy Crinkle Cookies. If you're a fan of chocolate, and love cookies, you also need to try our classic Chocolate Chip Cookies and No Bake Cookies.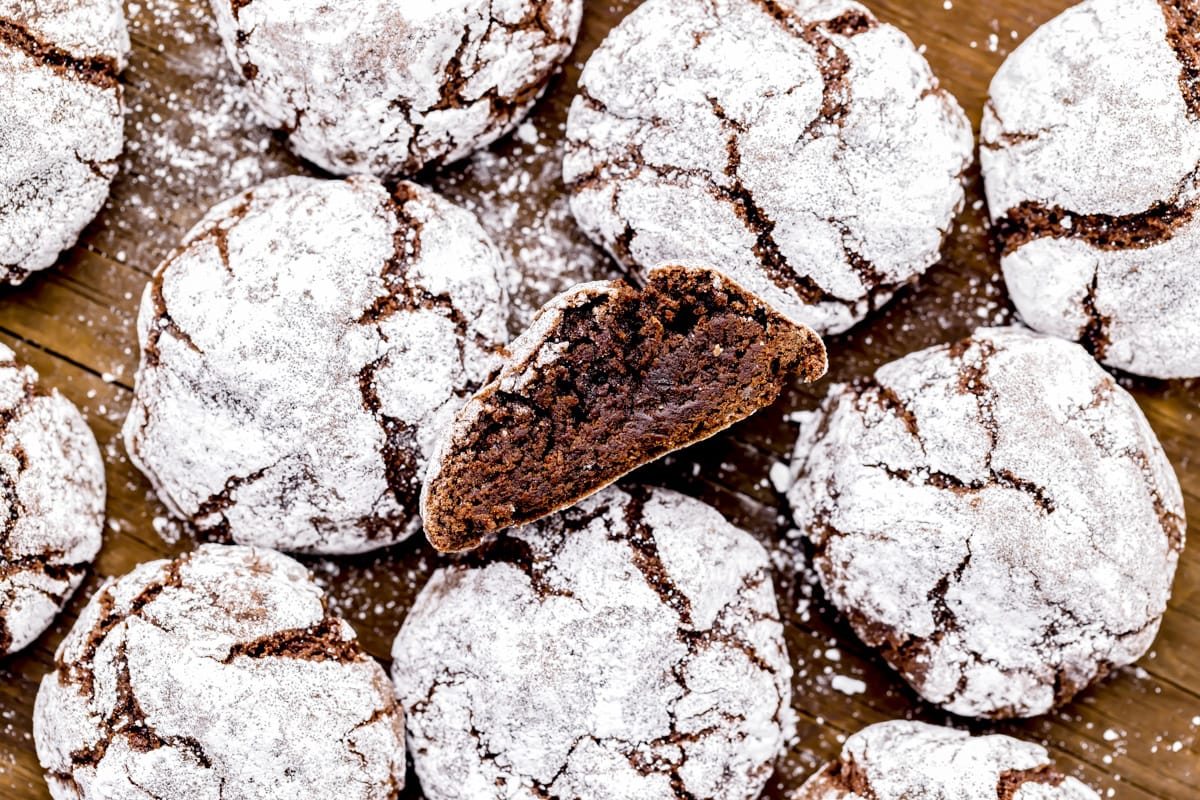 Crinkle Cookies
Have you ever had Chocolate Crinkles Cookies?! We've been making them since I was a kid, and they've become a classic cookie recipe in our home.
These cookies are also known as Earthquake Cookies, or even Chocolate Volcano Cookies, because of the cracked top. When they are baking, the cookie expands forming the cracks or crinkles, making them even more delicious in my opinion!
They're fudgy, soft, and dipped in powdered sugar, adding a sweetness that makes it hard to have just one. You may want to make a couple of batches!
Try them with a glass of milk, or fill two with vanilla ice cream for a cookie sandwich! For even more chocolate flavor, whisk in chocolate chips to add taste and texture.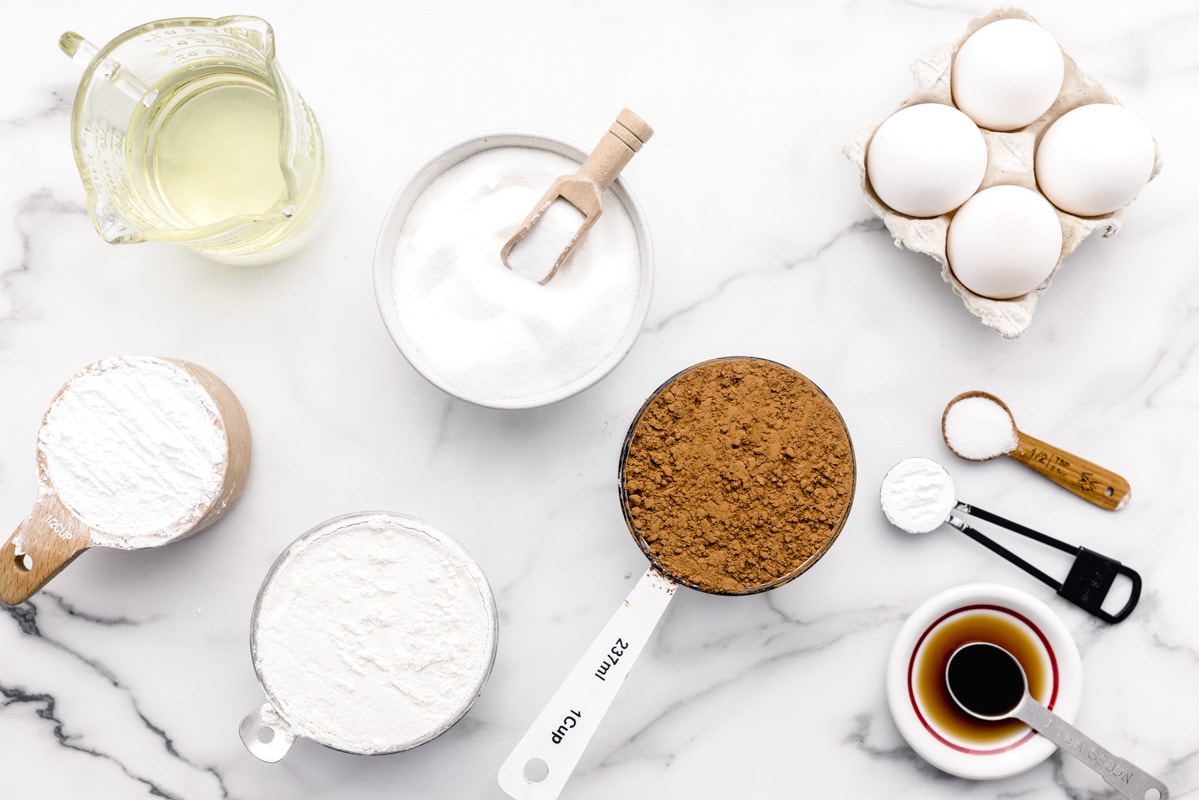 How to Make Chocolate Crinkles
This Chocolate Crinkle Cookie recipe requires a few simple steps. The result is a delicious, chewy chocolate cookie.
WET INGREDIENTS. Begin by combining the cocoa powder, sugar, and oil in a medium bowl. Add the eggs, one at a time, and beat until well combined. Stir in vanilla and set aside.
DRY INGREDIENTS. In a separate bowl, combine flour, baking powder, and salt. Add the dry ingredients to the wet ingredients, and mix until combined.
CHILL. Chill for 1 hour (if you're in a pinch, chill in freezer for at least 30 minutes).
PREP. Preheat oven to 350°F. Line baking sheet with parchment paper. This cookie dough is sticky, so using the parchment paper helps.
BAKE. Roll 1 inch – 1 ½ inch balls of dough into a bowl of powdered sugar. Roll to coat, and place on cookie sheet. Bake in the oven for about 10 minutes.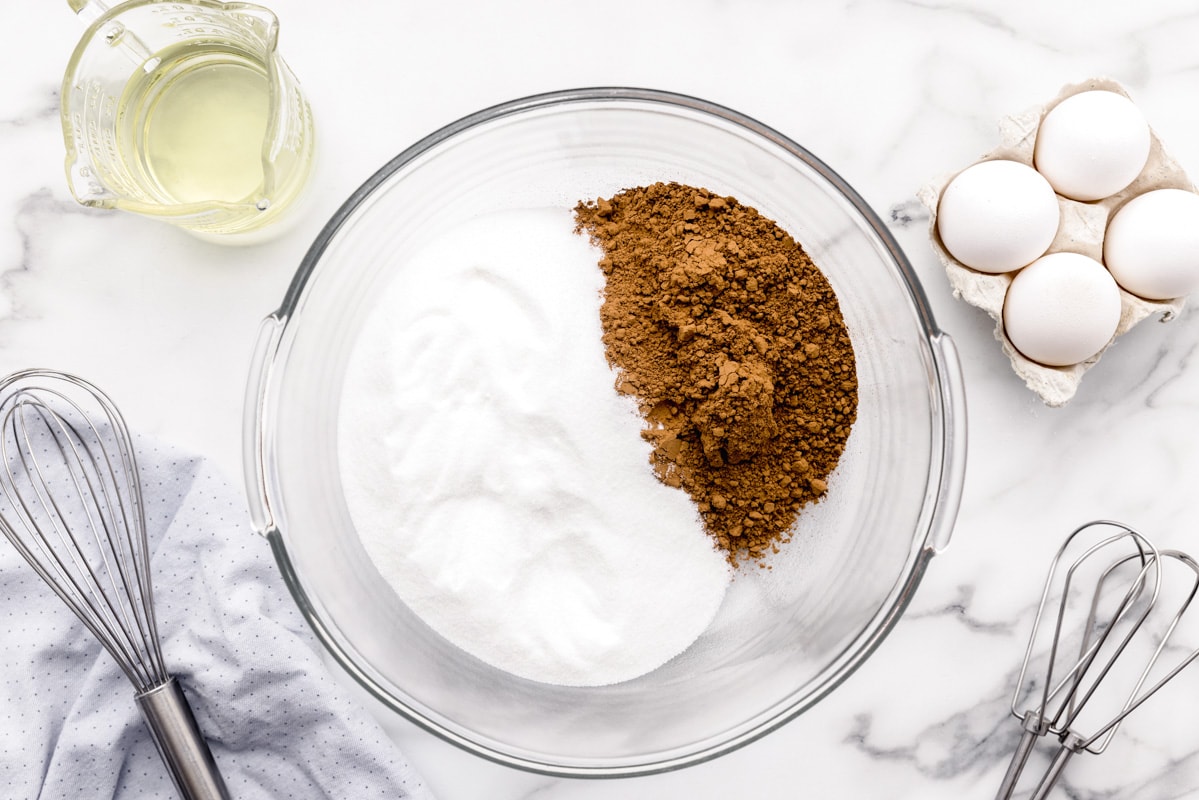 Perfect for Holidays
Every year, the women in my family have a Christmas cookie exchange. We each end up with several dozen different Christmas cookies and bars, which we then divide and deliver to friends and neighbors as a Holiday treat.
Each person usually has their own packaging style. Here are a few that we use:
wrap the cookie plate with plastic wrap, use cellophane to wrap the plate, and tie it with a ribbon
cookie boxes with the clear top
festive plastic boxes from the dollar store
brown lunch bag, folded and tied with ribbon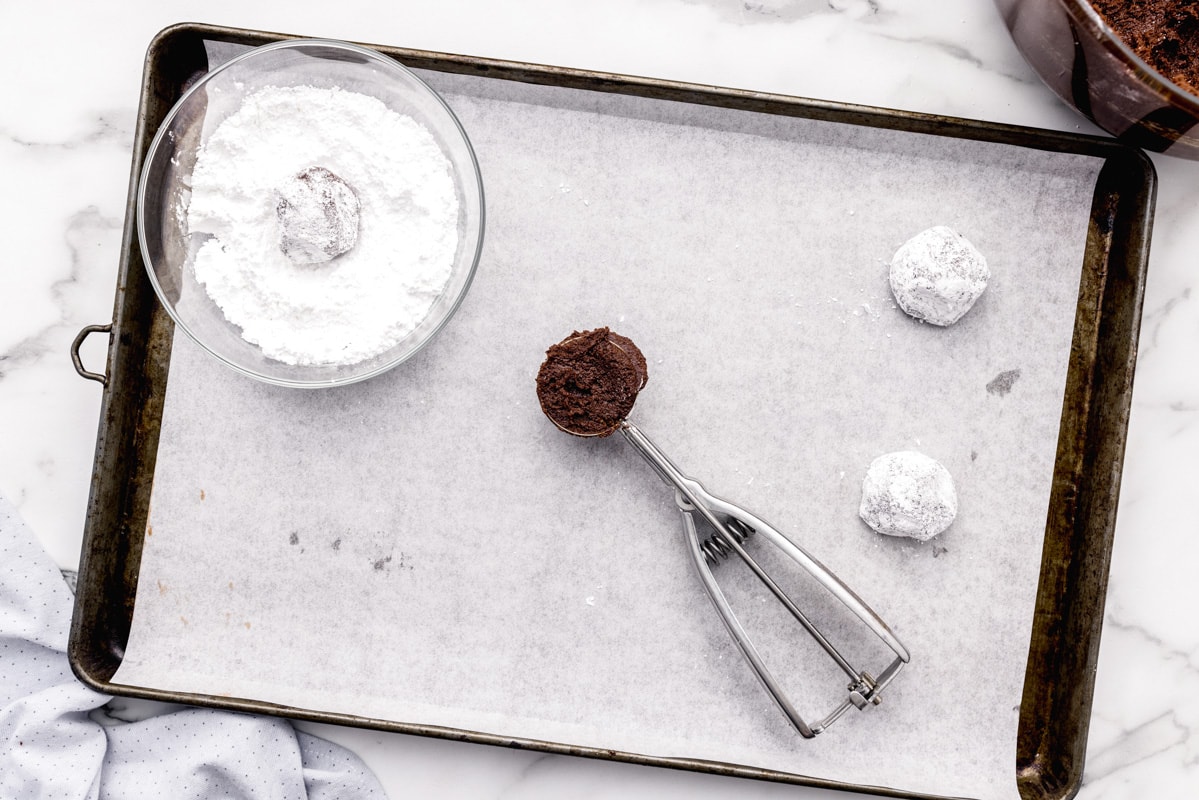 Recipe Tips
Chill the dough. This not only helps when it's time to shape the dough, but will ensure that the cookies don't spread out and flatten during the bake time.
Soft dough. The dough for these cookies are softer and stickier than typical cookie dough – similar to a very thick brownie batter.
Rolling balls. Use a cookie scoop to spoon out the dough, briefly roll the dough in your hands to form a nice ball, then roll in powdered sugar. You can also roll out all the dough balls, chill , then coat them all in powdered sugar.
Doneness. Chocolate cookies tend to be trickier to determine when they're done.
One indicator is cracks in the powdered sugar appear, and their glossy sheen will just have turned to a matte finish.
Since these are cakey cookies, try inserting a toothpick into the center to check for doneness.
Different ovens can bake differently, I suggest baking 1-2 test cookies to determine the best length of time for your oven.
Coating in powdered sugar. Sometimes the moisture from the cookie, or even from humidity in the air, can cause the powdered sugar to melt a little while being baked.
If this is a problem: lightly roll the cookie dough balls in granulated sugar first, then coat in a nice, generous layer of powdered sugar.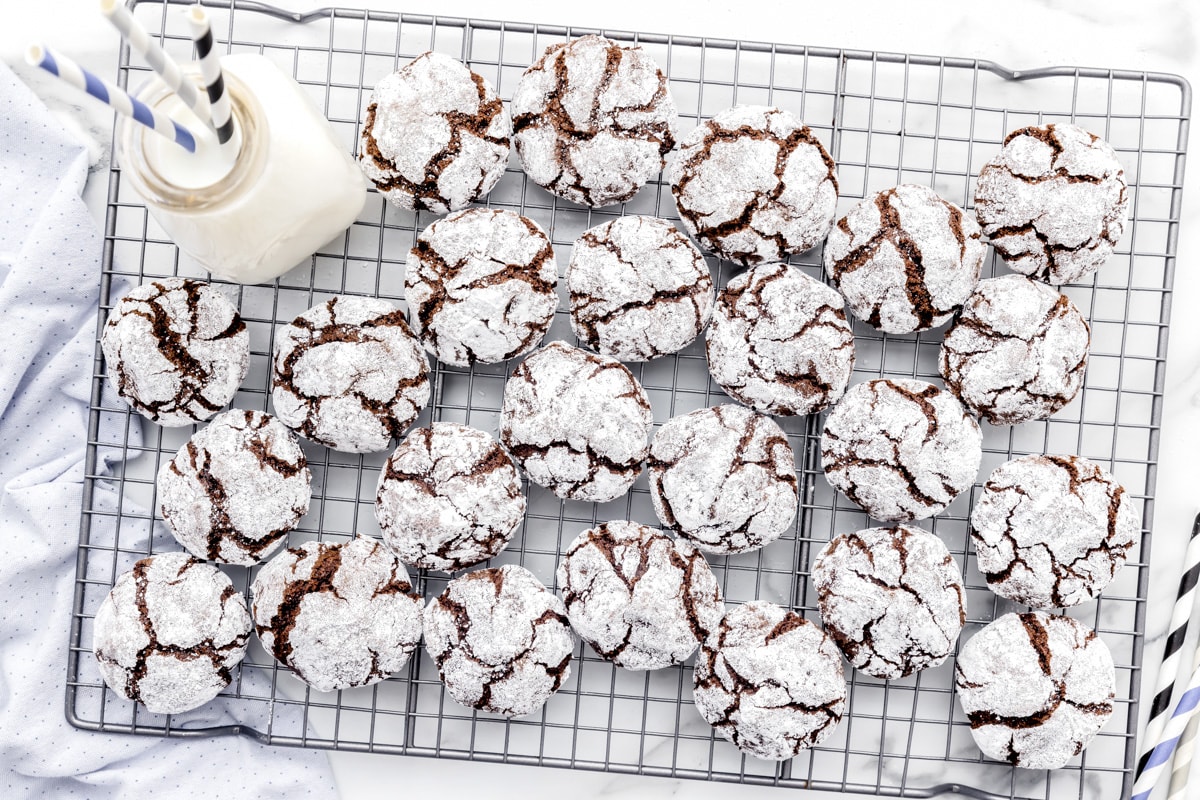 storing info
Before storing baked cookies, be sure to allow them to completely cool on a wire rack.
STORE. These cookies are chewy. If you want them to stay soft and chewy, we recommend storing them in an airtight container, at room temperature for up to 3-4 days. To help them stay soft, place a piece of bread in the container.
FREEZE. Stack the cooled cookies, separated by wax paper, in a freezer container or bag for up to 3 months.
FREEZE the dough. We recommend rolling them into balls, and placing on a cookie sheet to freeze. When firm, place in a container or freezer-safe bag. Freeze for up to 2 months.
To bake. Remove balls, let thaw for 30 minutes to an hour before rolling in powdered sugar and baking.
Make ahead of time. The dough can be made the day before. Wrap it in plastic wrap, and keep in the fridge until ready to form the dough balls, and coat with sugar.
You CANNOT go wrong making these cookies – they're so delicious and fudgy, and will be great for any chocolate lover.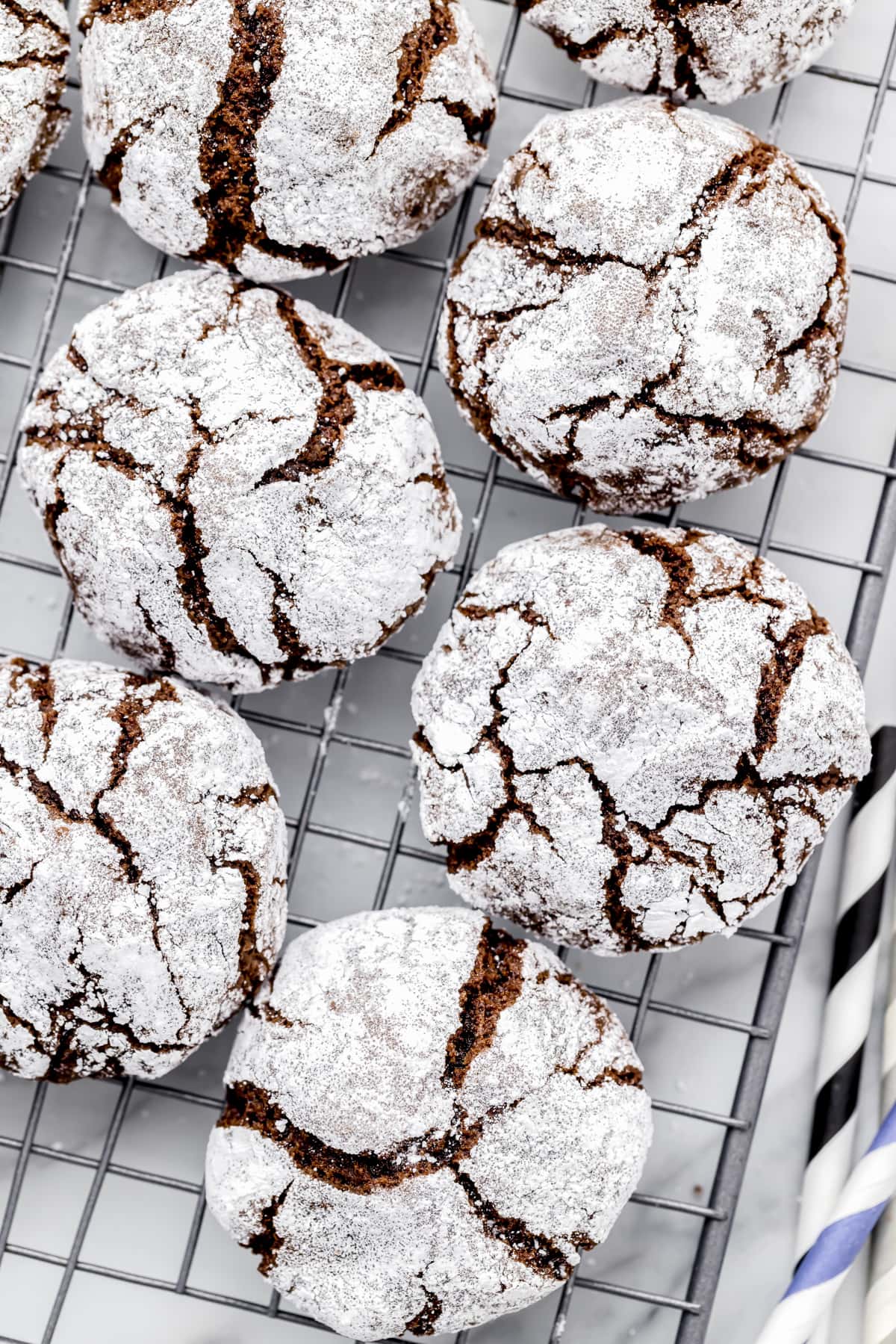 For more chocolate cookies, check out:
Crinkle Cookies Recipe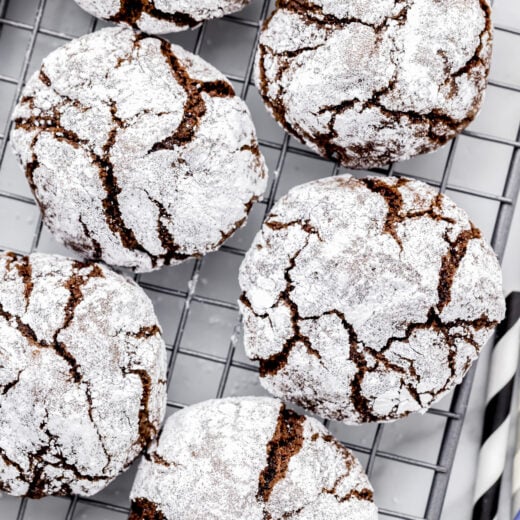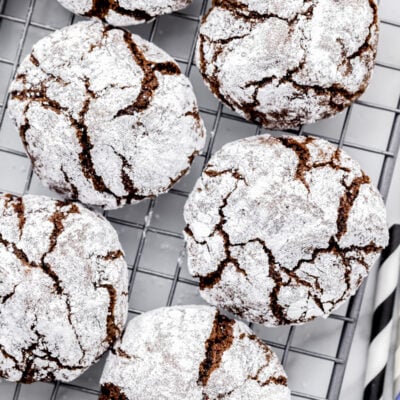 Deliciously fudgy, chocolate Crinkle Cookies are soft and chewy. They are dipped in powdered sugar and baked to perfection!
Instructions
In a medium bowl, combine granulated sugar, cocoa powder and oil and beat with a hand mixer on medium speed until mixed together.

Add eggs one at a time, beating until well combined after each addition. Stir in vanilla.

In a separate bowl, combine flour, baking powder and salt.

Add dry ingredients to the wet ingredients and stir until well combined. Chill for 1 hour.

Preheat the oven to 350 degrees F. Line a cookie sheet with parchment paper and set aside.

Place powdered sugar in a bowl. Scoop out and roll dough into 1-inch balls and roll in powdered sugar until well coated. Place on the prepared cookie sheet.

Bake for 9–11 minutes.

Let cookies sit on the cookie sheet for a few minutes, then remove to a rack to cool completely.
Notes
Make Ahead: Baked cookies can be stored in an airtight container for 3–4 days. Store dough in an airtight container in the refrigerator for up to 1 week before scooping, rolling and baking.