These Nutella Cookies are the most sinfully delicious chocolate cookies. Rolled in sugar and filled with rich chocolate hazelnut spread, these Nutella Stuffed cookies will become a new favorite in no time!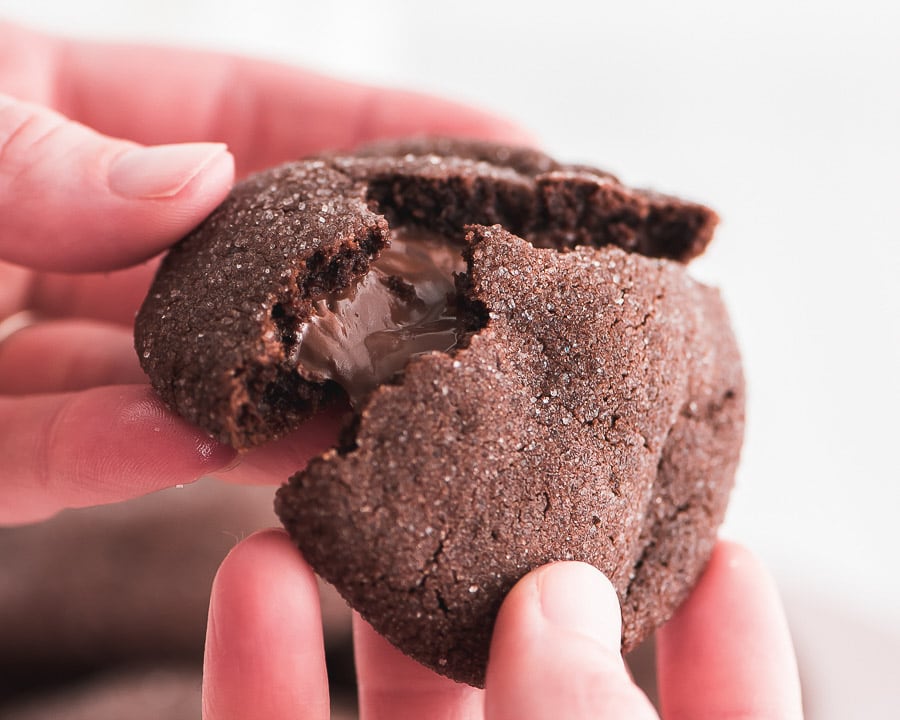 Nutella Stuffed Cookies
These aren't just any chocolate cookies, my friends. These babies are stuffed with that smooth and creamy, chocolaty nut butter that everyone (except those allergic to hazelnuts) is obsessed with. Yep, I filled these cookies with a whole 2 teaspoons of Nutella ready to ooze out after the first bite. I'm drooling just thinking about how good these were! And I'm speaking in past tense because they disappeared so fast it's disgusting. 😉
There is something so satisfying about the consistency of a cookie with something smooth and creamy on the inside. After making these nutella cookies, my mind just cannot stop thinking of all the things I could stuff into cookies. I've already made Cream Cheese Stuffed Cookies and Peanut Butter Stuffed Cookies, both of which are also flipping amazing. I'm think the next filled cookie needs to be caramel!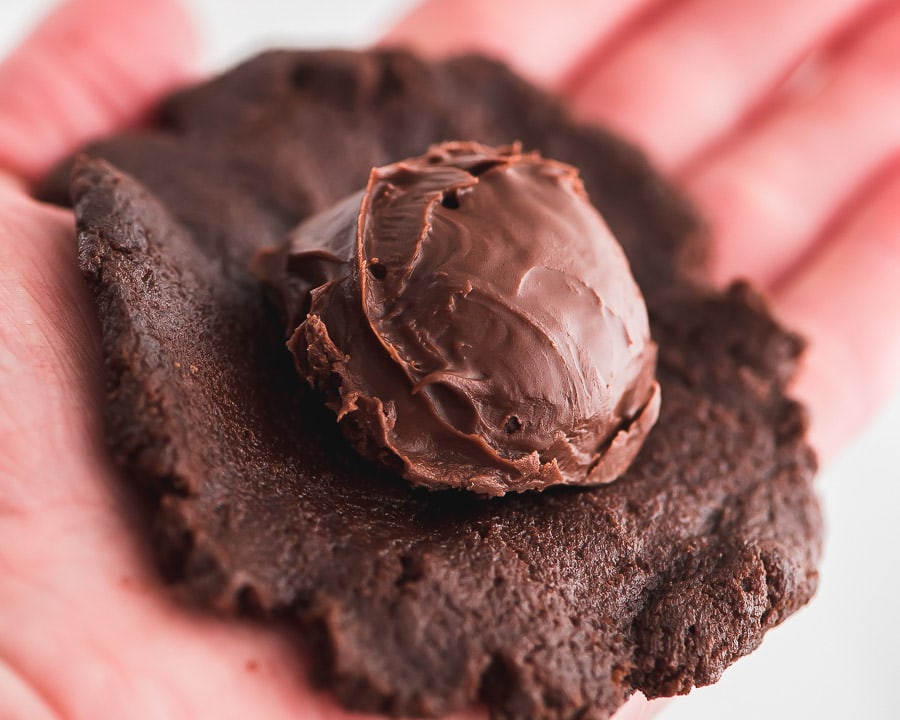 How to make Nutella Filled Cookies:
This recipe is very similar to my peanut butter version but I had to make a few adjustments since Nutella already tastes pretty sweet, and it's thinner than peanut butter.
So, the first thing you have to do is scoop the Nutella into rounds and freeze them. Unfortunately, this recipe does require some patience, as you'll also need to chill the dough so that it's easier to handle. But once the dough is firm, you can begin stuffing Nutella balls into the dough.
Take a ball of dough and flatten it between the palms of your hands. Then, place a firm ball of Nutella in the middle and bring up the sides of the dough so all the Nutella is surrounded. Give it a roll to smooth out the creases and then roll it in some granulated sugar before placing on a baking sheet.
You'll want to devour them all when they come out of the oven. Grab the gallon of milk and gather the family around for an amazing dessert that will put a smile on everyone's face!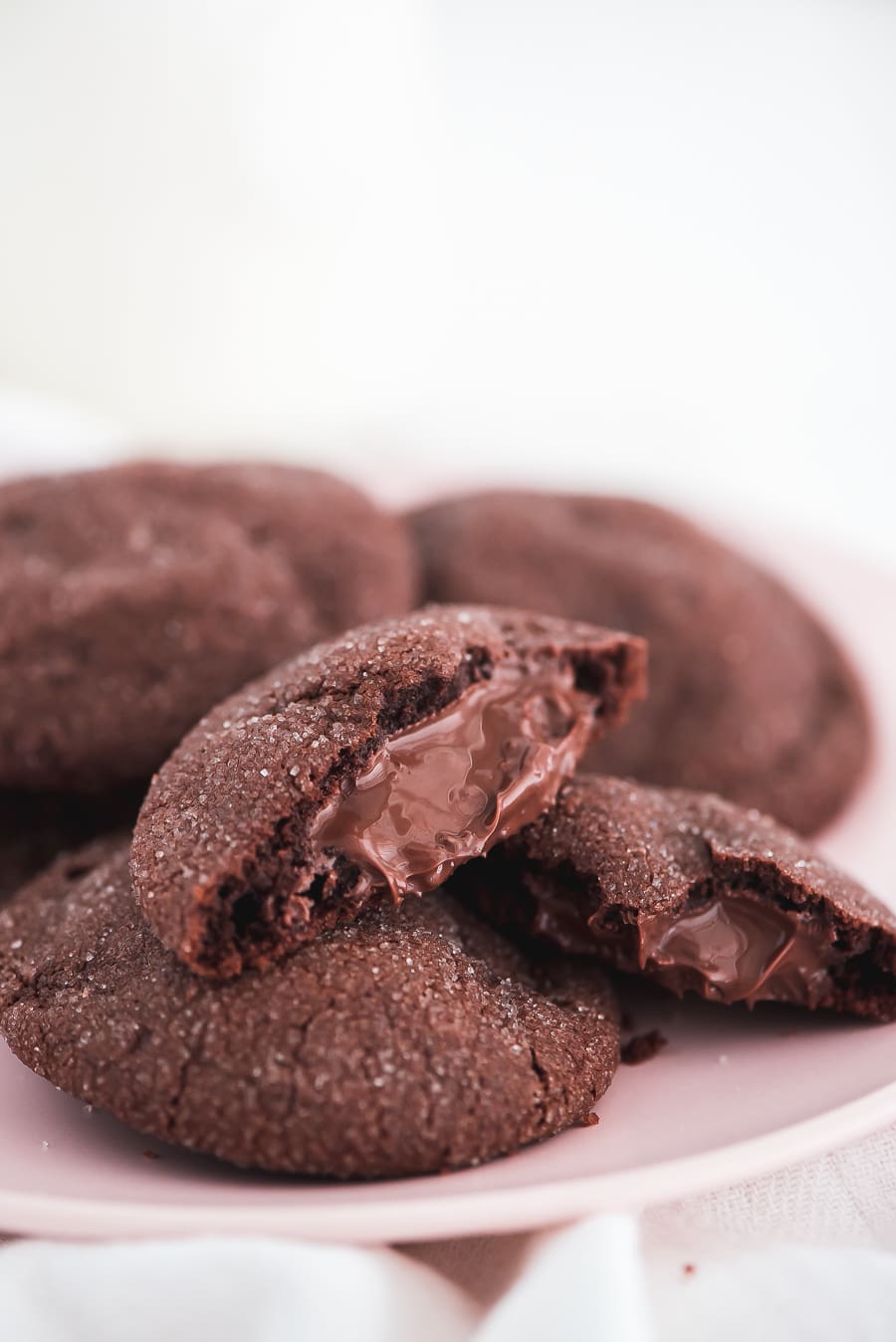 Nutella cookies with sea salt
For a little sweet + savory combo, sprinkle sea salt on top of the cookies before baking, rather than rolling them in the granulated sugar.
Can you freeze Nutella Cookies?
For sure! Just keep them in an airtight container, or wrap them tightly in plastic wrap/foil. They should keep well for three months or so.
For more Nutella recipes, check out:
More Delicious Cookies: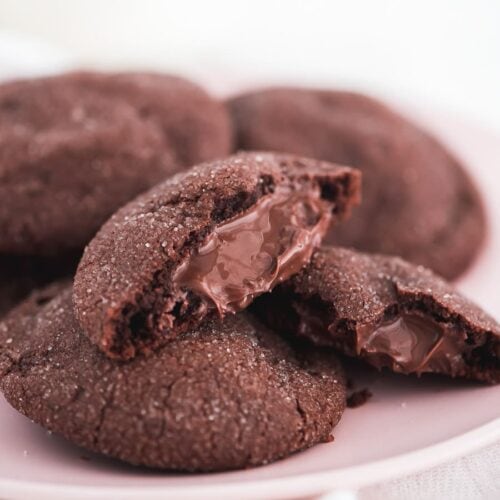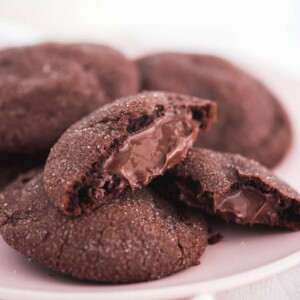 Nutella Cookies Recipe
These Nutella Cookies are the most sinfully delicious chocolate cookies. Rolled in sugar and filled with rich chocolate hazelnut spread, these Nutella Stuffed cookies will become a new favorite in no time!
Prep Time
1
hour
30
minutes
Total Time
1
hour
40
minutes
Ingredients
Nutella Filling:
1

cup

+ 2 tablespoons Nutella
For the Dough:
1 1/2

cups

all-purpose flour

1/2

cup

cocoa powder

1/4

teaspoon

salt

1/2

teaspoon

baking soda

3/4

cup

granulated sugar

divided

1/2

cup

brown sugar

1/2

cup

butter

room temperature

1/4

cup

Nutella

1

teaspoon

vanilla

1

large

egg

1

egg yolk
Instructions
Nutella Filling:
Scoop into 2 teaspoon size balls (I use a small trigger scoop) onto wax paper lined baking sheet and place in the freezer. (If making these a day ahead, place in fridge.)
For the Cookie Dough:
Preheat oven to 350 degrees F. Place 1/4 cup granulated sugar in a small bowl and set aside.

In the bowl of a stand mixer fitted with the paddle attachment, beat butter with remaining 1/2 graduated sugar and the brown sugar for 3 minutes.

Mix in the Nutella and vanilla until smooth and creamy. Add the egg and yolk, mix until thoroughly combined.

Add the flour, cocoa powder, baking soda, and salt and mix on low until combined. Scrape sides as needed.

Use a 1 1/2 Tablespoon trigger cookie scoop to portion dough into 28 balls on a baking sheet, cover with plastic wrap and refrigerate for 1 hour.

Remove dough and flatten balls between your hands and then place a ball of Nutella in the center and fold up the sides around it and then roll smooth.

Roll the ball of dough in the 1/4 cup sugar and place on a baking sheet 3 inches apart. (About 8 per baking sheet.) Using a spatula, lightly press each cookie down. Bake for 10 minutes. Let cool on the cookie sheet for 5 minutes before moving to a cooling rack.