Soft and delicious Nutella Cinnamon Rolls!! These delicious rolls are filled with Nutella and topped with an amazing glaze.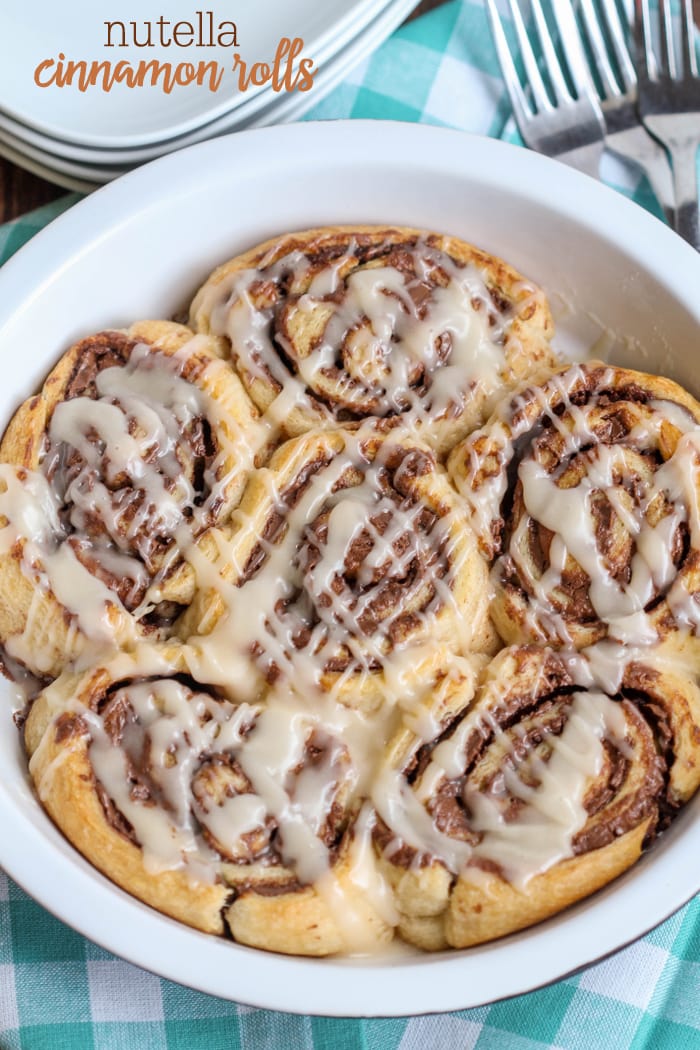 Hey friends!
Remember me? We've had a little recess from Tried and True, but Im back and very excited to share with you a yummy recipe, sure to please your kids and the kid in YOU!! Nutella sandwiches are a favorite in our home. Its a nice break from peanut butter and jelly, and lets face it, anything is better with a little chocolate 🙂
I think most people freak out a little when they think of making cinnamon rolls. Working with yeast can be scary and its a bit intimidating. Im happy to report, that this recipe requires no yeast and will be the simplest cinnamon roll recipe you'll ever do!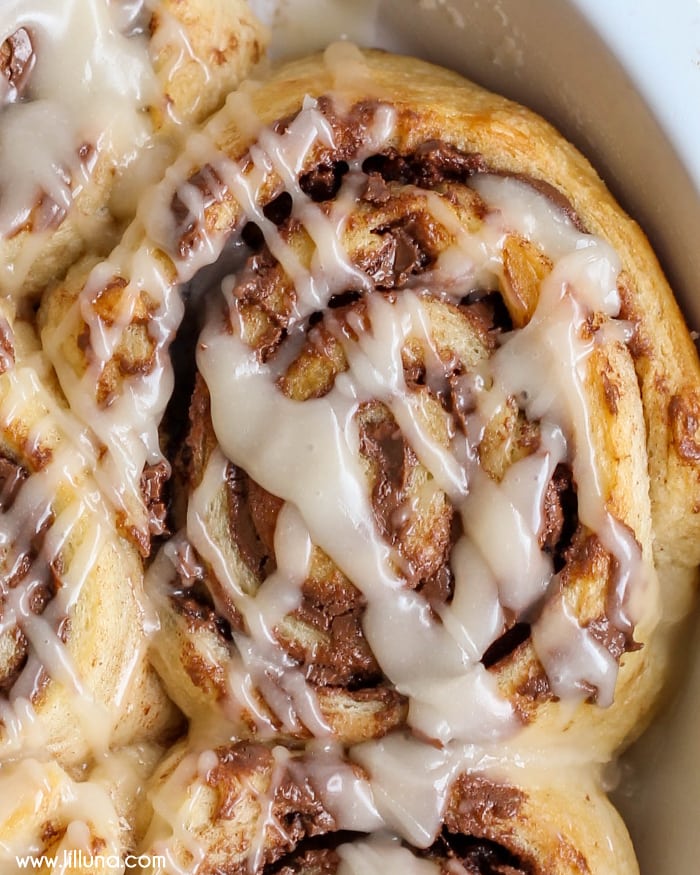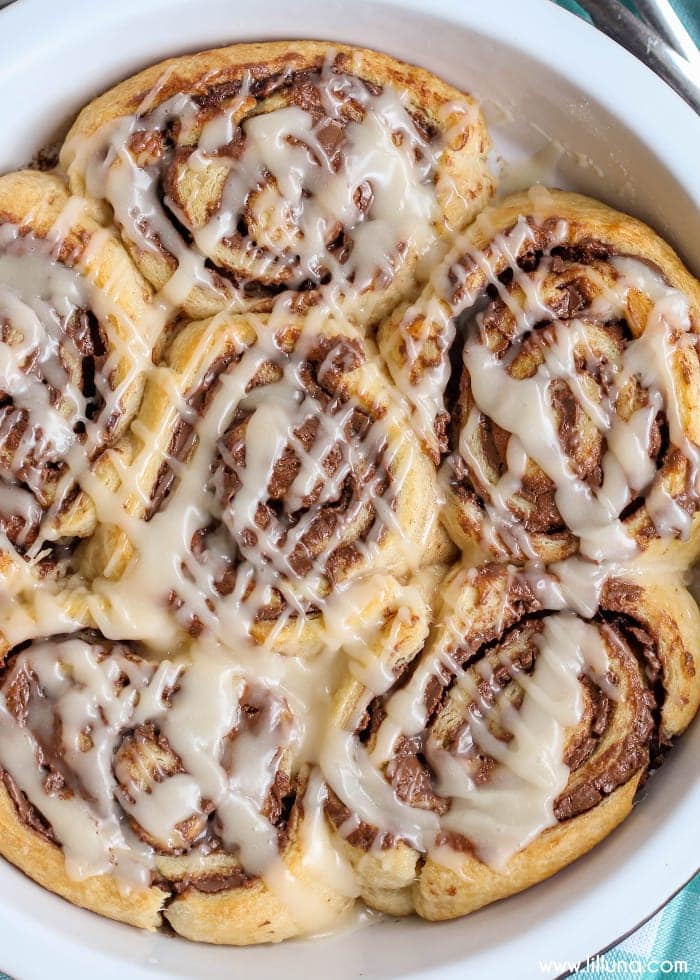 The kids really loved these and I think the Adults loved them just as much! Just be sure to have a tall glass of milk to go with it!! Awww – heaven!!! 🙂
Nutella Cinnamon Rolls:
Nutella Cinnamon Rolls Recipe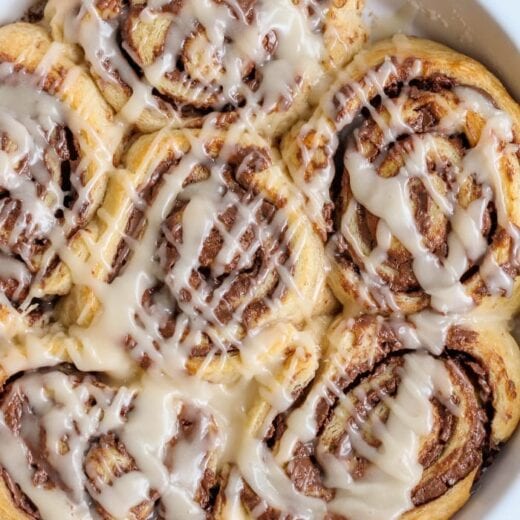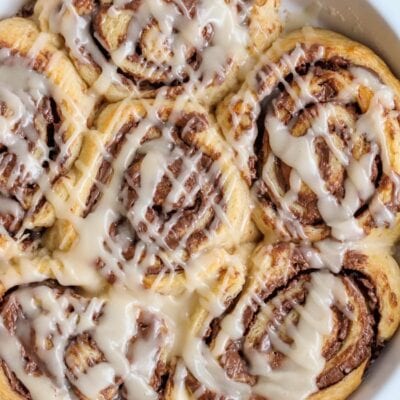 Soft and delicious Nutella Cinnamon Rolls!! These delicious rolls are filled with Nutella and topped with an amazing glaze.
Ingredients
Rolls
8

count

Pillsbury crescent rolls

1/2

cup

Nutella

1

tbsp

cinnamon
Instructions
Preheat oven to 350F. Spray a 9- or 10-inch pie plate or baking dish with cooking spray; set aside.

Open your rolls (I used Big and Flaky Pillsbury Rolls) and carefully unwrap the dough. As you unroll the dough, try to keep it together and do not separate at the perforations. On a clean work surface, spread out dough in one long row (makes a tall rectangle). Press the seams together, overlapping them to close any gaps. Generously spread Nutella over the entire surface, leaving ½-inch margins around all borders. Sprinkle how much cinnamon. you would like.

Begin with a short side and tightly roll up the dough into a log. With a sharp serrated knife, slice into 8 equal-sized pieces. Place pieces in prepared pan with ½-1" space in between each roll. Bake for 12 to 15 minutes. 13 minutes did it for us. Baked but still gooey and delicious!

Right before rolls come out of the oven, make your glaze. Whisk together all ingredients in a small bowl until smooth. You might need to play around with cream and sugar ratios until desired consistency is reached. As soon as you remove your rolls from the oven, pour your glaze and enjoy them chocolaty and oh so gooey.
Adapted from Averie Cooks
TRIED & TRUE FINDINGS:
DIFFICULTY: Easy Peasy
HOW MANY DOES IT FEED: 8
ANY CHANGES MADE: We added a tad more nutella and a little less cinnamon
ANY SUGGESTIONS FOR NEXT TIME: I love Nutella and Peanut Butter together. Maybe we'll be crazy and throw some PB in the mix.
And for more great breakfast sweets, check out:
ENJOY!