Dense and delicious Cookie Bar Recipes are perfect for any occasion. They may take a bit more time to cook, but the gooey result is well worth the wait!
More Collections: Sugar Cookie Ideas, No Bake Cookie Recipes, Easy Cookie Recipes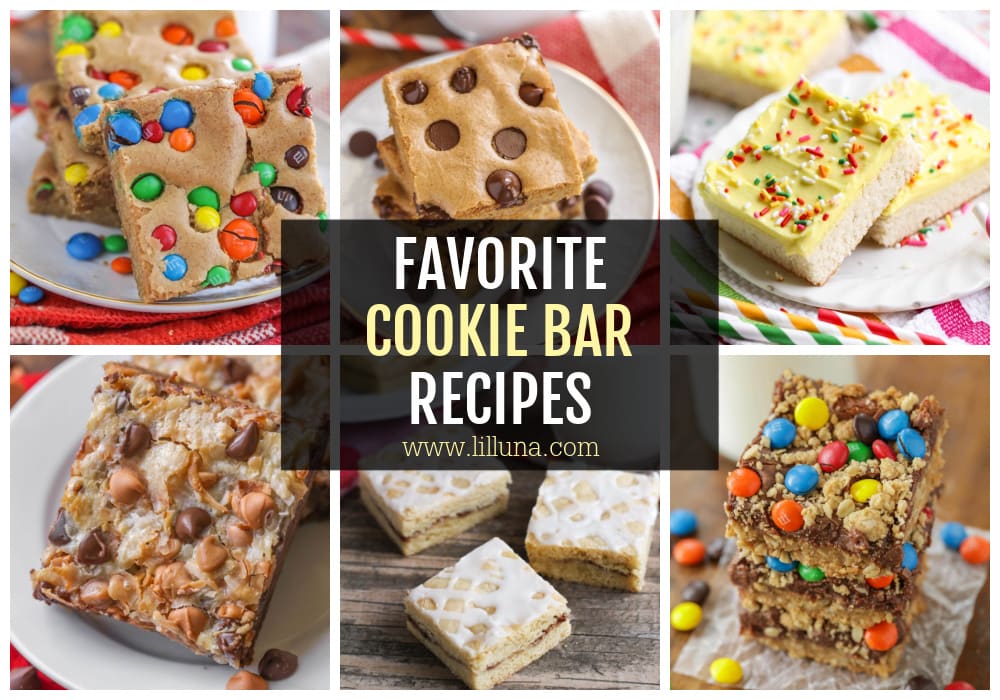 Why Cookie Bars??
Cookie Bars taste just like cookies, but thicker, and often bigger.
Really, you just get more cookie in your mouth per bite, and who doesn't want that?!
Cookie Bars still have that chewy, soft center, and crisp edges making these a must-make treat.
Whether your cookie of choice is chewy Chocolate Chip cookie bars, Sugar, Oatmeal, or Snickerdoodle, I have a whole variety of Cookie Bar Recipes that will satisfy your cookie craving. Before you check out the list, make sure you see these cookie bar tips.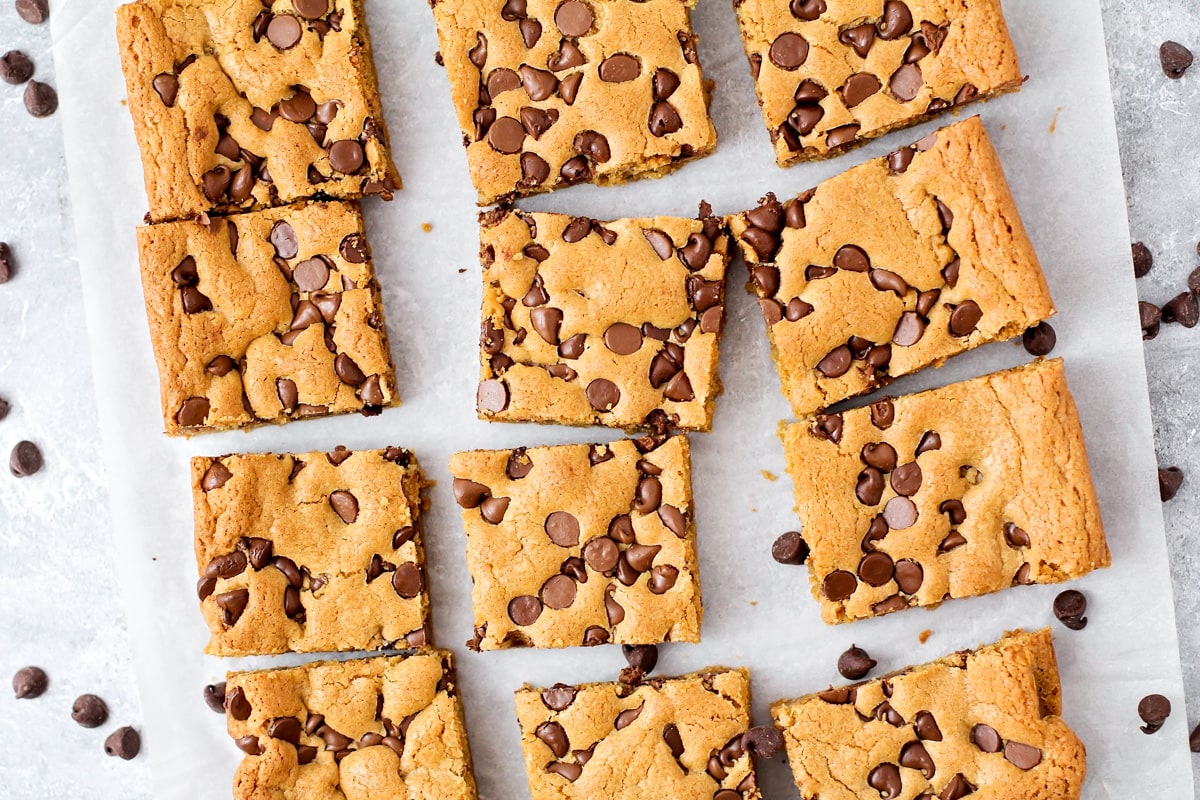 Cookie Bar Tips
Making Cookie Bars is a lot like making classic cookies. The dough recipes are very similar, as are the tips and tricks.
Room temperature ingredients. Room temperature butter and eggs incorporate better with the other ingredients, as well as add air to the dough which helps create a fluffy, soft texture.
Many recipes call for softened butter. Our How to Soften Butter Quickly post can give you tips to do so.
Muffin method. Combining wet ingredients and dry ingredients in separate bowls, before stirring them together, yields a softer texture. It also prevents overmixing the dough.
Rising agent. Be sure the rising agent, typically baking soda or baking powder, is fresh for the best outcome.
Doneness. For cake-like bars, stick a wooden pick in the center of the pan. If it comes out clean, or with a few moist crumbs, then the cookies are done. Chewy bars will have a dull surface. If you press gently, a slight imprint will remain.
STORE. Like cookies, bars can be stored in an airtight container along with a slice of white bread, which can help keep them softer longer. They can also be stored in the freezer.
FREEZE the dough. The dough can often be frozen in log form. Simply shape and wrap with plastic, and again with foil. Thaw before pressing into the pan.
Double it. Some recipes are designed for an 8×8 pan, others call for a 9×11 or a 9×13. No matter the pan size, recipes can be doubled for extra treats.
An 8×8 pan recipe can be doubled and baked in a 9×13 pan
Double, press half into the pan to make now, and press half into a pan that you want to freeze for later. (See individual recipes for freezing instructions.)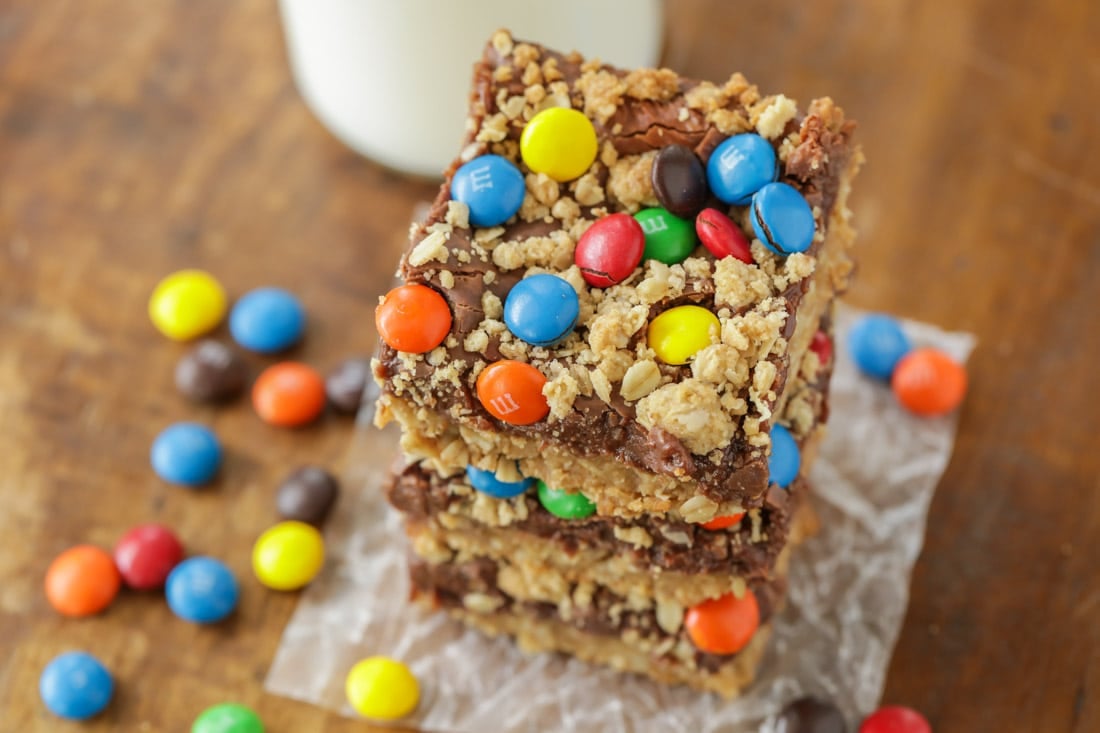 Toppings
The flat surface of a Cookie Bar is perfect for adding fun toppings. Some can be added to the top before baking, while other toppings are best when added after baking.
The type of Cookie Bar recipe you make will determine the type of topping you might wish to add. Some ideas include:
Holiday sprinkles
Chopped candies or chocolate chips
Chopped nuts like walnut or pecans
Sliced fruit and berries
Frosting or glaze
Caramel drizzle
Flaky Sea Salt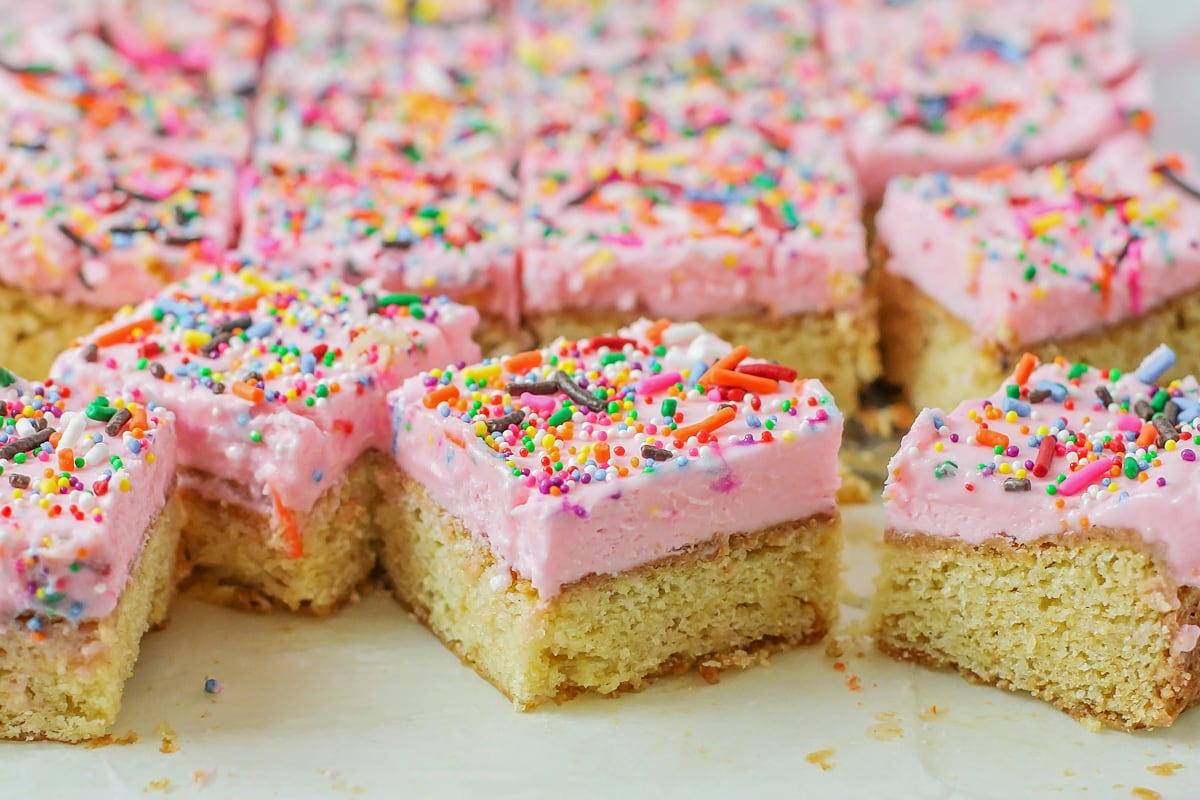 Best pan tips
Glass, metal or ceramic. When making Cookie Bars, you get to skip forming cookie dough balls, or even more time consuming – rolling and stamping out cookie shapes. You also get to skip the repetitive process of baking the different pans of cookies.
Cookie Bars ask for baking all of the dough at once, in a single baking pan. You can use different pans to make these cookies, just know that each type does bake a bit differently.
Glass and ceramic. Both of these pans retain heat better than metal pans. If you have a recipe that calls for a metal baking pan, but you want to use a glass or ceramic pan, then you usually need to decrease the oven temperature by 25°F. Be aware that both types can shatter with extreme temperature changes. Ceramic pans are often chosen because they come in a bigger variety of patterns and colors.
Metal pans typically heat up more quickly. Dark metals pans will bake more quickly than lighter metal pans. Dull/matte pans also cook foods more quickly than shiny pans.
Lining the pan. No matter what type of pan you use, I suggest you always line the pan with parchment paper or foil. This makes it significantly easier to cut and remove the baked treat without mutilating the pieces.
Leave extra lining so there is enough for you to grab and lift.
Spray the pan with cooking spray before adding the parchment paper. This will help keep the paper in place while you press in the dough.
Always allow the treat to cool before removing from the pan.
---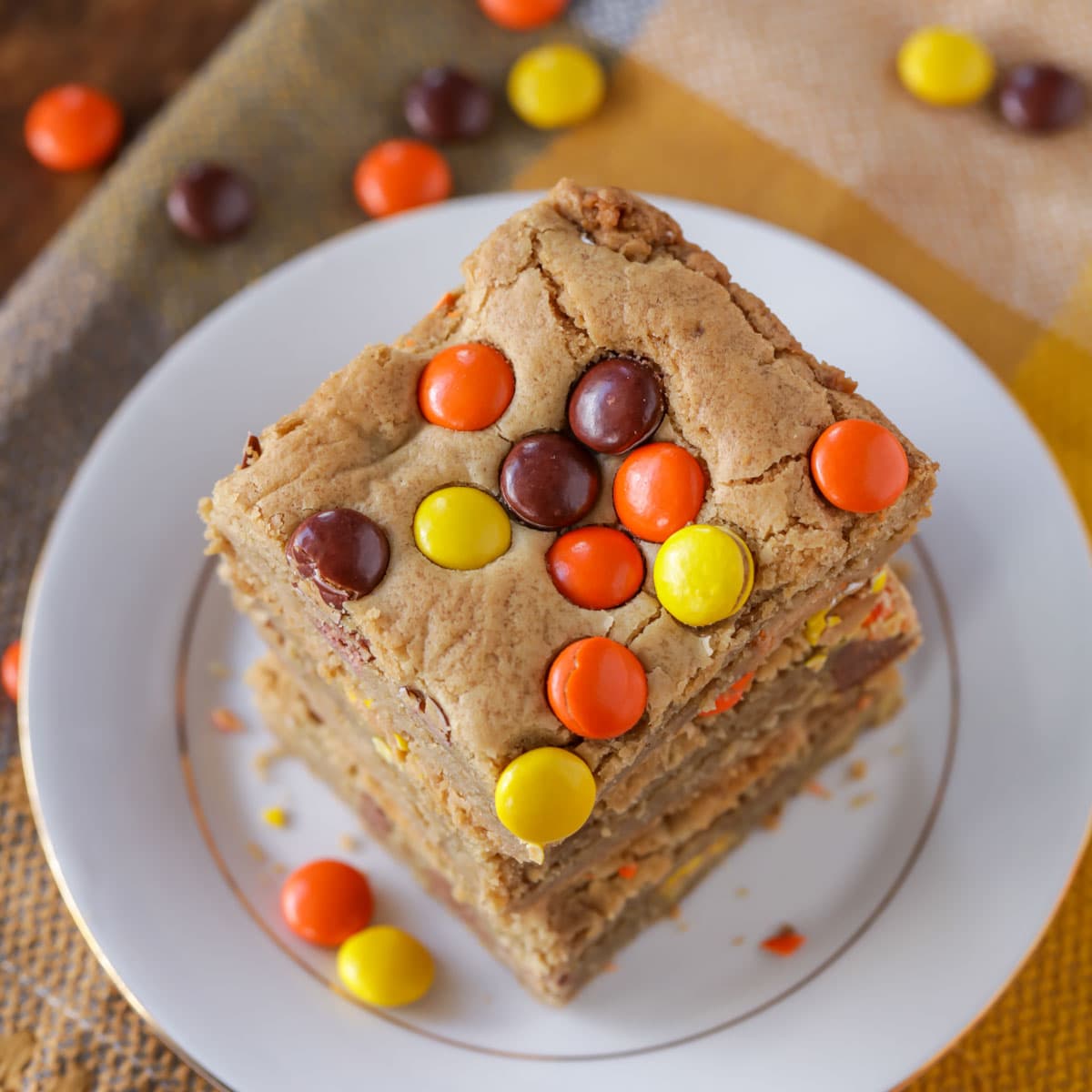 Best Cookie Bar REcipes
We LOVE to change things up and make Cookie Bars for family get togethers. They are easy and feed a crowd! Serve them warm with a scoop of Vanilla Ice Cream, and you won't regret it!
Reeses Pieces Bars – Soft and Chewy Reeses Pieces Bars are a quick and delicious bar recipe. They are the perfect mixture of chocolate and peanut butter!
Magic Cookie Bars – These Magical Desserts Bars are a simple dessert idea with a cookie base topped with chocolate and butterscotch chips, coconut, and sweetened condensed milk!
Cookie Bars – Chocolate Chip Cookie Bars (aka Pan Chewies) – our family's go-to Sunday Night Dessert! It's your favorite cookie in bar-form served hot and perfect with ice cream.
Sugar Cookie Bars – One of everyone's favorite cookies in bar form – these soft Sugar Cookie Bars are simple and are topped with a delicious buttercream frosting that makes this dessert irresistible.
M&M Cookie Bars – These sweet and chewy M&M Cookie Bars will be your new favorite! They are perfectly crisp on the outside and soft on the inside.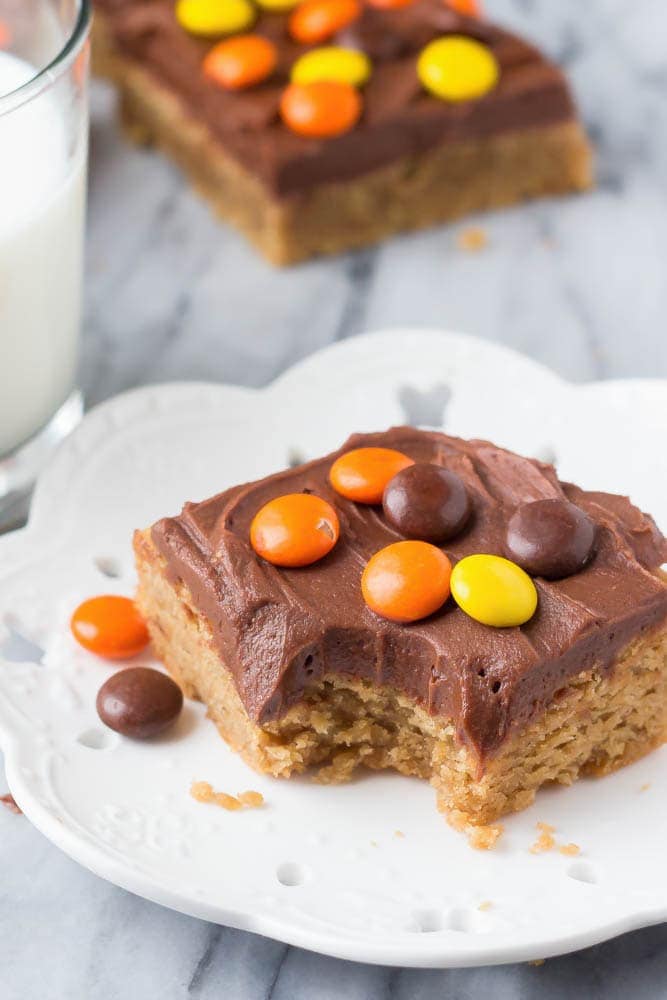 Chocolate Peanut Butter Cookie Bars – Chocolate Peanut Butter Cookie Bars start with a layer of super soft & chewy peanut butter cookie, and are topped with creamy milk chocolate frosting.
Cake Mix Cookie Bars – Cake Mix Cookie Bars are a simple, quick, and delicious treat everyone will love! They are a fab option for lovers of cake and cookies.
Snickerdoodle Bars – Chewy Snickerdoodle Bars taste just like the famous cookie only thicker, for a more filling bite. Powder sugar glaze is the icing on top!
Monster Cookie Bars – Monster cookie bars are jam packed with layers, textures, and flavors. The chewy oat crust and smooth chocolate are the perfect pair.
Christmas Cookie Bars – Christmas cookie bars are chewy and delicious. The M&Ms add a festive pop, making them perfect for any party!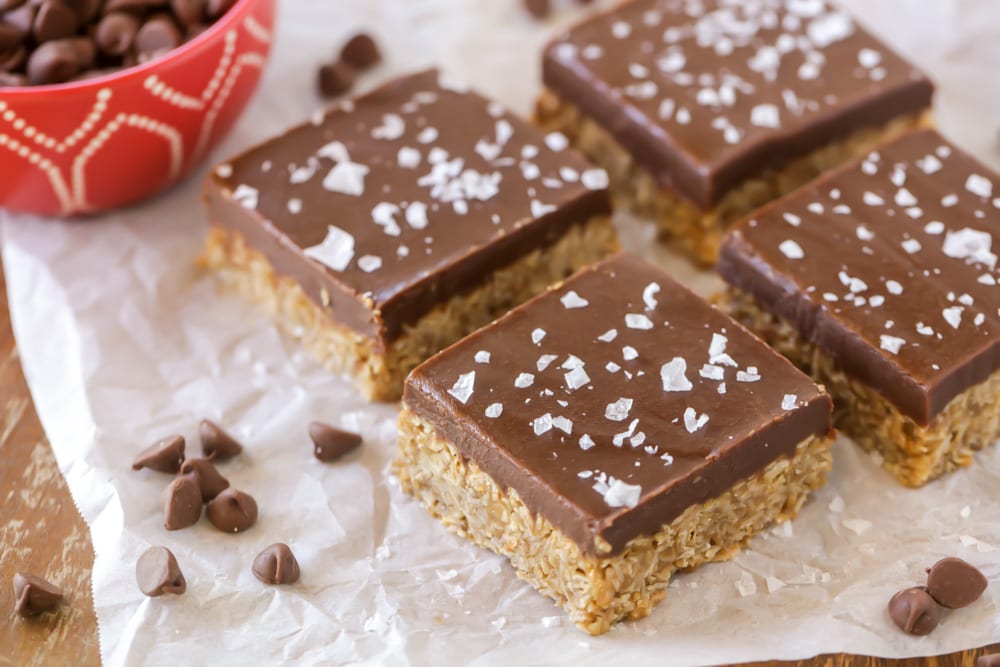 Oh Henry Bars – Oh Henry bars start with a caramel oatmeal base coated in peanut butter chocolate topping. They are based on the famous Nestlé candy bar.
M&M Chocolate Bars – One of the best bar recipes you'll ever try!! These M&M Chocolate Oat bars have layers of oats, a sweetened condensed milk and chocolate center topped with more oats and M&Ms.
No Bake Chocolate Oat Bars – Simple and delicious no bake Chocolate Oat Bars are a great dessert to enjoy any time of year without heating up the house!
Salted Peanut Chews – Salted Peanut Chews are made from layers of peanut butter cookie crust, marshmallow, and crunchy peanut topping. They're salty & sweet!
Millionaire Bars – These millionaire bars have a perfectly crumbly crust, an ooey gooey caramel middle, and a thin layer of delicious semi-sweet chocolate on top. They definitely earn their name!
---
the complete list
Here are the picture cards for all of the fabulous Cookie Bars listed above.
Whether you're looking for a treat for a special occasion or everyday snack, you're sure to find several new recipes you'll love on this list!
Be sure to check out all of our Cookie Recipes!
For more collections: Brownie Recipes, Dessert Bar Recipes, Easy Cake Recipes