Dense and delicious cookie bar recipes are perfect for any occasion. They make take a bit more time to cook, but the gooey result is well worth the wait!
More Collections: Sugar Cookie Ideas, No Bake Cookie Recipes, Easy Cookie Recipes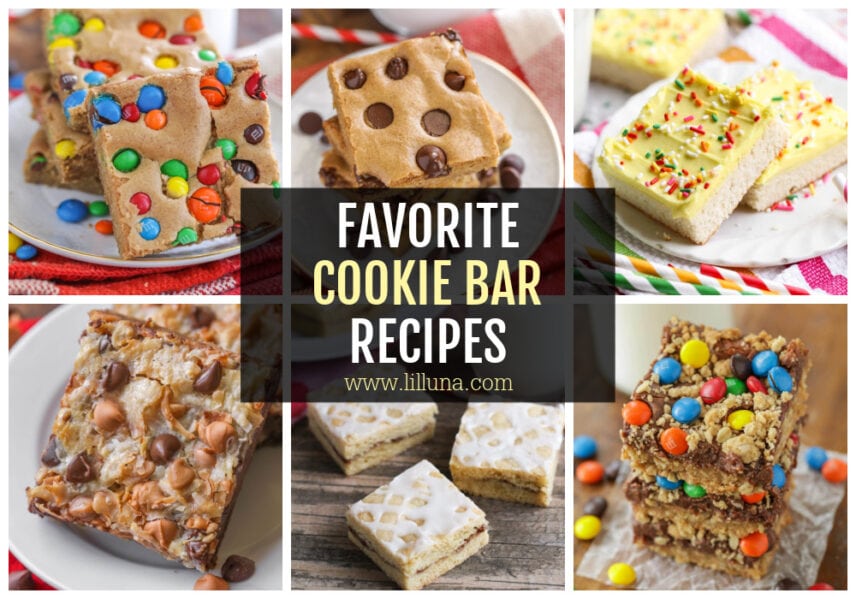 Why Cookie Bars??
Cookie bars taste just like cookies, but thicker and often bigger.
Really, you just get more cookie in your mouth per bite, and who doesn't want that?! Cookie bars still have that chewy, soft center, and crisp edges making these a must-make treat.
Whether your cookie of choice is chocolate chip, sugar, oatmeal, or snickerdoodle, I have a whole variety of cooky bar recipes that will satisfy your cookie craving. Before you check out the list, make sure you see these cookie bar tips…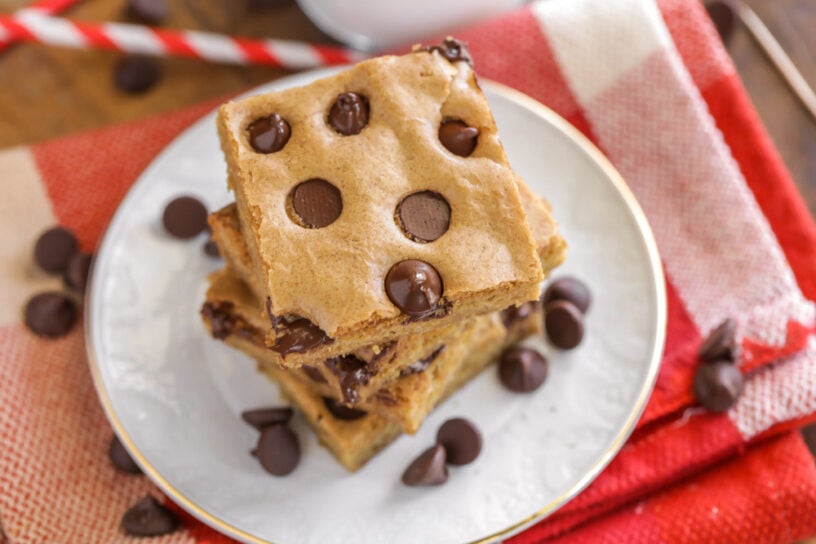 Cookie Bar Tips
Glass, Metal or Ceramic: When making cookie bars you get to skip forming cookie dough balls or even more time consuming rolling and stamping out cookie shapes. You also get to skip the repeating process of baking the different pans of cookies. Cookie bars ask for baking all the dough at once in one pan. You can use different pans to make these cookies just know that each type does bake a bit differently.
Glass and Ceramic: Both of these pans retain heat better than metal pans. If you have a recipe that calls for a metal baking pan, but you want to use a glass or ceramic pan, then you usually need to decrease the oven temperature by 25 degrees. Be aware that both types can shatter with extreme temperature changes. Ceramic pans are often chosen because they come in a bigger variety of patterns and colors.
Metal pans typically heat up more quickly. Dark metals pans will bake more quickly than lighter metal pans. Dull/matte pans also cook foods more quickly than shiny pans.
Lining the pan: No matter what type of pan you use I suggest you always line the pan with parchment paper or foil. This makes it significantly easier to remove the baked treat out of the pan without mutualting any of the pieces while trying to cut and remove it.
Make sure that you leave extra lining so there is enough for you to grab and lift.
Spray the pan with cooking spray before adding the parchment paper. This will help keep the paper in place while you press in the dough.
Always allow the treat to cool before removing it from the pan.
Double it: Some recipes are designed for an 8×8 pan others call for a 9×11 or a 9×13. No matter what the pan size most recipes can be doubled for extra treats.
An 8×8 pan recipe can be doubled and baked in a 9×13 pan
Any recipe can be doubled, then press half into the pan you want to make now and press half into a pan that you want to freeze for later. (See individual recipes for freezing instructions.)
Many recipes call for softened butter. Our How to Soften Butter Quickly post can give you tips to do so.
---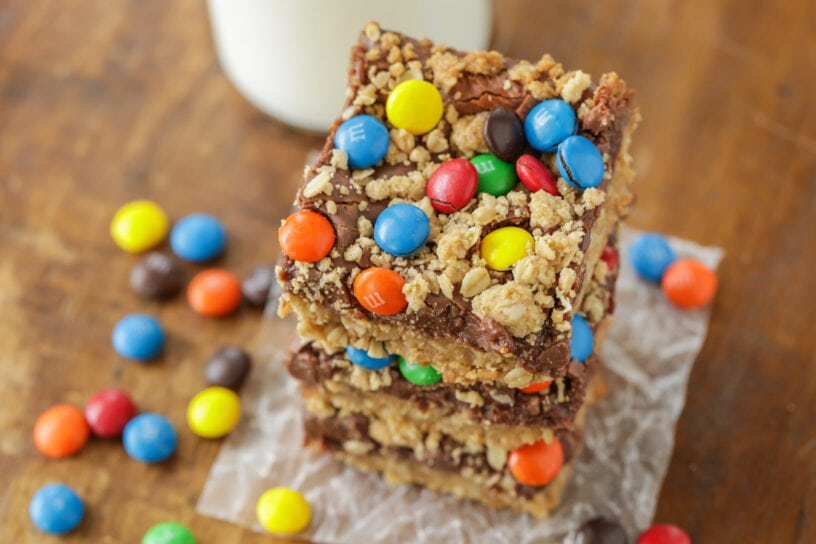 Favorite Cookie Bar REcipes
We LOVE to change things up and make bars for family get togethers. Wanted to share some of our favorites. Serve them warm with a scoop of ice cream, and you won't regret it!
Be sure to check out all of our Cookie Recipes!
For more collections: Brownie Recipes, Dessert Bar Recipes, Easy Cake Recipes