Brownies aren't the only kind of dessert bar we love! This list of Dessert Bar Recipes has it all—chocolatey, fruity, cookie-based, cakey, frosted, and more!
More Collections: Cookie Bar Recipes, Brownie Recipes, Chocolate Cakes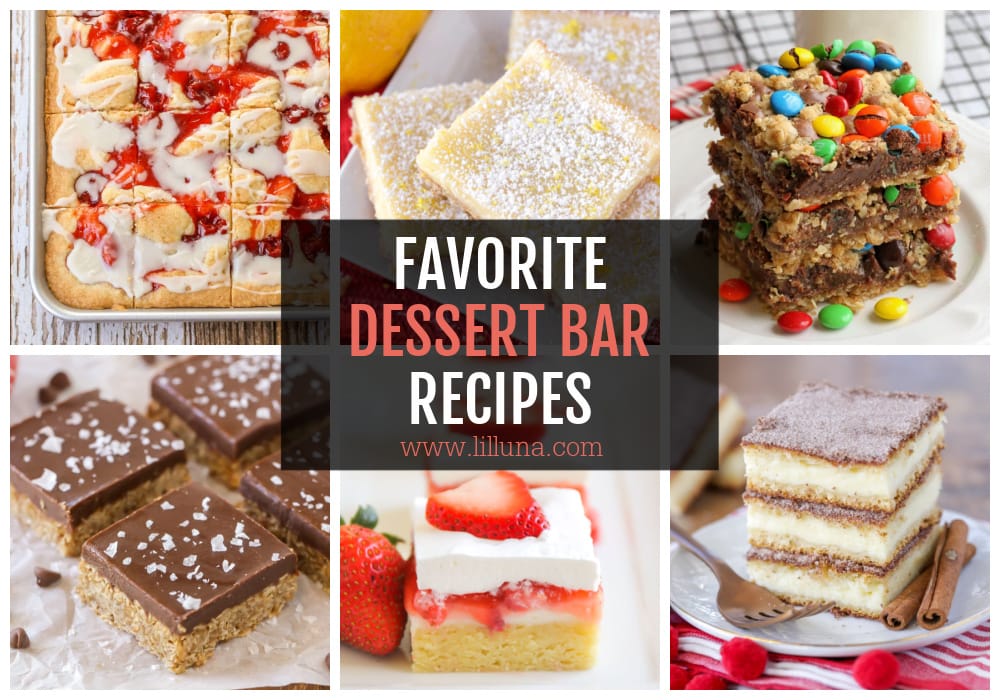 so Many Varieties!
When you think of bar desserts, brownies definitely come to mind, but there are so many delicious variations.
Frosted or candy-filled, graham crackers or cookie-based, or fruity. Dessert bars can take on any flavor profile, but are always mouth-wateringly good!
You'll find bars of all kinds in this list. From fruity to chocolatey, cookie-based to oat-based. There's something for everyone!
I've compiled this list of all my best Desserts Bar Recipes, but before I get into it, here are some tips and tricks for all things bar related!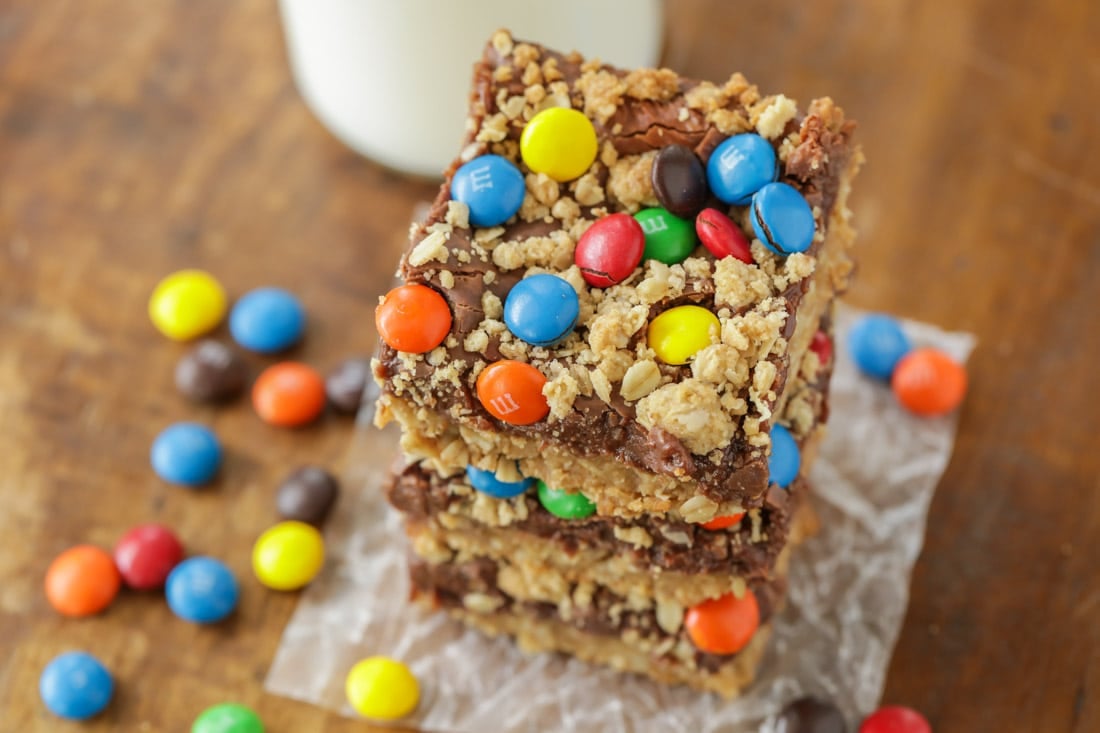 best dessert bars for parties
Dessert bars are a great choice to bring to parties. They are easy to make, transport, and serve. You can also easily double the recipes to make more bars if you're hosting a large group.
I find that I tend to choose certain bar recipes for specific types of parties. Of course, these are general suggestions and any of these bar recipes can successfully be taken to several types of events.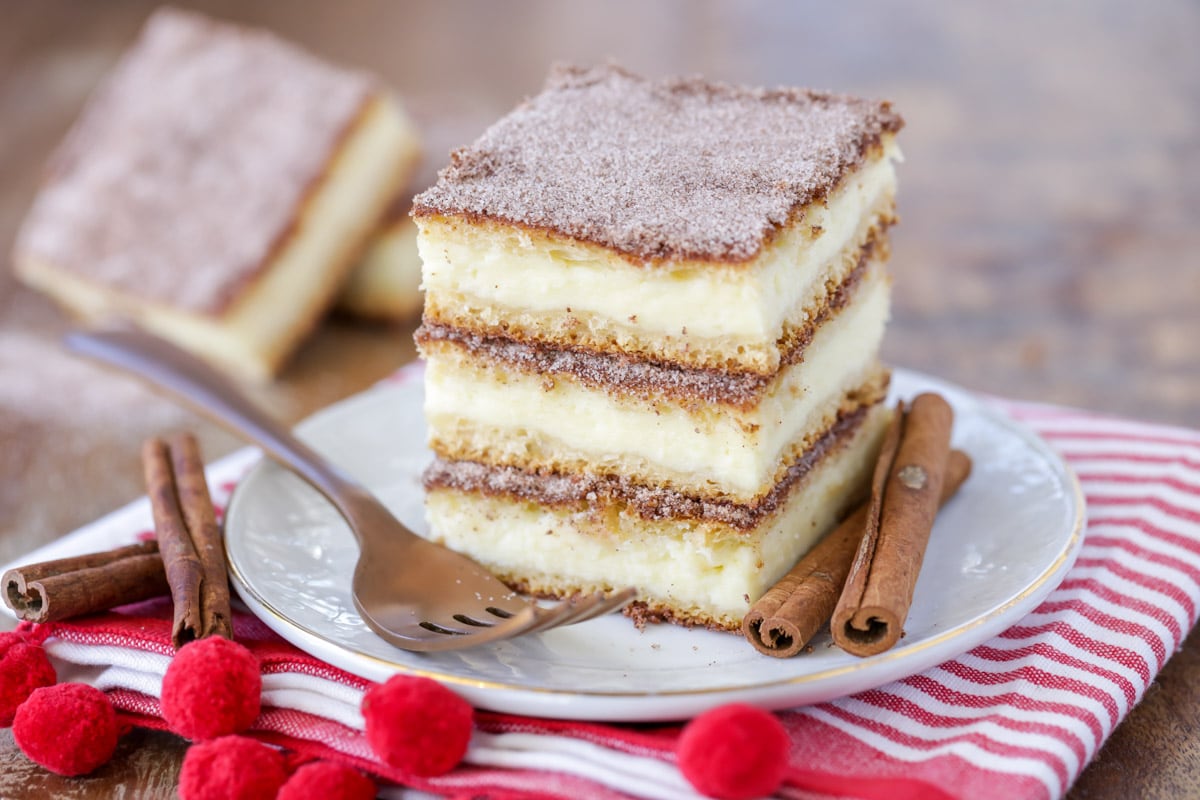 Dessert Bar Tips
Just a few tips to keep in mind when making dessert bars:
Use quality ingredients
Beat the eggs and sugar well.
Sift the dry ingredients in a separate bowl: not only does it get rid of any lumps, but it helps all the dry ingredients incorporate better with the wet ingredients so that you don't over-mix.
Don't overbake.
Let them cool and set before cutting.
Many recipes call for softened butter. Our How to Soften Butter Quickly post can give you tips to do so.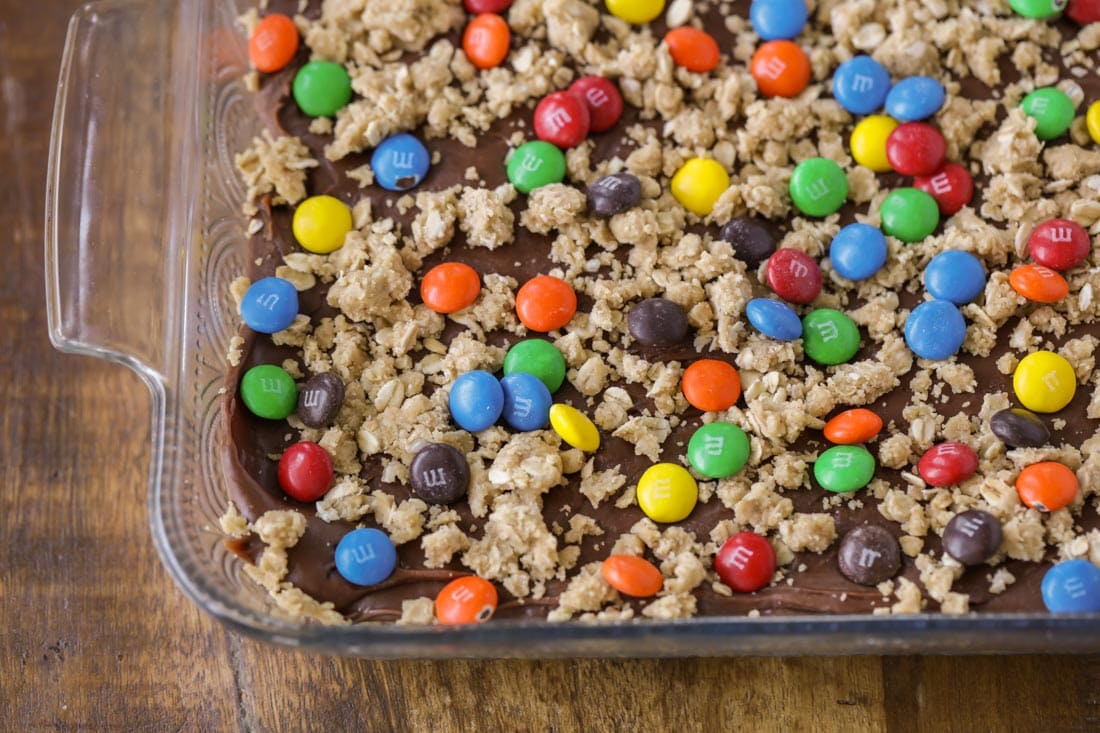 Best pans to use
You can use any one of these pans just keep a few things in mind.
Glass and ceramic pans retain heat better than metal pans, but metal pans heat up more quickly.
If you have a recipe that calls for a metal baking pan, but you want to use a glass or ceramic pan, decrease the oven temperature by 25°.
Be aware that glass and ceramic pans can shatter with extreme temperature changes.
Ceramic pans are often chosen because they come in a bigger variety of patterns and colors.
Dark metal pans will bake more quickly than lighter metal pans. Dull/matte pans also cook foods more quickly than shiny pans.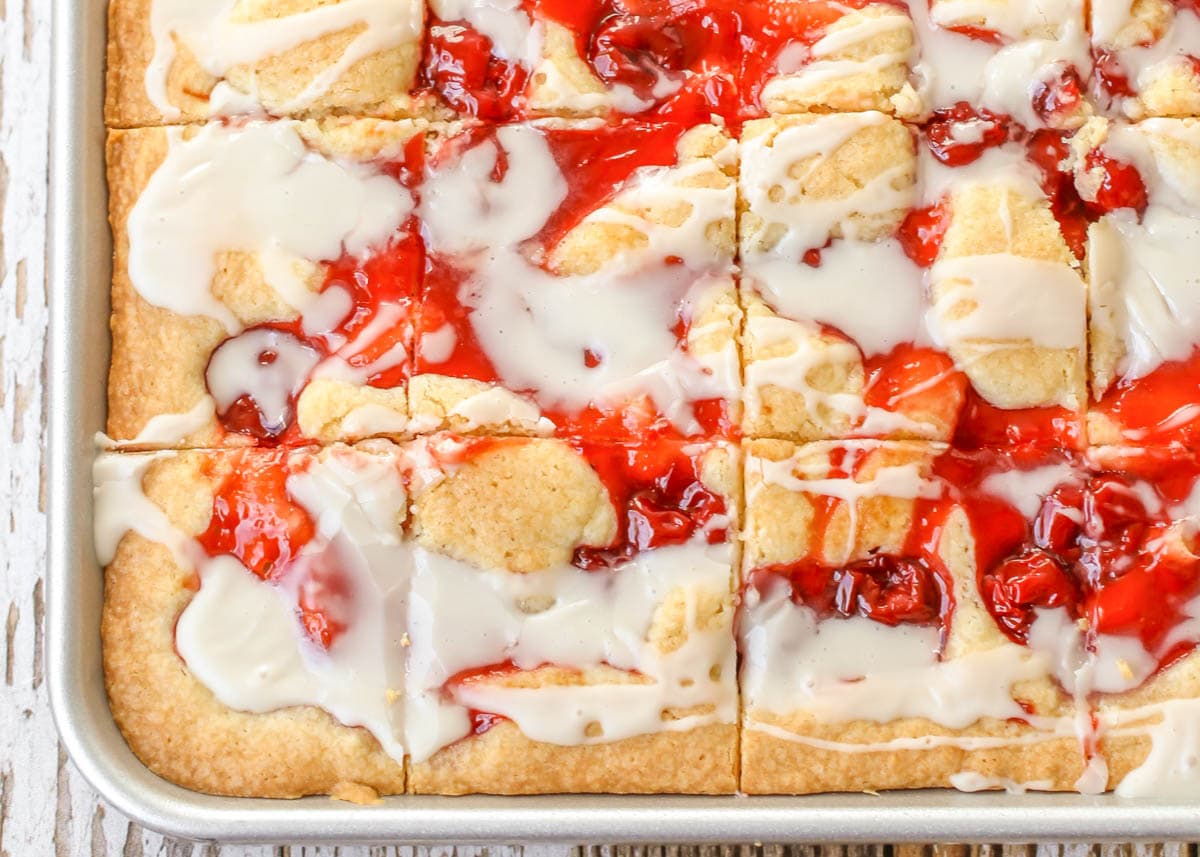 cutting, serving + Doubling
It can be fairly tricky to get these delicious bites out of the pan without mutilating any of the pieces. Here are a few tips to hep:
Line the pan with parchment paper or foil.
Allow the treat to cool before removing it from the pan.
A plastic knife slices right through unfrosted treats.
Use a large sharp knife to cut treats with toppings. Make downward cuts and gently lift. Don't use a sawing motion. Wipe the blade clean after each cut.
Double it: Most recipes can be doubled for extra treats. An 8×8 pan recipe can be doubled and baked in a 9×13 pan. You can also make a batch to eat now and save the extra batch to freeze for later.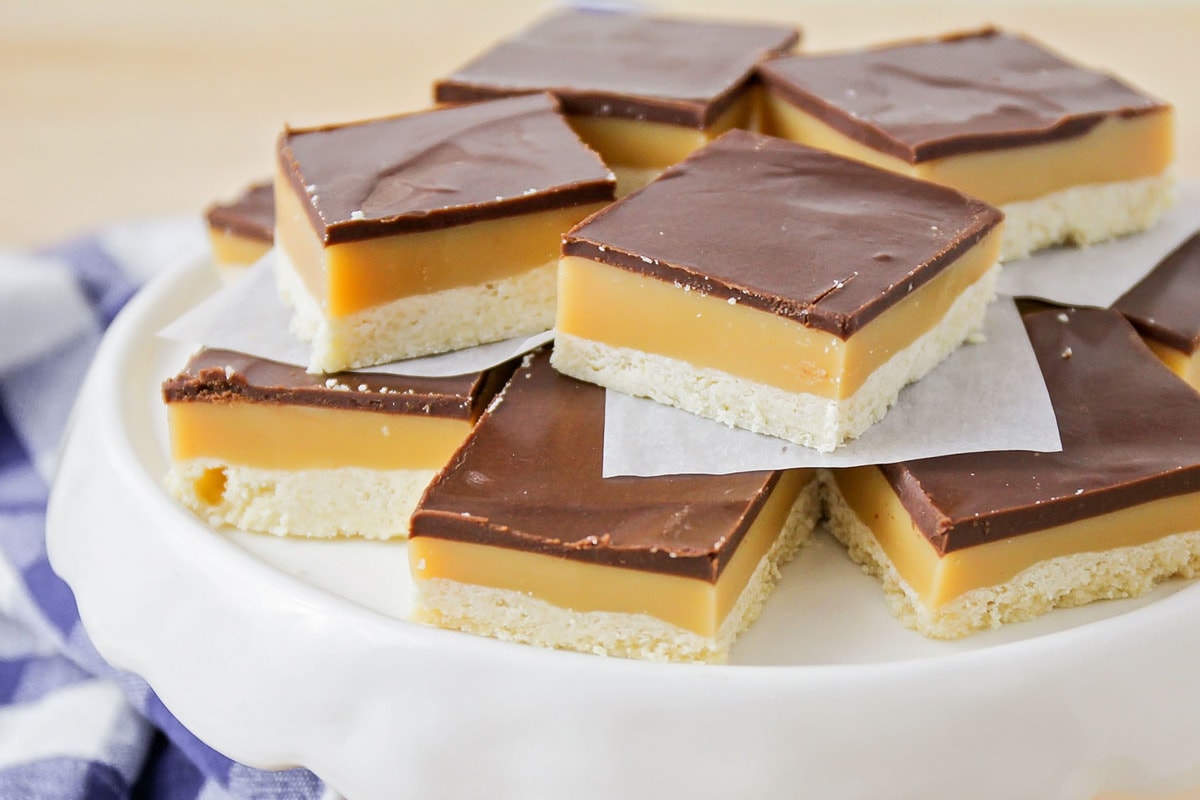 How to display bars at parties
Stacks: Some dessert bars are a little more firm and can be stacked, like Cookie Bars. These are great to stack on trays or platters.
Single Layers: Softer bars, frosted bars, and fruit-topped bars need to be set out in a single layer. I tend to use tiered display trays for these.
Easy Access: Be sure the desserts can be accessed from any angle and there is enough space for traffic to flow easily around the table. Remove chairs and other obstacles from around the table.
Visually Appealing: Make the display visually appealing with low and high displays. Decide on a theme and incorporate the colors, patterns, and decorations throughout the display table. Don't add lit candles to the table as sleeves can catch all too easily.
Use identification cards: Label the name of each dessert and even include if an item is gluten-free, dairy-free, or contains nuts. I've even seen name cards that also have a QR code that leads you to the recipe.
---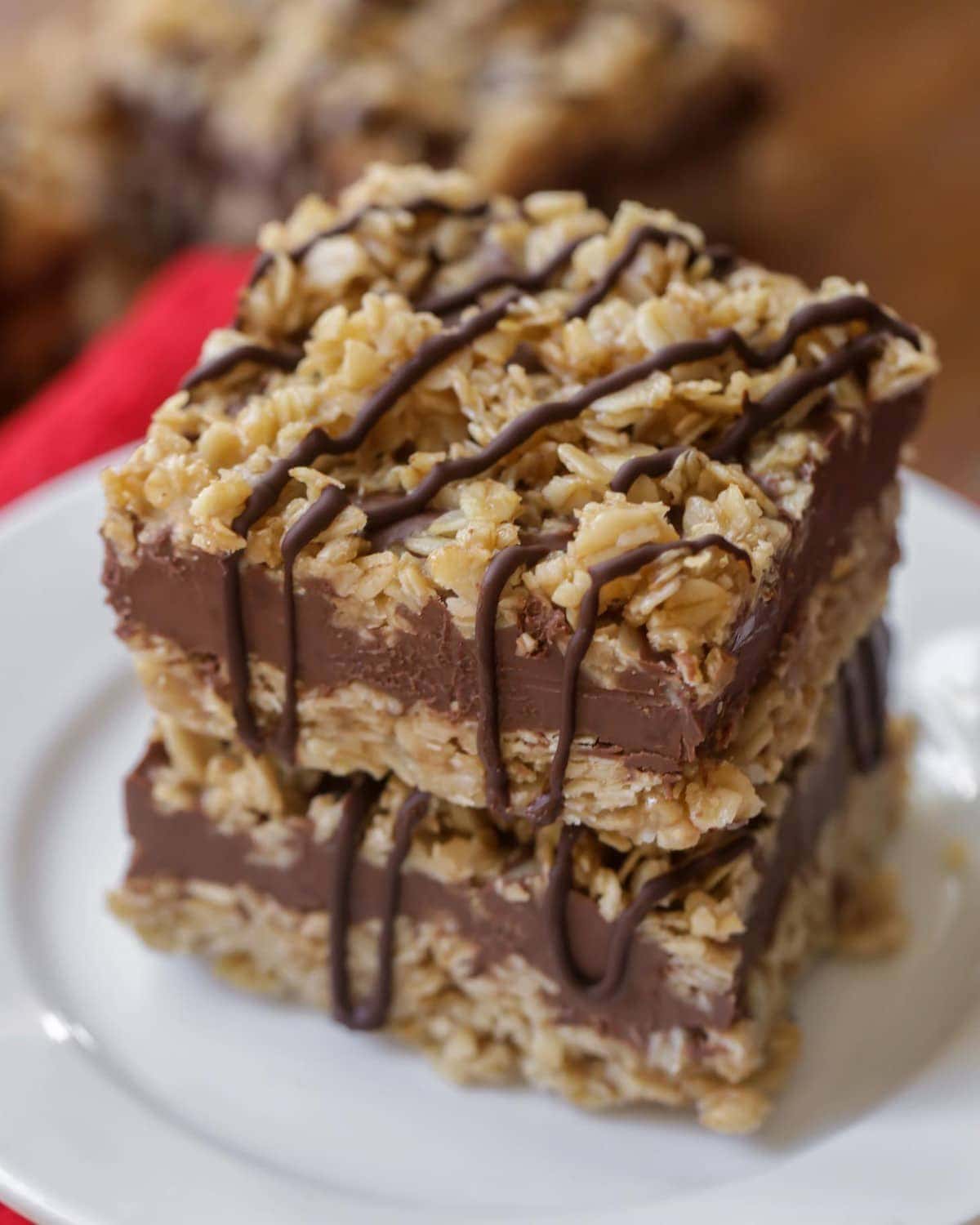 CHOCOLATE DESSERT BARS
Satisfy those chocolate cravings with this list of mouth-watering choices. Whether sprinkled with chocolate chips and M&Ms or filled with milk chocolate, these rich bars are sure to hit the spot!
No Bake Chocolate Oat Bars – Simple and delicious no bake Chocolate Oat Bars are a great dessert to enjoy any time of year without heating up the house!
Chocolate Peanut Butter Cookie Bars – Chocolate Peanut Butter Bars start with a layer of super soft & chewy peanut butter cookie, and are topped with creamy milk chocolate frosting.
Magic Cookie Bars – These Magical Desserts Bars are a simple dessert idea with a cookie base topped with chocolate and butterscotch chips, coconut, and sweetened condensed milk!
Almond Toffee Bars – Chewy Almond Toffee Bars are a layered twist on the classic magic bars. They are so delicious and easy to make!
M&M Chocolate Bars – One of the best bar recipes you'll ever try!! These M&M Chocolate Oat bars have layers of oats, a sweetened condensed milk and chocolate center topped with more oats and M&Ms.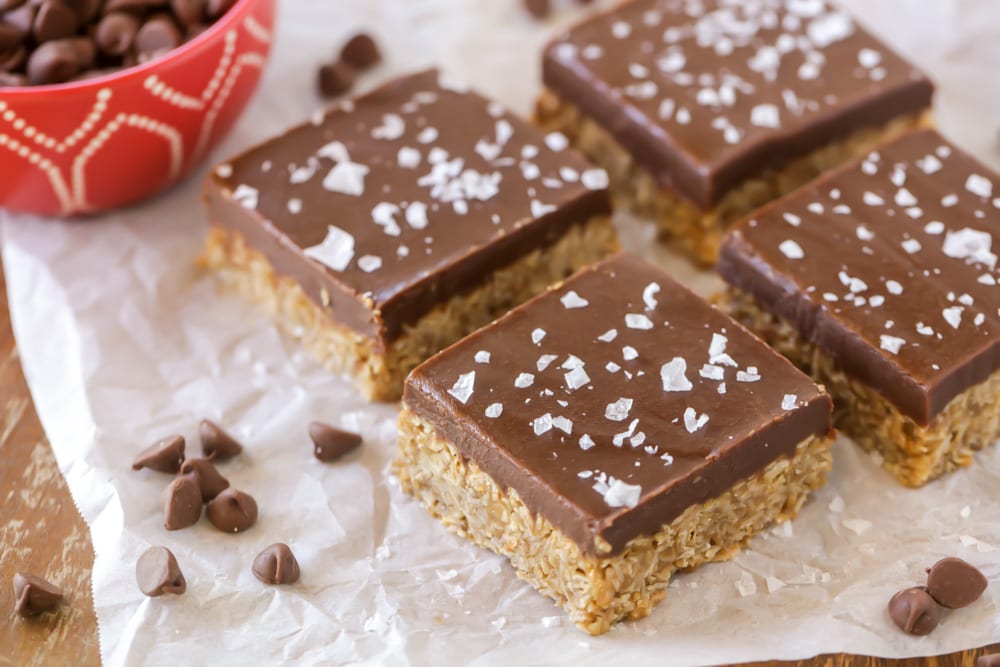 Oh Henry Bars – Oh Henry bars start with a caramel oatmeal base coated in peanut butter chocolate topping. They are based on the famous Nestlé candy bar.
Reeses Pieces Bars – Soft and Chewy Reeses Pieces Blondies are a quick and delicious bar recipe. They are the perfect mixture of chocolate and peanut butter!
Millionaire Bars – These millionaire bars have a perfectly crumbly crust, an ooey gooey caramel middle, and a thin layer of delicious semi-sweet chocolate on top. They definitely earn their name!
7 Layer Bars – 7 layer magic bars are filled with gooey layers of baking chips, pecans, and coconut on a buttery graham cracker crust. They are pure magic!
Monster Cookie Bars – Monster cookie bars are jam packed with layers, textures, and flavors. The chewy oat crust and smooth chocolate are the perfect pair.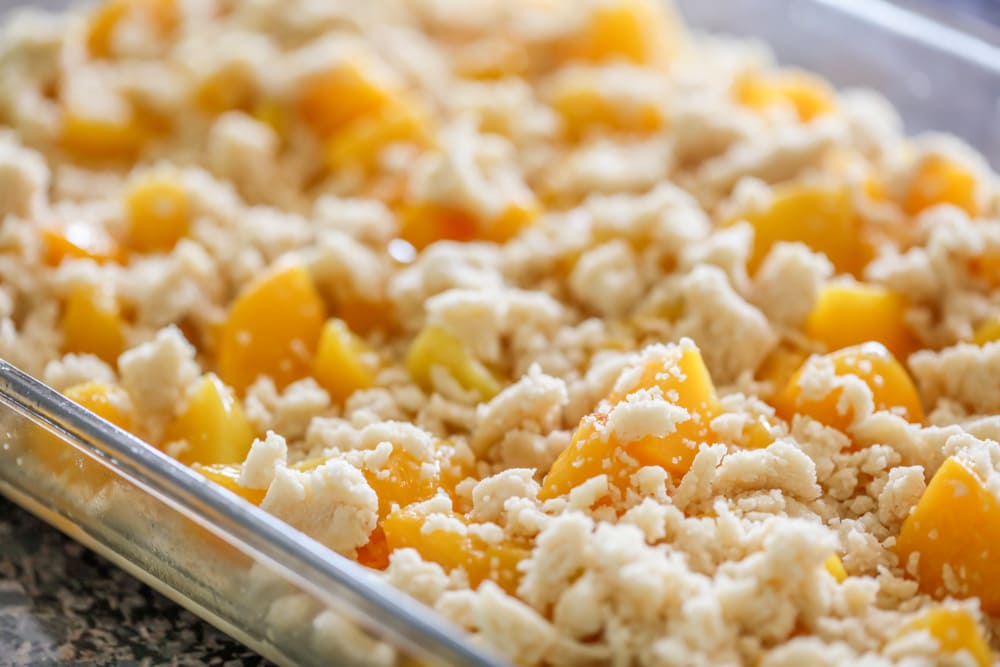 fruity dessert bars
While I tend to crave these in the spring and summer, fruity bars are perfect any time of the year! They are perfect for incorporating seasonal fruit.
Peach Crumb Bars – Peach Crumb Bars are one of our favorite summer treats! They're made from a buttery crust layered with juicy peaches and a crumbly topping.
Strawberry Cream Cheese Bars -Strawberry Cream Cheese Bars are a layered dessert with a sugar cookie bottom, strawberries and white chocolate middle, and cool whip on top!
Pumpkin Bars – Fluffy and moist pumpkin bars that are oozing with autumn charm. They're topped with the most delicious cinnamon cream cheese frosting, making them sweet and irresistible!
Cherry Bars – With a hint of almond extract, a heavenly glaze, and cherry pie filling swirled throughout, these delicious Cherry Bars are the sweetest way to easily treat a crowd!
Easy Lemon Bars – These classic Lemon Bars are simple, delicious, and sweet, with just the right amount of tart! Add a bit of powdered sugar, and these easy lemon bars are irresistible!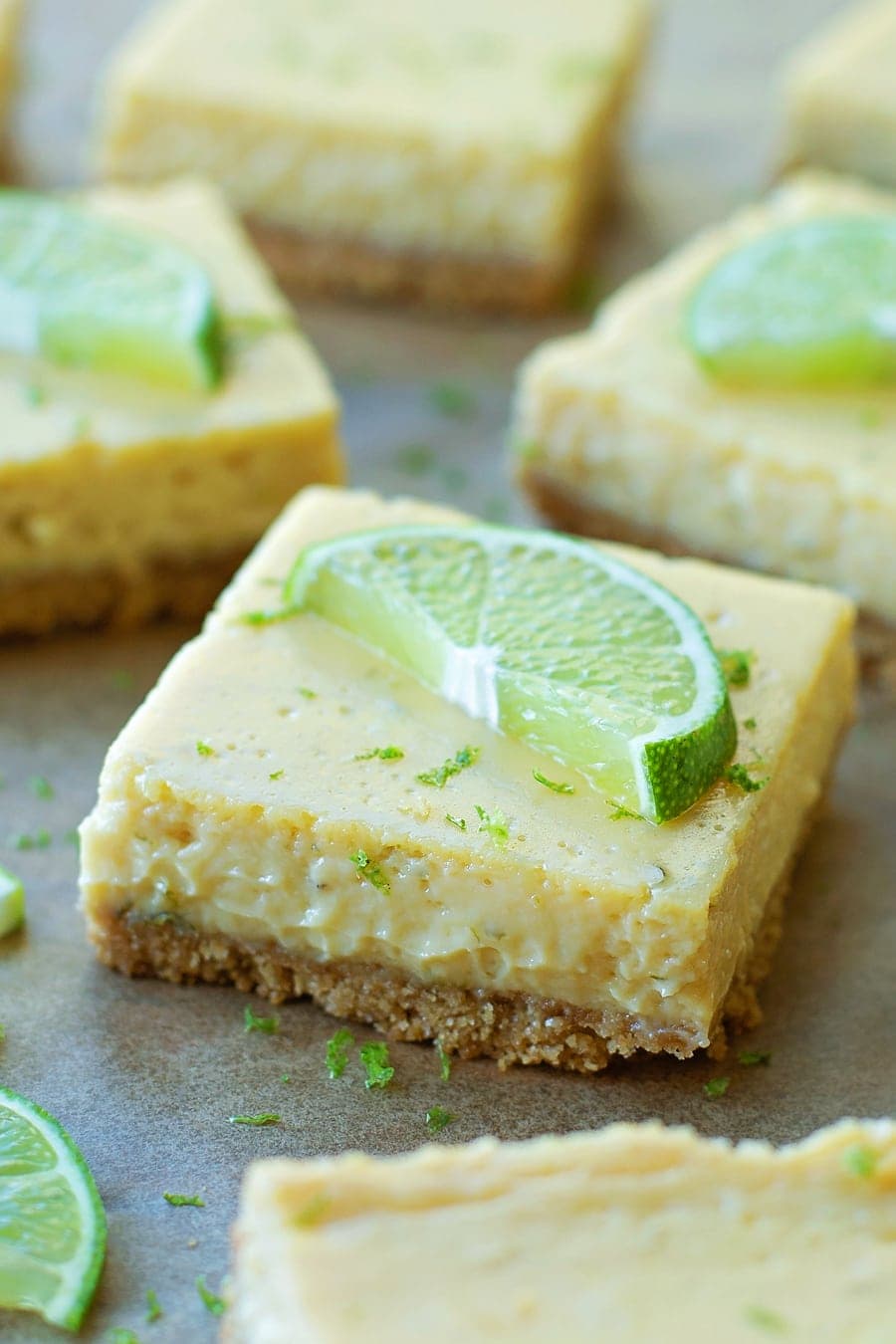 Key Lime Pie Bars – Key Lime Bars are a favorite dessert in a bar!! They have a graham cracker crust and a delicious cream cheese and lime filling.
Strawberry Shortcake Bars – A soft vanilla cake-like crust perfectly combines with a light layer of whipped cream cheese frosting. Top it off with fresh strawberries for delicious strawberry shortcake bars!
Pumpkin Cheesecake Bars – These Pumpkin Cheesecake Bars have so many delicious layers, including a graham cracker crust, cheesecake layer and pumpkin layer. They're full of fall spices and are sure to impress at any holiday gathering.
Frosted Banana Bars – If you like bananas, you'll LOVE these banana bars. Frosted with the most amazing cream cheese frosting, these moist and rich bars are irresistible!
Pumpkin Cream Cheese Bars – Soft and cake-y pumpkin bars with cream cheese swirls are delicious with a side of ice cream! Top them with chocolate chips for extra flavor.
Lemon Cream Cheese Bars – Lemon Cream Cheese Bars have a sweet and tangy zing to them, balanced by the subtle sweetness of the vanilla wafer crust.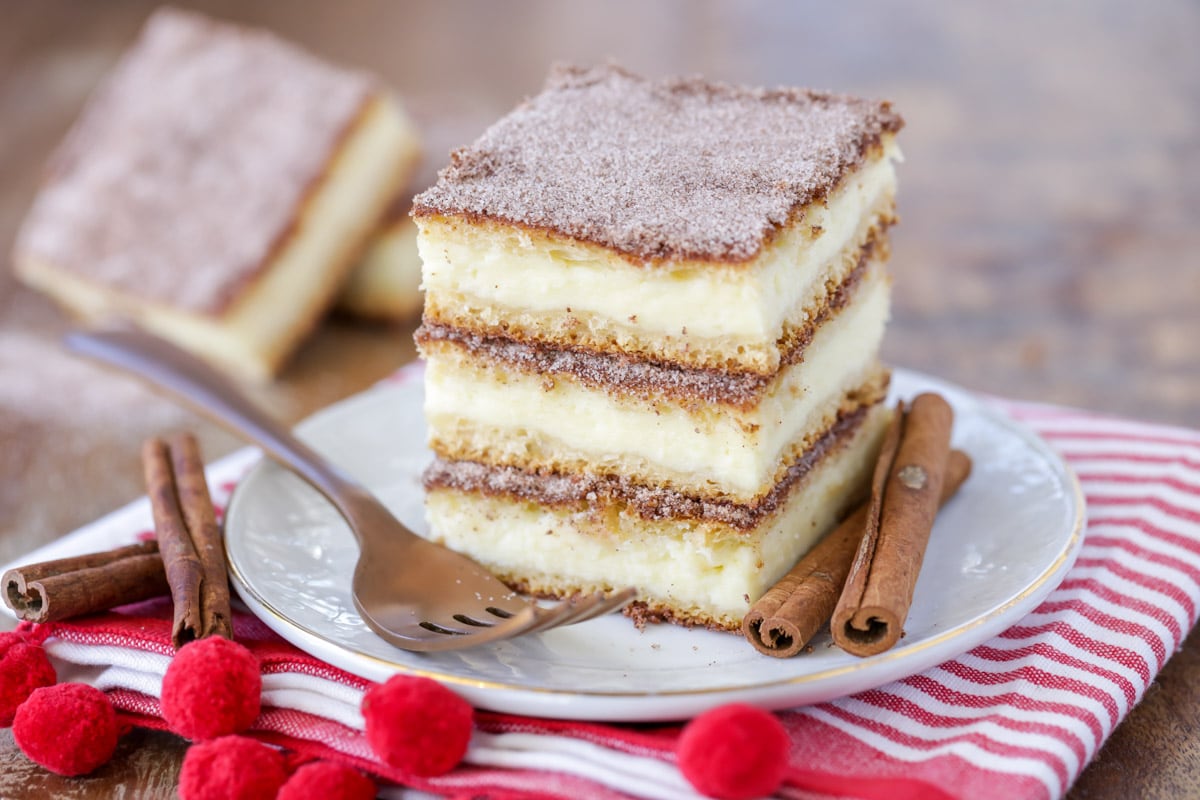 Other dessert bars
Last but not least, these bars don't quite fit into one of our other lists, but should not be ignored! THey are delicious and worth a try.
Churro Cheesecake Bars – Flaky & delicious Churro Cheesecake bars are covered in cinnamon and sugar filled with a sweet cream cheese layer.
Popcorn Bars – Popcorn Bars are delicious bars made from popcorn, marshmallows, peanuts and M&Ms. Everybody loves this yummy treat!
Peppermint Cheesecake Bars – Simple, Cool & Creamy Peppermint Cheesecake bars are topped with candy cane pieces and perfect for a quick holiday treat!
Pecan Pie Bars – With a buttery shortbread crust and caramelized pecan filling, it's impossible not to love these sweet and nutty Pecan Pie Bars!!
Sugar Cookie Bars – Frosted Sugar Cookie Bars are one of everyone's favorite cookies in bar form! They're quick, and perfect for sharing.
No-Bake Cheesecake Bars – No-Bake Cheesecake Bars are just the right amount of sweet, with a buttery graham cracker crust. Top them however you like—fruit, chocolate sauce, or caramel and sea salt!
---
The Complete List
Here are the picture cards for all of the mouth-watering dessert bar recipes listed above.
Whether you're looking for a dessert for a special meal or an everyday treat, you're sure to find some tasty recipes that you will come back to again and again!
Be sure to check out all of our Brownie and Bar Recipes!
And for more collections: Easy Cake Recipes, Cakes That Feed a Crowd, Cupcake Recipes