Not only for camping, these warm + comforting Cobbler Recipes can be whipped up any evening, making it a special occasion!
More Collections: Pie Recipes, Cheesecake Recipes, Chocolate Cakes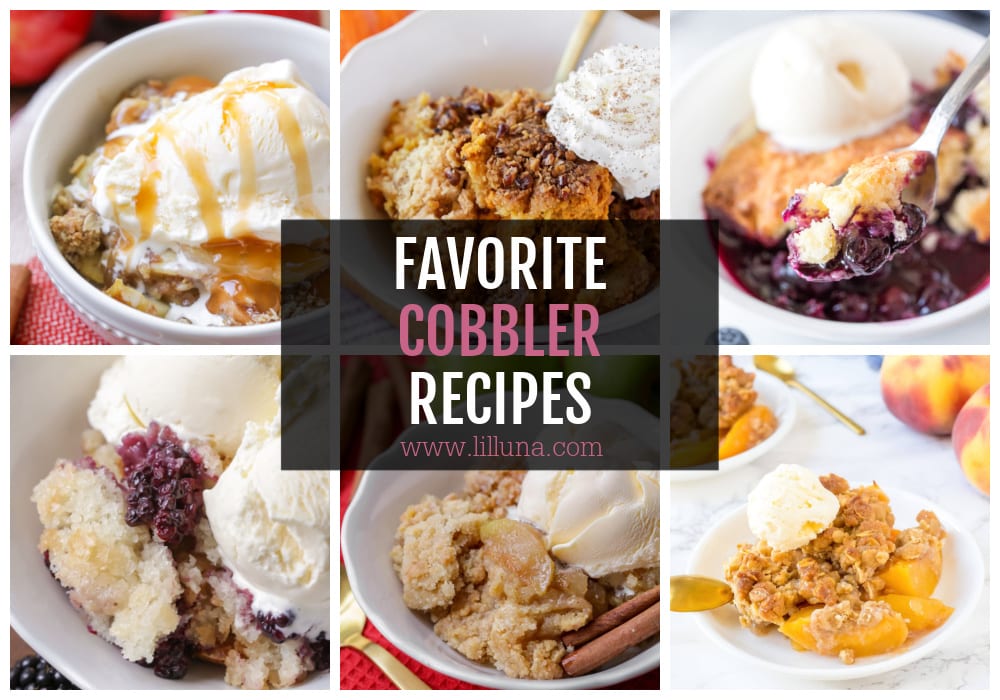 Cozy and Comforting
I realize not everyone likes warm fruit in their desserts, but that's everything I love about cobbler! Always filled with fruit, and topped with a buttery crumb or crisp, cobblers are perfectly likeable.
They're so cozy and comforting, whether it's summertime when fruit is at its prime, or a chilly fall evening. Pair with a cold glass of milk or a scoop of vanilla ice cream for dessert perfection.
3 main ways to cook cobbler
Cobblers can be cooked in the oven, crockpot or dutch oven. In general, here are the basic direction on how to use each method:
Oven: Preheat the oven to 350°F. Grease a standard baking dish with cooking spray, add cobbler. Bake until golden brown and bubbly.
Crock Pot: A crock pot can be used, but the topping doesn't bake up as crisply as it does in the oven. Layer the ingredients. Cook on high for 2 hours, or on low for 4 hours. During the last hour, partially uncover the pot to let the excess moisture evaporate.
Dutch Oven: Heat up 45 charcoal briquettes, until glowing and white. Add the cobbler ingredients to the cast iron pot. Place the oven on top of 15 briquettes. Place the remaining 30 briquettes on top of the pot. Let the cobbler cook for about 10 minutes. Rotate the pot halfway clockwise. Rotate the lid the opposite direction. This will redistribute the heat so that the cobbler will bake evenly. Cook for another 20 minutes until golden and bubbly.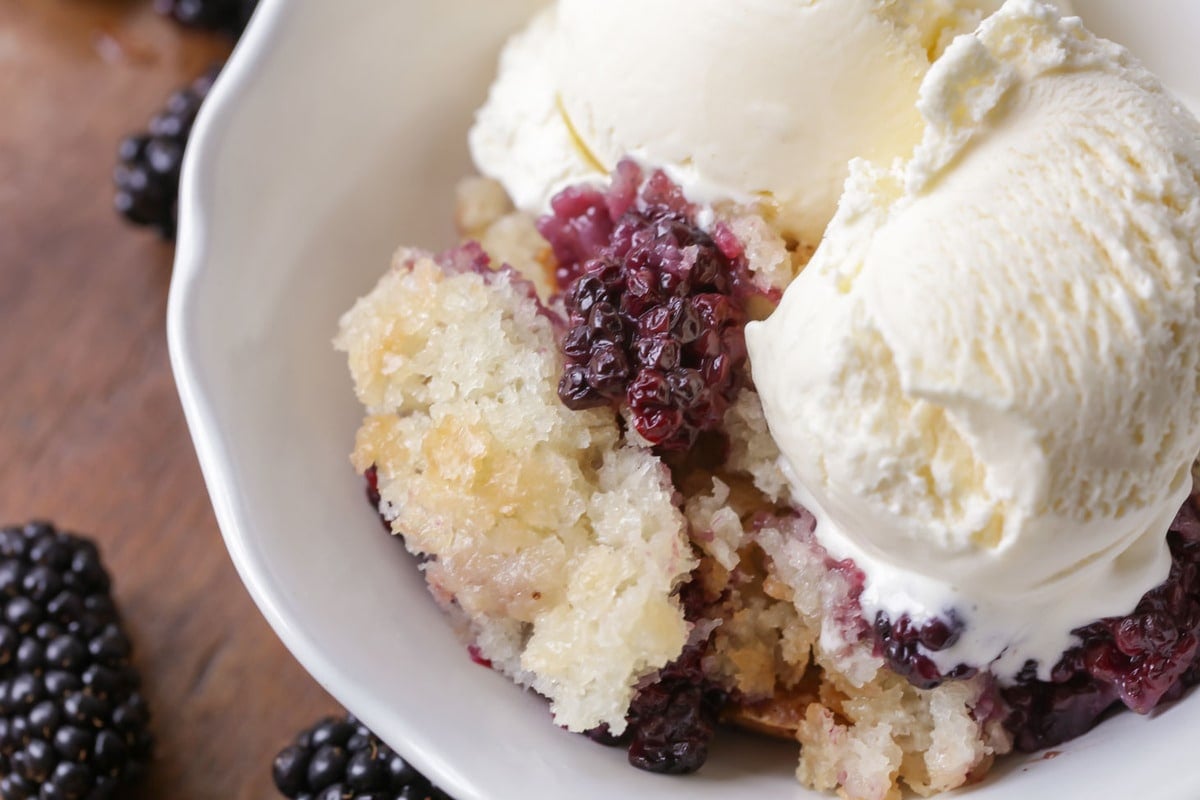 Cobbler Recipe Tips
Cobblers, crumbles and crisps are very similar to each other. They are typically filled with some type of fruit, but the topping is what differentiates one from another.
Cobblers have a biscuit or cake-like topping. It is generally a mixture of flour, sugar, and butter.
Crumbles are topped with an oat-less crumb topping.
Crisps are topped with a crumb topping that includes oats.
Make 'em Mini. Easily make individual desserts by dividing the ingredients into individual ramekins. Bake at the recommended temp, but for less time.
Thicken the cobbler. Cooking the dessert until it bubbles is important, the bubbling helps to thicken it. It will also continue to thicken as the dessert cools. If you are worried that the recipe will be too runny, toss the fruit in 1-2 tbsp of cornstarch before mixing up your recipe.
Toppings. I love serving cobbler with a generous scoop of vanilla ice cream or a dollop of whipped cream. You can also add a yummy caramel or butterscotch drizzle.
Soggy cobbler. Don't completely cover the fruit with the topping. Add the batter in dollops, leaving space between them. This will allow areas for steam to escape, otherwise it gets trapped, causing the cobbler to be soggy.
Doneness. The cobbler is done when the topping turns golden brown, and the filling is bubbly. If you have a probe thermometer, insert it into the center. The filling should reach 200°F.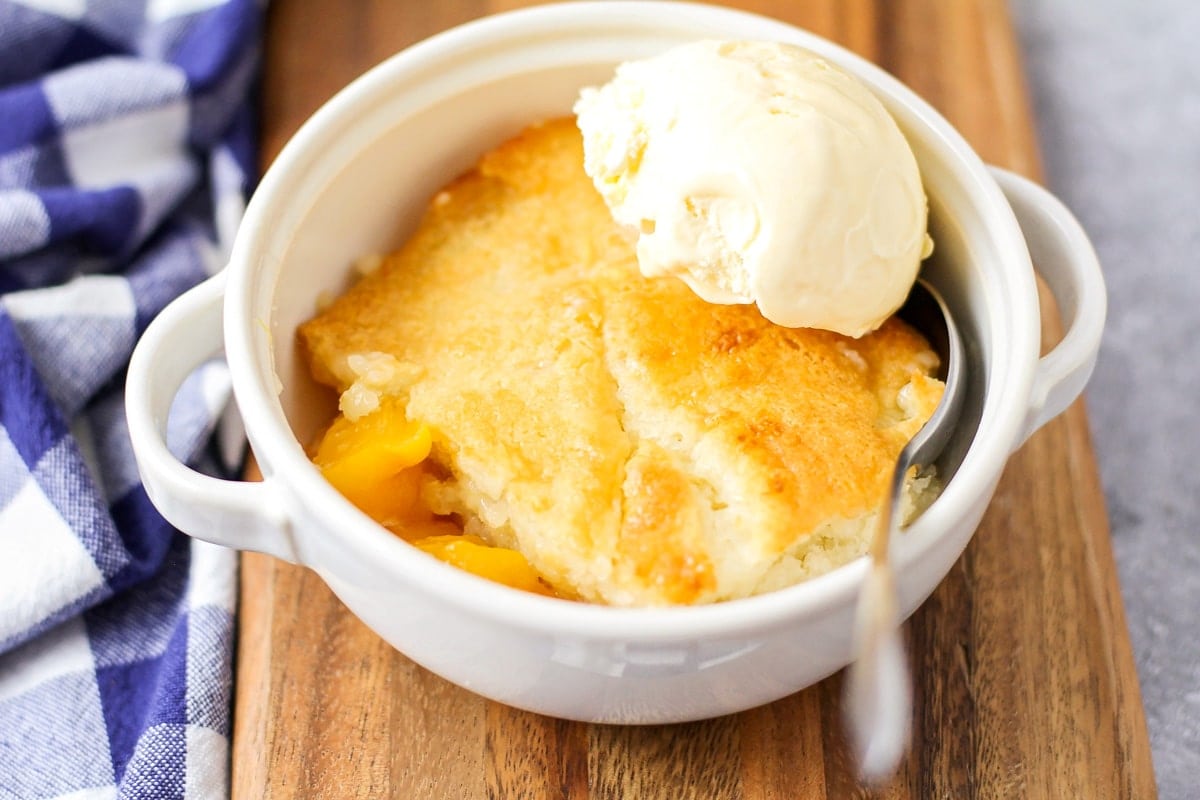 All about the fruit!
A great thing about cobblers, crisps and crumbles is that you can often substitute one fruit with another, without having to adjust the other ingredients.
Keep your favorite recipe and use fresh fruit, frozen fruit, and even canned fruit (canned peaches are especially delicious).
Frozen fruit is great because you can stock up on fruit while it's in season, at a good price, and then store it in the freezer for delicious desserts year round. Be sure to thaw and drain excess juices before using.
A few of my favorite fruits to use include:
stone fruit: peaches and apricots
apples (peeled and sliced)
berries: blueberries, raspberries and blackberries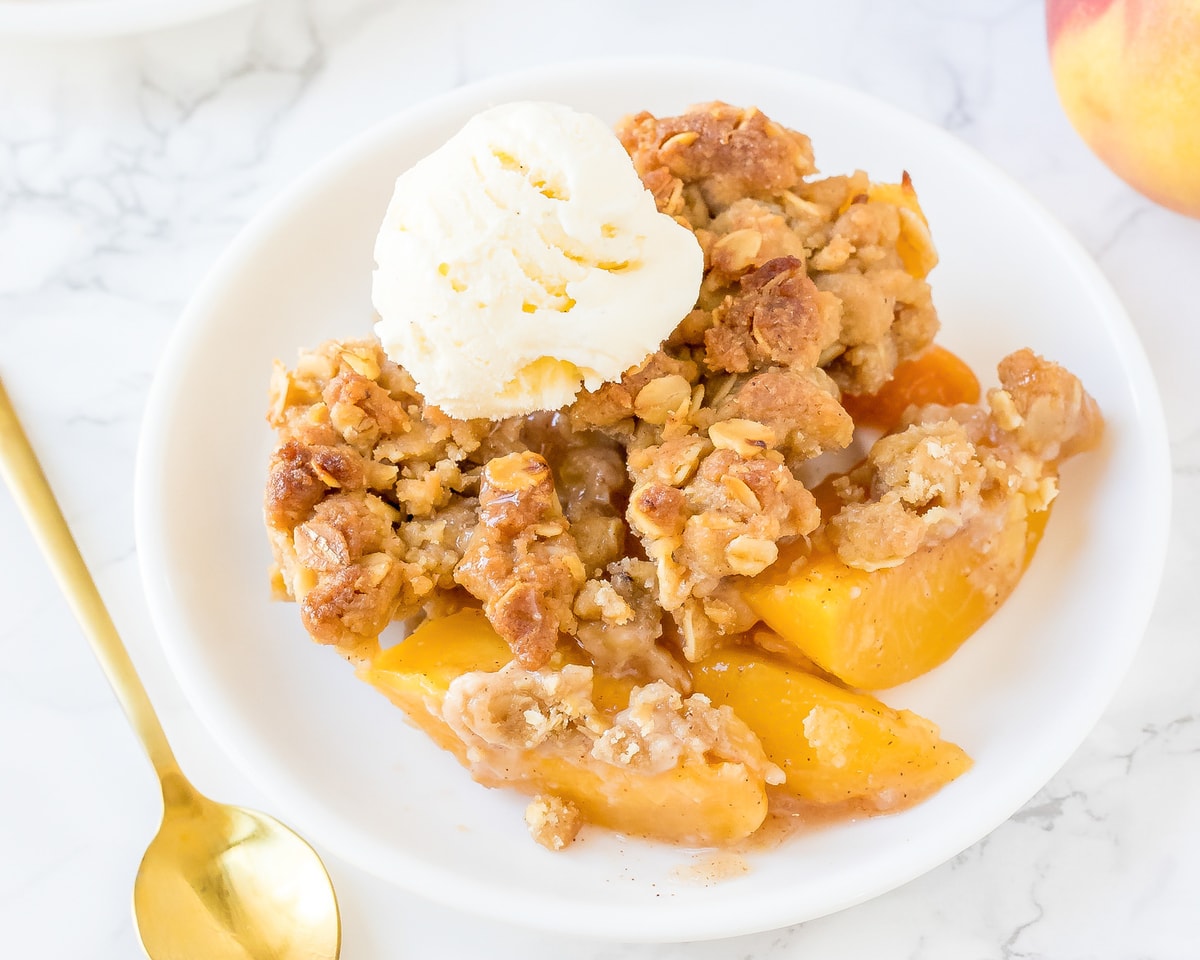 Storing Info
Cobblers, crisps and crumbles can be covered and stored in the fridge for 4-5 days. To reheat: Preheat the oven to 350°F. Bake until warm throughout. If you're in a hurry or just have one serving go ahead and use the microwave.
STORE. Cobbler can be kept at room temperature for a couple of hours but for longer storage cover it and keep it in the fridge for 2-3 days.
FREEZE. These desserts are best when freshly baked, but can be frozen. Allow the dessert to completely cool. Wrap with plastic wrap and again with foil, freeze for 3 months.
To reheat. Thaw if applicable. If you're on the go, or in a hurry, you can easily use the microwave to reheat the dessert. Otherwise, heating it up in the oven will help crisp up the topping. Set the oven to 350°F and heat for 10-15 minutes, or until hot. Tent a piece of foil over the cobbler to keep the top from burning while it reheats.
---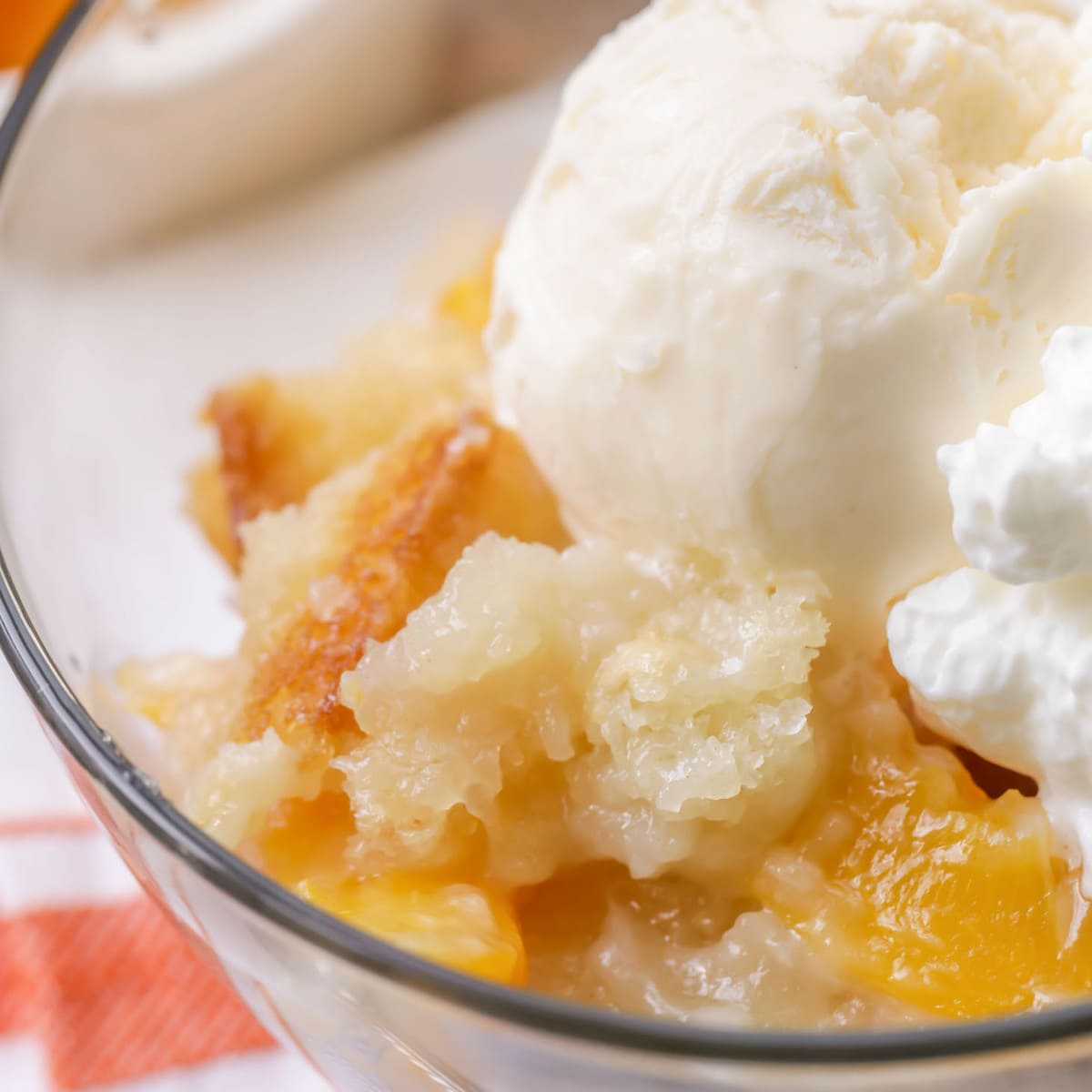 Best Cobbler Recipes
I included both cobblers and crisps in this list, because they're essentially the same! Crisps typically have oats in the crumble topping, while cobblers do not.
Peach Cobbler – Our FAVORITE peach dessert! This homemade Peach Cobbler recipe takes just a few minutes to prep and is beyond easy! Add some ice cream and cool whip to this delicious cobbler and you're set!
Blackberry Cobbler – Sugary crusted Blackberry Cobbler is sweet & irresistible, especially when served with a scoop of vanilla ice cream. Enjoy all year long!
Apple Crisp – Homemade Apple Crisp is filled with tender apples and topped with a crunchy streusel. It's heaven with a scoop of vanilla ice cream!
Apple Cobbler Recipe – This apple cobbler recipe is the autumn season wrapped up into one heavenly dessert. Fresh tender apples, cinnamon spices, and a sweet crunch topping all in one bite making it the best apple cobbler you'll ever try!
Pumpkin Cobbler – Easy Pumpkin Cobbler recipe – all the flavors of Pumpkin Pie in an easy to make baked dessert! Recipe includes yellow cake mix, pumpkin, pumpkin pie spice, and some seasonings, topped with your favorite nut!
Blueberry Cobbler – This delicious blueberry cobbler has a fluffy biscuit top, and tons of juicy blueberries. Serve it with a scoop of vanilla ice cream for the perfect summer treat!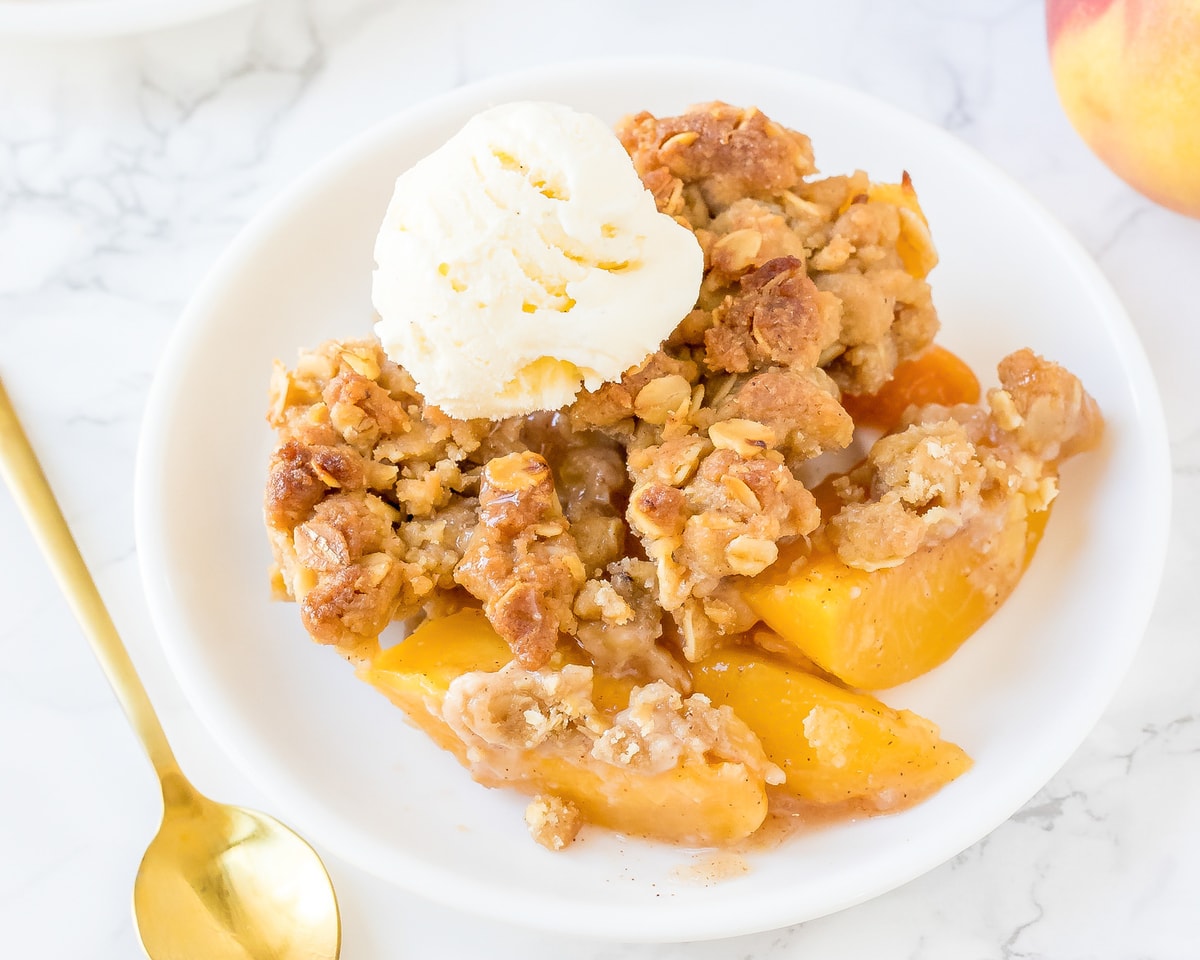 Peach Crisp – With sweet juicy peaches and cinnamon crumble topping, peach crisp is the perfect dessert with a scoop of vanilla ice cream.
Fresh Peach Cobbler – Vibrant Fresh Peach Cobbler served with vanilla ice cream is one of our most popular treats. It's the perfect summertime dessert.
Bisquick Peach Cobbler – Easy Bisquick Peach Cobbler a summertime favorite and one of our most popular desserts! It's the perfect ending to any meal.
Slow Cooker Apple Crisp – This ooey gooey crock pot apple crisp is spiced to perfection with nutmeg and cinnamon. It is a crowd pleaser and super quick and easy to throw together. Just let the slow cooker do the work!
Peach Cobbler With Cake Mix – EASY Peach Cobbler with Cake Mix takes 5 minutes to prep and uses pantry stable ingredients! It's a perfect summertime dessert.
---
the complete list
Here are the picture cards for all of the mouth watering cobblers listed above.
When you can make a dessert as delicious and easy as this you know you have a winner! You'll want to try every variety!
---
And for more collections: Holiday Cakes Recipes, Easy Cookie Recipes, Cookie Bar Recipes