Sweet and tangy cheesecakes are a best-loved treat. While these desserts may seem daunting to get perfect, with these tips, and a slew of delicious Cheesecake Recipes to choose from, you've got this!
More Collections: Cupcake Recipes , Pie Recipes, Cobbler Recipes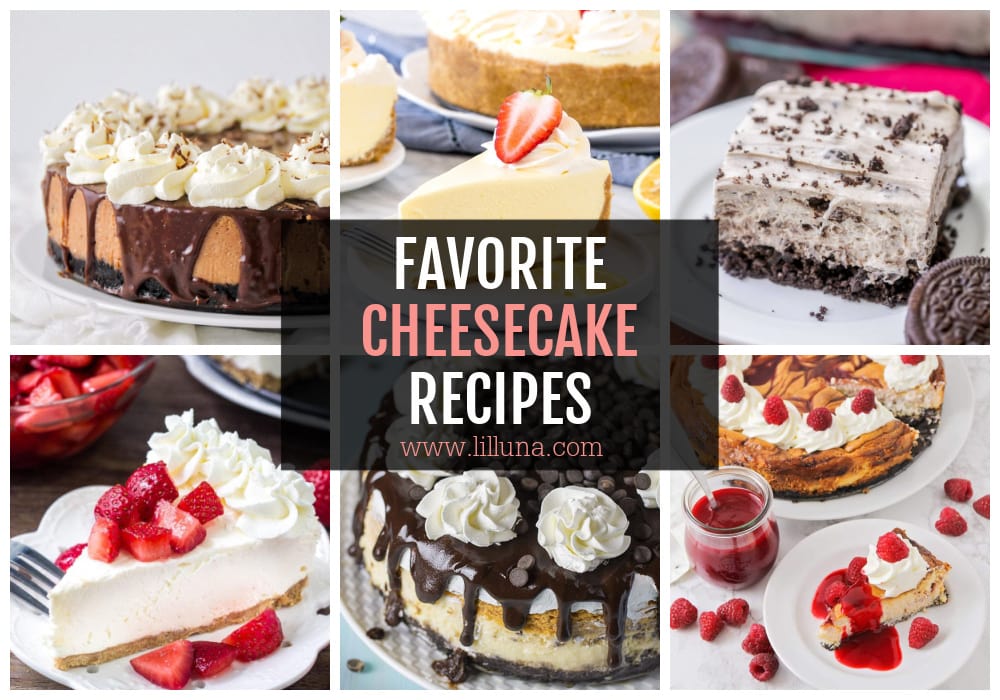 Deliciously Decadent
Drizzled with chocolate, filled with fruit, or topped with Whipped Cream – no matter how you do it, this is one deliciously decadent dessert.
Cheesecakes have a bad reputation for being finicky and difficult to achieve, but I promise that with the tips below, you should have no problem making a flawless and flavorful cheesecake!
This collection contains a few no-bake cheesecake recipes, and easy cheesecake recipes, that even a novice baker can confidently make.
Enjoy a few twists on the classic cheesecake, with bite-size or bar version recipes as well!!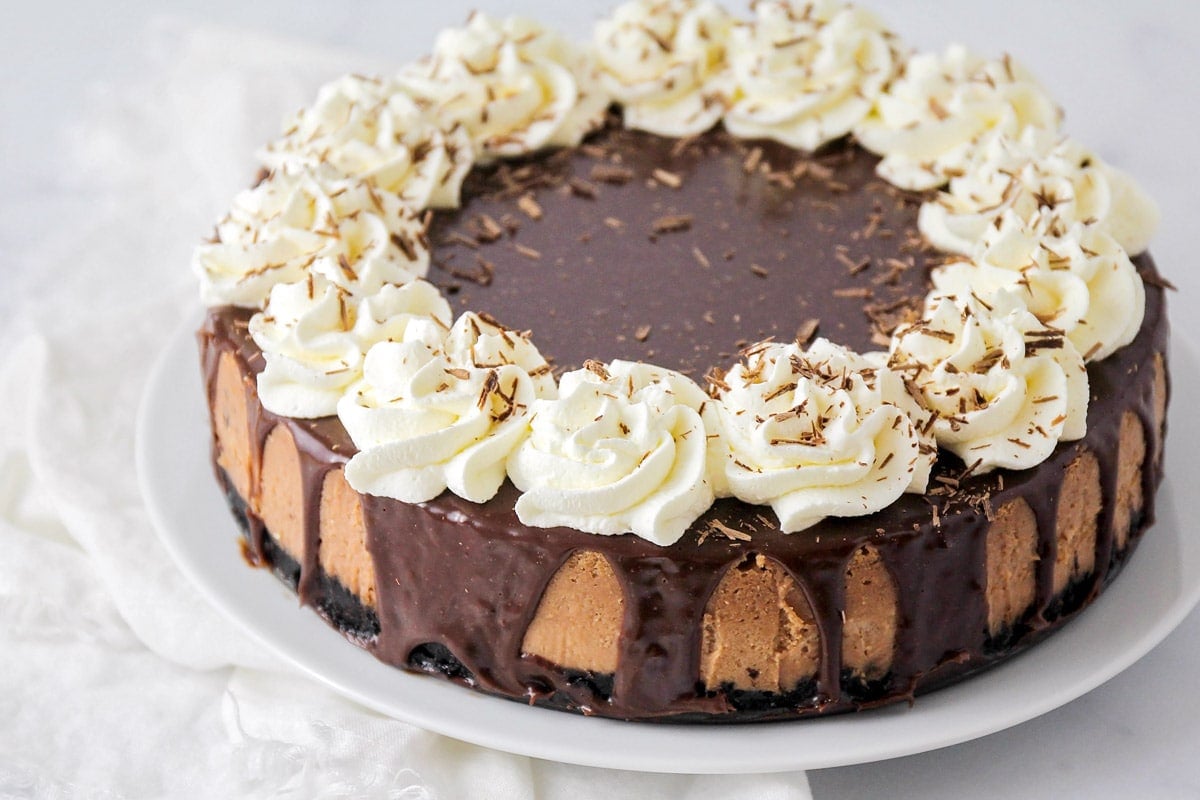 ingredient Tips
Cream cheese. Full Fat is the way to go for the best taste and texture. It makes the end result creamy and rich.
Room temperature ingredients. Use room temperature cream cheese and eggs to better incorporate with the other ingredients.
Cheesecake crust. Cheesecake crusts are usually made from a variety of different cookies that have been processed into crumbs.
A very basic recipe ratio for a crust would be 1 part melted butter, 2 parts sugar, and 4 parts crumbs.
Graham Cracker crumbs or Oreo cookie crumbs are among the most common.
Vanilla wafers and gingersnaps are also used.
The flavor of the crust can be adjusted by adding processed nuts, like pecans or almonds.
Be sure that no water leaks into the spring form pan otherwise the crust can get soggy and the cheesecake won't set well.
Sometimes the base of a no-bake cheesecake can get soggy. Refrigerating the crust to set the butter will help it become sturdier before adding the filling.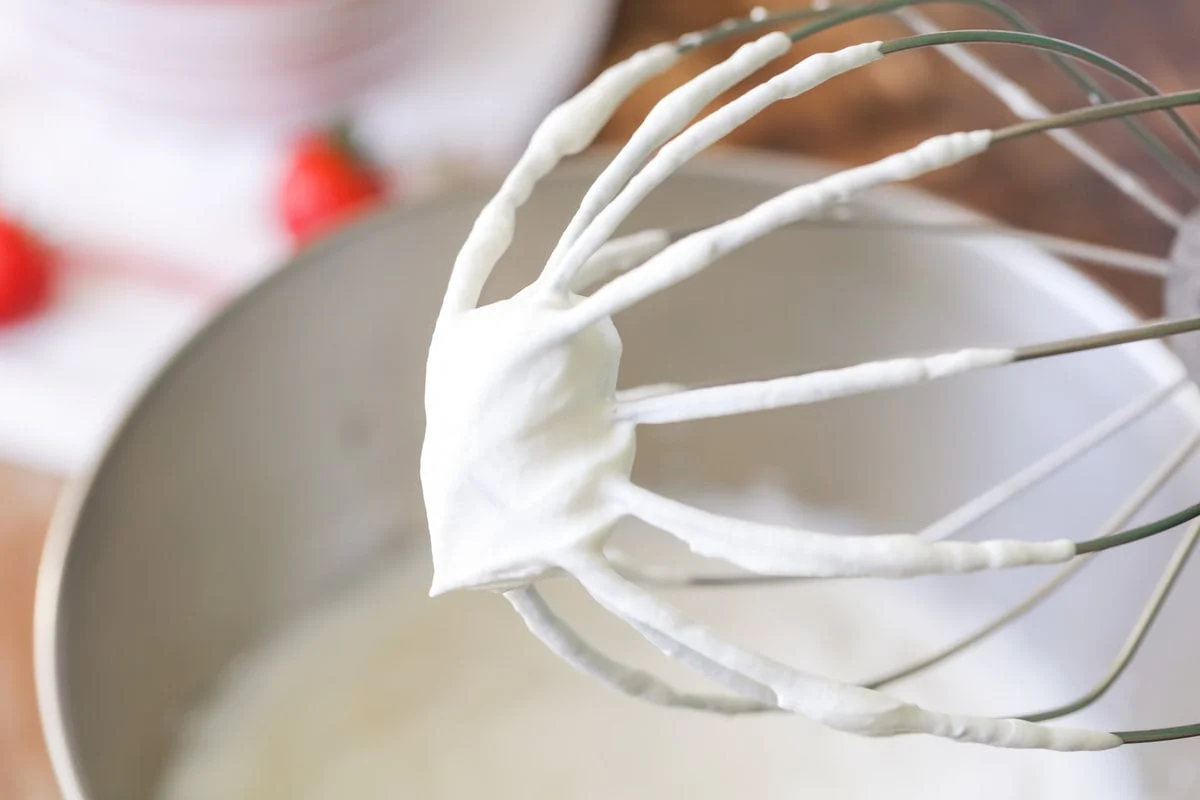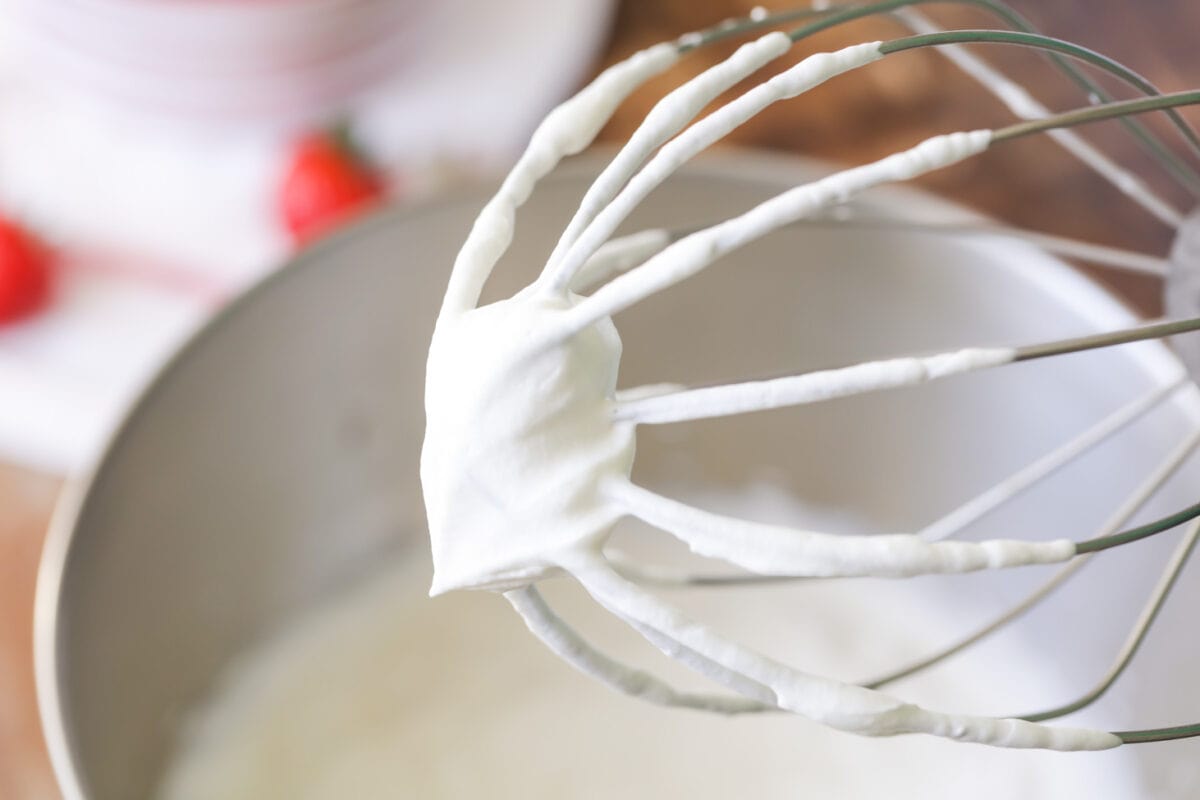 Serving tips
Slicing and serving: A 9 or 10-inch cheesecake can easily produce 12 thick-16 thin slices.
The easiest way to slice a cheesecake is to use a sharp thin-bladed slicing knife.
Many people like to heat the knife in a glass of hot water, wipe it dry, then slice. Wipe the knife clean and repeat. It may take a bit of extra time, but it creates nice clean cuts.
Try using UNflavored dental floss. Measure out about 18 inches of floss, wrap both ends around your index fingers, and press it down through the cake. Release one end and pull it out from under the cheesecake.
Topping Ideas: Even after your best efforts, homemade cheesecake recipes can still produce a cracked top.
Don't sweat, just cover it up! Use a chocolate or Caramel Sauce drizzle, fruit sauce, fresh berries, jam, or ganache. Here are a few more ideas: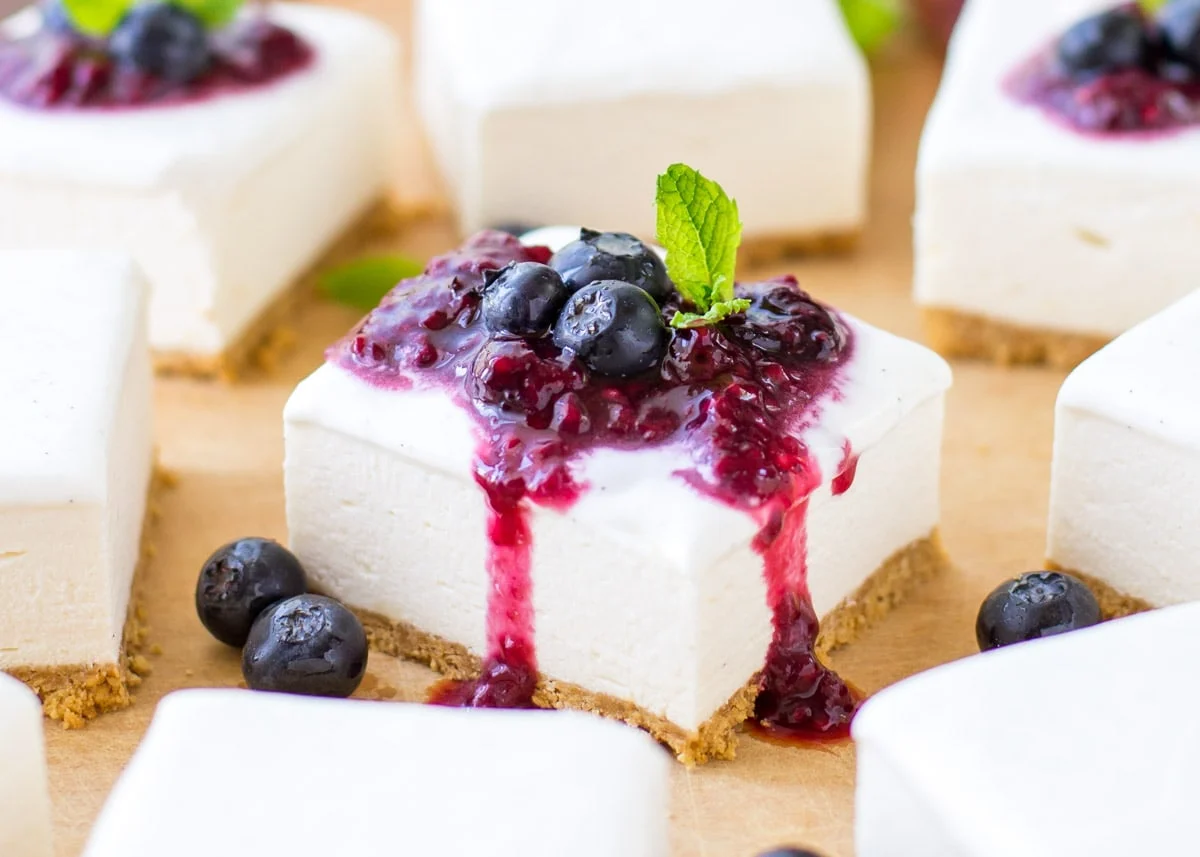 Additional tips
Do not overmix. It's important to follow the mixing directions in the recipe. Over-mixing the cheesecake batter, and mixing at high speeds can cause too much air to incorporate. This may cause the top of the cheesecake to crack, or for the cake to rise too much, and then fall.
Water bath. This can be a little scary, but it's really not hard. The benefits of a water bath definitely are worth the effort. A water bath adds extra moisture to the oven, which then helps with cracking. It allows the cake to bake more evenly and prevents burnt sides.
Springform pan. Although you can bake a cheesecake without one, a springform pan makes the process much easier.
Prevent leaks. To prevent water from seeping into the cake, place the springform pan into a crock pot liner bag before placing it into the water bath. You can also wrap the pan with aluminum foil. In either case, be sure the top of the cheesecake is not covered.
Cool the cake in the oven. Once the cake has baked but is still jiggly, turn the oven off and leave the cake in the oven. This will allow the cake to finish cooking while the cheesecake cools. (Just like when you leave cookies on a baking sheet to cool.) After 30 minutes, crack the oven door and allow the cake to finish cooling.
Storing Info
STORE. Cheesecake stores well, and is actually better after being chilled.
Go ahead and make cheesecake ahead of time! Store the cake in the refrigerator for 3-4 days, or wrap tightly with plastic wrap, and again with foil, for up to 2 months. Leftovers can be stored in the same manner.
---
Best Cheesecake Recipes
This collection has classic New York-style cheesecake, no-bake cheesecake, cheesecake bars, and even bites!
Regardless of your skill level, there will be a recipe here that will help you get your cheesecake fix!
No Bake Cheesecake
This NO BAKE classic cheesecake recipe is the perfect recipe for summer. With a delicious graham cracker crust, and a creamy vanilla cream cheese mixture, you can top it with anything – like these sugared strawberries!
Chocolate Cheesecake
An Oreo crust, milk chocolate cheesecake layer, and rich chocolate ganache topping combine to make this decadent dessert made for the ultimate choco-holic.
Pecan Pie Cheesecake
Pecan Pie Cheesecake has a wafers crust, pecan pie filling, cheesecake layer and buttery, caramel-pecan topping. It is perfectly indulgent!!
Jello Cheesecake
This easy jello cheesecake is completely no-bake and perfect for summer! You'll love the tangy, creamy filling and graham cracker crust.
Turtle Cheesecake
Turtle Cheesecake has a delicious crumbly crust, chocolate layer, cheesecake layer and to top it off, chocolate ganache, pecans and caramel!!
White Chocolate Raspberry Cheesecake
White chocolate raspberry cheesecake with a rich Oreo crust, white chocolate cream cheese base, and tasty raspberry swirl. Just like Cheesecake Factory's recipe!
No Bake Snickers Cheesecake
Snickers cheesecake is a no bake dream. It is cool and refreshing with the perfect amount of rich chocolate and peanut flavor!
Lemon Cheesecake With Raspberry Sauce
This lemon cheesecake is smooth and creamy with a crunchy graham cracker crust and delicious lemon flavor. Then it's topped with raspberry sauce for the perfect flavor combo.
No Bake Oreo Cheesecake
This lemon cheesecake is smooth and creamy with a crunchy graham cracker crust and delicious lemon flavor. Then it's topped with raspberry sauce for the perfect flavor combo.
No Bake Cheesecake Bars
No-Bake Cheesecake Bars are just the right amount of sweet, with a buttery graham cracker crust. Top them however you like—fruit, chocolate sauce, or caramel and sea salt!
No Bake Chocolate Cheesecake
Easy, No Bake chocolate cheesecake bars are deliciously creamy with a crunchy Oreo cookie crust. They only take 15 minutes to make!!
Banana Pudding Cheesecake
Creamy and delicious Banana Pudding Cheesecake is a mixture of homemade vanilla pudding, graham cracker crust, and fresh cut bananas!!
Double Layer Pumpkin Cheesecake
Oreo crust, two layers of cheesecake (one plain and one with pumpkin puree), whipped cream, and chocolate ganache! Everything about this chocolate pumpkin cheesecake is heavenly.
Pumpkin Cheesecake Bars
These Pumpkin Cheesecake Bars have so many delicious layers, including a graham cracker crust, cheesecake layer and pumpkin layer. They're full of fall spices and are sure to impress at any holiday gathering.
No Bake Pumpkin Cheesecake
Individual No Bake Pumpkin Cheesecakes are easy and perfect for the holidays!! Crushed gingersnaps fill the bottom of each jar, layered with a mixed pumpkin puree, and topped with Whipped Cream and caramel!
Peppermint Bark Cheesecake
Oreo crust Peppermint Bark Cheesecake is packed with both white and milk chocolate and loaded with peppermint flavor!!
Peppermint Cheesecake Bars
Simple, Cool & Creamy Peppermint Cheesecake bars are topped with candy cane pieces and perfect for a quick holiday treat!
Churro Cheesecake Bars
Flaky & delicious Churro Cheesecake bars are covered in cinnamon and sugar filled with a sweet cream cheese layer.
Cheesecake Bites
I can't think of a better summer treat than these cheesecake bites!! They are sweet little bites of heaven and they are NO-BAKE!
No Bake Strawberry Nutella Cheesecakes
Decadent No-Bake Strawberry Nutella Cheesecakes are simple to make and for an easy chocolatey dessert perfect for special occasions!
Hot Cocoa Cheesecake Minis
These Hot Cocoa Cheesecake Minis are the cutest and most delicious way to enjoy the winter season and spread Christmas cheer.
Cherry Cheesecake Cupcakes
Cherry cheesecake cupcakes are bite-sized treats made with a cream cheese base and topped with cherry pie filling. They're sweet, tart, and ultra simple to make!
Mini Peanut Butter Cheesecakes
Mini Peanut Butter Cheesecakes are simple, delicious and perfectly bite-size. These are so great for parties and get togethers!!
Sopapilla Cheesecake
This decadent dessert is inspired by the Mexican treat—sopapillas! All of the flavors of fried dough and creamy cheesecake combine to make these decadent Sopapilla Cheesecake Bars.
Cheesecake Chimichanga
Crispy on the outside, with a sweet + tangy filling, this Cheesecake Chimichanga bakes up in minutes for a perfectly satisfying treat!
Red Velvet Cheesecake Cake
Red Velvet Cheesecake Cake is filled with a delicious cream cheese layer in the center and topped with a homemade cream cheese frosting making it a delicious dessert to enjoy all year long.
Cheesecake Strawberries
These cheesecake stuffed strawberries are filled with a sweet cream cheese filling and topped with crushed graham crackers!
---
Something for Everyone!
Whether you are looking for something more traditional, no-bake, or even some fun cheesecake varieties, there is something on this list for everyone. You may just want to try them all!
Be sure to check out all of our Cheesecake Recipes!
For more collections: Easy Cake Recipes, Chocolate Cake Recipes, Cakes with Fruit