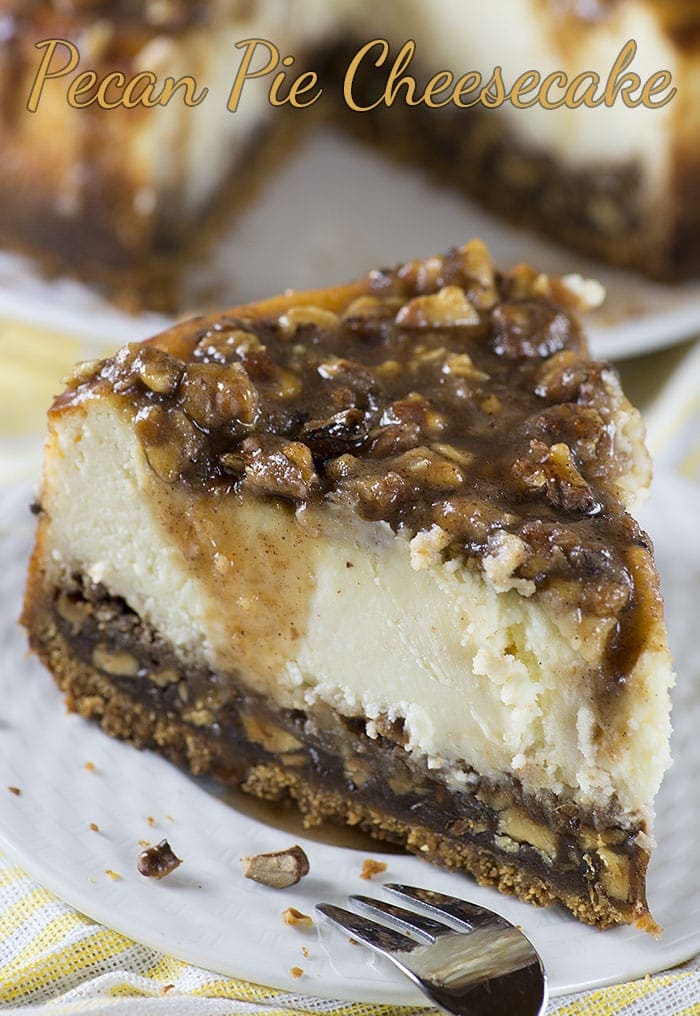 Hello, it's me Vera from OMG Chocolate Desserts! It's always great fun for me to stop by and share my recipe with Kristyn and her fabulous readers. Today I present you Pecan Pie Cheesecake. Yes, it's cheesecake again!!!
What can I say, I simply LOVE,LOVE cheesecake. I love to bake and certainly enjoy eating cheesecakes. And Kristyn also likes my cheesecakes, therefore  I'm making whole mini-series of cheesecake recipes here on LilLuna. If you're a fan of these delicious treats, you can find recipes for every season. First there was Milk Chocolate Cheesecake, although if you ask me chocolate is always in fashion, you can eat it all year round. Then followed Double Layered Pumpkin Cheesecake, perfect for autumn holidays-Halloween and Thanksgiving.
And now here's Pecan Pie Cheesecake, which could  look great at Thanksgiving or Christmas table.  And do not worry, it's not the end, I'm already preparing a little surprise for winter holiday season, in cheesecake form, of course.
On my blog I have the whole category dedicated to cheesecake, bake or no bake, mini or regular size…But I have to tell you, this pecan Pie Cheesecake is one of the best I've ever tasted. It's like cheesecake and pecan pie in one dessert. How could anything be better?!  This cake has vanilla wafers crust, pecan pie filling, creamy cheesecake layer and buttery, caramel-pecan topping. It's not insanely sweet like a regular pie because cheesecake layer perfectly cuts down the sweetness of pecan filling, and still you will enjoy in rich in decadent treat.
If you have a cheesecake lovers  in your family , I recommend trying this Pecan pie cheesecake, it's my fall favorite.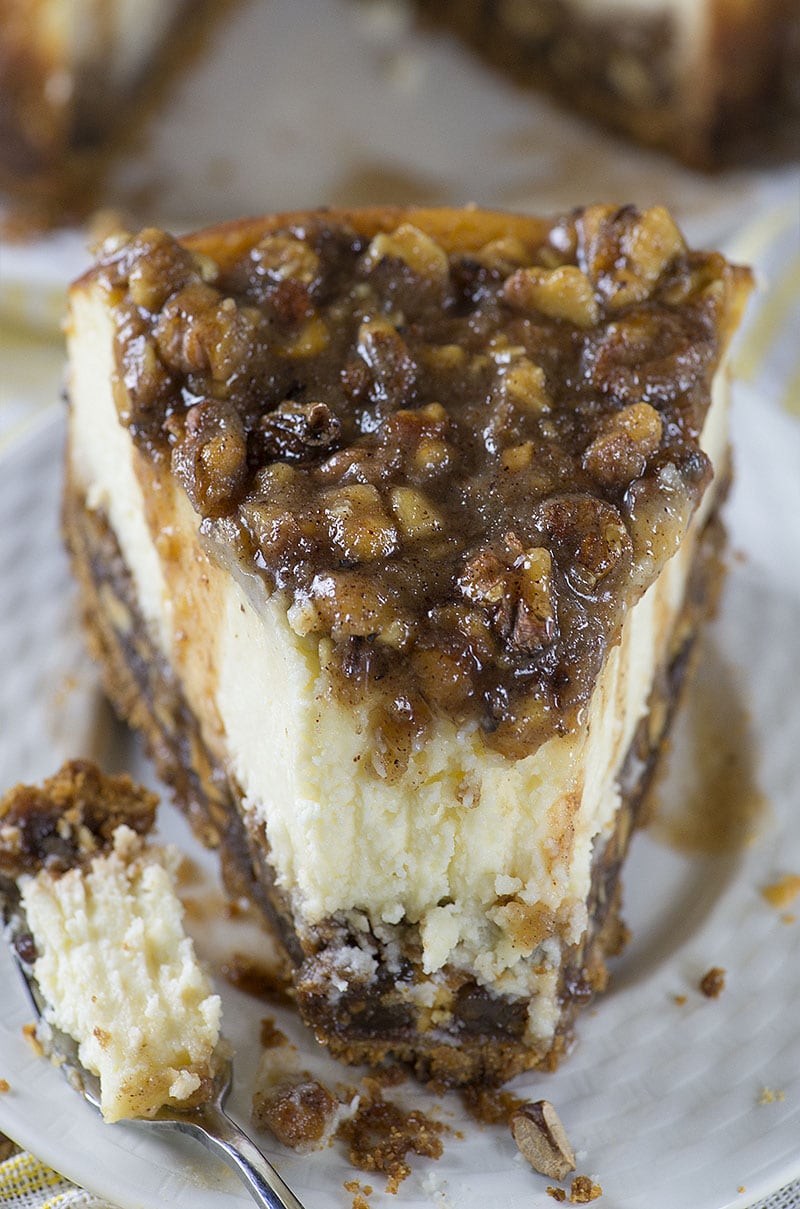 Pecan Pie Cheesecake
Ingredients
For the Crust:
1¾ cups vanilla wafer crumbs
¼ cup brown sugar
⅓ cup unsalted butter-melted
For the Pecan Filling:
1 cup sugar
⅔ cup dark corn syrup
⅓ cup unsalted butter- melted
2 large eggs-lightly beaten
1½ cups pecans-chopped
1 teaspoon vanilla extract
For the Cheesecake Filling:
24 ounce cream cheese-softened
1¼ cups light brown sugar
2 tablespoons all-purpose flour
4 large eggs
⅔ cup heavy whipping cream
1 teaspoon vanilla extract
For the Topping:
3.5 tablespoon unsalted butter-melted
½ cup brown sugar
1 teaspoon cinnamon
¼ cup heavy whipping cream
1 cup toasted pecans-chopped
Instructions
To make the Crust:
Line the bottom of 9 inch springform pan with parchment paper and set aside.
Combine vanilla wafer crumbs and brown sugar, stir in melted butter, then press the mixture evenly into bottom and halfway up the side of 9 inch springform pan. Set in the fridge to firm the crust while making the filling.
To make the Pecan Filling:
In a medium saucepan combine sugar, corn syrup, melted butter, eggs, pecans and vanilla and bring to a boil over medium-high heat, stirring constantly. Reduce heat and simmer stirring constantly until thickened, 5-7 minutes. Pour into prepared crust and set aside.
To make the Cheesecake Filing:
Preheat the oven to 350 degrees F.
Beat the cream cheese until creamy, then add brown sugar and flour and beat until fluffy.
Add eggs, one at a time, beating just until combined after each addition. Do not overbeat it!!! Stir in heavy cream and vanilla, then pour cheesecake mixture over pecan filling.
Place springform pan on a cookie sheet, put it in the oven and reduce the heat to 325 F Bake the cake for 60-70 minutes (until toothpick inserted in the center comes out almost clean). Turn off the oven and leave cheesecake in with oven door closed for 1 hour.
Run a knife around edges of cheesecake but don't take out of the pan until completely cooled.
To make the topping:
In a small saucepan combine butter and brown sugar. Cook for 3-5 min or until very bubbly, then stir in cinnamon, heavy whipping cream and chopped pecans. Cool to room temperature.
Release the sides of springform pan and spoon the topping over cooled cheesecake.
Store the cake in the fridge.
Check more Vera's delicious cheesecakes:
Triple Chocolate Cheesecake with Oreo Crust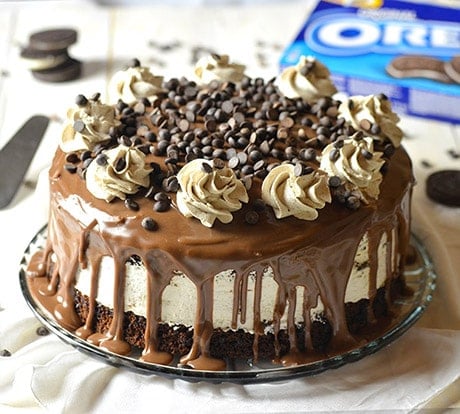 Oreo Cheesecake Chocolate Cake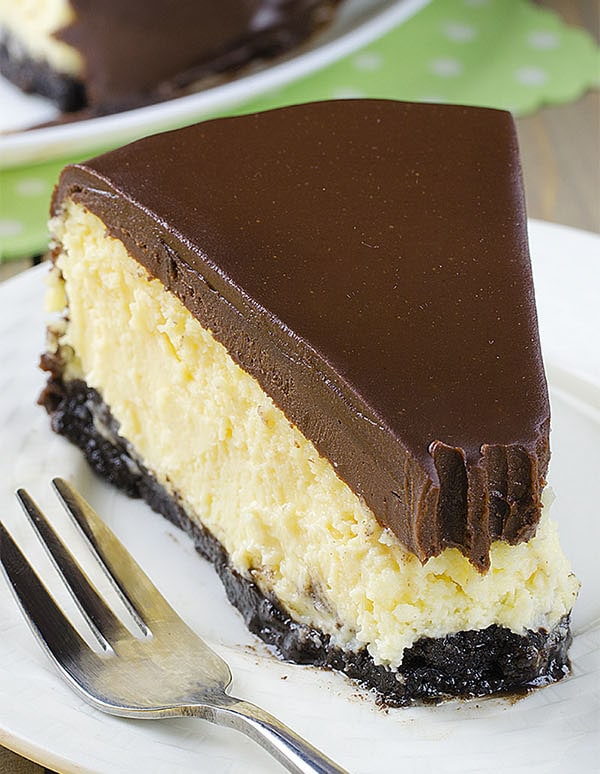 Bailey's Irish Cream Cheesecake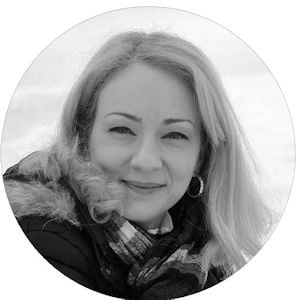 _______________________
This looks absolutely DIVINE. This could potentially make a great Thanksgiving dessert.
Thank you SO much for sharing this recipe Vera!
For more recipes just as amazing as this one, head over to OMG Chocolate Desserts.
And if you want even more delicious pie and cheesecake recipes, check these out:
Double Layer Pumpkin Cheesecake with Oreo Crust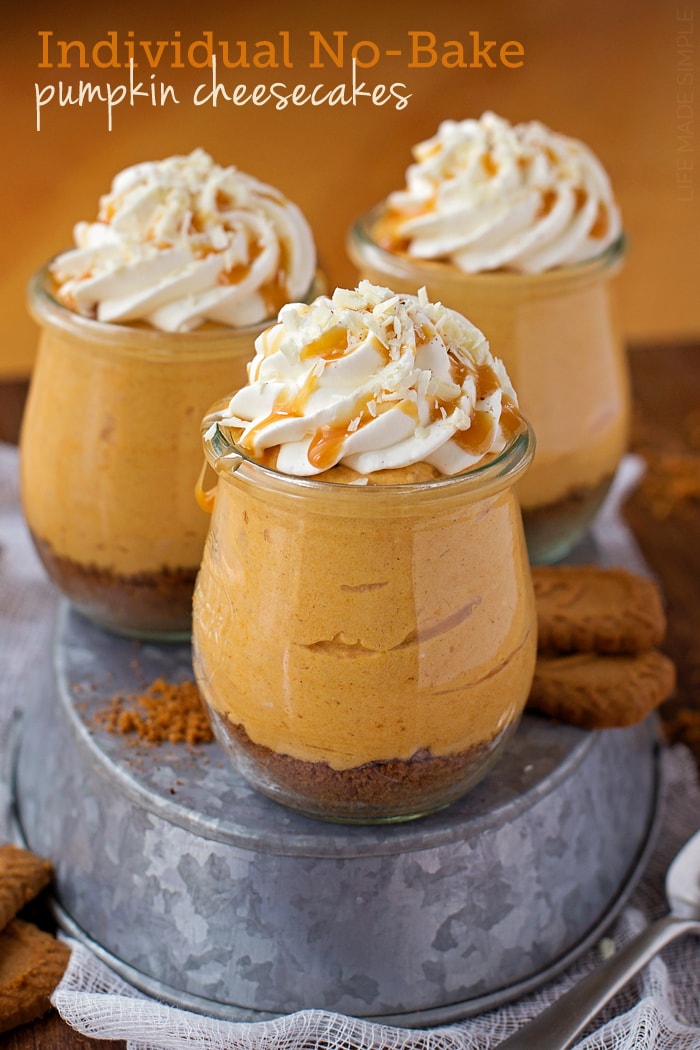 Individual No Bake Pumpkin Cheesecakes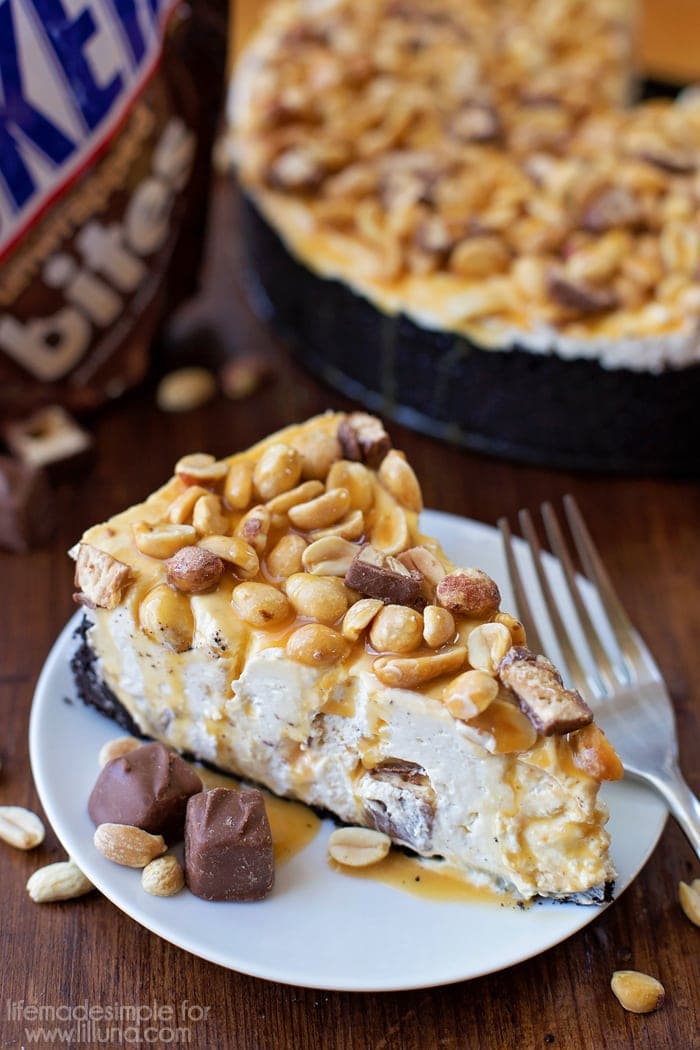 For all dessert recipes on the site, go HERE.
And for all recipes, go HERE.
For even more great ideas follow me on Facebook – Pinterest – Instagram – Twitter – Periscope.
And get weekly emails with monthly freebies by signing up for the Lil' Luna newsletter. 🙂
ENJOY!!