Everyone's favorite pecan pie in mini form! Perfect for parties and snacking with your hands! Sweet, bite sized, crunchy, and delicious – these mini pies are great for holidays.
We sure love mini desserts, especially on holidays and at parties, where there is a lot of food (we love little tastes of EVERYTHING!) These mini pecan pies are great for those as well as our: Mini Pumpkin Pies, Mini Pumpkin Donut Muffins and Hot Cocoa Cheesecake Minis.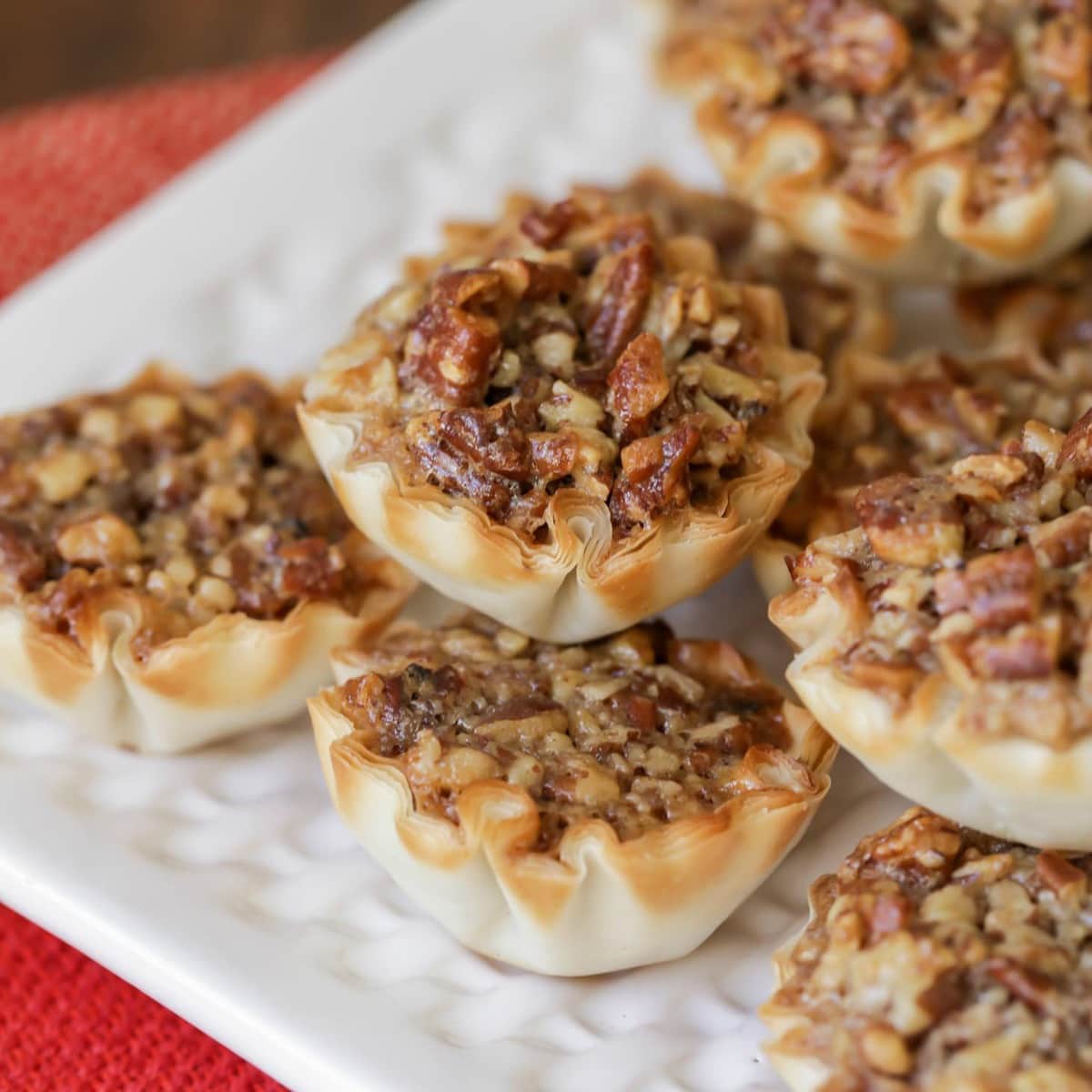 Pecan Pie Tarts
Pie is one of the BEST part of the holidays…am I right? I love all different flavors of pie but the classic pecan pie is one of my favorites. I love the sweetness from the brown sugar and the crunch from the pecans. Such a delicious combination!
If you're a pecan pie lover like me, then you're going to fall fast in love with these mini pecan pie tarts. It's everything you want in pecan pie but in mini form! Also – it's a lot easier to make then a full pie. These cute tasty tarts are made with phyllo cups (more info on that below!) which makes these quick and easy to put together and bake. Take these to your next holiday party- everyone will go crazy for them!
What are Phyllo Cups? Phyllo cups are your new best friend when it comes to dessert making. They are light, flaky layers of dough that are formed into mini pastry cups. These phyllo cups come fully baked and frozen fresh which makes preparing a breeze.
They are fast, versatile and ready to fill and serve with sweet or savory ingredients! These are great for using for desserts, appetizers, breakfasts, dinners, and more! They usually come in package with 14 cups.
Where to Buy Phyllo Cups? You can find phyllo cups are most grocery stores in the freezer section next to the pies!
How to Make Mini Pecan Pies
Let's move onto the best part – making the mini pecan pies!! Start by mixing together the (chopped and toasted) pecans, brown sugar, corn syrup, and egg in a bowl. Add the melted butter, vanilla, salt and mix everything together until fully combined.
Line a baking sheet with parchment paper and lay out the baking cups onto the baking sheet. Add a few teaspoons of the pecan filling to each baking cup. Put them into the oven at 350 degrees and bake for 18-20 minutes. The filling should be set when they are done cooking.
Let them cool a bit and you're ready to serve and eat!
How to Freeze Mini Pecan Pies – You can freeze these yummy mini pecan tarts for 2-3 months in a freezer bag or freezer-safe container. When you're ready to eat and serve them, take them out of the freeze and thaw them overnight in the refrigerator. Once they have thawed bring them to room temperature on the counter before serving.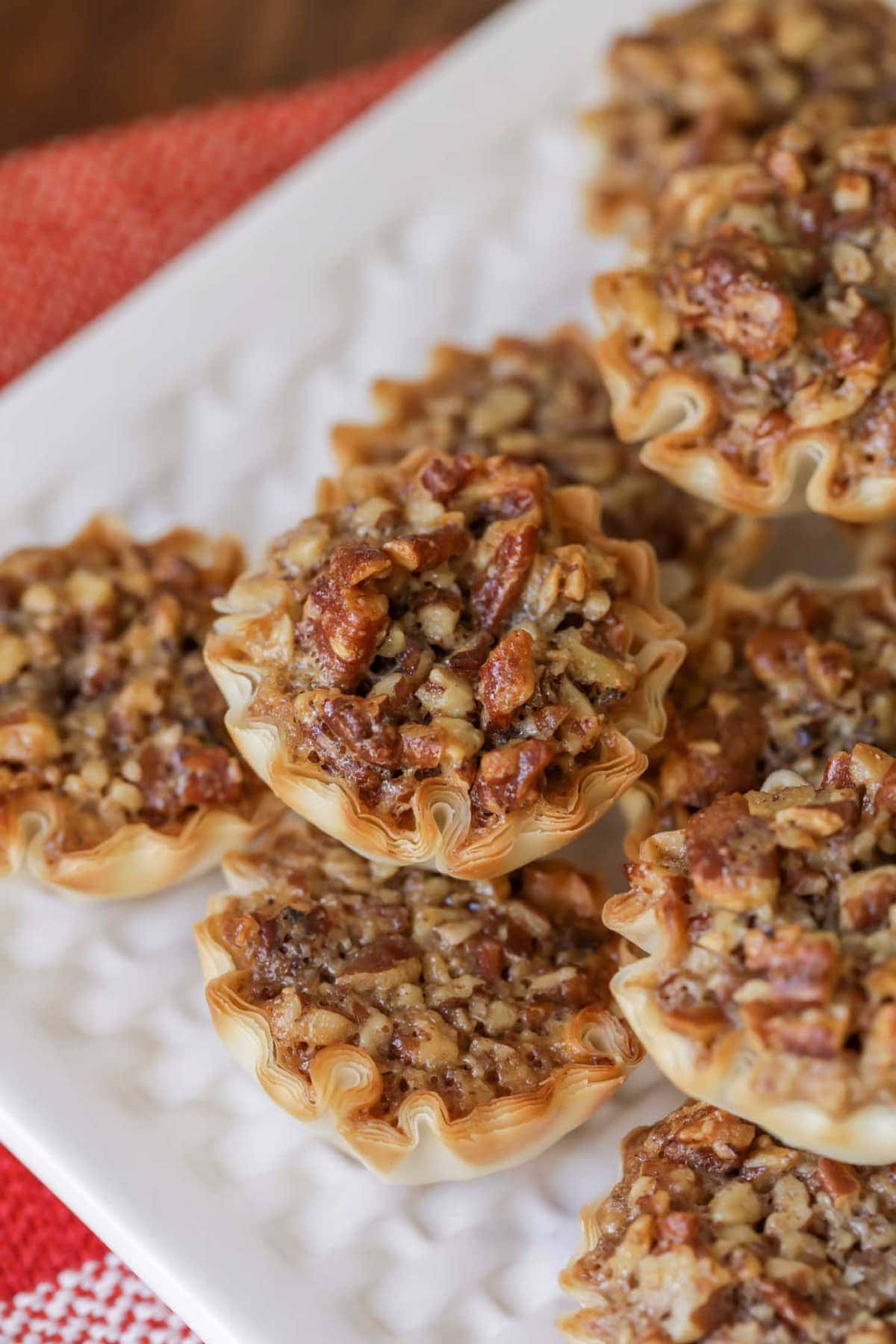 We sure love these mini Pecan Pies – they would be great to serve with our mini Pumpkin Pies too. Both delicious and both great for any holiday gathering. 😉
Fore more pecan recipes, check out:
Mini Pecan Pie Recipe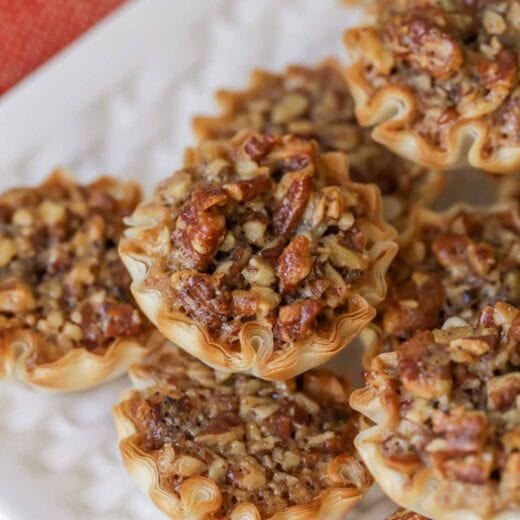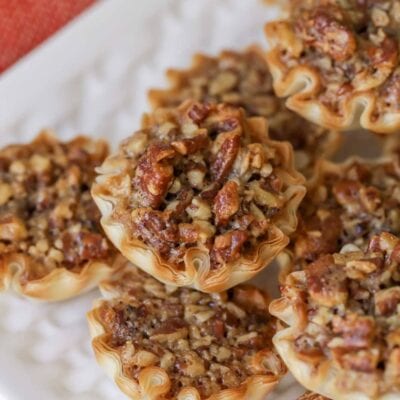 Everyone's favorite Pecan Pie baked in mini form! Sweet, bite sized, crunchy and delicious – these Mini Pecan Pies are great for holidays.
Ingredients
3/4

cup

pecans

chopped and toasted

3

tablespoons

brown sugar

3

tablespoons

corn syrup

dark

1

egg

2

teaspoons

butter, melted

or vegetable oil

1/2

teaspoon

vanilla extract

1/2

teaspoon

salt

1

package

mini-phyllo shells

(has 14 shells)
Instructions
Preheat oven to 350°F. Line a baking sheet with parchment paper.

Mix together pecans, brown sugar, corn syrup and egg in a small bowl. Add melted butter, vanilla and salt. Mix together until fully combined.

Lay out mini shells onto prepared baking sheet and add a few teaspoons of pecan filling into each shell.

Bake for 18-20 minutes, or until set.