Southern Pecan Pralines are a melt-in-your-mouth cross between a cookie and a candy! They are a crunchy and sweet treat.
Pralines are a southern candy that has caramelized nuts in it. Pecan pralines are sugary and buttery dessert that features nuts. For more sugary candy try Caramel Candy, Homemade Turtle Candy, and Homemade Pay Day Candy Bars.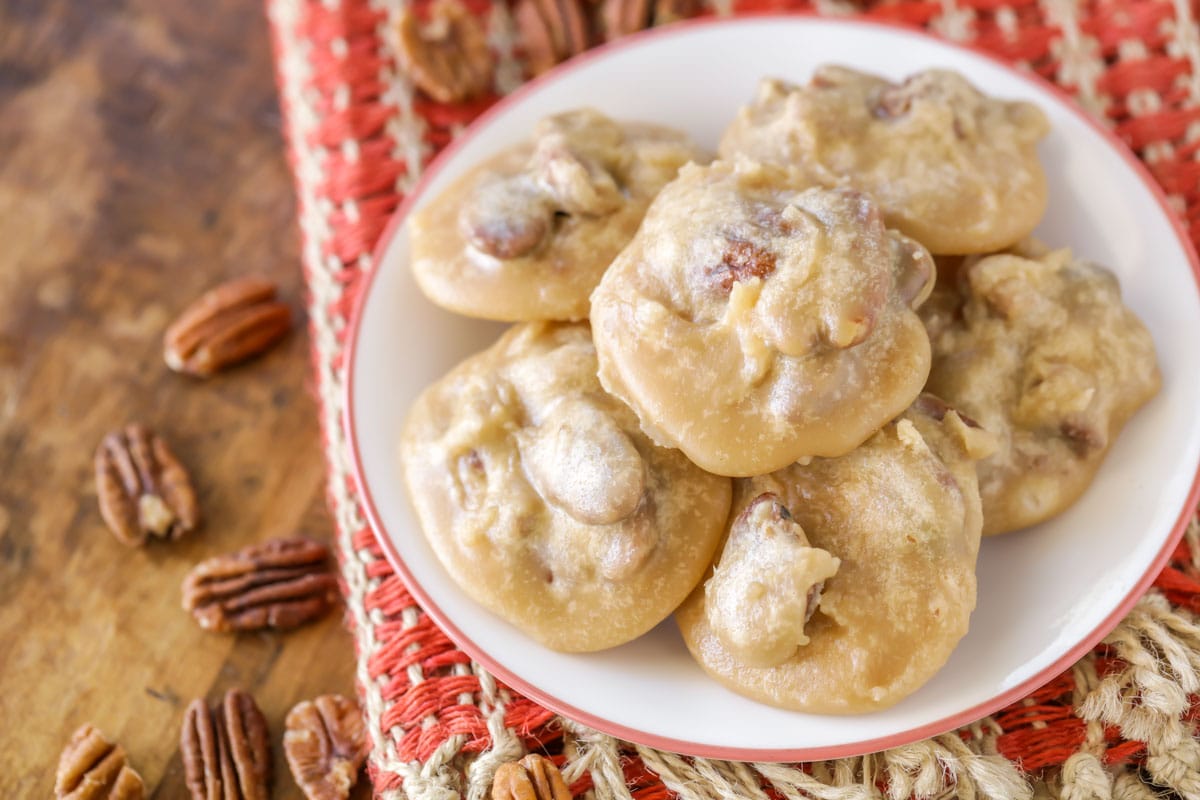 Homemade Pralines
Have you been to New Orleans?
If you have, then you've probably had Pecan Pralines. They are a classic there (along with Beignets), and they are a personal favorite.
I decided to try a homemade recipe because we were missing them (and they were so delicious!!) Surprisingly, they were really easy to make, and I wanted to make sure you could try them at home too.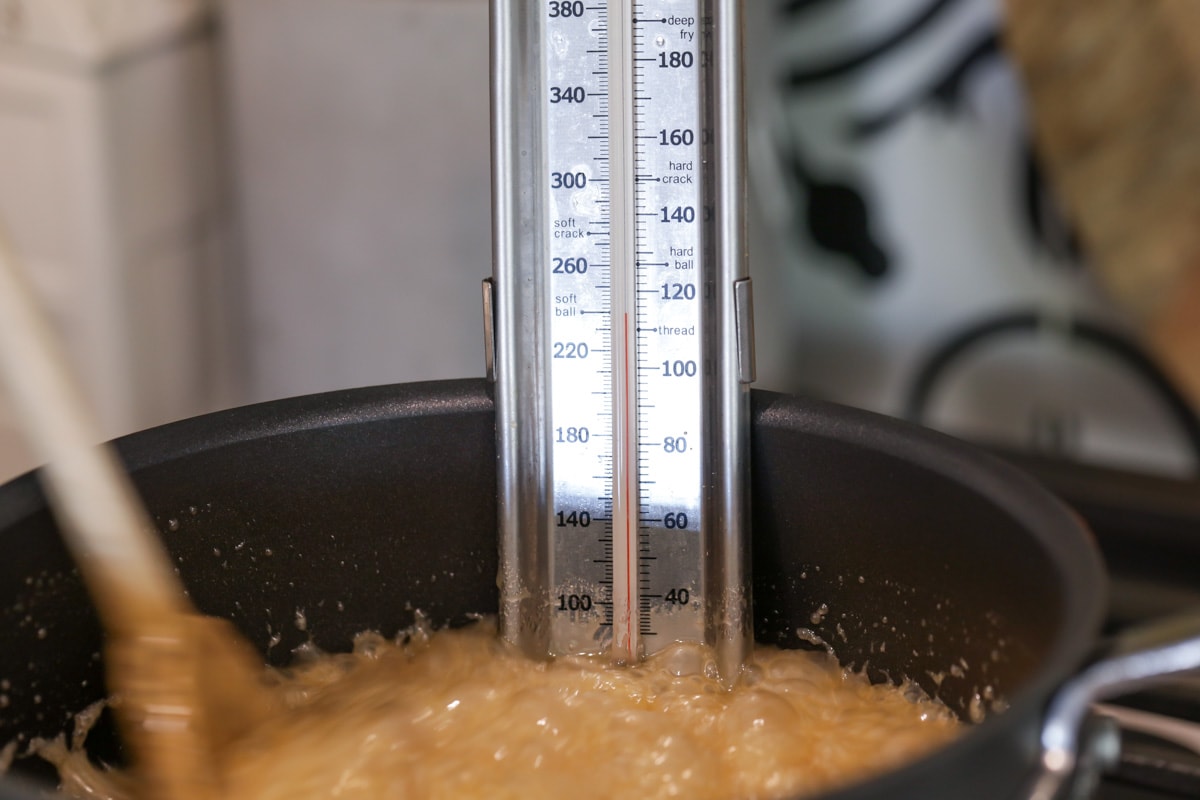 how to make pecan pralines
Having a candy thermometer is very helpful for this recipe. 😉 But, as we mentioned, it's still quite simple.
COOK. In a medium pot, add brown sugar, sugar, heavy cream and butter. Stir constantly until you get to about 240 degrees on candy thermometer. (Took us about 10 minutes)
ADD PECANS. Once at the right temperature, remove from heat, add 1 tsp. vanilla and 1 cup pecan halves. Stir for about a minute.
SET. Pour onto parchment paper and let set.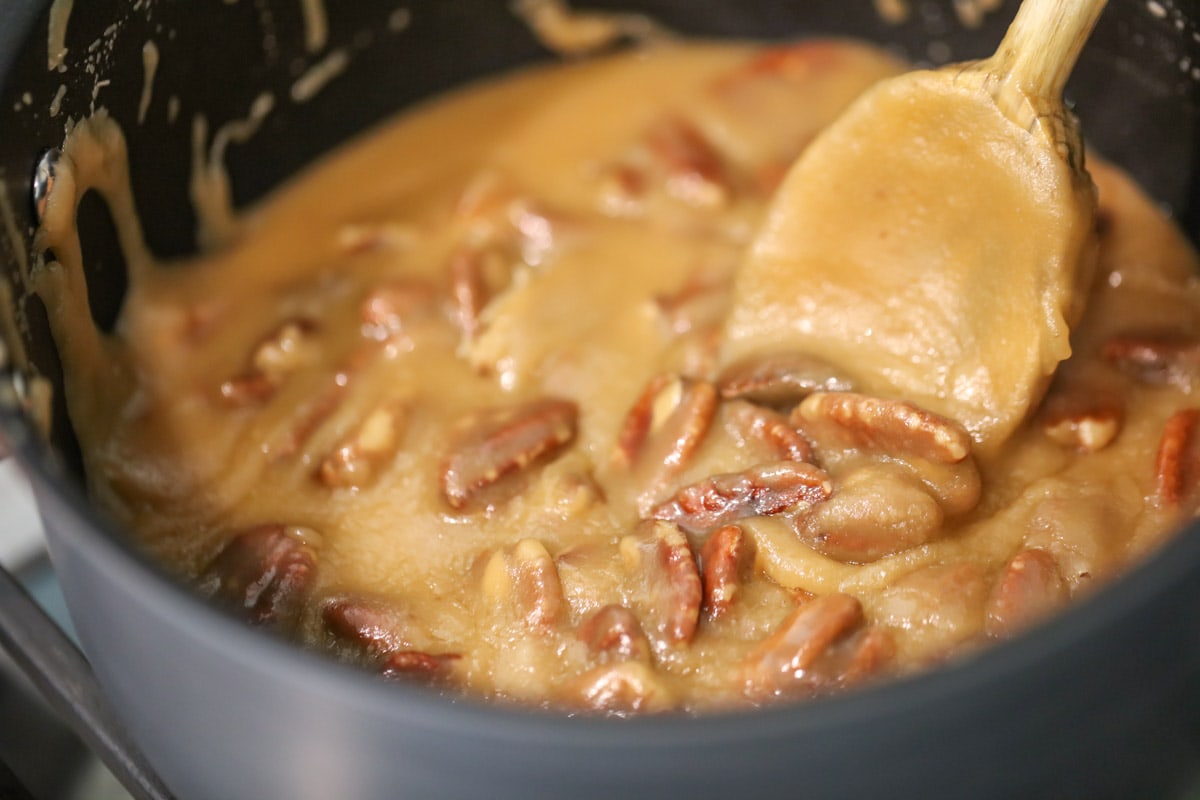 Recipe Tips
Praline texture are interesting because while they are crumbly and melt in your mouth they are pretty crunchy from the pralines themselves. Some people have likened them to a nutty fudge. The more milk/cream you add the softer and more fudge-like it becomes. If it is mainly just sugar and butter it will yield a crisper texture.
I originally tried a different recipe when making these, and although they tasted great, they did not have the shape I was looking for. This recipe gave that thin round praline as you can see in the photos.
The first ¾ of the mixture melted down into the thin round cookie shaped as pictured. The last ¼ of the mixture was already starting to cool and solidify when they were scooped so they were more of a misshapen mound, but still just as delicious. Here are a few tips to keep in mind when scooping them onto the paper:
Use a

cookie scoop

or a tablespoon scoop to form the pralines

Work

quickly when scooping/pouring

the pralines so that the mixture doesn't harden too quickly

If the

mixture begins to harden

before you can get all of the pralines scooped out you will want to mix in one tsp of hot water at a time until the mixture returns to a normal consistency.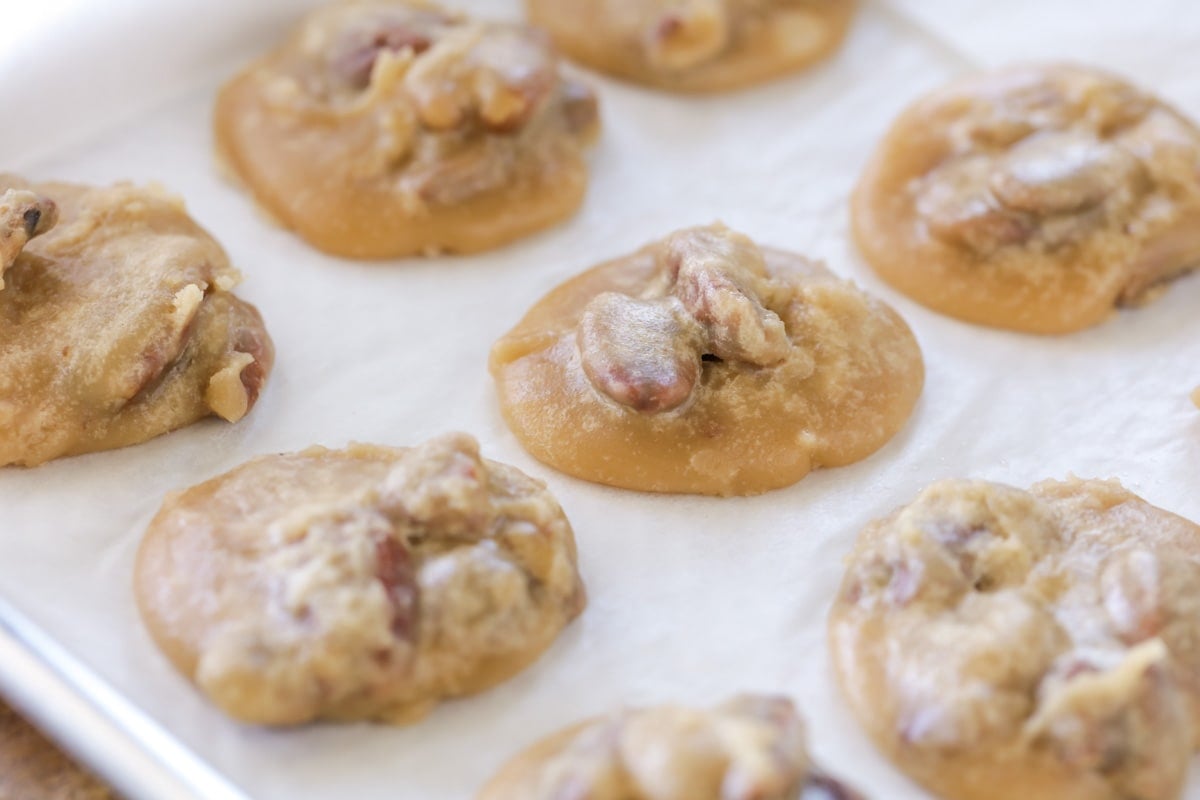 Storing Info
Make sure to let the pecan pralines sit on the parchment paper for about an hour before moving them to a Tupperware for storage.
STORE in an air-tight container for a couple of days to a week. The longer they sit they become sugary and gritty.
It varies from recipe to recipe but generally you should be able to FREEZE pralines pretty successfully for up to 2 months. Just make sure that they are in an air-tight container, and that before you eat them they have been at room temperature for a while so that no teeth get broken.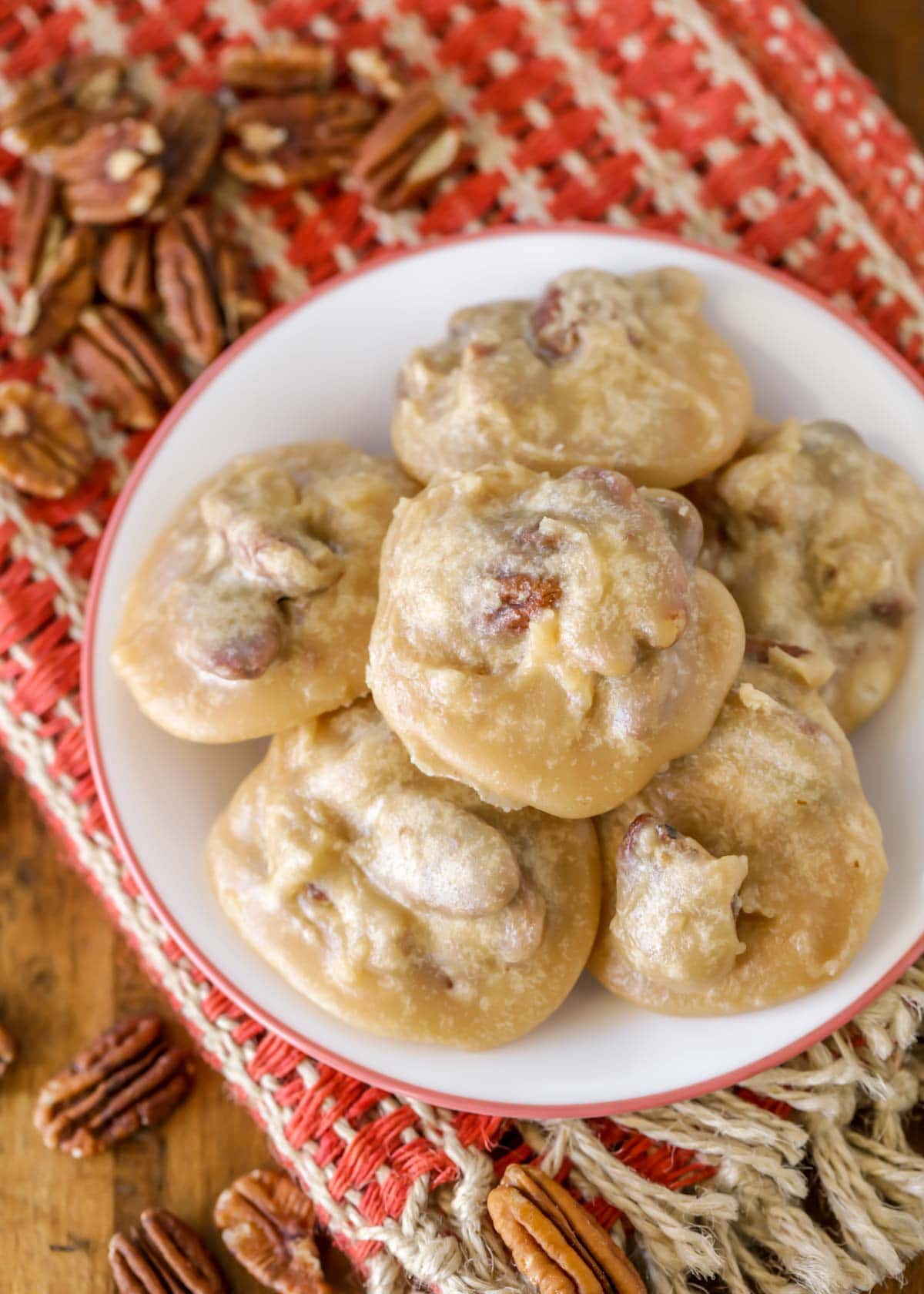 For more treats, check out:
Pecan Praline Recipe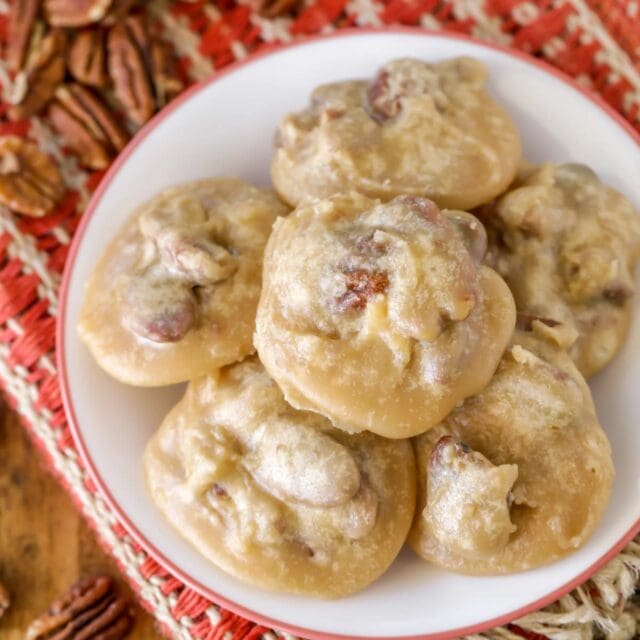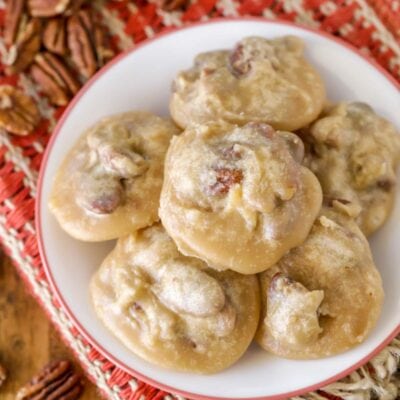 Southern Pecan Pralines are a melt-in-your-mouth cross between a cookie and a candy! They are a crunchy and sweet treat.
Instructions
Toast the Pecans: Line a baking sheet with parchment paper. Preheat oven to 350°F. Spread pecan halves on sheet.  Bake 7-10 minutes, flipping halfway. Pecans will begin to brown and become aromatic

Fasten the candy thermometer to the side of a large saucepan. Add the sugars, butter and milk. Stir consistently over medium high heat and bring the mixture to 235-240°F. *

Remove from the heat and mix in the pecans and vanilla. Store for about 2-3 minutes. The mixture will thicken as it cools. It will also lose some of its glossiness.

Use a cookie scoop to drop mixture onto the parchment paper. Work fast as the mixture in the pot will set quickly.

Allow pralines to cool and solidify for a couple of minutes before serving.
Notes
*No Candy Thermometer? You can use cold water to determine if the mixture has reached the soft ball stage. Once the mixture is bubbling and frothy scoop a dollop and place it in a bowl of cold water. The mixture will solidify and turn to a soft ball. Remove the dollop from the water and place it on the counter. It should slowly flatten.
If the mixture hardens in the water it has been cooked too long. If the mixture doesn't solidify into a soft texture then it needs to be cooked a bit longer.