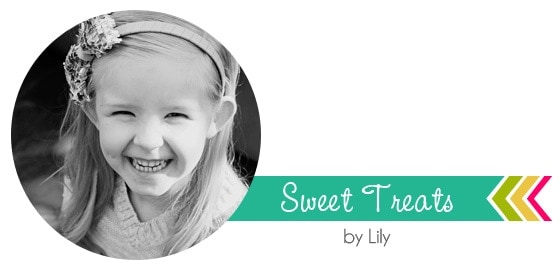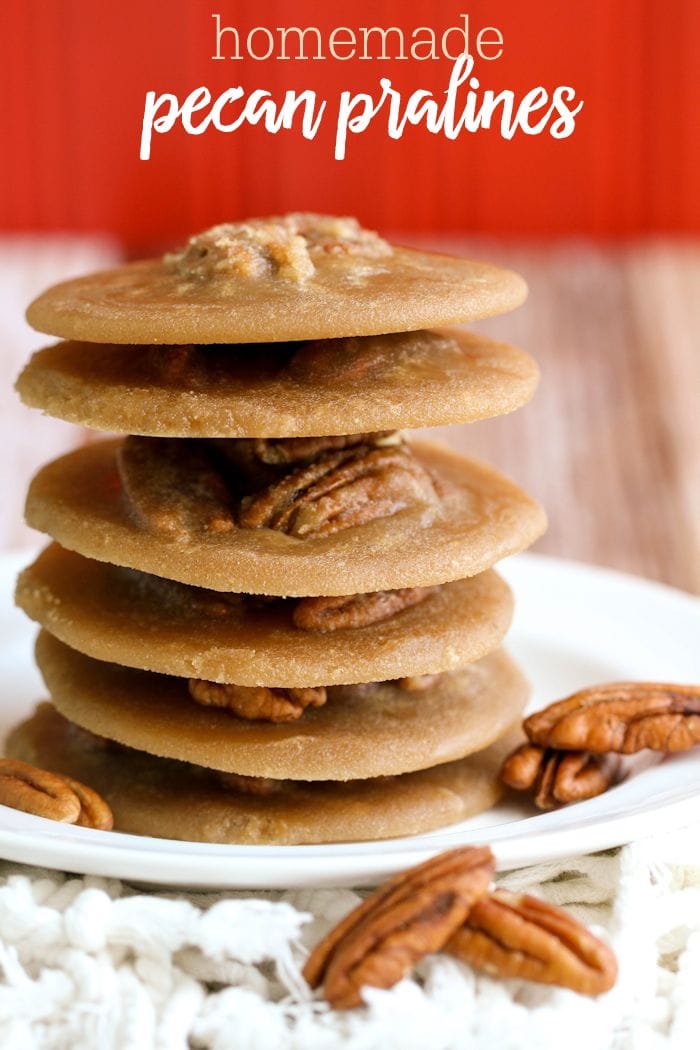 Hello, it's me Lily again!!
Did you know that my favorite park in the whole world is really close to our house? We call it the American Ninja Warrior park because it has lots of things to climb and it sorta has an obstacle course. My dad times us when we do it and on Mondays we go there and then come home and watch American Ninja Warrior as a family. We went there last night and had a party. We got to eat pizza, play with toys, and launch rockets. We were the last ones to leave and when we were leaving we saw 2 frogs. I got to play with it. It was fun!!
I hope you're having a weekend too. If you want to make your weekend even better, you should try this recipe we made for Homemade Pecan Pralines. My mom and dad went to New Orleans in February and brought home Pecan Pralines and we loved them! We decided to try a recipe ourselves because we were missing them and they were so delicious!! They were really easy to make. When we were making these I realized that I LOVE Pecans. The Texas State Tree is the Pecan Tree, so it's kinda awesome that I love them.
I really hope you like this recipe.
Pecan Pralines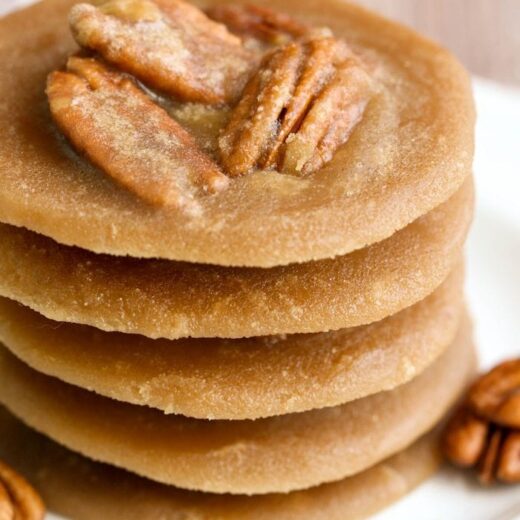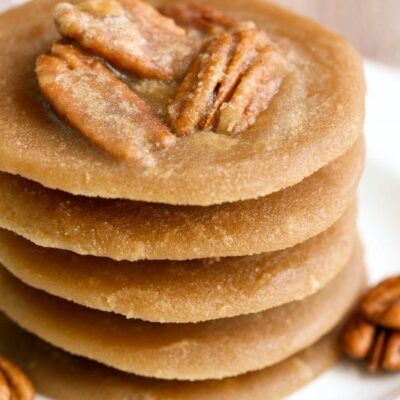 Homemade Pecan Pralines - so easy to make and the taste just like those from New Orleans! All you need is some brown sugar, sugar, heavy cream, butter, vanilla, and pecans!!
Ingredients
Instructions
In a medium pot, add brown sugar, sugar, heavy cream and butter. Stir constantly until you get to about 240 degrees on candy thermometer. (Took us about 10 minutes)

Once at the right temperature, remove from heat, add 1 tsp. vanilla and 1 cup pecan halves. Stir for about a minute.

Pour onto parchment paper and let set.
Recipe adapted from Dramatic Pancake. 
NOTE FROM KRISTYN:
We tried this recipe first, but they looked nothing like the picture. Having said that, they still tasted GREAT!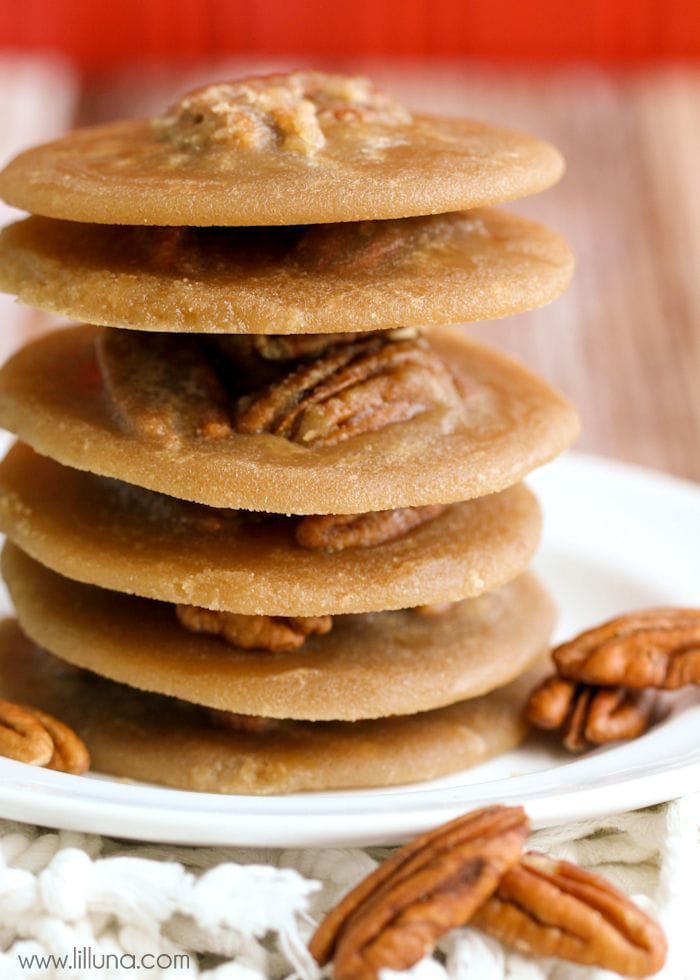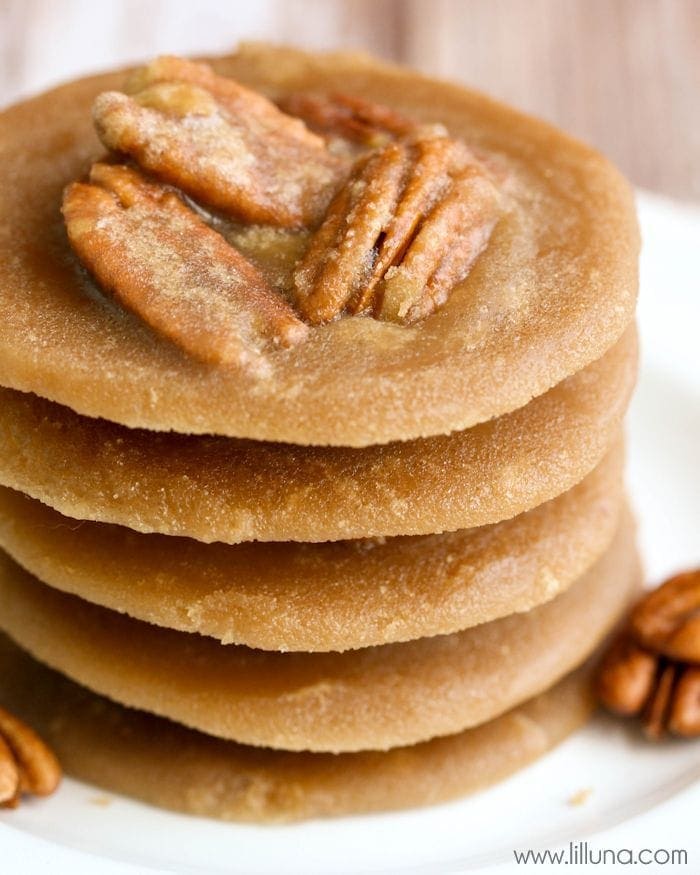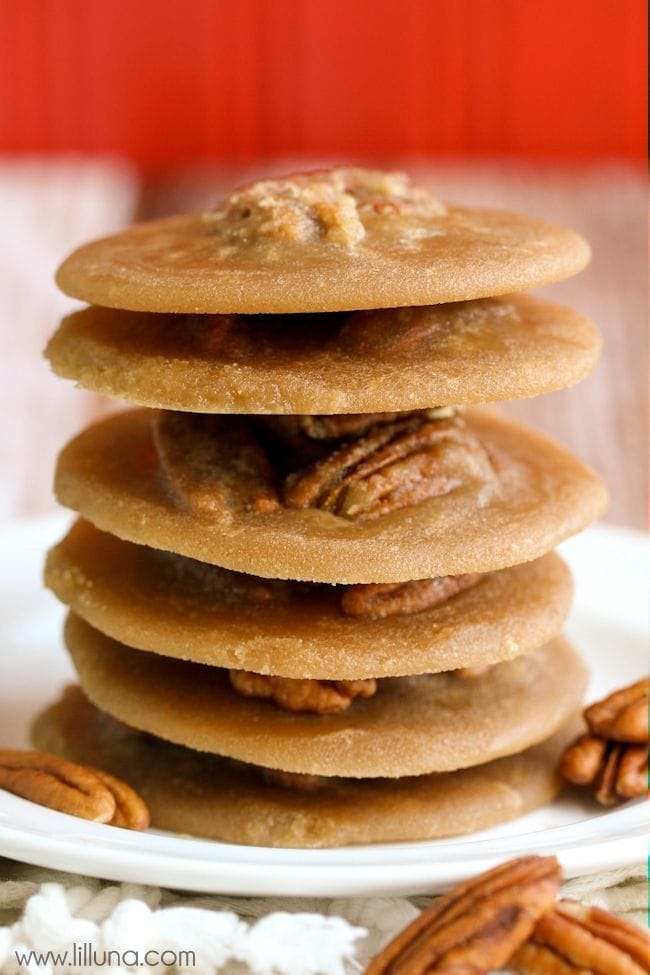 I love Pecans and if you do too, then you'll LOVE this recipe.
I hope you can come back again soon for more yummy treats from me.
Love, Lily
————————————————
For more yummy treats from me, check out: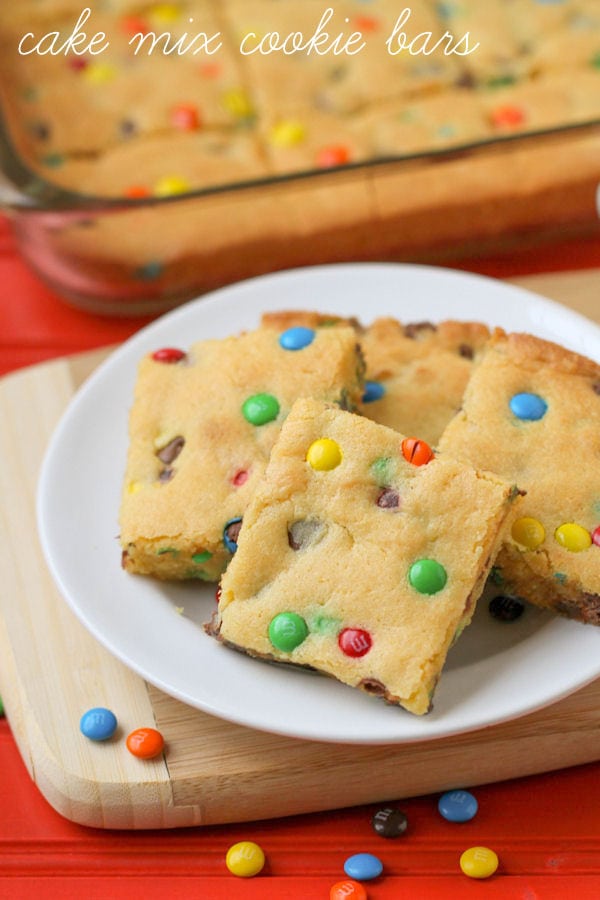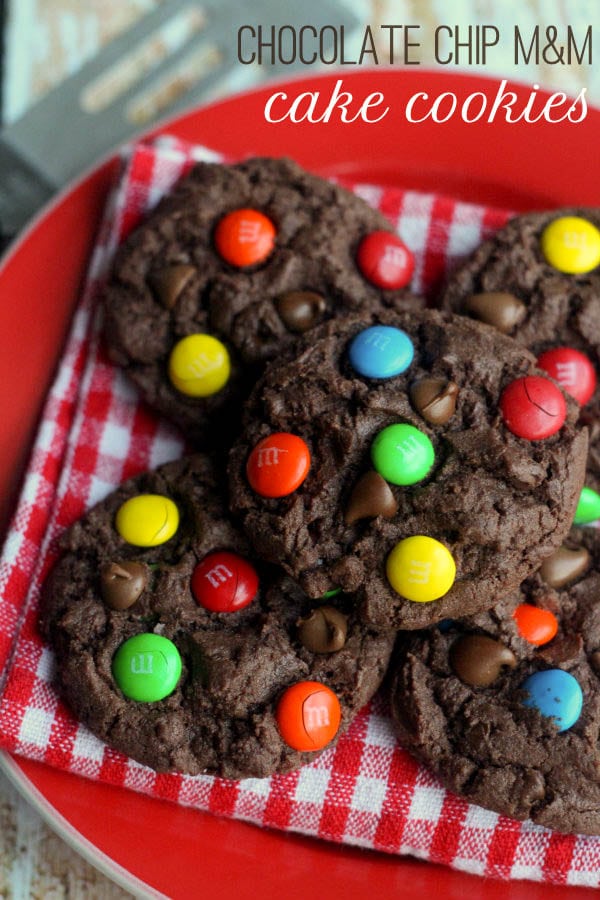 Chocolate Chip M&M Cake Cookies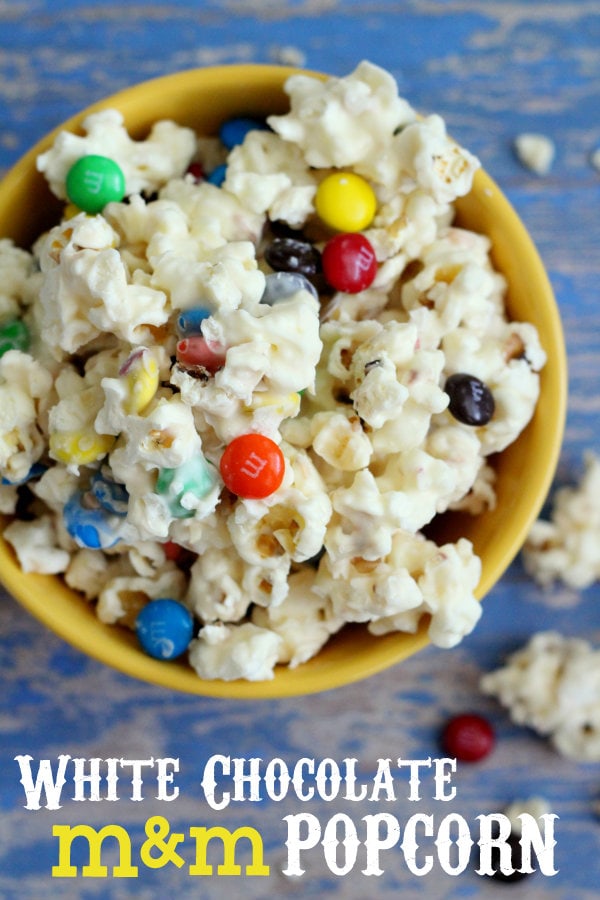 For all Sweet Treats by Lily go HERE.
For all Recipes go HERE.
And get weekly emails with monthly freebies by signing up for the Lil' Luna newsletter. 🙂
For even more great ideas follow me on Facebook – Pinterest – Instagram – Twitter – Periscope – Snapchat.
Don't miss a thing – Sign up for the Lil' Luna Newsletter today!
I hope you have a great rest of your summer. Come back next week for another yummy treat. 🙂
Love, Lily
BEHIND THE SCENES AT LILLUNA.COM: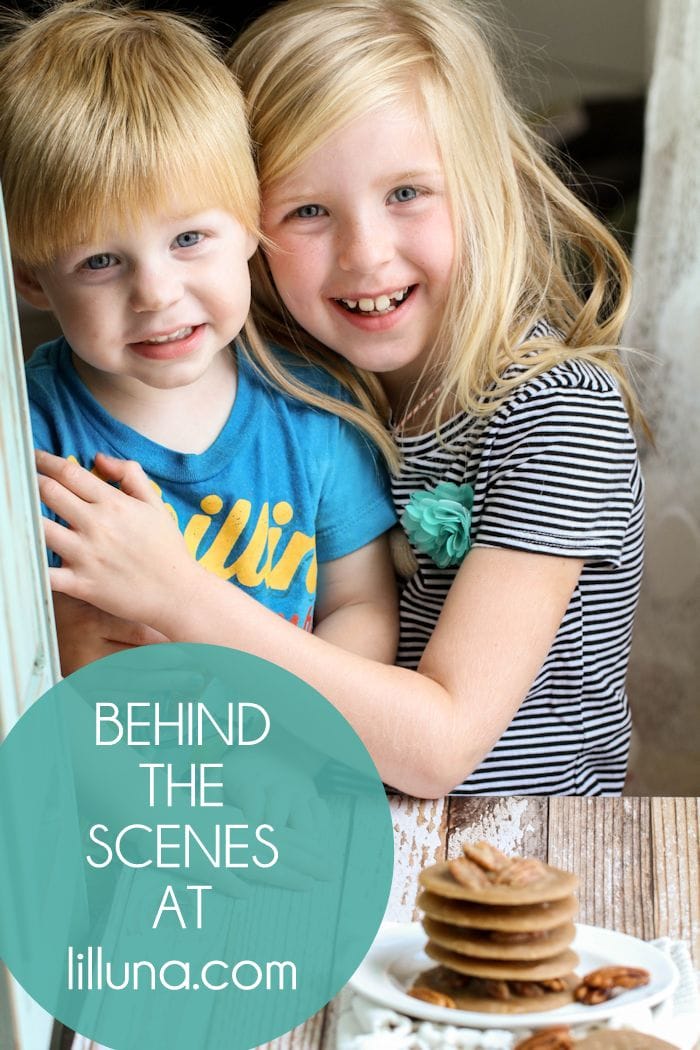 Me and my brother, Wesley (who we call Goo!!)