These buttery, soft, and chewy Homemade Caramels are the perfect treat to easily wrap in wax paper and gift to friends and family.
We love to add these homemade caramel candies to our neighbor treat plates along with Christmas Crack and Snowball Cookies! Everyone loves them.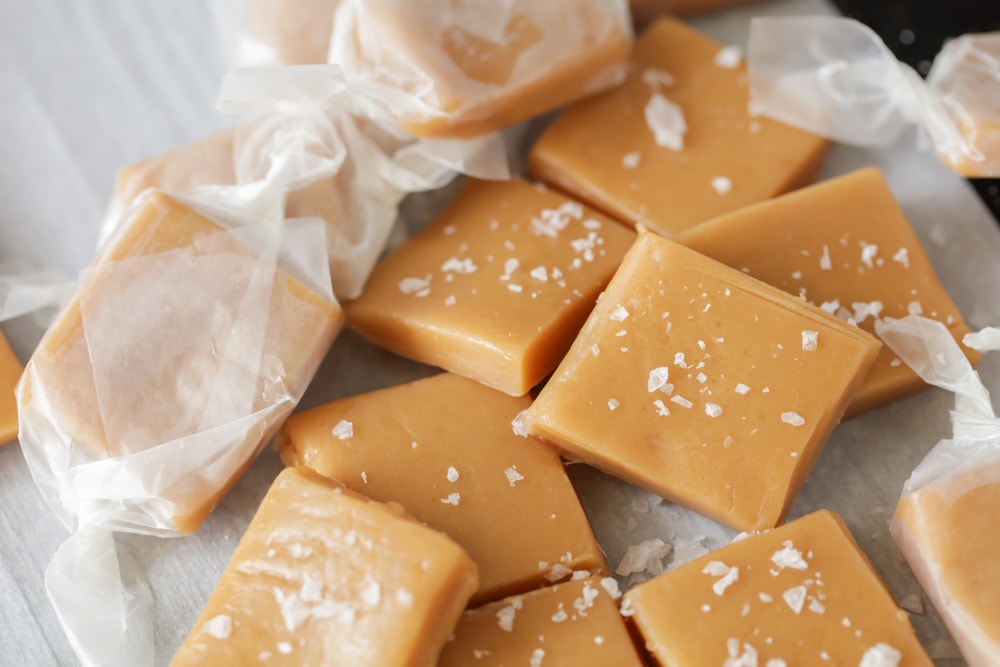 A Favorite Holiday Treat
Have you ever tried homemade caramels before? They're one of those holiday treats that I'm always looking forward to when we get goodie plates from friends and neighbors. I never knew how to make them but decided we needed to change that. I scoured the web for the best recipe, and this one from a family friend seemed perfect, and it WAS!
The only bad thing about making caramels (or any kind of candy for that matter), is that it usually takes time. This recipe is no different. But I promise you that it's worth every ounce of your patience to get perfectly soft and chewy caramel candies!!
My favorite thing to do with these soft candy caramels is cut them into pieces and wrap them in wax paper to gift during the holidays. Now that we have a great recipe, we will be adding these goodies to our Christmas goodie plates this year.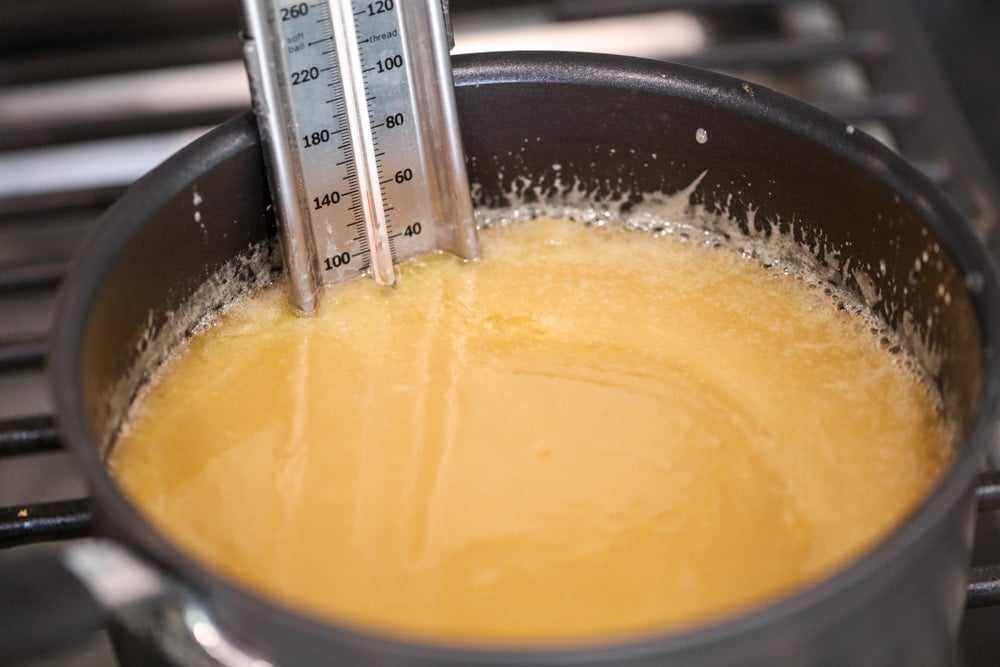 How to Make caramel candy
Making caramel andy is all about timing and some steps are very quick. I like to have all the ingredients premeasured and ready so that as soon as one step is finished, I'm ready for the next one.
Another thing to keep in mind when making homemade caramels is the weather. Choose a day that is cool and dry. If there is too much moisture in the air, then it will cause the candy to have too much moisture and it may not set properly.
PREP. Line a 9×13 inch pan with parchment paper.
HEAT. Combine whipping cream, sugar, brown sugar, salt, butter, corn syrup, and evaporated milk in a medium-large pot. Monitor temperature with a candy thermometer, stirring frequently. Remove pot from heat when temp reaches 250 degrees F (this takes about 30 minutes).
(Note: Use a BIG pot. It tends to bubble up really high and can easily boil over if the pot isn't big enough. The first time I made these I had to switch the pot right during the middle because mine wasn't big enough. Then it messed with the cook time and it ended up turning out harder than I wanted. So grab a bigger pot than you think you'll need.)
SET. Stir in vanilla and pour slowly into the parchment lined pan. Let cool completely (about 1 hour) and once cool, cut into squares and wrap in wax paper.
Clean up tip: Instead of trying to soak your cooking pot for hours simply add water to the pot and bring it to a boil. The hot water will soften and loosen the stuck on caramel. Use a cleaning tool to help scrub off the caramel. You can even dip the tip of the thermometer to the boiling water to soften the stuck on caramel.
Variations
Dipping the caramels in white or dark chocolate would be absolutely delicious, you can also easily add:
sprinkled sea salt on top

toasted coconut to the top

chopped nuts (mix in the same time as the vanilla)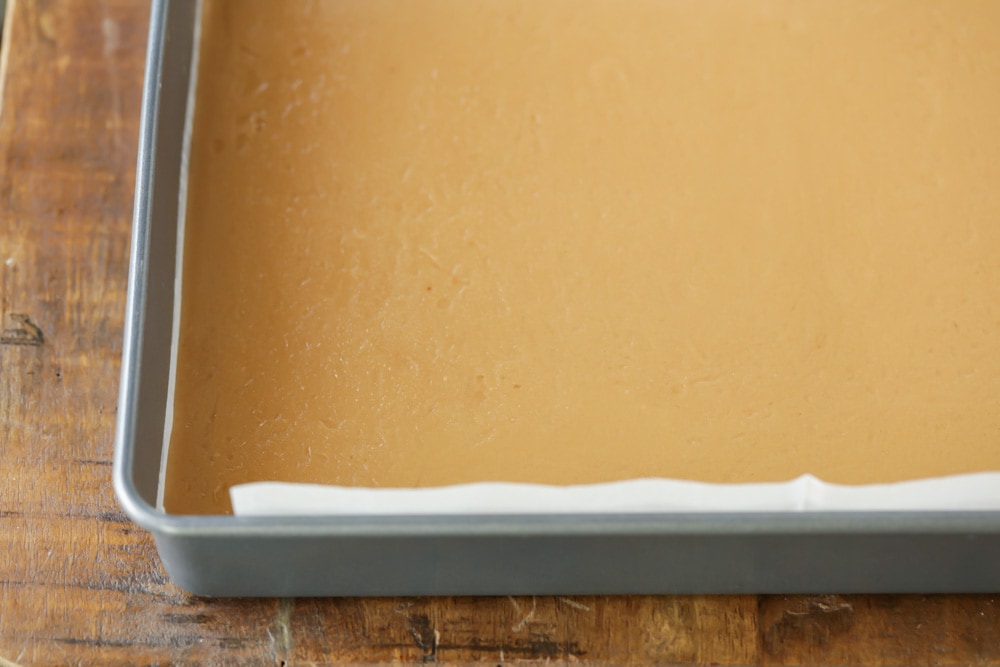 Don't have a candy thermometer?
Honestly, I would really recommend investing in one. It makes candy making so much easier. When using a thermometer you want to reach anywhere between 250 and 320 degrees F. This temperature range will result in what's called the hardball stage.
250°F is the lower end of the stage and gives a lighter color and soft taffy like texture

320°F is the higher end and gives a darker caramel color and a firmer candy, but still moldable.
Ice Water Test: If you do not have a thermometer you can still try making homemade caramels. All you need is a bowl of ice water. When you feel the caramel is ready, use a spoon to drop a dollop of caramel into a bowl of ice water.
Hardball stage: The caramel should solidify enough to roll it into a ball. If it's too soft and won't hold a shape, then you need to cook it longer.

Hard crack stage: If it solidifies to a hard candy and breaks when you try to form it into a ball, then you have cooked it too long and remove it immediately. Not all is lost though, you will just have hard candy caramels instead of soft caramels.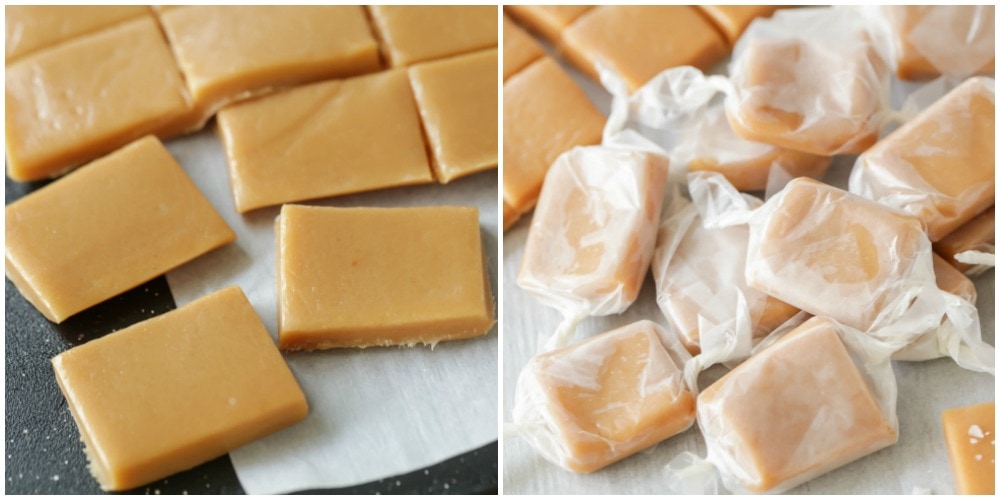 Cutting, Wrapping and Storing caramels
Lining your pan with parchment paper makes it really easy to lift the entire block of caramel out so you can cut them. Allow them too cool (refrigerate to speed it up). Once cooled, lift the block out of the pan and cut. 
Wrap each individual caramel in wax paper. Be sure to cut the wax paper big enough that you can twist the ends closed, like a tootsie roll.
Storage: wrapped caramels can last at room temperature for about 2 weeks.
Sharing: This recipe mixes up quite a large batch. Definitely enough to share with a friend or two. Some fun gift wrap ideas include:
Filling a small mason jar tie a festive ribbon around the top

Buy and fill up a holiday tin

Fill a brown lunch bag, fold over the top, and tie with raffia

Use festive cardstock to cut out a gift bag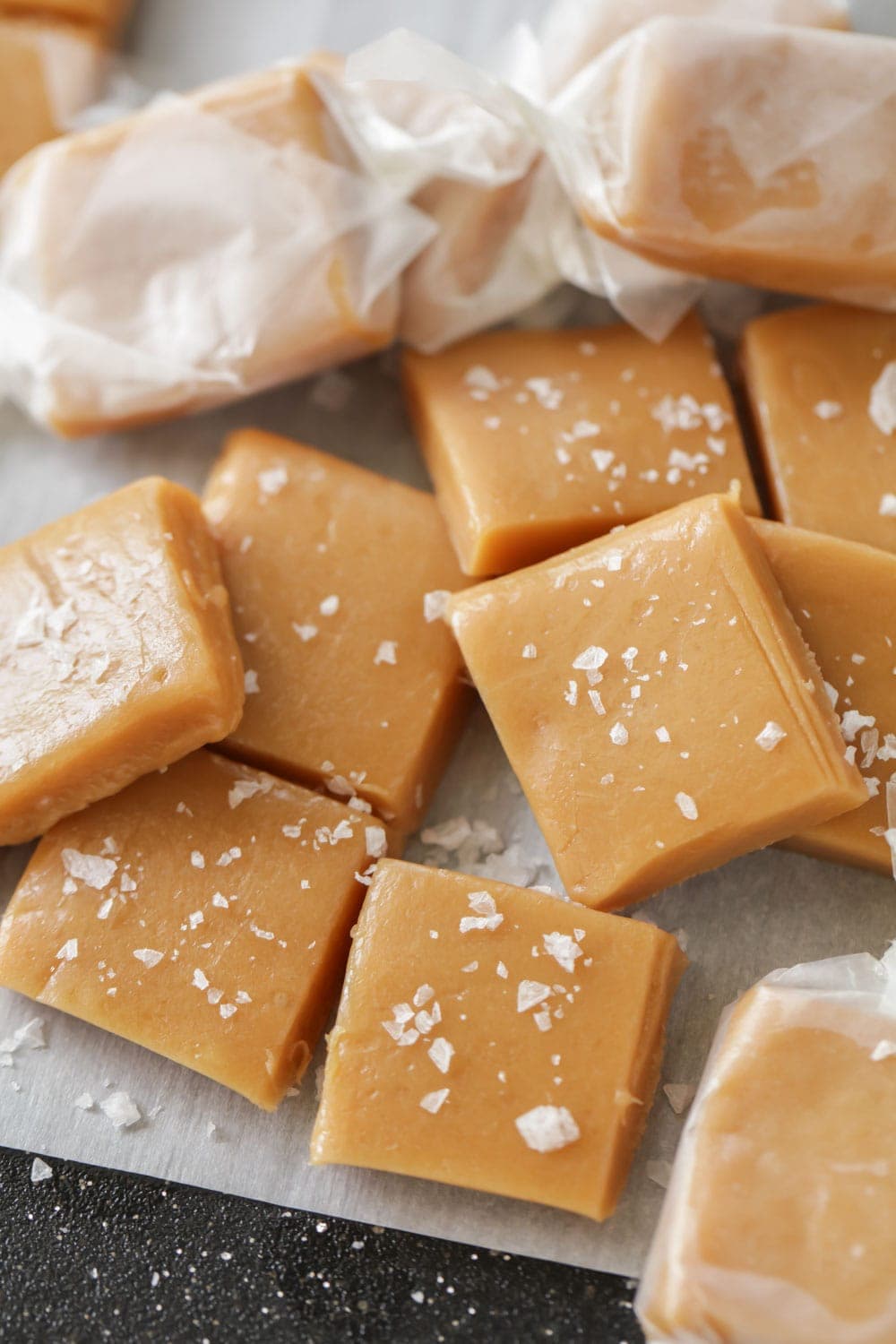 You can't really go wrong with homemade caramels, but next time I'm wondering if we should try dipping them in chocolate. They're great as they are, but I think they may be even better coated in delicious white and milk chocolate!
For more candy recipes, check out: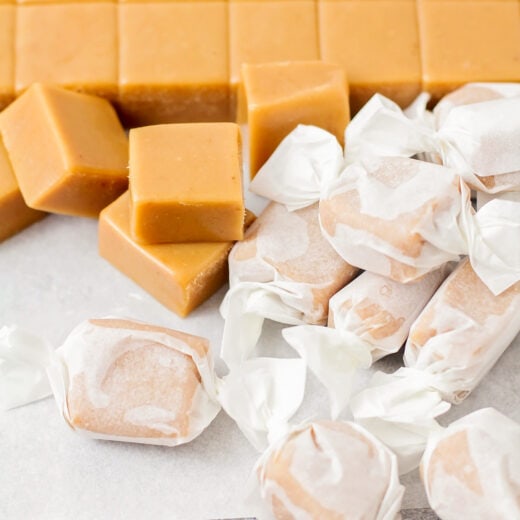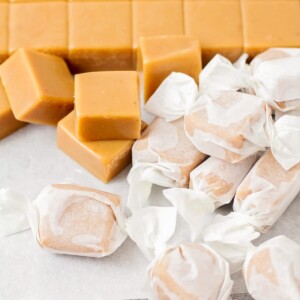 Homemade Caramels
These buttery, soft, and chewy homemade caramels are the perfect treat to easily wrap in wax paper and gift to friends and family.
Ingredients
1

pint

heavy whipping cream

2

cups

white sugar

1

cup

packed brown sugar

1

teaspoon

salt

1

cup

butter

1

cup

corn syrup

1

cup

evaporated milk

1

teaspoon

vanilla extract
Instructions
Line a 9×13-inch pan with parchment paper and set aside.

Add whipping cream, sugars, salt, butter, corn syrup, and evaporated milk to medium pot over medium heat.

Attach a candy thermometer, and while whisking constantly, cook until temperature reaches 25°F (about 30 minutes).

Once the mixture reaches 250 degrees, remove the pot from heat and stir in the vanilla.

Pour the mixture into the parchment lined pan and let cool completely.

Once cool, cut caramels into squares (can get about 80 large caramels) and wrap in wax paper for storage.
Nutrition
Serving:
1
g
,
Calories:
87
kcal
,
Carbohydrates:
11
g
,
Protein:
0.4
g
,
Fat:
5
g
,
Saturated Fat:
3
g
,
Polyunsaturated Fat:
0.2
g
,
Monounsaturated Fat:
1
g
,
Trans Fat:
0.1
g
,
Cholesterol:
14
mg
,
Sodium:
56
mg
,
Potassium:
20
mg
,
Sugar:
11
g
,
Vitamin A:
166
IU
,
Vitamin C:
0.1
mg
,
Calcium:
16
mg
,
Iron:
0.03
mg
Nutrition information is automatically calculated, so should only be used as an approximation.
Making this recipe? Tag us!
Share it with us on Instagram using the hashtag #lilluna, so we can see what you're creating in the kitchen!