Chocolate Caramel Pecan Turtles Candy – Baked pecans covered in a delicious homemade caramel and topped with with melted chocolate! These treats make perfect neighbor gifts for the holidays!
If you're on the hunt for candies and cookies to give out during the holidays, make sure you include these chocolate turtles! For the best of both worlds, you can also make turtle thumbprint cookies which have all the same flavors as these candies.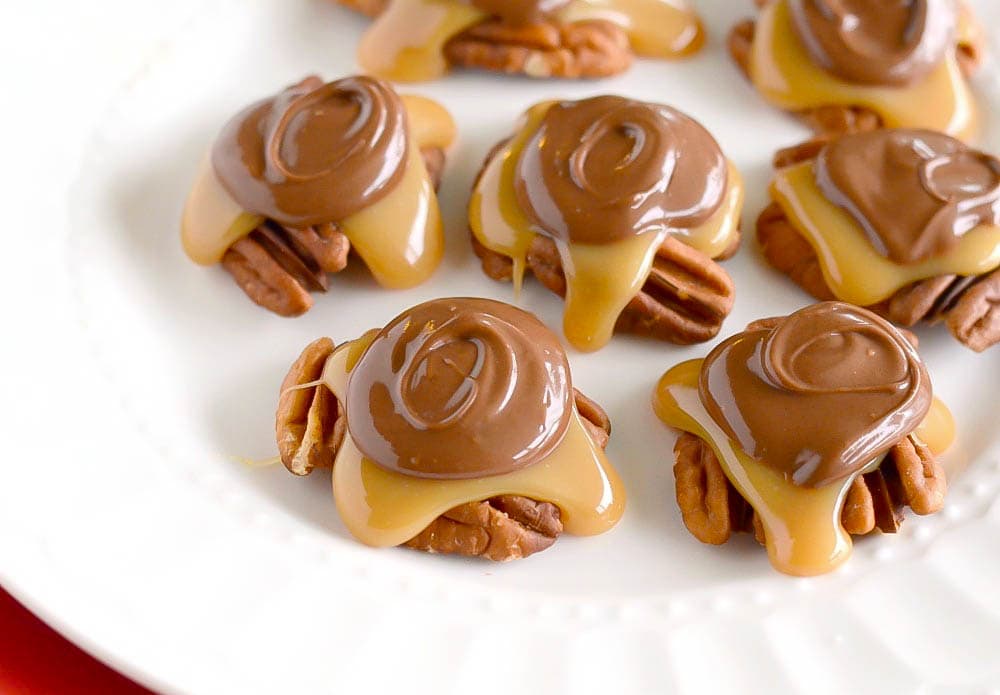 Chocolate Turtles
I absolutely adore the combination of chocolate, caramel, and nuts. I have a recipe for Chocolate Pecan Caramels that I simply love, and I don't know why I have never tried making turtles before.
Guys, this Turtles Candy is simply amazing! Better than any turtle candies I have ever purchased. The crunchy pecans, the chewy caramel, the chocolate that melts in your mouth. Simply incredible.
Why are they called turtles? If you use your imagination, the pecans covered in caramel and chocolate look like little turtles. 😉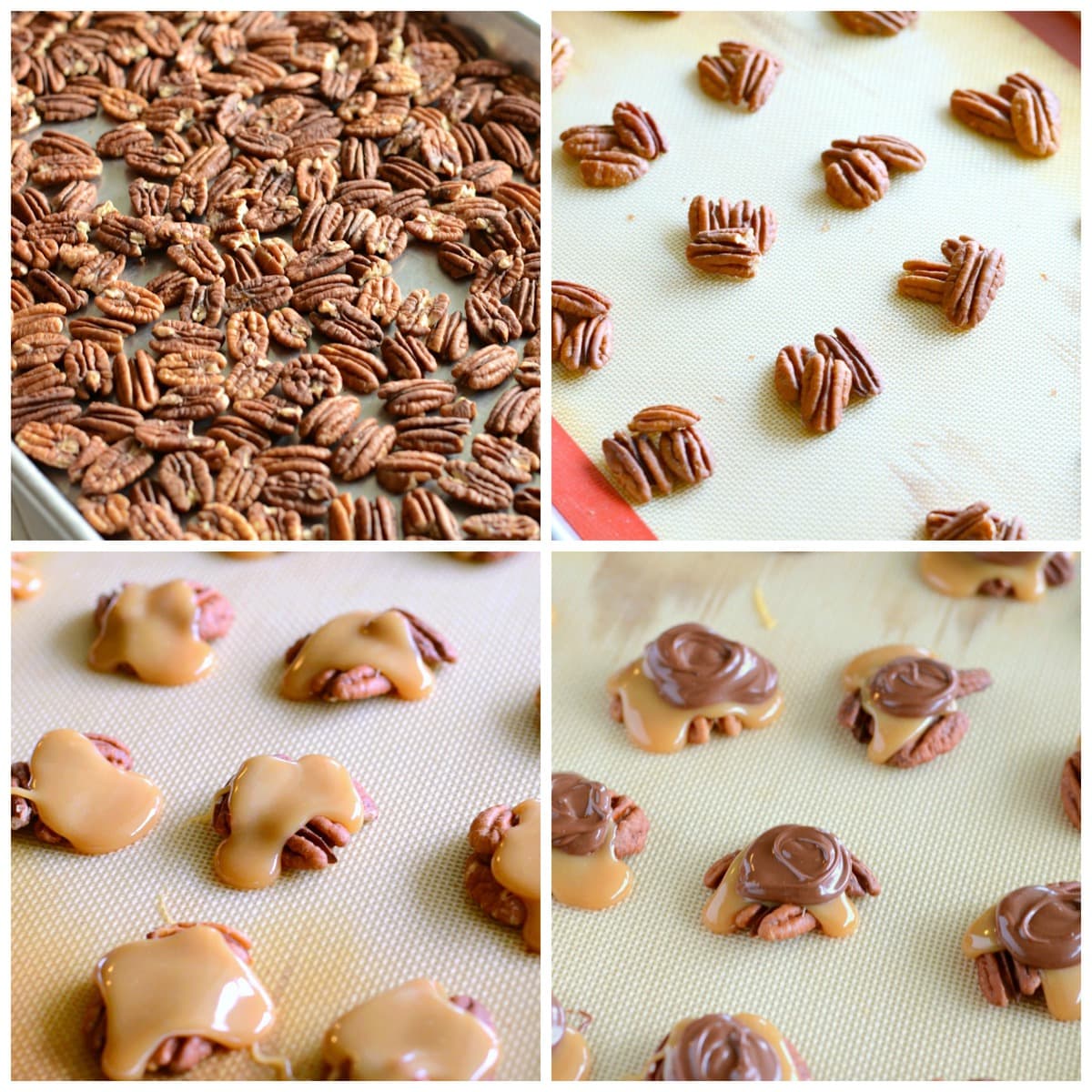 How to Make turtle candy
Don't be intimidated about the candy making process, these turtles are really quite simple to make.
PECANS. You want to start by toasting your pecans. It makes a huge difference in the flavor of the finished product, so don't skip this step. Just place your pecans on a cookie sheet and bake at 350° for about 10 minutes. They will smell amazing!
CARAMEL. Before you start making your caramel, you want to arrange your pecans into little clusters. I line my pans with silicone liners, but parchment paper would work too. I like to use 3-4 pecans, depending on size.
As soon as your caramel is ready, quickly spoon the hot caramel on top of the clusters, making sure each pecan is covered with some caramel. Don't worry about perfection, just work fast. If the caramel starts to set up, you can pop it back on the stove for a minute or two.
CHOCOLATE. At this point, you can let the caramel set up and add the chocolate later. Or you can add it now. When you are ready, just melt the chocolate and oil in a small glass bowl in the microwave at half power, stirring often. Then spoon a small amount of chocolate on top of each turtle. Use the back of your spoon to make a little swirl in the chocolate as you lift it.
Now all you have to do is wait for the chocolate to set up. Be patient, it can take awhile. Mine weren't totally set up for a couple of hours. Of course, you don't have to wait that long to eat one! 🙂
turtle candy Variations and substitutions
I don't have time to make caramel what do I do? You can use soft store-bought caramels. You just need to melt them in the microwave in 30 second intervals, stirring in between them. If the caramels are a bit tough I would add a little spoonful of water to yield a smoother end result. Just pour this over the pecans to solidify them together.
Ways to mix it up?
Have the base be a pretzel, top it with chocolate and then with some caramel and a pecan.

Top with sea salt to give more contrast in flavors

You can also use melted white chocolate on top instead of milk chocolate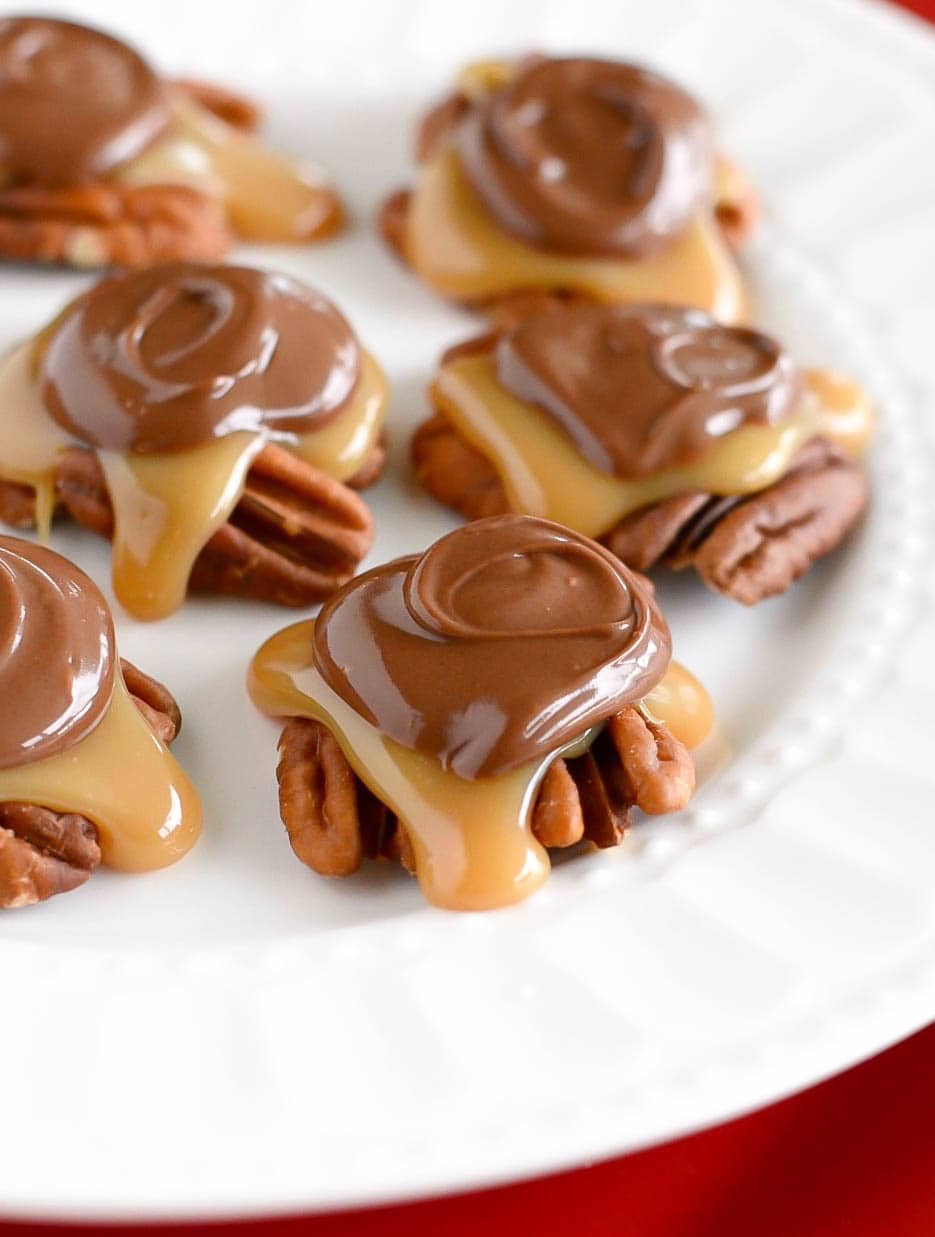 How to Store Turtle Candy?
Regardless of whether you're making these to give to neighbors, or just keeping a stash handy for yourself, 😉 store these at room temperature in a container so the caramel stays soft and no one breaks their teeth on them!
The flavor combination of nuts caramel and chocolate is always a winner!
for more holiday goodies, try: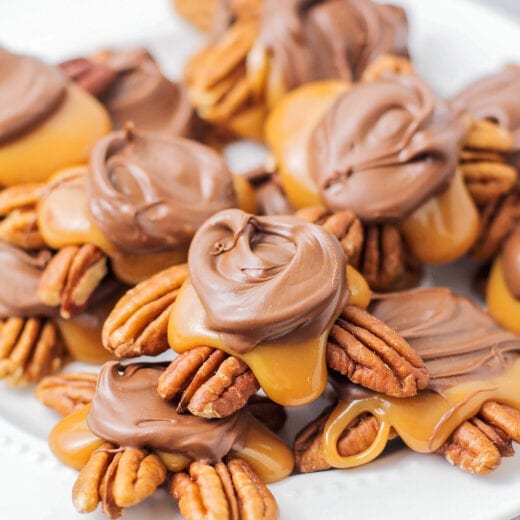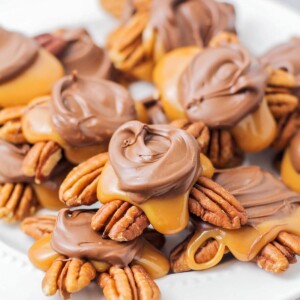 Turtle Candy Recipe
Turtle candy has a baked pecan base covered in delicious homemade caramel and melted chocolate. They are the perfect treat for sharing!
Ingredients
3

cups

whole pecans

½

cup

butter

1

cup

brown sugar

½

cup

corn syrup

dash

salt

7

ounces

sweetened condensed milk

(half of a 14 ounce can)

½

teaspoon

vanilla extract

1½

cups

chocolate chips

(I used milk chocolate chips)

½

teaspoon

vegetable oil

or shortening
Instructions
Place pecans in a single layer on a baking sheet. Bake at 350°F for about 10 minutes or till lightly browned and fragrant. Let cool. Arrange in clusters of 3-4 on silicone liners or parchment paper.

Combine butter, brown sugar, corn syrup, and salt in a 6-quart pot. Bring to a boil over medium heat. Add the sweetened condensed milk and vanilla.

Continue cooking and stirring till the mixture reaches 235-240°F. I like to use the ice water test, it's more accurate. Drop a small spoonful of the hot caramel into a bowl of ice water. When you take it out, you should be able to roll it into a ball. Then it's done.

Quickly spoon the caramel over the pecan clusters, making sure the caramel is touching each of the pecans. Let sit to harden.

Melt the chocolate chips and oil in the microwave at half power, stirring often till smooth. Spoon chocolate on top of each layer of caramel. Let sit for 1-2 hours or till hardened.
Nutrition
Serving:
36
g
,
Calories:
172
kcal
,
Carbohydrates:
19
g
,
Protein:
2
g
,
Fat:
11
g
,
Saturated Fat:
4
g
,
Polyunsaturated Fat:
2
g
,
Monounsaturated Fat:
4
g
,
Trans Fat:
0.1
g
,
Cholesterol:
10
mg
,
Sodium:
37
mg
,
Potassium:
63
mg
,
Fiber:
1
g
,
Sugar:
18
g
,
Vitamin A:
115
IU
,
Vitamin C:
0.3
mg
,
Calcium:
37
mg
,
Iron:
0.4
mg
Nutrition information is automatically calculated, so should only be used as an approximation.
Making this recipe? Tag us!
Share it with us on Instagram using the hashtag #lilluna, so we can see what you're creating in the kitchen!
Recipe inspired by Jamie Cooks It Up!
_____________________
These would make an awesome addition to a cookie plate if you're the type that makes plates of treats for the neighbors during the holidays. 🙂
Thanks for sharing this recipe with us Kara! For more amazingly delicious recipes by her, head over to Creations by Kara!!