Buttery soft Snowball Cookies are loaded with pecans. This easy, melt-in-your-mouth cookie is simply the BEST holiday cookie!
Mint Hot Chocolate, Mexican Hot Chocolate, and Double Chocolate Hot Cocoa are perfect for soaking into these tasty morsels. It'll be hard to stop at just a few Snowball Cookies!!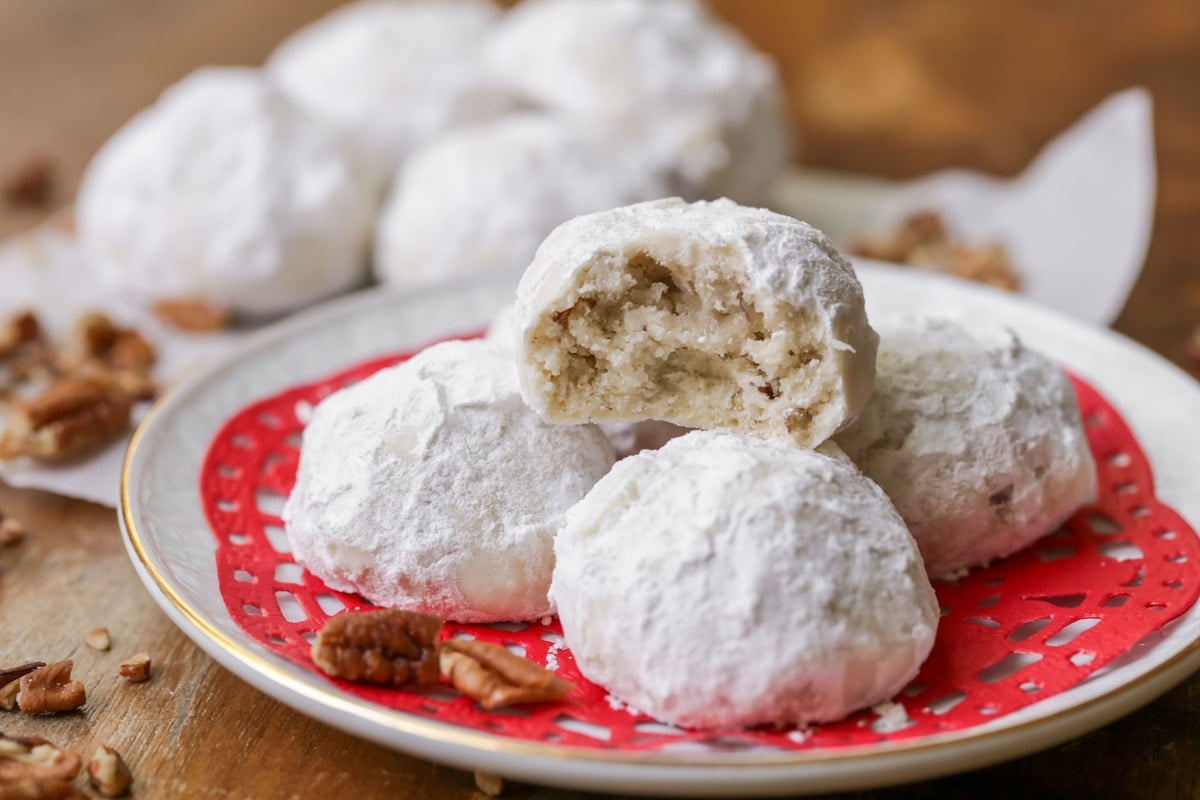 Pecan ball Cookies
I just love love love these Snowball Cookies. They are the ultimate holiday cookie (right there with our Snickerdoodles and Sugar Cookies) and are often referred to as Mexican Wedding Cookies.
They're also the easiest cookie to make. Ever. Six ingredients are all you need to make these yummy little things.
Snowball Cookies practically melt in your mouth. They are super soft, but the pecans give it that tasty crunch every cookie needs. Did I mention they are rolled in powdered sugar? Doesn't get much better than that.
We hope you enjoy these cookies during the holiday season. They're great for gifting as well as devouring. 😉
Perfectly Gift-able
There are probably 100 or more reasons to make these Christmas Snowball Cookies, but on top of my list is that they are perfect to make for:
all of your holiday parties
cookie exchanges
classroom parties
neighbor gifts
wrap them up and give them to garbage workers/mail workers/UPS workers
seasonal teacher gifts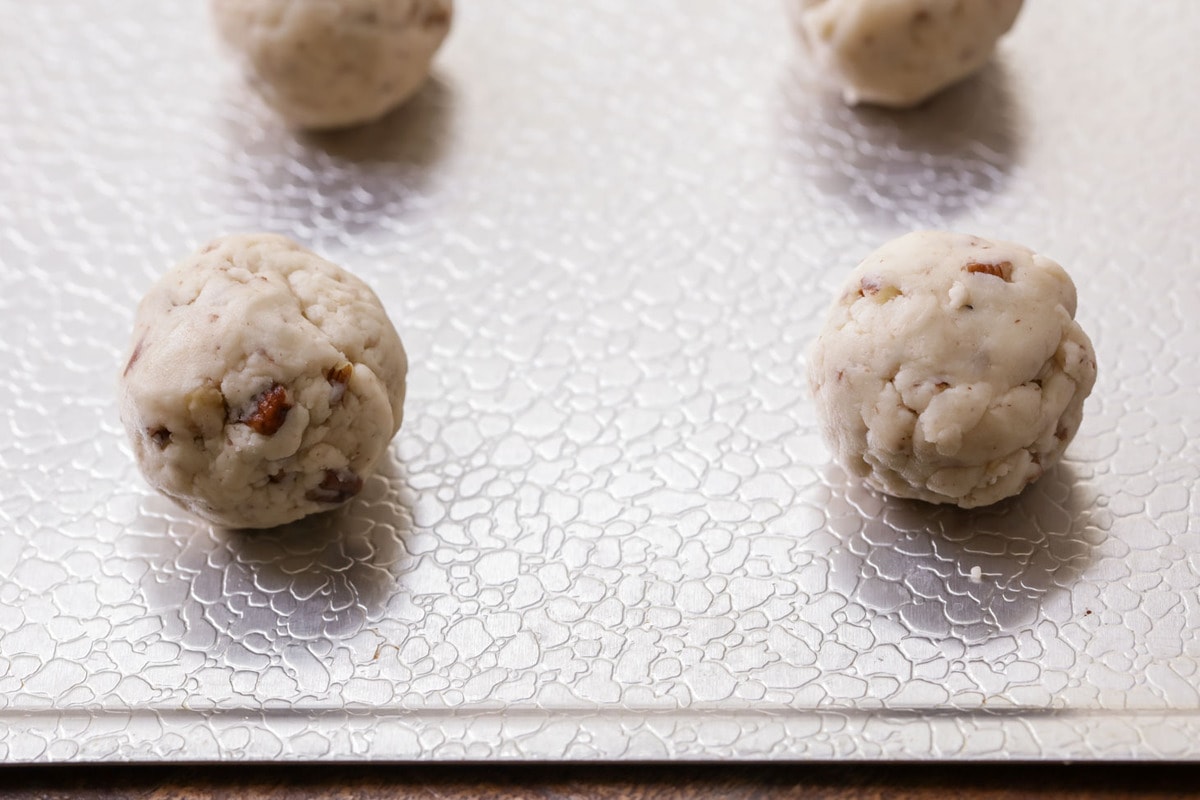 How to Make Snowball Cookies
As mentioned, these Snowball Cookies with pecans use simple ingredients to make an amazing cookie!
PREP. Preheat the oven to 350°F.
WET INGREDIENTS. In a large mixing bowl, cream together the butter, vanilla, and ½ cup powdered sugar.
DRY INGREDIENTS. Stir in the flour, chopped pecans, and salt. Mix everything together until well combined.
SHAPE + BAKE. Roll the dough into balls that are about 1 tablespoon wide. Place them on an un-greased cookie sheet and bake for 14-15 minutes. Do not let them brown.
GARNISH. Roll the hot cookies in powdered sugar and let them cool on a wire rack. Then roll them in the powdered sugar one more time. So simple!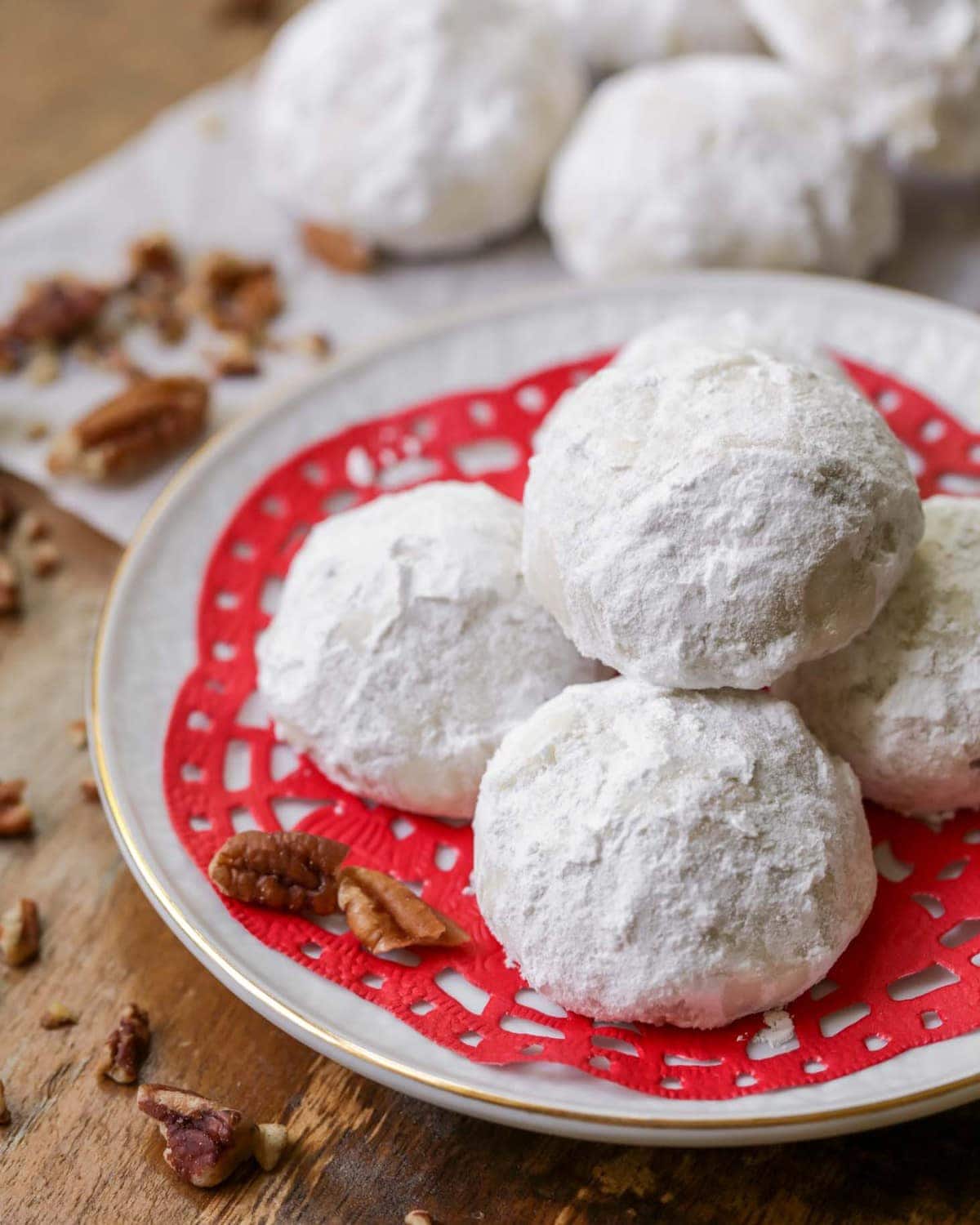 recipe tips
Pecans. If you don't have pecans, use chopped walnuts, almonds, cashews, or even pistachios. No matter the type of nut, be sure they are shelled and chopped.
Chop the nuts with a food processor, or just use a knife on a cutting board.

Toasting the nuts adds a delicious layer of flavor and is super easy. Preheat the oven to 350°F. Spread the nuts on a baking sheet. Toast for 8-10 minutes, flipping halfway.
Make a chocolate version. If you love chocolate, make these into chocolate Snowball Cookies! Add ½ cup cocoa powder in with the dry ingredients, and continue with the rest of the instructions in the recipe.
Variations. Mix colored sprinkles into the dough, or even mini chocolate chips. Replace the vanilla with almond extract, and the pecans with slivered almonds.
Baking tips:
Measure the flour accurately by scooping it into the measuring cup and leveling it off.
If your dough seems too dry, add a little more softened butter, or a tablespoon of applesauce.
Chilling the dough for 30 minutes may help make them easier to roll into balls. It will also help them keep their shape.
Make sure to use softened butter instead of melted butter, softened butter will provide the correct texture. If you're short on time use this post on How to Soften Butter Quickly.
Bake a couple of test cookies before filling up your cookie sheet. Higher altitudes may need to bake at 325°F for about 20-25 minutes.
Use a 1-inch cookie scoop to easily make uniform cookies.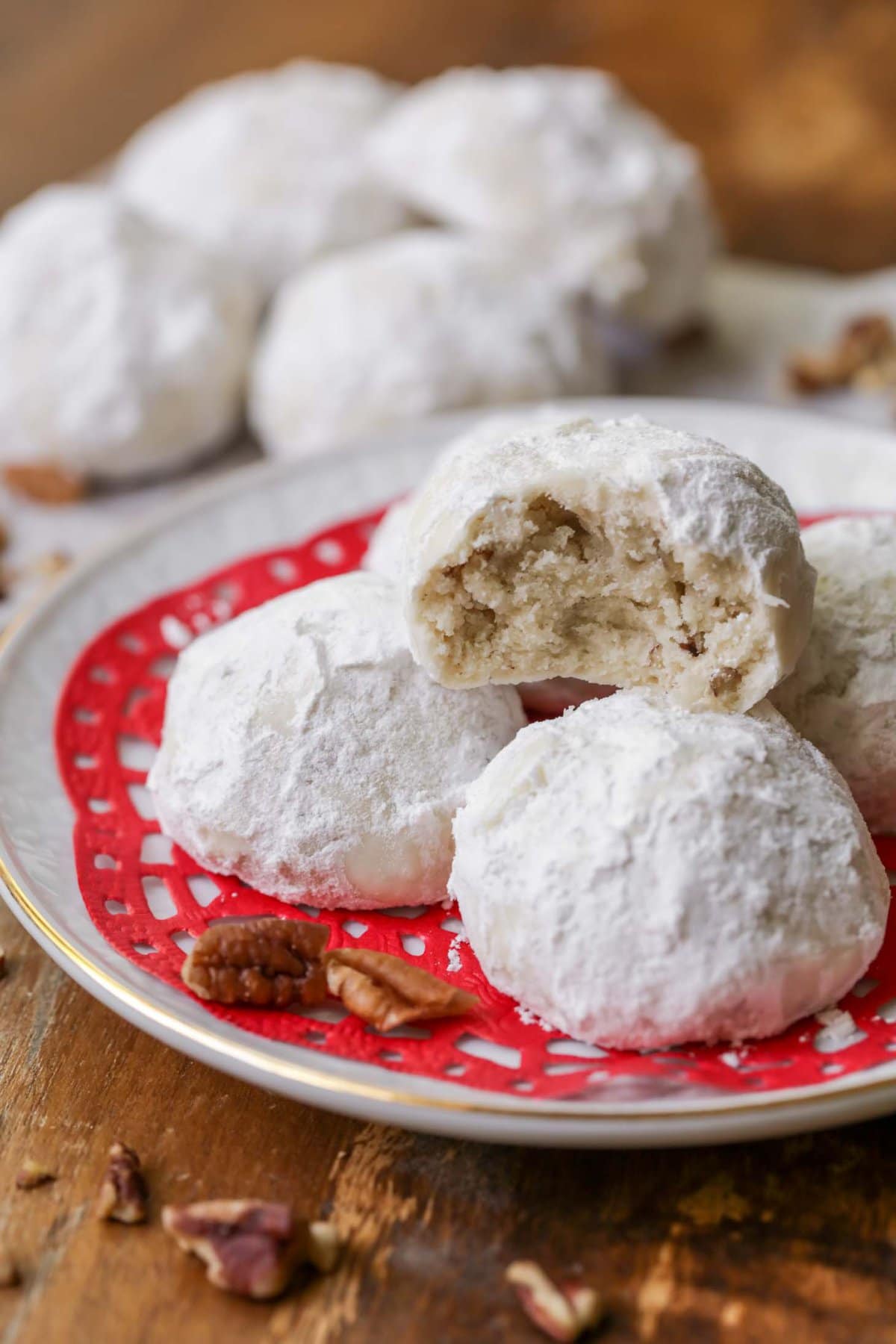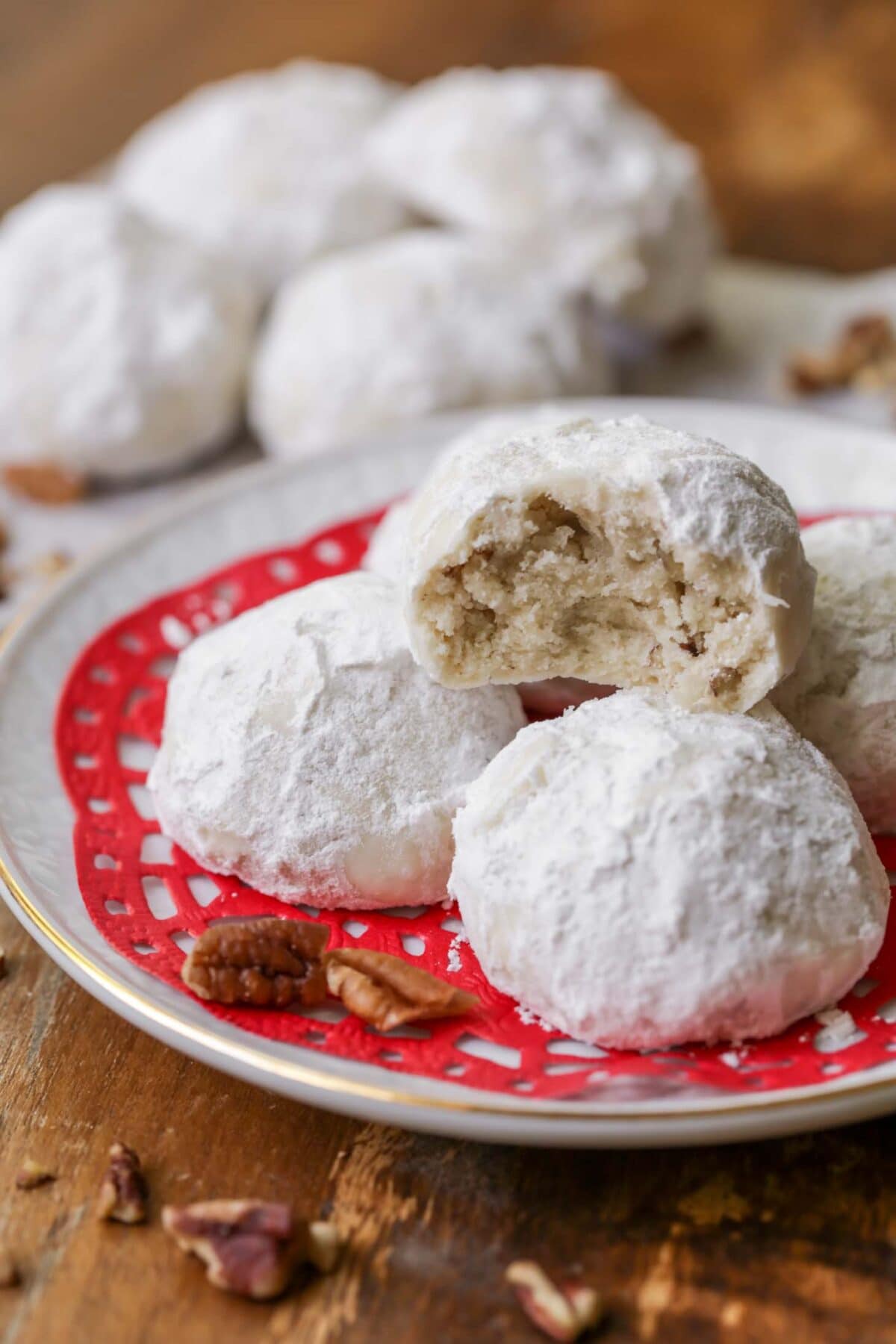 Storing info
STORE in an airtight container at room temperature for 1 week.
FREEZE in an airtight container in the freezer for about 6 months. Always remove them from the container to thaw, otherwise, the condensation turns the powdered sugar into a gooey mess. You can reroll them in powdered sugar if you wish.
FREEZE the cookie dough. Shape the dough into balls and place them all on a baking sheet. Stick them in the freezer. Once solid, transfer to a Freezer Ziploc. Thaw, at room temperature for 10-15 minutes before baking.
more holiday cookies:
Snowball Cookie Recipe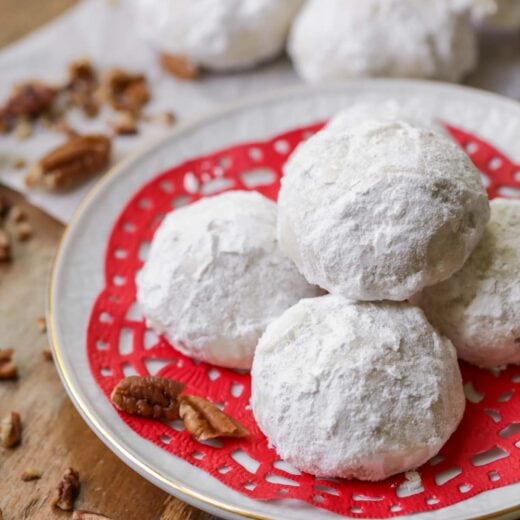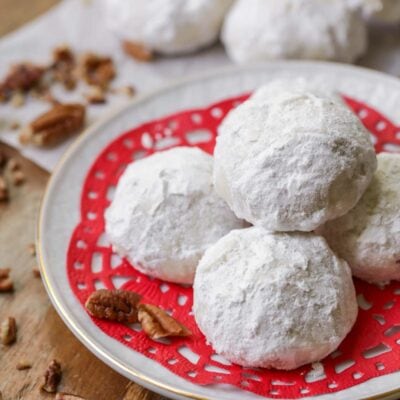 Buttery soft Snowball Cookies are loaded with pecans. This easy, melt-in-your-mouth cookie is simply the BEST holiday cookie!
Instructions
Preheat oven to 350°F (175 degrees C).

Cream together butter, vanilla, and ½ cup of powdered sugar. Stir in flour, pecans, and salt. Mix till well combined. Roll dough into balls, about 1 tablespoon wide, and place on an ungreased cookie sheet.

Bake at 350 for 14-15 minutes. Do not let them brown.

Roll hot cookies in powdered sugar. Once they have cooled, roll them once more in sugar. Enjoy