White chocolate raspberry cheesecake with a rich Oreo crust, white chocolate cream cheese base, and tasty raspberry swirl. Just like Cheesecake Factory's recipe!
If you love cheesecake, you have to try this white chocolate raspberry version. This dessert is so full of flavor and takes our classic cheesecake to a whole new level.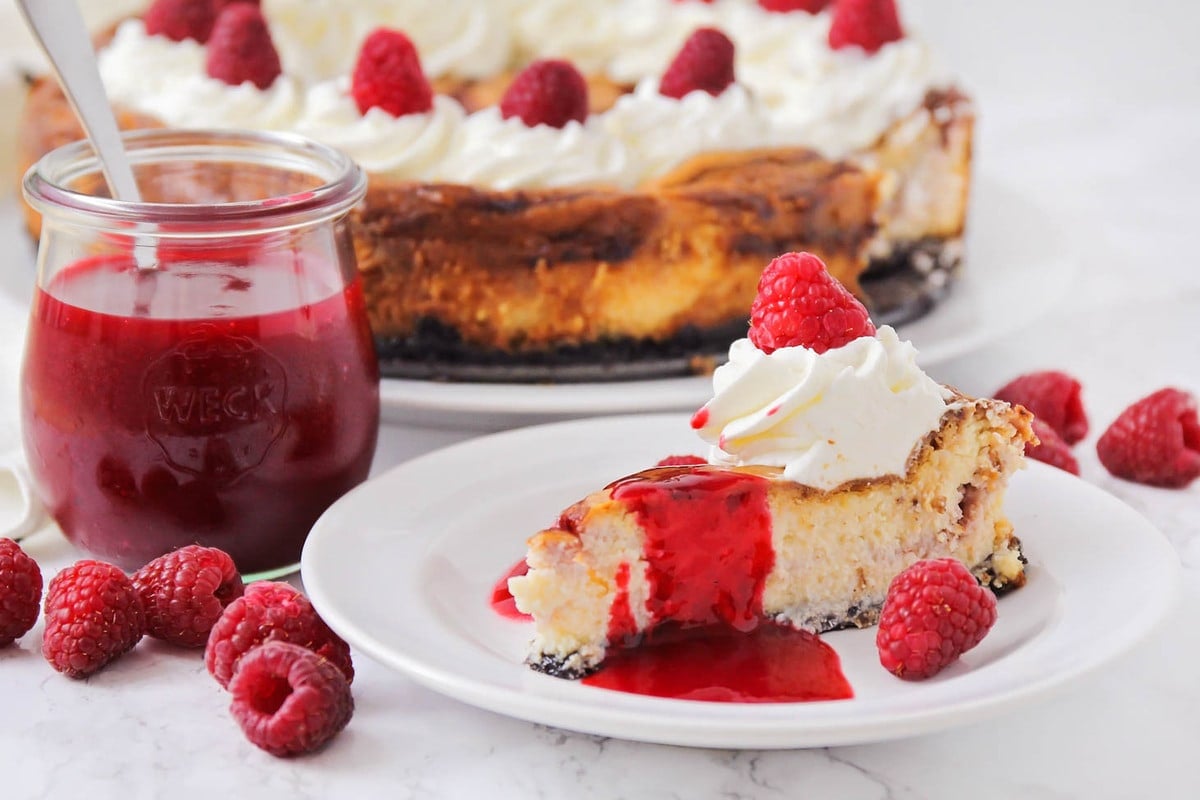 Do you like cheesecake?
You know how much I LOVE white chocolate! I prefer it over any other type of chocolate, and some of my favorite desserts are made of it (like White Chocolate Lasagna and White Chocolate Scotcharoos).
I decided to try a white chocolate cheesecake recipe, and it's actually similar to Cheesecake Factory's recipe! It ended up so flavorful and great, if you love cheesecake.
It has a delicious chocolate Oreo crust, white chocolate cheesecake base, and raspberry sauce swirled on top. Three amazing flavors all combined into one tasty dessert! I like to add whipped cream and fresh raspberries, and serve it with leftover raspberry sauce. SO yummy!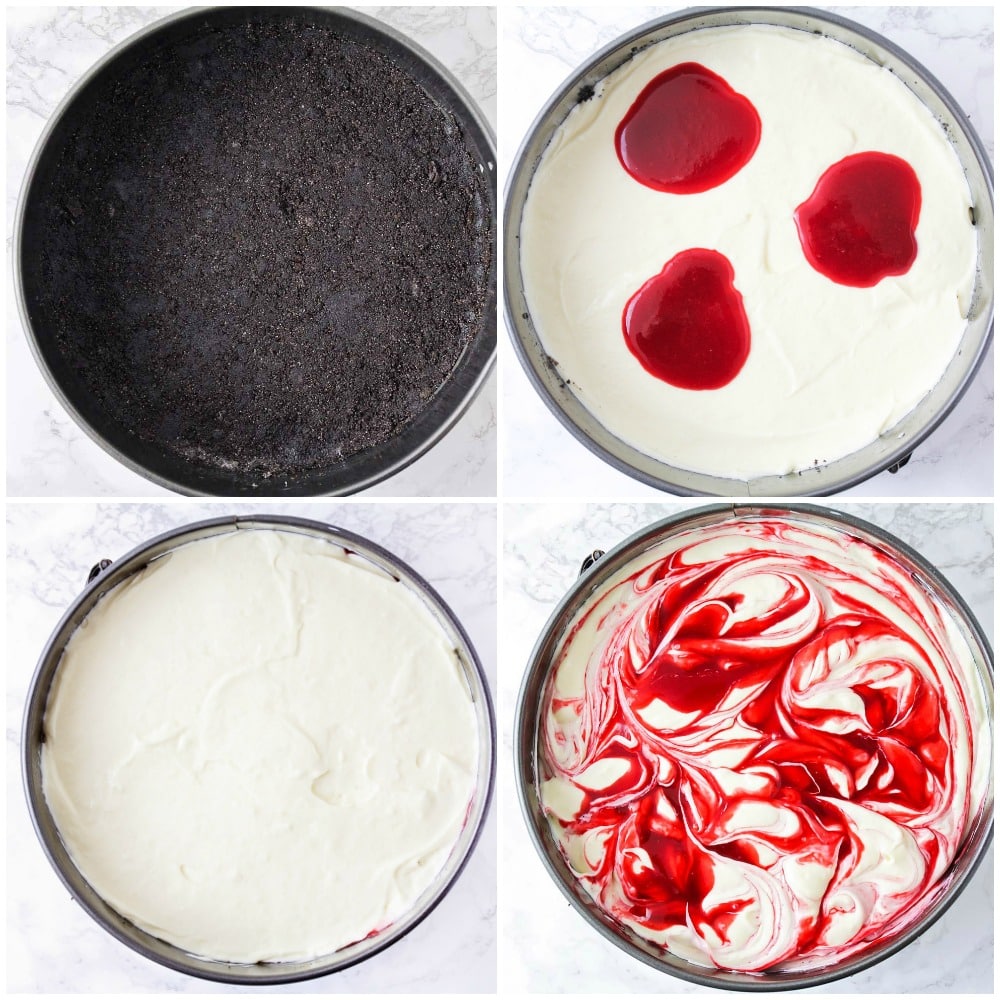 Making Raspberry Cheesecake
CRUST: Mix together the cookie crumbs, 3 tablespoons sugar and melted butter in a medium bowl, or use a food processor. Press into the bottom of a 9-inch springform pan.
RASPBERRY SAUCE: Combine raspberries, 2 tablespoons sugar, cornstarch and water in a medium pot. Bring to a boil and boil for 5 minutes while the sauce thickens up. Strain the sauce through a mesh strainer to remove any seeds.
CHEESECAKE BASE: Preheat oven to 325. Melt white chocolate chips and half and half in a medium pot on low heat, stirring constantly until smooth.Mix together cream cheese and ½ cup sugar in a large bowl until smooth. Add eggs one at a time and beat. Add vanilla and melted white chocolate and mix well.
Pour half the batter over the crust, then 3 tablespoons of the raspberry mixture over the batter. Pour remaining batter into the pan and spoon 3 tablespoons of the raspberry sauce on the top. Create a marbled effect by swirling the batter with the tip of a knife.
BAKE: Bake cheesecake for 55 to 60 minutes or until filling is set. Cover with plastic wrap and refrigerate for 8 hours before removing from the pan. Serve the cheesecake with the leftover raspberry sauce.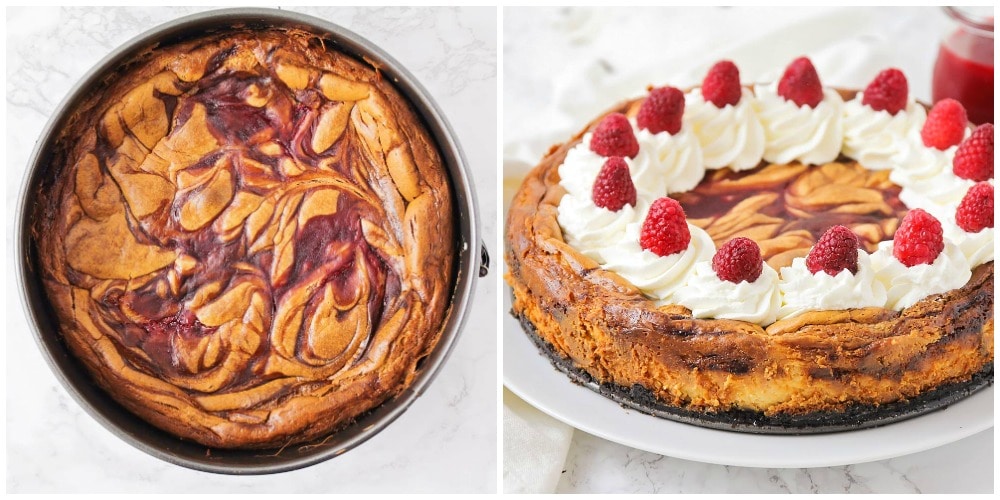 Tips and Tricks:
Use room temperature ingredients for best results. It will allow the ingredients to combine most effectively.
You definitely need a springform pan for this recipe! A cake pan won't quite give you the same result.
You can make it a bit healthier by using low-fat cream cheese and fat-free half and half. Texture will be slightly different, but it will still turn out great.
Use a food processor or blender to finely crush the Oreos for the crust.
Make the crust with Golden Oreos or graham crackers for a flavor twist.
Let the cheesecake cool completely after baking before putting in the fridge to set.
If you're in a time crunch, you can put the cheesecake in the freezer to speed up the setting process.
TOPPINGS: I like topping this cheesecake with homemade whipped cream, fresh raspberries, and leftover raspberry sauce. You could also add white chocolate chips or white chocolate shavings, nuts, Oreo crumbles, chocolate syrup, or even caramel.
STORING: Keep leftovers in the fridge, covered tightly with plastic wrap or tinfoil for up to 5 days. You can freeze an entire cheesecake, or freeze individual slices wrapped tightly in plastic or foil, then place in a freezer bag.
To thaw, place in the fridge overnight, or for quicker thawing, set out on the counter. It will thaw in about 30 minutes at room temperature.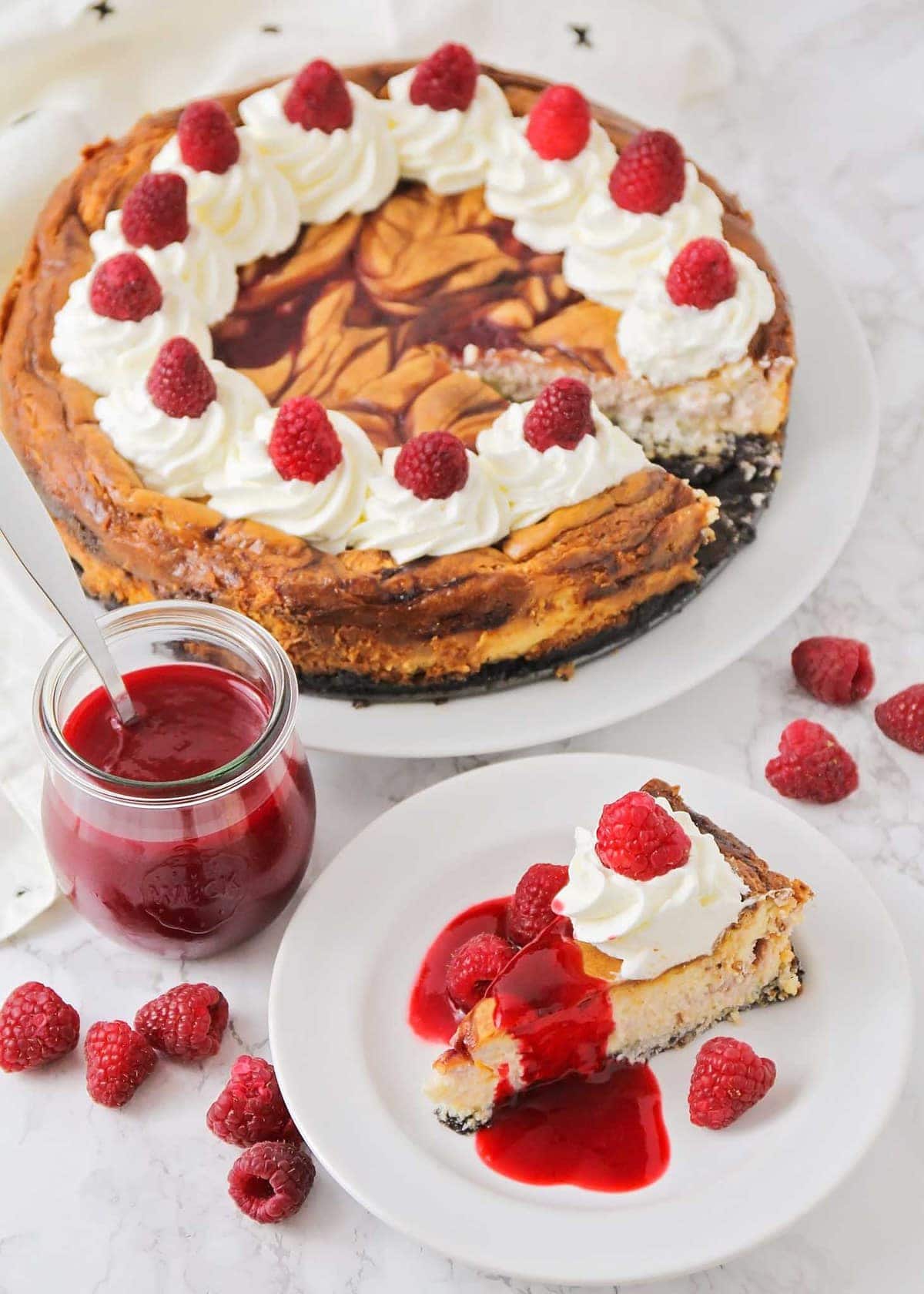 For even more Cheesecake recipes, check out:
more white chocolate recipes: