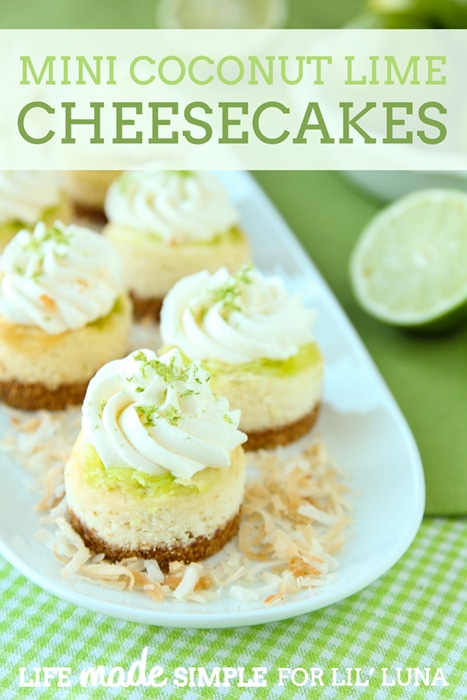 Hello! I'm Natalie from Life Made Simple and I can't tell you enough how excited I am to be a contributor this year! St. Patrick's Day is coming up and I have to admit, I'm never really good about going green (or at least that's been the case in the past). So this time around I thought I'd get a jump start on some festive green goodies and whip up some mini coconut lime cheesecakes for you all! I'll warn you, these do require more prep time due to a few extra steps, but the end result is out of this world- they're so good!!! Are you ready to get started?
First, if you can find key limes, use them! Most grocery stores are starting to get them in stock now but sometimes they can be hard to find, so I used regular ole limes. Second, I LOVE coconut- I toasted some in my oven (350℉ for 6-10 minutes) and food processed those lovely golden flakes along with my graham crackers for the crust. It's a little extra work but very well worth it! Third and final, call me crazy but I spiked my whipped cream with coconut oil (LorAnn brand). The flavor is subtle but definitely there. Ok, now that I've rambled on let's get to it!
MY OTHER RECIPES
2 drops green food coloring
1 drop yellow food coloring
Coconut Graham Cracker Crust:
Ingredients
5 graham crackers
2 tsp. sugar
4 tbsp. toasted coconut
1 tbsp. butter, melted
Zesty Cheesecake:
Ingredients
2 tbsp. all-purpose flour
1/4 c. sugar
1 (8 oz) package original cream cheese, room temperature
1/4 c. sour cream, room temperature
1/4 c. heavy whipping cream, room temperature
1 egg
1 tsp. vanilla
1/2 tsp. lime zest
pinch of salt
Coconut Whipped Cream:
Ingredients
2 tbsp. powdered sugar
1/2 c. heavy whipping cream, chilled
1/8 tsp. coconut oil (or more to liking)
pinch of salt
DIRECTIONS:
1. Begin by making the lime curd. In a small mixing bowl, combine melted butter, sugar, eggs and lime juice. Beat with a hand mixer until smooth (there may be small chunks, that's ok). Pour the mixture into a small saucepan set over medium-low heat. Cook the mixture until it begins to thicken- it should reach 170℉ on a digital thermometer. Remove from heat, allow to cool for 5-10 minutes before transferring to the refrigerator to cool completely.
2. Preheat oven to 350℉. Spray your mini cheesecake pan generously with baking spray. While the curd is cooling, in a food processor, grind up graham crackers, sugar and coconut flakes until the mixture resembles fine crumbs. Remove and add in butter. Scoop about 1 tablespoon of the mixture into each well of the mini cheesecake pan and press firmly. Place into oven and bake for 6-8 minutes. Remove and allow to cool.
3. Meanwhile, in the bowl of a stand mixer fitted with the paddle attachment, beat together sugar, cream cheese, sour cream, lime zest and salt until smooth (about 2 minutes). I should mention that it's important that your cream cheese, heavy cream and sour cream are at room temperature, if not it will clump up! Add vanilla, heavy cream, mix, then add the egg and mix until incorporated. Add flour and mix until just combined. Pour mixture into cooled crusts, dividing evenly.
4. Remove the lime curd from refrigerator and add the food coloring, mix until incorporated. Add about 3/4 tsp. of curd to the top of each mini cheesecake. Swirl gently. Place cheesecakes in the oven and bake for 20 minutes. Remove from the oven and allow to cool for 30 minutes before covering and placing in the refrigerator to chill for at least 2 hours (note: the cheesecakes will sink a little while cooling, this is normal).
5. To make the whipped cream, in the bowl of a stand mixer (preferably chilled) fitted with the whisk attachment, beat together all ingredients for 2 minutes- cover and chill until needed.
6. To assemble, remove cheesecakes from the pan and remove bottom plates. Pipe with whipped cream and sprinkle with lime zest. Serve immediately!
NOTE: Although I've never tried making these in a cupcake tin, my recommendation would be to double the crust and filling and increase the bake time to 25-30 minutes (just wiggle the pan to be sure they are set before removing them from the oven).
♣ This recipe was inspired by these gorgeous bars ♣
Check out more of my mini cheesecake recipes:
Mini Pumpkin Cheesecakes with Gingersnap Crusts
Mini Chocolate Raspberry Cheesecakes
Thanks again Kristyn for having me!
You can find more recipes & craft ideas here:
Life Made Simple | Facebook | Pinterest | Twitter
————————————————
Thank you Natalie! I LOVE cheesecakes!! Can't wait to try them!
Be sure to go to Life Made Simple for more fun recipes from Natalie, and
for more information about her please go HERE.
For more St. Patrick's Day Desserts, be sure to try: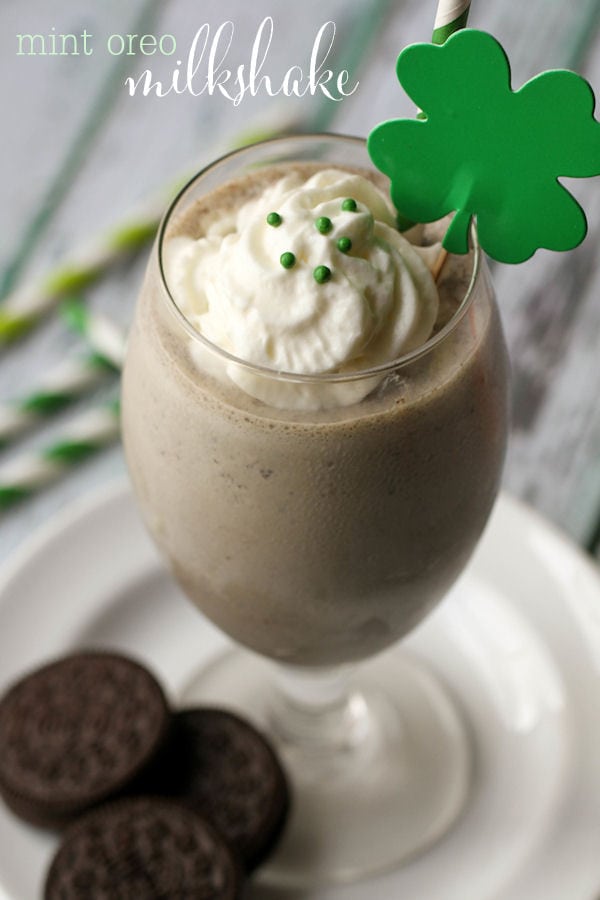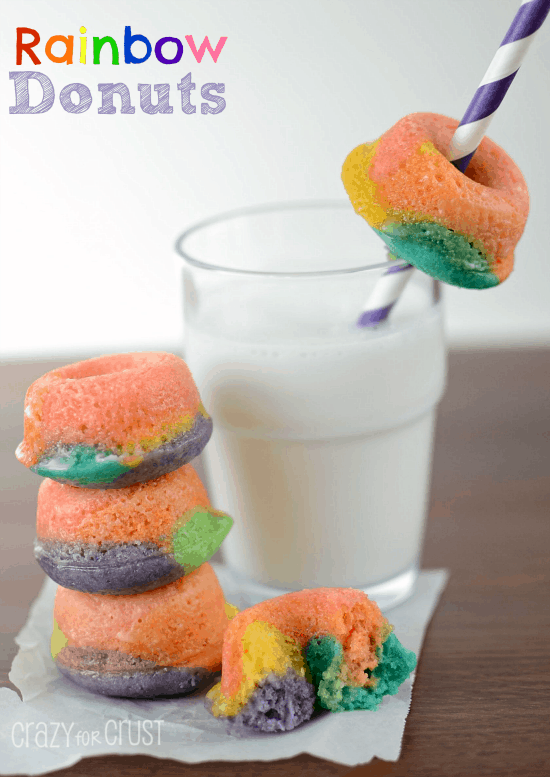 And get weekly emails with monthly freebies by signing up for the Lil' Luna newsletter. 🙂
For even more great ideas follow me on Facebook – Pinterest – Instagram – Twitter – Periscope – Snapchat.
Don't miss a thing – Sign up for the Lil' Luna Newsletter today!
ENJOY!