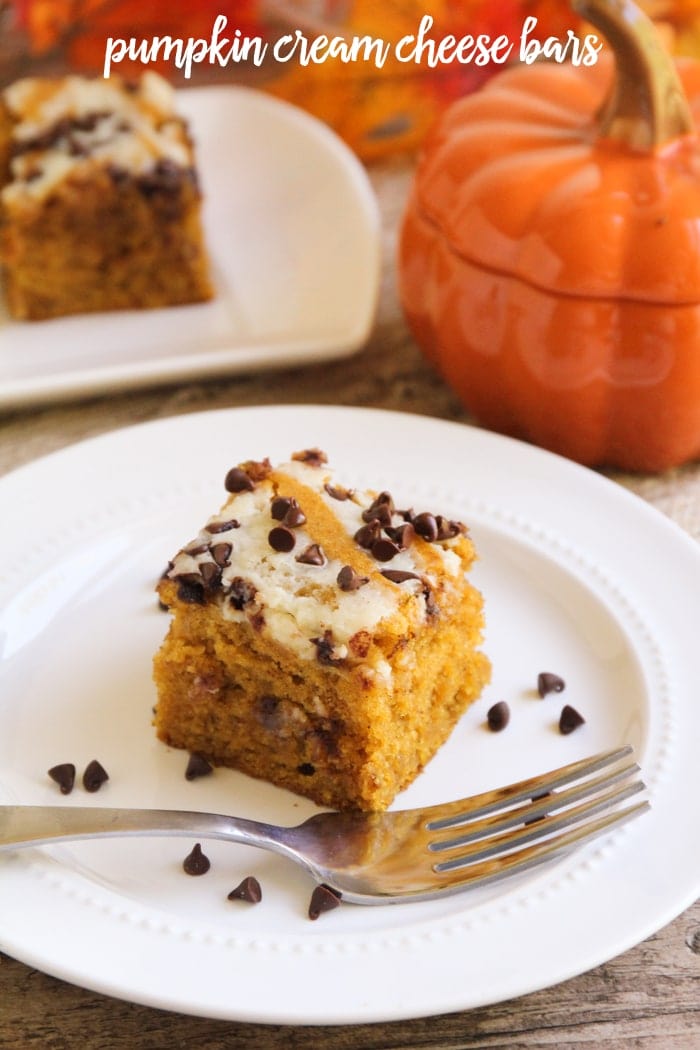 I think it's pretty safe to say that this will be the last Pumpkin recipe of the year.
You're sad, I know it. 😉
I'm just trying to give you lots of options so come Thanksgiving you have a ton of pumpkin recipes to choose from. 🙂 Through the recipes I posted and I the Pumpkin recipe Round-Ups, I've shared over 125 Pumpkin Recipes so I'm hoping one of them looks easy enough to make. 😉
MY OTHER RECIPES
This last recipe is from Kitchen Meets Girls and is perfect for Thanksgiving or any other time in the fall. 

You can leave the mini chocolate chips on or off – all done according to your preference. Our family definitely loves chocolate so we were sure to leave them on. We also LOVE frosting and though these Pumpkin Cream Cheese Bars were SO yummy!

Pumpkin Cream Cheese Bars
Ingredients
2 cups all purpose flour
1½ cups sugar
2 tsp. baking powder
2 tsp. pumpkin pie spice
1 tsp. baking soda
½ tsp. salt
4 eggs
1 15 ounce can pumkin puree
1 cup Vegetable Oil
Cream Cheese Layer :
4 ounces cream cheese, softened
¼ cup sugar
1 egg
1 TB milk
½ cup mini chocolate chips
Instructions
Stir together all dry ingredients in a large bowl. Add eggs, pumpkin puree, and oil, stir until combined. Pour and spread batter into an ungreased 15x10 pan.
With an electric mixer, cream your cream cheese and sugar. Beat in egg and milk. Drizzle over your pumpkin layer. Gently use a knife to swirl the mixtures. Sprinkle chocolate chips on top.
Bake at 350 for 25-30 minutes. Add more chips o the top if desired when cake has cooled for 10 minutes. Cool on wire rack for about two hours.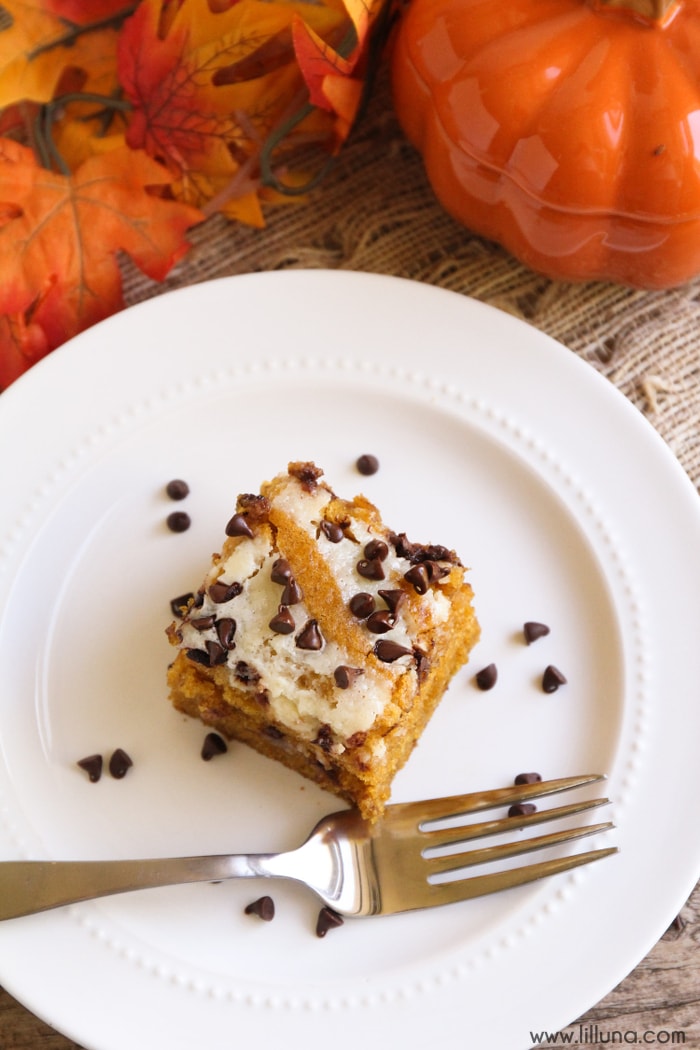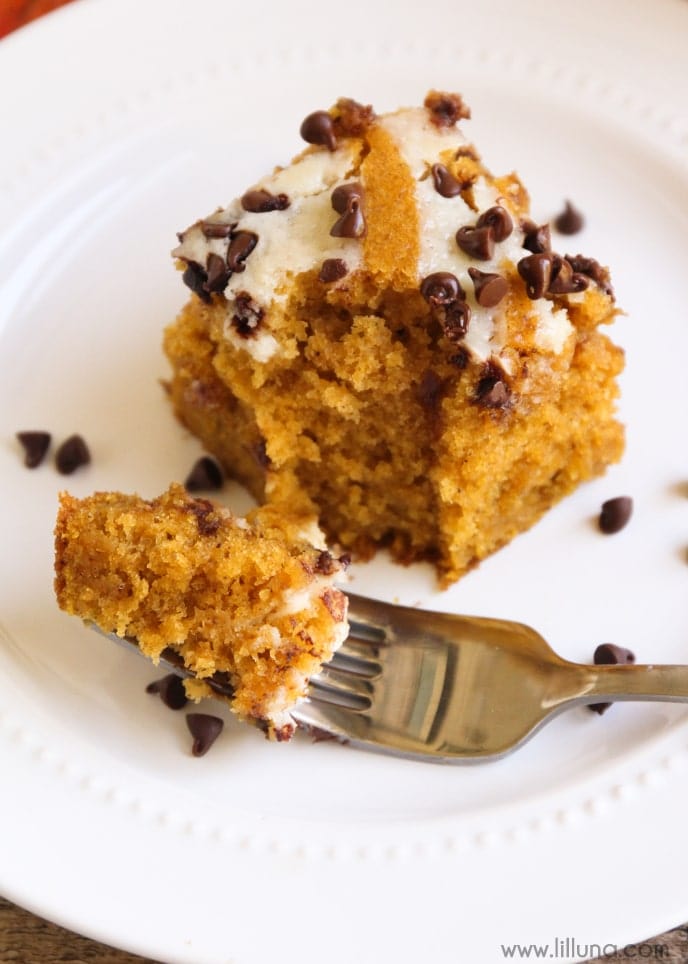 Yummy, yum!! You will definitely love these if you love Pumpkin… and cream cheese… and chocolate!! 😀
For more great Pumpkin recipes be sure to check out: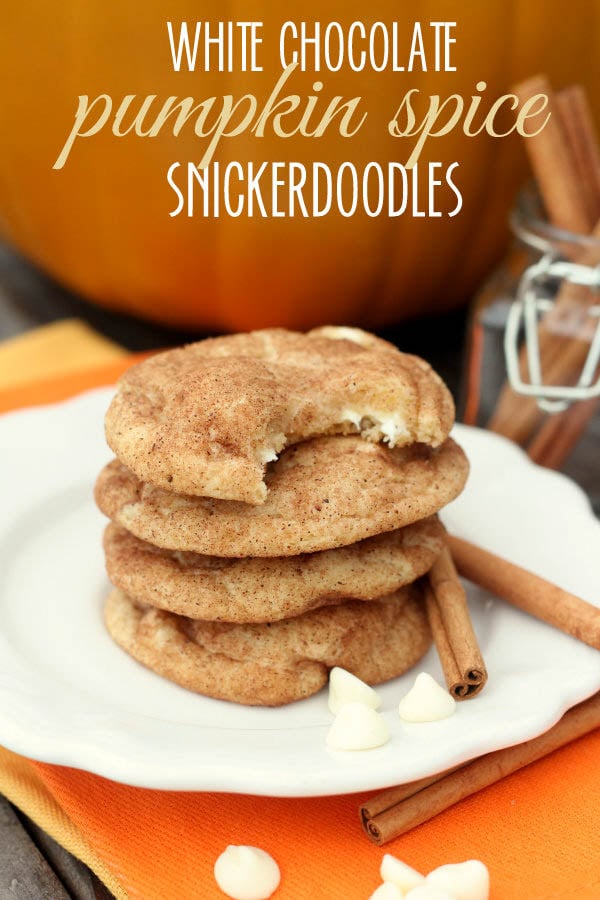 White Chocolate Pumpkin Spice Snickerdoodles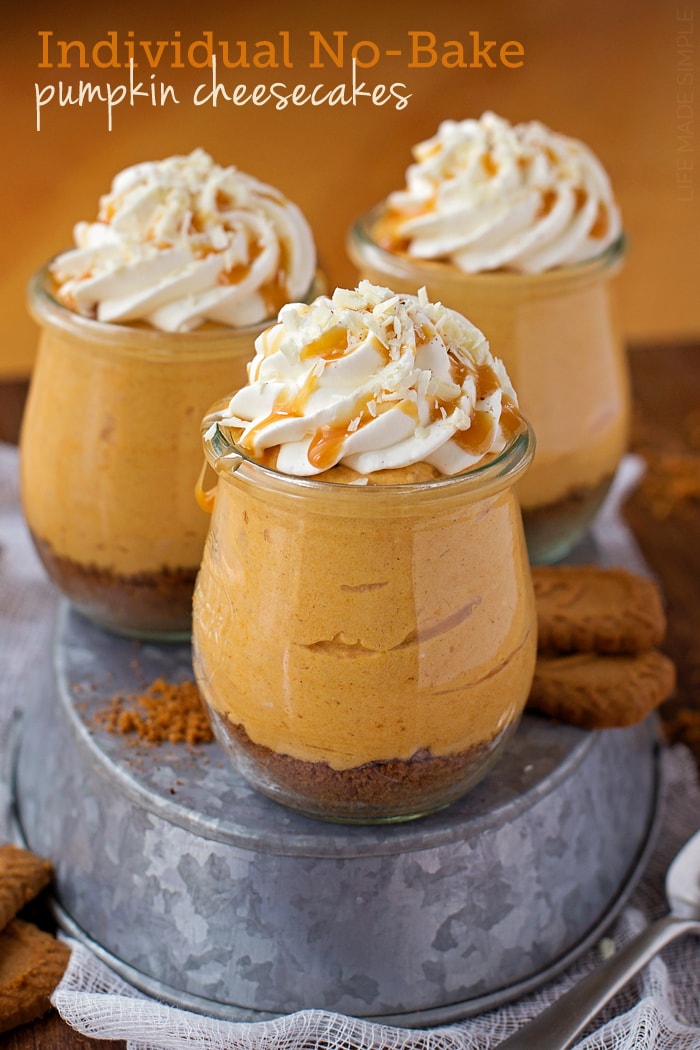 Individual No-Bake Pumpkin Cheesecakes
For all Dessert Recipes go HERE.
For all Lil' Luna recipes go HERE.
For even more great ideas follow me on Facebook – Pinterest – Instagram – Twitter – Periscope.
And get weekly emails with monthly freebies by signing up for the Lil' Luna newsletter. 🙂
ENJOY!
Pictures for this recipe were re-taken by Alicia of The Baker Upstairs.