Quick, simple and yummy NO BAKE Cookies – one of our favorite cookie recipes! Made with cocoa powder, peanut butter, vanilla, and quick oats – these quick cookies will become a go-to treat.
These simple no bake cookies are great to make all year long, especially when it's hot outside! They take minutes to make and have become classic treats in the house, like our No Bake Energy Bites and No Bake Cheesecake.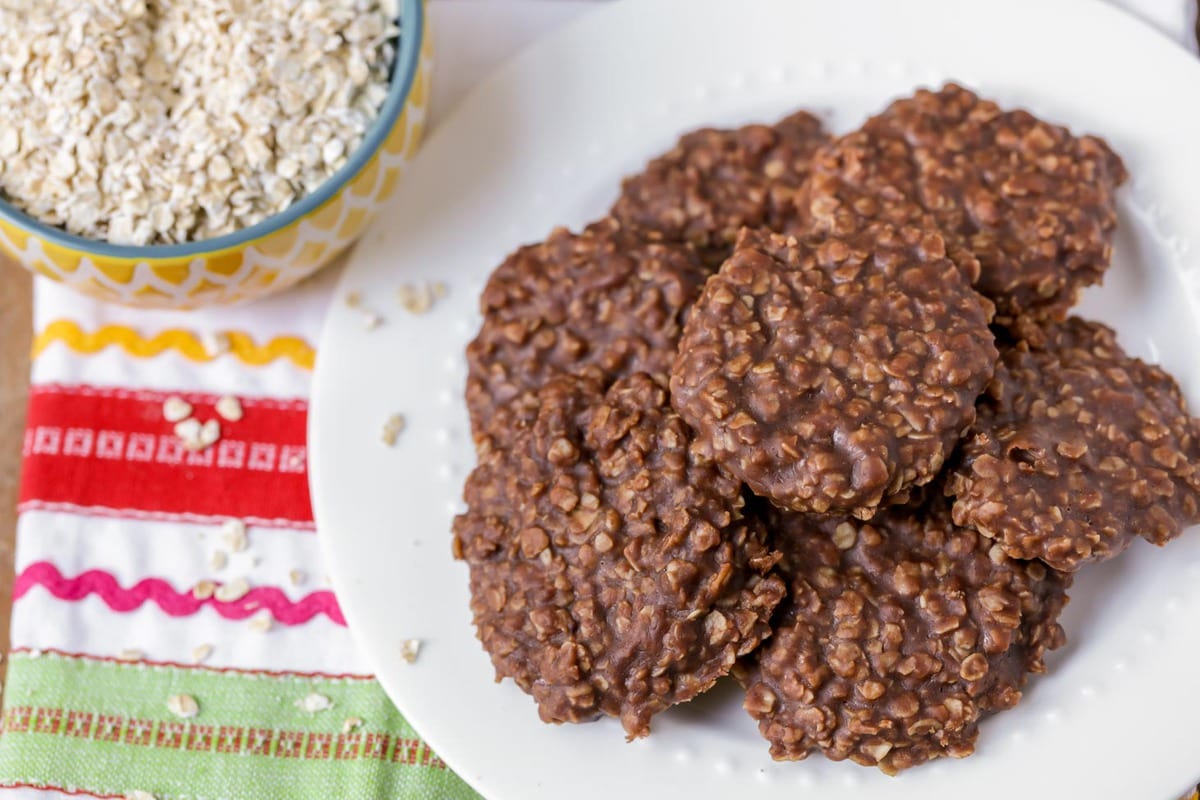 No Bake for the win!
We love to make cookies all year long! One of our favorite recipes to make, and especially in the summer, is our classic No Bake Cookies (along with our Peanut Butter No Bake Cookies too!) They're simple, quick and so delicious.
Whenever we are looking for a quick treat, the kids like to join me in the kitchen to whip up a batch of these No Bake Oatmeal Cookies (trust me when I say they are beyond easy!)
They take 10 minutes to make (start to finish) and result in a super delicious and simple treat perfect for an after school cookie, a party, or even an upcoming cookie exchange.
If you've had these no bakes before, you know that they're easy and quite addicting.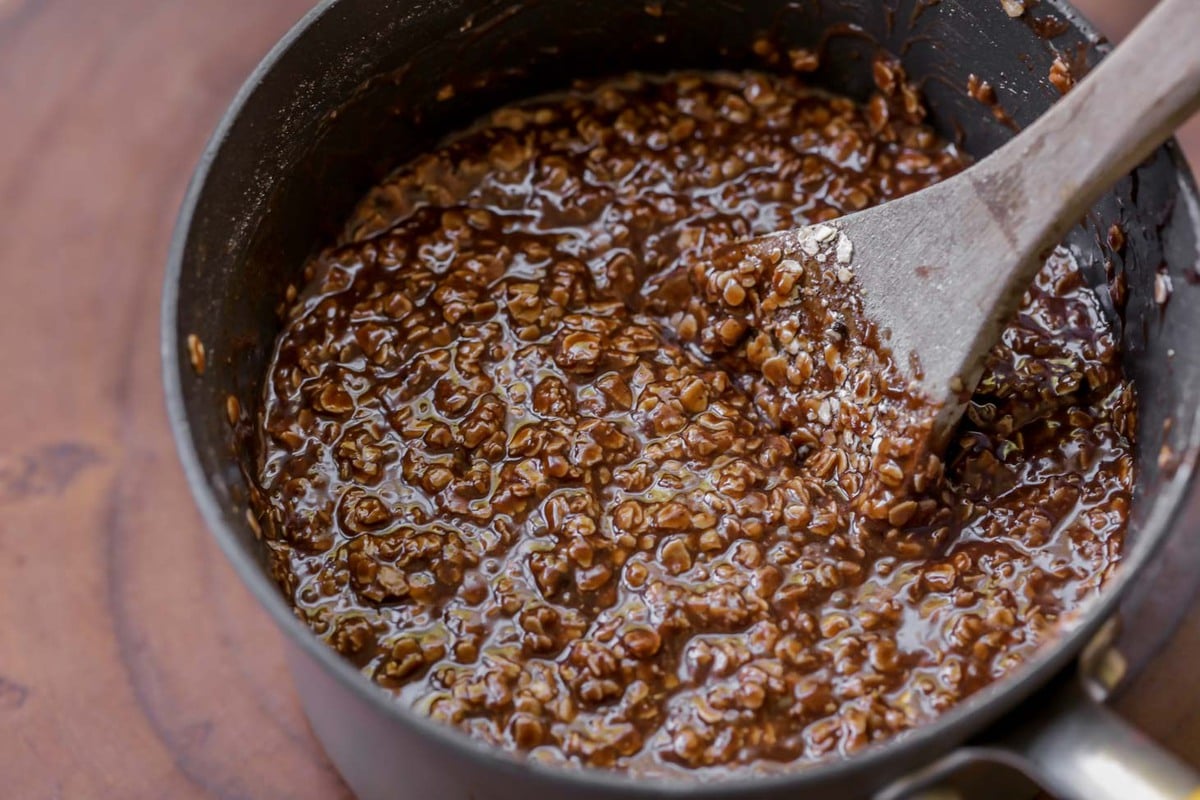 How to Make No Bake Cookies
The ingredients for these chocolate no bake cookies are ones we usually always have on hand. We hope you have them on hand too because you'll love how simple these goodies are.
butter
sugar
milk
cocoa powder
peanut butter
vanilla
quick oats
BOIL. Once ingredients are gathered you will add your butter, sugar, milk and cocoa powder to a saucepan and bring to a boil for 1 minute.
SCOOP. Remove from heat and stir in the peanut butter and vanilla until smooth. Add the oats and stir. Use a cookie scoop to drop heaps of the mixture onto wax paper or parchment paper.
COOL. Let cool and try not to eat a dozen of these guys. Like I said – so easy and made in 10 minutes!

No bake cookie recipe TIPS, tricks & FAQ
Can I make no bake cookies with old fashioned oats? You can – it just depends on how you prefer the no bake cookie texture. Quick cooking oats are smaller and absorb the liquid easier which makes the cookies more soft and chewy. If you use old fashioned oats, the cookies will have a less chewy, oat-y texture.
Do no bake cookies need to be refrigerated? No, they don't. Just store at room temperature in an airtight container or Ziploc bag. You're more than welcome to store them in the fridge, which will actually make them last longer, but it's not required.
How to harden no bake cookies that are too soft: Are your no bakes too soft? Try putting them in the fridge or freezer to see if the cold helps them set. This usually does the trick!
ADDITIONAL TIPS:
Keep a timer on hand and start the 1 minute countdown as soon as the mixture comes to a FULL boil. This will help insure you get the mixture off the stove within that "perfect consistency" window. If it doesn't cook long enough, the cookies won't set. If they cook too long, they will be a crumbly mess.

If you're worried about over or undercooking the liquid mixture, you can always use a candy thermometer (the mixture is done when it reaches 235-240 degrees Fahrenheit), or do the classic "ice water test". Once you've cooked the mixture for a minute, you can drop a small spoonful into the ice water and if it forms a small squishy ball as it cools, you know it's done.

Creamy peanut butter makes for the best consistency (in my humble opinion), but if you decide to use crunchy pb, add an extra ¼-½ c or the cookies can turn out dry. I've also never used natural peanut butter, but if you do, make sure it's well-stirred and not oily.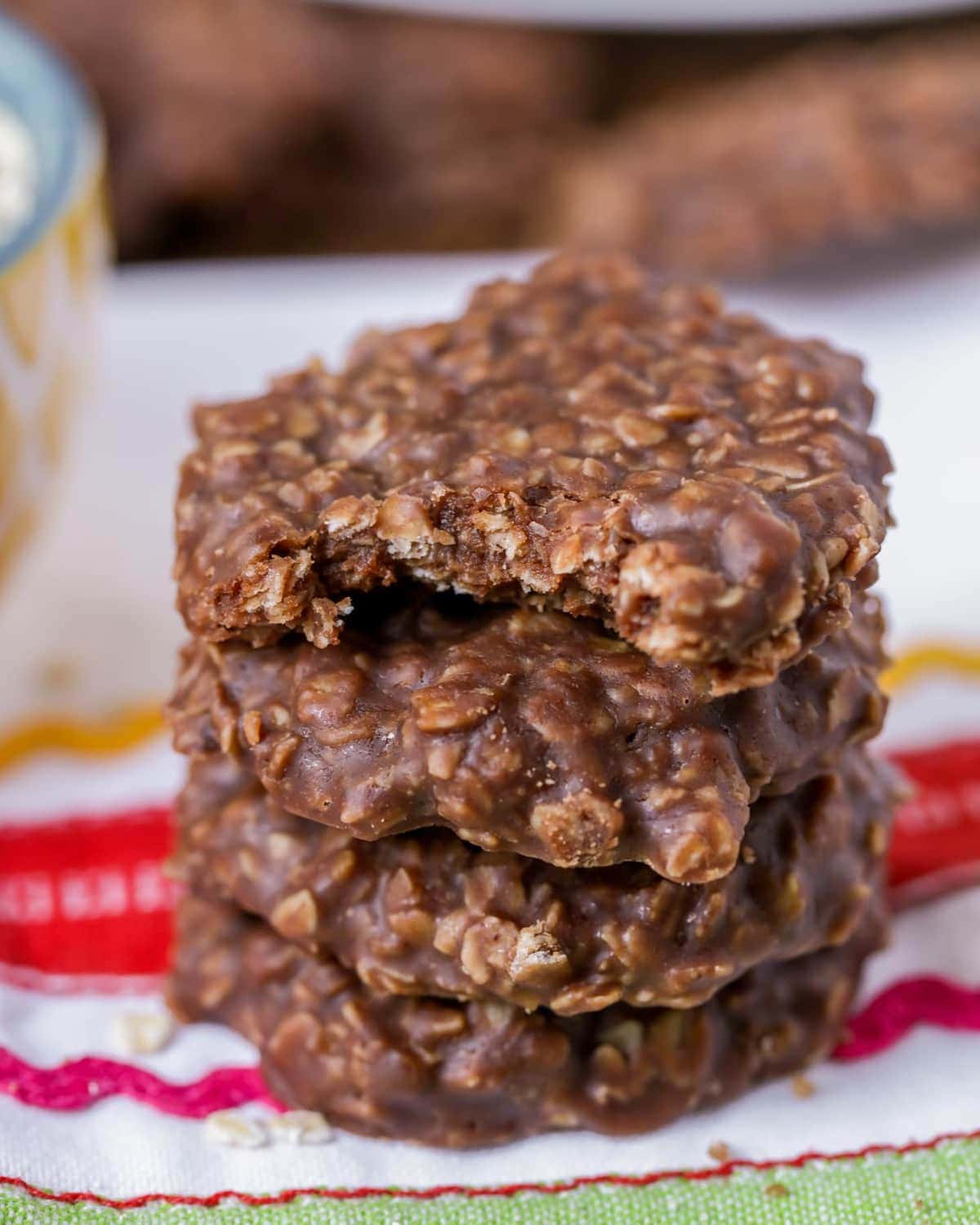 I admit growing up I wasn't the biggest fan of No Bake Cookies, but that's mostly because I really only liked the cookies with M&Ms, Sprinkles or frosting on top, but I love these now.
It's especially nice to have on hand in the summer months when you want a nice, homemade treat that doesn't require turning on the oven. 😉
For more easy treats, check out:
For more No Bake cookies, check out: