Soft and crunchy butter cookies are a delicious classic must-make for any holiday party and are delicious plain or frosted.
I love making these easy butter cookies for just about any occasion. Cut any shape out of the cookie dough for whatever you are celebrating. Try topping these tasty cookies with Berry Buttercream, Vanilla Buttercream, or Chocolate Buttercream.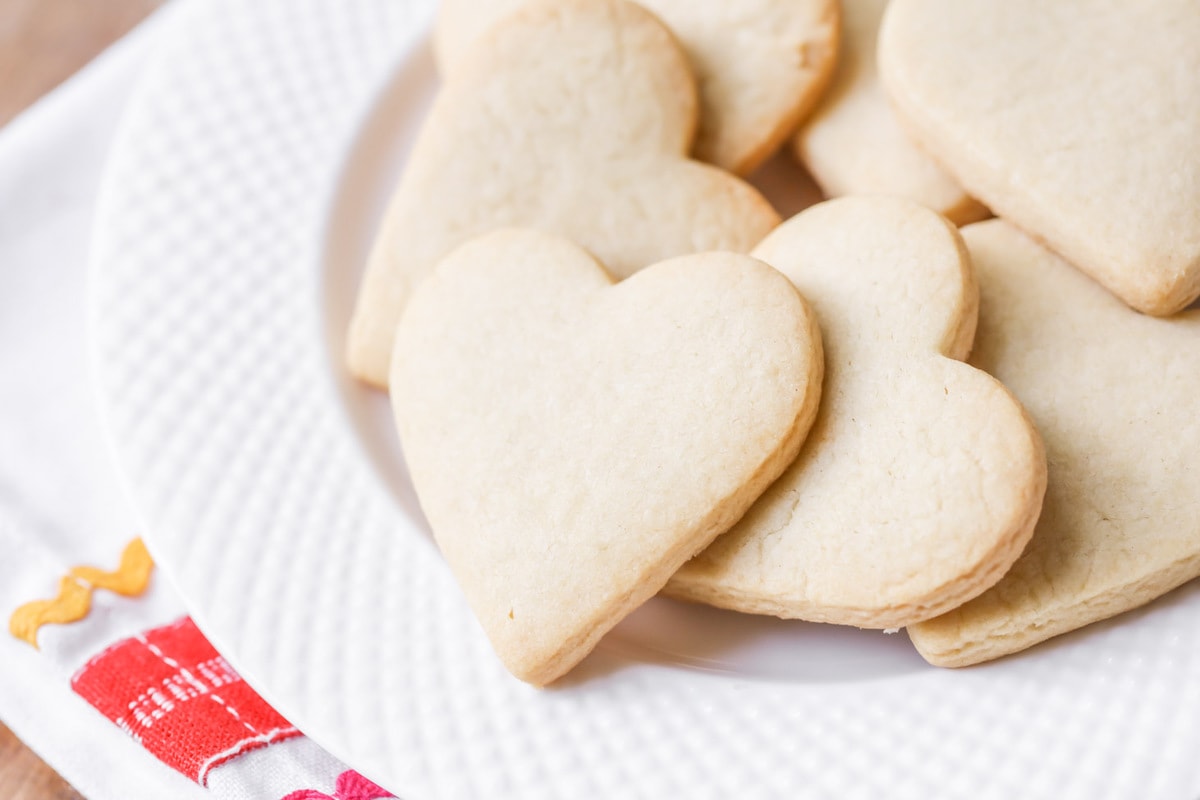 Butter Crunch Cookies
You're probably asking yourself – what's the difference between shortbread cookies and butter cookies? Is there a difference?
There is! It really comes down to texture and flavor with these two different cookies. Shortbread cookies have more butter than flour in the ingredients. And butter cookies have more flour in them than butter. They still have a lot of butter in them- hence the name "butter cookies".
Since butter cookies have more flour in them, they are GREAT for decorating. They are sturdy and hold frosting really well. You're going to love the frosting in this recipe. The yummy frosting perfectly compliments the cookies. These butter cookies have the perfect crunch in them. That first bite is soft with a little bit of a crunch making them irresistible and one our new favorite cookies.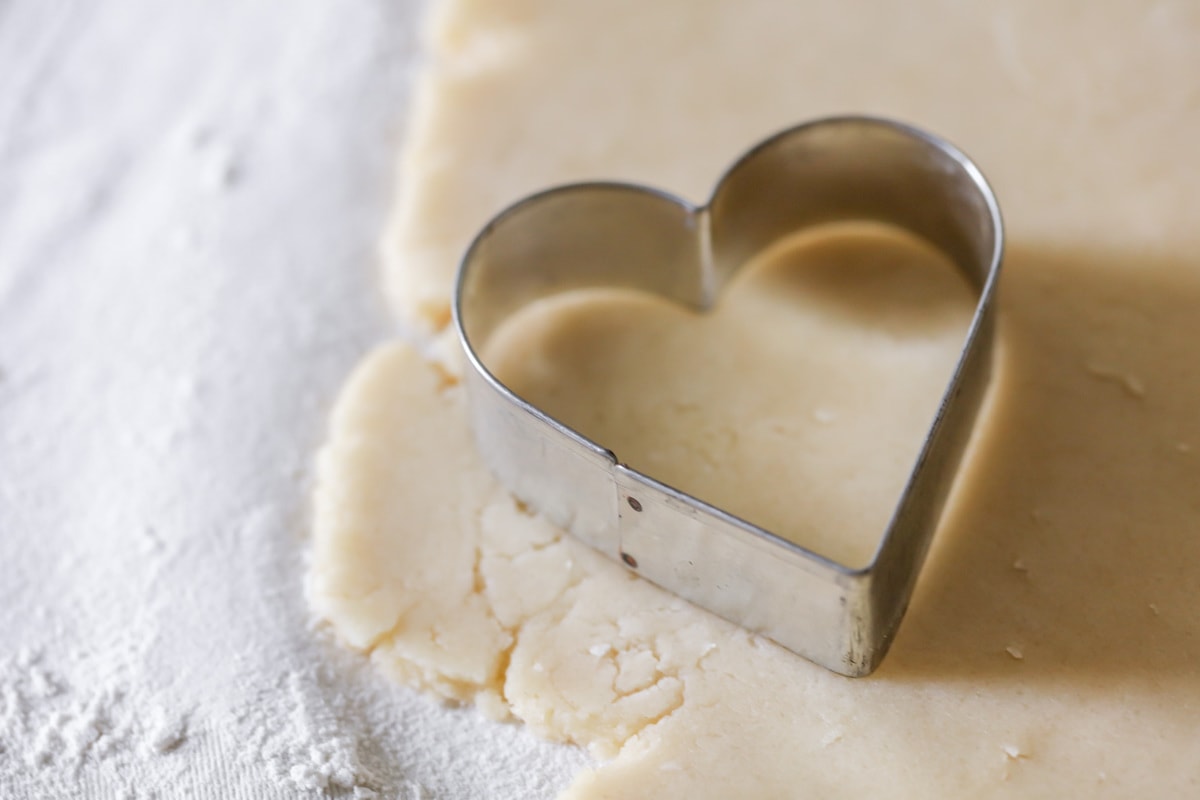 How to Make Easy Butter Cookies
One of the best things about this recipe is how fast and easy it is. There is no chilling of dough required!
WET INGREDIENTS. Start by creaming the butter and sugar together in a kitchen aid or with a hand mixer. Cream them until the mixture is light and fluffy. Then add the eggs and vanilla and mix until well combined.
DRY INGREDIENTS. In another separate bowl combine all the dry ingredients. Flour, baking powder, and salt. Add the creamed mixture into the dry ingredients and beat together.
CUT. Start with a clean surface and flour it heavily. Roll out your butter cookie dough to about ⅓ inch thick. Use cookie cutters of your choice to cut out shapes.
BAKE. Place your cut out cookies onto a lined baking sheet. Preheat oven and bake at 375 for 6-8 minutes. The cookies should be set, but not brown! Try your best not to over bake these. Keep an eye on them in the oven. When the cookies are done let them cool completely on a wire rack before frosting.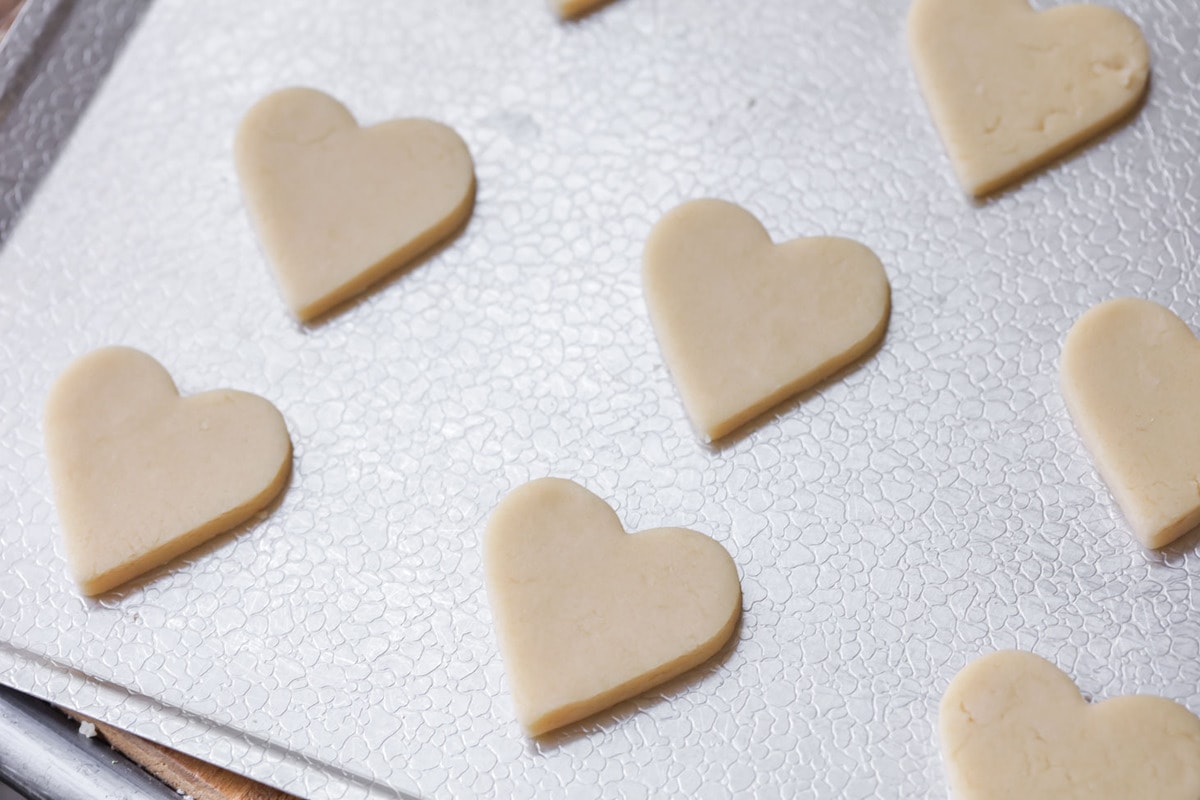 Butter Cookie Frosting
Guess what? This frosting also has butter in it! What would a butter cookie be without butter frosting? This frosting is the perfect consistency for these cookies. It's great for decorating and putting sprinkles on top. It's not too sweet either. Just the right amount of sweetness. You can even add food coloring if you want to match whatever theme you're going for with your cookies.
CREAM. To make it, beat the butter, powdered sugar, and vanilla together. Add in the milk until the frosting reaches a good consistency for spreading on the cookies. Add in food coloring if you want to.
DECORATE. And, of course, top with any sprinkles right after frosting your cookies.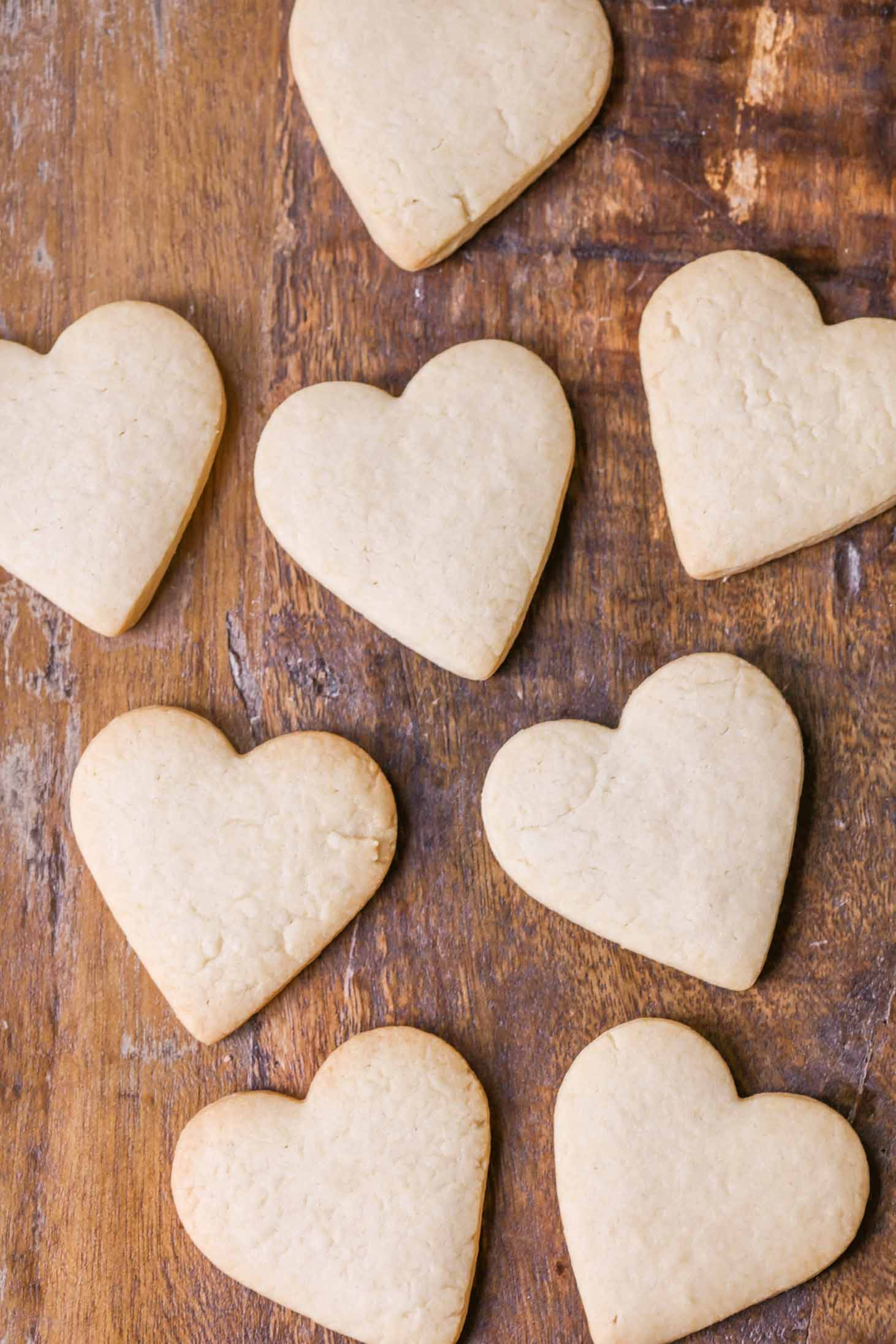 Storing Info
These cookies can be frozen really easily! Just put them into a freezer safe bag or container and make sure it's airtight. FREEZE in the freezer for up to 3 months.
STORE your butter cookies in an airtight container so they stay as fresh as possible. Or you can store them in your tummy…that always works too.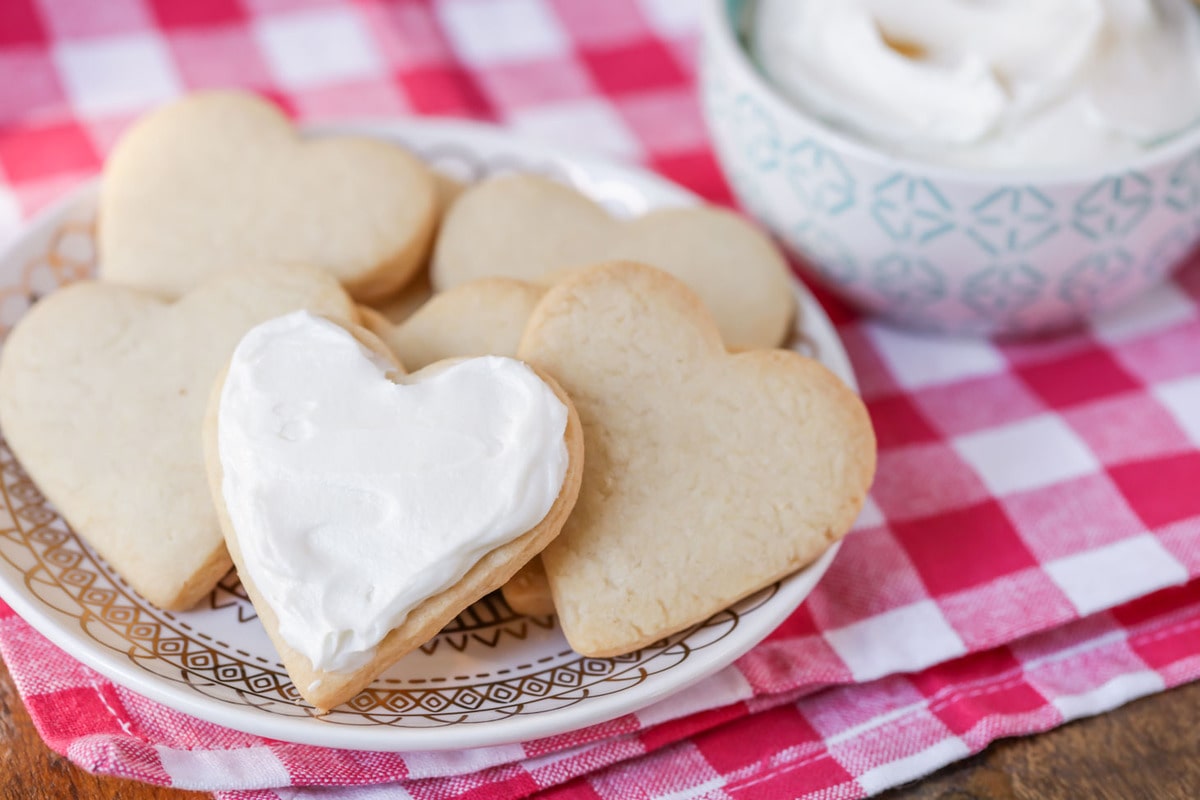 We hope you love these butter cookies! If you try and make them, let us know how much you love them in the comments below! We love to hear your cooking experiences.
For more of our favorite, crunchy cookies, check out:
Butter Cookies Recipe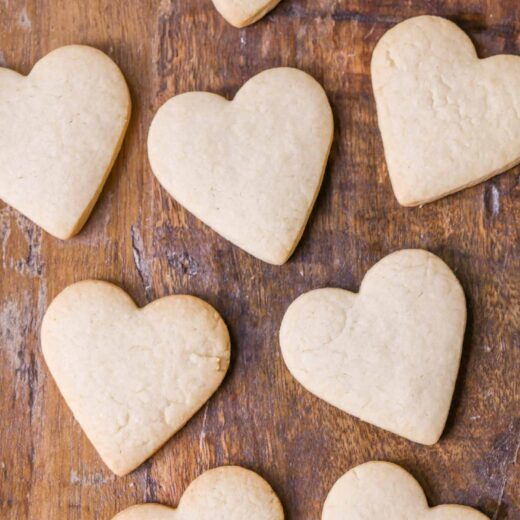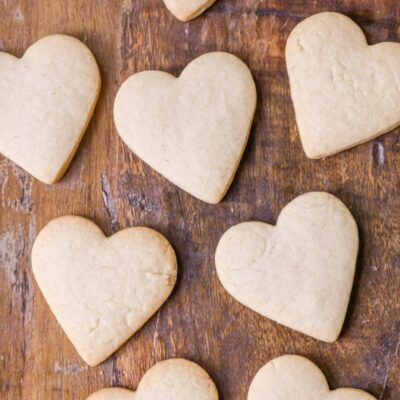 Soft and crunchy butter cookies are a delicious classic must-make for any holiday party and are delicious plain or frosted.
Instructions
With a kitchen aid or hand mixer, cream butter and sugar together until light and fluffy. Add egg and vanilla and beat until smooth.

In a separate bowl, whisk your flour, baking powder and salt. Slowly add to your creamed mixture and beat until well combined.

Roll out onto a floured surface til dough is about ⅓" in thickness. Use cookie cutters to cut out shapes. Place on lined cookie sheet.

Bake at 375 for 6-8 minutes, until set but not brown. Let cookies cool on wire racks or parchment paper.
Frosting
Beat butter, confectioners' sugar, vanilla and enough milk to reach a spreading consistency. Spread over cookies as desired.