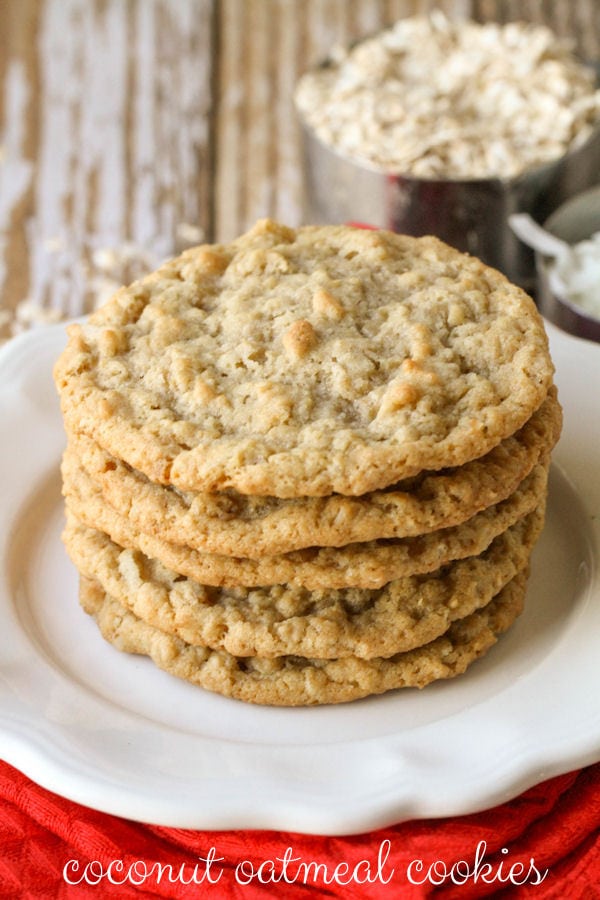 We love baking cookies in our home, like A LOT!! The kids love helping and we love all eating!! One of our all-time favorites is this Oatmeal Coconut Cookies recipe. I will admit that I was a little hesitant to try them at first because they seemed so plain, but oh mama, they were good!! And what's crazy is I do not think it's possible to eat just one. For reals! There is something so addicting about these oatmeal cookies that it's so hard to contain yourself and not eat too many. We got the recipe from my mom's friend, Pat, years ago and have been making them ever since. Yes, I understand that many like to have those extra ingredients like chocolate chips or M&Ms, but these cookies are perfect as is. They're simple too which makes them even more popular. 😉
Not sure why the coconut and oatmeal combination is so good, but it is!! I sometimes throw in a teaspoon of almond extract too just for a little something more and they always turn out so good. 🙂
MY OTHER RECIPES
Let me know if you decide to try these coconut cookies out. Although there is a cup of coconut, it's not super coconut-y. And they always turn out so soft!! Also, ever oven is so different but it just depends on yours and where you live but sometimes they bake in 7 and sometimes 10 which is a huge difference, so you may just need to keep an eye on them until they are very slightly browned. 🙂
For more oatmeal cookies, check out:
For video instructions, check out:
How to make Oatmeal Cookies:
Oatmeal Coconut Cookies
These Coconut Oatmeal Cookies are so soft, chewy and tasty! They're also simple and always gone in minutes.
Ingredients
1 cup butter
1 cup sugar
1 cup brown sugar
2 eggs
2 tsp. vanilla
1 tsp. salt
1 tsp. baking powder
1 tsp. baking soda
2 - 2½ cups flour
2 cups oatmeal
1 cup coconut
1 teaspoon almond extract (optional)
Instructions
Cream together butter, sugars, eggs and vanilla. Set aside.
Mix all dry ingredients together in a separate bowl.
Add dry ingredients to wet ingredients and mix well.
Spoon onto greased baking sheet. Bake at 350 for 8-10 minutes. ENJOY!
BEHIND THE SCENES AT LILLUNA.COM:

 {Lily enjoying these delicious cookies!!}