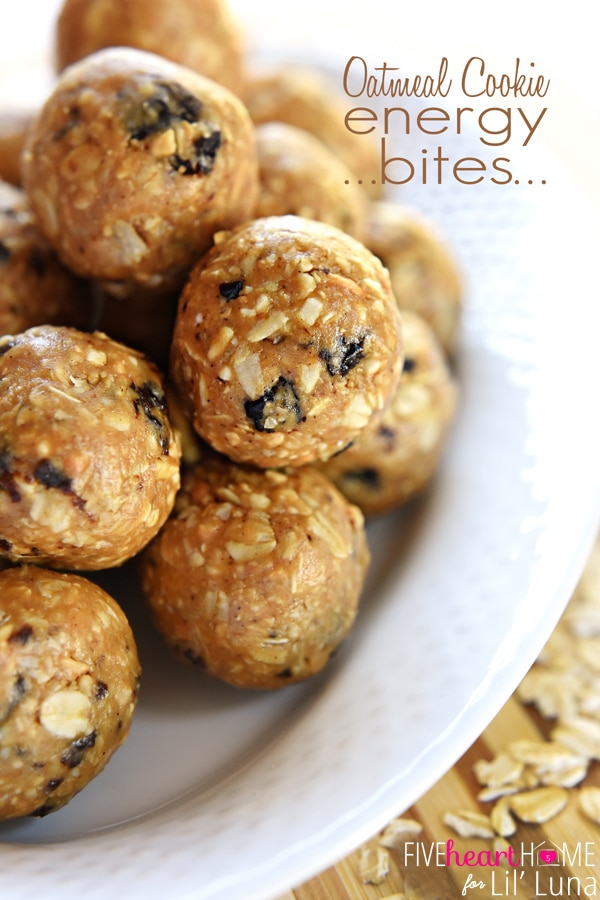 Happy New Year, Lil' Luna friends! It's Samantha from Five Heart Home and I'm so excited to be back this year as part of the 2015 Lil' Luna Contributor Team! Kristyn has put together an amazing group of talented bloggers, and I'm very honored to be a part of it. 🙂
Well, if you're anything like the vast majority of folks, you may be kicking off 2015 with some resolutions to eat a little healthier this year…or at least through the month of January. 😉 To those ends, I recently traded in my Christmas cookies for these tasty, protein-packed, Oatmeal Cookie Energy Bites!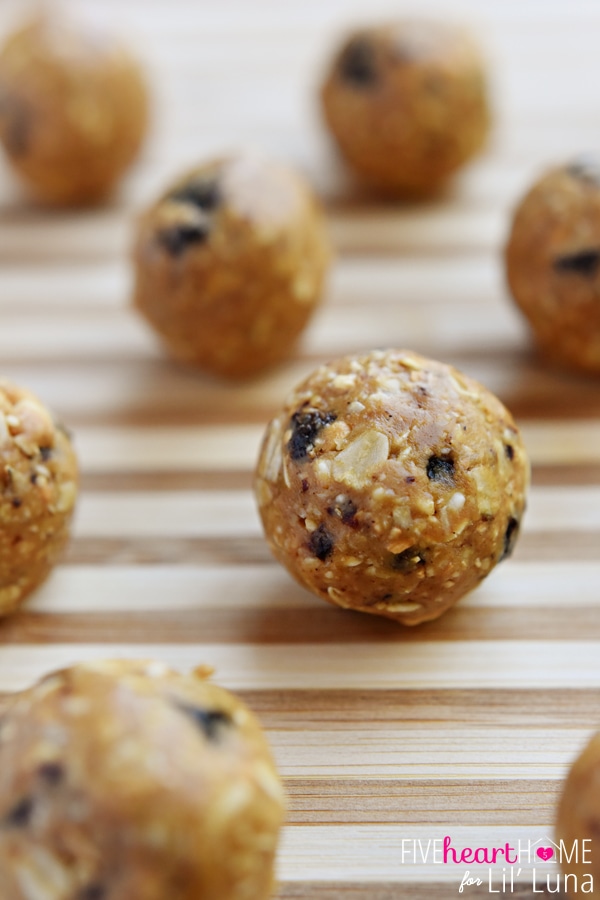 Have you tried energy bites before? They're similar to no-bake granola bars, but rolled into snackable, poppable little balls. There are lots of variations out there, but my goal was to make these taste similar to an oatmeal cookie…and I think I succeeded!
These energy bites take mere minutes to throw together using just a handful of ingredients, including uncooked oats, ground nuts, raisins, peanut butter, honey, and a few cookie-like flavorings…namely, vanilla, cinnamon, and nutmeg. Once all of those ingredients are nice and combined, simply roll the resulting mixture into little balls to enjoy right away or store in the fridge. They're great for breakfast or as a snack, but my favorite use for them is putting one in each of my boys' lunchboxes. They're not allowed to have chocolate or cookies in their school lunches, so it's nice to be able to slip a wholesome and "acceptable" sweet treat in there for a little something special.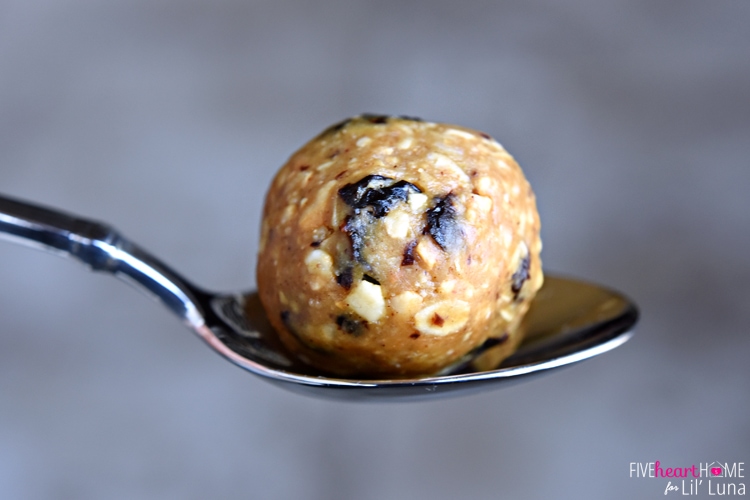 The best part of these energy bites is that they're totally customizable! The first thing you can change up is the type of nut that you use. I've made these with cashews, pecans, and almonds…all yummy! The nuts are ground up, so even though you don't bite into big chunks of them, using different types of nut does subtly affect the ultimate flavor. And while peanut butter is probably the most obvious choice of nut butter to use, these energy bites will work equally well with almond butter, sunflower seed butter, or whatever your favorite variety happens to be!
You can also substitute the type of dried fruit that you use. Raisins may be the traditional accent for oatmeal cookies, but I often prefer swapping them out for dried cranberries. And I recently spied a bag of dried cherries in the back of the pantry, which were also a delightful complement to the oatmeal cookie-like spices.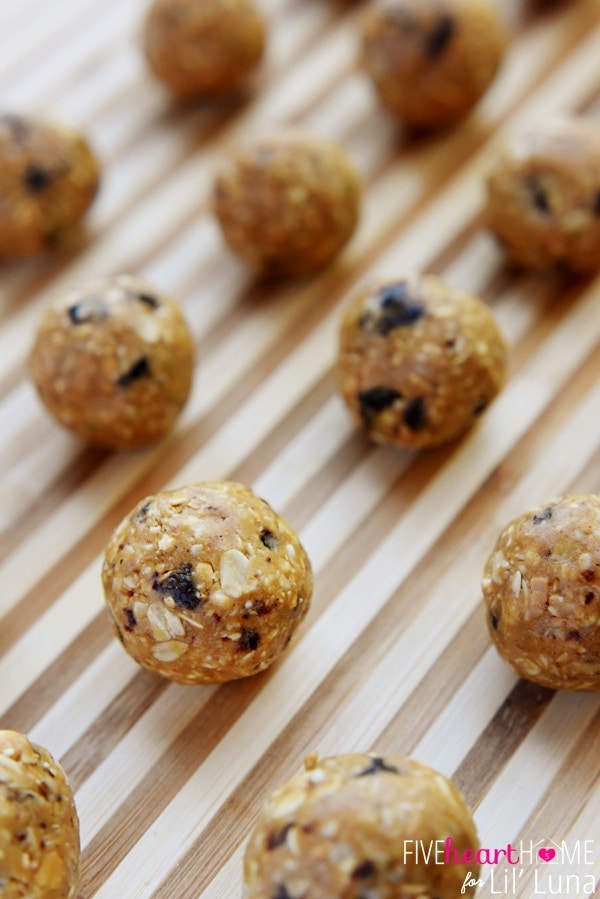 However you may decide to customize them, I hope you have a chance to try these no-bake Oatmeal Cookie Energy Bites soon! Whether you enjoy them as a portable breakfast-on-the-go, an afternoon pick-me-up, or a no-guilt-necessary sweet treat any time of day, they're guaranteed to boost your energy while tickling your tastebuds. Enjoy!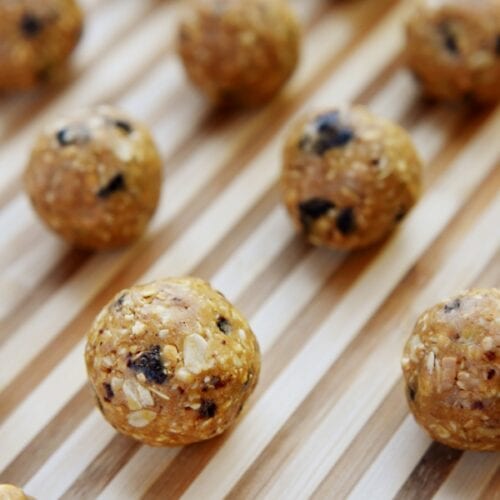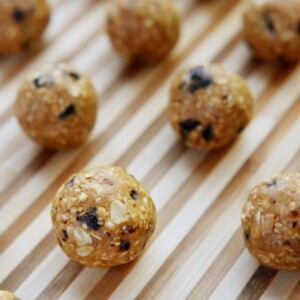 Oatmeal Cookie Energy Bites Recipe
Oatmeal Cookie Energy Bites recipe. A quick and healthy snack packed with nuts, oats, raisins, peanut butter, nutmeg, cinnamon, vanilla, and honey.
Ingredients
1

cup

nuts

(such as pecans, walnuts, cashews, almonds, etc.)

1

cup

old-fashioned oats

1/2

cup

raisins

1/2

cup

all-natural peanut butter

1/4

cup

honey

1

tsp

pure vanilla extract

1/2

tsp

ground cinnamon

1/8

tsp

ground nutmeg
Instructions
In a food processor or blender, pulse nuts until finely ground (but stop before they start turning to nut butter!). In a large bowl, combine ground nuts, oats, raisins, peanut butter, honey, vanilla, cinnamon, and nutmeg. Mix well until completely blended (if possible, use an electric stand mixer to make it quicker/easier to fully incorporate the peanut butter and honey). Use a small cookie scoop or spoon to scoop mixture and roll into 1-inch balls (or whatever size you would like them). Store in an airtight container in the refrigerator.
Recipe Notes
*You may use dried cranberries or your favorite dried fruit instead of raisins, but if the pieces are large, dice up first.
*You may substitute your favorite nut butter (or nut-free butter) for the peanut butter.
*If the mixture does not stick together when you pinch it together, you may stir in a tad more peanut butter. If it's too sticky, you may roll it into balls using slightly damp hands or refrigerate for 30 minutes before rolling.
A few of my recent quick & easy, family-friendly, real food favorites…
Slow Cooker Loaded Baked Potato Soup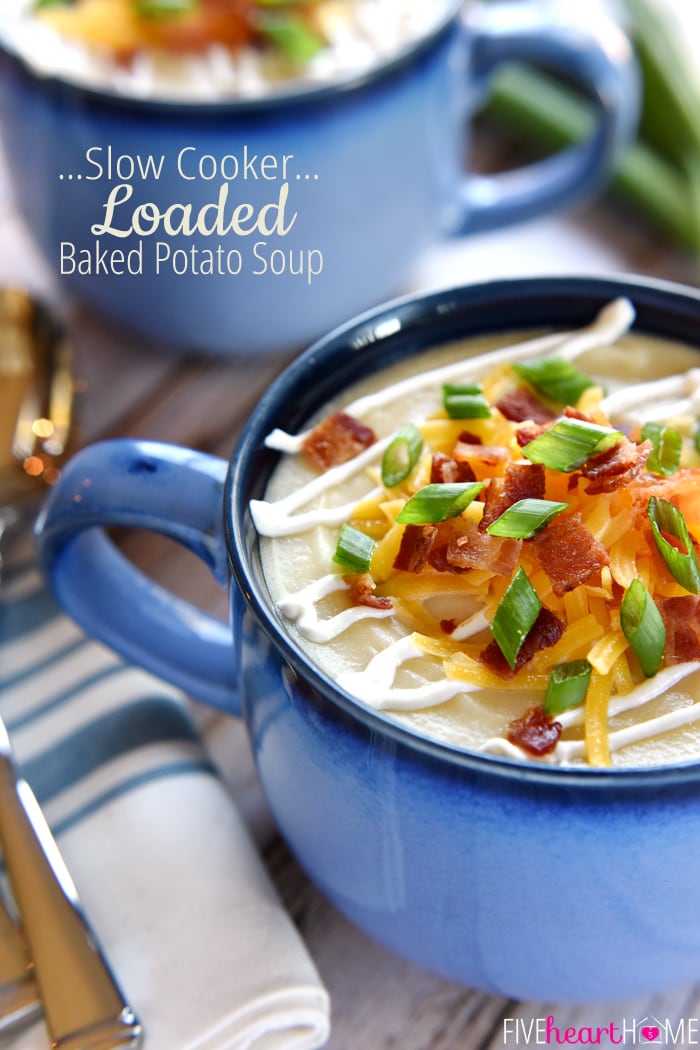 Healthy Oat Smoothies: Blueberry Muffin & Peach Cobbler Flavors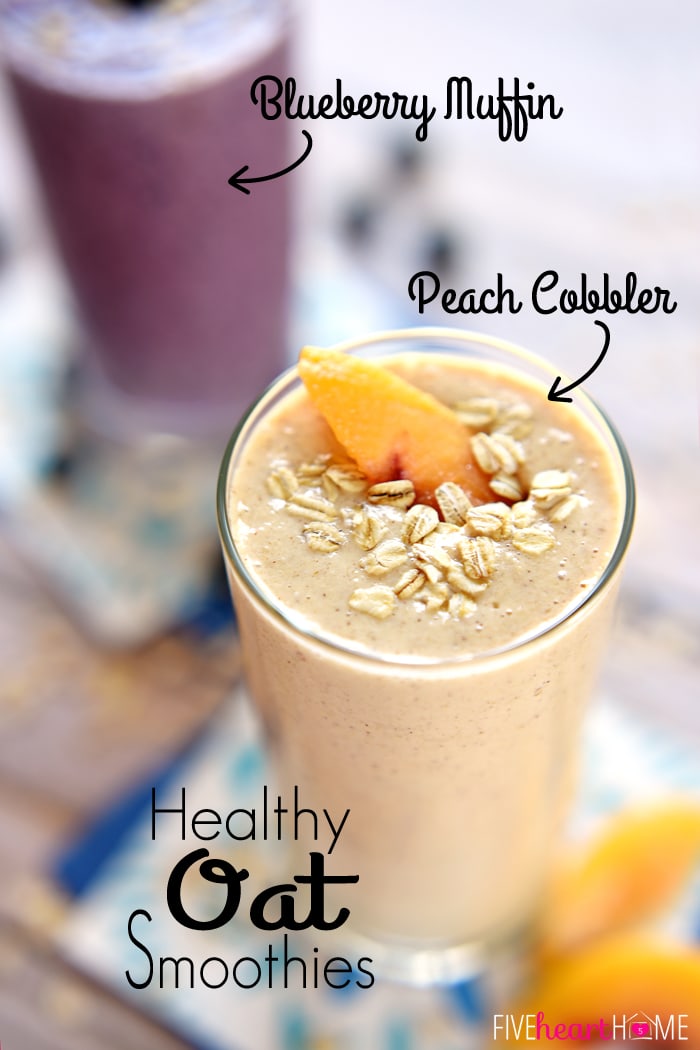 Five Heart Home's Best Recipes of 2014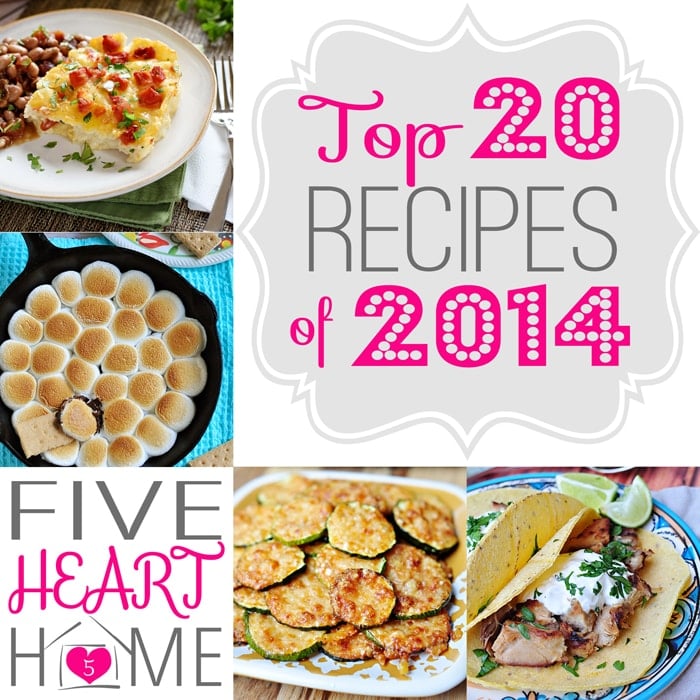 Thanks again for having me today, Kristyn and fabulous Lil' Luna readers…I always enjoy visiting with y'all and hope you'll come see me sometime at Five Heart Home!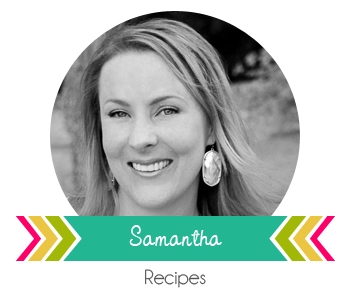 ——————————————-
These look great, Samantha! I like the idea of adding them to the kids' lunch box. SMART!!
And like she mentioned, they can be customized to your preferences. Can't wait to try these.
For more great recipes from Samantha, be sure to head to Five Heart Home.
For more delicious recipes from her here on Lil Luna check out: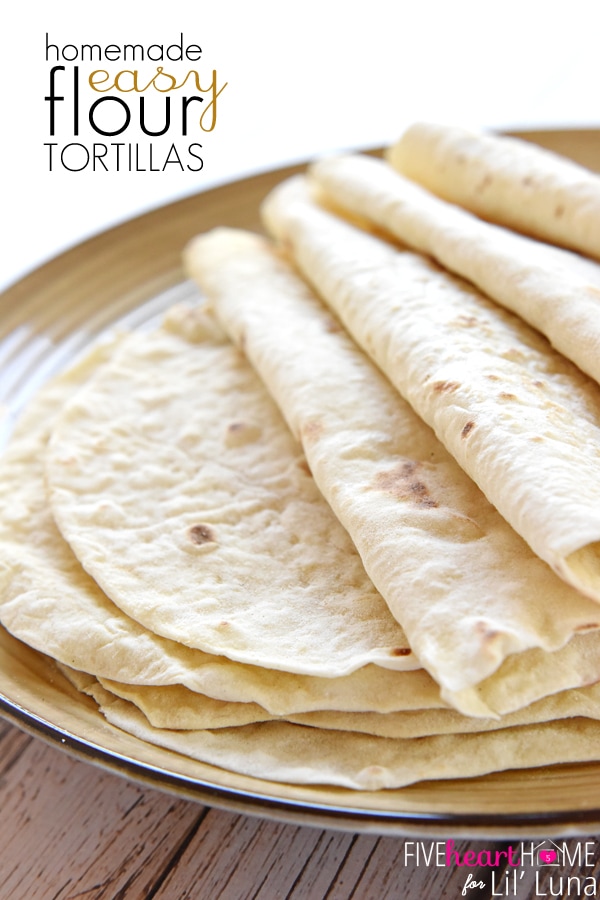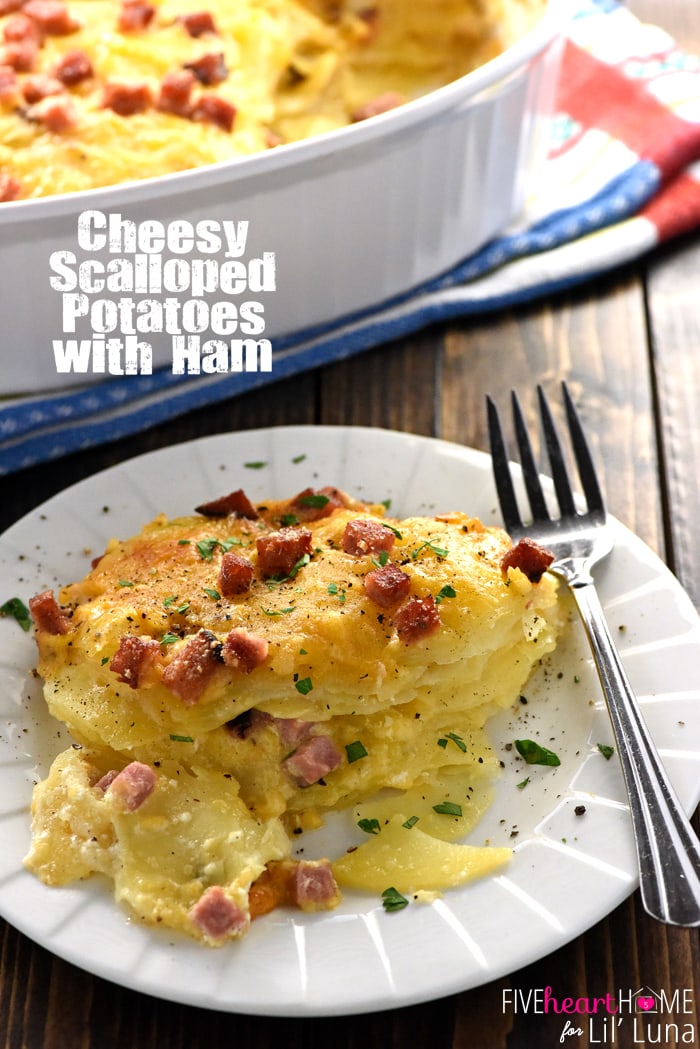 Cheesy Scalloped Potatoes with Ham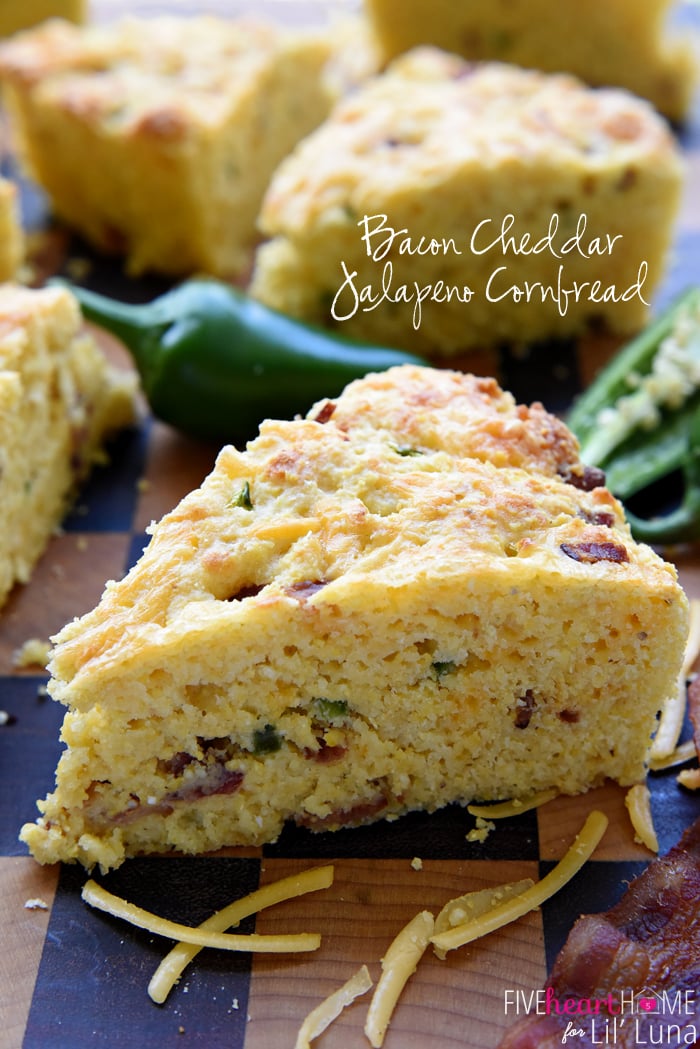 Bacon Cheddar Jalapeno Cornbread
For all Breakfast recipes go HERE.
For all recipes on Lil' Luna be sure to go HERE.
And get weekly emails with monthly freebies by signing up for the Lil' Luna newsletter. 🙂
For even more great ideas follow me on Facebook – Pinterest – Instagram – Twitter – Periscope – Snapchat.
Don't miss a thing – Sign up for the Lil' Luna Newsletter today!
ENJOY!