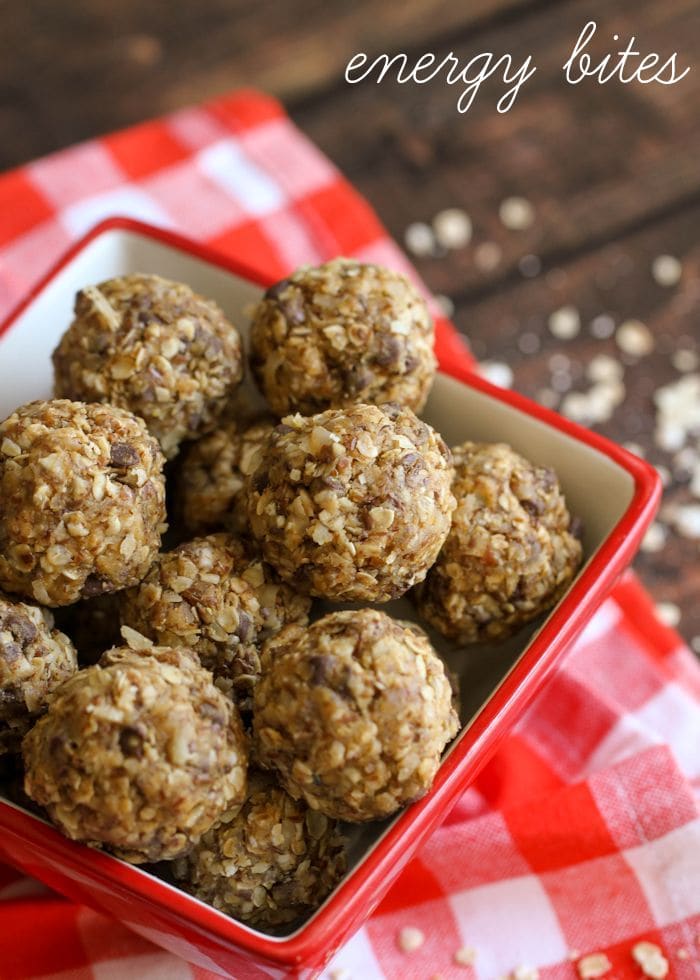 I'm not going to lie… I have a hard time waking up most mornings. I'm just so tired and usually want to crawl back in bed for a few more hours but know it's impossible to do when you have to get kids ready for school and work to get done. Bummer, right? 😉
Although it's sometimes hard for me to wake up I usually am anxious to get going because there are always so many things to do, and I really enjoy getting things done. Are you the same way?? The days I'm the happiest are the ones where I've gotten so much done and have been able to accomplish my goals for the day. Sometimes you may need a little boost to help you tackle those goals and today I have a recipe for some delicious Energy Bites to help you out. No, they may not be loaded with caffeine, but they have tons of great ingredients that help fill you up and give you a little extra energy through out the day. 🙂
I'm here to tell you now that they are easy to make, and although they may not look like a Snickers bar, they are pretty yummy! You can make a whole bunch and stick them in an air-tight container to snack on through out the day. And the best part, is you can substitute any of the ingredients for the things you like. For example, if you don't want to use mini chocolate chips, you can pretty much use another other kind of chips (white chocolate, butterscotch, milk chocolate, etc.)
Bottom line, they are a nice little snack that helps give you that extra energy to get through out the day, and I'm sure we could all use that. 😉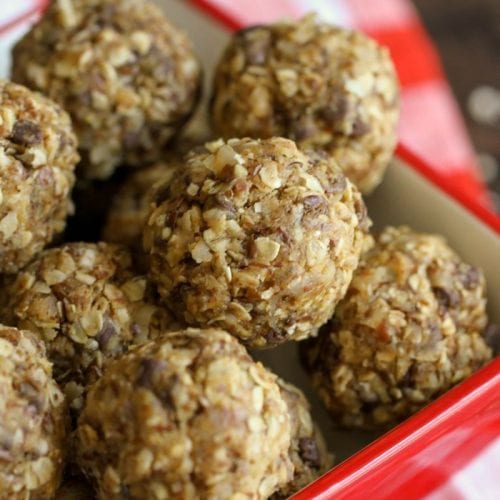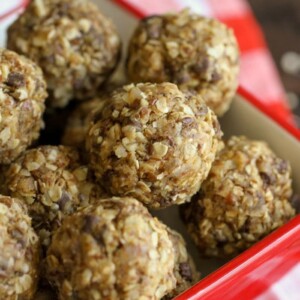 Energy Bites Recipe
No-Bake Energy Bites recipe - a delicious and healthy snack that also helps boost your energy. Ingredients include coconut, flaxseed, chocolate chips, quick oats, & peanut butter.
Ingredients
1

cup

quick cooking oats

1/2

cup

all natural peanut butter

1/3

cup

honey

1

cup

coconut flakes

1/2

cup

milled flaxseed

1

tsp

vanilla

1/2

cup

mini chocolate chips

(optional)
Instructions
Add all dry ingredients in a bowl and mix together.

Add wet ingredients to dry and stir well so that everything sticks. (I used my hands to get in there and make sure everything was mixed well).

Refrigerate for 30 minutes to make it easier to roll into small bite size balls.

Pop two or three (if you can stop there) of these babies every morning for an extra boost of energy!

Store in an airtight container in the fridge.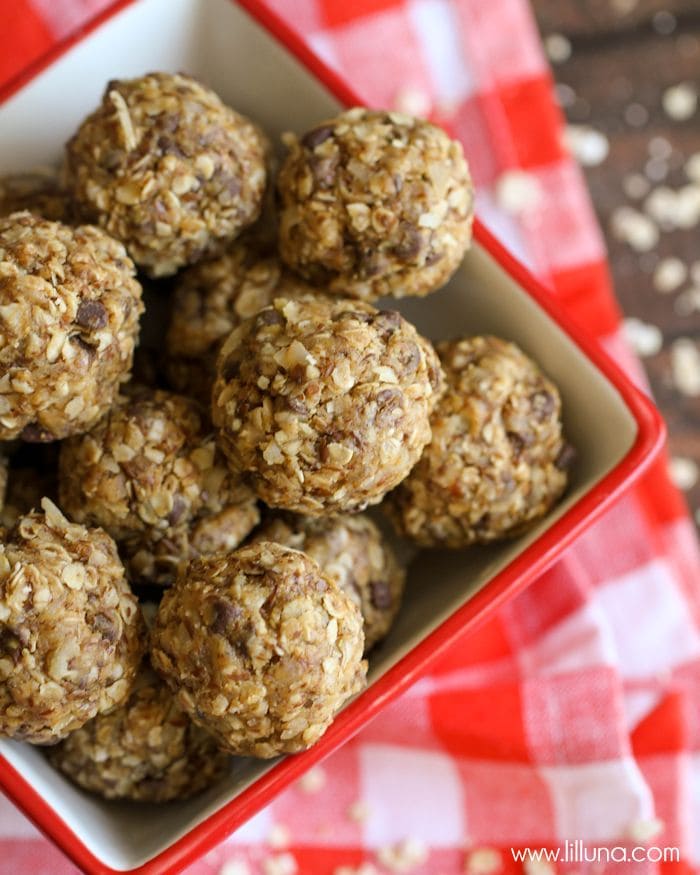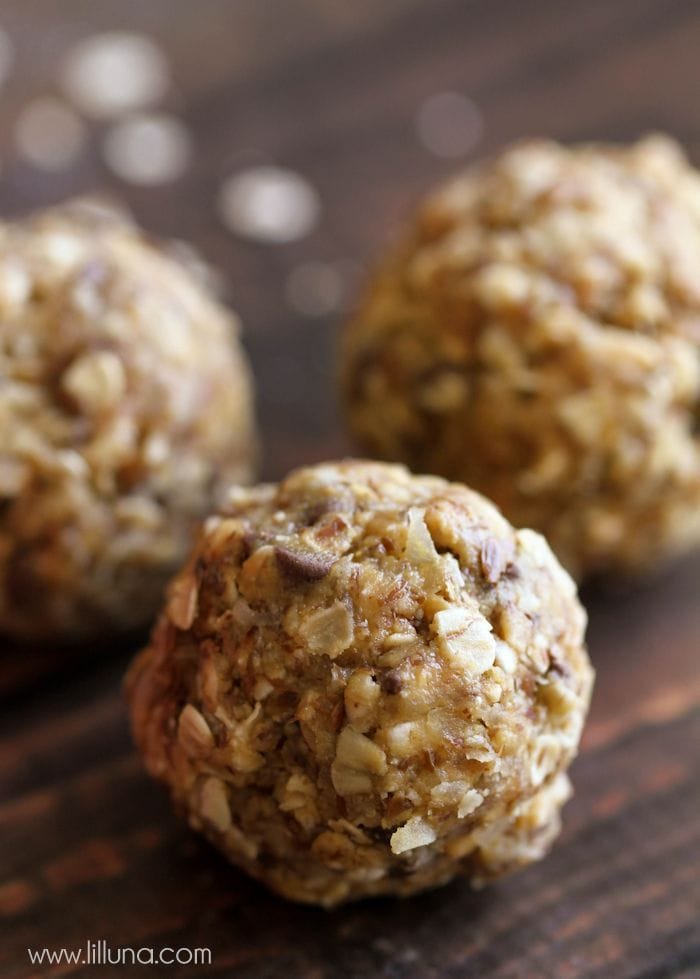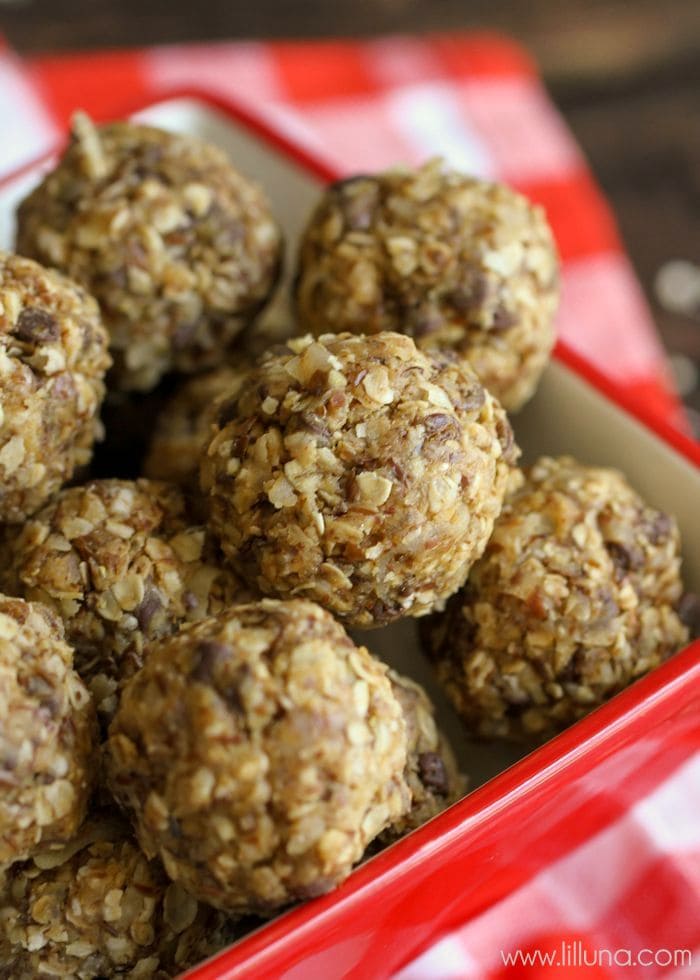 I need to make a batch of these now so that I can have something more healthy to snack on!
Plus, I could use the extra energy. 🙂
For more great recipes using OATS, check out these favorites (they may not be as healthy, but they sure are delicious!)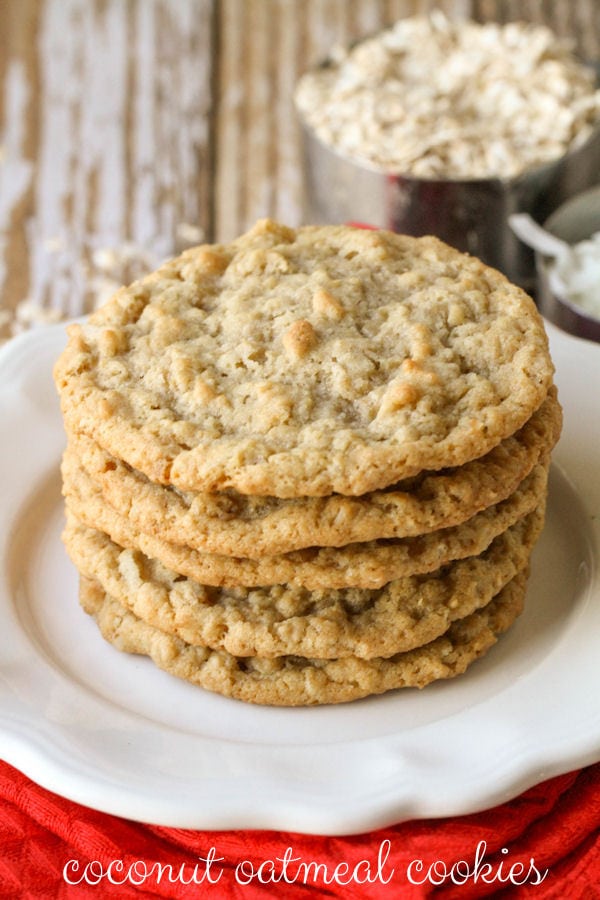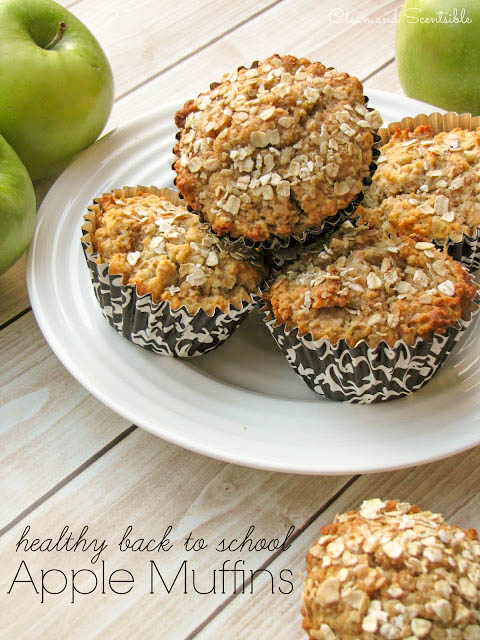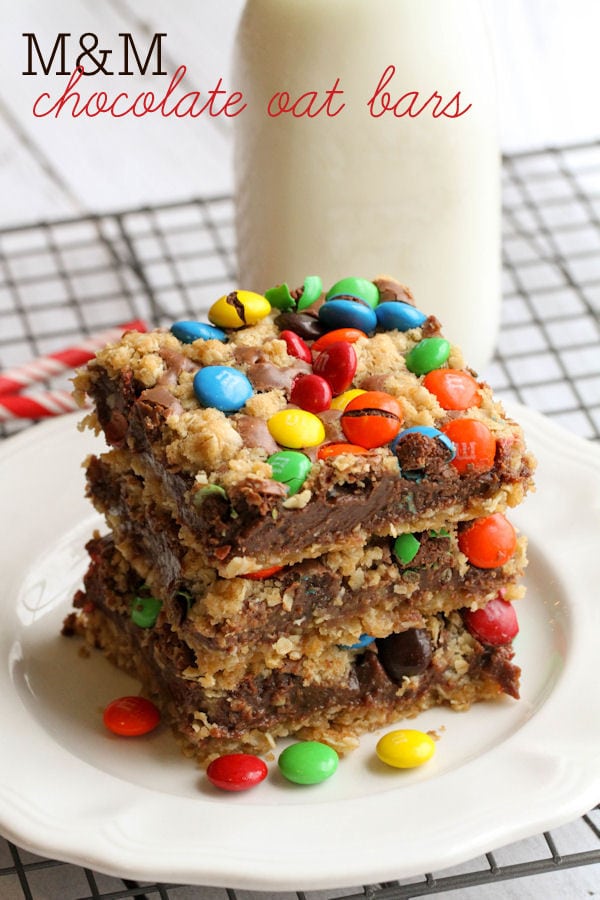 For all Dessert recipes go HERE.
For all Lil' Luna recipes go HERE.
And get weekly emails with monthly freebies by signing up for the Lil' Luna newsletter. 🙂
For even more great ideas follow me on Facebook – Pinterest – Instagram – Twitter – Periscope.
ENJOY!