Homemade applesauce is delicious and simple with a hint of cinnamon. Whether chunky or smooth, it's a guaranteed hit with the entire family.
This homemade applesauce is a family favorite. It is quick, easy to make, and tastes so much better than store-bought! For more yummy apple recipes try Healthy Apple Muffins, Snicker Apple Salad, and Slow Cooker Apple Crisp.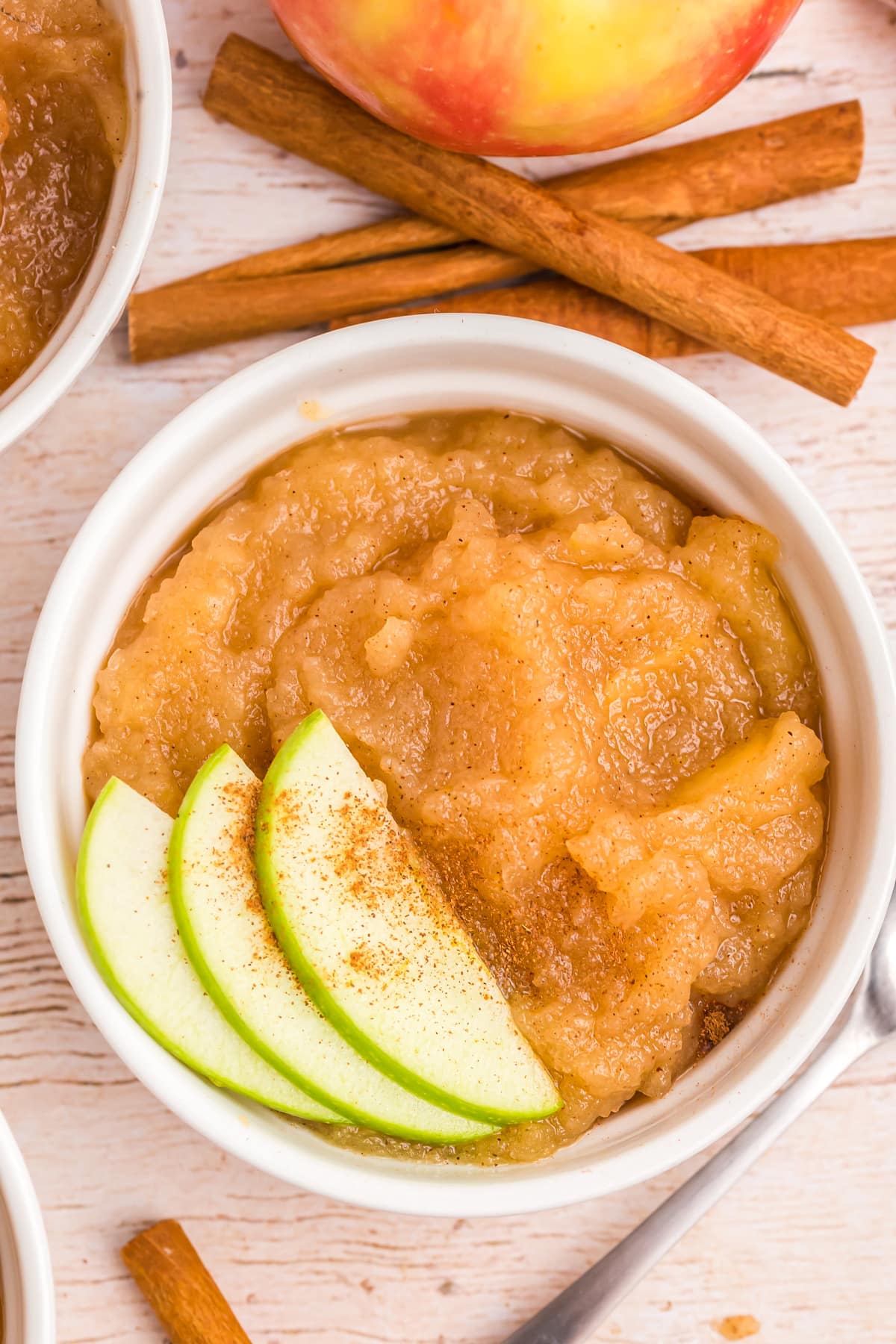 Family-Favorite Applesauce
I think it's safe to say that my kids could LIVE off of apples – and especially applesauce. With six kids that love them, it's something that I feel like I'm constantly buying.
With the help of some yummy apples and added flavor from the cinnamon and sugar we made a delicious applesauce recipe that has already been deemed a family favorite for Breakfast. Not only do they eat it out of a bowl but the recipe tastes yummy in our Mini Applesauce Muffins.
This particular recipe was easy and tasty, but I especially loved that you can reduce the amount of sugar as well as adjust the taste by reducing, omitting, or replacing the cinnamon. You can replace the cinnamon with nutmeg or apple pie spice.
Best Apples for Applesauce
This applesauce recipe can pretty much be made from any apple, but we suggest picking a soft apple. They cook down faster and are perfect for this recipe.
You can use one kind of apple to combine different types of apples. I prefer to use McIntoch or golden delicious apples to make applesauce as they are both soft and sweet.
Recommended apples include:
Sweet apples: Cortland, Fuji, or Gala apples
Tart/sweet apples: Pink Lady, Honeycrisp, or Jonagold apples
Tart apples: Braeburn, Liberty, or Granny Smith apples
We have a family with apple trees, which means there are seasons when we have buckets and buckets of apples. Having this easy applesauce recipe on hand, you better believe we will be making applesauce weekly to have with breakfast, as an afternoon snack, or in their lunches.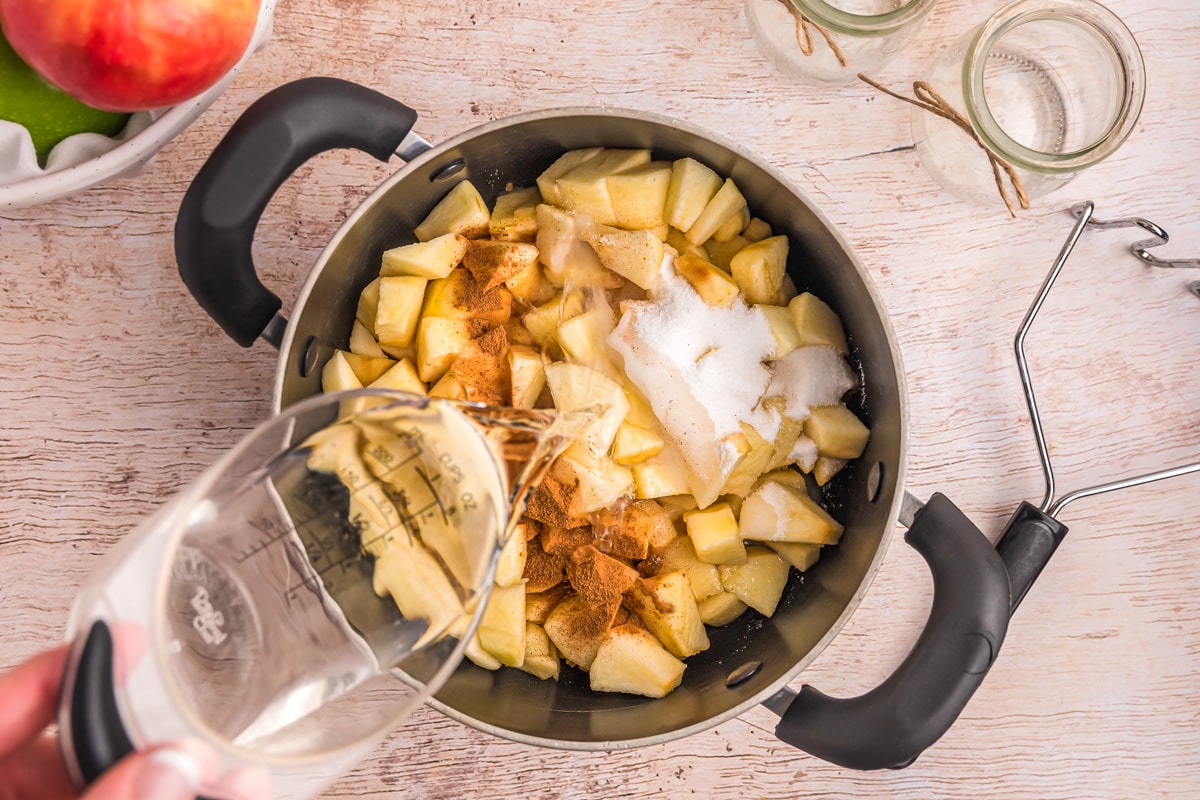 How to Make Applesauce
We are all about simple recipes, and this homemade applesauce recipe is just that! Plus, only 4 ingredients are needed: apples, water, cinnamon, and granulated sugar.
PREP. Begin by peeling, coring, and chopping your apples. Add them and the rest of the ingredients to a pot.
If you have a food mill, skip peeling and coring the apples. Simply cut the apples into quarters, boil them and then the food mill will do all the work and remove the peel and seeds for you.
COOK. Cover and cook on low heat for about 20 minutes, stirring occasionally to prevent them from sticking, and until apples are tender.
MASH. Mash the apples to the desired texture. For chunky applesauce, leave it as is, or mash it until it's a little more smooth.
PUREE. For super smooth applesauce, we recommend pouring this in batches into a blender or food processor and mixing until smooth. If it's too thick, you may need to add just a bit more apple juice.
SERVE. Serve warm or refrigerate until ready to serve.
Slow Cooker Applesauce
Peel, core, and cube the apples into ½ -¾ inch pieces. Place the apples in the slow cooker along with the sugar and cinnamon and mix.
Pour ⅓ cup of water over the apples and cook on LOW for 5-6 hours or HIGH for about 3 hours.
Allow the sauce to cool a bit before smashing or use an immersion blender. You can also work in batches and use a blender or food processor to get it into a more smooth texture.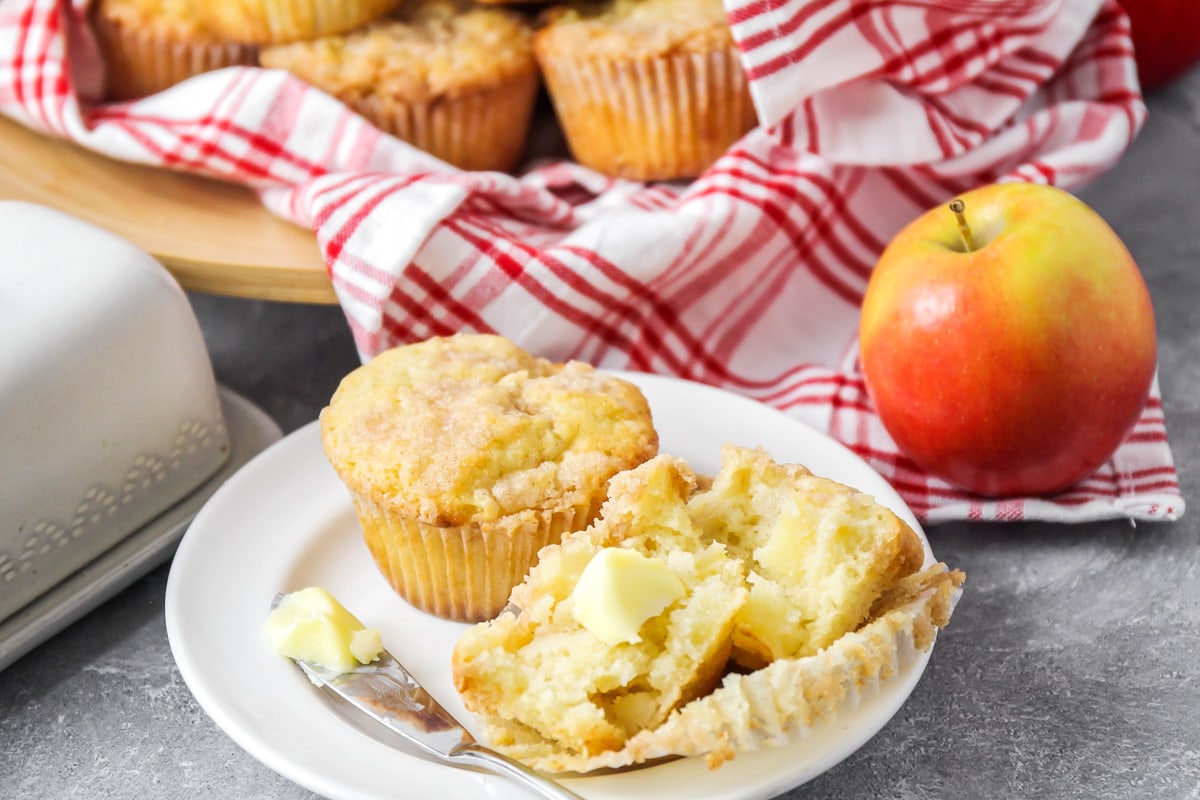 Cooking with Applesauce
Homemade applesauce isn't just great for snacking, but we also like to use it in baking recipes as a substitute for butter, especially for oil to make it a bit more healthy.
When substituting applesauce for oil in baking, the ratio is typically 1:1, so if a recipe calls for ½ cup oil, you can ½ cup applesauce.
Here are some of our favorite recipes to use applesauce in: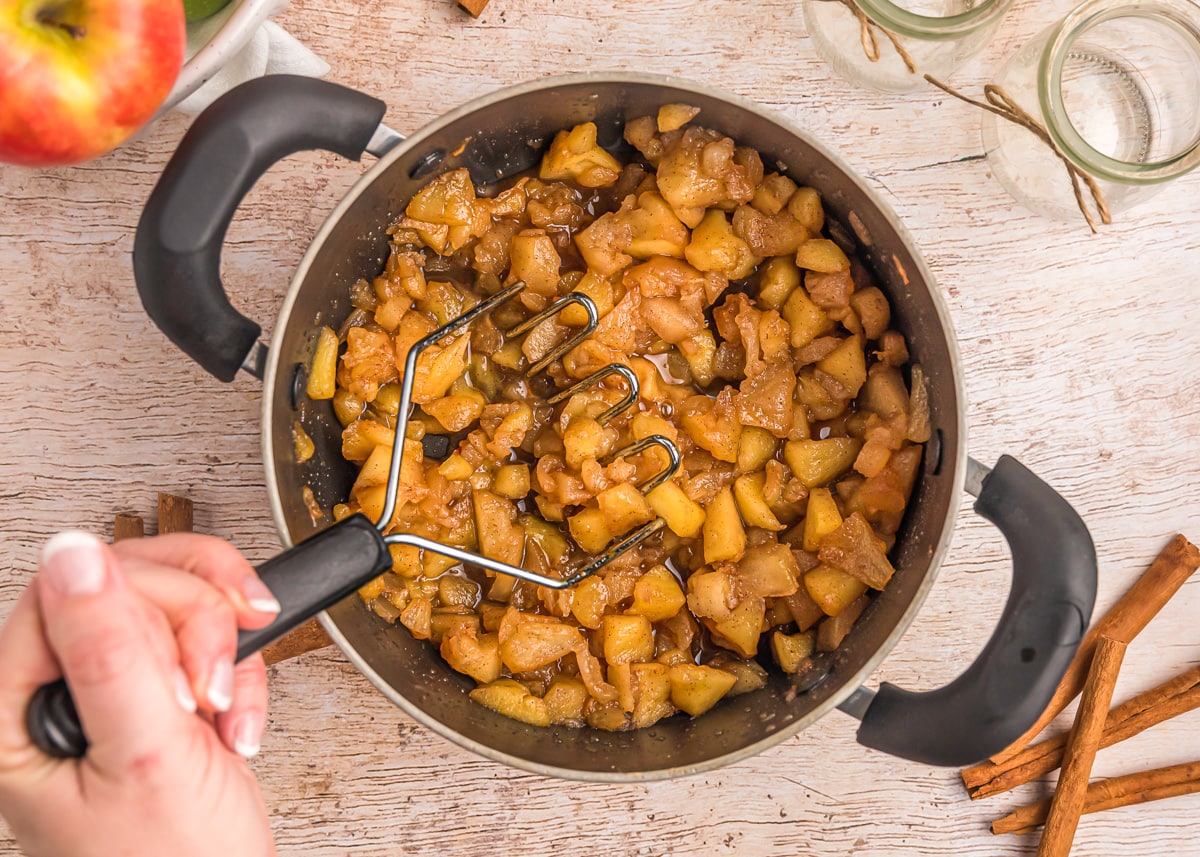 Storing Info
We love making a large batch of applesauce to have throughout the week.
STORE it in a jar or air-tight container in the refrigerator for 7-10 days. Use within 10 days of opening.
FREEZE. Place applesauce in a freezer-safe container or Ziploc bag and freeze for up to 2 months. Defrost in the fridge overnight to let thaw and keep stored in the fridge. It should last up to 4 days after being thawed.
Canning Applesauce
It's easy to can applesauce if you have all the right tools.
Sterilize everything first. Make the recipe as directed and fill the jar leaving about ½ inch at the top. Pat the jar down gently on the counter to remove any air bubbles. Add ½ tablespoon of lemon juice to every pint jar.
Wipe the lip of the jars clean before topping them with the lids. Add the rings to the jars and seal them securely.
We typically use a water bath canning method since we don't have a pressure cooker and let the applesauce jar process in the water bath for about 20 minutes.
Stored in a cool pantry, canned applesauce should be food for up to one year.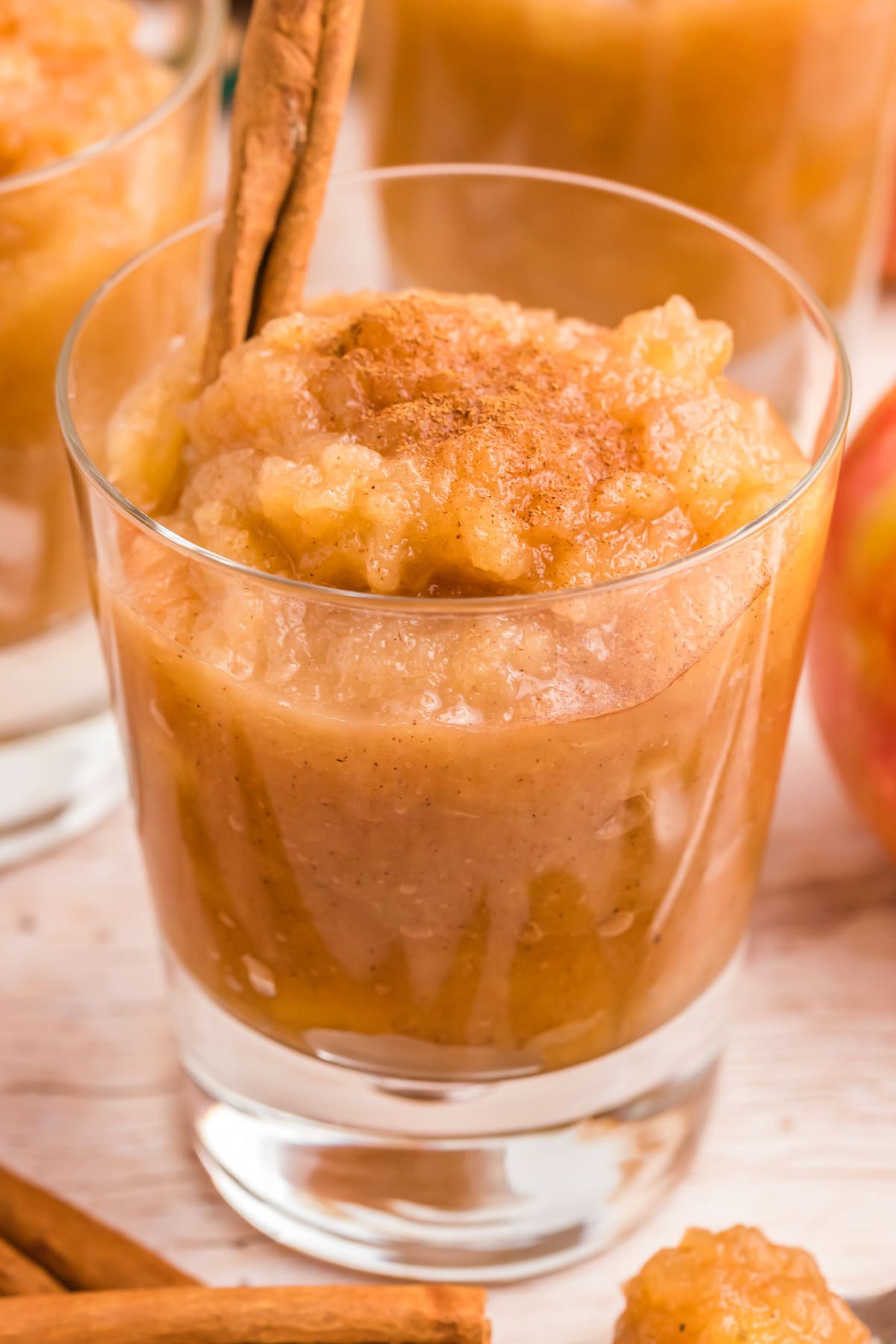 Recipe FAQ
How can I sweeten applesauce without using sugar?
Instead of adding white sugar to homemade applesauce, you can add an alternative sweetener of your choice such as coconut sugar, honey, or maple syrup. You can also use artificial sweeteners like Swerve or Splenda.
Should I add lemon juice to homemade applesauce?
You do not need to add lemon juice when making applesauce, but you can if you wish. Lemon can help balance out the sweetness of the apple sauce as well as help preserve the color.
Why is my applesauce watery?
Sometimes the apples used produce more liquid than expected. Simply simmer the applesauce longer to allow the extra liquid to evaporate.
For More Apple Recipes, Check Out: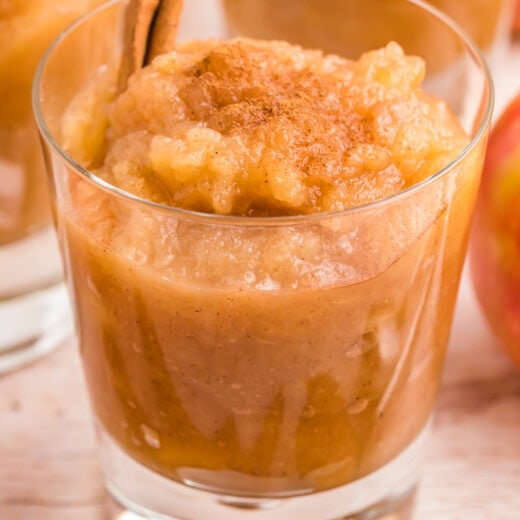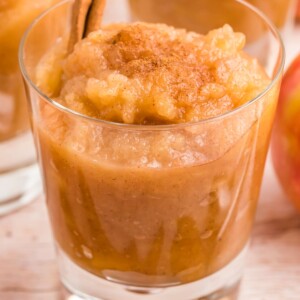 Homemade Applesauce Recipe
Homemade applesauce is delicious and simple with a hint of cinnamon. Whether chunky or smooth, it's a guaranteed hit with the entire family.
Ingredients
4

apples

peeled, cored and chopped (McIntosh or Golden Delicious)

¾

cup

water

¼

cup

white sugar

½

teaspoon

ground cinnamon
Instructions
In a large saucepan over medium heat, combine apples, water, sugar, and cinnamon. Cook for 15-20 minutes, or until the apples are soft.

Remove from heat and let cool. Mash with a potato masher until it is the desired consistency. To speed up the mashing process you can also use an immersion blender.
Nutrition
Calories:
103
kcal
,
Carbohydrates:
27
g
,
Sodium:
2
mg
,
Potassium:
210
mg
,
Fiber:
4
g
,
Sugar:
20
g
,
Vitamin A:
100
IU
,
Vitamin C:
8.3
mg
,
Calcium:
14
mg
,
Iron:
0.3
mg
Nutrition information is automatically calculated, so should only be used as an approximation.
Making this recipe? Tag us!
Share it with us on Instagram using the hashtag #lilluna, so we can see what you're creating in the kitchen!