These Mini Chocolate Chip Cookies are the perfect bite-sized treat. Made with healthier ingredients, these cookies also provide some guilt-free pleasure while still being delicious!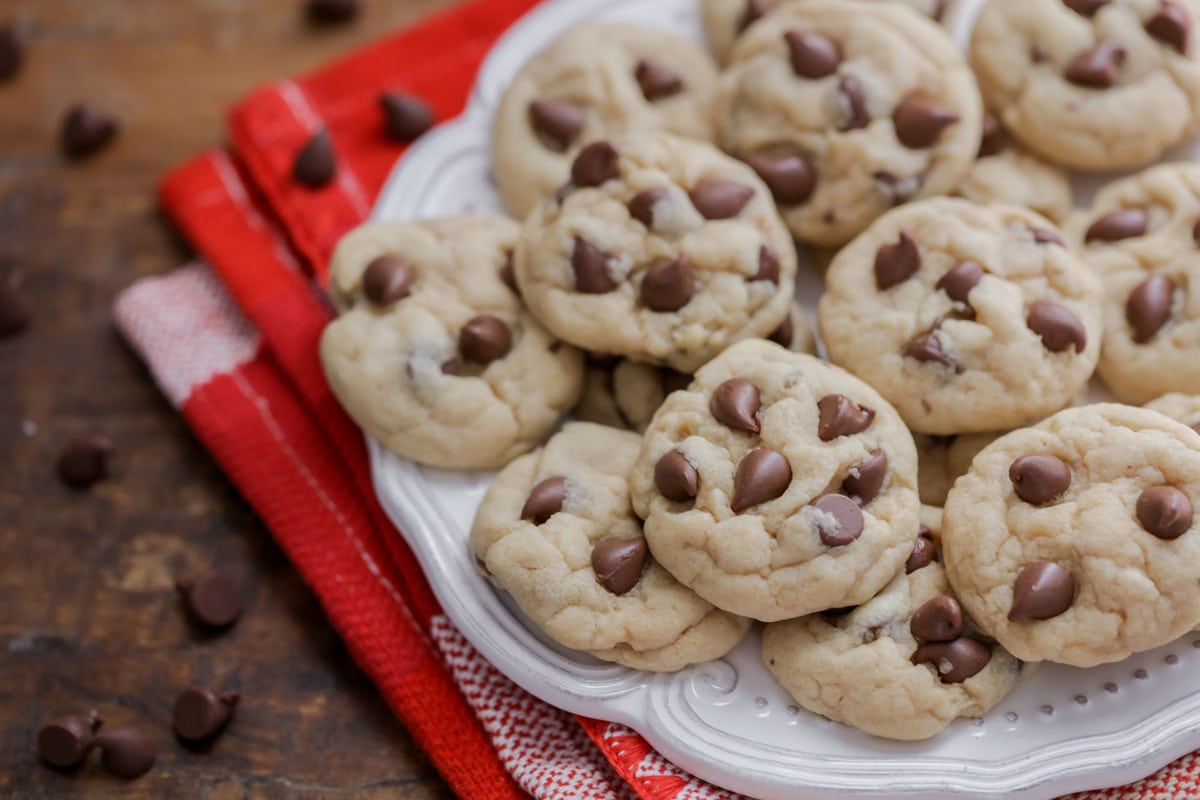 Skinny Chocolate Chip Cookies
I absolutely love the holidays! There are a million fun activities to be a part of, plus, there are amazing sweets EVERYWHERE!!! From holiday parties, to food from neighbors, to all the leftovers from holiday dinners, it is near impossible to stay away from all sweets.
With that in mind, I wanted to started to try making healthier versions of some of my favorite treats – starting with Chocolate Chip Cookies. Not only did we make them smaller, but we cut out a few ingredients and added some healthier ingredients like SPLENDA Naturals Stevia and applesauce instead of oil.
The result was a mini cookie that tastes just as good as our regular version!!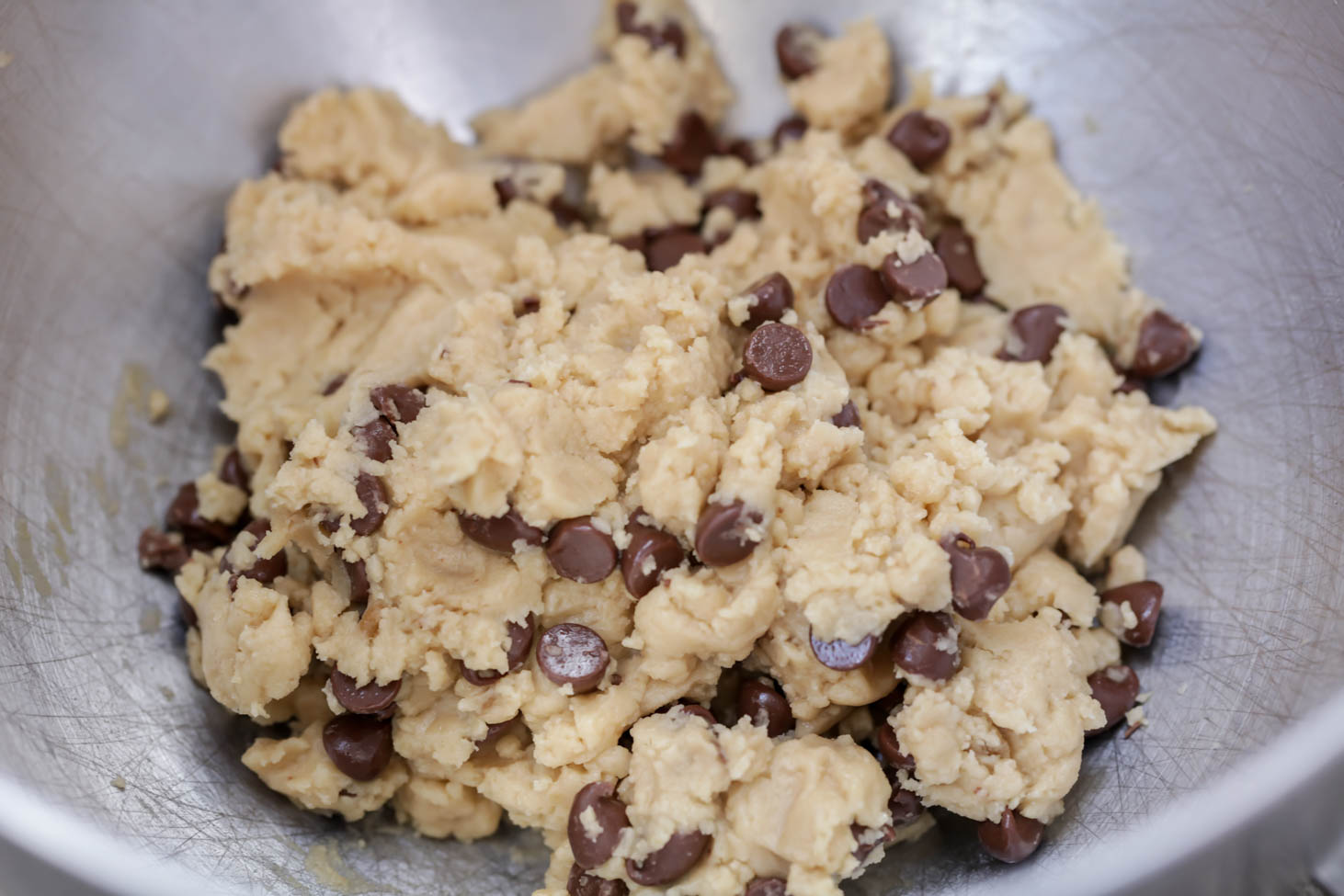 How to Make Mini Chocolate Chip Cookies
These were so simple to make, the kids even helped. For this recipe, we ended up using:
butter
applesauce
brown sugar
SPLENDA Naturals Stevia
1 egg
flour
baking powder
baking soda
salt
vanilla
chocolate chips
Since we've been using SPLENDA Naturals Stevia more, we usually have it on hand with all the other ingredients. To make the cookies, we first combined the butter, applesauce, brown sugar and SPLENDA.
From there we added the egg and beat until fluffy. We then added the vanilla and dry ingredients followed by folding in the chocolate chips.
After that we rolled the dough into 1 ½ inch balls, added a few chips and top and baked at 350 for 5-6 minutes.
The cookies turned out fabulous, and we felt a little less guilty eating them too!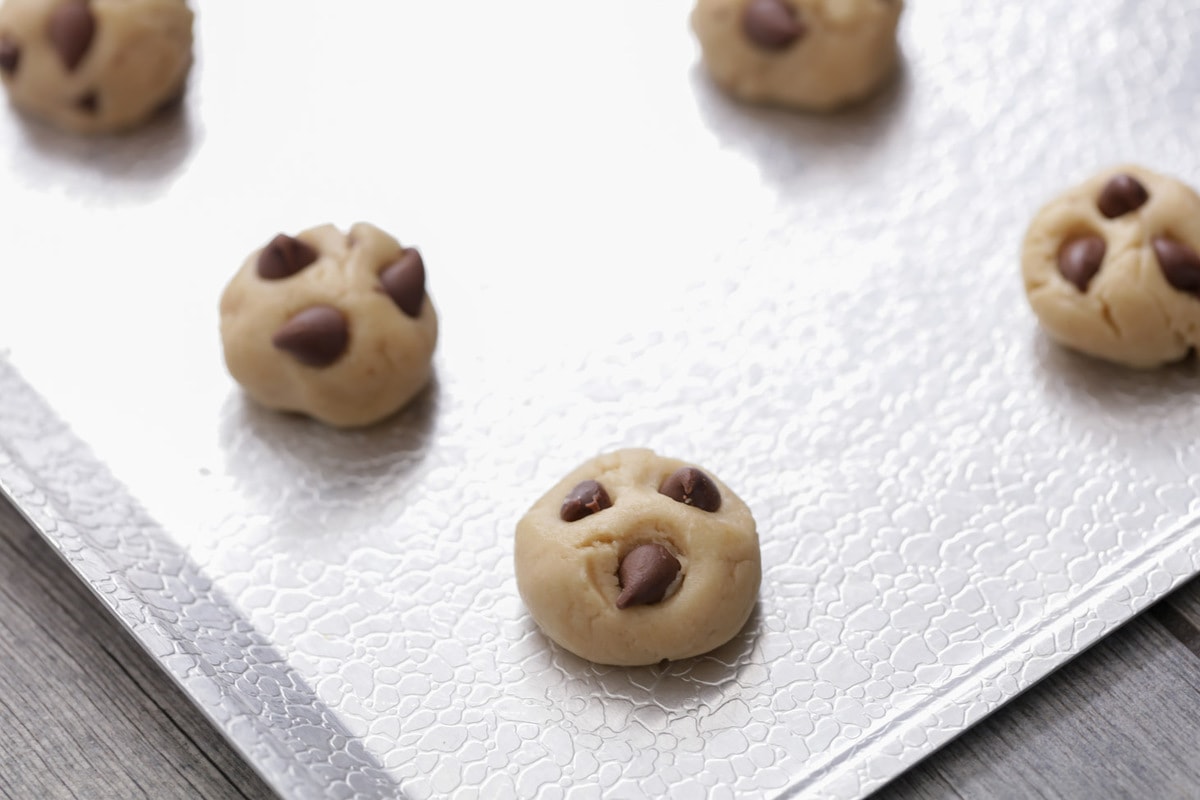 Can you make the dough ahead of time? Yes – but we recommend making it right before if possible. If making ahead of time, be sure to refrigerate until read to make into cookies. Let the dough come to room temp a bit before rolling into balls.
How to store mini cookies? Just place in a Ziploc bag or cookie jar.
Can you freeze mini chocolate chip cookies? Like most cookie doughs, we recommend rolling into balls first and then freezing.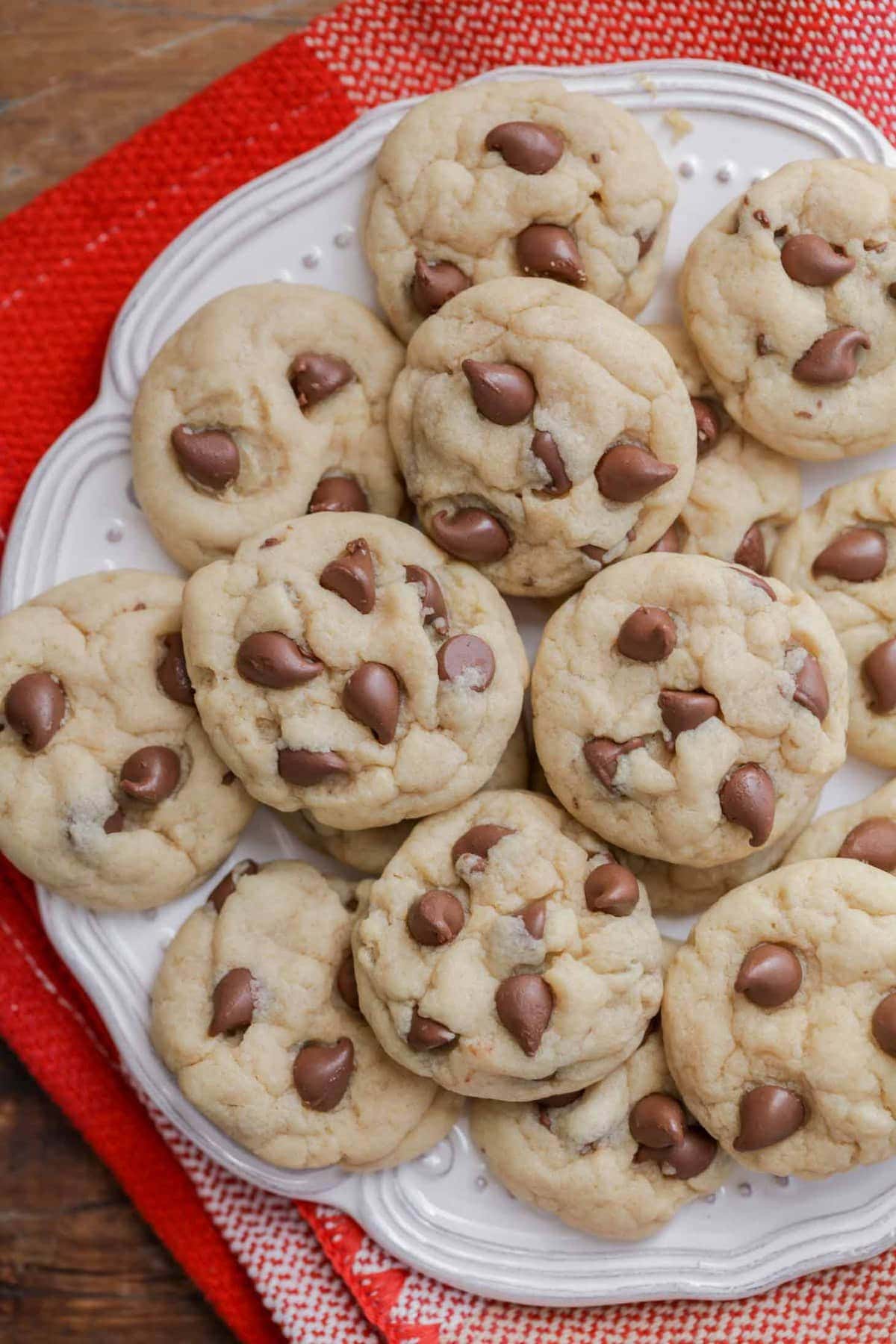 Will these cookies really be considered skinny if you eat a dozen? Not really, but we love that we can get that sweet fix when we want – especially around the holidays. Since it's impossible to avoid all goodies around the holidays, we recommend trying our little trick of replacing traditional white sugar in a few of my "go to" treats with SPLENDA Naturals (this is made from 100% natural stevia sweetener).
When people think SPLENDA, they often think of the little packets used to sweeten a drink, but at 0 calories, SPLENDA Naturals is an amazing sugar replacement that can make an old recipe more guilt-free. One of the reasons that it is such a great sugar replacement is that it is made from only the best natural stevia, so there is no bitter aftertaste.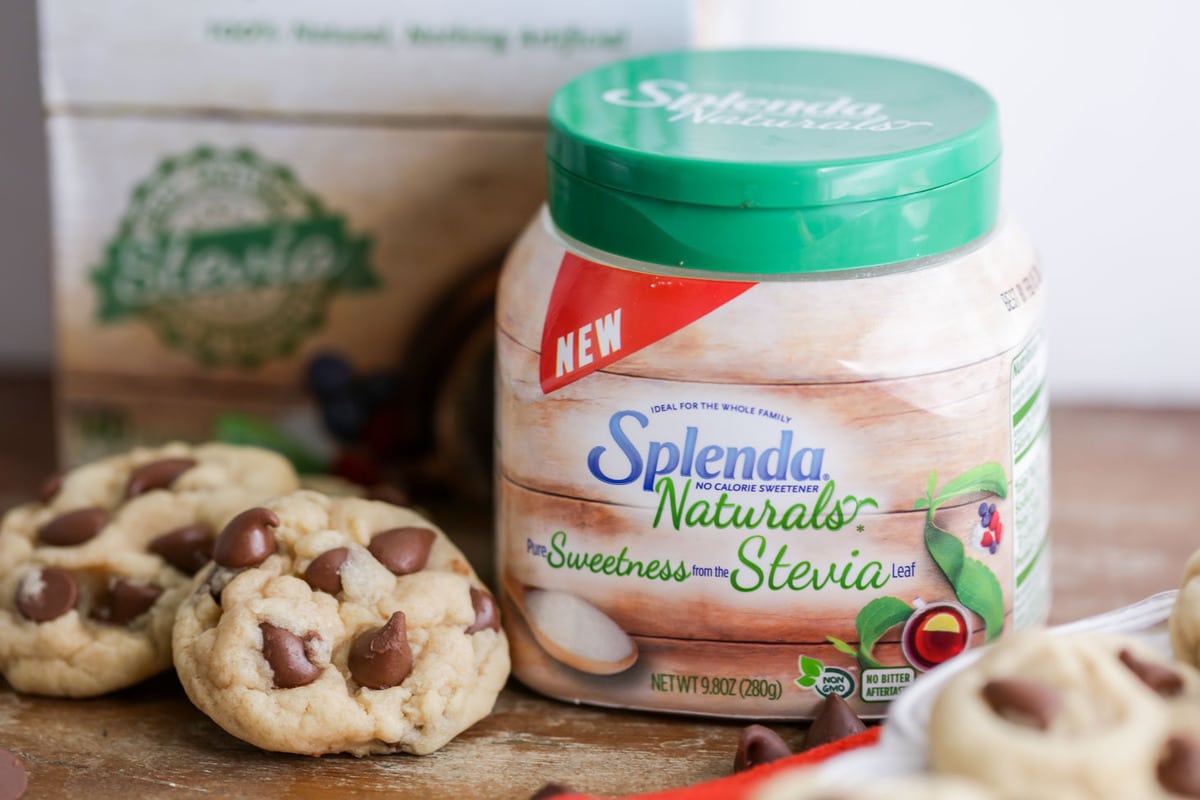 It did not take much to create a skinny chocolate chip cookie recipe. All I did was take one of my favorite cookie recipes, replaced the sugar with SPLENDA Naturals, and made the cookies themselves a little bit smaller portions.
After I made this skinny version, my husband came and ate a cookie, and was blown away when I told him afterwards that they were made with a 0-calorie stevia sweetener. He could not tell a difference at all! And to be honest, neither could I! We are so excited to try this stevia in even more of our favorite treats.
We hope you enjoy these cookies as much as we did!
Mini Chocolate Chip Cookies Recipe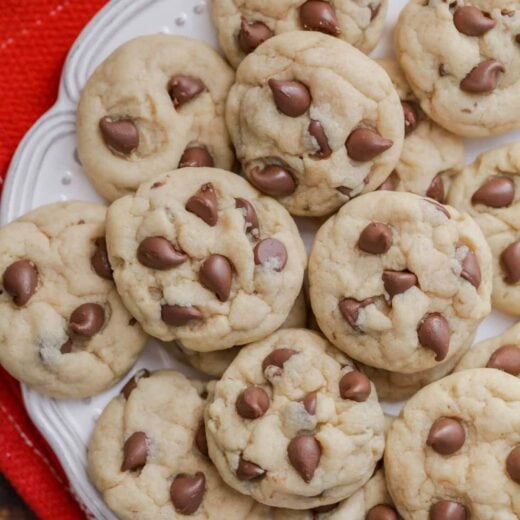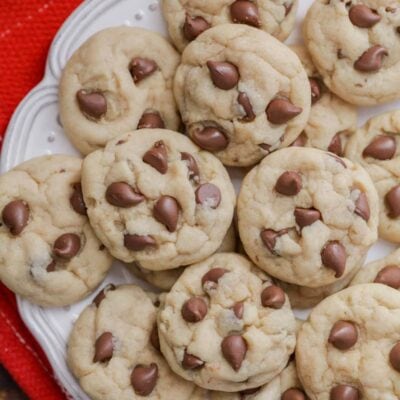 These Mini Chocolate Chip Cookies are the perfect bite-sized treat. Made with healthier ingredients, these cookies also provide some guilt-free pleasure while still being delicious!
Ingredients
Instructions
Add butter, applesauce and sugars to your mixer and blend well.

Add egg and beat until fluffy.

Add vanilla and dry ingredients and mix until blended. Fold in chocolate chips.

Roll 1 - 1 1/2 inch balls and place on greased cookie sheet (add a few chips on top to make them look pretty).

Bake at 350 for 5-6 minutes. ENJOY!