Grab a healthy snack like these crunchy baked kale chips! So much better for you than regular potato chips and super tasty too!!
I like to have healthy snacks on hand to munch on. Kale chips are a new favorite, but I also like Apple Chips and Homemade Granola!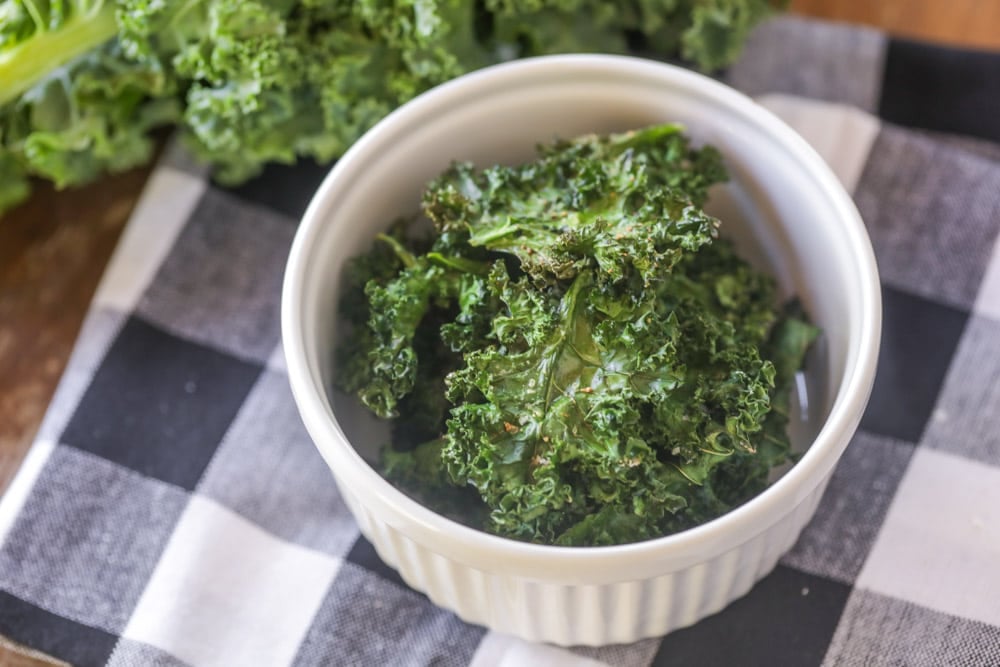 Homemade kale chips
The holidays are behind us, which means all the cookies, pie, and chocolate are too. Time to get back on a little healthier routine.
These baked kale chips are just the thing to jumpstart your healthy eating. They satisfy that crunchy snack that I always crave but are totally healthy and good for your body. These kale chips are bold, flavorful and take minutes to prep. Done and done!
Kale Chips Nutrition. Baked kale chips have a ton of good nutrition in them! They are low in calories (about 100 calories for 2 cups) and high in fiber and potassium. They also have about 5 grams of protein for each serving. Sounds like the perfect healthy snack to me.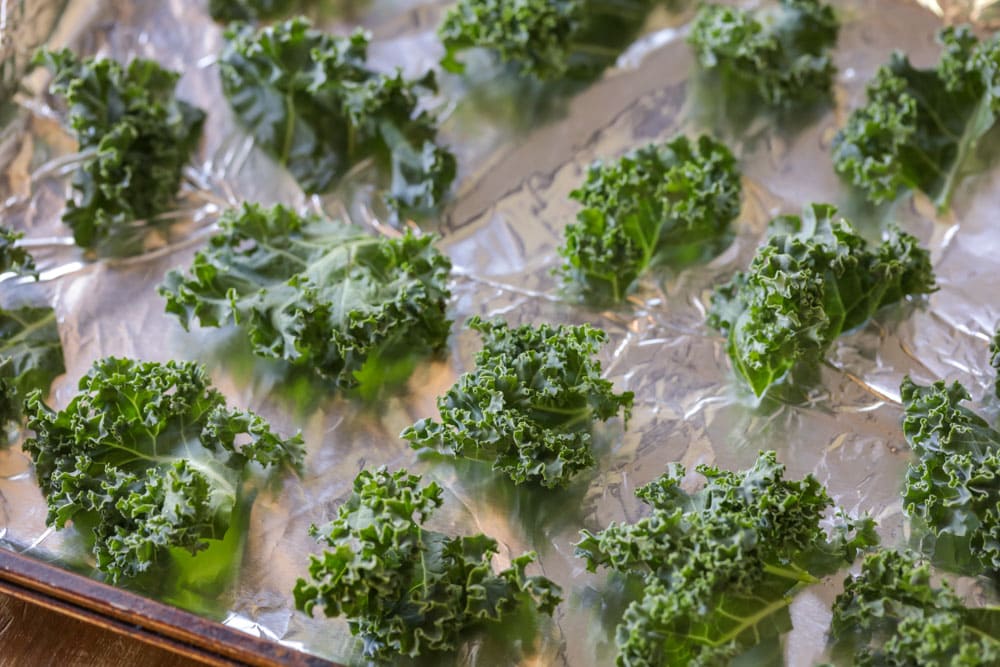 How to Make Kale Chips
Start by preheating your oven to 350 degrees. Grab your bunch of kale and make sure the leaves and stems are removed. Give the kale a good wash and dry.
Cut it into pieces that are about 3 inches long. Add a piece of parchment paper to a cookie sheet and place the kale pieces on top. Drizzle the kale with olive oil and sprinkle with a teaspoon of garlic salt.
TIP: The fresher the kale is, the better the chips will turn out. Also, be sure to wash and completely dry the kale before adding the oil and seasonings.
Bake the kale in the oven for 10-12 minutes. The kale will be done when the edges turn a golden brown. Take it out of the oven, let them cool for a few minutes, and transfer to a bowl for snacking!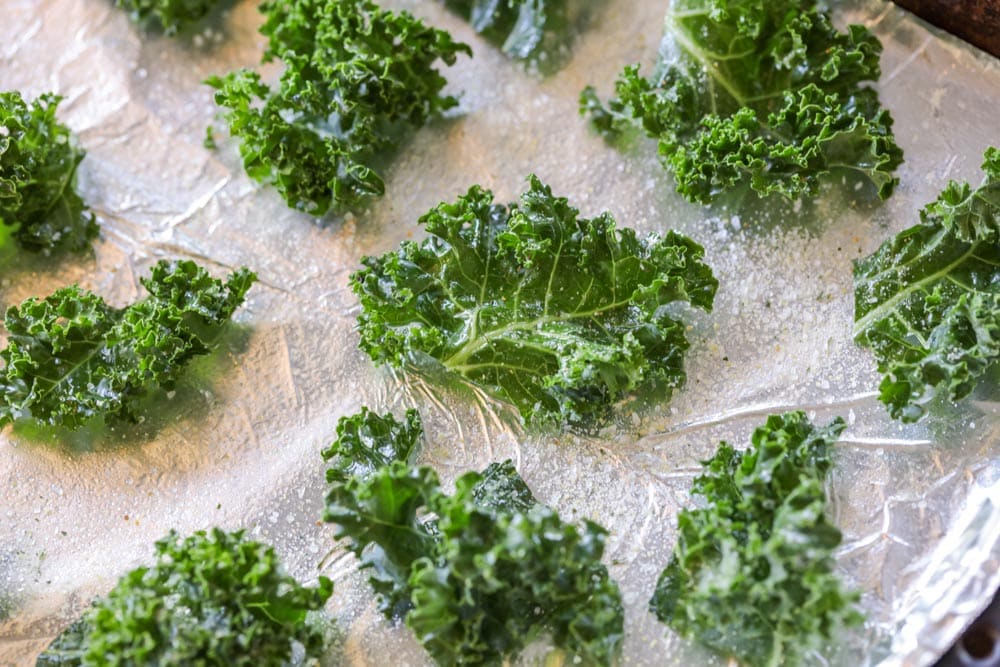 Storing, Tips + Changing up
Keep your baked kale chips in an airtight container or bag at room temperature. They will last for up to a week for freshness and crunch.
Can you broil kale chips instead of baking them? Broiling might burn them since the heat would cook them too fast. It's best to bake the kale chips to get an even crunch and bake throughout each chip piece.
Change up the flavors in this recipe by adding different spices or toppings. A couple sprinkles of parmesan cheese would be delicious! Add some black pepper for a bit of spice. Or lemon zest for a more citrus taste.
Using a food dehydrator: If you don't want to heat up your oven you can also use a food dehydrator to make kale chips. The texture is slightly different than those baked in the oven, but still as delicious and healthy. Drying times will vary depending on the size of leaves and the temperature setting. Generally, at a setting of 125°F they'll dry in 3-5 hours. Check your user manual for  more specific temperature and time.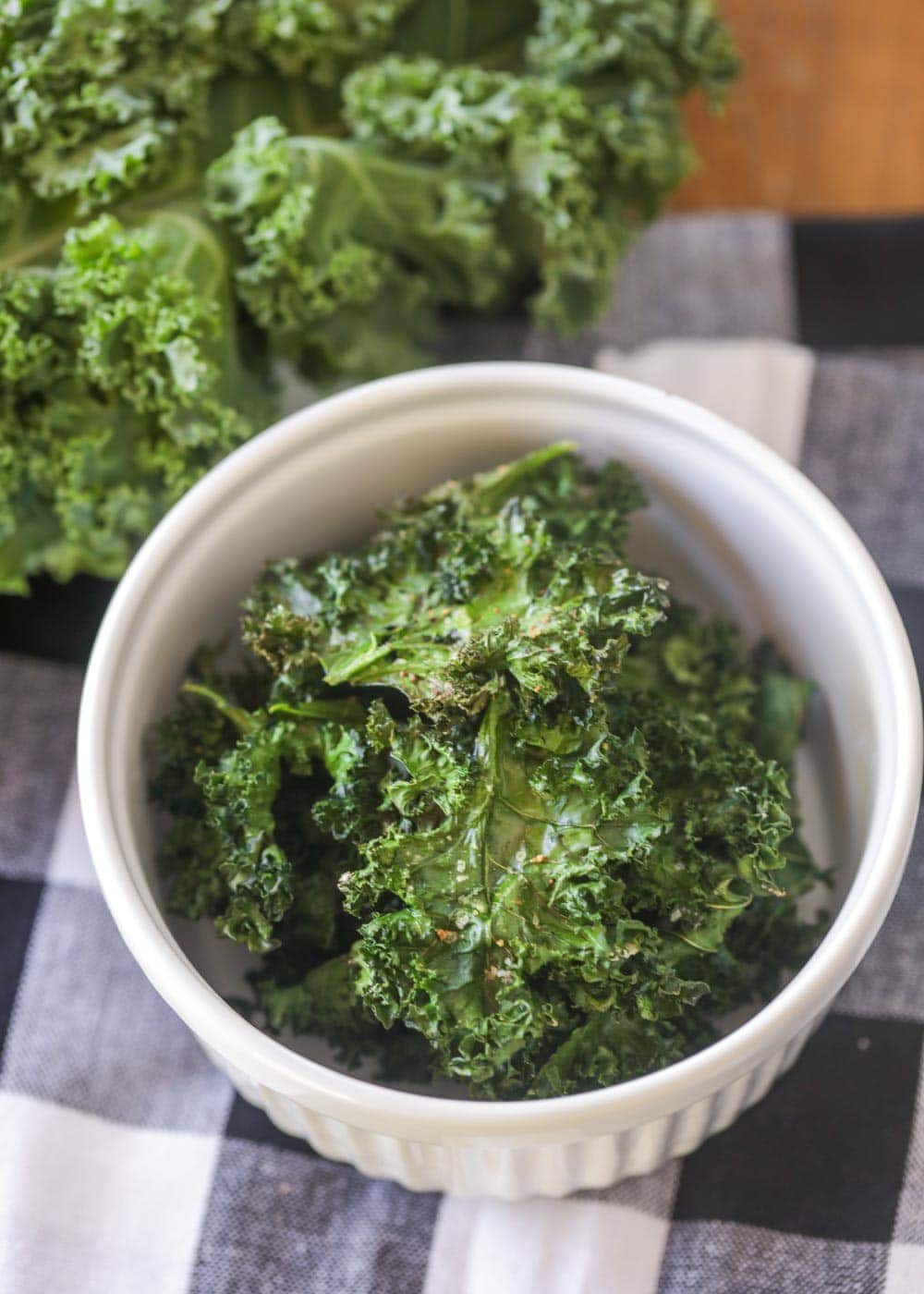 Sometimes it's hard to eat healthy because it's easy to just grab something packaged in my cupboard and eat it. But these baked kale chips are so easy to make AND to store. I know you're going to love this recipe.
For more healthy recipes, check out:
Kale Chips Recipe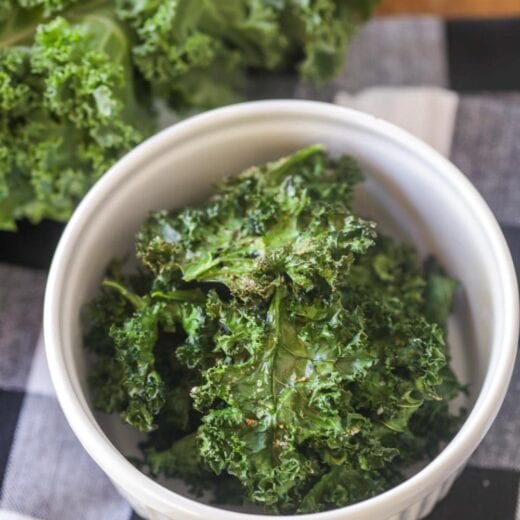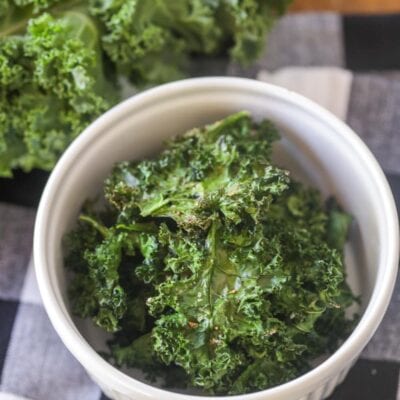 Grab a healthy snack like these crunchy baked kale chips! So much better for you than regular potato chips and super tasty too!!
Ingredients
1

bunch

Kale

olive oil

1

tsp

garlic salt (with parsley flakes)
Instructions
Preheat Oven to 350 degrees F.

Remove the kale leaves from the stems. Wash then dry kale. Cut into 3 inch pieces.

Add parchment paper to a cookie sheet. Place kale on cookie sheet. Drizzle with oilve oil and sprinkle with garlic salt

Bake for 10-12 minutes or until edges are brown.