Soft And Chewy Butterscotch Cookies are simply delicious. If you love butterscotch, you WILL want to make these over and over again!!
Sometimes I just crave a good butterscotch treat like No Bake Butterscotch Cookies, Butterscotch Caramel Bars, and Butterscotch Graham Pies. However, you can't go wrong with my favorite butterscotch cookies. They are crispy on the outside and chewy in the center, a must-make!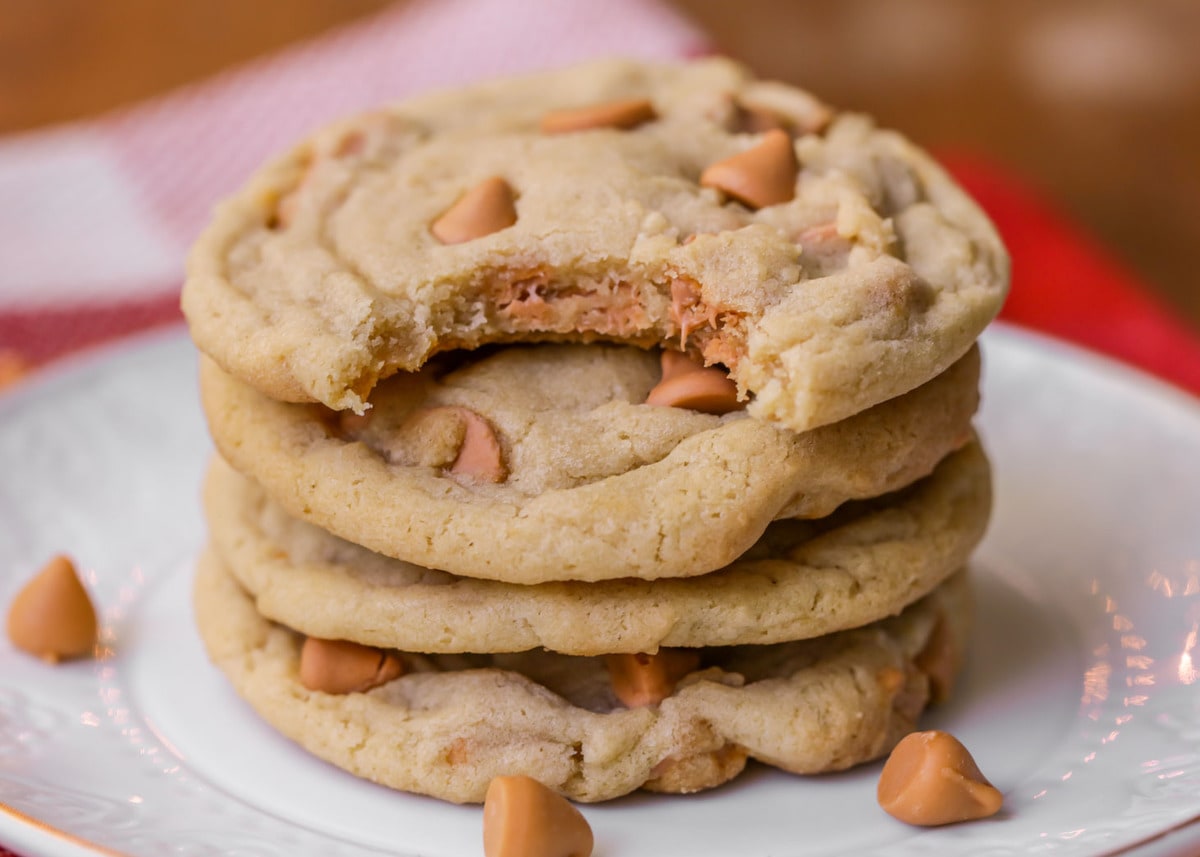 Butterscotch Chip Cookies
You don't need a special occasion to make these incredible butterscotch chip cookies. Bake them any time you want! They are chewy on the inside and a little crispy on the outside- the PERFECT cookie texture. The butterscotch chips are a fun alternative to chocolate chips. If you've never tried making cookies with butterscotch chips, I HIGHLY recommend it. My entire family loves making and eating these- they are pretty addicting!
These cookies are seriously so chewy and delicious. Make sure you have a big glass of milk to go with it. It takes less than 20 minutes to make a whole batch of these yummy treats. How simple is that??
This is a pretty standard cookie recipe. These cookies are no-fuss and no-fail! You can mix up your ingredients by hand or using your stand mixer. I like using my stand mixer because it gets cookies into my tummy faster ????. I like my cookies soft in the middle so they stay chewy and not too crunchy. How do you like yours – chewy or crunchy?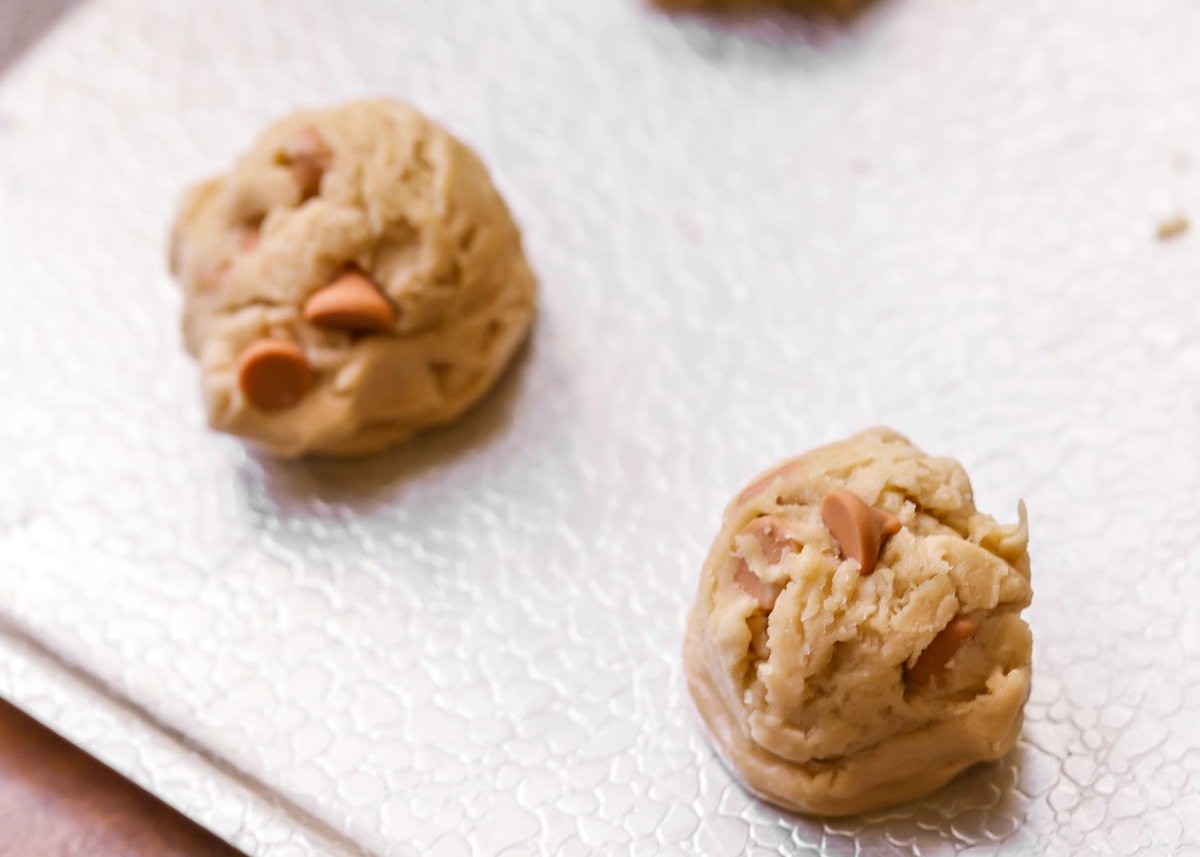 How to Make Butterscotch Cookies
PREP. Preheat oven to 350 degrees.
DRY INGREDIENTS. Take a small bowl and mix together the flour, salt, and baking soda. Set that aside while you cream together your butter and sugars in your stand mixer.
WET INGREDIENTS. Add the two eggs one at a time until its all mixed together nicely. Don't forget to add the vanilla! Grab your flour mixture and slowly add that to your wet ingredients.
CHIPS. Pour in two cups of butterscotch chips and mix them together with a spoon/spatula.
BAKE. Scoop onto an ungreased cookie sheet and bake at 350 for 8-10 minutes.
Tips, Variations + Storing Info
Sometimes I use a cookie scoop, and sometimes I just use two spoons. Or my hands. Whatever you use, scoop your cookie dough into balls onto an un-greased cookie sheet.
For thicker/puffier cookies there are a few things that you can do. 
add 1 tsp of baking powder 

add up to ¼ c of flour

Replace ½ c of the butter with ½ c of shortening.
For a chewier cookie, replace the white sugar with an equal amount of brown sugar.
For a crisp cookie with a soft center, chill the dough in the fridge for 30 minutes to an hour before scooping and baking. This will help the outside be crips while the inside stays soft.
STORE the cookie dough in an airtight container and keep it in the fridge for 1-2 days before baking.
for a couple of days, or in the freezer for longer storage.
FREEZE the dough in log form or in dough balls. 
Log: divide the  dough into two and form them into logs. Wrap the logs with plastic and then with aluminum foil. Label and freeze.
Dough Balls: Scoop the dough into balls and place them onto a sheet. Then, place the sheet into the freezer. Once the dough is solid, transfer them to a freezer safe Ziploc. Store for up to 3 months. 
STORE baked cookies that have cooled in an airtight container. They can last for 3-4 days at room temperature. Place a piece of white bread into the container to help keep them soft.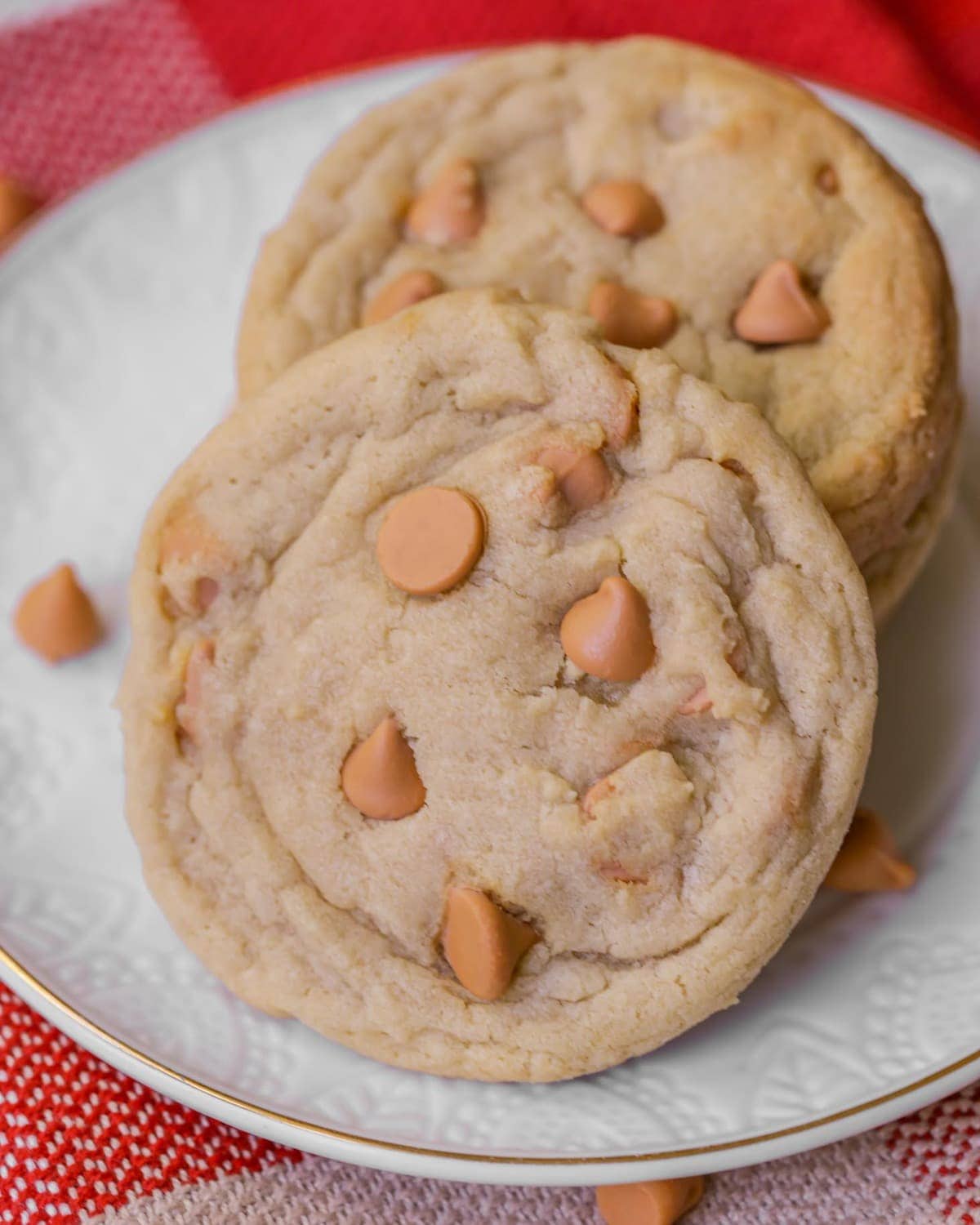 And for more cookie recipes, check out:
Butterscotch Cookie Recipe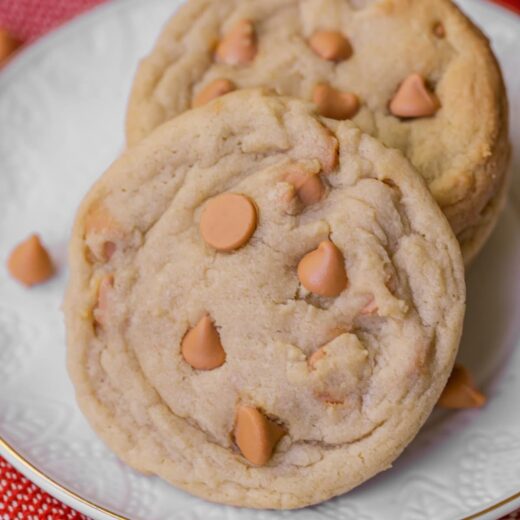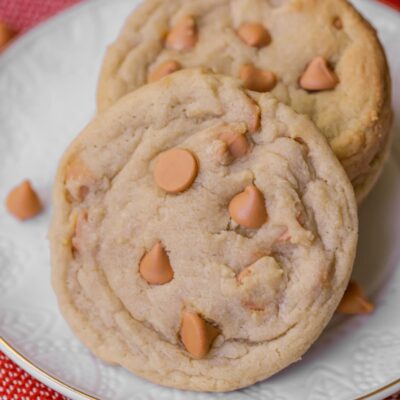 Soft And Chewy Butterscotch Cookies are simply delicious. If you love butterscotch, you WILL want to make these over and over again!!
Ingredients
Instructions
Preheat oven to 350 degrees.

In a small bowl, mix your flour, salt and baking soda, set aside.

With a stand mixer or in a large bowl, cream together your sugars and butter.

Add vanilla and eggs one at a time.

Slowly add in your flour mixture, until all combined. Mix in the butterscotch chips.

Scoop onto an ungreased cookie sheet and bake at 350 for 8-10 minutes.
Notes
TRIED & TRUE FINDINGS:
DIFFICULTY: easy
HOW MANY DOES IT FEED: 4 dozen
ANY CHANGES MADE: added a tad more flour, 1/4 cup
ANY SUGGESTIONS FOR NEXT TIME: none
Adapted from Genius Kitchen.