These Oatmeal Scotchies are soft and chewy with pops of butterscotch morsels. They are everything you want in an oatmeal cookie!
These addictive oatmeal cookies have a butter and brown sugar base and are packed full of butterscotch. Try these other tasty treats to fill that butterscotch craving: Butterscotch Cookies, White Chocolate Butterscotch Chip Cookies, and Mini Butterscotch Graham Pies.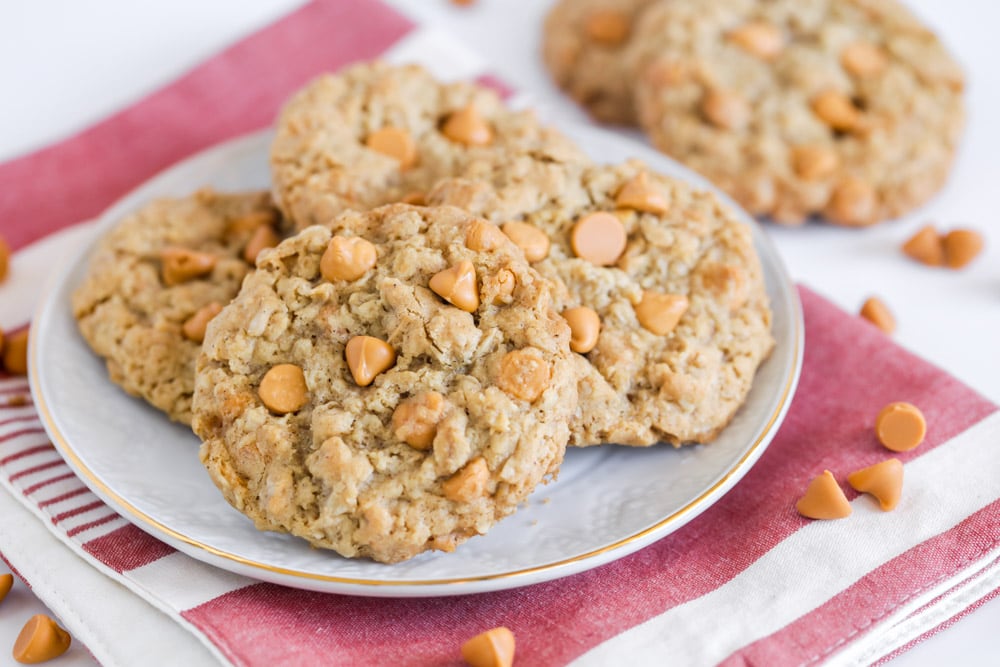 Delicious Oatmeal Butterscotch Cookies!
I don't know about you, but sometimes I just crave some butterscotch. I really love Magic Bars, but sometimes I want something a little lighter. That's where these oatmeal butterscotch cookies come into play.
These morsels are not your ordinary oatmeal cookie! Adding butterscotch chips really brings these oatmeal cookies to another level. All the ingredients come together to create a perfectly delicious cookie.
These simple Oatmeal Scothies start with a classic oatmeal cookie recipe and then kick it up a notch by adding butterscotch chips. My hubby prefers these over oatmeal raisin as he is not a fan of raisins in his desserts. We can both agree on this twist in these tasty, chewy oatmeal treats.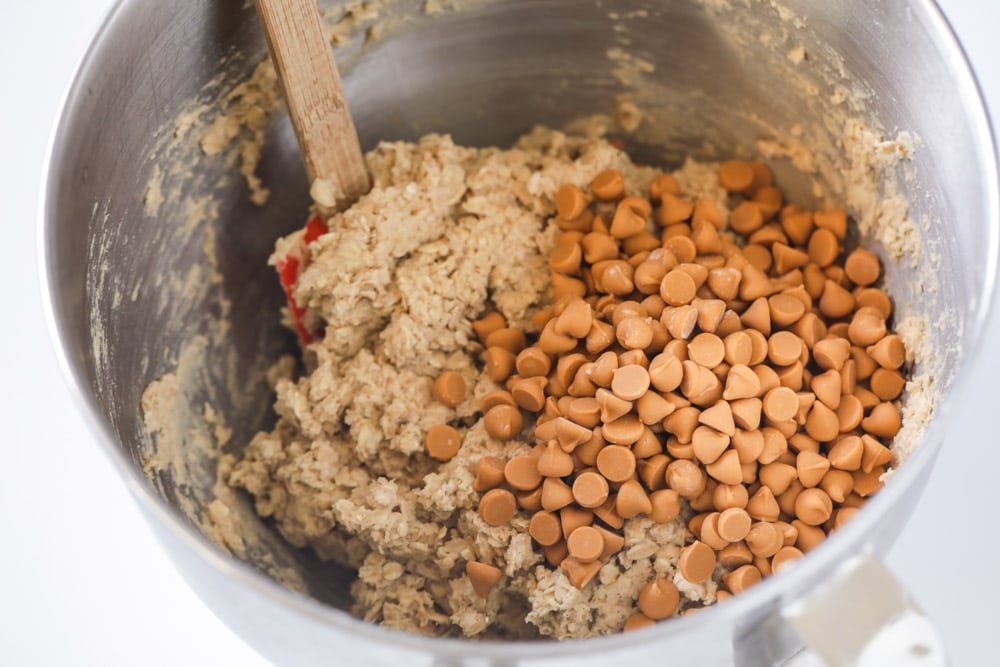 How to Make Oatmeal Scotchies
PREP. Line your baking sheet with parchment paper and preheat your oven to 350°F.
CREAM. Use a stand mixer and add butter and brown sugar to the bowl. Set it to medium speed and beat until the mixture is fluffy (about 2 minutes). Add the egg and vanilla. Beat for another minute.
COMBINE. Add the flour to the bowl and sprinkle the baking powder, baking soda and salt over the top Mix until combined. Mix in the oats and then add the butterscotch chips. Mix until combined.
ROLL. Use a spoon and your hands to roll out 1 inch to 1.5 inch dough balls. The mixture will be a little sticky, but not to much that you can roll out balls. If you need to, you can add 1 tbsp of flour at a time until the dough is manageable, but be sure you don't add too much extra flour.
BAKE & COOL. Place the dough balls 2 inches apart on the baking sheet. Bake for 10-14 minutes until the centers set and the edges begin to brown. Allow them to cool on a wire rack. Enjoy
For a picture perfect look to go along with the perfect taste, add a few butterscotch chips to the top of the doughballs right before baking.
More tips for a perfect cookie:
For best results use room temperature ingredients. However, once the dough has been mixed you can chill it to help ensure the dough doesn't spread too much creating a thin crispy cookie.

Be sure to use the type of oats called for in the recipe otherwise they may not set as expected.

Don't over bake. They'll look under-done, but will finish cooking while cooling on the trays.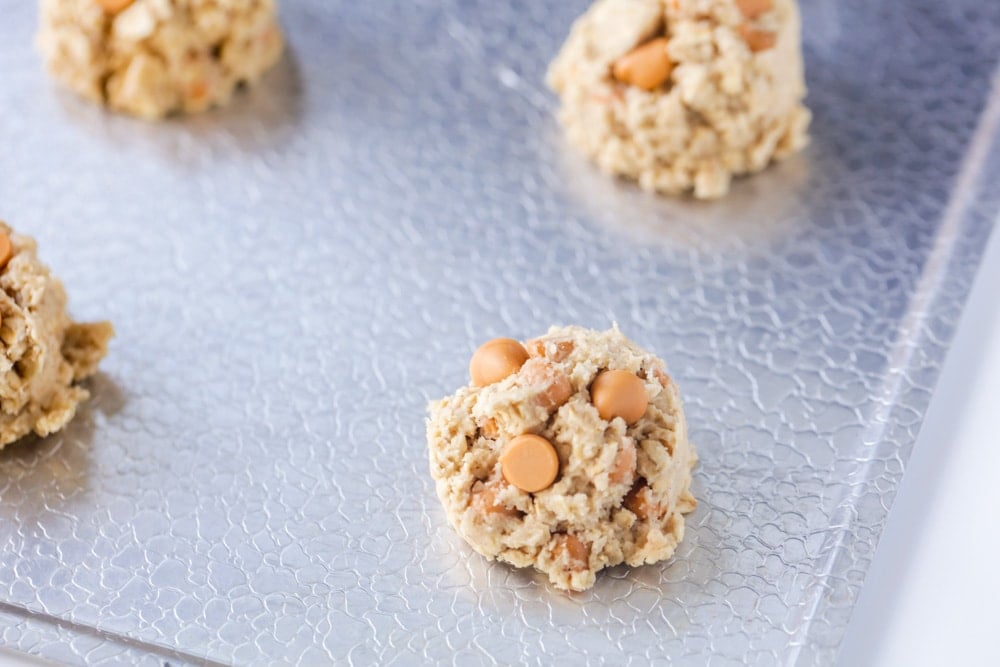 Storing + More Butterscotch Goodies
Make Ahead Instructions: You can make the cookie dough and chill it in the refrigerator for up to 4 days. You can also freeze unbaked dough. Form the dough into balls and place them on a pan in the freezer. Once solid transfer them to a freezer safe container. Freeze for up to 3 months.
To STORE baked cookies place them in an airtight container. They should last for about a week at room temperature or up to 6 months in the freezer.
Butterscotch Treats: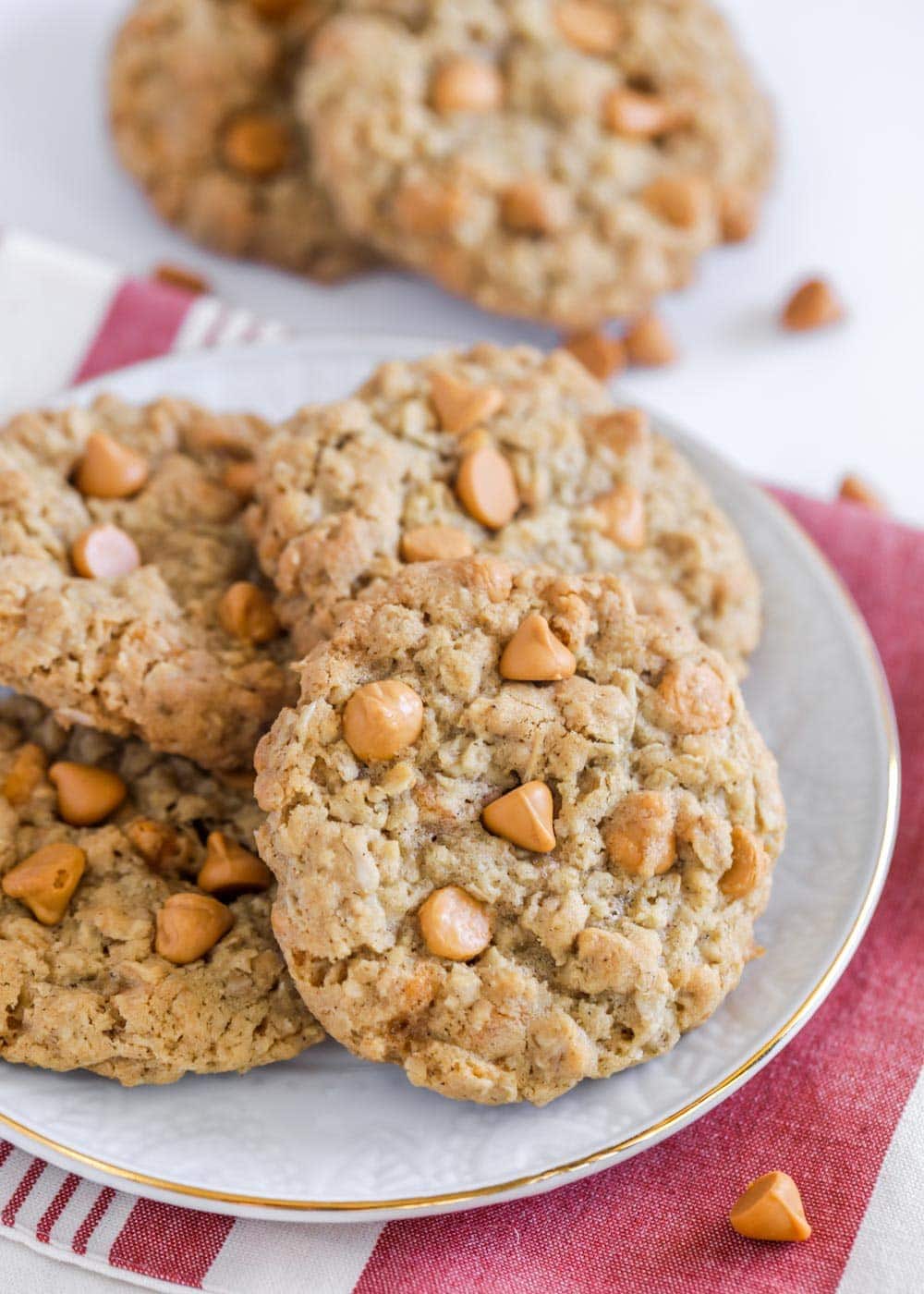 For more Oatmeal Cookies:
Instructions
Line your baking sheet with parchment paper and preheat your oven to 350°F.

Use a stand mixer and add butter and brown sugar to the bowl. Set it to medium speed and beat until the mixture is fluffy (about 2 minutes).

Add the egg and vanilla. Beat for another minute.

Add the flour to the bowl and sprinkle the baking powder, baking soda and salt over the top Mix until combined.

Mix in the oats and then add the butterscotch chips. Mix until combined.

Use a spoon and your hands to roll out 1 inch to 1.5 inch dough balls. The mixture will be a little sticky, but not to much that you can roll out balls. If you need to, you can add 1 tbsp of flour at a time until the dough is manageable, but be sure you don't add too much extra flour.

Place the dough balls 2 inches apart on the baking sheet. Bake for 10-14 minutes until the centers set and the edges begin to brown.

Allow them to cool on a wire rack. Enjoy