These oatmeal raisin cookies are soft and chewy with a hint of cinnamon. It's a quick and easy recipe that you can make in under 30 minutes from start to finish.
Oatmeal Raisin is right up there on the "Classic Cookie Recipes" list, along with Chocolate Chip Cookies, Peanut Butter Cookies, and No Bake Cookies. You'll love these cookies!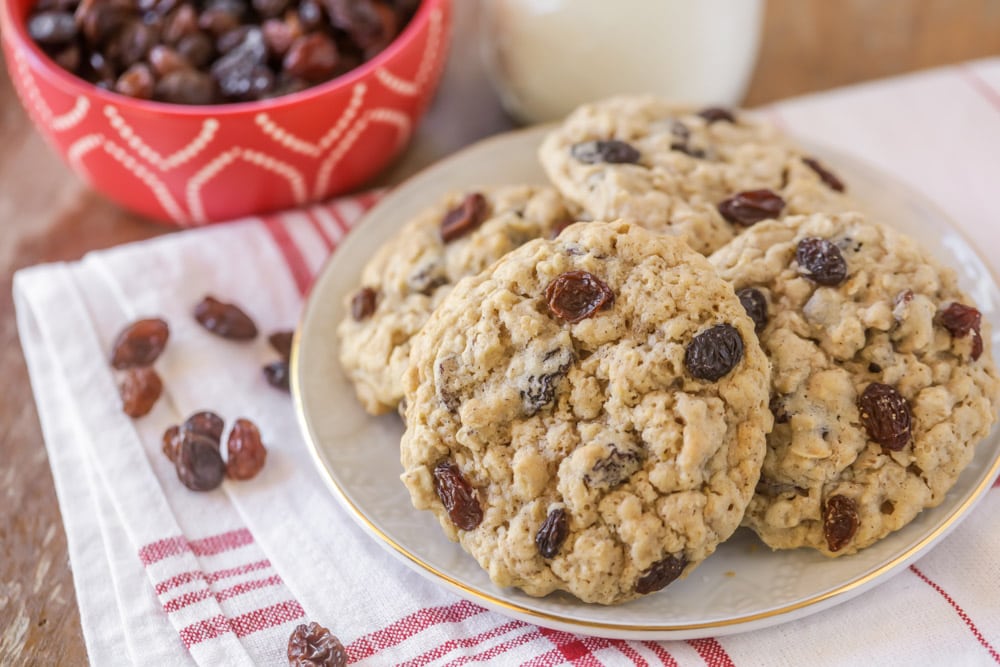 A Classic Cookie Recipe
Hi friends! Fiona here today. Who loves Oatmeal Raisin Cookies? If so, these cookies are soft and chewy with a hint of cinnamon and can be made in under 30 minutes! Really, there's no reason not to make these cookies 🙂
Now, I don't know about you, but for the longest time I always opted for chocolate chip cookies over oatmeal raisin cookies. But after finding the perfect oatmeal raisin recipe, it's a close race because these cookies are so delicious.
They're soft and chewy, with a delicious caramel brown sugar flavor. The oatmeal adds lots of texture, and the raisins make the recipe a classic.
How the Ingredients Work Their Magic
So let's talk specifics about this easy oatmeal raisin cookie recipe, and what each of the ingredients contributes to the final product.
We're starting with real butter for the most flavor.
Brown sugar adds a caramel-like undertone, and makes the cookies extra chewy.
2 eggs for tenderness.
A hint of cinnamon is a must for oatmeal raisin cookies in my book.
Then finally, we're using quick or old fashioned oats. I don't recommend using instant oats (they're too fine and behave more like flour), or steel cut oats (they'll end up too hard and crunchy in your cookies).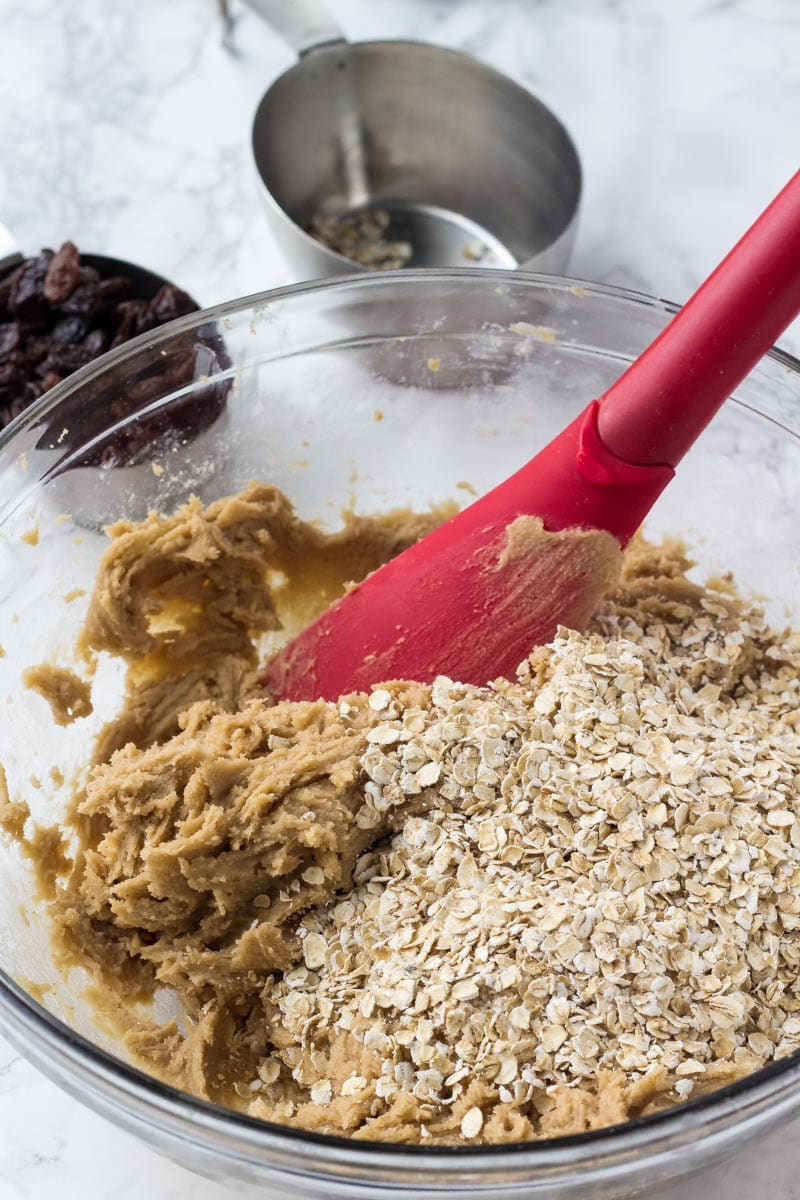 How to Make Oatmeal Raisin Cookies
PREP. Preheat the oven to 350° F & line cookie sheets with parchment paper or baking mats.
DOUGH. In a large bowl, beat together the butter and sugar until fluffy. Then beat in the vanilla and eggs. Turn the mixer down to low speed and carefully beat in the flour, cinnamon, baking soda and salt. Beat in the oats with the mixer on low, then stir in the raisins using a large spatula or wooden spoon.
BAKE. Form the dough into balls about 1 to 1.5 tablespoons in size (I recommend using a cookie scoop), and place 2 inches apart on the baking sheets. Bake for 9-11 minutes or until the tops are just set.
Simple as that, they're ready in like 25 minutes!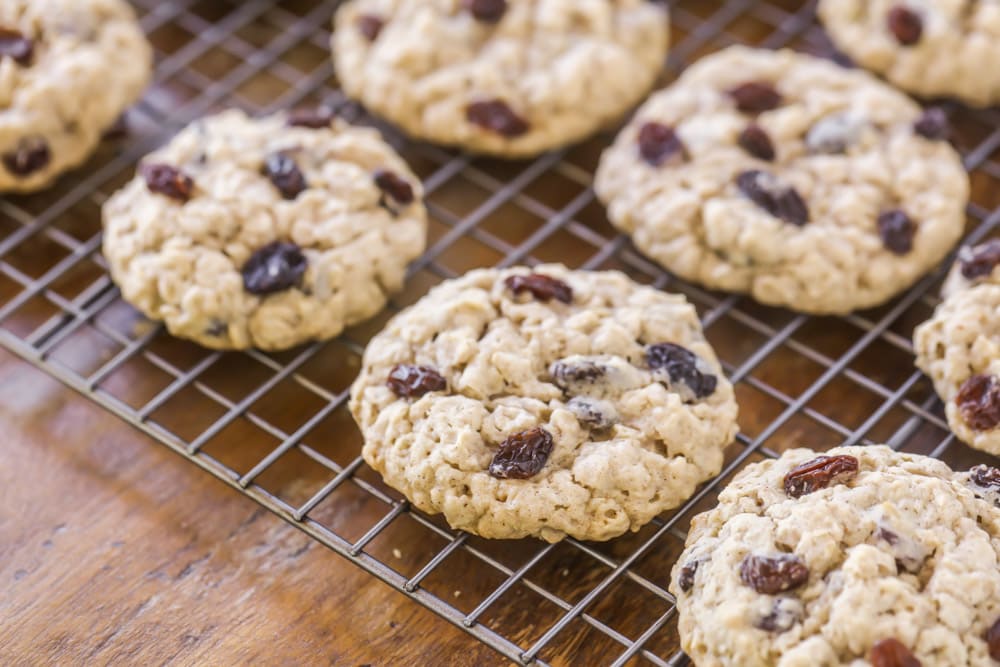 Additional Tips and Tricks
If you don't like raisins, you can easily substitute craisins, dried chopped dates, or even golden raisins to tickle your fancy.
To add some additional flavor with spices, try adding nutmeg and ginger along with the cinnamon to give it more of a fall-ish flavor.
Another variation is to make bar cookies. Press the dough into the bottom of ungreased 13 x 9-inch baking pan. Bake at 350°F for 30 to 35 minutes or until light golden brown. Cool and cut into 24 bars.
Store the baked cookies in an airtight container at room temperature. You can also freeze them in a container or freezer storage bags for up to three months. Make sure the cookies have cooled completely before storing.
You can even freeze the cookie dough after forming them into balls. Just place the balls in a ziploc bag and store in the freezer. When you bake the cookies from frozen, they'll likely take an extra minute or two.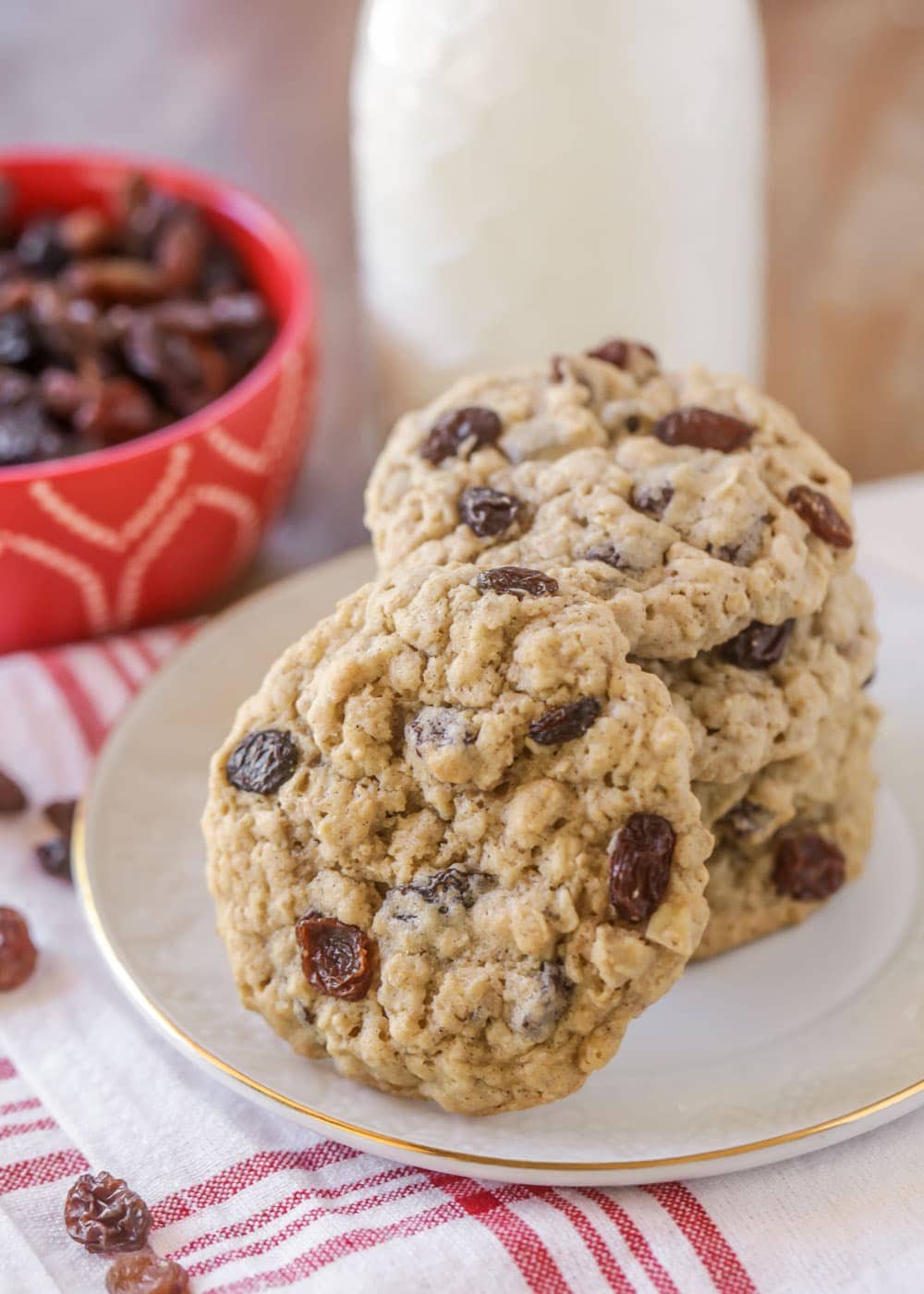 We absolutely love how these cookies are so chewy, packed with texture, and have a delicious brown sugar flavor and hint of cinnamon. So if you're looking for the perfect oatmeal raisin cookies – then this recipe is definitely for you!
For more oatmeal cookies, check out:
Easy Oatmeal Raisin Cookie Recipe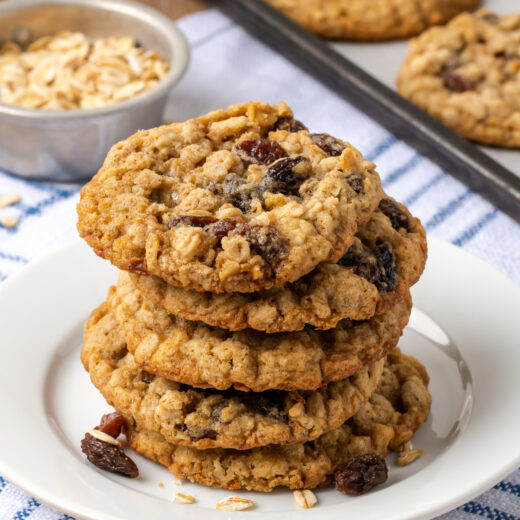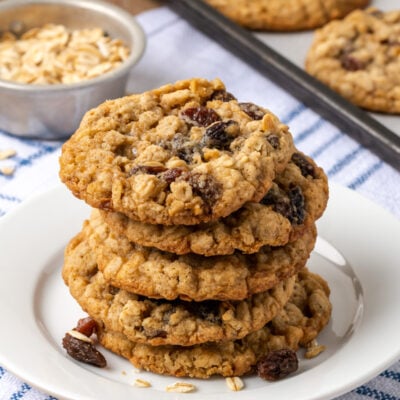 Easy Oatmeal Raisin Cookies are soft and chewy with a hint of cinnamon. They are ready to eat in under 30 minutes from start to finish!
Ingredients
1/2

cup

unsalted butter + 6 tbsp unsalted butter

softened

3/4

cup

brown sugar

packed

1/2

cup

sugar

2

large

eggs

1

tsp

vanilla extract

1 1/2

cups

all-purpose flour

1

teaspoon

baking soda

1

teaspoon

cinnamon

1/2

teaspoon

salt

optional

3

cups

quick oats

or old fashioned oats

1

cup

raisins
Instructions
Preheat the oven to 350°F.

Add butter and sugars to a stand mixer and beat until cream. Add eggs and vanilla and beat until fluffy.

In a separate bowl mix together the dry ingredients – flour, baking soda, cinnamon and salt and mix well. Add the flour to the sugar mixture and stir. Add oats and raisins and mix until combined.

Use cookie scoop to scoop out dough onto ungreased cookie sheet. Bake for 8-10 minutes.

Remove to wire rack and let cool.
Notes
*For high altitude increase the flour to 1-¾ cups and bake as directed.
*Store in an airtight container at room temperature.
**After the cookie dough is formed into balls, they can be placed in a ziploc bag and frozen. Then bake cookies from frozen – they'll likely take an extra minute or two.