This Chocolate Cream Pie has two types of chocolate in a creamy pudding, topped with whipped cream and chocolate curls!!
Chocolate cream pie is rich and velvety. It is a perfect pie for chocolate lovers! For more chocolate musts try Chocolate Pecan Pie, S'Mores Pie, and Frozen Butterfinger Pie.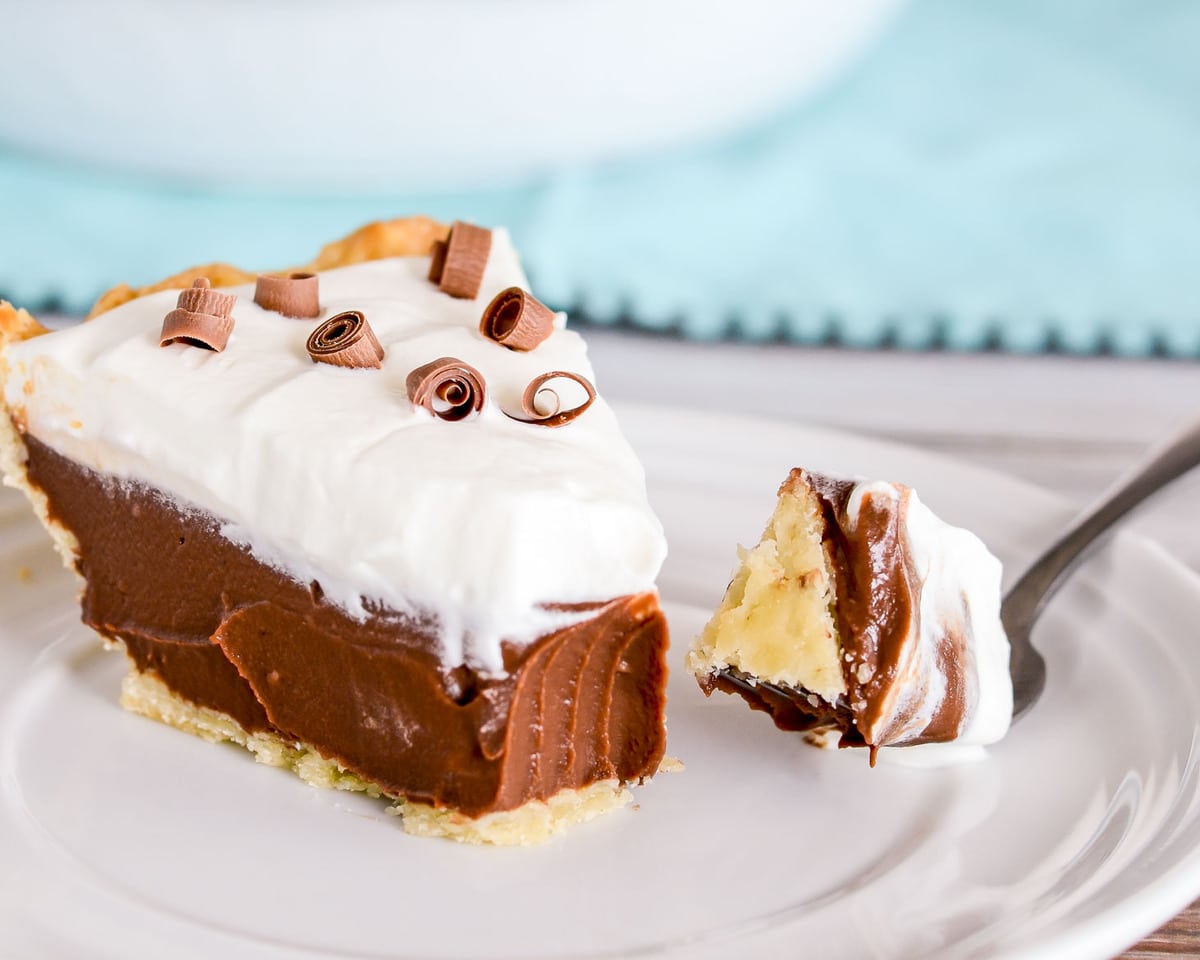 Easy Chocolate PIE
Is there anything better than a slice of homemade pie?
I love just about any type of made from scratch pie (like our pecan pie, apple pie and pumpkin pie), but throw in some chocolate and I'm pretty much in heaven! This chocolate cream pie was simply divine from the first to the last bite.
Two types of chocolate are used in the homemade pudding, so it has a rich chocolatey flavor. If you like your chocolate more on the mild side, you could use milk chocolate chips, or omit the cocoa powder. It's up to you!
This chocolate pie isn't just great for holidays – but all year long. It's a hit with the entire family, because who doesn't love chocolate?! We hope you enjoy this easy Chocolate Pie recipe.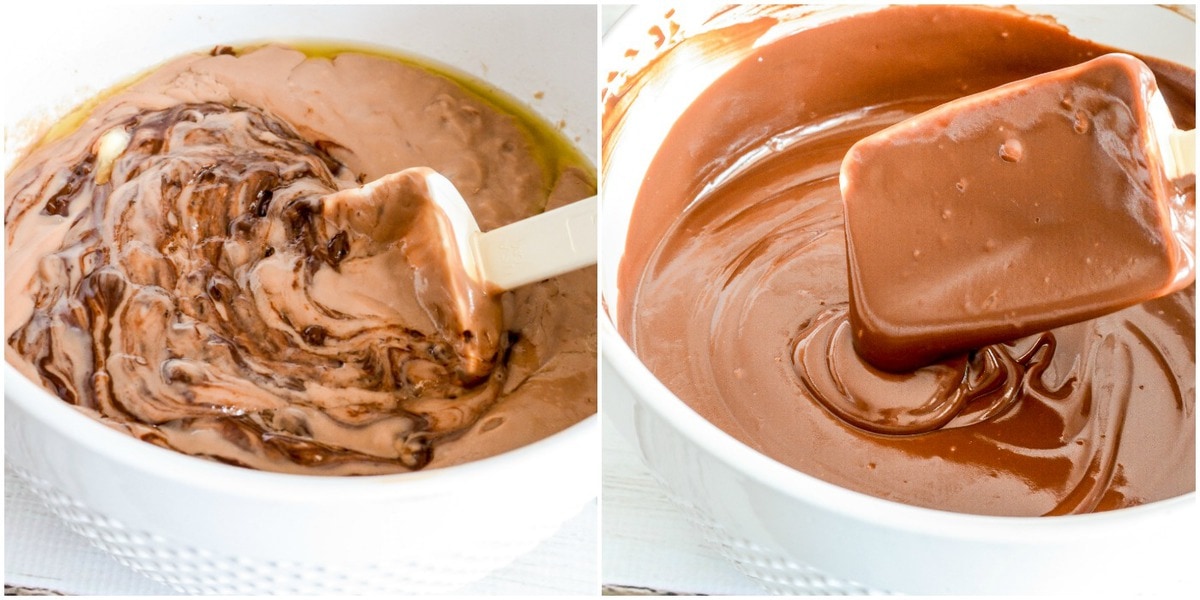 HOW TO MAKE CHOCOLATE CREAM PIE
To make this easy chocolate pie, start with a homemade pudding made on the stovetop.
PUDDING. After whisking together the dry ingredients, you slowly whisk in the milk, cream, and egg yolks. Cook and stir the mixture over medium heat till it's thick and creamy.
CHOPPED CHOCOLATE. Next you pour the hot mixture over a bowl of butter and chopped chocolate, then stir till it is all melted. That chopped chocolate adds a depth of chocolate flavor, and also helps the pie set up.
PIE SHELL. Stir in some vanilla, and pour it into a pie shell. I used a baked pastry shell, but you could substitute a graham cracker or even a chocolate crumb crust. To finish it off, you add fresh whipped cream and some lovely chocolate curls.
Trust me, this chocolate cream pie tastes as good as it looks!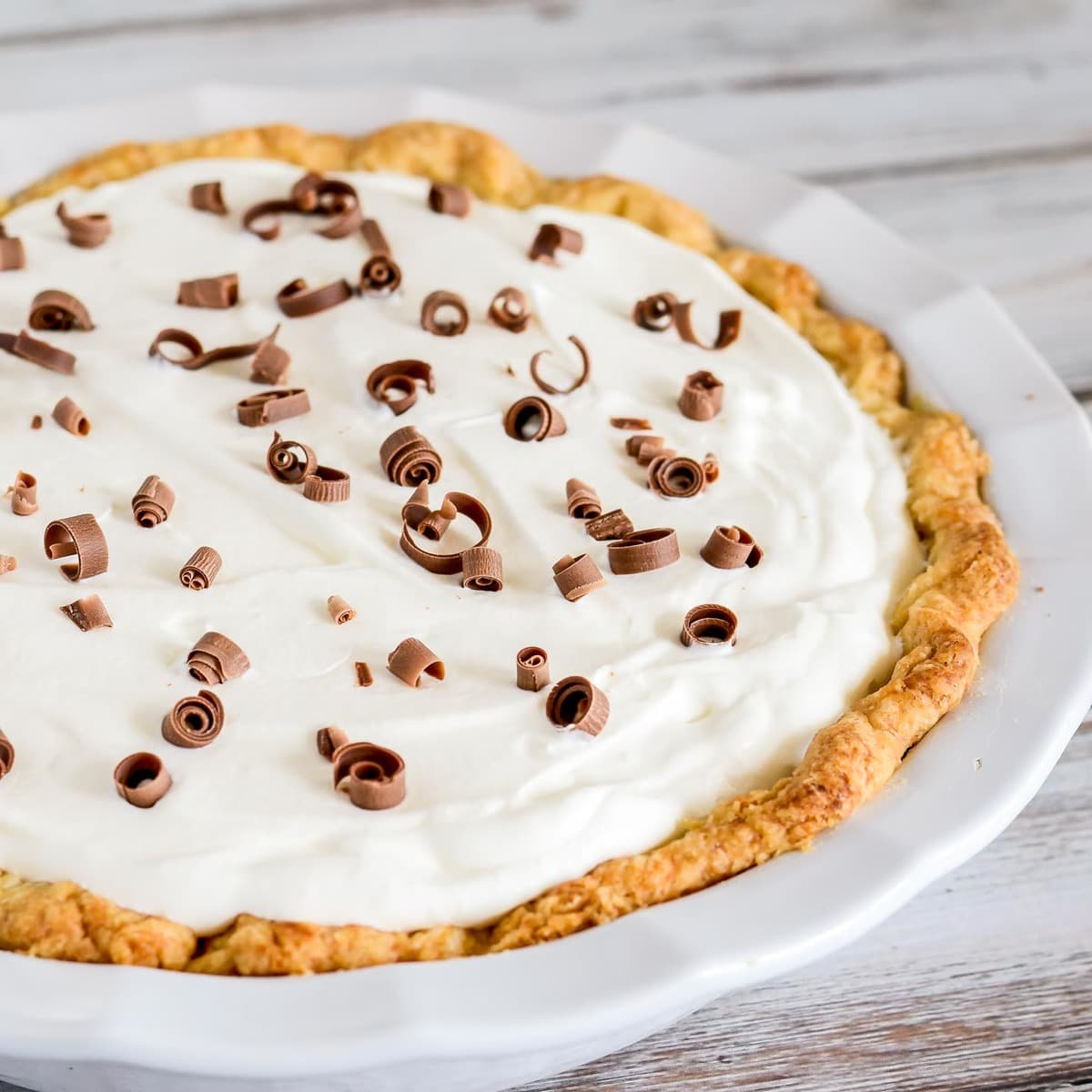 Tips + SToring Info
To make chocolate curls:

spread melted chocolate on a flat cookie sheet(no edges/not rimmed) and use a flat spatula to push the solidified chocolate into curls. You could also take a chocolate bar and a vegetable peeler to make chocolate curls.

Crust: Use a graham cracker crust instead. We recommend just buying a pre-made graham cracker crust at the store. It's delicious and simple to use and tastes great with this chocolate cream. For extra chocolate-ness use an Oreo crust.
Make Ahead: We often make this pie in advance and typically make everything but the whipped cream.
STORE it by covering it in the fridge and right before serving adding the whipped cream and chocolate curls. Freshly baked, it's usually good in the fridge for 3-4 days after.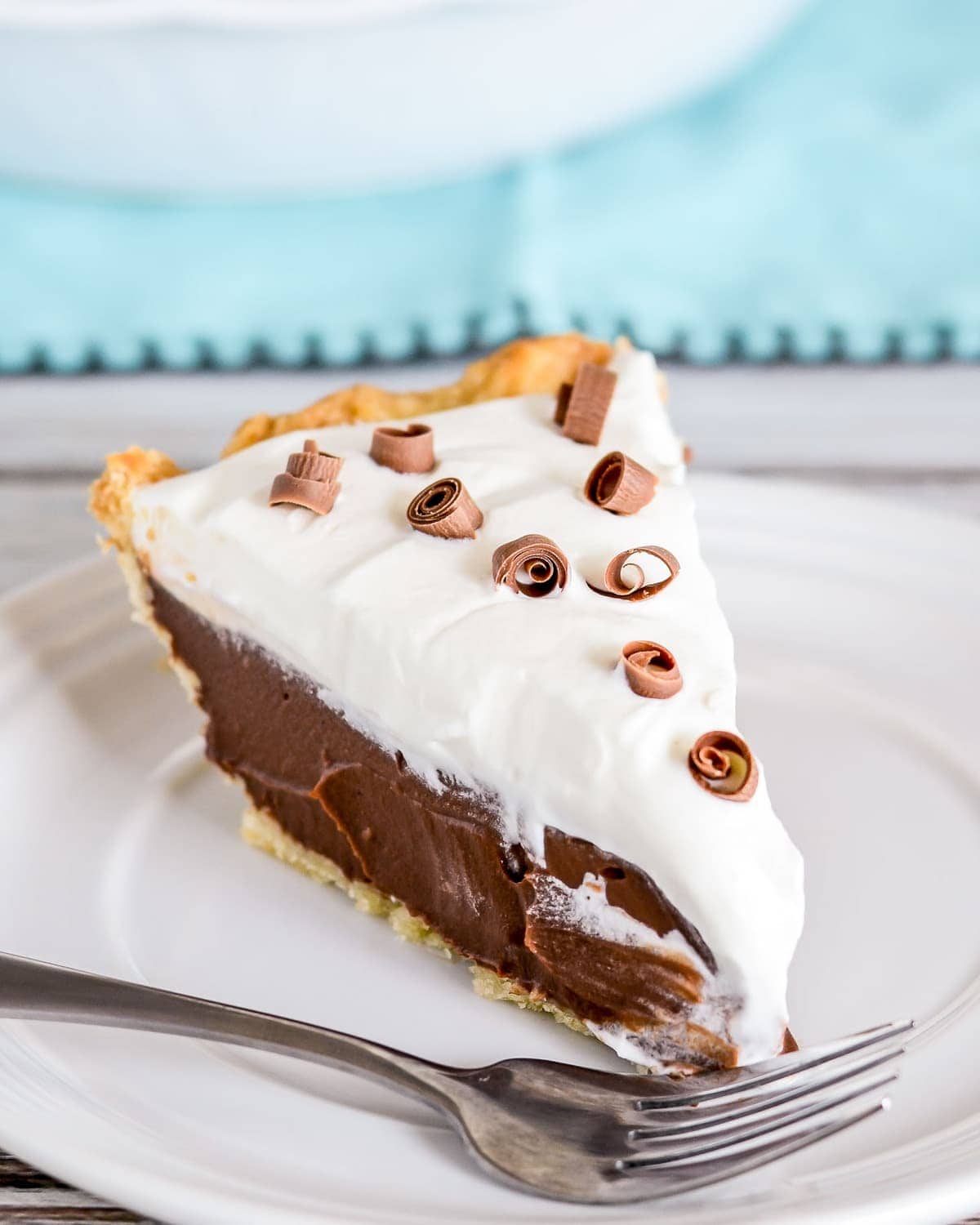 For more chocolate desserts, check out:
Chocolate Cream Pie Recipe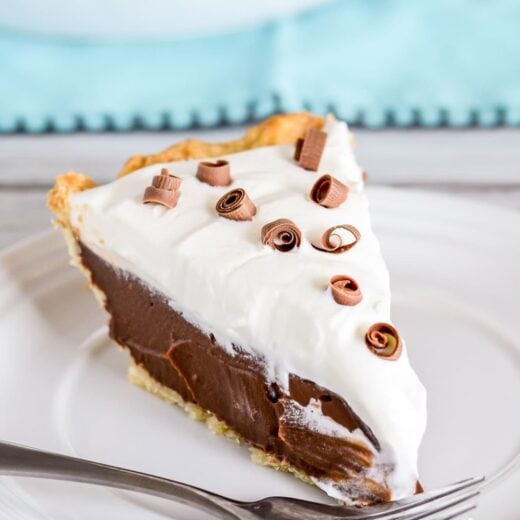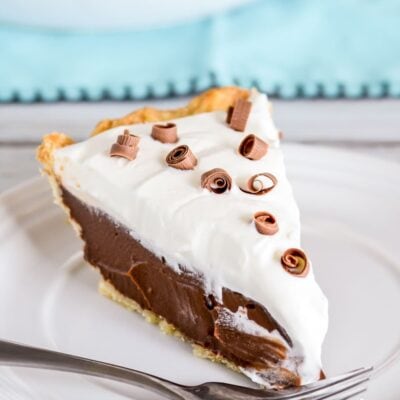 This Chocolate Cream Pie has two types of chocolate in a creamy pudding, topped with whipped cream and chocolate curls!!
Instructions
Combine butter and chopped chocolate in a large glass or metal bowl; set aside

In a large saucepan, whisk together sugar, cornstarch, cocoa, and salt. Slowly whisk in the ½ cup of cream till mixture is completely smooth. Whisk in the egg yolks

Add the milk and whisk till mixture is well blended. Turn heat to medium, cook and stir till mixture comes to a boil. Boil for one minute, stirring constantly.

Place a strainer over the bowl of chocolate and butter. Pour hot chocolate mixture through the strainer to remove any lumps. Let sit for a couple of minutes, then stir till butter and chocolate are melted.

Place bowl of pudding in a sink of ice water, stir gently for a few minutes till cooled to room temperature.

Pour into pie shell. Cover with plastic wrap and chill for several hours or overnight.

Just before serving, beat the 1 cup of cream till soft peaks form. Beat in vanilla and powdered sugar. Spread over pie and garnish with chocolate curls if desired.