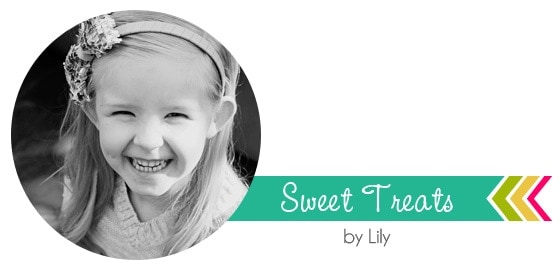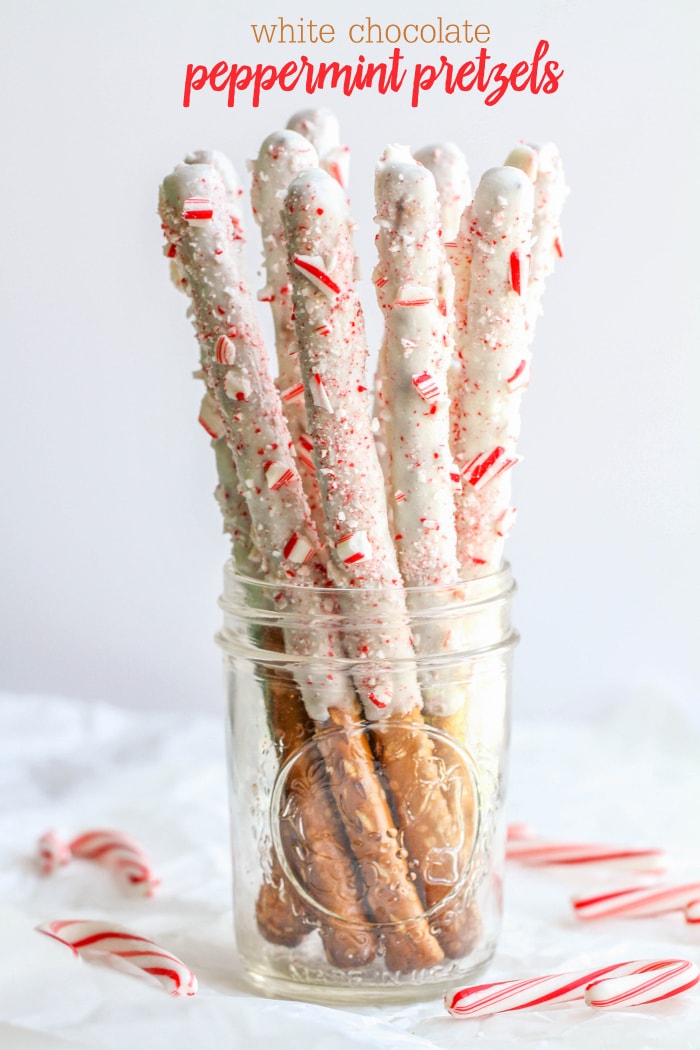 Hi guys, it's me Lily again!
I know it's not Christmas yet, but today we have a Christmas (or holiday) treat to share.
But first things first… how was your week? I know mine was awesome!! It was great because my team won our soccer game. It was 14-0! It was so funny because it started raining right after the game.
Guess what? We are going out of town on Sunday! We will be going to Arizona and I'm going to be baptized! It's something we choose to do when we're 8 years old. I can't wait to tell you all about it. 😉
Let's get started on the treat today. The recipe is White Chocolate Peppermint Pretzels. It was so good, especially the peppermint parts. I kept picking them off and shoving them in my mouth. These were so easy to make (really easy!!) and would be great gifts to give for Christmas.
If you love white chocolate and peppermint, you'll love these yummy pretzels.
White Chocolate Peppermint Pretzels Recipe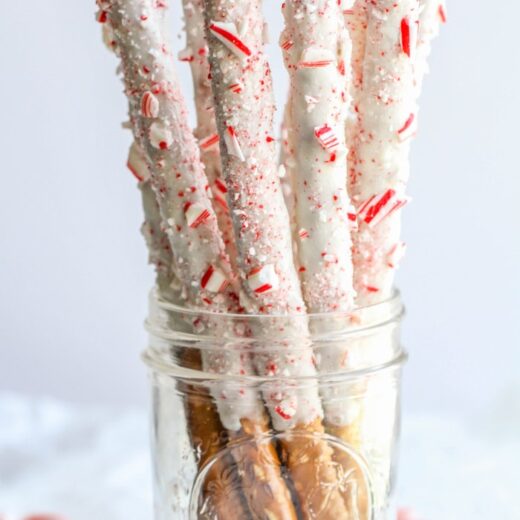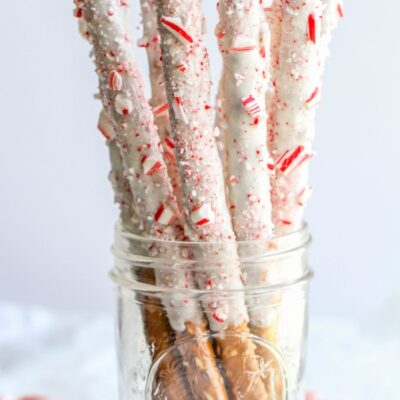 Simple and Delicious White Chocolate Peppermint Pretzels. They are so easy to make and are a great Christmas treat to make for neighbors and friends for the holidays.
Ingredients
15-20

Pretzel rods

3-4

cubes

candy coating

crushed candy canes
Instructions
Begin by laying out your parchment paper.

Place crushed candy canes in a bowl and set aside.

Begin by breaking up your candy coating into cubes and placing in a pot on LOW heat. Melt while stirring with a rubber spatula constantly. Melt until there are no more chunks.

Pour candy coating into a skinny and tall cup/jar.

Dip pretzel rods into the candy coating and place on parchment paper. Sprinkle with candy cane pieces and/or sprinkles and let set. ENJOY!
NOTE FROM KRISTYN:
Candy coating can be found in the baking section of your grocery store. You can use white chocolate chips but I think candy coating is better and easier to use. 😉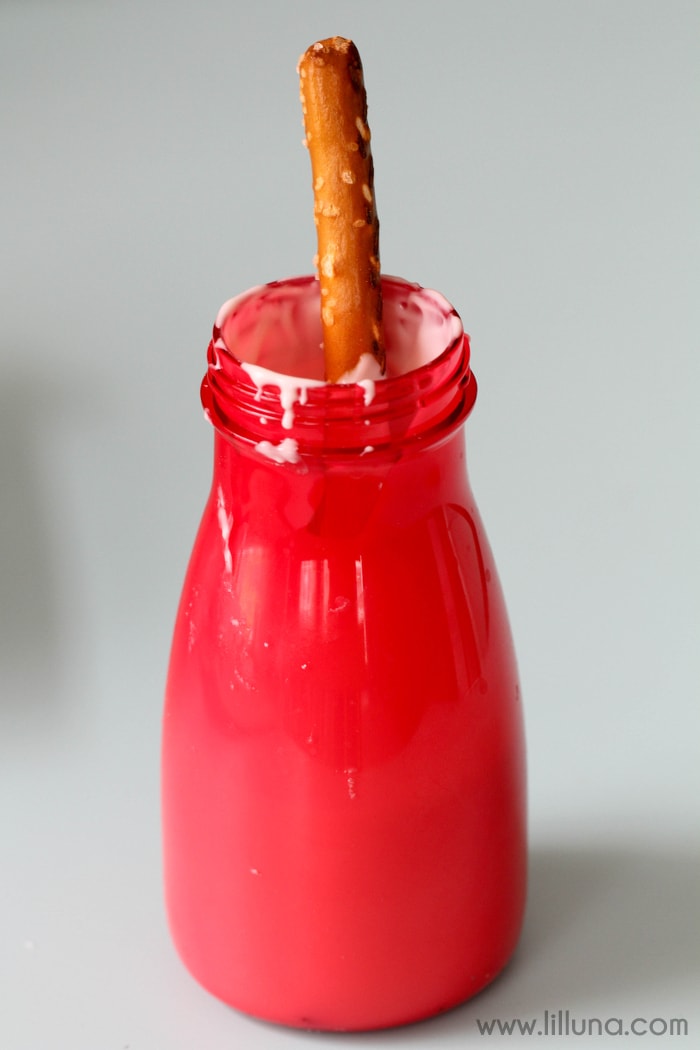 Dipping the rod into a tall, skinny jar makes it easier. 😉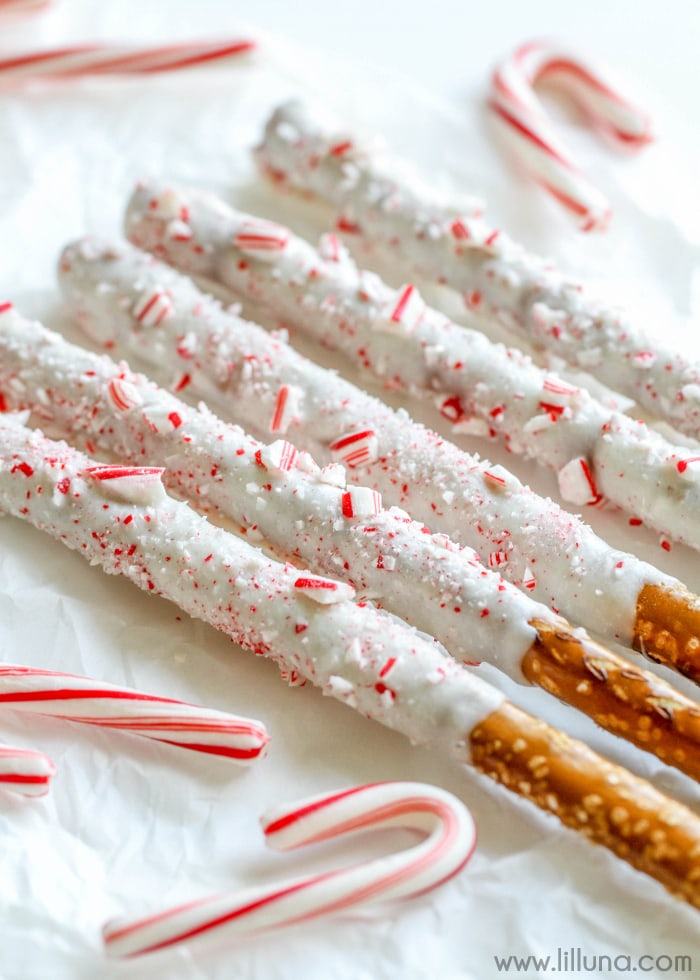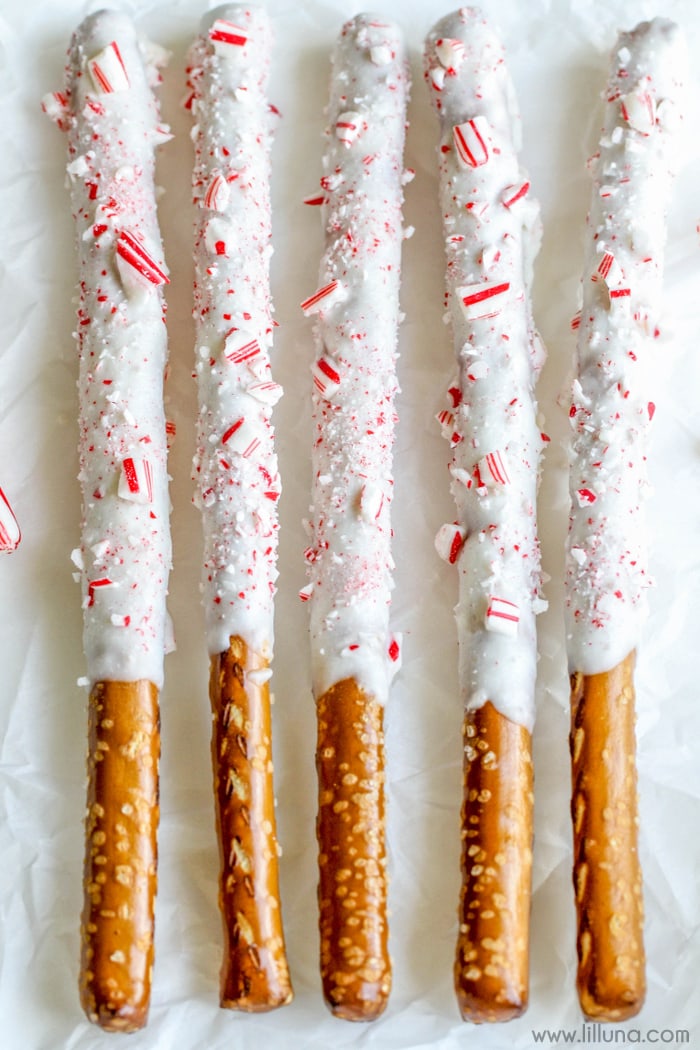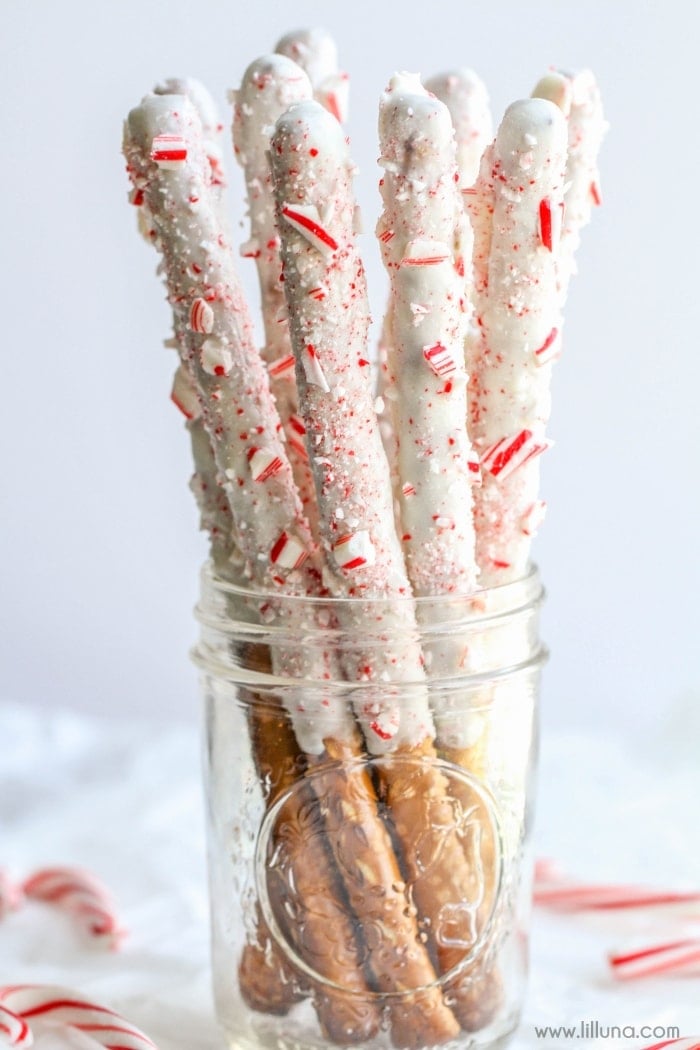 These really are so good! You should give them your neighbors for Christmas. It's a good idea!!
I hope you can come back again soon for more yummy treats from me.
Love, Lily
—————————————–
If you like peppermint, you may like these other peppermint treats. 😉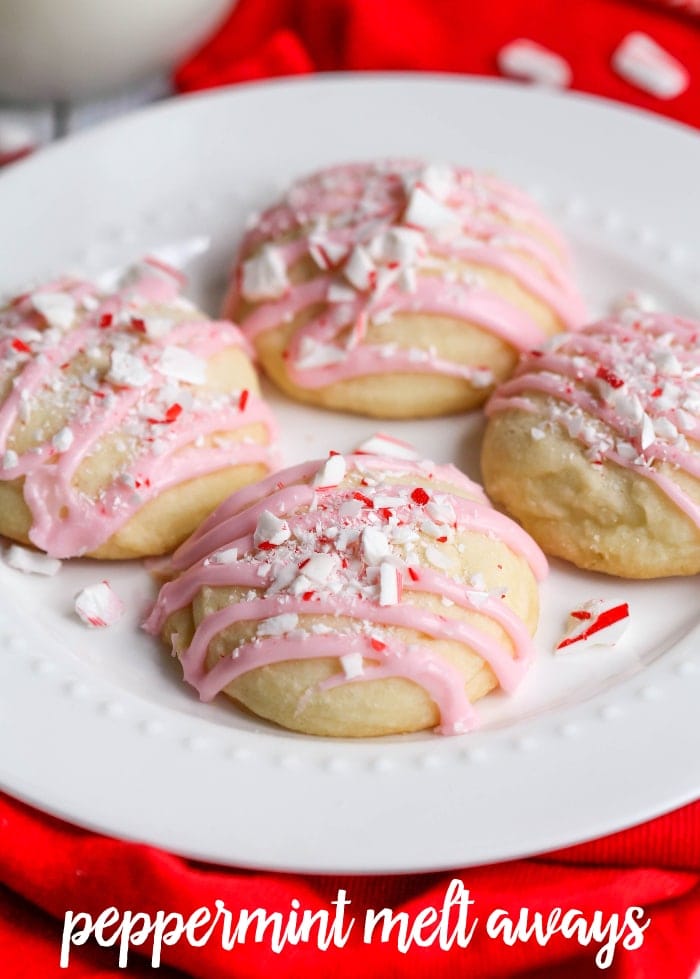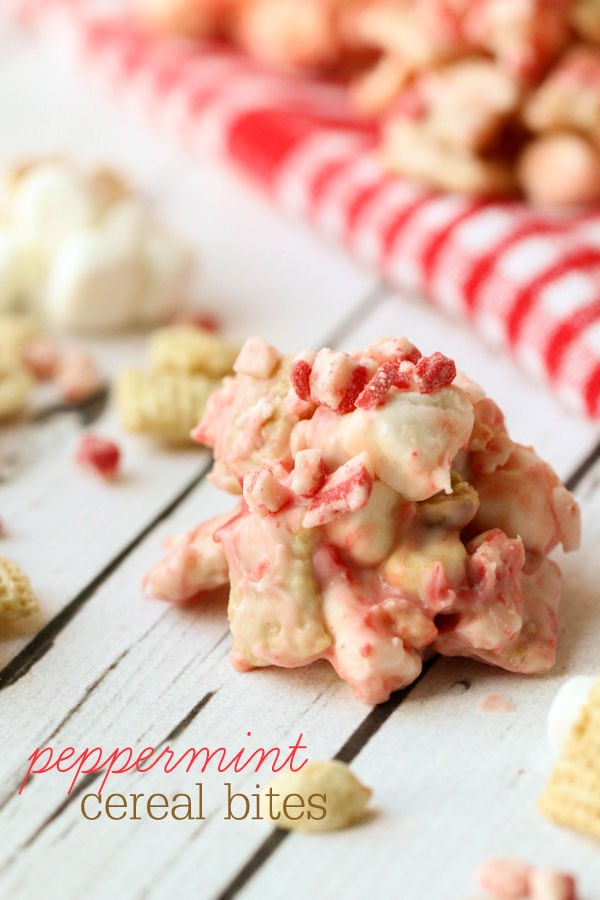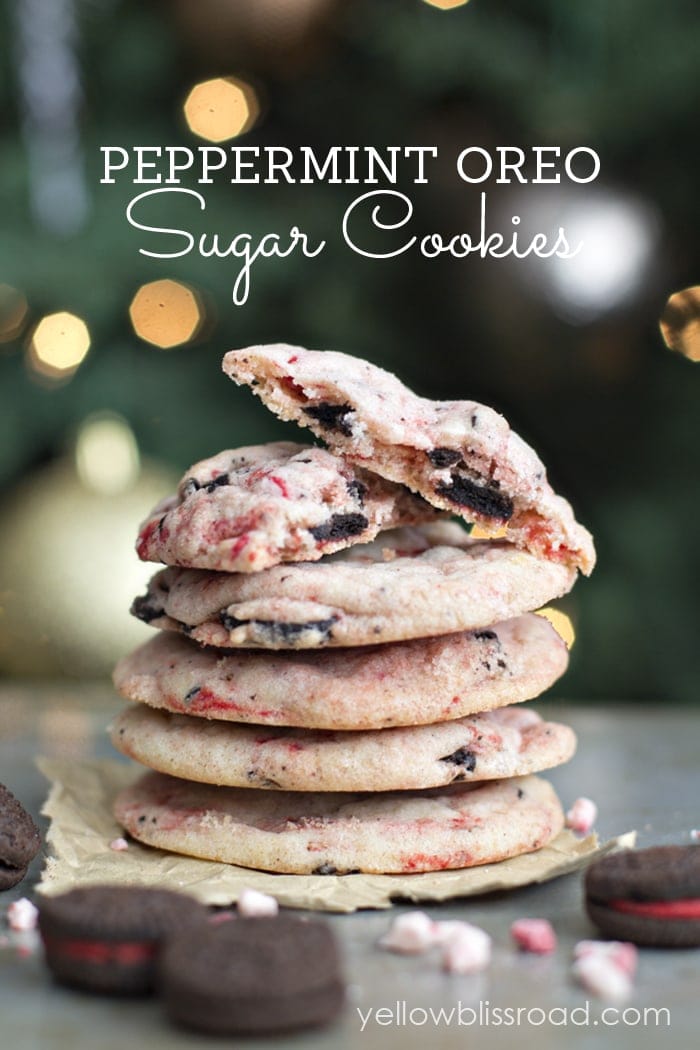 For all Sweet Treats by me go HERE.
For all desserts go HERE.
For even more great ideas follow my mom on Facebook – Pinterest – Instagram – Twitter – Periscope.
And get weekly emails with monthly freebies by signing up for the Lil' Luna newsletter. 🙂
ENJOY!