Easy white chocolate cookies and cream fudge is FILLED with crushed Oreos and creamy marshmallow fluff that will satisfy any Oreo lover!
If you're a fan of Oreos, you'll absolutely love this Cookies and Cream fudge! For more tasty fudge, try White Chocolate Cookie Dough Fudge, Chocolate Fudge, and Peanut Butter Fudge.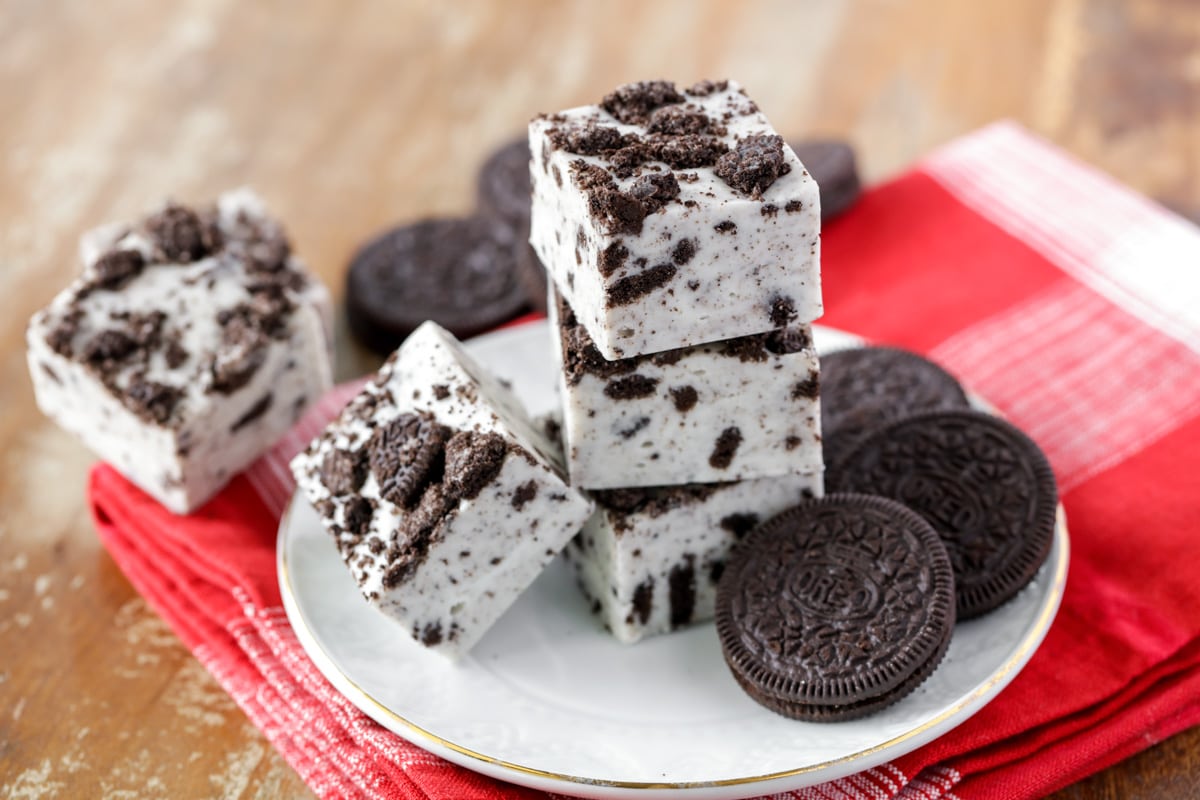 For the oreo lovers
Every time we go to Disneyland, the hubby insists we stop by and pick up some fudge on Main Street. It's his absolute favorite treat to get for himself, and yet I've never attempted to make it for him!
Recently, I decided it was finally time to try. I wasn't sure which flavor to make, but know you can't go wrong with Oreos, so I decided on Cookies and Cream Fudge. I'm happy to report that it was super simple to make and turned out FABULOUS!!
I don't know why I was hesitant to try making fudge. It was so easy, quick and turned out perfectly. Between the heavy cream, white chocolate chips, and marshmallow fluff, this fudge was such a sweet and creamy dessert.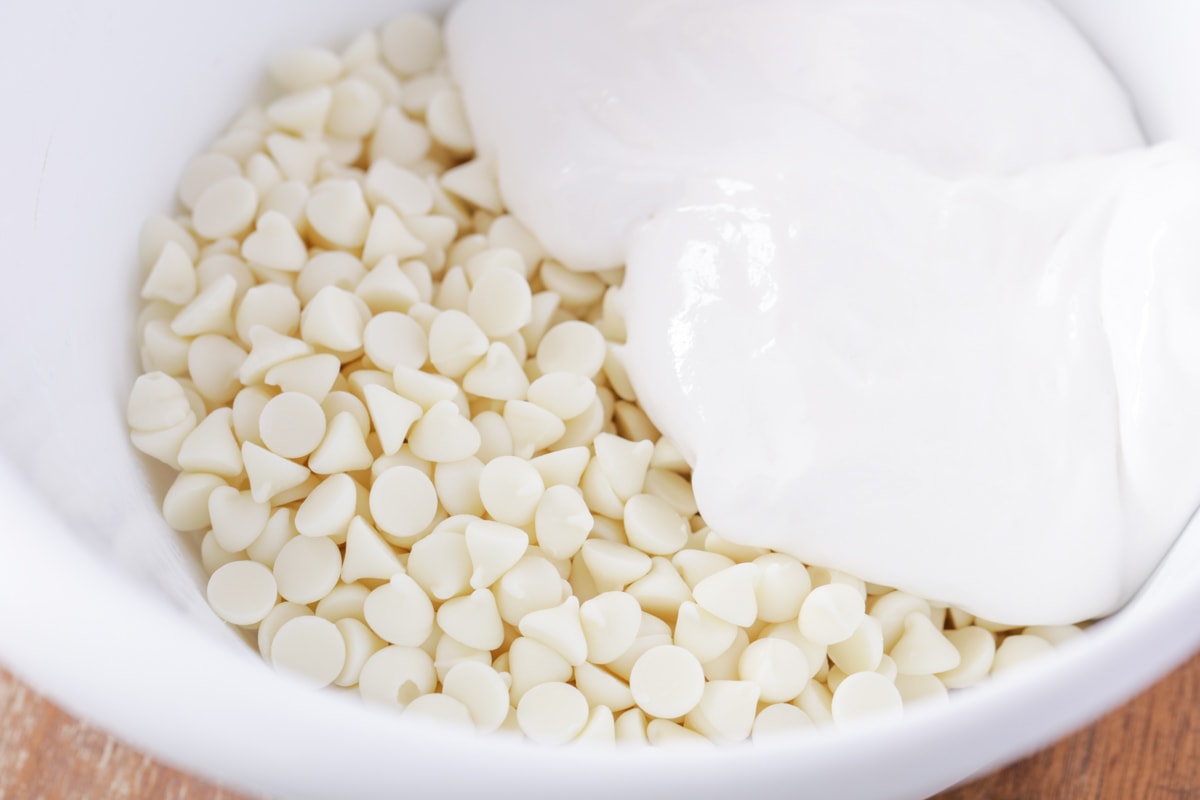 How to Make oreo Fudge
CREAM. Put the white chocolate chips and marshmallow fluff in a bowl and set aside.
BOIL. In a saucepan, melt sugar, heavy cream, salt, and butter over medium heat. Bring to a boil and cook for an additional 5 minutes.
COMBINE. Pour boiling butter mixture into the bowl with the white chips and marshmallow fluff and beat with a mixer until the chips have melted and all is smooth. Fold in crushed Oreos and pour into a 9×9 pan lined with parchment paper. Sprinkle a few more crushed Oreos on top.
ENJOY! Refrigerate for 4-6 hours. Cut into small squares and trim edges if desired. ENJOY!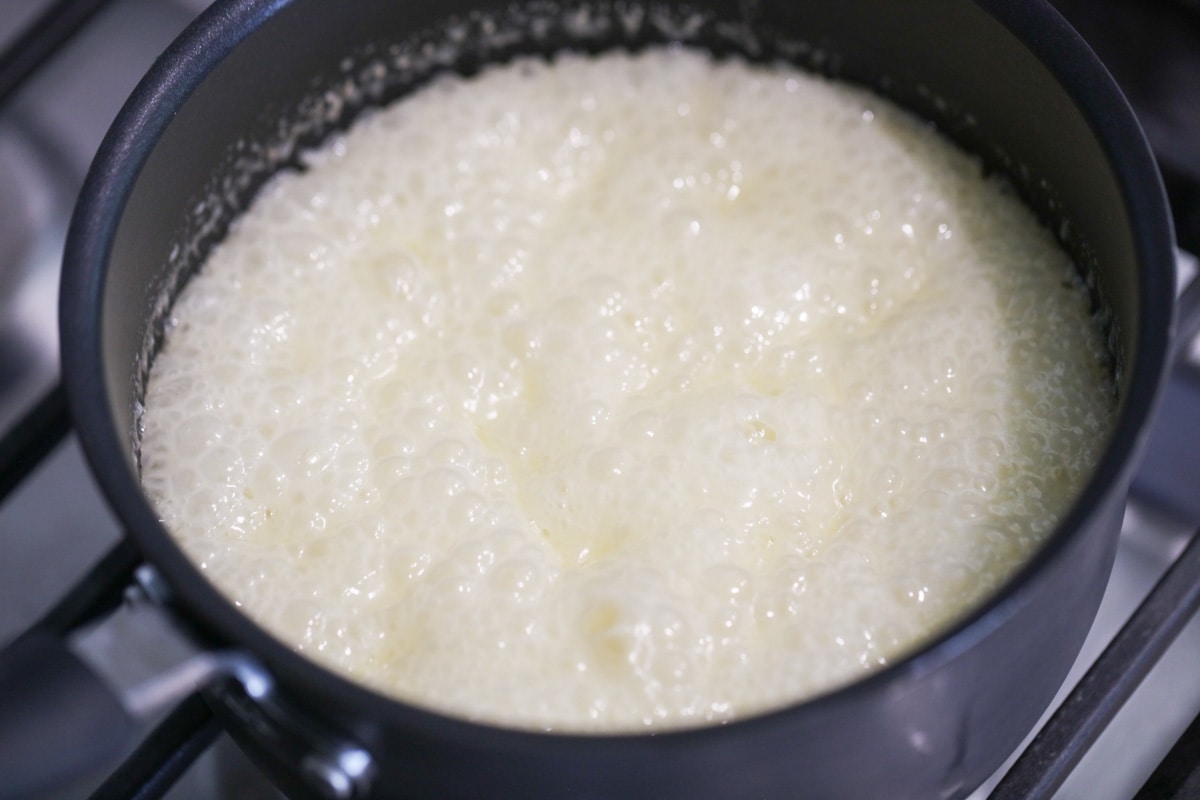 Variations:
The great thing about this white fudge recipe is that you can easily substitute the Oreo cookies for another delicious treat and create and entirely different dessert.
Swap out the classic Oreos with mint filled, peanut butter filled, red cream for Christmas (

If you end up using a different type of Oreo, like mint Oreos, consider adding some mint extract)

Use different cookies like gingersnaps, chocolate chip cookies, even edible cookie dough
Try using candy bars such as

Reese's Peanut Butter Cup or Twix

Add nuts such as candied almonds or chopped macadamia nuts
Have some fun with cereal. Fruity pebbles or crushed fruit loops are surprisingly good.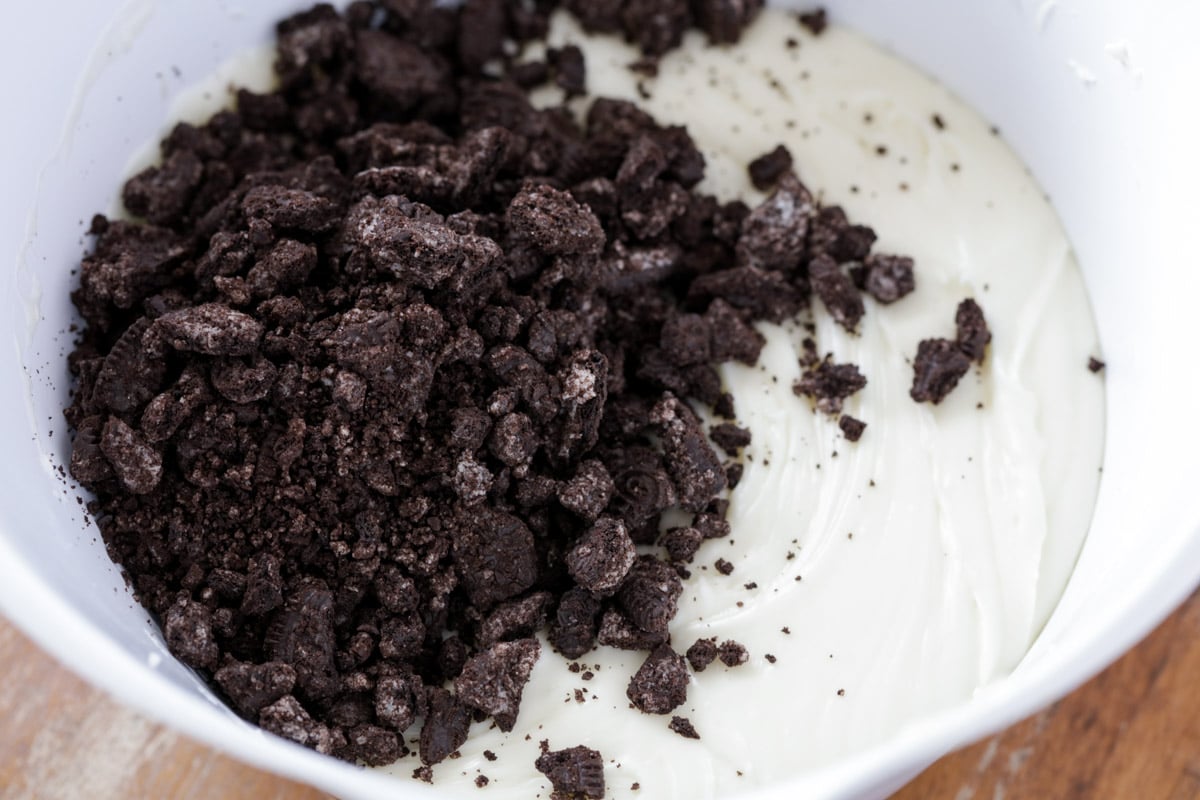 Tips for Perfect Fudge
Melting: Cutting your butter into small pieces (a tablespoon or so) before melting it will help it melt easier and quicker.
Cutting Fudge: When you cut the fudge you are going to want to make sure that the fudge is completely set! Once you're sure that it is set you will want to remove the fudge from the pan by lifting on the parchment paper. Once the fudge is on a flat surface it is much easier to cut!
Crushing Oreos: If you want big pieces of Oreos you can break them by hand, but if you want more of a crushed effect consider using a food processor or blender.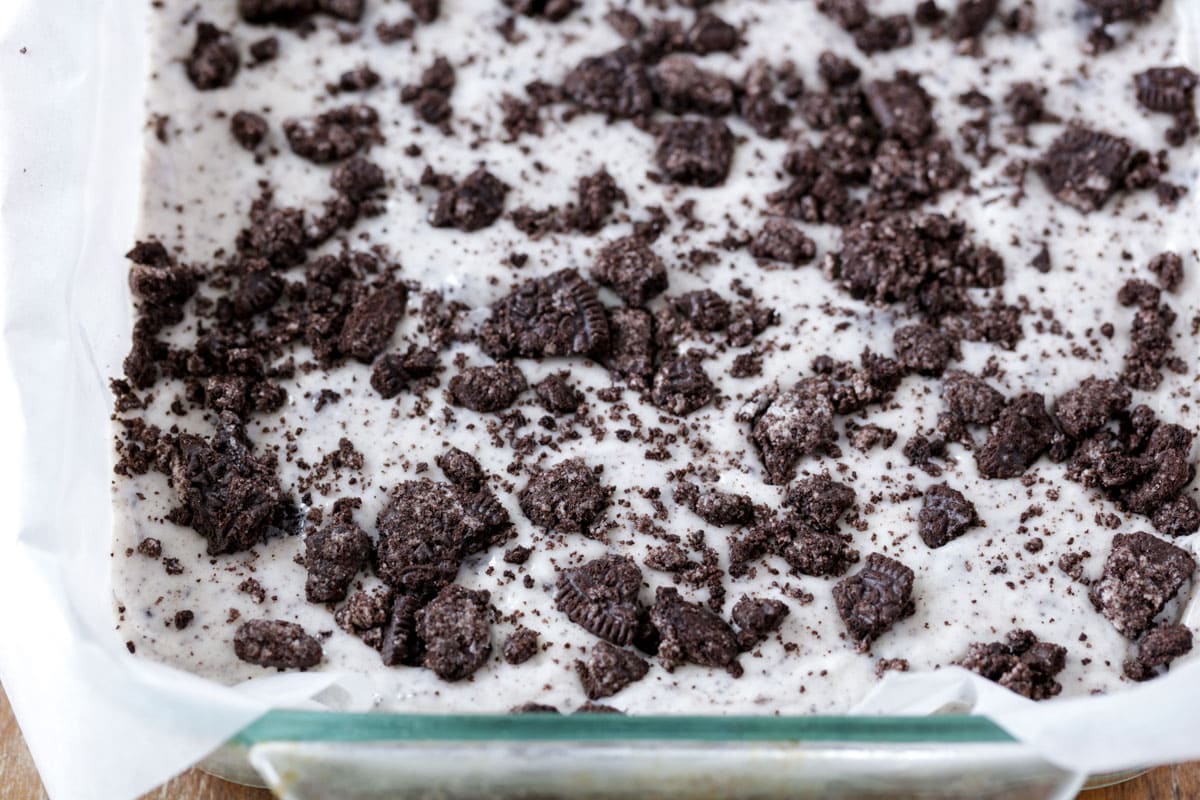 How to Store Oreo Fudge
STORE your fudge in an airtight container. You can either keep it on the counter for 3-5 days, or store it in the fridge for up to 2 weeks.
To FREEZE your fudge, wrap the block tightly with plastic wrap and again with aluminum foil. Label and freeze for up to 3 months.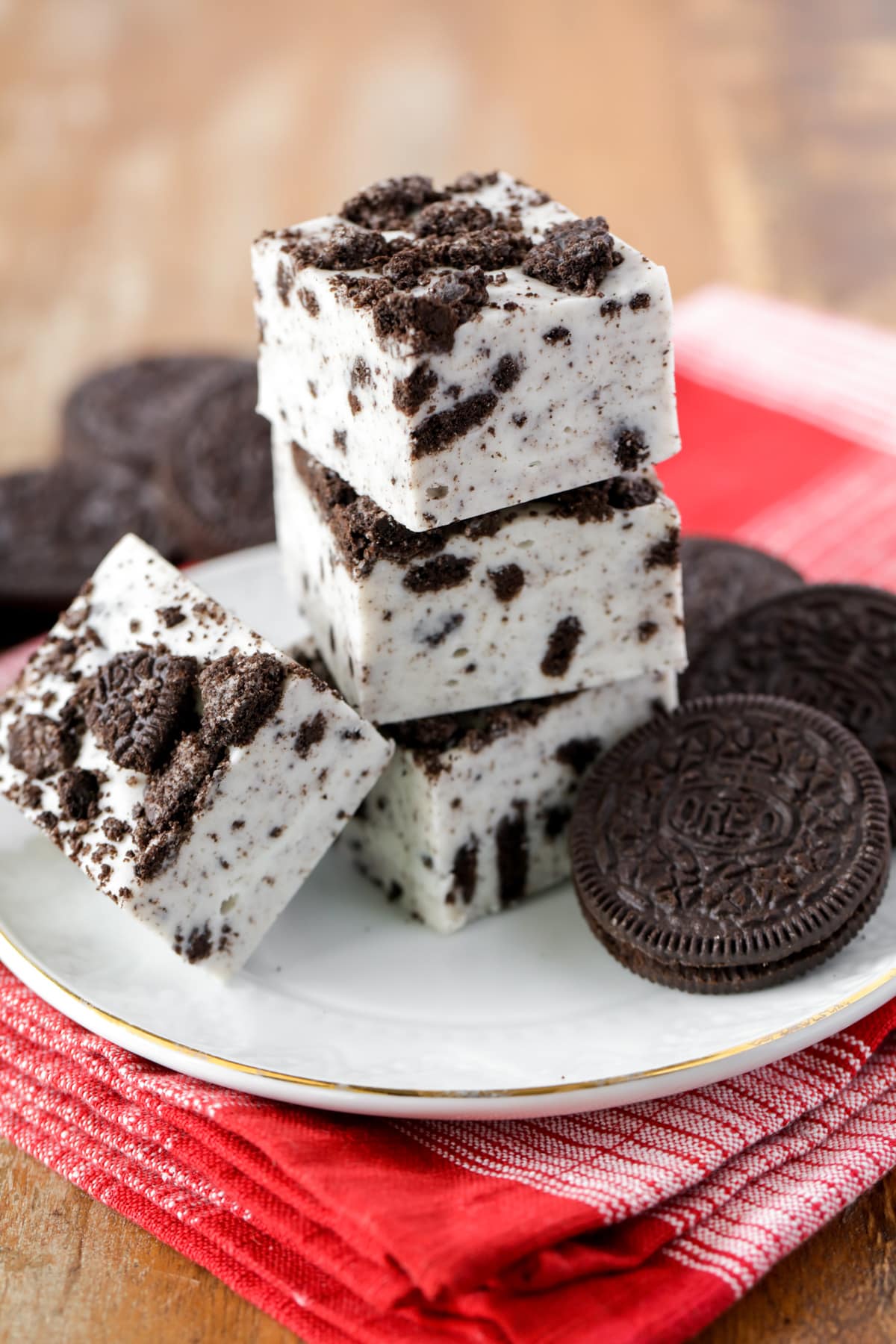 For more Oreo recipes, check out:
Cookies and Cream Fudge Recipe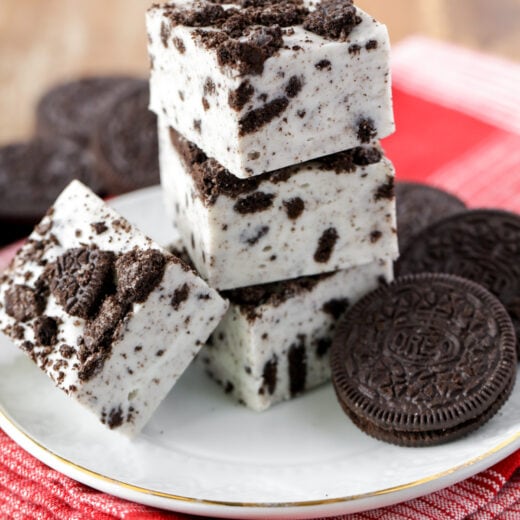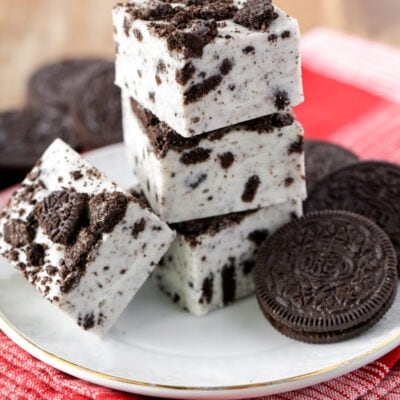 Easy white chocolate cookies and cream fudge is FILLED with crushed Oreos and creamy marshmallow fluff that will satisfy any Oreo lover!
Ingredients
Instructions
Line a 9-x-9-inch baking dish with parchment paper. Set aside.

In a medium bowl, combine Marshmallow Fluff and white chocolate chips and set aside.

In a medium saucepan over medium heat, melt butter, then add sugar, cream and salt. Bring to a boil and cook, stirring, for 5 minutes.

Pour hot butter mixture into the bowl with white chips and Marshmallow Fluff and beat with a hand mixer until chips have melted and mixture is smooth.

Set aside about ¼ cup crushed Oreos. Fold remaining Oreos into Fluff mixture and pour into the prepared pan. Sprinkle with reserved crushed Oreos.

Refrigerate for 4–6 hours. Cut into small squares before serving.
Notes
Make Ahead: This can be stored in an airtight container on the counter for up to 2 weeks. Variations: Switch up the flavor of this fudge by using different varieties of cookies in place of the Oreos. You can also fold in chopped candies, like White Chocolate Reese's, Hershey's Kisses or candy canes, or chopped nuts such as pecans, walnuts or macadamia nuts.
Adapted from Food Fanatic.