Cream cheese mints are the best little treat—popular for weddings, at baby showers, and in candy dishes. They are melt-in-your-mouth sweet and incredibly delicious!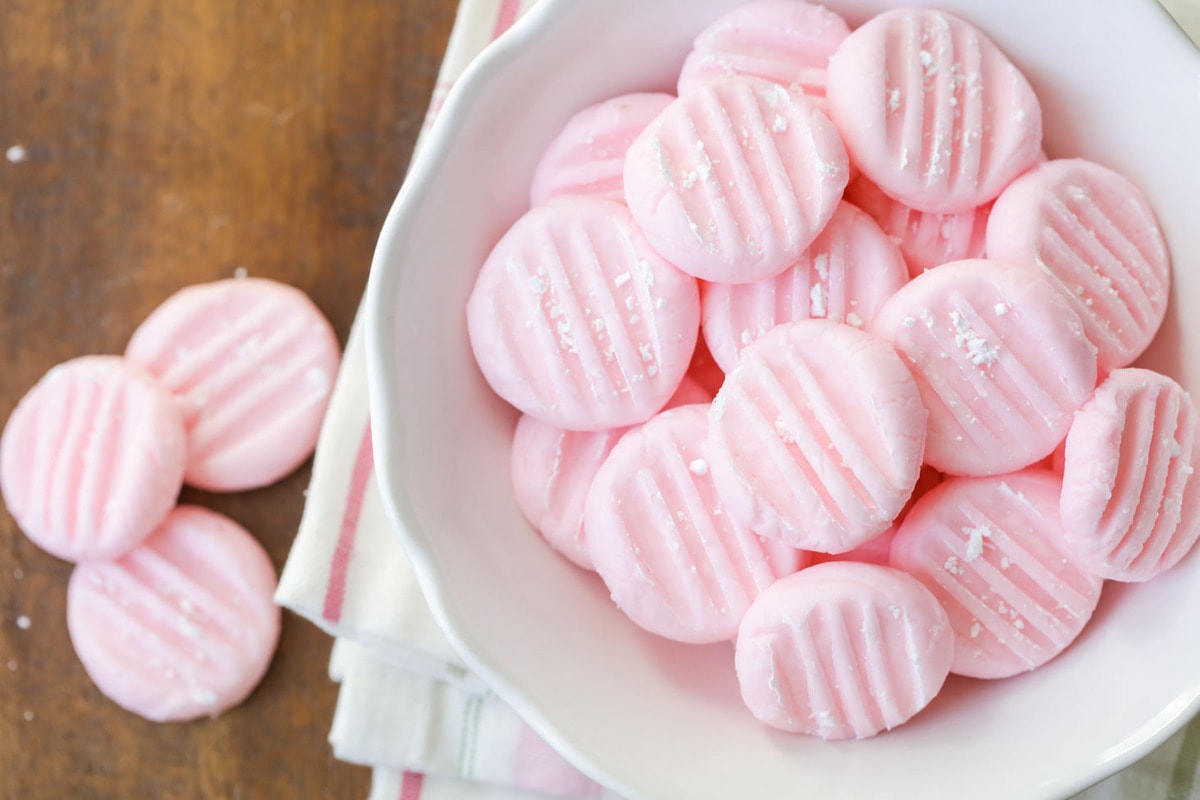 Cream Cheese Butter Mints
What do you call these mints? They go by so many different names. I've heard wedding mints, baby shower mints, and cream cheese mints. They are similar to butter mints, but with the addition of cream cheese they have a slightly different texture. We'll just call them cream cheese butter mints, okay?
Since they are called so many names, they are great for many different occasions! Package them up and deliver them to friends and neighbors, bring them to book club, or leave them in a bowl on your counter.
These mints are the best little treat, and will literally melt in your mouth. They are creamy, minty, and so tasty. Did I mention this recipe is SO easy? You only need a few ingredients to whip these up, and you can use any color food coloring. I used pink this time around and they turned out beautiful! Change the color depending on the occasion/event you are making them for.

How to Make Cream Cheese Mints
Make sure you have the following ingredients:
cream cheese
butter
confectioner's sugar
peppermint oil
coloring paste
Combine the cream cheese, butter, and powdered sugar in a large bowl. Cream them together until they are blended. Add in the peppermint oil one drop at a time. At this point you can leave the dough white or you can add in the coloring paste and mix.
Roll the dough into small balls (about 1/2-1 inch) and place on a cookie sheet lined with wax paper. Dip a fork into powdered sugar to coat it, and then flatten each ball with the fork. The powdered sugar will help the fork to not stick to the mint. Let the mints dry on the wax paper for about 1 hour. Then you can freeze or put them in the fridge to store.
Another popular method for shaping the mints is using rubber molds, or candy molds. Just pick a shape, press the mixture into the molds, let them harden, and then pop them out. You can do flowers or hearts for a wedding, and diapers or rattles for a baby shower! So fun.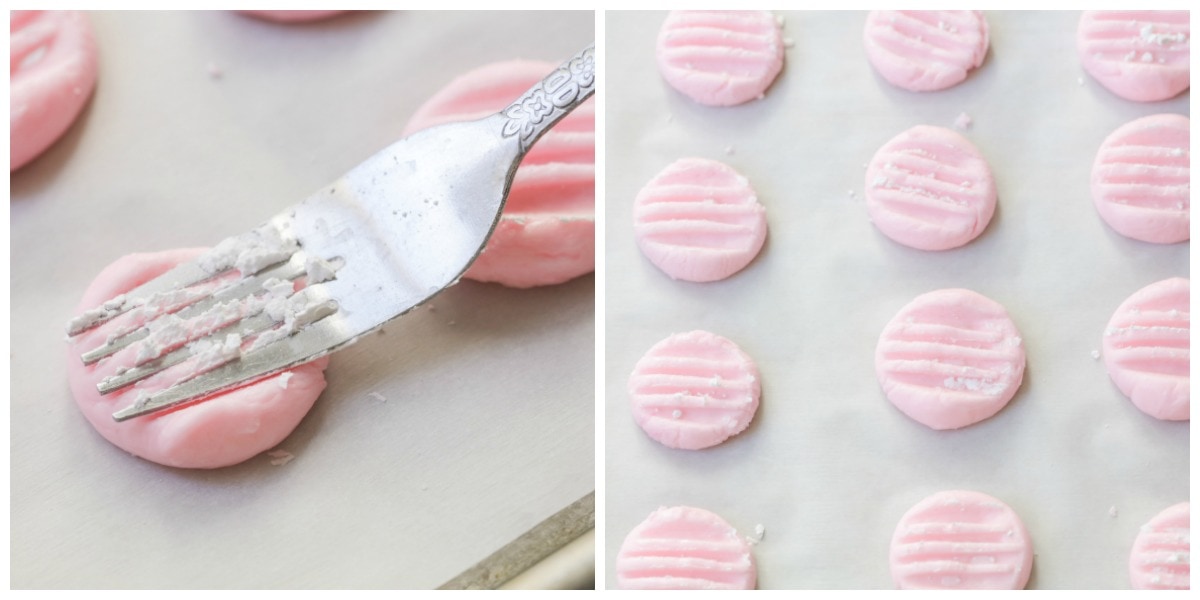 Can i use something besides peppermint oil?
An alternative for the peppermint oil is mint extract. It will have more of a spearmint flavor instead of peppermint.
If you want to avoid mint entirely, you can actually use any other extract. Almond, cherry, orange, lemon, even root beer!
Why are my cream cheese mints sticky?
If your mint mixture is too sticky, it needs more sugar. Just add powdered sugar 1 tablespoon at a time until it stiffens up. The mixture should be pretty stiff! This helps them keep their shape at room temperature.
How many cream cheese mints per person?
If you're making mints for a party or gathering, I think it's safe to plan on making 2-3 mints per person. Some will probably take more than one, and some won't eat any. So 2-3 is probably safe.
How to store cream cheese mints? Can they be frozen?
Make sure to store your cream cheese mints in an airtight container and keep them in the fridge. Take them out when ready to have a snack or serve them to guests! These yummy little treats will last in the fridge for a couple weeks.
If you'd rather save them for much later you can put them into an airtight container or a plastic zip freezer bag and keep them in the freezer. These will stay good frozen for up to 12 months! Perfect for if you have a big event down the road, like a wedding, that you want to make these for.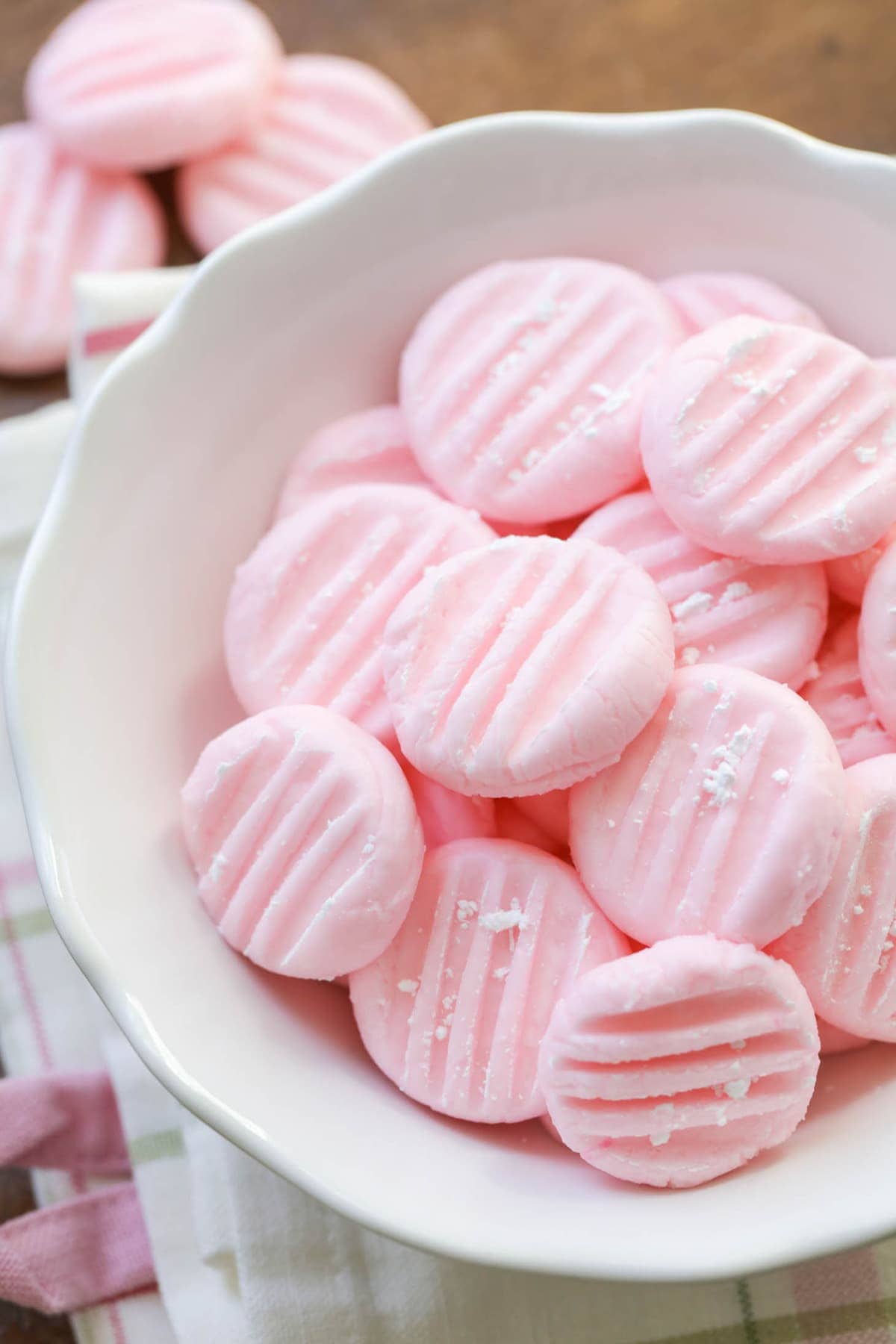 For more delicious candies, check out: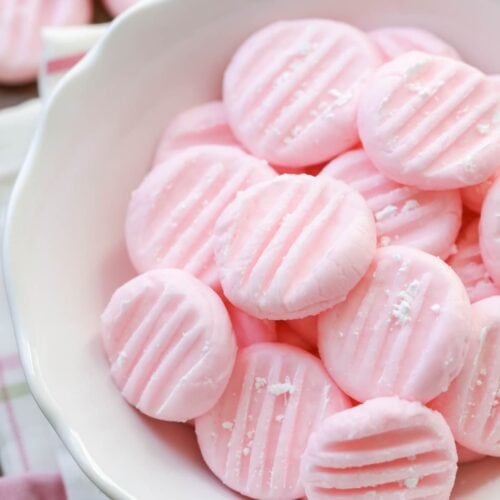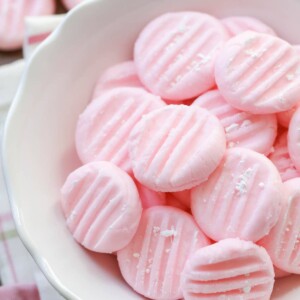 Cream Cheese Mints Recipe
Cream cheese mints are the best little treat—popular for weddings, at baby showers, and in candy dishes. They are melt-in-your-mouth sweet and incredibly delicious!
Total Time
2
hours
20
minutes
Ingredients
6

oz

cream cheese

softened

2

TB

butter

softened

5-5 1/4

cups

confectioners sugar

4

drops

peppermint oil

any food coloring paste

optional
Halved
3

oz

cream cheese

softened

1

TB

butter

2 3/4

confectioners sugar

2

drops

peppermint oil
Instructions
In a large bowl, combine cream cheese, butter, and powdered sugar. Cream together until well blended. Add in peppermint oil, one drop at a time. Color as desired or leave white.

Roll into small balls, and place on wax paper. Use a fork dipped in powdered sugar, to flatten each ball.


Let dry on wax paper for about 2 hours then freeze or refrigerate.