Who loves eggnog?! I do! It's a holiday staple, and I love that you can use it for things other than just drinking. Yes. It's true. You can even use it for baking!! How awesome is that?! I used it in today's recipe for Eggnog cookies. The result was a soft and chewy cookie with hints of nutmeg, cinnamon, sugar and eggnog. Yes – they were delicious! The Eggnog glaze on top was the perfect addition. It made them just sweet enough but not too rich and makes for another great holiday cookie recipe to try this year.
Well, if you guys know me at all you won't be surprised to learn that I didn't stop at just making cookies. I was asked by Horizon Organic to make a simple and fun gift idea this holiday season and decided to use these cookies and a Cookie Jar I found at my local Kroger Store for it. Who would give a Cookie Jar for a gift without cookies, right?! I made this batch and then filled the jar with them and even decided to make a little poem and turned it into a tag that reminded the recipient of the true reason for this amazing season. This is how the gift turned out:
I LOVE how it turned out. It's simple. It's festive. And it's meaningful. 😀 Oh yes, and it only took 5 minutes to turn these cookies into a great gift idea. Sweet!! (LITERALLY!!) Here is what you'll need to make these delicious cookies…
Eggnog Cookies:
INGREDIENTS:
2 1/2 cups flour
1 tsp. baking powder
1 tsp. nutmeg
1 tsp. cinnamon
1 1/2 cups sugar
3/4 cup butter, softened
2 eggs
2 tsp. vanilla
1/2 cup Horizon Organic Eggnog
FOR THE GLAZE:
1 1/2 cups powdered sugar
3-4 TB Horizon Organic Eggnog
 DIRECTIONS:
1. Begin by creaming together butter and sugar until fluffy.
2. Add eggs and vanilla and mix well.
3. Add eggnog and mix until well combined.
4. In a separate bowl combine flour, baking powder, nutmeg, and cinnamon. Mix.
5. Add flour mixture to butter mixture and mix until well combined.
6. Using a cookie scoop, drop batter onto parchment lined baking sheets.
7. Bake at 350 for 12-15 minutes.
8. Let cool.
9. Make glaze by mixing powdered sugar and egg nog. Drizzle over cookies and ENJOY!
Recipe adapted from In Katrina's Kitchen.
Check Out My Other Recipes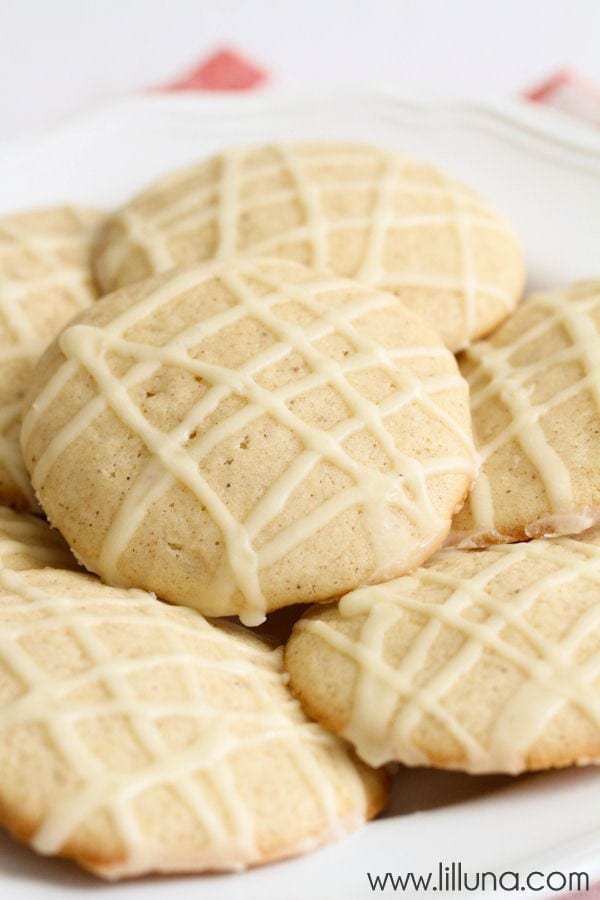 One work – YUM!! As I mentioned above, I wanted to show how you could turn these delicious cookies into a simple gift idea. To do that I began by finding  cute Cookie Jar. From there, I made this printable tag.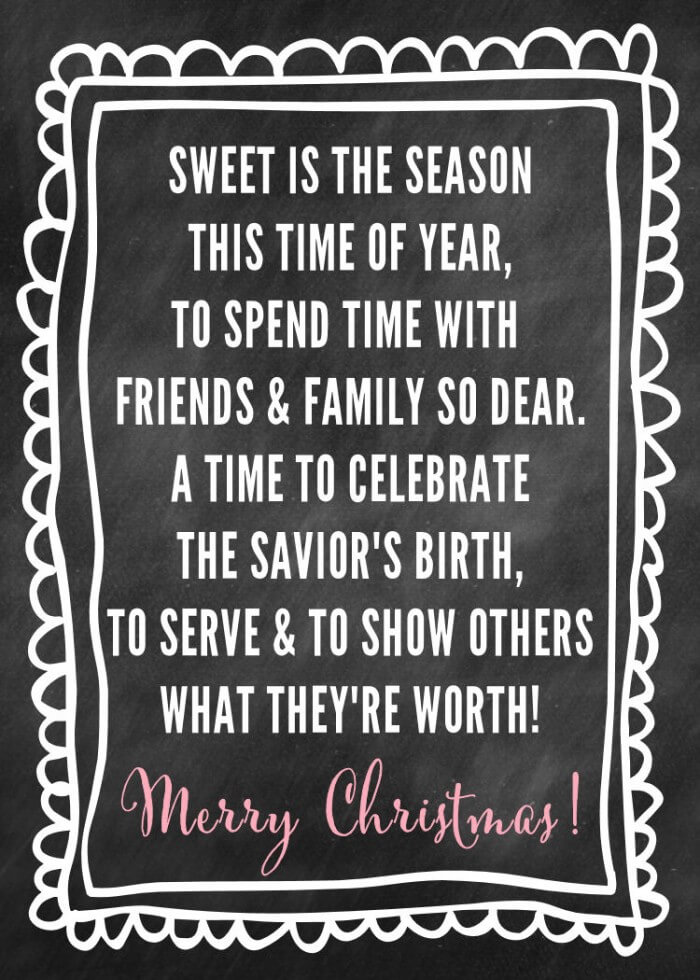 TO DOWNLOAD:
Just click on the image above, RIGHT-CLICK, and SAVE. Open it in a program like WORD, RE-SIZE, PRINT and CUT OUT.
Attach it to your jar or any present for that matter with ribbon or twine.
Easy peasy, right?! You can even use the tag to attach to any jar of goodies. It's easy to just fill it with the recipient's favorite treats. Simple and Cute!!
There really is nothing like making a cute gift out of something homemade – like cookies! I really hope you get a chance to try these delicious Eggnog Cookies. If you know of someone who is an Eggnog lover, I can guarantee they'll love this cookie concoction. 😉
I just love the Christmas season!! Giving gifts and baking treats are the best!
For more cute and easy gift ideas be sure to check these out:
For more great food gift ideas, check out:
ENJOY!
 BEHIND THE SCENES AT LILLUNA.COM:
My little holiday helper, Gav!! AND, he's my official taste tester. He gave these cookies a Hundred Thumbs up. 😉
This conversation is sponsored by Horizon Organic. The opinions and text are all mine.
Need more recipes and creative ideas? Sign up and get a FREE copy of my latest ebook!